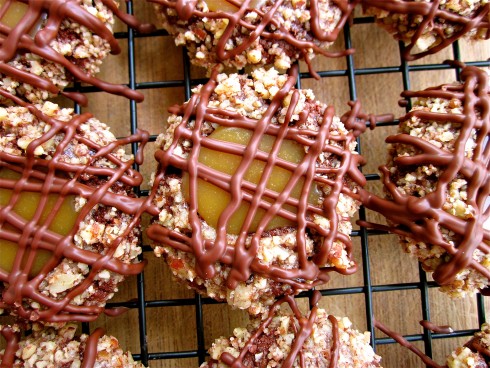 Look! I did something crafty!!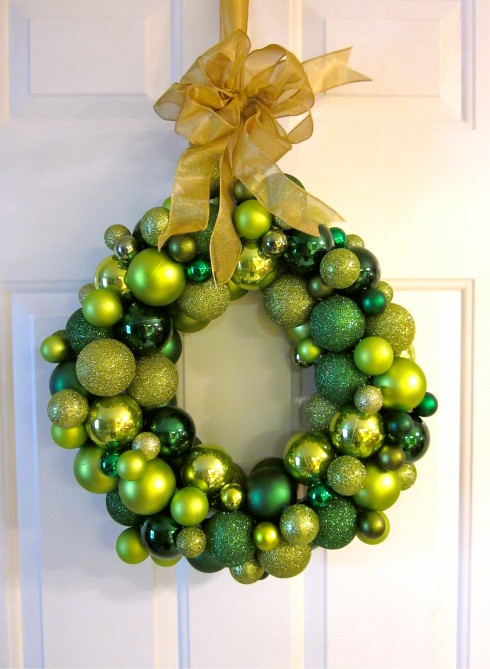 Shocking, I know. Usually my creativity is limited to the kitchen. I have been wanting one of these ornament wreaths for years now, but knew that if I tried it on my own it would look like a mass of Christmas balls that had been coated in catnip and thrown into a den of lions…so I waited until Eric's mom was in town. She has that magic-female-craft gene. I love how it turned out. (Lavish compliments will be accepted.)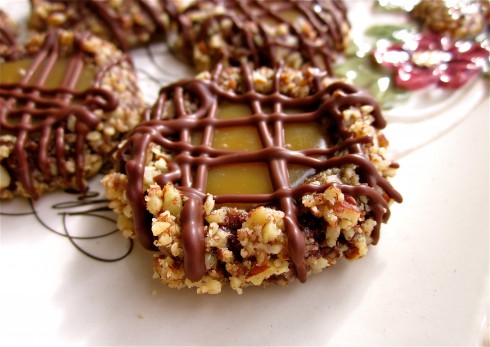 Fortunately you don't need any talent to bake up these beauties. They are a little time consuming, but not hard. And they are soooooo good. I mean, what's not to like about a soft chocolate cookie rolled in pecans and filled with caramel? I made a double batch for neighbor gifts, and they are almost gone, even though we definitely still have gifts to hand out…oops. Merry Christmas Cookies everyone!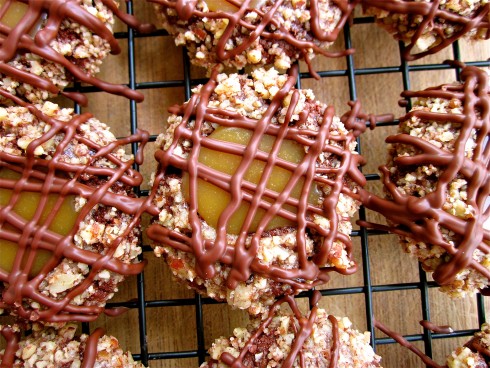 Caramel Pecan Thumbprint Cookies

Source: Better Homes and Gardens
Makes about 36 cookies
1/2 cup (1 stick) butter, softened
2/3 cup sugar
1 egg, separated
2 tablespoons milk
1 teaspoon vanilla
1 cup all-purpose flour
1/3 cup unsweetened cocoa powder
1/4 teaspoon salt
1 1/4 cups finely chopped pecans (this is easiest in a food processor)
16 vanilla caramels, unwrapped
3 tablespoons whipping cream
1/2 cup (3 ounces) semisweet chocolate pieces
1 teaspoon shortening
In a large mixing bowl beat butter with an electric mixer for 30 seconds. Add sugar and beat well. Separate egg; cover and chill egg white until needed. Beat the egg yolk, milk, and vanilla into the butter and sugar mixture.
In another bowl whisk together the flour, cocoa powder, and salt. Add flour mixture to butter mixture and beat until well combined. Wrap the cookie dough in plastic wrap and chill for 2 hours or until easy to handle.
Preheat oven to 350 degrees F. Lightly grease a cookie sheet, or use a silpat or parchment paper.
Slightly beat reserved egg white. Shape the dough into 1-inch balls. Roll the balls in egg white, then in pecans to coat. Place balls 1 inch apart on prepared cookie sheet. Using your thumb or the back of a measuring teaspoon, make an indentation in the center of each cookie. Bake for 10 minutes or until edges are firm. If cookie centers puff during baking, repress with a teaspoon.
While the cookies are baking, stir caramels and whipping cream in a small saucepan heat over low heat until mixture is smooth. Spoon melted caramel mixture into indentations of cookies. Transfer cookies to wire racks; cool. (If necessary, reheat caramel mixture to keep it spoonable.)
Place chocolate chips and shortening in a small bowl and microwave until chocolate is melted and mixture is smooth. (Do 30 second intervals, stirring each time.) Let cool slightly. Transfer the warm chocolate mixture to a resealable plastic bag. Cut a tiny hole in one corner of the bag. Drizzle cookies with chocolate mixture. Let stand until chocolate is set. Makes 36 cookies.