Tomato Tart with Blue Cheese
This tomato tart is the perfect ratio of buttery crust to quiche-like filling. That is to say, it's mostly crust and crispy-topped tomatoes with some blue cheese and cheddar thrown in for good measure. Tasty way to use up summer heirlooms for breakfast brunch or dinner!
We got home yesterday from a weekend camping trip, and while unpacking the car I found a leftover cake mix (my brother is a master Dutch-ovener). I opened my extremely organized, spotless pantry, looking for the baking-mixes. Surely I have a spot for baking mixes? I couldn't find it.
So I threw the box in without looking and slammed the door as hard as I could.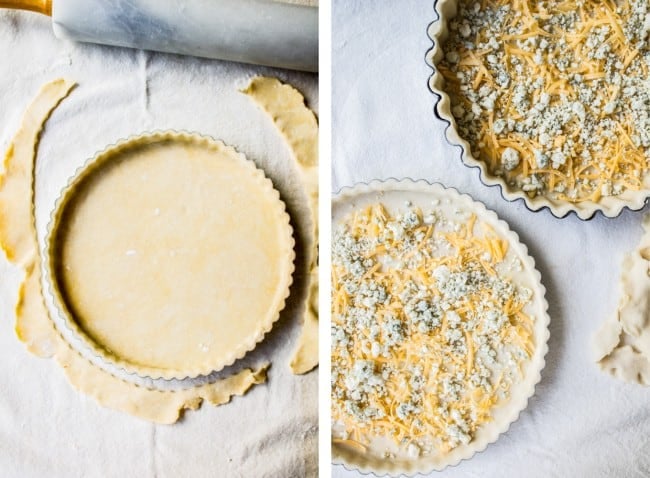 Sorry, Sarah. Your attempts to declutter my house with Japanese joy-sparking methods have failed. You can take the girl out of the mess, but you can't take the mess out of the girl. Or something like that.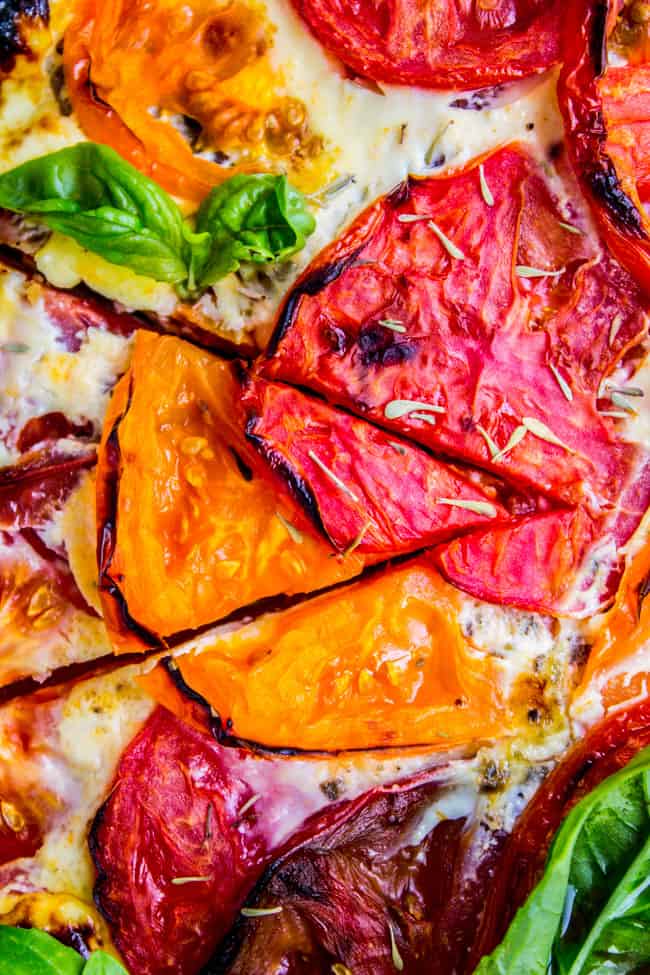 But back to the camping. We went to Lake Tahoe, and it was awesome! So gorgeous. Are you big on camping? I love it. The crisp morning air, the lakeside lounging, the campfire conversations. The dirt under my fingernails, the sunburn, the rain during dinnertime, the bears…wait.
Remember when camping used to be about letting the adults do all the work? Those were the days.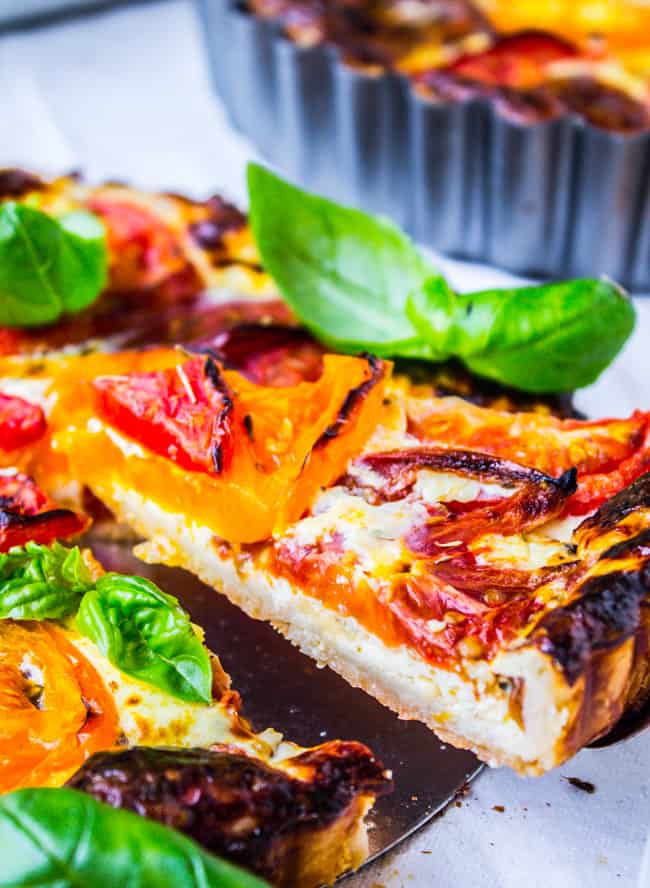 Father's Day is sneaking up on us! Just a couple weeks. I've been posting plenty of grill recipes for you to try out, but in case the men in your life have finer tastes, I'm posting this Tomato Tart with Blue Cheese. Or with whatever cheese you like really, it doesn't matter. The tomatoes are the star of the show, so make sure you pick some decent ones. Get your hands on some heirlooms if you can, nothing beats that flavor!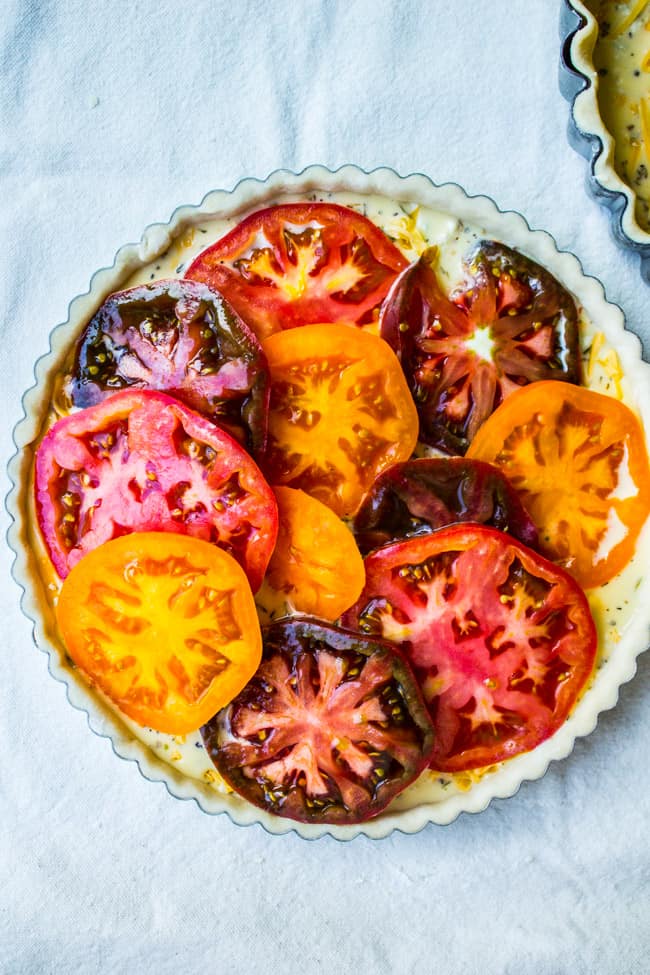 When I made this someone asked me why this isn't called a quiche and I was stymied. I looked it up and it turns out that the only real difference is the amount of egg filling there is. Savory tarts are pretty minimal, whereas quiches have quite a bit of egg filling. This recipe makes 2 9-inch tarts, and I made one in a tart pan and one in a quiche pan, so one of them was a little thicker. Add more cheese if you make it in a quiche pan! (More cheese. Never the wrong choice.)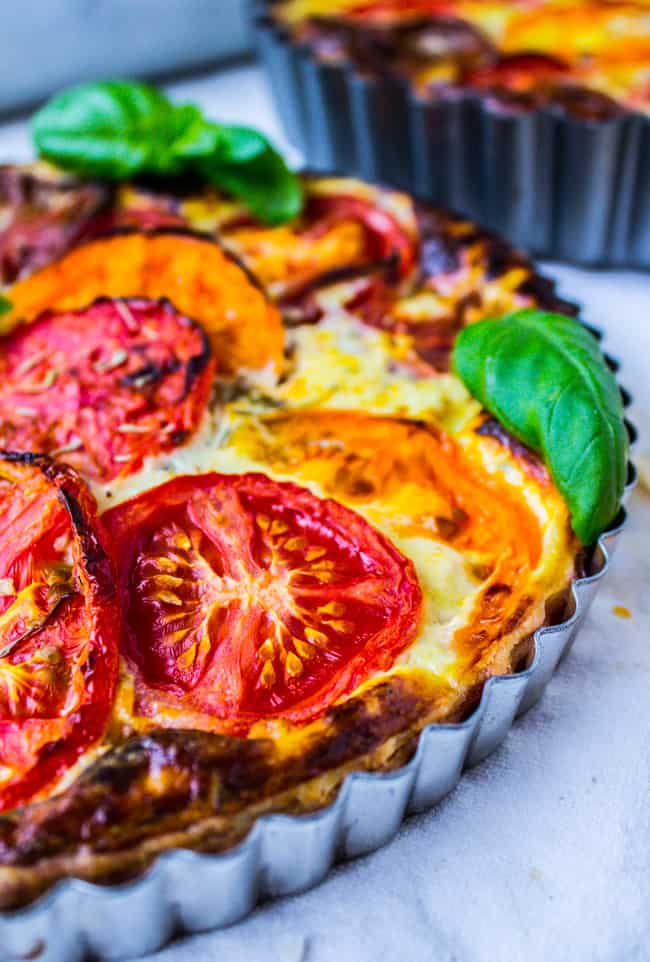 This is one of the best savory tarts I've ever had. My brother who hates tomatoes even liked it. The tomatoes are perfectly crisp on top, and the basil adds just the right touch. And I don't know anyone who can argue with a buttery crust.
Do you guys give up? Or are you thirsty for more?
Facebook | Pinterest | Instagram | Twitter
print
Did you make this recipe?
Leave a review »
Tomato Tart with Blue Cheese
Makes 2 9-inch tarts
adjust servings
Ingredients
For the crust
2

cups all-purpose flour, spooned and leveled

1/2

or 3/4 teaspoon salt*

2

tablespoons buttermilk powder

4

ounces cream cheese (1/2 cup)

10

tablespoons cold butter

2

to 4 tablespoons ice water
For the filling
6

large eggs

1

and 1/2 cups milk

1/2

teaspoon dried oregano

1/2

teaspoon dried thyme

1/2

teaspoon salt

1/4

coarse pepper

1

to 2 cups of cheddar cheese, shredded

2/3

cup blue cheese, crumbled

4-5

large heirloom tomatoes, sliced 1/4 inch thick

fresh basil, to garnish
Instructions
For the crust:
In a food processor or bowl, combine the flour, salt and buttermilk powder. Add the cream cheese and pulse until it comes together.
Cut the butter into pieces and add to the food processor. Pulse until it looks crumbly. You should still see chunks of butter. (You can do this with a pastry cutter.)
Add 2 tablespoons of ice water to the pie crust dough and toss. When you squeeze some in your hand it should stick together. If it doesn't add the remaining water until it does.
Knead the dough together on a floured surface, trying not to overwork it.
Divide the dough in half. Flatten each one into a disk, wrap it in plastic wrap and refrigerate at least 30 minutes.
On a well floured work surface, roll each disk into a 12-inch circle (you my have to let it sit out of the fridge to soften for a couple minutes).
Gently transfer one shell to your 9-inch tart pan. Smooth the dough into all the nooks and crannies, then roll your pin over the top of the tart pan to remove the excess dough. Repeat process with the other tart. Throw the crusts into the fridge while you make the filling.
Preheat the oven to 425 degrees F.
For the filling:
Use a whisk to combine eggs, milk, oregano, thyme, salt, and pepper.
Add at least 1/2 cup cheddar cheese to each tart. Add 1/3 cup blue cheese to each tart.
Divide the mixture into the prepared tart shells. Top with sliced tomatoes. Layer them however you like.
Place the tarts on baking sheets just in case there is any spillage.
Bake at 425 for 15 minutes, then reduce the oven temperature to 350 and bake for another 10-15 minutes, or until the crust is brown and the center is set.
At this point if you want you can throw it under the broiler for a minute to crisp the top a bit. But DON'T walk away! Mine got a little charred on top as you can see, and I swear it was only in for 1 minute. (Turns out slightly burned cheese is totally delicious.)
Serve warm with a sprinkle of thyme and fresh basil.
by The Food Charlatan

If you make this recipe,
share it on Instagram
 using the hashtag
#TheFoodCharlatan
so I can see it!
Source: lightly adapted from King Arthur Flour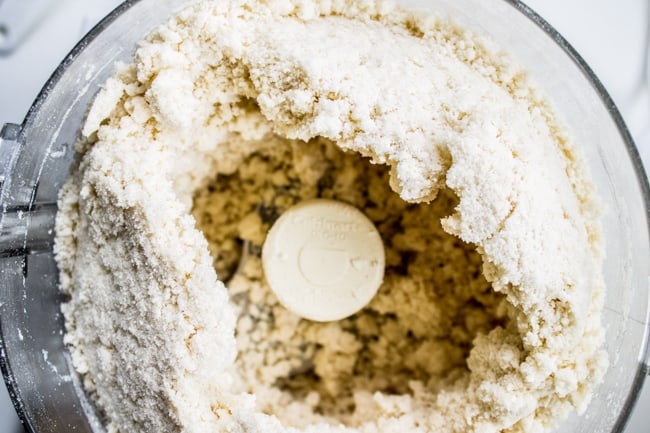 More brunch ideas!
Asparagus, Tomato and Goat Cheese Quiche: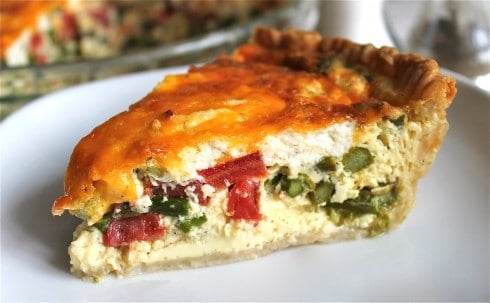 Overnight Bacon and Asparagus Breakfast Casserole: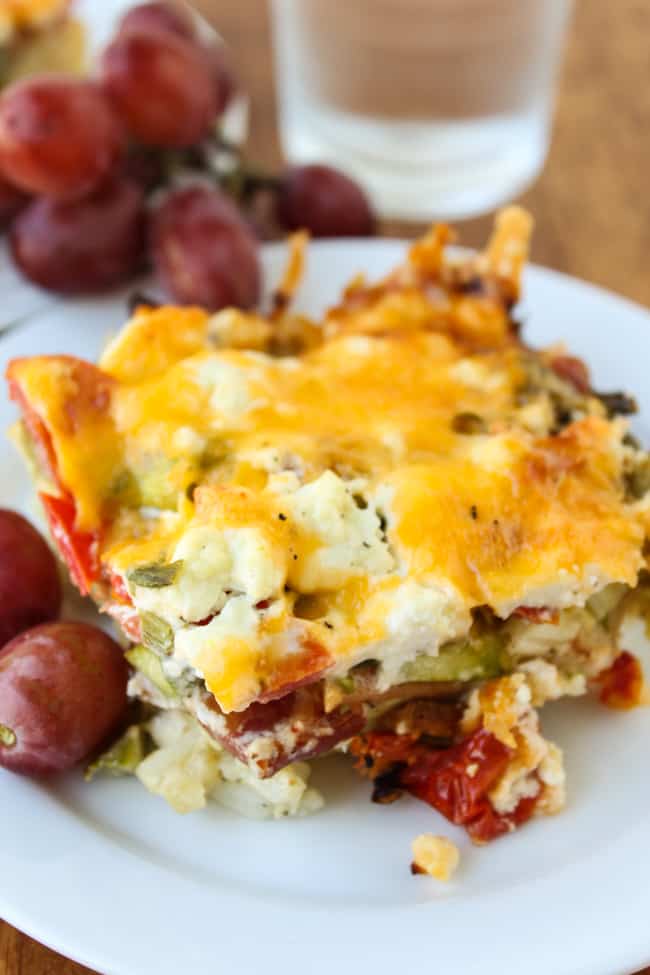 Overnight Bacon and White Cheddar Scones: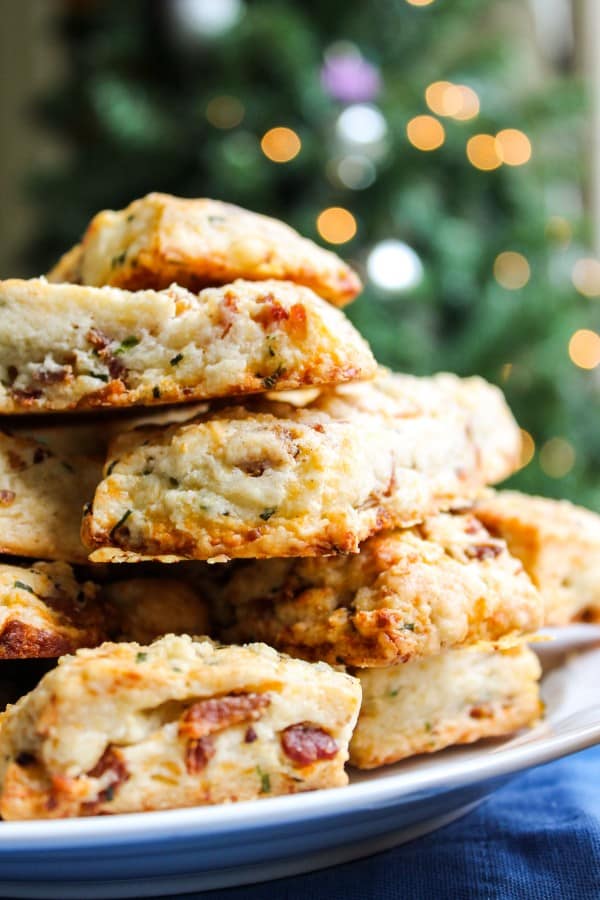 Bacon, Gouda and Spinach Frittata: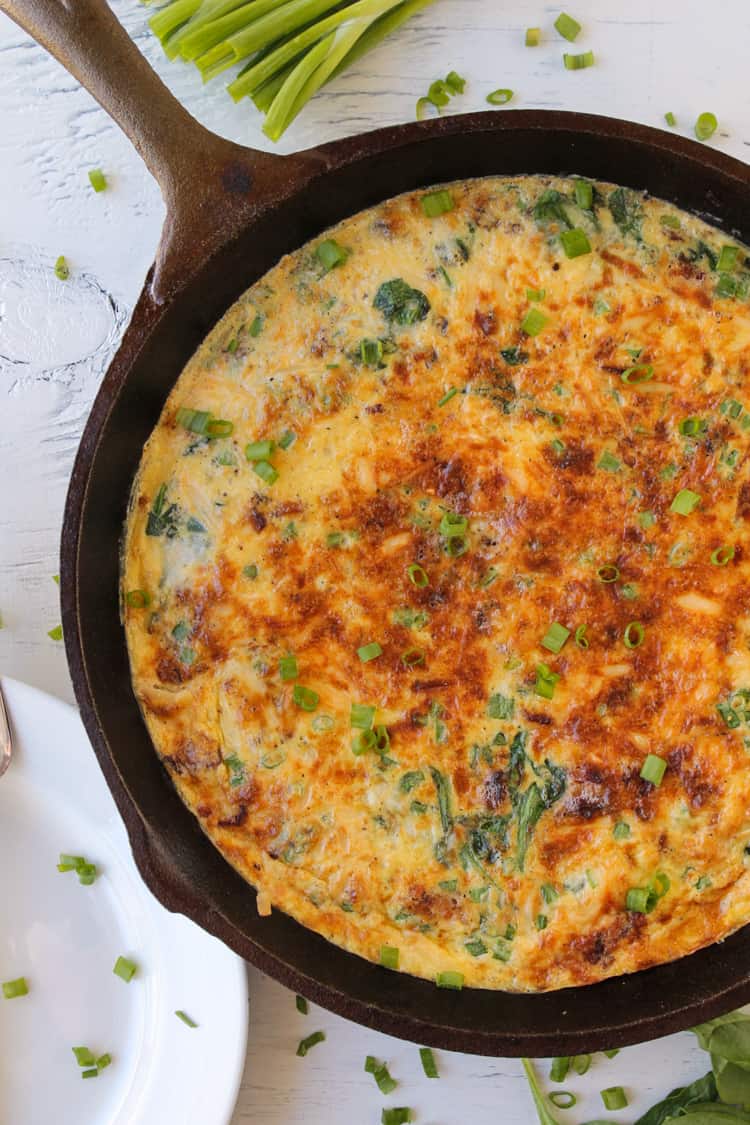 Savory Parmesan French Toast with Hollandaise Sauce: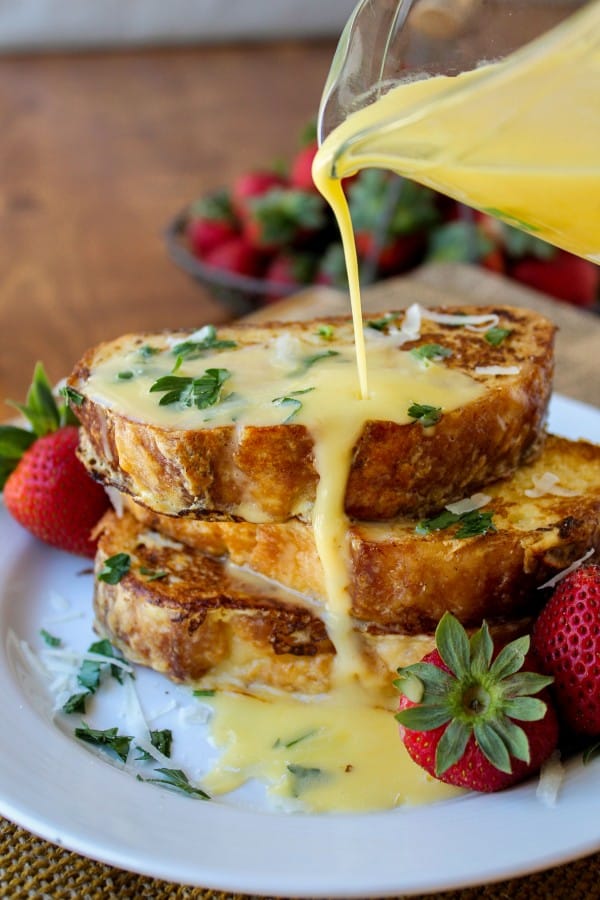 More tomato tarts!
Tomato Mozzarella Basil Tart from Annie's Eats
Oscar Tomato Tart from Grandbaby Cakes
Roasted Tomato Tart from Savory Simple
We are a participant in the Amazon Services LLC Associates Program, an affiliate advertising program designed to provide a means for us to earn fees by linking to Amazon.com and affiliated sites.