Raspberry Almond Crumb Brownies
These raspberry-studded brownies are topped with an almond-y buttery-crumble. There's raspberry jam in there too. Oh, did I mention the brown butter? Yeah.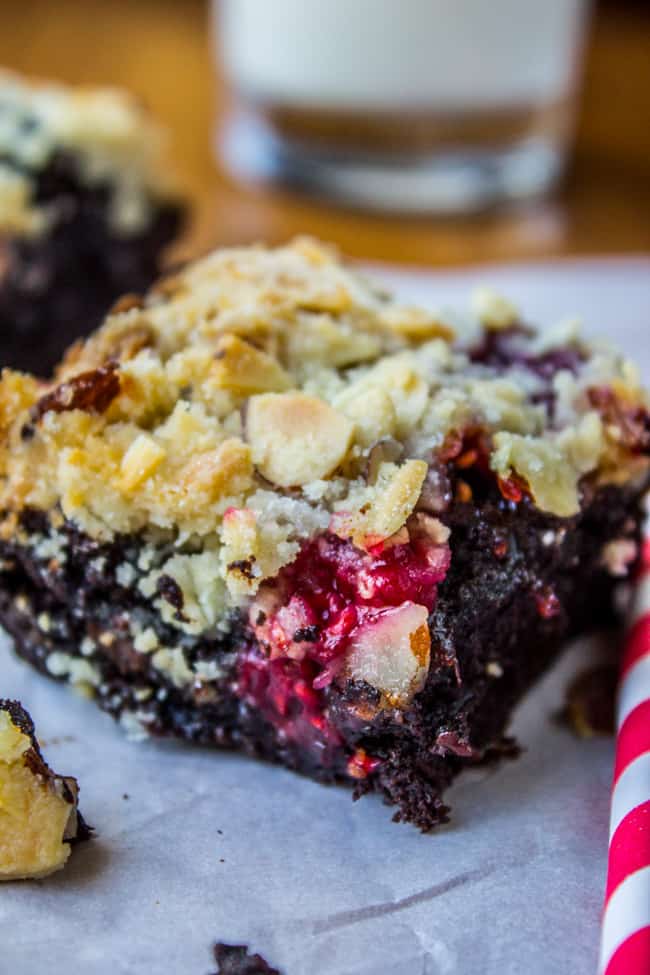 Do you ever write random notes to yourself on your phone that you can't interpret later? I've heard of people doing this when they wake up in the middle of the night, but I don't even have the excuse of a sleepy stupor to explain the weird things I find in my notes sometimes. Like this one:
Cut Truman's hair.
Bath
Wrap presents.
Sometimes I wipe my hands in my socks.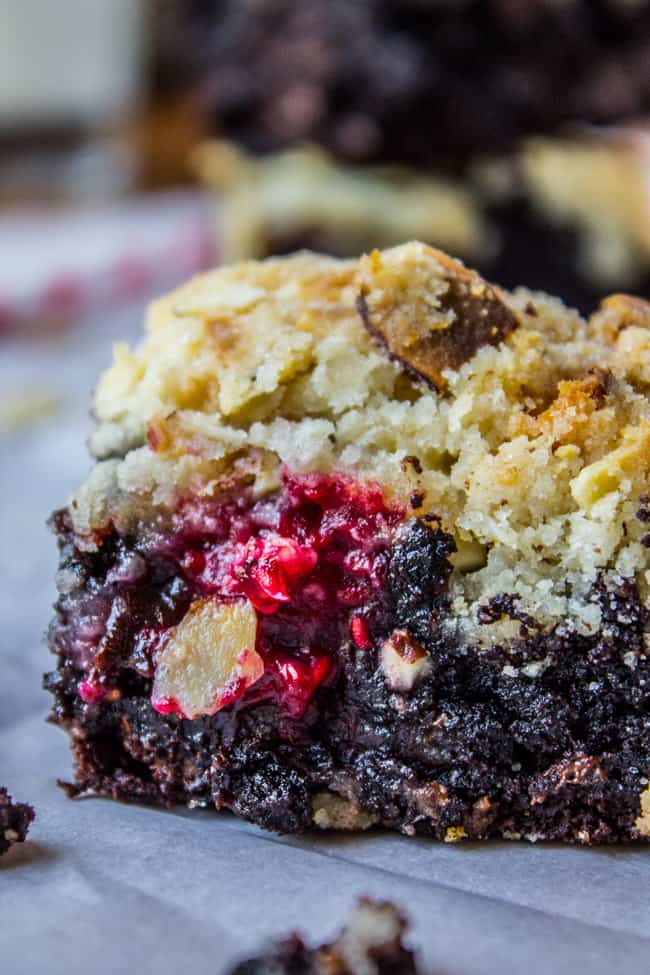 "In" should be "on," of course, as any decent texter should know. But WHAT AM I WIPING ON MY SOCKS?? I'm a little creeped out. I also just found this one, "No one can hug my knees either though. I sound like a crazy jailer." Wth??
In my defense, I use my notes to record ideas I have for potential blog stories, hence the wiping hands on my socks story. Because who wouldn't think THAT was funny.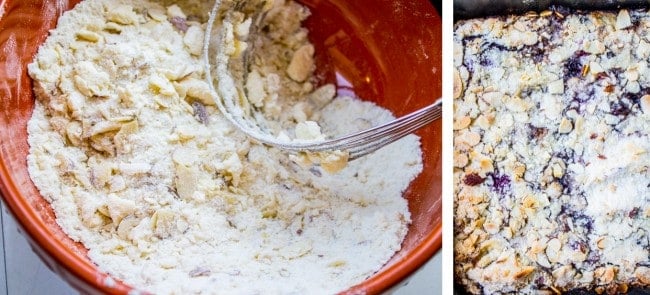 In other news, I've become obsessed with Taylor Swift 5 years after than the rest of the world. Typical Karen Standard Time. Her stuff is so freaking catchy. I'm totally digging her early music. Have you noticed that after you listen to a song on Youtube now, it keeps playing other songs it thinks you will like? When I listen to her early stuff it brings me to straight up Shania Twain and stuff, which is not my usual thing (I'm more of an outlaw country girl), but I'm kind of loving it.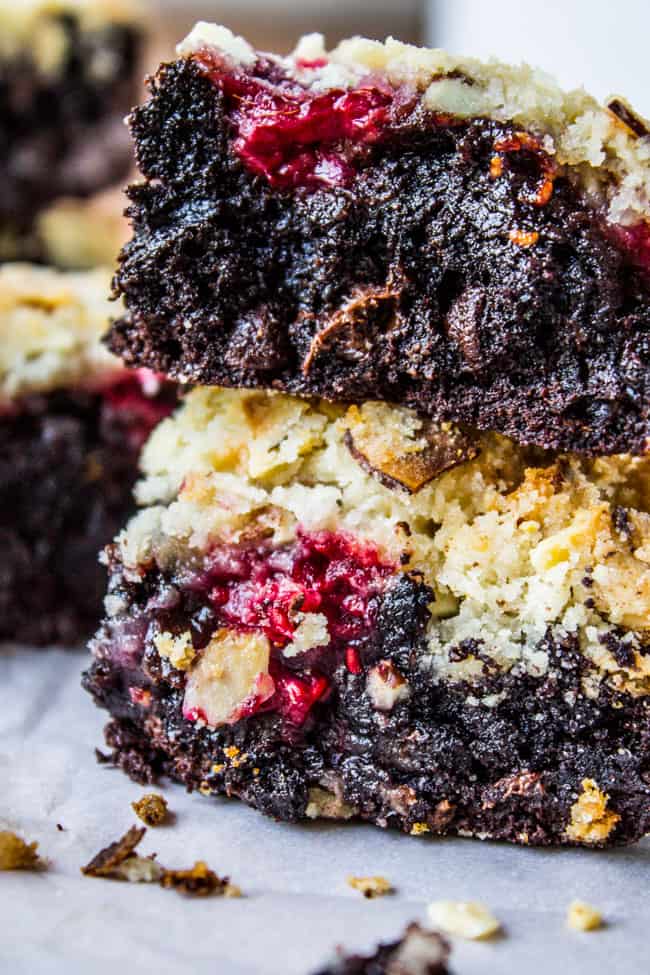 So have you guys seen raspberries on sale at the store yet? Even if you haven't, these brownies are still for you. They are for everyone. Shout it from the rooftops. Thick, decadent, brown-butter (of course) brownies, studded with raspberries, smeared with jam, and crumbled with a sugary almond crust. IT'S SO GOOD. This is adapted from Lovely Little Kitchen's Raspberry Almond Crumb Bars, which are amazing as is. I just wanted to try the idea with brownie and love how it turned out. (If you haven't been to Julie's blog, then go on, get. She's amazing.)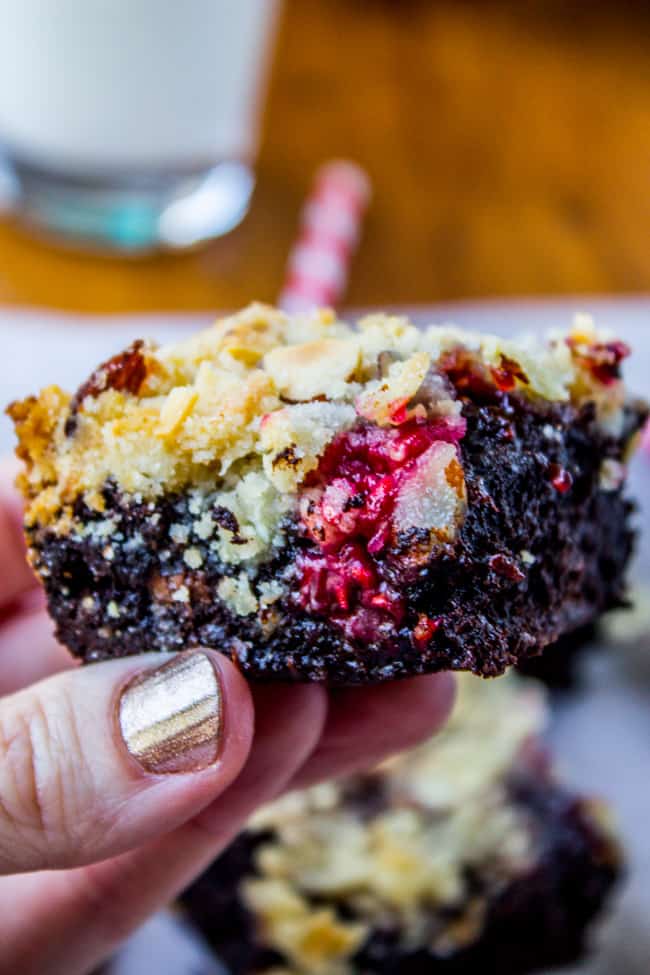 Here's a fun raspberry (or any berry) tip: I read somewhere that unless you absolutely need them to be fresh for a garnish or something, frozen raspberries are more "fresh" than ones in the produce department. Meaning that they were picked at their peak and then frozen right away, whereas fresh ones have been shipped and sat in a store for days. So if they are going to be cooked down anyway, I buy frozen ones (if they are cheaper). You can use fresh or frozen ones in this recipe.
I brought this to a church potluck a few weeks ago and it went like gangbusters. There are no compliments quite like the ones from bespectacled old men in suspenders with a mouthful of brownie telling me, "These are real good, Karen!"
Do you guys give up? Or are you thirsty for more?
Facebook | Pinterest | Instagram | Twitter
Raspberry Almond Crumb Brownies
These raspberry-studded brownies are topped with an almond-y buttery-crumble. There's raspberry jam in there too. Oh, did I mention the brown butter? Yeah. 
Ingredients
For the brownies:
1 & 1/4

cups

salted butter

2 & 1/2

cups

granulated sugar

1 & 1/2

cups

unsweetened cocoa powder

1/2

teaspoon

salt

1

tablespoon

water

2

teaspoons

vanilla extract

4

eggs

1

cup

all-purpose flour

1

cup

semi-sweet chocolate chips

,

high quality , optional
On top:
6

tablespoons

raspberry preserves

1

cup

raspberries

,

fresh or frozen
Streusel:
1/2

cup

sugar

3/4

cup

all purpose flour

1/2

cup

sliced almonds

4

tablespoons

butter

,

cold, cubed
Instructions
Preheat oven to 350 degrees.

Prepare a 9×13 baking dish by lining with parchment paper or foil and then spraying with non-stick cooking spray. Or just spray the pan.

Melt butter in a large saucepan over medium heat. Stir occasionally. The butter will foam up, then back down and start forming brown colored milk solids or "bits". When it is a nice light brown and it starts to smell like you could drink it straight, that's when you know it's done.

While your butter is browning, combine sugar and cocoa in a bowl or stand mixer.

Once the butter is nice and brown, immediately pour the butter into the bowl with the sugar and cocoa (so that it stops cooking. You don't want it to burn). Beat the mixture until it is smooth, almost creamy.

Add the salt, water, and vanilla. Add the eggs, one at a time, mixing in between each addition.

Add the flour and chocolate chips and mix until just incorporated. Batter will be about the consistency of cement. Have a taste. It's awesome.

Use a sturdy rubber spatula to spread batter in the 9×13 pan.

Dollop 6 tablespoons of preserves on top of the brownies. Use a knife to swirl it together (don't overdo it). Press 1 cup of raspberries evenly throughout the batter.

Meanwhile, make the streusel. In a medium bowl combine sugar, flour, and almonds. Use a pastry cutter or fork to cut in the cold butter.

Sprinkle the mixture on top of the brownie batter.

Bake for 25-30 minutes until toothpick inserted comes out clean and the streusel has started to brown.

Cut into bars and serve hot!
Notes
You can totally use a box mix of brownies and just add the other stuff on top.
Source: Adapted from Lovely Little Kitchen's Raspberry Almond Crumb Bars, which are amazing and you need to make them.
Nutrition
Serving:
1
brownie
,
Calories:
515
kcal
,
Carbohydrates:
66
g
,
Protein:
7
g
,
Fat:
28
g
,
Saturated Fat:
15
g
,
Polyunsaturated Fat:
2
g
,
Monounsaturated Fat:
9
g
,
Trans Fat:
1
g
,
Cholesterol:
87
mg
,
Sodium:
246
mg
,
Potassium:
292
mg
,
Fiber:
5
g
,
Sugar:
46
g
,
Vitamin A:
598
IU
,
Vitamin C:
3
mg
,
Calcium:
54
mg
,
Iron:
3
mg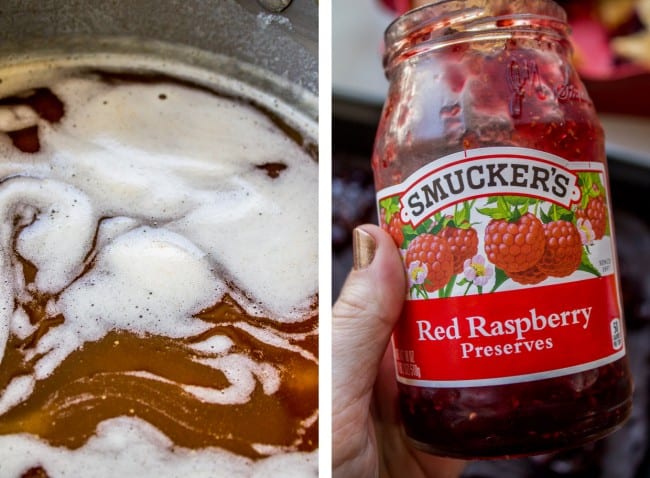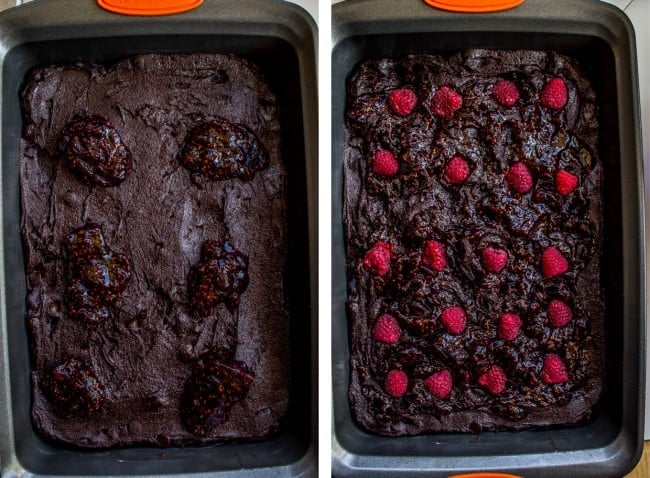 You might also like:
 Reese's Stuffed Brown Butter Brownies: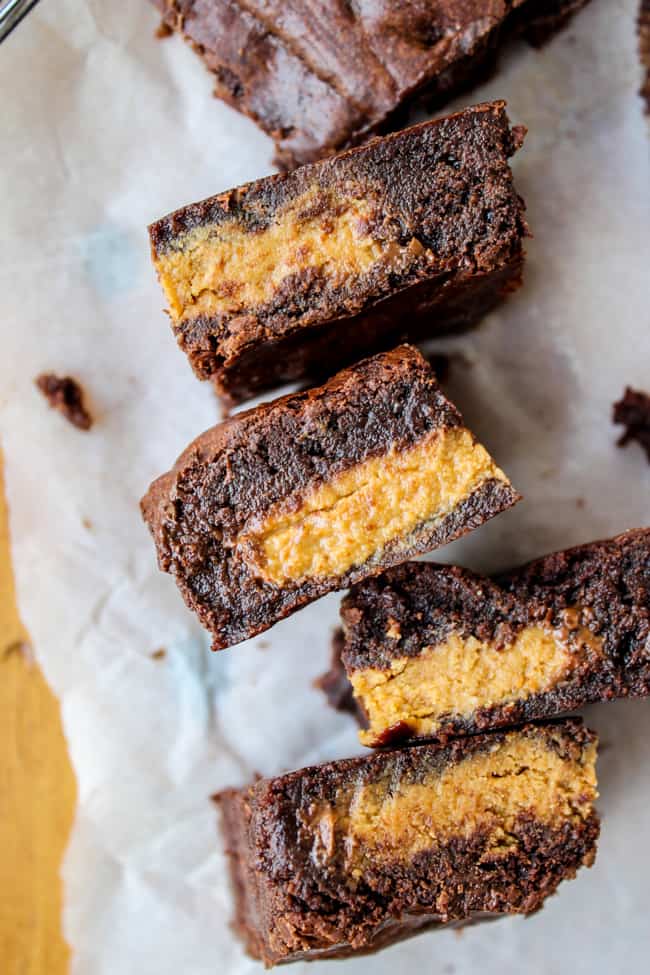 Nutella-Stuffed Brown Butter Blondies: (reader favorite!)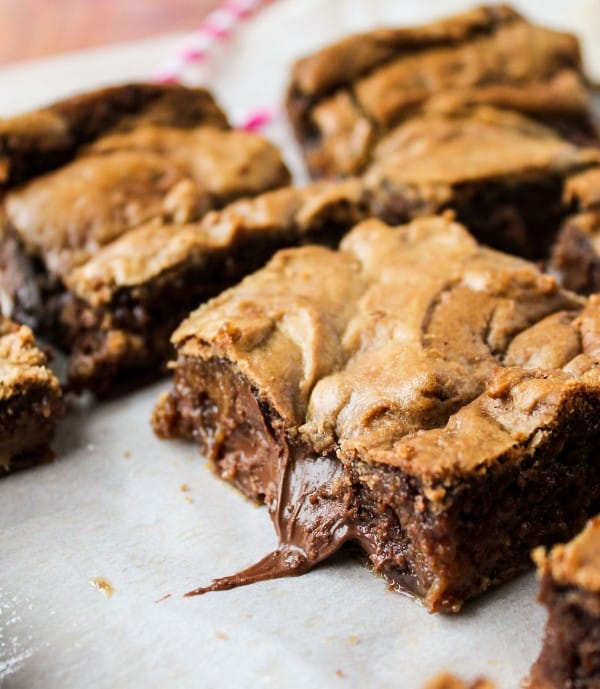 Ganache-Stuffed Peanut Butter Bars: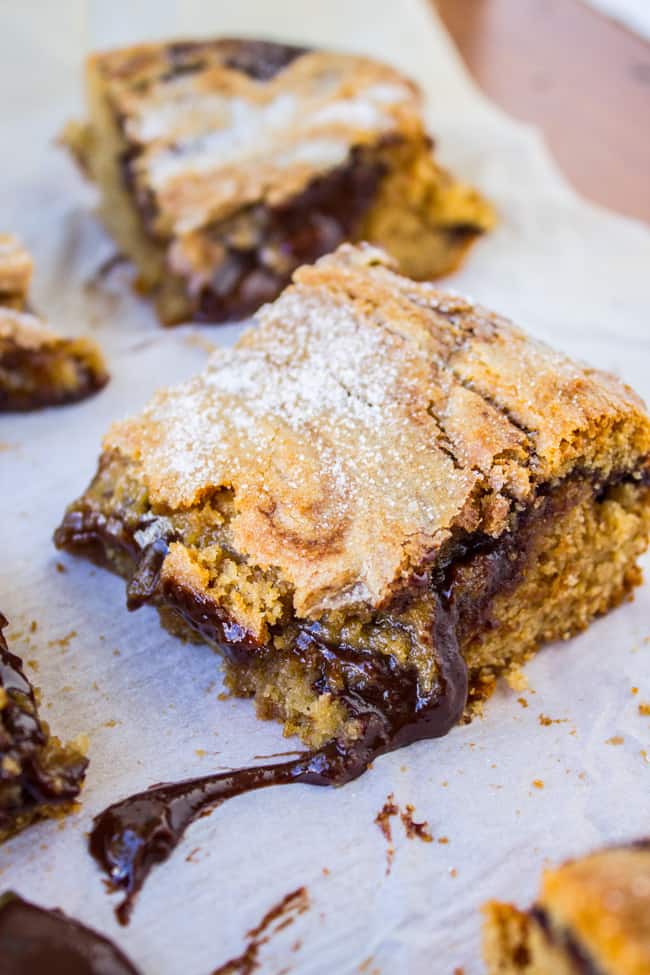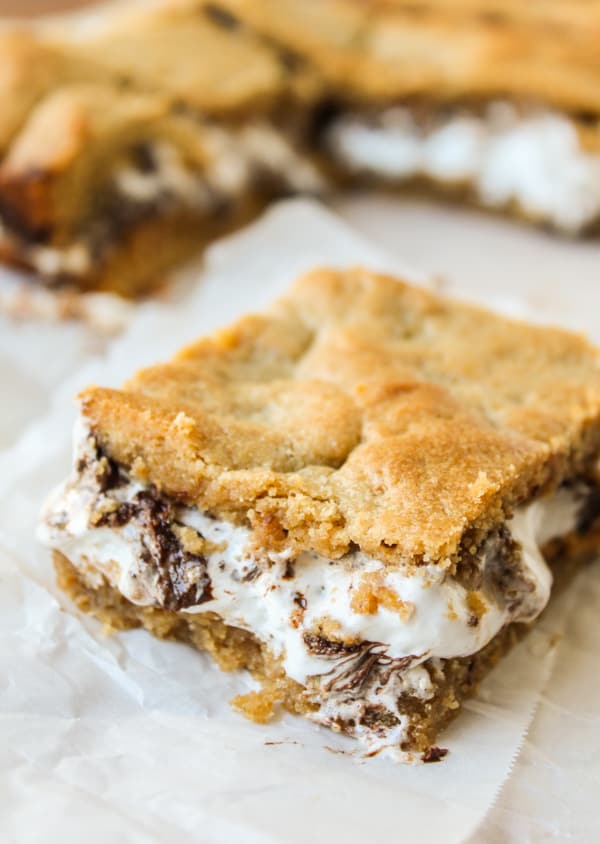 More goods from other bloggers:
Chocolate Raspberry Oat Bars from Texanerin Baking
Coconut Raspberry Bars from Bake or Break
Dark Chocolate Raspberry Pie Bars from Deliciously Sprinkled
And don't forget the original Raspberry Almond Crumb Bars from Lovely Little Kitchen!
We are a participant in the Amazon Services LLC Associates Program, an affiliate advertising program designed to provide a means for us to earn fees by linking to Amazon.com and affiliated sites.