Pepperoni Meatballs
Everybody loves pepperoni, right? (Seriously, how many pepperoni pizzas are eaten every day?) I decided to add the flavors to meatballs. Best idea ever! Super tender meatballs with a little bit of a pizza kick. It's easy and so good!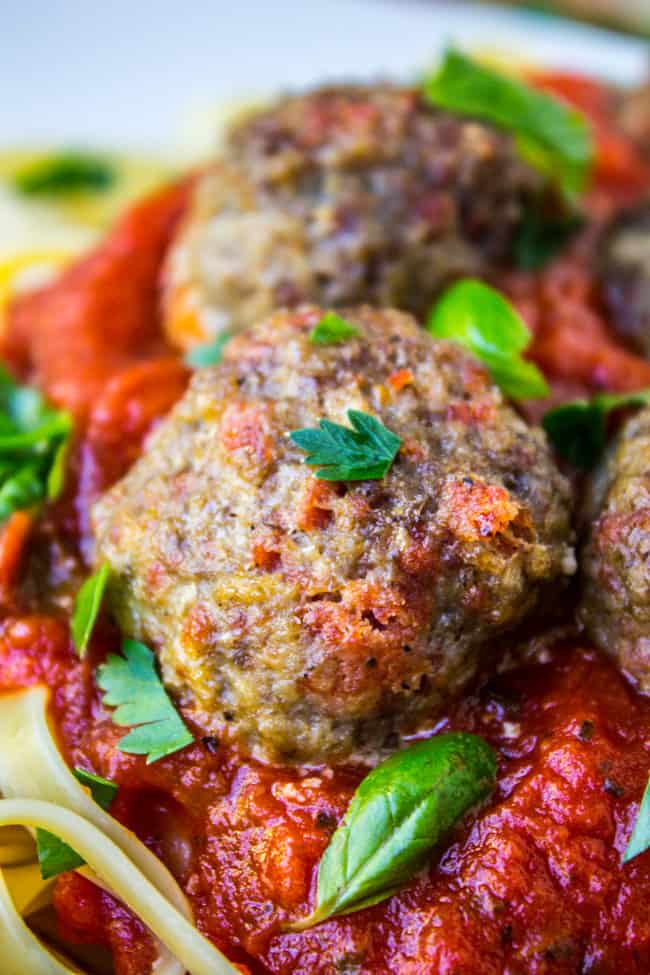 Last week we were eating homemade hamburgers with our friends Sarah and Brian, and I forgot to set out napkins on the table. My hands were covered in hamburger-ness (I don't believe in neat hamburgers), but I noticed that Sarah's hands were perfectly clean. "What gives?? Why are your hands so clean??" She said, "Probably because I'm a tidier eater than you…Also I wiped my hands on my pants."
This is why we're friends.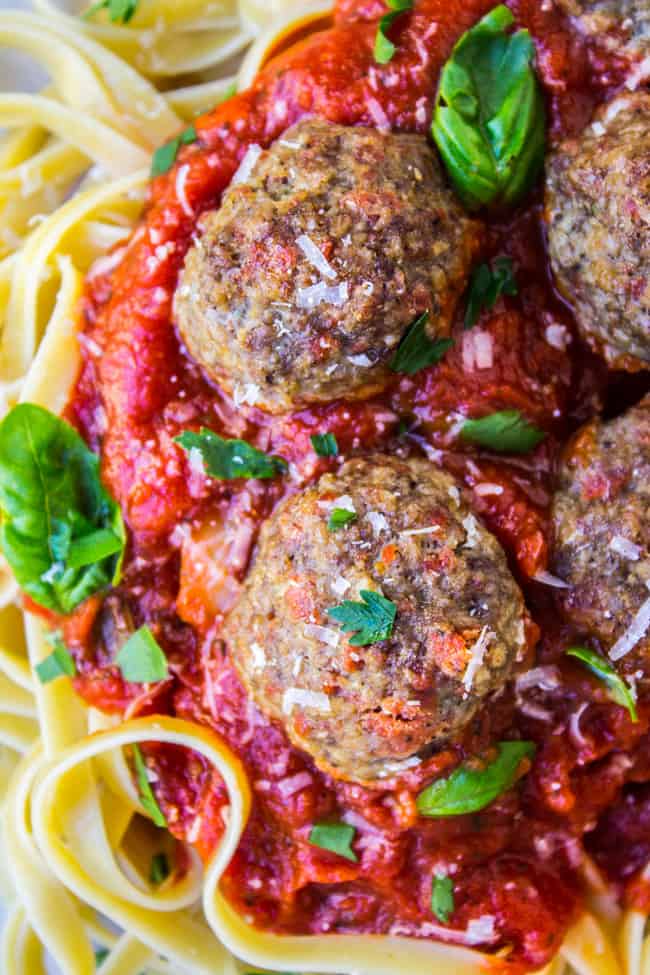 One time I was eating dinner with Eric's family. We had just said the prayer and started eating when I looked around and said, "How come I'm the only one who got a napkin?" and it was only when everyone started laughing that I realized everyone DID have a napkin, it was just already on their laps. You know, where napkins are supposed to go when you're eating.
I should definitely let them know about Sarah's strategy though. It will be a revolution! Who needs napkins when you have pants?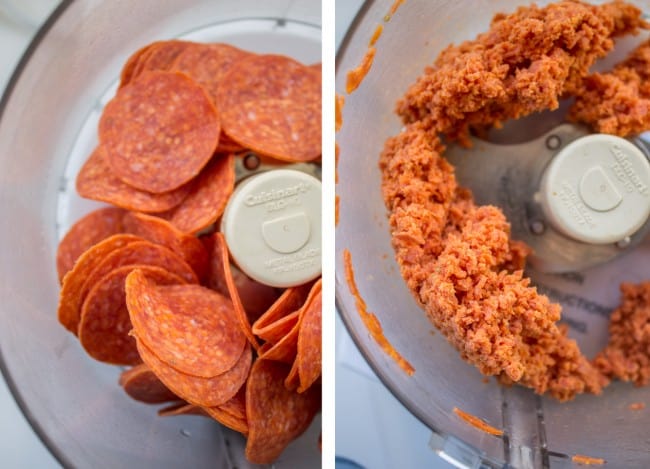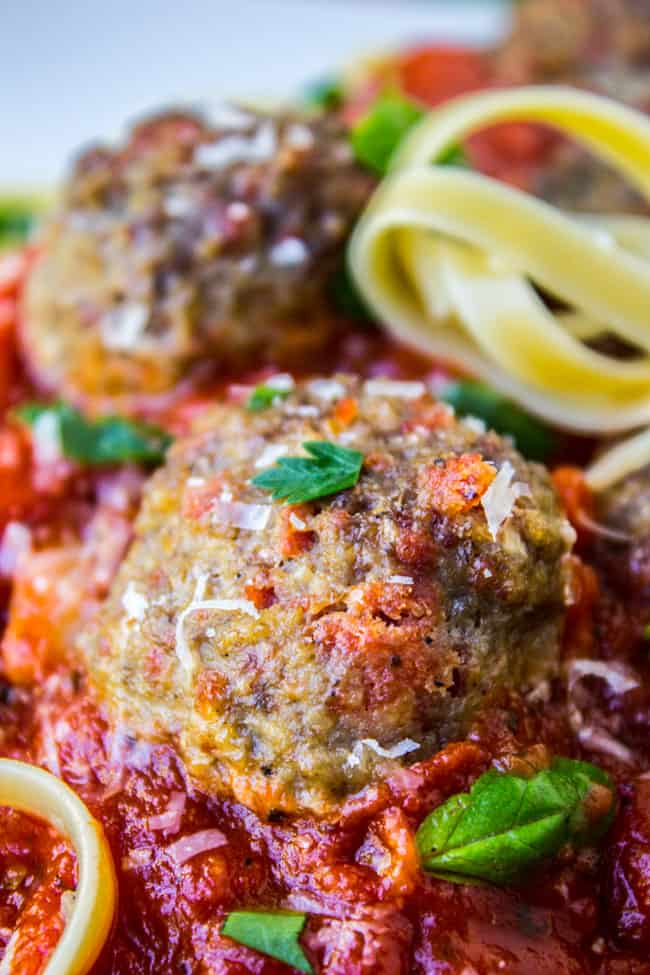 You know how packages of pepperoni come with little packets that say DO NOT EAT on them? Does anyone know what's actually in them? Because I definitely have no idea. All I know is that if you are chopping up your pepperoni in a food processor so that you can add it to meatballs, TAKE OUT THE PACKET first. Definitely realized that too late the first time. Good thing I had more pepperoni in the freezer!
IF you can remember to take out the Do Not Eat packet, then these meatballs are super easy. Also DELICIOUS. It's like pizza-flavored meatballs. What's not to love? Add it to some quick pasta and sauce and dinner is done.
Facebook | Pinterest | Instagram | Twitter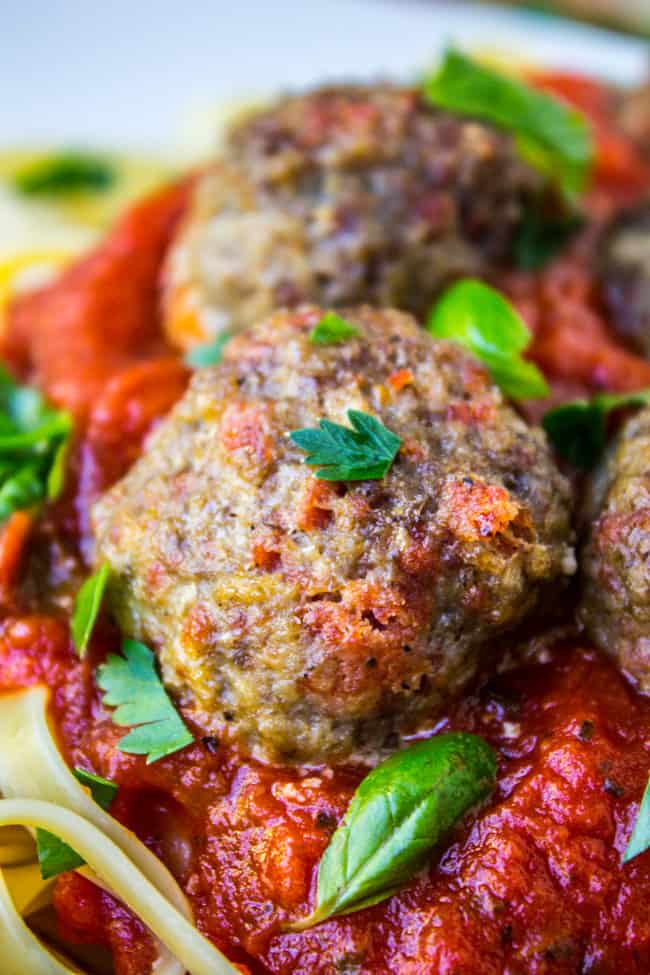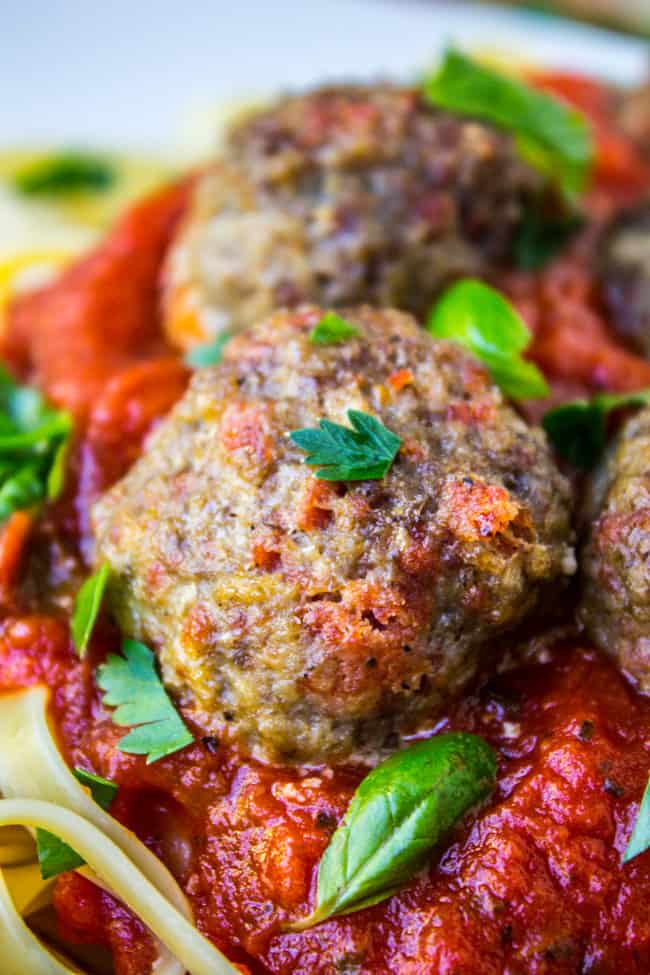 print
Did you make this recipe?
Leave a review »
Pepperoni Meatballs
Makes 25-30 meatballs
adjust servings
Ingredients
1

(6 ounce) package sliced pepperoni

8

ounces mushrooms

1/4

of a medium onion

2

cloves garlic

1

pound ground beef

2

eggs

3/4

cup milk

3/4

cup panko breadcrumbs or quick oats

1

and 1/2 teaspoons salt

3/4

teaspoon pepper

1/2

teaspoon paprika
Instructions
Preheat the oven to 450 degrees F.
Add the pepperoni to a food processor.* Pulse thoroughly until it is ground completely. Add to a large bowl.
Add the mushrooms, onion, and garlic to the food processor and pulse until ground. Ignore the fact that this mixture looks extremely questionable and add it to the bowl.
Add the ground beef, eggs, milk, breadcrumbs, salt, pepper, and paprika.
Line a large baking sheet with foil and coat with nonstick spray.
Use your hands to combine the mixture. I know it feels gross, but it works better than a spoon and makes the meatballs more tender.
Form the meatballs into balls a little smaller than a golf ball. (Or any size you want, as long as they are uniform.)
Bake for 10-12 minutes, or until browned on the bottoms.
Serve with pasta and marinara! Makes about 25-30 meatballs.
by The Food Charlatan

If you make this recipe,
share it on Instagram
 using the hashtag
#TheFoodCharlatan
so I can see it!
This recipe was originally posted by me on I Heart Naptime. I was a contributor for Jamielyn's blog last year, but I figure you guys want the recipes too!
More meatballs! 
Easy Baked Meatballs < there's no chopping or frying in this recipe. Super basic recipe that can be adapted for anything.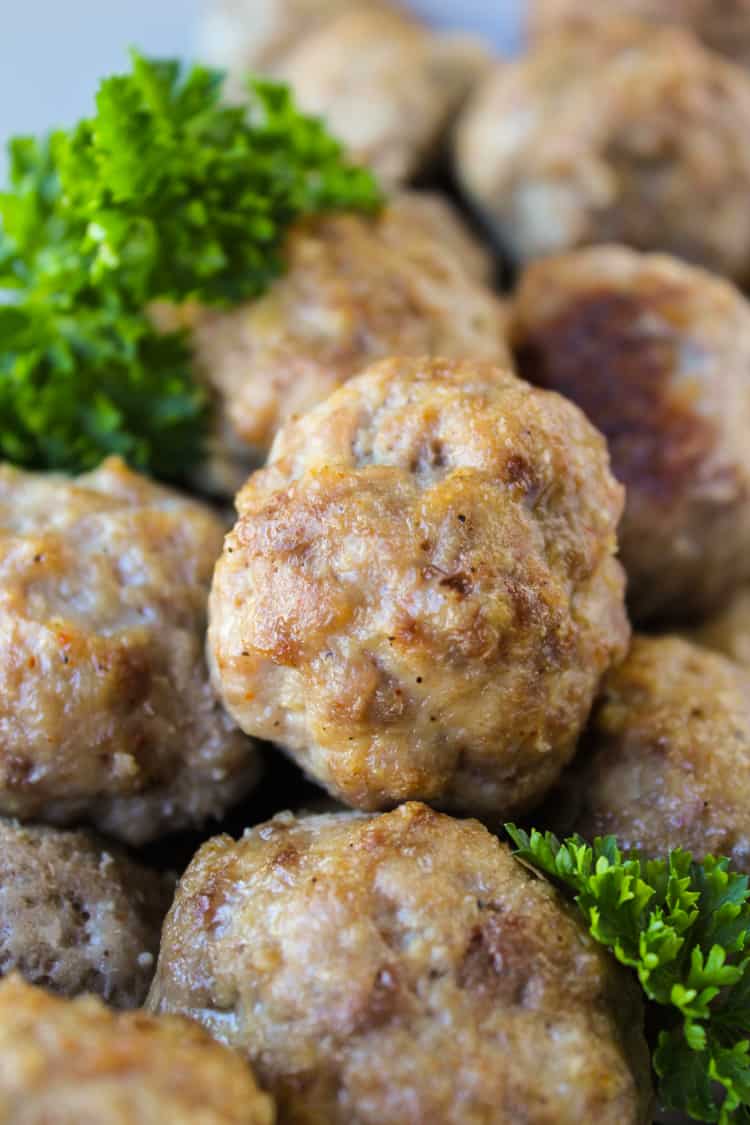 Raspberry Balsamic Meatballs (Slow Cooker) << this is a reader favorite!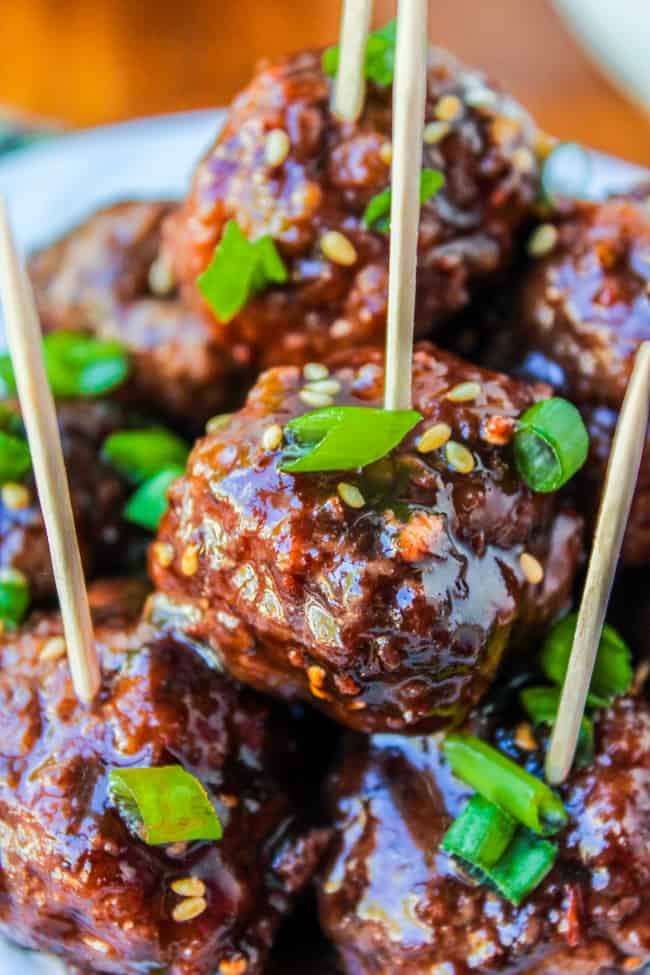 Swedish Meatballs << this is a classic in Eric's family! Also click this post to read a comment from my friend Ami whose comment on this post still makes me laugh years later.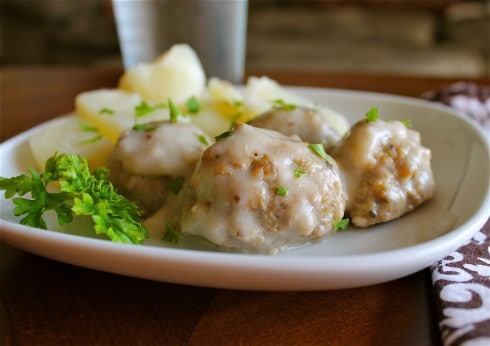 Chicken Tikka Masala Meatballs << this is not weird, it is delicious. Trust me.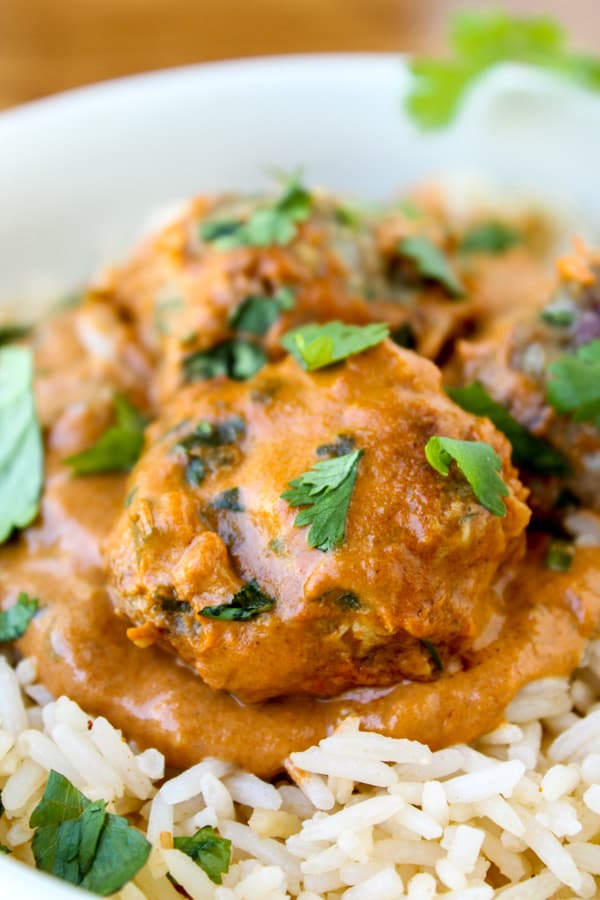 Here are some other meatball ideas!
I'm loving the looks of this Italian Meatball Soup Recipe from It's Yummi! Perfect for a cold day.
Chicken Parmesan Meatballs from The Slow Roasted Italian
Low Carb Pepperoni Pizza Meatballs from I Breathe I'm Hungry
Smoked Sausage Bacon Pepperoni Mozzarella Meatballs from Drool Worthy << like whoa
We are a participant in the Amazon Services LLC Associates Program, an affiliate advertising program designed to provide a means for us to earn fees by linking to Amazon.com and affiliated sites.