Blackberry Balsamic Glazed Chicken
This tender chicken is marinated, grilled, and then topped with a delicious Blackberry-Balsamic Glaze. It is easy to throw together and perfect for using up those summer berries! 
Charlotte stopped me in the middle of reading her a book today to inform me of the correct pronunciation of the word "patent." She's FOUR. She CAN'T READ.
Apparently it's not pronounced "pay-tent" leather. Don't judge me, okay. I have my 4-year-old for that.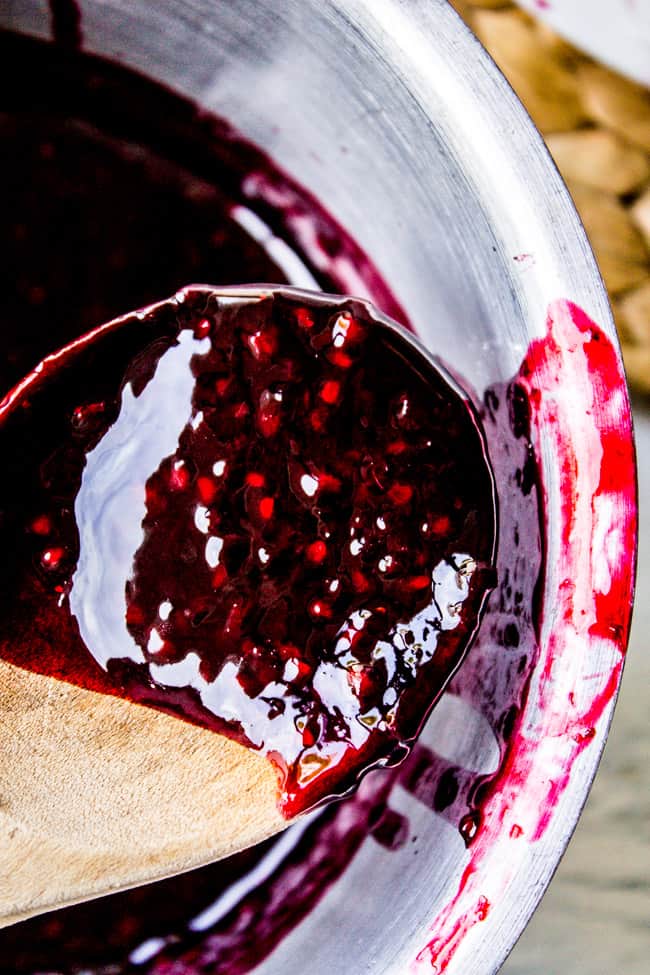 Eric is always calling me out on my terrible pronunciation. I am well-read and have a decent vocabulary. But you never have to read it out loud, so how should I know?
I read "arrogant" wrong for years as a kid and thought it was pronounced "aggorant." One time as a tween I came up to my mom and asked her what whores-dwoveres were. (Hors d'oeurves) Don't even get me started on "rendezvous." Or the time I pronounced "fatigue" as "fat-ig-you" in front of an entire church congregation. Yep, never gonna live that one down.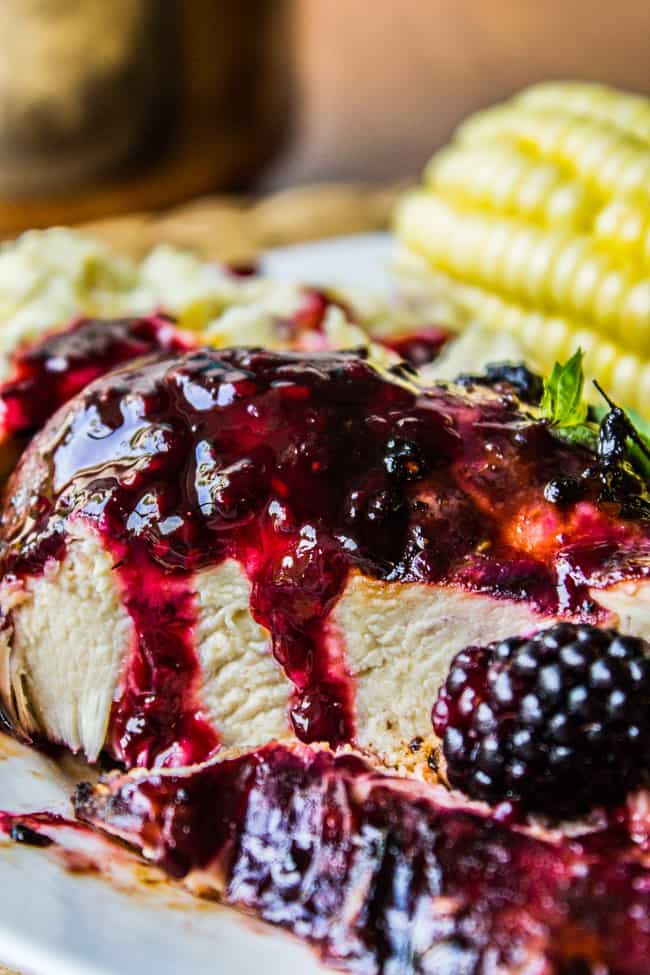 Today we're making Balkberry Blasamic Glazed Chicken! Just kidding. A couple weeks ago after my epic battle with the thorns, I had several gallons of fresh blackberries. So naturally I made 4 of these Fresh Blackberry Glace Pies. (Count em, FOUR. Worth it.)  And then I still had some and decided I wanted to do something savory. And glazey. Savorazy.
The marinade for this chicken is based off this ever-popular Balsamic Grilled Chicken with Spicy Honey-Bacon Glaze. I changed it up and added smashed berries, but be aware that this turns your chicken a violent shade of purple on the outside. I love it! So colorful. But if you are short on berries, you can use the marinade from the original recipe and just use the berries in the glaze. Either way would be tasty.
The glaze is adapted from another super popular recipe on my blog, Brown Sugar Balsamic Pork Tenderloin. I really like the blackberry-balsamic combo, it totally works. Hooray for summer grilling! Have a great weekend everyone!
Do you guys give up? Or are you thirsty for more?
Facebook | Pinterest | Instagram | Twitter


print
Did you make this recipe?
Leave a review »
Blackberry Balsamic Glazed Chicken
Serves 4-6
adjust servings
Ingredients
For the marinade
2

cups blackberries, mashed

1

cup olive oil

1/2

cup balsamic vinegar

a few shakes hot sauce of your choice

2

tablespoons white sugar

2

tablespoons steak seasoning

6

chicken breasts, about 3 pounds total
For the glaze
1/2

cup cold water

1

tablespoon cornstarch

1/2

cup white sugar

1/4

cup balsamic vinegar

1

cup blackberries
Instructions
In a medium bowl, mash the 2 cups blackberries. Add to a large ziplock bag, along with the olive oil, 1/2 cup balsamic vinegar, hot sauce, 2 tablespoons white sugar, and steak seasoning. Add the chicken and shake it up so everything gets all mixed together.
Refrigerate for at least 4 hours, or up to 24. Turn every couple hours.
Heat grill to medium heat. If your chicken breasts are very thick, use a rolling pin or meat mallet to pound them down a bit. They will cook more evenly that way.
Prepare the glaze: in a small saucepan combine COLD water and cornstarch with a whisk. Turn the heat to medium. Add 1/2 cup sugar, 1/4 cup balsamic vinegar, and 1 cup blackberries. Mash the berries. Stir over medium heat until the mixture thickens, about 4 minutes. Set over low heat and stir occasionally to keep warm while you cook the chicken.
Grill the chicken for 3-5 minutes, then flip and cook for another 2-4 minutes or so. I highly recommend a meat thermometer.
Serve the hot chicken with the warm glaze spooned over the top. Goes great with grilled corn and mashed potatoes!
by The Food Charlatan

If you make this recipe,
share it on Instagram
 using the hashtag
#TheFoodCharlatan
so I can see it!
Other recipes to try!
Balsamic Grilled Chicken with Spicy Honey-Bacon Glaze << one of the most popular recipes on my site!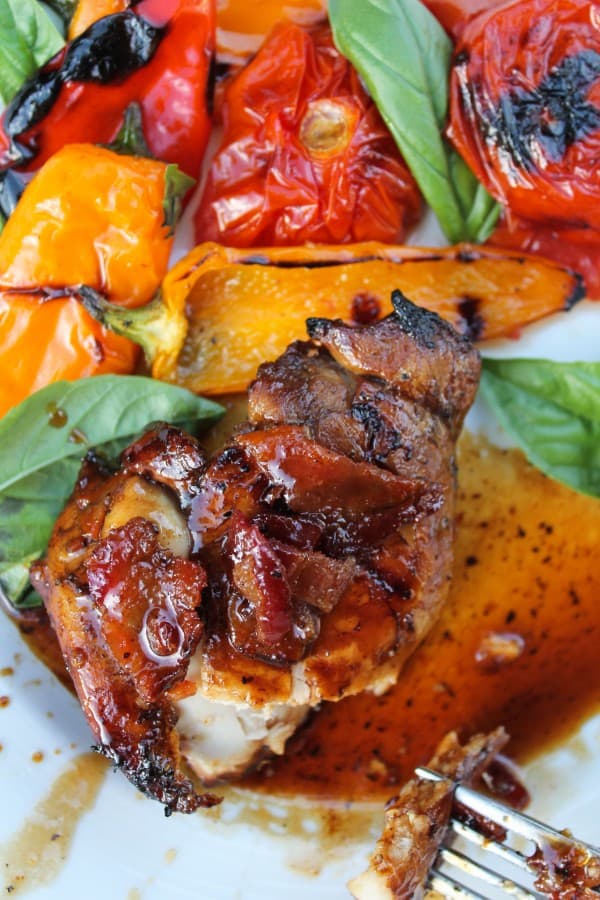 Brown Sugar Balsamic Pork Tenderloin: (make this!)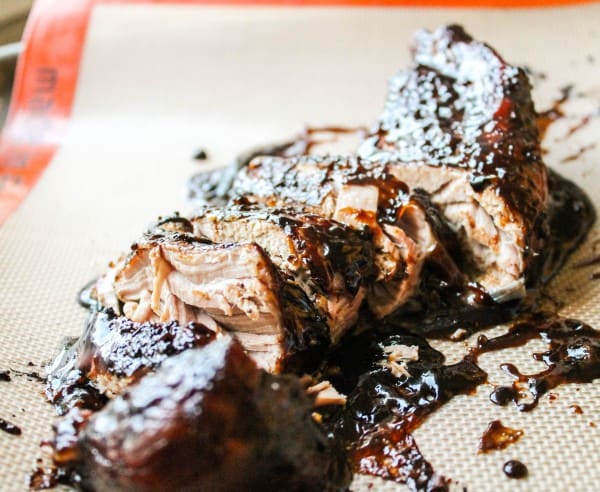 Prosciutto-Wrapped Chicken with Asparagus: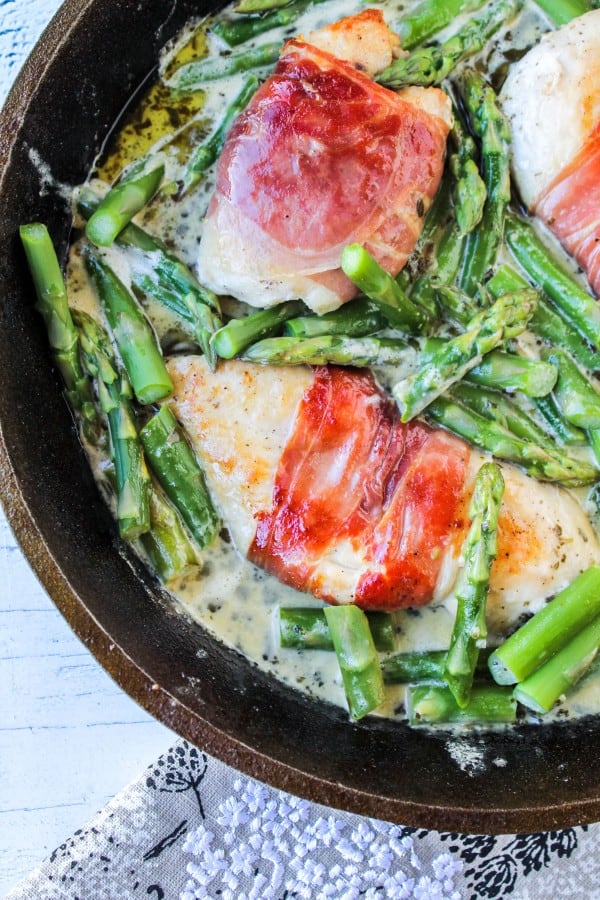 Raspberry Balsamic Meatballs (Slow Cooker):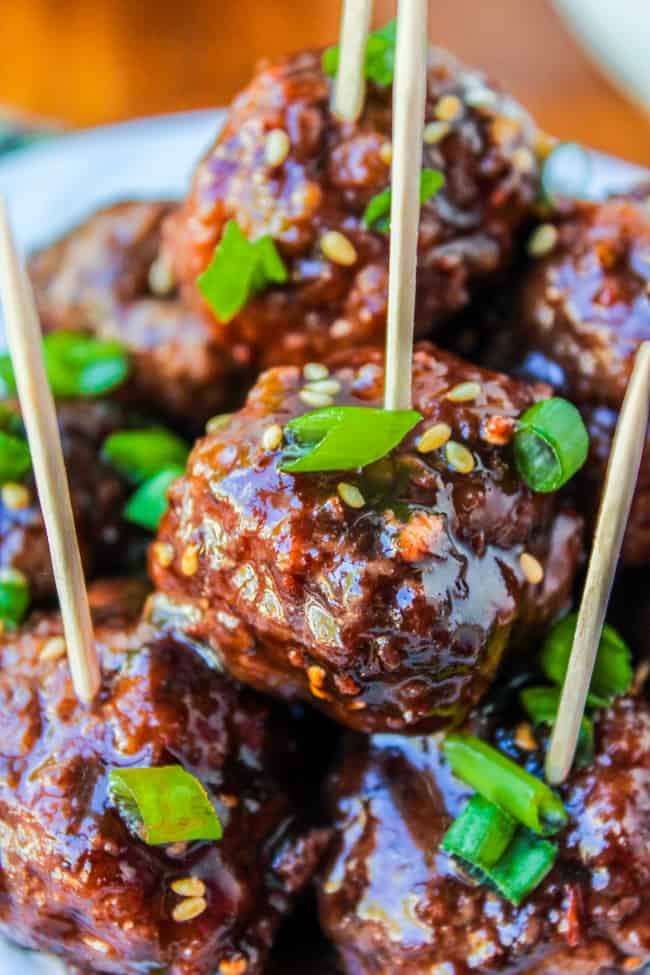 Blackberry Hoisin Ginger Pork Tenderloin from Carlsbad Craving
Blackberry and Jalapeno Chicken Sandwiches from Cooking for Keeps
Salmon with Blackberry Brandy Sauce from Steamy Kitchen
We are a participant in the Amazon Services LLC Associates Program, an affiliate advertising program designed to provide a means for us to earn fees by linking to Amazon.com and affiliated sites.