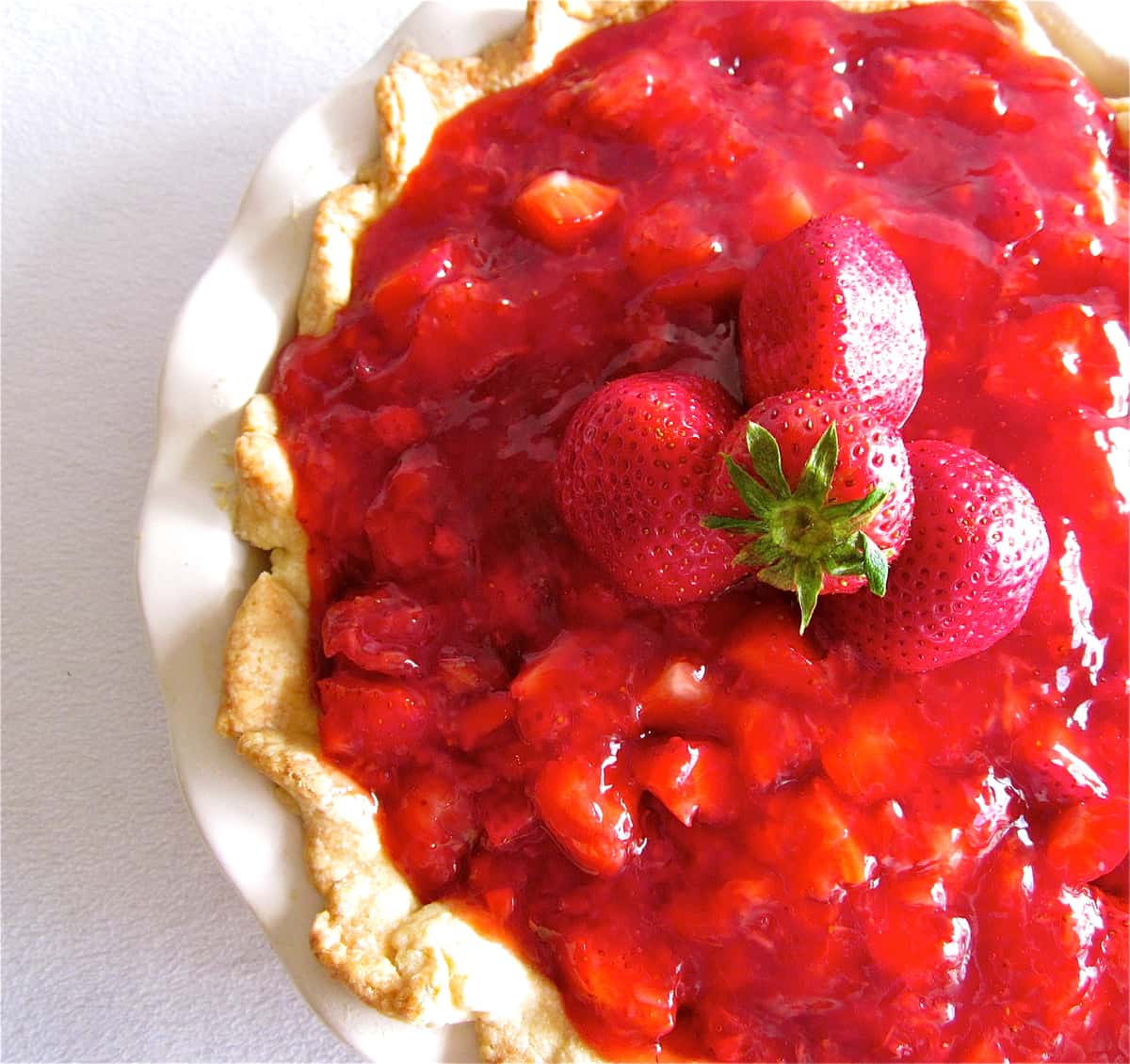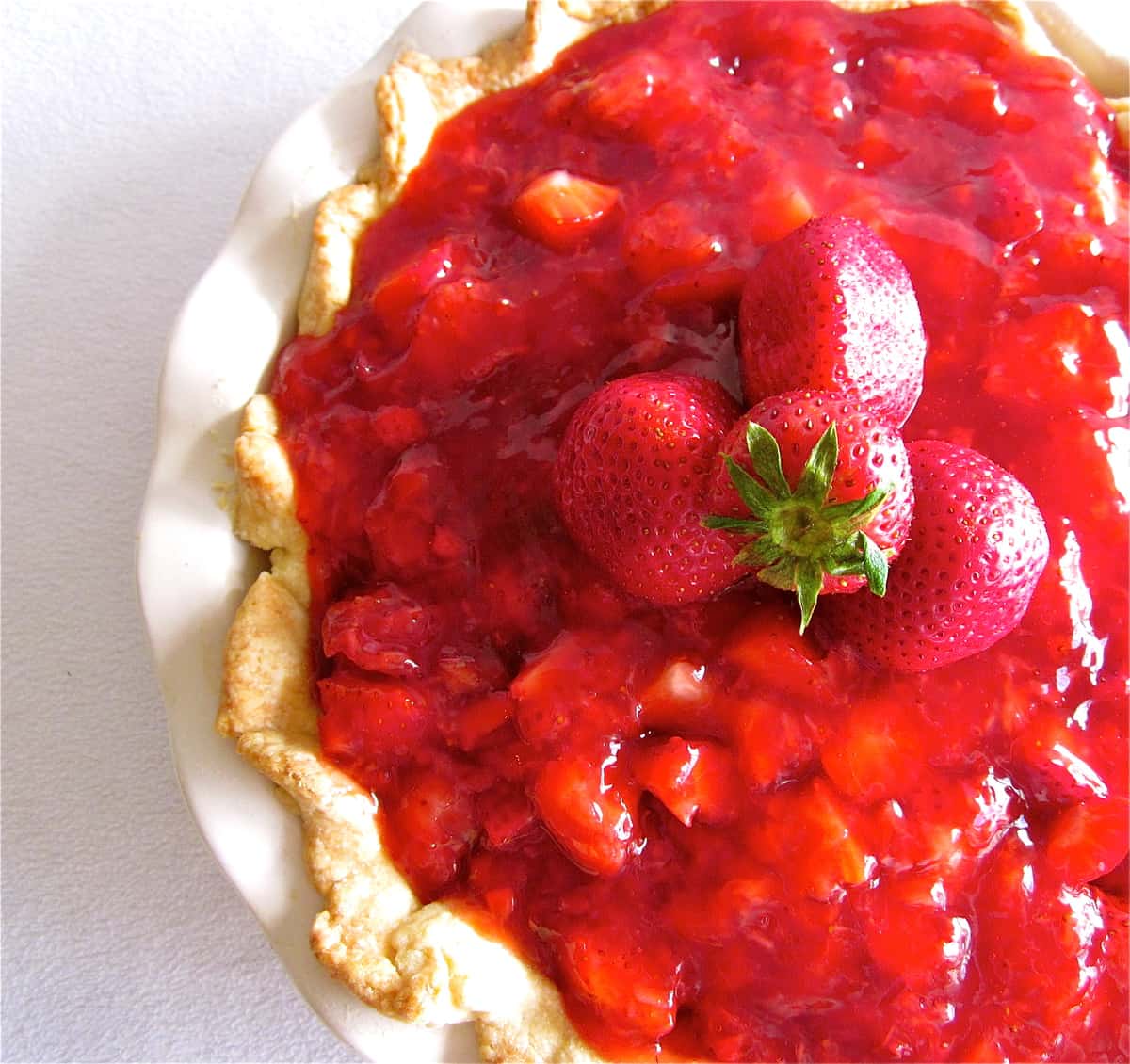 I was digging through some old emails the other day when I came across a word document that my college roommate, Sarah, sent me years ago. Apparently I was telling her a story one time during our freshman year, and she thought it needed to be recorded in writing. It is pretty much verbatim:
You know those little Bonnebelle cheeses that come in the wax? (I was talking about these.) Well, one day, I was eating one of those and all of a sudden I thought, I need to leave for work. So I will just take it with me. So I was on my way to work as a lifeguard and I was holding the cheese in one hand and the wax in the other and I thought, "Hmmm…I don't want to hold this wax anymore." So I put it down in my cup holder. And it was very hot that day. So the wax melted. And I thought, "Hmmm…I will just leave this here." So every day it melted and hardened, melted and hardened, every night and day for the next three months. And then, six hours before I was leaving for college, I thought, "Hmmm…I should clean out my car." So I did! And the wax is gone now…kind of.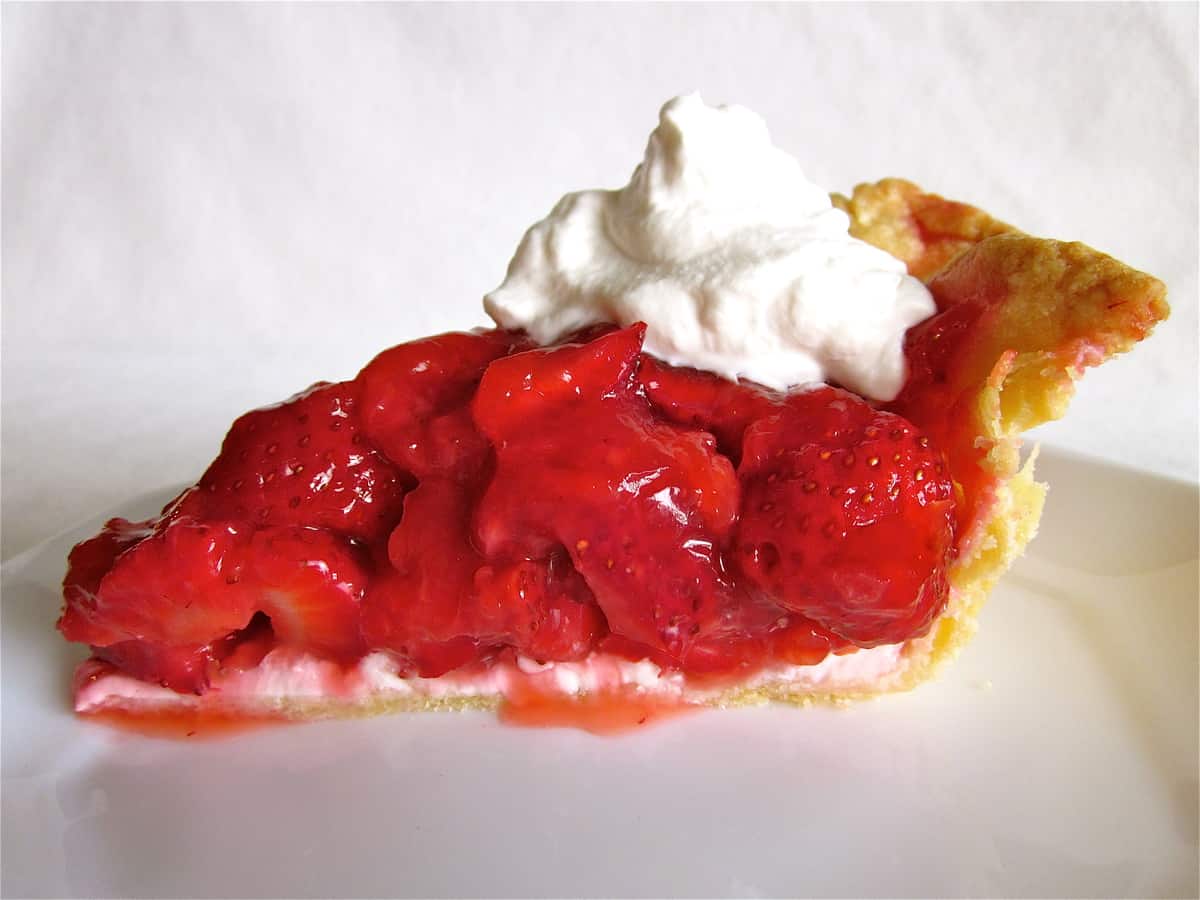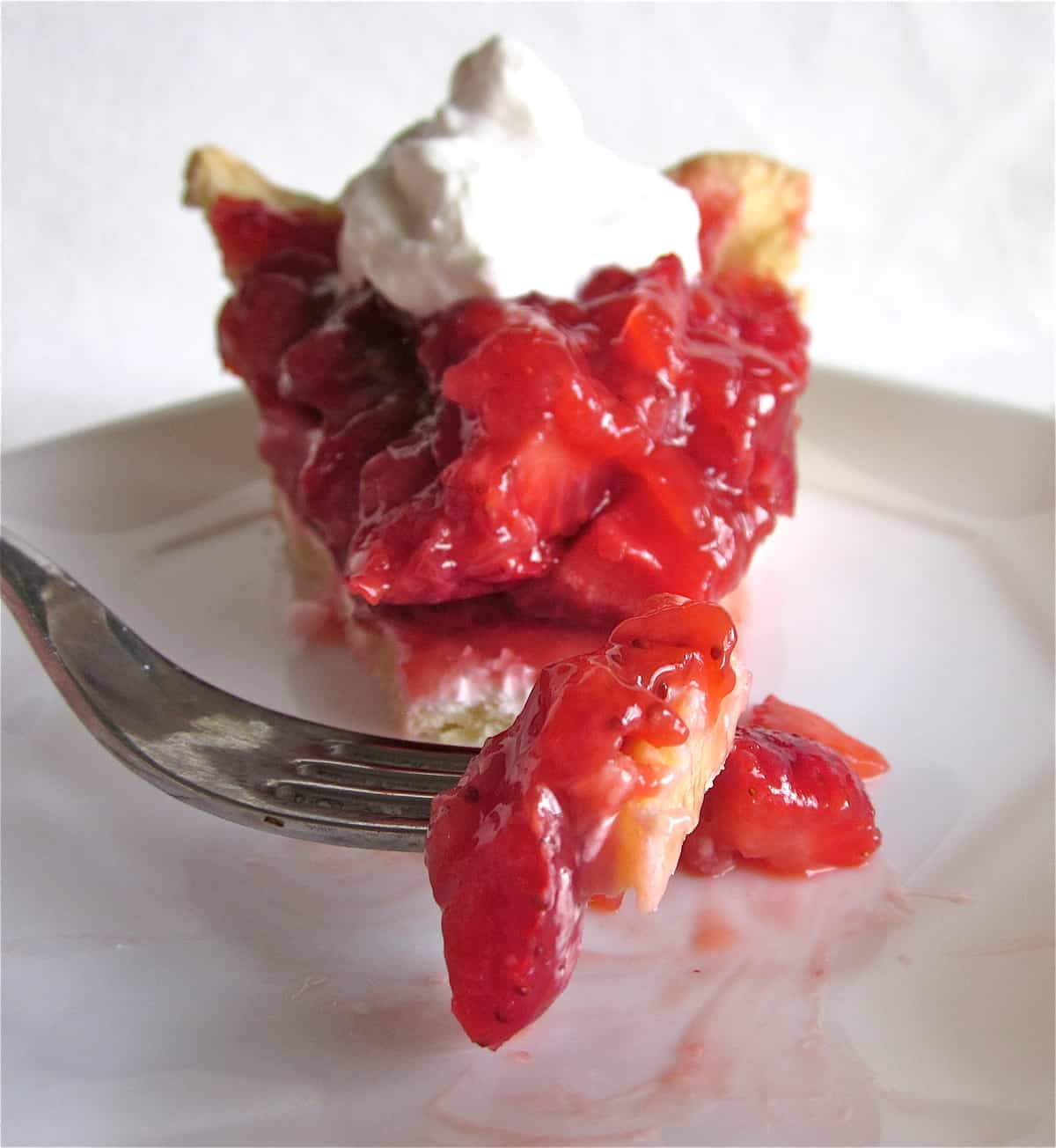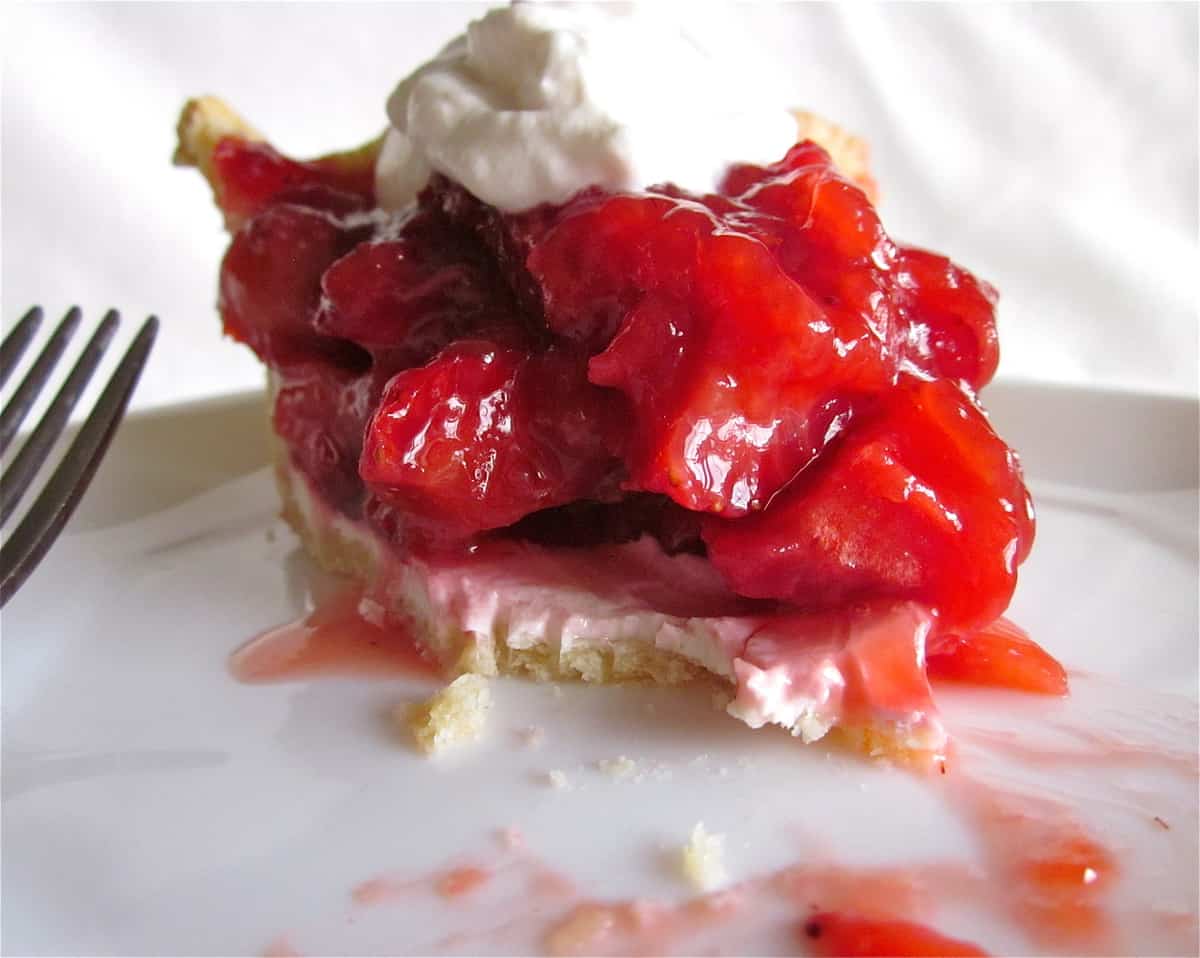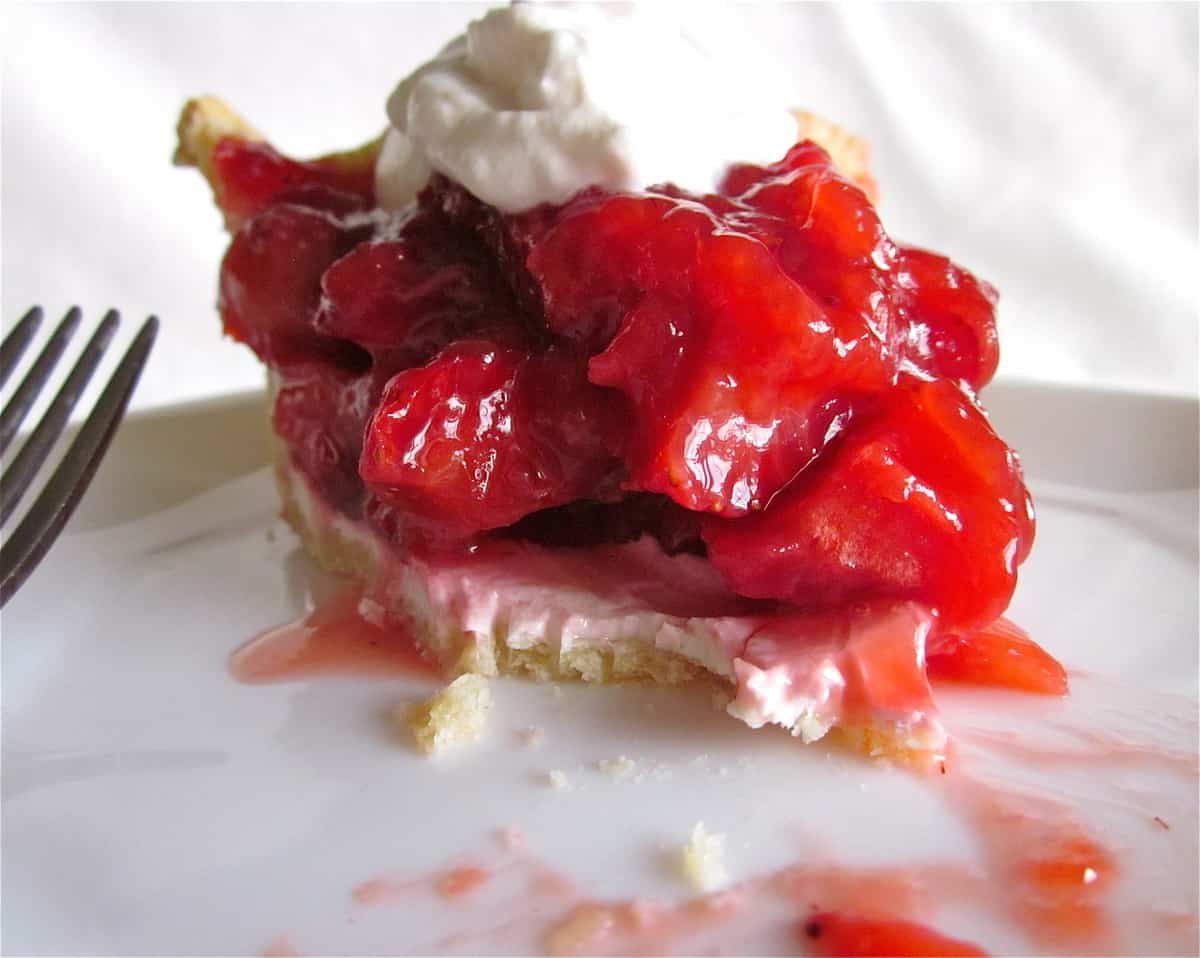 I think that pretty much encapsulates my 17-year-old-self. And I'm pretty sure there is still a wax stain in that cup holder. Sorry, parentals, for your disgusting teenage daughter! I still love those Babybel cheese wedges though. Some things never change, and my love for cheese is one of them. The fact that there is a cream cheese layer in this pie makes it a thousand times better.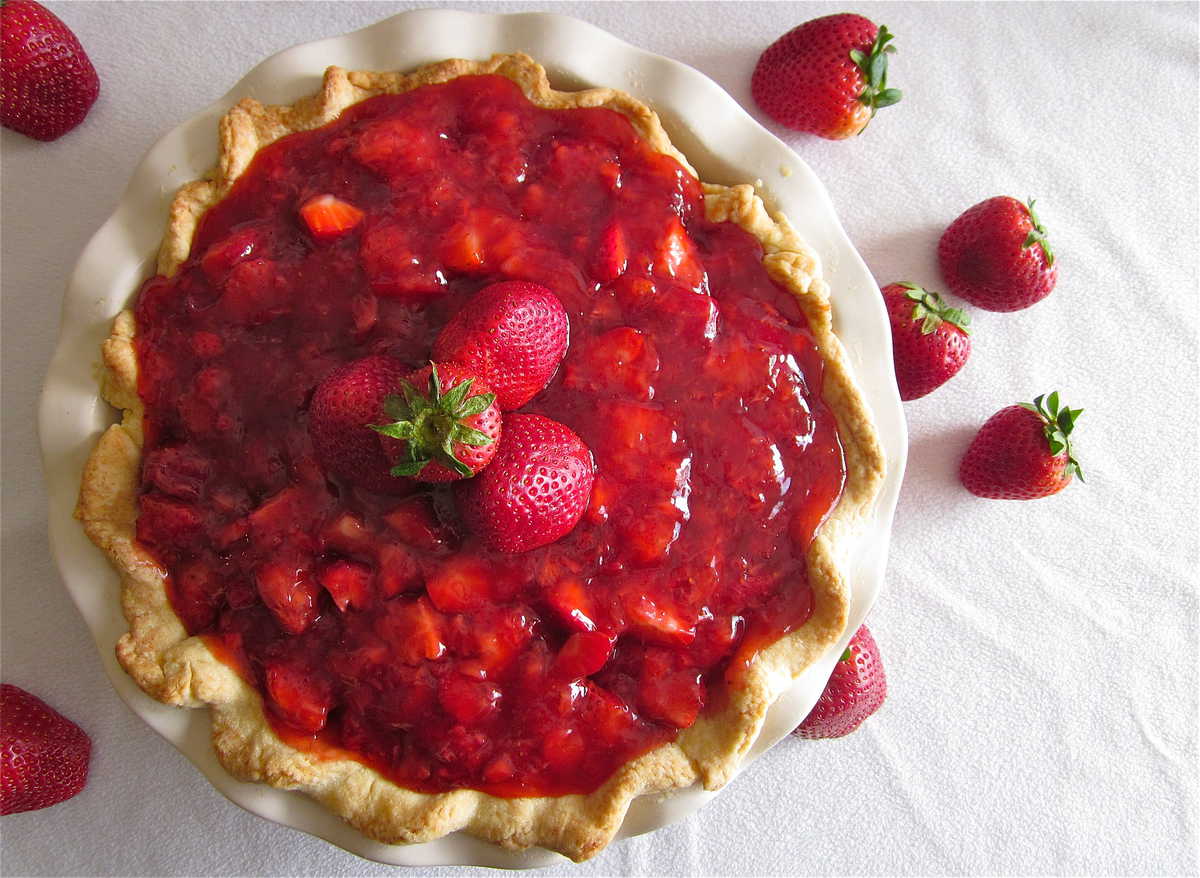 I think this is my favorite pie. Well, fruit pie. Okay, fresh fruit pie, how is that? It is so amazingly simple and delicious. It is of course best when strawberries are in season, but sometimes you just need a fresh fruit pie in March, so strawberries shipped from Mexico will have to do.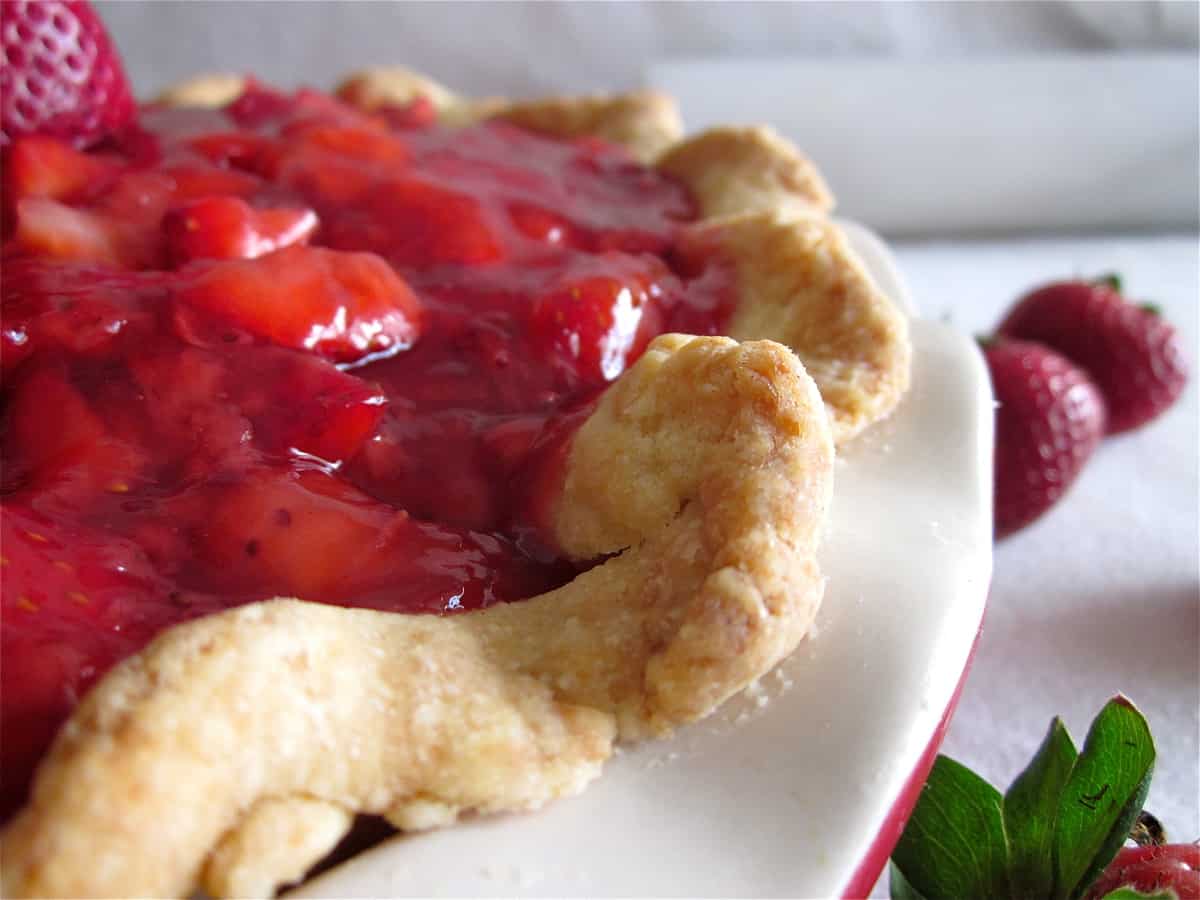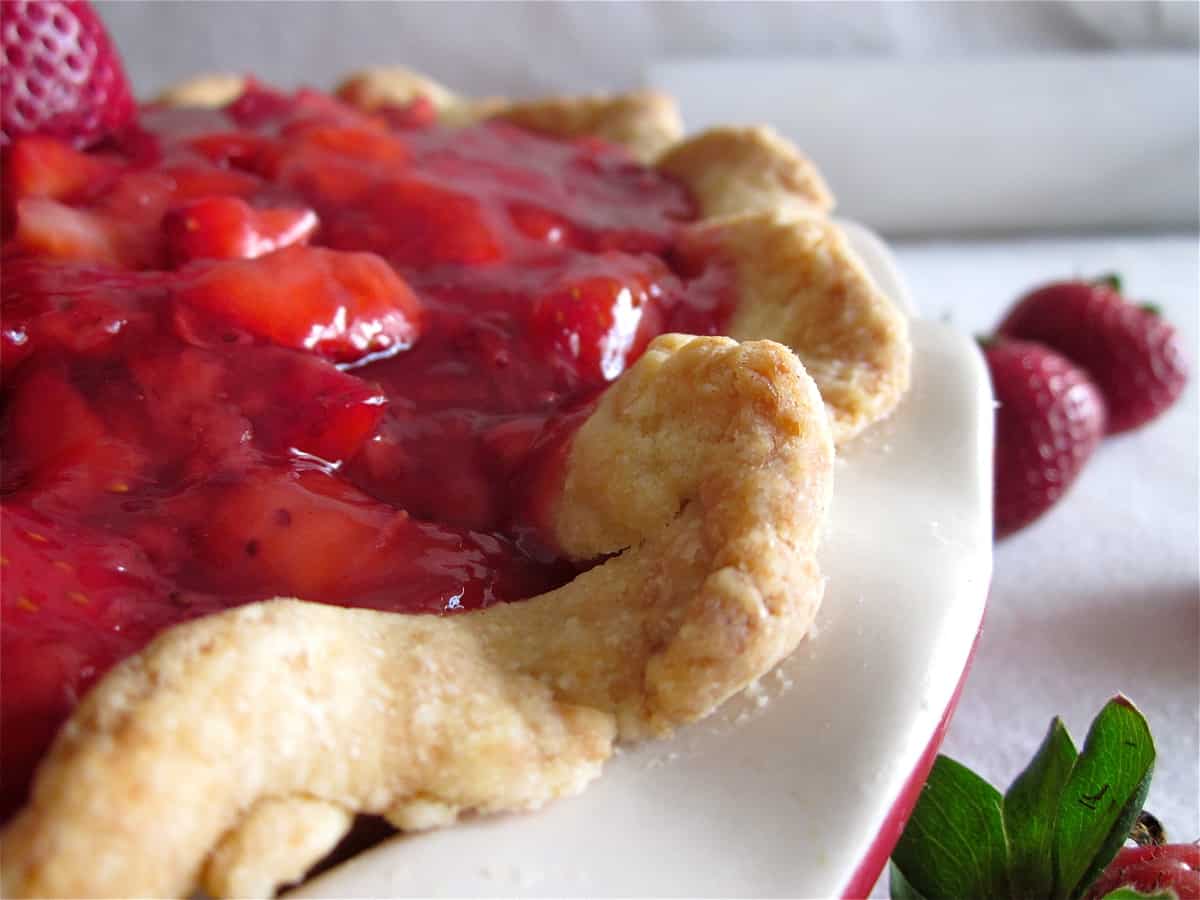 If you are contemplating making this pie but don't want to bother making the crust from scratch, you may as well head over to the nearest truck stop right now for a slice of whatever piece of crap they are serving up today. Seriously. The crust. makes. this. pie. You cannot skip it! The directions look long but that is only because I give a lot of detail to make your life easier. What? No applause?
Strawberry Glace Pie
Source: my friend Anne
For the pie crust:
¼ cup very cold water
2 cups flour
3/4 cup + 2 tablespoons butter-flavored shortening
1 ½ tablespoons sugar
1 teaspoon salt
½ beaten egg
Measure out the 1/4 cup water and stick it in the freezer. Mix flour, sugar, and salt in a medium bowl. Using a pastry cutter or fork, cut in shortening until mixture is the consistency of fine crumbs. Crack an egg into a small bowl, beat thoroughly and divide in half (just eyeball it. You can save the other half or toss it.)
Take the 1/4 cup water out of the freezer and mix it in with the 1/2 egg. Add the egg mixture to the flour mixture and combine until it forms a ball. Use your hands to knead it together. Divide the dough in half. Put one half in the freezer and use it in 3 days when you decide that you need to make this pie again.
Lay the dough onto a very floured surface. Dust the top with flour and carefully roll the dough into a circle. Get out your 8 or 9 inch pie pan to see how big you need to make it. Keep in mind that you need to account for the edges as well as have enough for a crust. Grease your pie pan.
Once you have rolled out the dough to the size you need, carefully roll the dough up onto your rolling pin and transfer to the pie pan. This may take practice. Alternatively you could fold it into quarters and then unfold it in your pan, but I prefer rolling to ensure there are no cracks. Just remember that if you mess up, you can just smoosh it all into a ball again, beat it into the counter a few times to vent your frustration, and roll it out again. Isn't baking fun?? I promise though, you will get the hang of it.
Cut out a circle of aluminum foil that is the size of the bottom of your pie. Place it on the bottom and then cover the foil with spare change, dry beans, marbles, rice, or anything that won't be bothered in the oven. This step is to make sure you don't get any air bubbles. Bake at 375 for 15-18 minutes, or until the edges are golden brown. Keep an eye on it.
For the filling:
6 cups strawberries, hulled and quartered (I used 3 quarts)
1 cup sugar
3 tablespoons cornstarch
½ cup water
3 ounces cream cheese, softened (I used at least 4 ounces. Go wild.)
Mash enough strawberries to measure one cup. Whisk sugar and cornstarch in a two-quart saucepan. Stir in water and mashed strawberries gradually. Cook over medium heat, stirring constantly, until mixture thickens and boils. Boil and stir one minute; cool.
Beat cream cheese until smooth. (If you decide to skip this step, give me a call so I can mock you as you destroy your pie crust trying to spread unyielding cream cheese.) Spread on bottom of pie shell. Fill shell with remaining strawberries.  Pour cooked strawberry mixture over top. Cover* and refrigerate until set, at least three hours, and serve with fresh whipped cream.
*If you don't have a pie pan cover, stick toothpicks vertically in your pie and then put plastic wrap over the top. Then you don't lose half of your glaze to the plastic. A handy trick I learned from my Grandma Georgia.