Eric and Charlotte and I took a trip to the Grand Canyon this weekend. It was of course awesome. Except the whole time I was freaking out that we would accidentally drop Charlotte down the 1-mile canyon, or that she would run right off the edge. Irrational fears, yes, but that's what mom's are for right?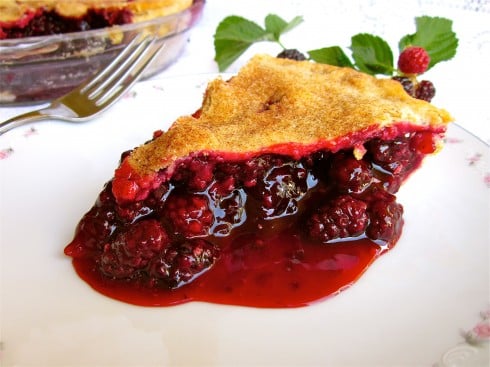 My dad visited the Grand Canyon with his family when he was very young, just 3 years old. His mom used to tell me the story about when they were stopped at a beautiful viewpoint. The only thing separating them from the canyon was a fence consisting of poles in the ground every few feet, with chains hung between them. She turned from looking at the view to see her little 3-year-old sitting on one of the chains, swinging back and forth, having a great time, oblivious to the 5,000 foot drop right behind him. Obviously he lived to tell the tale, but I'm pretty sure my poor Grandma just about had a heart attack.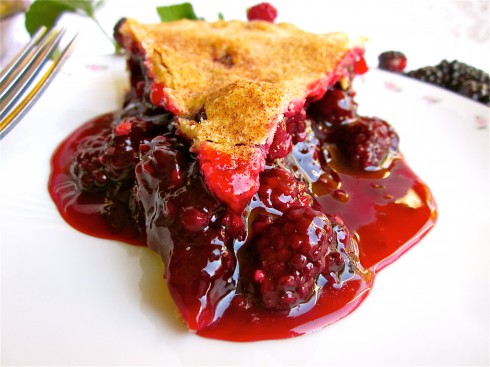 My mom is famous for this Blackberry Pie. The back wall of our garden is covered with blackberry vines, and I have many fond (at least now they are fond) memories of picking blackberries with my siblings in 108 degree weather, trying not to gouge myself with thorns. It was always worth it because this pie was a guaranteed fruit of our labors. It is really good with whipped cream or homemade ice cream.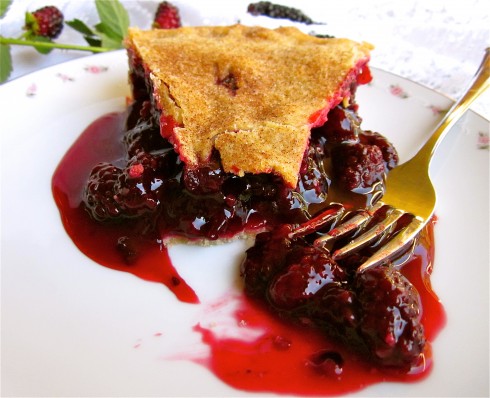 Blackberry Pie
Source: my awesome mom Janice
1 1/2 cups sugar
7 tablespoons cornstarch
1/2 teaspoon salt
7 cups fresh blackberries, divided
1 double pie crust (recipe follows)
cinnamon-sugar*
Combine sugar, cornstarch, and salt in a large saucepan and set aside. In a food processor or blender, blend about 2 cups of blackberries. You want to end up with 1 and 3/4 cup liquid; if you don't have enough berries you can add up to a 1/4 cup of water. You could also use a masher to do this.
Add the liquified berries to the sugar mixture. Bring this to a boil, stirring constantly. Once it has reached a boil, turn the heat to low and stir until thick. (This won't take more than a minute or two.) Add 5 cups of fresh blackberries. Stir just until berries are well-coated, then remove from heat.
Line a deep 9-inch pie plate with pastry; leave about 1 inch of dough hanging over the edge. Add berries until it's just rounded up in the middle. Lay on the top crust, making sure it's also about an inch wider than the pie on top. Turn both pieces of dough – together – under, and tuck into the pie plate so that the juice won't run out, leaving some of the dough high enough to crimp. Using your thumbs and first fingers, squish the dough together around the top; make your fingers and thumbs kiss each other as you move around the plate. Cut slits in the top to let the steam escape. Sprinkle cinnamon-sugar lightly all over the top.
If your pie is very full, it is a good idea to put a baking sheet underneath to avoid spills. Bake at 425° for 30 minutes. About halfway through baking time, check the edges of your crust. They will most likely be golden while the center is uncooked. If this is the case, cover the edges. Cut a square of aluminum foil, fold it into quarters, and cut a circle out of the middle. You should come up with a square that has a giant circle cut out. Unfold and cover the crust of your pie, then continue baking. You will know the pie is done when the middle of the pie is golden.
Turn off the heat and let it sit for at least another 10-15 minutes before removing. Wait several hours before attempting to cut into the pie. It needs to be completely cooled, otherwise you will get a concoction I like to call Black-bloody Pie.
You can use any berry with this recipe, including tart cherries.
*You can use any ratio of cinnamon and sugar that you like. Start with about a 1/2 cup sugar to 1 tablespoon of cinnamon, and go from there. Obviously you won't be putting all of that on your pie, that's just to give you an idea.
Sarah's Pie Crust
¼ cup very cold water
2 cups flour
3/4 cup + 2 tablespoons butter-flavored shortening
1 ½ tablespoons sugar
1 teaspoon salt
½ beaten egg
Measure out the 1/4 cup water and stick it in the freezer. Mix flour, sugar, and salt in a medium bowl. Using a pastry cutter, fork, or a food processor, cut in shortening until mixture is the consistency of fine crumbs. Crack an egg into a small bowl, beat thoroughly and divide in half (just eyeball it. You can save the other half or toss it.)
Take the 1/4 cup water out of the freezer and mix it in with the 1/2 egg. Add the egg mixture to the flour mixture and combine until it forms a ball. Use your hands to knead it together once or twice. Divide the dough in half.
Lay the dough onto a very floured surface. Dust the top with flour and carefully roll the dough into a circle. Get out your pie pan to see how big you need to make it. Keep in mind that you need to account for the edges as well as have enough for a crust.
Once you have rolled out the dough to the size you need, carefully roll the dough up onto your rolling pin and transfer to the pie pan. Repeat with the top crust.