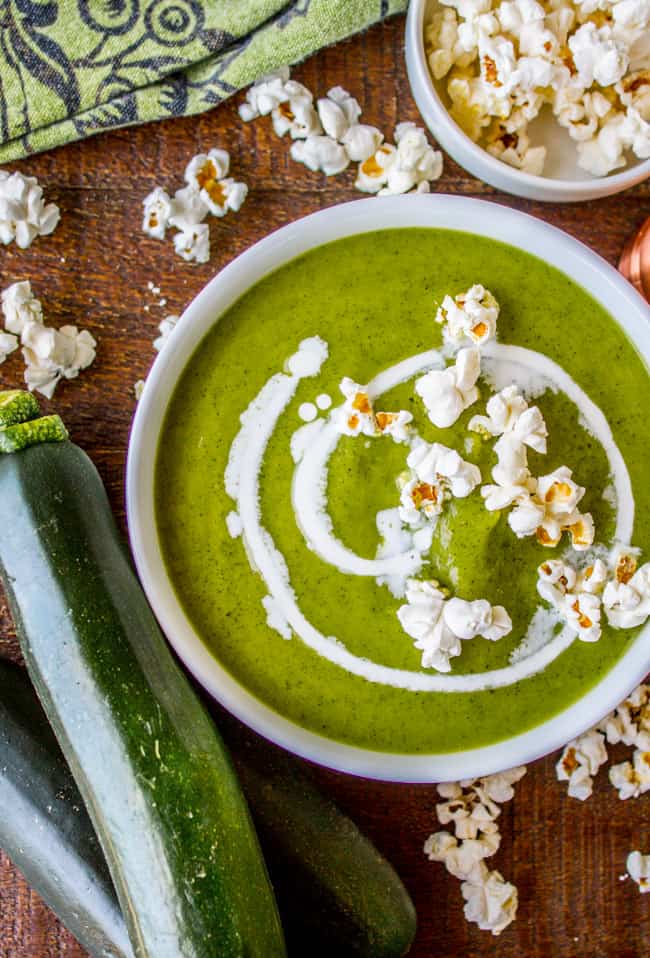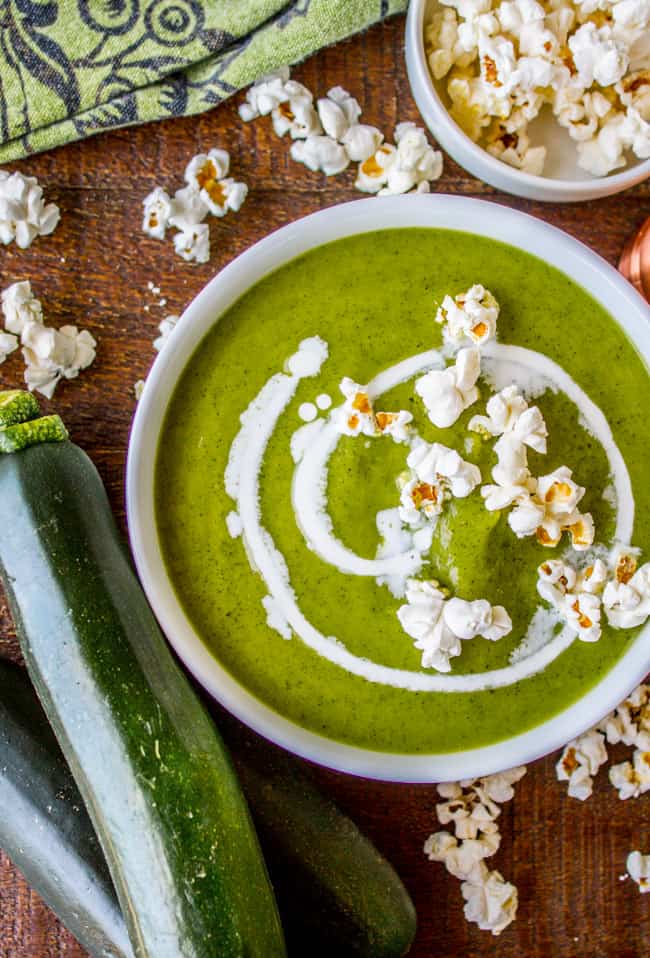 Did you make this recipe?
Leave a review »
Creamy Zucchini Soup with Popcorn Garnish
4-6
adjust servings
Ingredients
3

tablespoons butter and/or olive oil (any combination of the two is fine)

1

medium onion, chopped

2

cloves garlic, smashed and then roughly chopped

6

smallish zucchini (about 1 and 1/2 pounds)

2

and 2/3 cup water

2

teaspoons Better Than Bouillon Chicken Base*

1

teaspoon kosher salt

1/2

to 1 teaspoon garlic salt

1/4

to 1/2 teaspoon pepper

popped popcorn , to garnish

cream or half and half, to garnish
Instructions
Heat a 10 inch wide pot over medium heat. Add the butter and/or olive oil.
When it is hot and shimmers, add the onions and garlic. Don't chop your garlic too small, you don't want to burn it.
Saute for 5 minutes or so while you slice the zucchini.
Slice all the zucchini into rounds and add to the pot.
Saute for about 10 minutes, stirring occasionally, until the zucchini is fork tender.
Add the water and chicken base, along with the salt, garlic salt, and pepper. Pro tip: now is a good time to sneak some zucchini from the pan. Glorious. Sometimes I wonder why we don't just eat vegetables all the time.**
Continue to simmer another 10-15 minutes, until the zucchini is very soft.
Use an immersion blender to blend the soup. Or transfer the soup to a blender, leaving the tab at the top open to allow steam to escape. Hold a towel over the top so you don't spray yourself with zucchini lava. Blend in batches if necessary. Pour the soup back into the pot.
Reheat the soup on medium heat if necessary.
Garnish with a drizzle of cream and some popped popcorn! So fun!
by The Food Charlatan