Chipotle Chili with Steak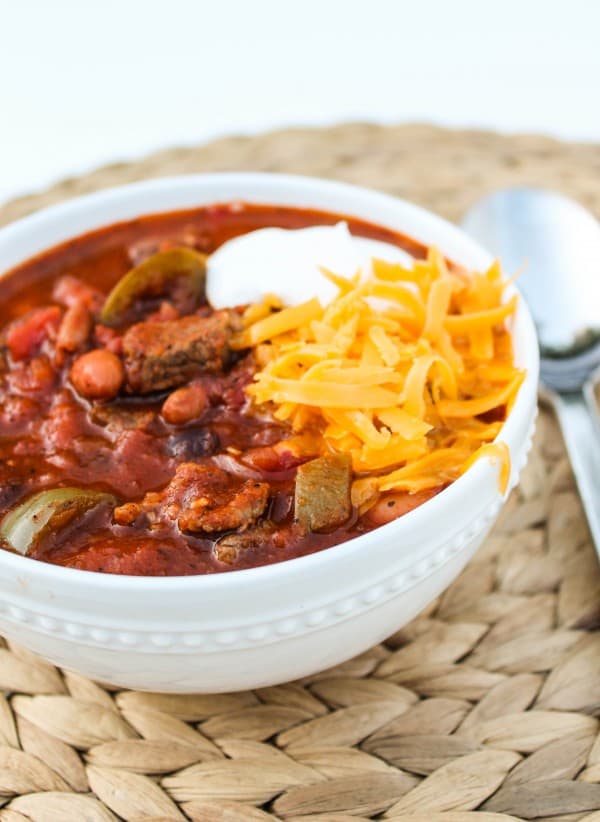 Karen: Don't you hate it when you buy a shirt and after one wash it never looks the same again?
Eric: It's called ironing.
Karen: So…yeah. It will never look the same again.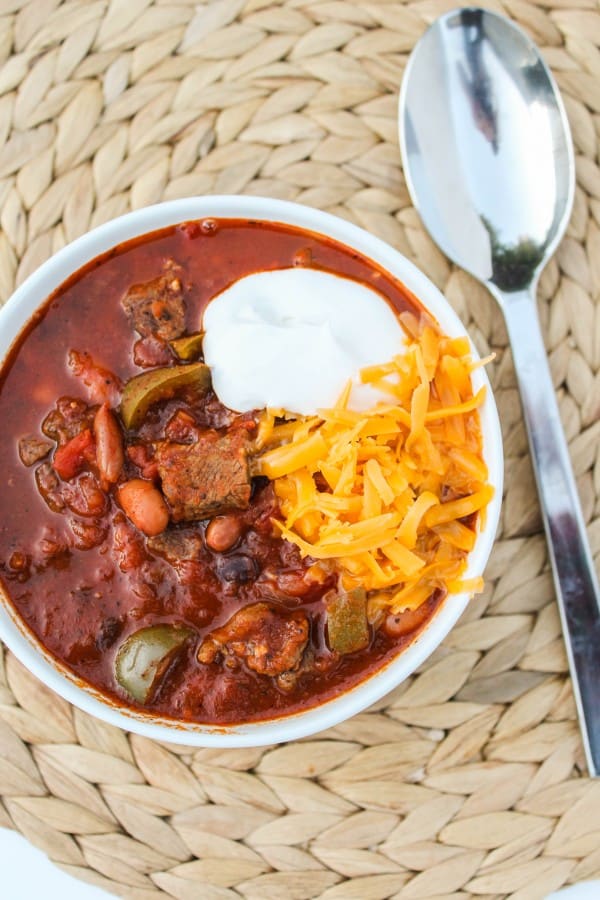 True story. It's not even just that I hate ironing (which I do, with a fiery passion) but I'm just terrible at it. Eric iron's one of his dress shirts in like 3 minutes flat, me? 20 minutes, if I'm lucky. And it still looks like crap.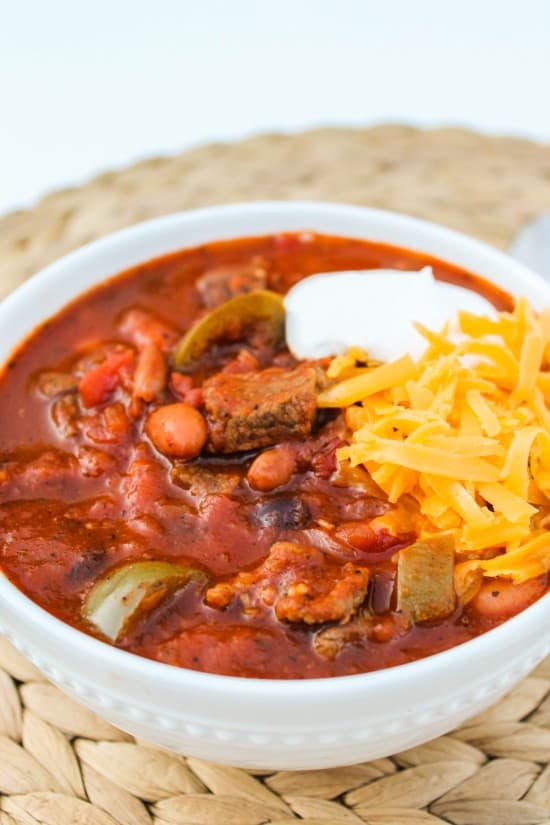 Do you have a favorite chili recipe? I didn't, until now. I always thought they all tasted kind of the same. (Except for the really sweet ones that have brown sugar in them, I hate those.) Chili is so great for fall. It just makes me want to cozy up with a book wearing slippers and a sweater. And a wrinkled shirt, no doubt.
This chili recipe is The-Same-But-Different. (You know what I mean.) It still tastes like classic chili, but has a nice chipotle twist. I love it. Oh, and steak. Did I mention the steak?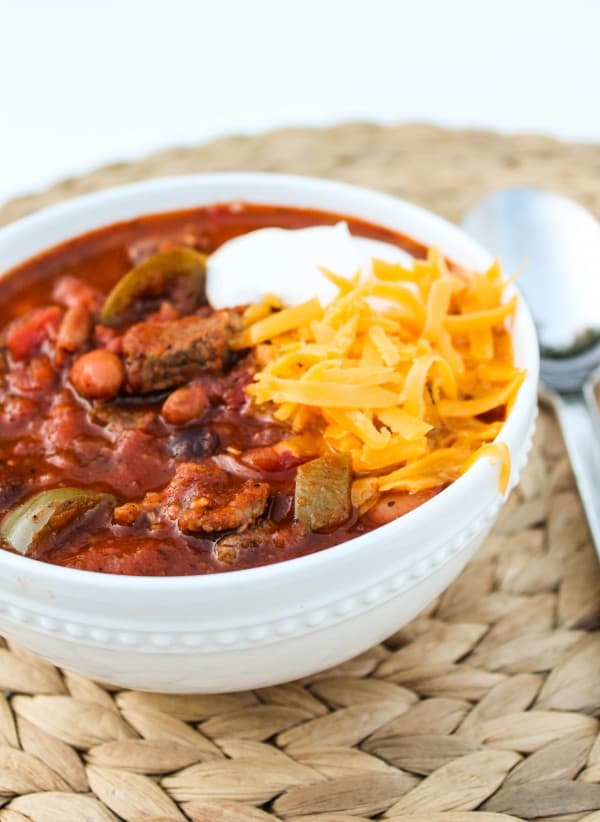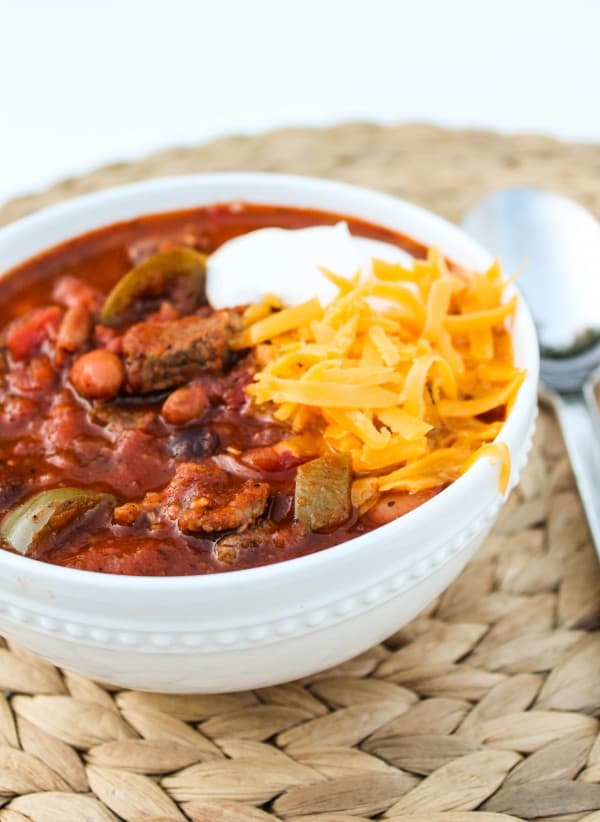 print
Did you make this recipe?
Leave a review »
Chipotle Chili with Steak
Serves 8 (about 10 cups)
adjust servings
Ingredients
1 1/2

pounds boneless beef shoulder top blade (flat iron) steak

salt and pepper to taste

1-2

tablespoons oil

2

cups chopped onion (2 large)

1

cup chopped green sweet pepper (1 large)

4

cloves garlic, minced

1

tablespoon chili powder

1

teaspoon dried basil

1/2

teaspoon black pepper

2

or 3 teaspoons chipotle peppers in adobo sauce, chopped*

2 15-ounce

cans kidney beans, pinto beans and/or black beans, drained and rinsed

2 14.5-ounce

cans diced tomatoes, undrained

1 15-ounce

can tomato sauce

1/2

cup water

sour cream

cheddar cheese, shredded
Instructions
Use a serrated knife to trim the fat from the steak. Chop into bite-size pieces, about 3/4 inch. Pat them with a paper towel (don't stress about it, just a quick pat) and salt and pepper to taste.
Heat 1 tablespoon oil over medium-high heat in a large stock pot or dutch oven. Add half the meat (or 1/3, if your pot is not very wide on the bottom) and cook until browned on all sides. Remove with a slotted spoon to a plate, and repeat until all the meat is browned, adding more oil as necessary.
Add onion, sweet pepper, and garlic to the meat drippings and cook until tender, about 5-8 minutes. Drain the fat. Add the chili powder, basil, and pepper. Return the meat to the pot. Stir in chopped chipotle chile peppers in adobo sauce.
Stir in beans, undrained tomatoes, tomato sauce, and 1/2 cup water. Bring to boiling; reduce heat to about medium low. Simmer, covered, for an hour, until meat is tender, stirring occasionally. Top each serving with sour cream and shredded cheese.
by The Food Charlatan

If you make this recipe,
share it on Instagram
 using the hashtag
#TheFoodCharlatan
so I can see it!
Source:
Better Homes and Gardens
We are a participant in the Amazon Services LLC Associates Program, an affiliate advertising program designed to provide a means for us to earn fees by linking to Amazon.com and affiliated sites.