Are you a popcorn ball lover? I never had them as a kid, but I have changed my ways. These popcorn balls combines butterscotch and peanut butter to create the ultimate treat! Popcorn balls never looked so good! Plus, they are easy and done in 10 minutes.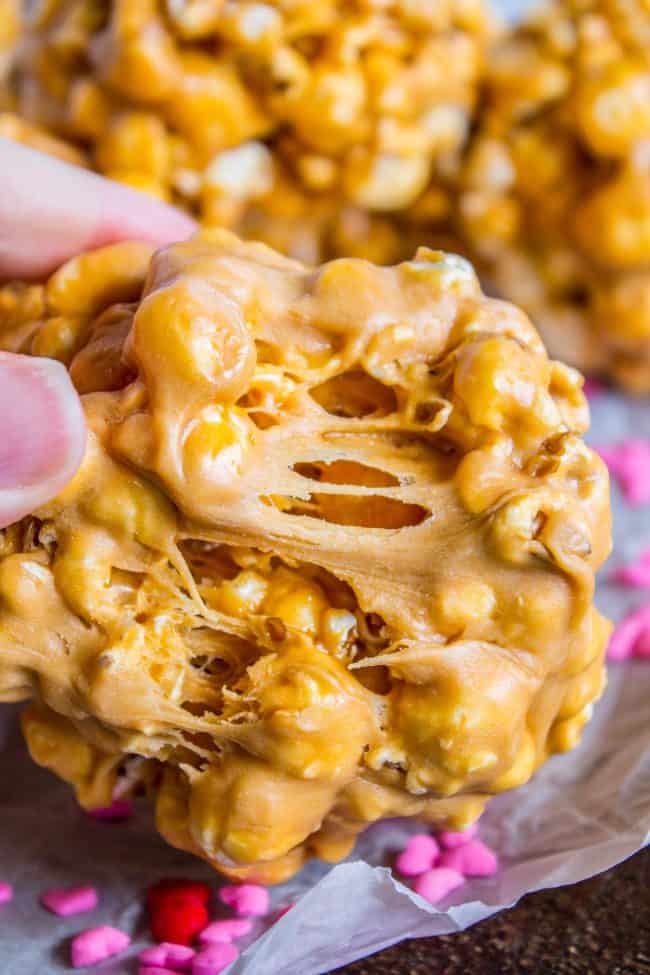 Originally posted April 6, 2018
My daughter Valentine is about a year and a half old, and uses a few words to communicate: Mama, Dada, thank you, cookie, pizza, and bite. As in, "give me a bite of that right now," usually asked when I am eating a dessert.
I just want you to know that Charlotte, my oldest, didn't taste sugar until she was like 2 years old. When my second son, Truman, was a baby, my cousin gave him a bite of ice cream, and I freaked out as if she had let him hold a snake or something. (Sorry about that again, Lani.)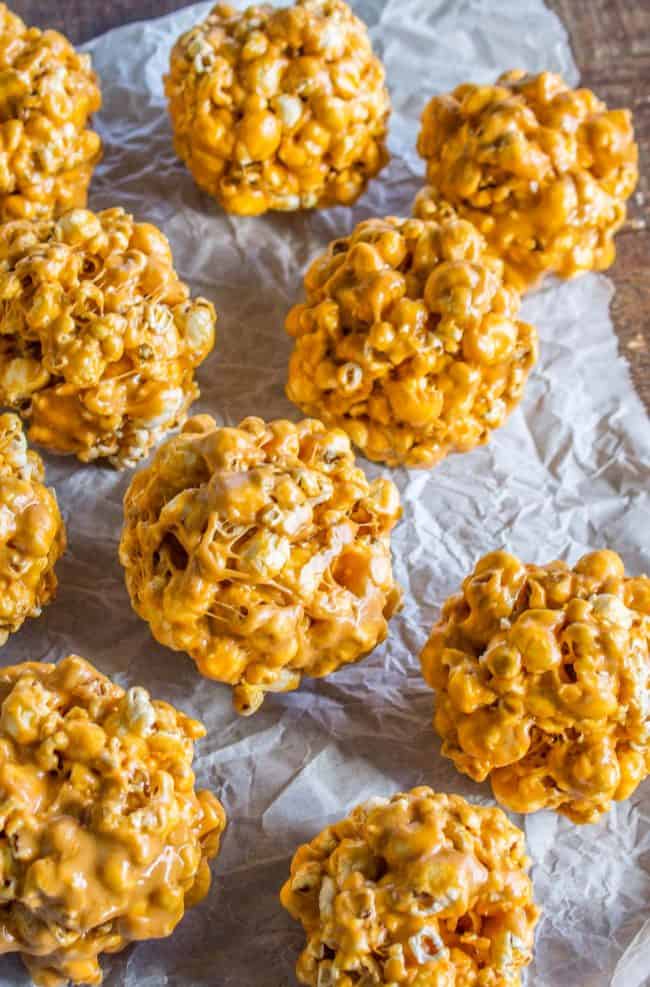 Third baby problems are legit, guys. You can't just give your other kids candy in their Easter baskets and expect the baby not to notice. She's a little scavenger. She knows what the good stuff is…that's why I hid these popcorn balls from her.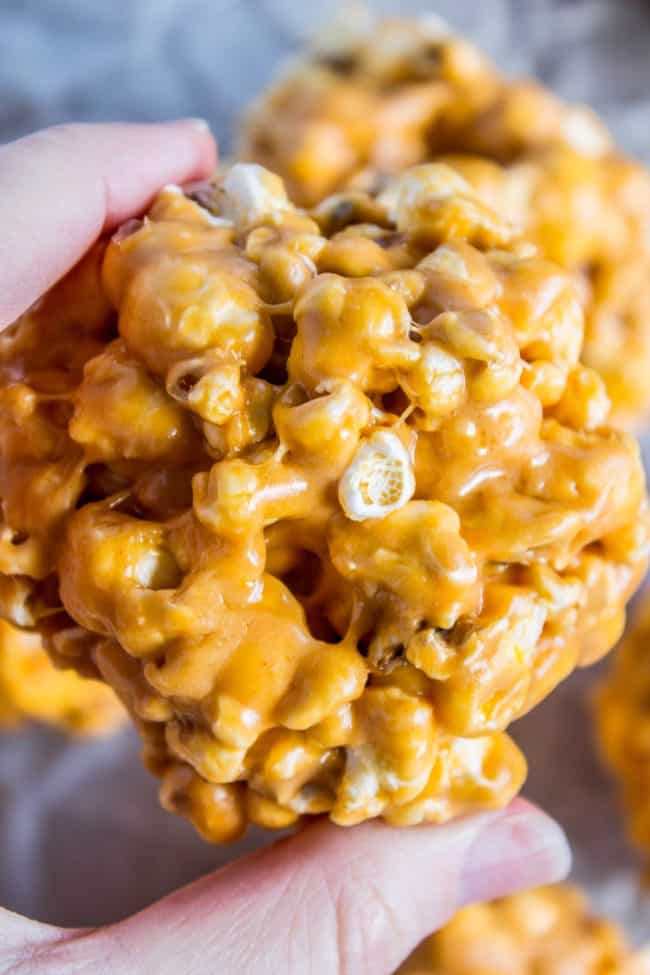 I can't think of popcorn balls without thinking of this iconic song from when I was kid at church, do you know it?
I looked out the window and what did I see?
Popcorn popping on the apricot tree!
Spring had brought me such a nice surprise,
Blossoms popping right before my eyes.
I could take an armful and make a treat,
a popcorn ball that would smell so sweet.
It wasn't really so, but it seemed to be
popcorn popping on the apricot tree!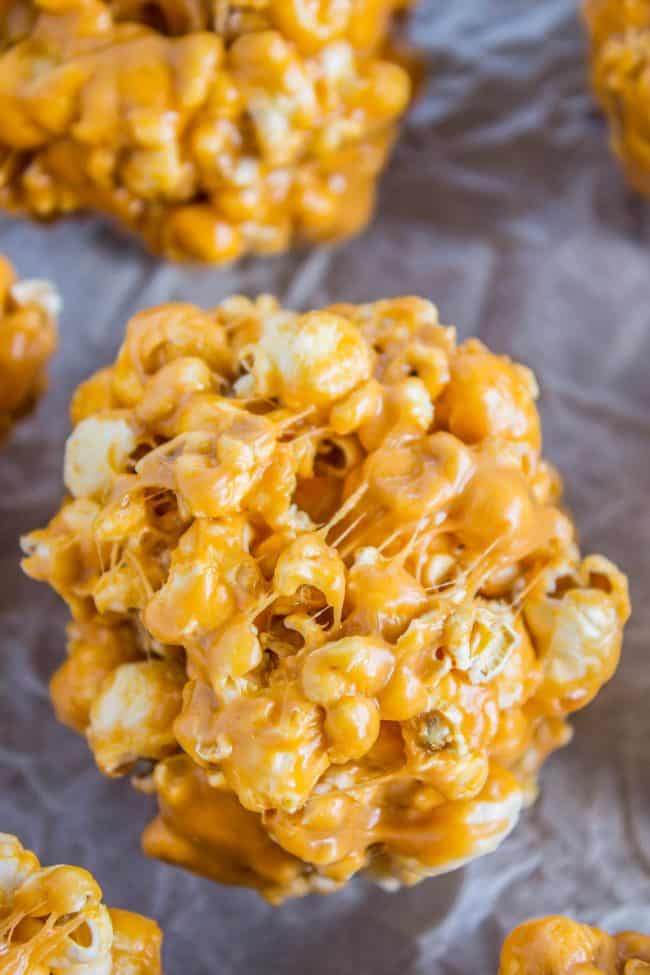 I've been singing this song since I was a toddler, and I never understood it until I was at least 11 or 12. Imagine my surprise to learn that the song actually made sense, and wasn't just total nonsense. It's kind of like watching Bambi the first time as an adult and you realize what actually happens. Ah, childhood experiences!
How to make popcorn balls
My mom was visiting one day and randomly brought a bag of pre popped popcorn to my house. Then my sister called later and told me about these amazing popcorn balls she had just created…it was fate. I had all the ingredients and made it in just a couple minutes. Then I ate all of them. (Just kidding. I split half with Valentine.)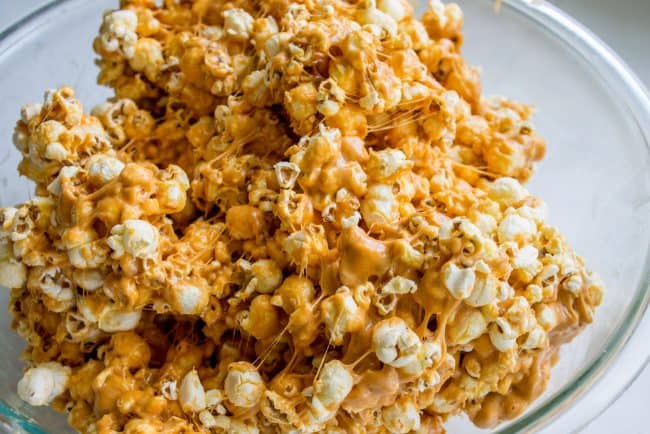 You may ask, how do you make popcorns that look sooo delicious? These really are SOOO easy!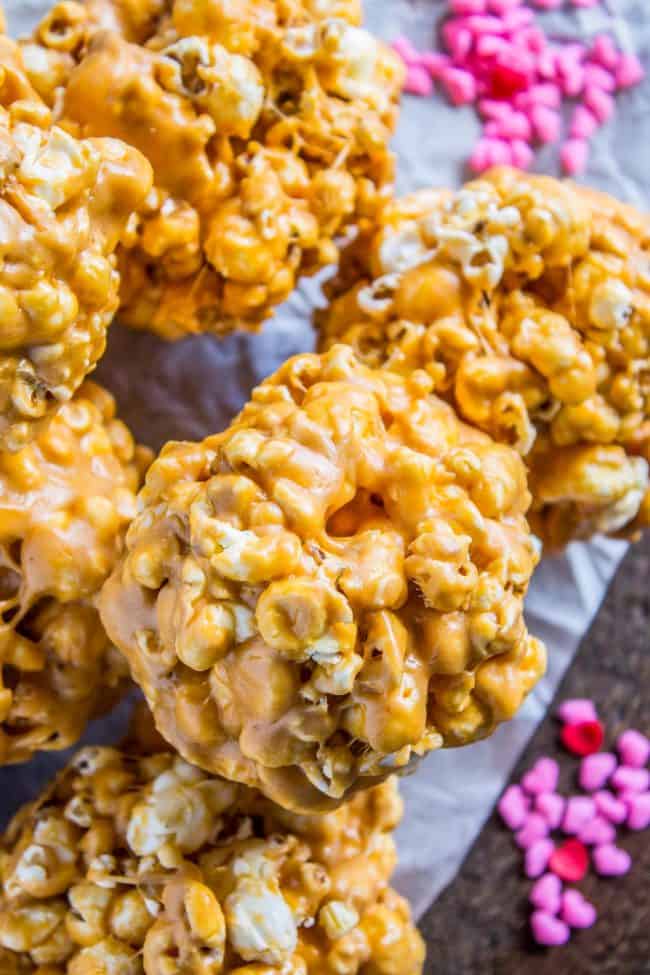 Just toss the butter, peanut butter, and butterscotch chips into a bowl (see how much butter we got goin on here? That's why it's so good) and then stick it in the microwave. Zap it 30 seconds at a time, stirring each time until there are only a few lumps left, then stir til smooth.
Add in the marshmallows and microwave one more time. Quickly stir in the popcorn, shape into balls, and voila! The most delicious peanut buttery popcorn balls you will ever have!
Other fun treats you will love!
Facebook | Pinterest | Instagram | Twitter

Peanut Butter Butterscotch Popcorn Balls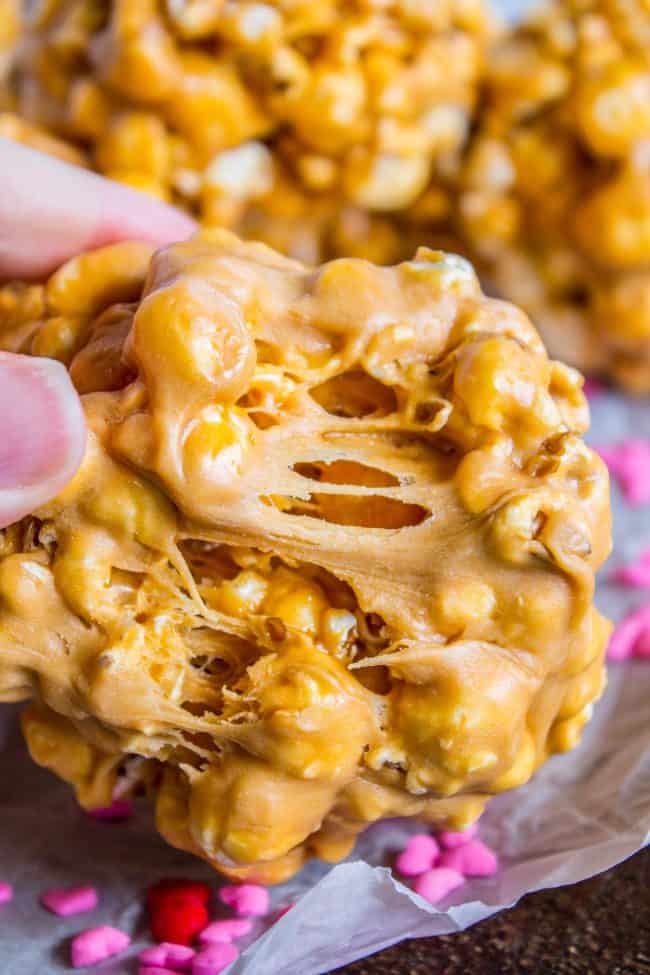 This recipe combines butterscotch and peanut butter to create the ultimate treat! Popcorn balls never looked so good! Plus, they are easy and done in 10 minutes. Perfect after school snack!
Ingredients
1 & 1/4

cups

butterscotch chips

5

tablespoons

salted butter

1/3

cup

peanut butter

6

cups

big marshmallows

,

not quite 16 ounces

12

cups

popped popcorn

,

I used a 6 oz bag
Instructions
In a very large microwaveable bowl, add butterscotch chips, butter, and peanut butter.

Microwave in 30 second intervals, stirring each time, until most of the lumps are gone.

Add the marshmallows and stir. Microwave again for about 30 seconds, then stir until smooth. It will have a fudge-like consistency. (Depending on how powerful your microwave is, you may need to put it in again. You just want to microwave it the minimum amount to get it smooth.)

Moving quickly, add the popcorn to the bowl, if it will fit. Alternatively you can spread the popcorn on a

sheet pan

and pour the mixture over the top. The mixture is very thick, and will start to harden as it cools, so work as fast as you can! I think I ended up using my hands to get it to come together in the bowl.

Shape the popcorn into balls and place on

wax paper

. I made them into balls about the size of my fist, but you can make them as large or as small as you want.

Let popcorn balls cool. Eat!
Nutrition
Serving:
1
ball
|
Calories:
371
kcal
|
Carbohydrates:
79
g
|
Protein:
4
g
|
Fat:
6
g
|
Saturated Fat:
3
g
|
Polyunsaturated Fat:
1
g
|
Monounsaturated Fat:
2
g
|
Trans Fat:
1
g
|
Cholesterol:
9
mg
|
Sodium:
157
mg
|
Potassium:
60
mg
|
Fiber:
1
g
|
Sugar:
54
g
|
Vitamin A:
123
IU
|
Calcium:
6
mg
|
Iron:
1
mg