If you have never made a Tres Leches Cake recipe, you are in for a treat! Picture this: a fluffy white sheet cake, poked with holes and soaked in a mixture of coconut milk, sweetened condensed milk, and evaporated milk (tres leches means 3 milks!) The resulting cake is irresistibly moist. It's perfect for Cinco de Mayo! Originally posted May 4, 2019.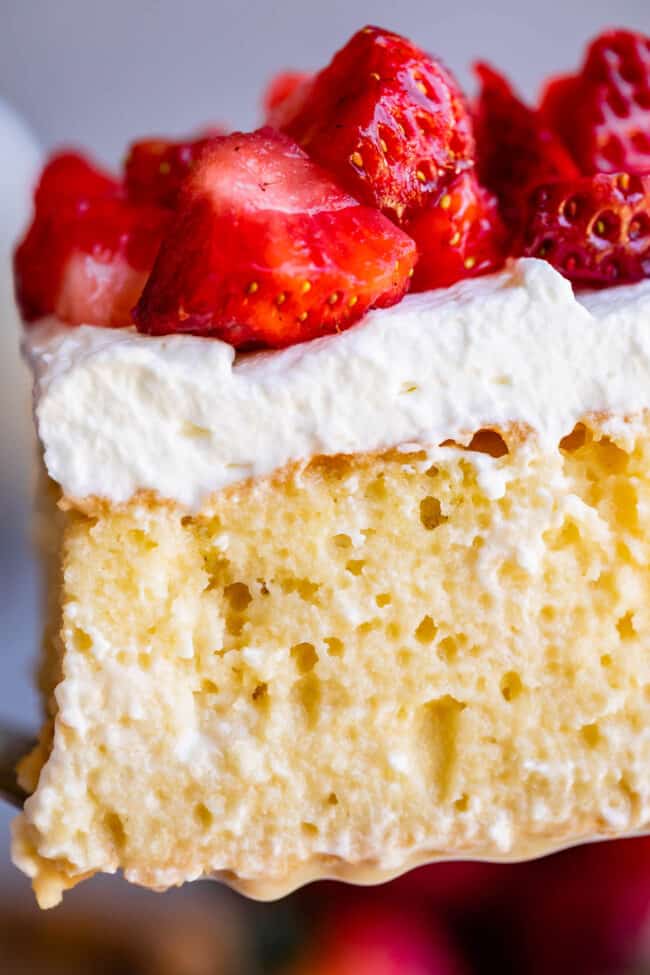 Tres Leches Recipe
So my sister Laura emailed me this Tres Leches Cake recipe last week. She said she's been working on it and tweaking it for years, and finally feels like she has reached perfection, so of course I had to make it.
What does Tres Leches Cake taste like?
Have you ever had a Tres Leches Cake? It's one of the weirdest cakes you will ever make. Bake a white cake, then dump a good 4-5 cups of sugary milk over the top of it and refrigerate. It absorbs all the liquid and transforms into the most fluffy, spongey, moist cake you will ever have. I literally over baked this cake for at least 5 minutes and it still turned out incredibly delicious. I mean it's kind of foolproof when you're dumping a ton of milk on top of it.
I decided to make the cake in the morning, and I wanted to photograph it in the afternoon. I knew I was already breaking the rules because Laura specifically said that the cake should be made the day before you want to eat it, but what can I say, I like to walk on the wild side. Or something like that (I think this is really just code for impatience.)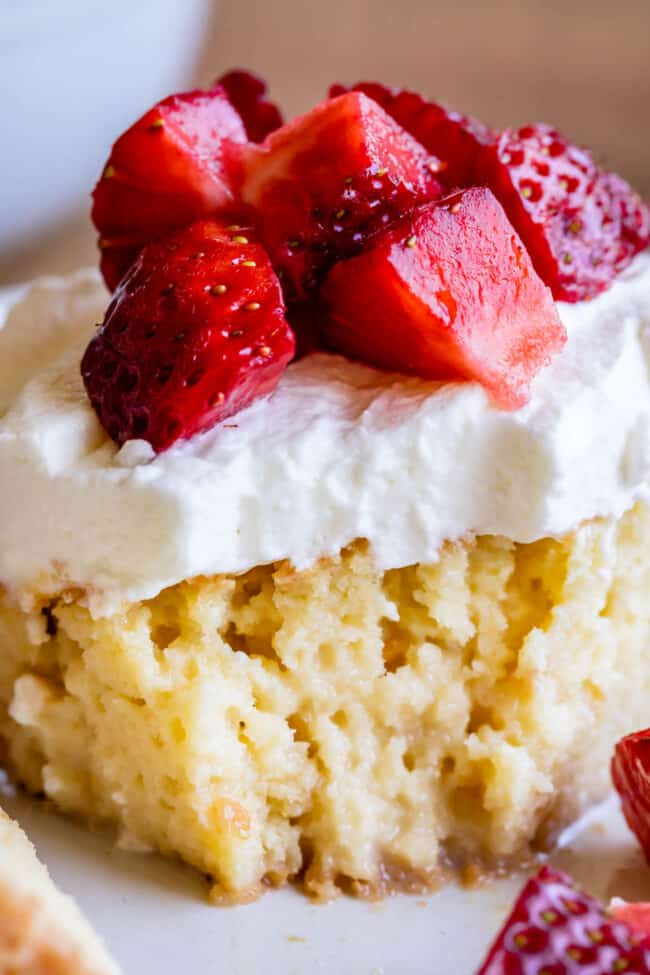 So I drop off the kids for school and race home to get the cake started. I throw the ingredients together and pop the cake in the oven. I set the timer for 25 minutes.
Then I take a good hard look at the ingredient list and realize I've made the classic mistake that I know every single one of you have made at least once: I hadn't technically read through the ingredient list and needed to make a trip to the grocery store. Who has Coco Crema on hand? Definitely not me. (It's sweetened coconut cream with sugar. People use it for Pina Coladas, it's usually sold in the wine aisle.)
So. I had 25 minutes. I can totally make a store trip in 25 minutes, right?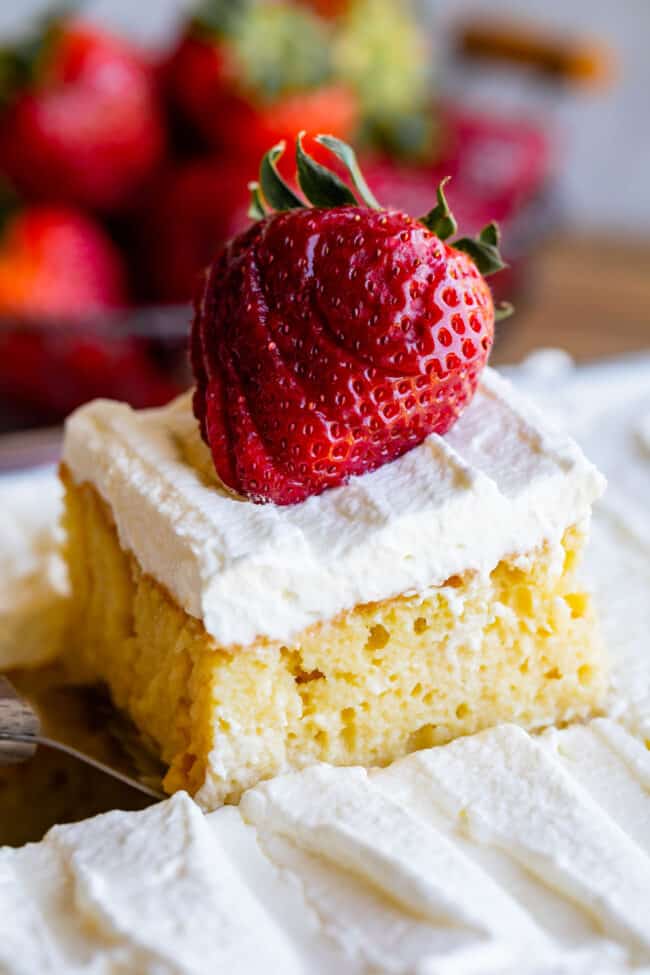 I head to the wine aisle to get the Coco Crema. But it's not there. I check the beer aisle, the juice aisle, the coffee aisle, the dairy creamer aisle, it is nowhere to be found, and finally I stop to ask these two ladies who were in the wine aisle. They were clearly planning a huge party, they had 2 carts that they were filling with all kinds of booze, and had their notebooks out with their lists. I thought, if anyone in this store knows where the Coco Crema is, it's these people.
They searched the entire aisle with me, consulted the store manager, and pulled up pictures on their phones of the different brands of Coco Crema that you can find (apparently you can buy it in a squeeze tube). We couldn't find it anywhere. But they helped me for a solid 3 minutes and it totally confirmed my faith in humanity. Go humans.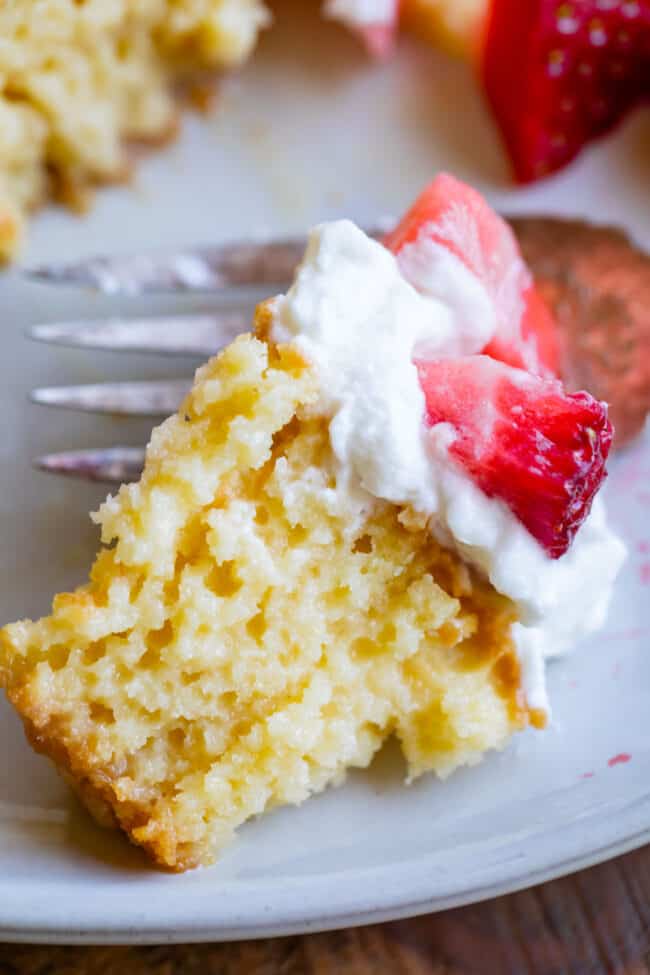 Aaaand then my timer went off. I grabbed a couple cans of regular coconut cream and raced to the checkout.
I was fully expecting a completely over baked cake when I got home, and I wasn't wrong. BUT it hadn't burned and I thought, well, I'm about to dump 5 cups of milk on it, so it should be fine, right?? (I was right. That's why this cake is really great for novice bakers!)
I ended up using coconut cream with some extra sugar instead of the Coco Crema that Laura's recipe calls for. Because that's all it is anyway, sweetened coconut cream. I've made notes in the recipe if you can't find any Coco Crema!
After all the fuss and rush, I have to say, this cake was totally worth it. It is SO GOOD. The best part is that it can be made ahead of time. It would be so fun to make this for Cinco de Mayo!
How to make Tres Leches Cake

Here's the egg situation. Separate the yolks and whites, and beat the whites until they are nice and stiff.

2. The batter is pretty thick. Use a chopstick to poke the holes. Once it is baked, make as many holes as you can without destroying your cake! You can see that my cake is a little dark, I totally over baked it. This is the ONE CAKE that I will tell you you can save after over baking. Normally this is a death sentence for cakes!
What are the three types of milk in Tres Leches?
Traditionally, this cake uses evaporated milk, sweetened condensed milk, and milk/cream. But we are switching it up a little to use coconut cream instead of dairy cream. It adds a subtle flavor and richness that I absolutely adore!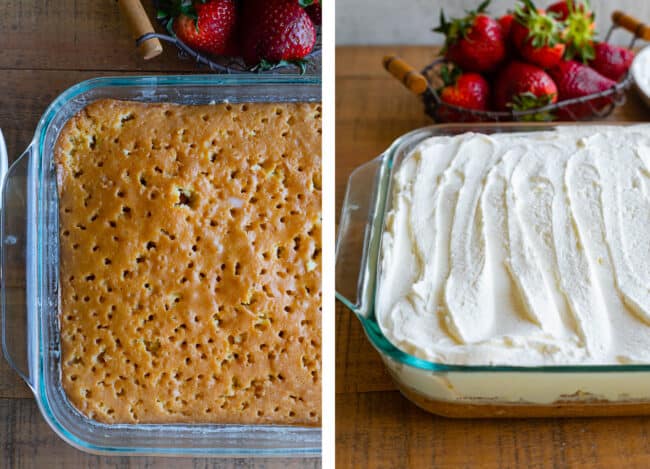 How long do you soak Tres Leches Cake?
3. It's a lot of milk! The cake needs 4-6 hours to absorb it all in the fridge. See recipe for instructions on warming the cake in the turned-off oven after adding the milk. This is one of Laura's tips for helping the milk distribute evenly throughout the cake!
Above is a picture of the cake after is has soaked in the milk mixture for several hours. All that delicious flavor has been soaked up and absorbed into our cake.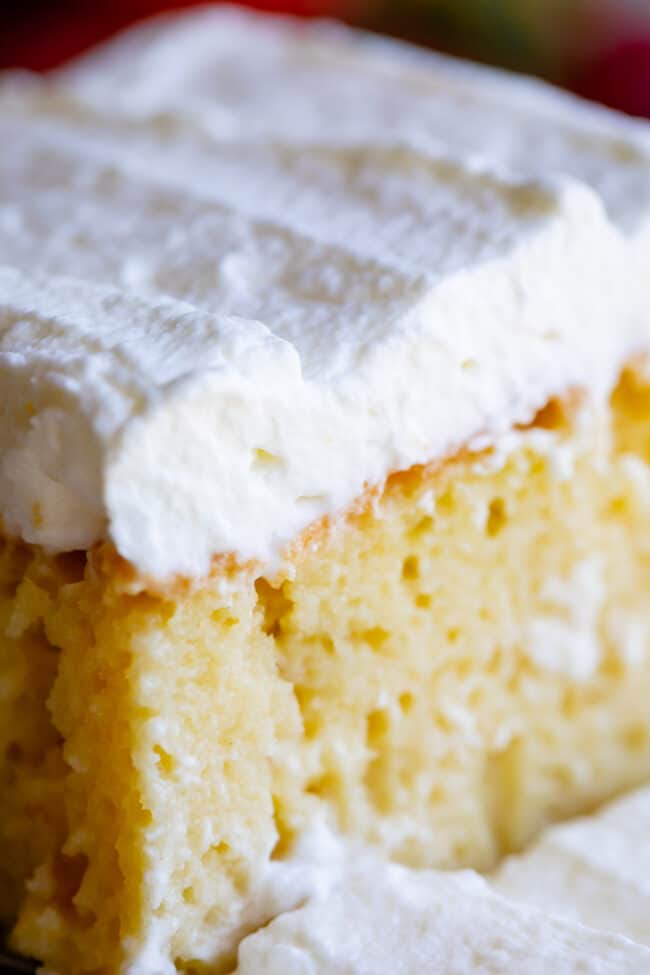 4. After soaking, frost with simple whipped cream and you are good to go! You really don't want a buttercream frosting for this cake. It's too heavy. Whipped cream really is the perfect compliment.
Oh and don't forget the strawberries! They are kind of essential!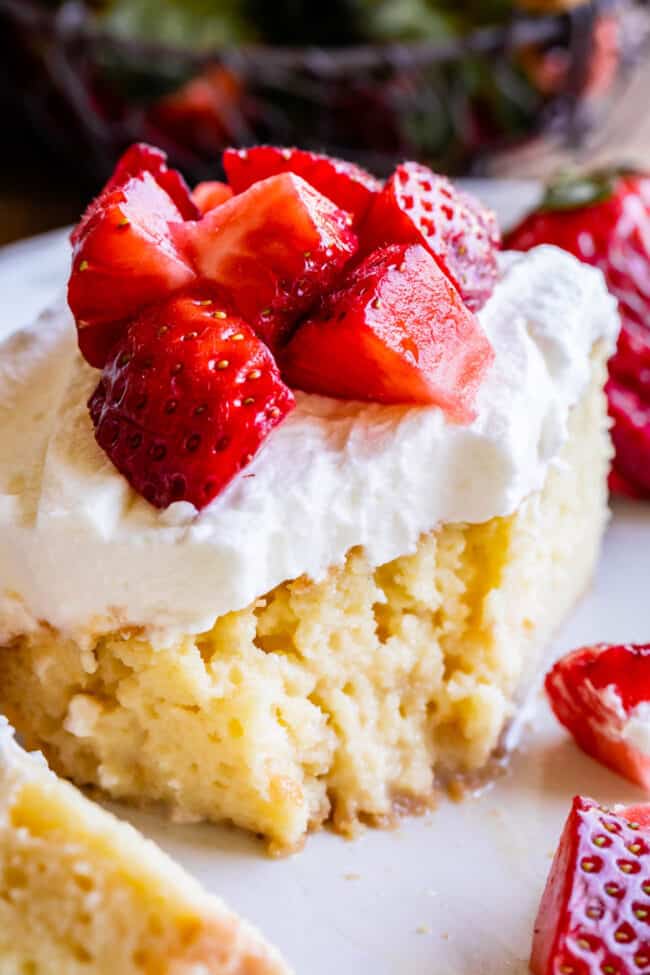 Does Tres Leches Cake need to be refrigerated?
Yes! Tres leches cake is served cold. It is best made the day before you want to eat it, or at least several hours. The cake needs time to chill but also time to absorb all the liquid we're dumping on top. Also it's very handy that this cake needs to be covered and chilled and put out of sight in the fridge, so that I'm not sneaking a bite every time I pass through the kitchen. Am I right or am I right??
Should Tres Leches cake be wet or soggy?
The texture of Tres Leches cake is quite unique. It should not be wet and soggy to the point that it is disintegrating and falling apart. But there is definitely going to be a thin layer of milk at the bottom of your cake when you slice into it. And the cake is unbelievably moist thanks to all the liquid. If the cake has had enough time to absorb all the milk, it should hold its shape just fine. It should not taste soggy, but rather should have a texture like a pudding or custard.
Storing and Freezing Tres Leches Cake
Tres Leches Cake is meant to be served cold, and should be stored in the fridge in between servings. It will last up to 2-3 days.
Unfortunately this cake doesn't freeze well. All that milk is going to thaw out to be even more liquid-y when you take it out of the freezer, ruining the texture of the cake. It's best to eat up this cake without reservations within a day or two of making it! No regrets, yolo!
If you haven't tried out this unique cake yet, definitely give this recipe a try! It's so much fun to make, and definitely fun to serve to people who have never tried it. Enjoy!
Facebook | Pinterest | Instagram

Tres Leches Cake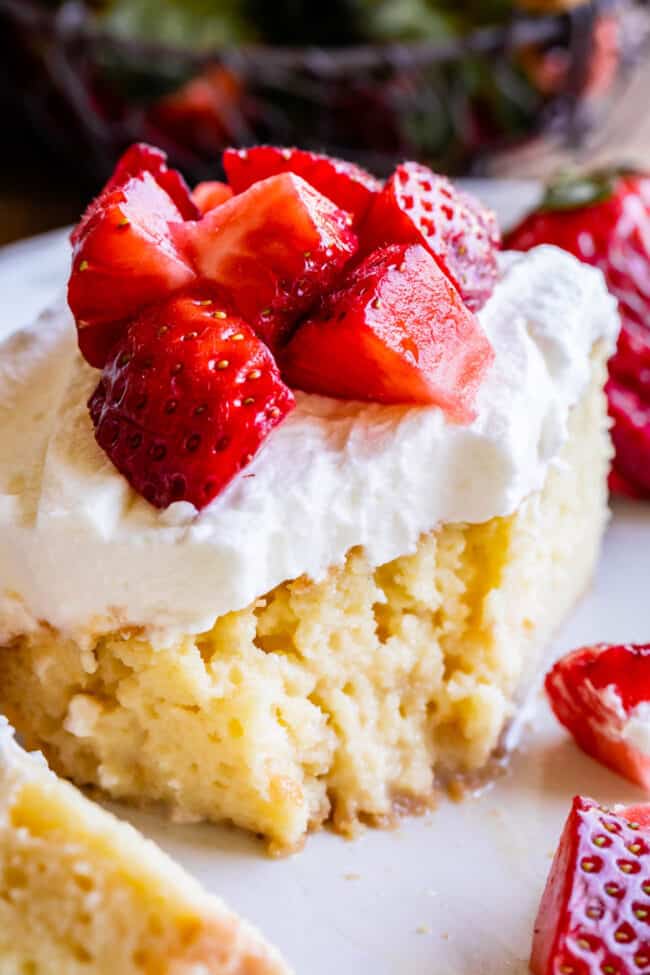 If you have never had Tres Leches Cake, you are in for a treat! Picture this: a fluffy white sheet cake, poked with holes and soaked in a mixture of coconut milk, sweetened condensed milk, and evaporated milk (tres leches means 3 milks!) The resulting cake is irresistibly moist. It's perfect for Cinco de Mayo!
Ingredients
For the cake
5

eggs

,

divided

1/2

cup

butter

,

softened (1 stick)

1

cup

granulated sugar

1 & 1/2

teaspoons

vanilla

1 & 1/2

cups

flour

,

spooned and leveled

1/2

teaspoon

kosher salt

1

teaspoon

baking powder

1/4

teaspoon

baking soda
For the milk
1 (13.6-oz)

can

full-fat coconut milk

2

cups

Coco Crema*

,

about 1 (15-oz) can

1 (14-oz)

can

sweetened condensed milk

1 (12-oz)

can

evaporated milk
For the whipped cream
2

cups

heavy cream

1/2

cup

powdered sugar

1/2

teaspoon

almond extract

strawberries

,

to garnish
Instructions
Preheat the oven to 350 degrees F. Grease a

9×13 inch cake pan

with nonstick spray or rub with butter.

In a large bowl or stand mixer, add 5 egg whites. Place the egg yolks in a small bowl and set aside.

Beat the egg whites about 2-4 minutes, until stiff peaks form. See photos.

Scrape the egg whites into a medium bowl and store in the fridge.

In the same bowl that you beat the egg whites, add 1/2 cup butter and beat until smooth, scraping edges. Add 1 cup sugar and beat until light and fluffy, about 2 minutes, scraping sides halfway through. Add 1 and 1/2 teaspoons vanilla and beat well.

Add the egg yolks one at a time, beating well after each addition.

In a medium bowl, whisk together 1 and 1/2 cups flour, 1/2 teaspoon salt, 1 teaspoon baking powder, and 1/4 teaspoon baking soda.

Get the beaten egg whites out of the fridge. Now you are going to add the flour mixture and the beaten egg whites into the butter/sugar mixture in alternating batches. (Add about half the flour to the butter mixture, stir. Then add half the beaten egg whites to the butter mixture, stir, etc, until it's all added.) Do not over mix. Once it is combined, stop.

Scrape the batter into the prepared pan and spread out with a spatula.

Bake the cake at 350 degrees for 25-30 minutes, until the edges are pulling away from the sides of the cake pan, and a toothpick inserted in the center comes out with no batter on it. Don't make a grocery store trip in this 25 minutes.

While the cake is baking, make in a

very large glass measuring cup

or bowl, add 1 can coconut milk. Stick it in the microwave for 30-60 second and stir until all the lumps have disappeared. Add 2 cups Coco Crema*, 1 can sweetened condensed milk, and 1 can evaporated milk. Stir together until combined.

When the cake is baked, remove from the oven, turn off the oven, and set a timer for 5 minutes. When the timer goes off, use a chopstick to poke holes in the cake. In Laura's words: "Use a chopstick for bigger holes – you want a LOT of holes, to the point where it almost feels like you're going to ruin or smash the cake but don't actually ruin or smash the cake."

Once you have holes all over the cake, take 3-5 minutes to SLOWLY pour the milk mixture all over the cake. If you pour too quickly, the top of your cake will not absorb the liquid. Yes, pour all of the liquid on the cake. It seems like too much. It's not!

Once all the milk has been added, put the cake back in the oven that has been turned OFF and set a timer for 10 minutes. When the timer goes off, remove the cake from the oven and let cool for a few minutes on the counter. Cover well and transfer to the fridge to cool completely, and to let the liquid absorb into the cake. This will take at least 4-6 hours.

Once the cake is completely chilled and you are ready to serve, make the whipped cream. In a large bowl or stand mixer, beat 2 cups cream on high for 2-4 minutes until soft peaks form. Add 1/2 cup powdered sugar and 1/2 teaspoon almond extract. Beat well, scraping sides and bottom.

Spread the whipped cream over the cake.

Garnish with strawberries that have either been hulled and chopped, or you could just slice each one in half and scatter over the cake. Top the whole cake with strawberries if you think you'll eat the whole cake that day. If you don't, then serve with cut strawberries, but spoon them on top of each serving. Fresh strawberries work better than strawberry sauce or sugared berries since the cake is so rich and has its own liquids already.
Notes
*If you can't find Coco Crema at the store (I couldn't! but Laura says Walmart always has it. And here is an Amazon link.) you can replace it with coconut CREAM. (Not coconut milk. The coconut cream is in addition to the coconut milk called for in the recipe.) You can find it in the Asian food aisle. Buy two cans (you won't use all of it). Open the cans and use a spoon to scoop out the solid cream, enough to measure 2 cups. Leave the watery liquid behind. Add 3/4 cup granulated sugar (this sugar is not called for in the recipe above, only add it if you are using coconut cream and not Coco Crema.) Be sure to microwave the coconut cream until all the lumps have smoothed out. Then add the other milks called for (coconut MILK, sweetened condensed milk, and evaporated milk), and pour over your cake. (You can use your leftover coconut cream to make this Slow Cooker Basil Chicken in Coconut Curry Sauce!)
This recipe is from my amazing sister Laura!
Nutrition
Serving:
1
g
|
Calories:
652
kcal
|
Carbohydrates:
59
g
|
Protein:
11
g
|
Fat:
42
g
|
Saturated Fat:
24
g
|
Polyunsaturated Fat:
2
g
|
Monounsaturated Fat:
9
g
|
Trans Fat:
1
g
|
Cholesterol:
183
mg
|
Sodium:
503
mg
|
Potassium:
355
mg
|
Fiber:
1
g
|
Sugar:
44
g
|
Vitamin A:
1252
IU
|
Vitamin C:
2
mg
|
Calcium:
297
mg
|
Iron:
2
mg