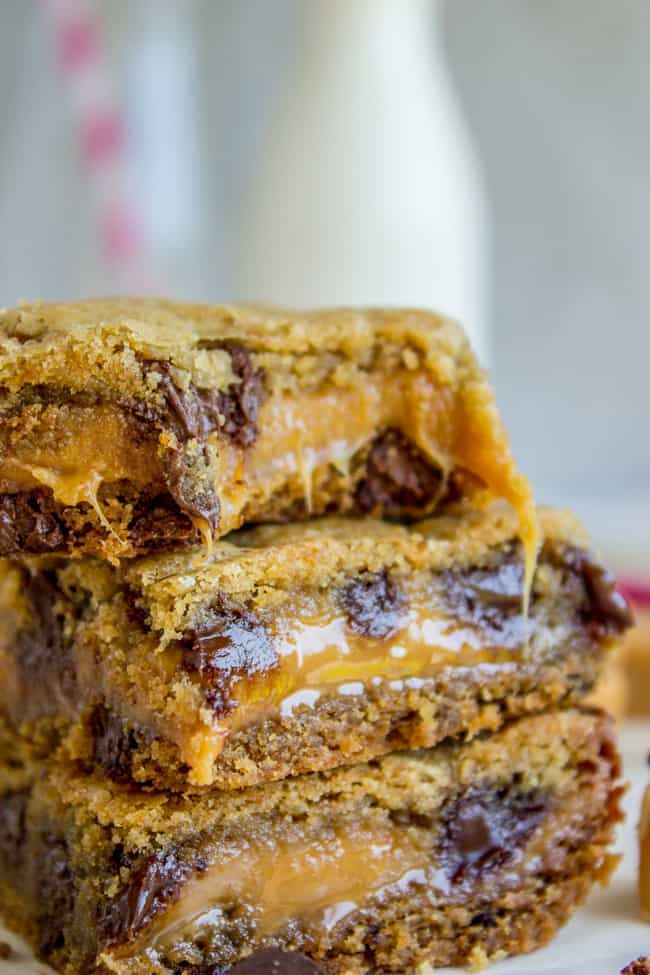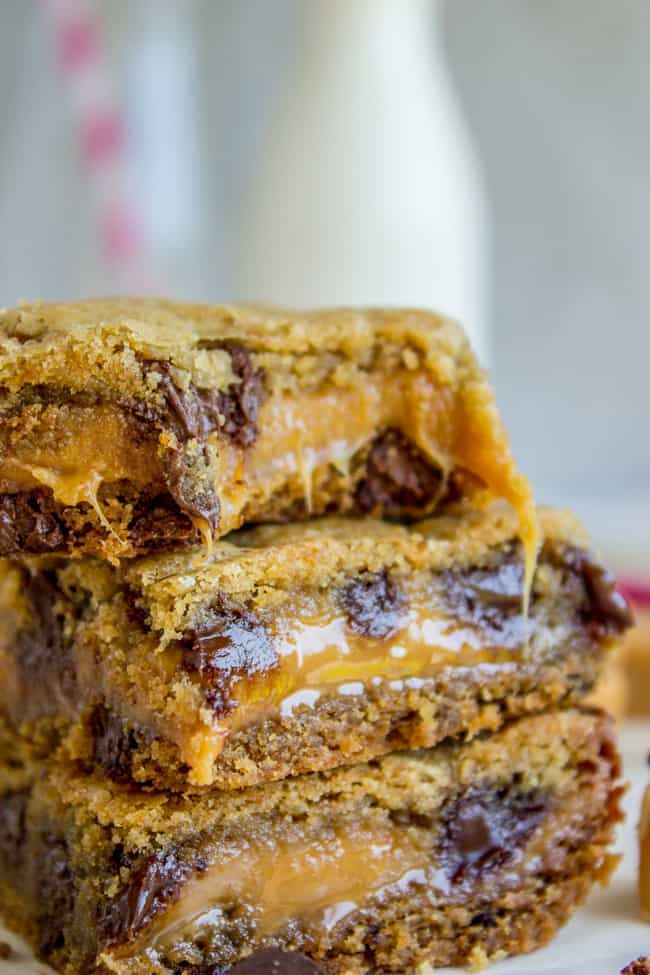 Did you make this recipe?
Leave a review »
The Easiest Carmelitas Ever
Serves 16
adjust servings
Ingredients
For the cookie dough
(30-ounce) package refrigerated cookie dough (at room temp) OR use the recipe below
12

tablespoons (1 and 1/2 sticks) butter, softened

1/3

cup + 3 tablespoons white sugar

3/4

cup brown sugar

1

egg + 1 egg yolk

1

and 1/2 teaspoons vanilla

2

and 1/4 cups flour, spooned and leveled

3/4

teaspoon baking soda

3/4

teaspoon salt

1

cup semi sweet chocolate chips
For the caramel center
1

(11-ounce) package caramels (or caramel bits)

1/3

cup sweetened condensed milk
Instructions
Attention! To make this recipe, you need EITHER a package of refrigerated cookie dough, OR the ingredients to make your own dough. You don't need both!
To make your own dough: Beat butter in a bowl or stand mixer until fluffy. Add white and brown sugar, beat until fluffy. Add egg and 1 yolk, and vanilla. Beat well. Add flour, baking soda, and salt. Stir until almost combined, then add chocolate chips. Mix until just combined.
Preheat your oven to 350 degrees F. Line a 9x13 inch pan with foil or parchment paper. Spray with nonstick spray.
Divide your cookie dough in half. Use your hands to spread (flatten, really) the dough over the bottom of the prepared pan. It will be a pretty thin layer.
Bake at 350 for about 10 minutes, or until golden on top. Remove from the oven but leave the oven on.
Meanwhile, add the caramels and sweetened condensed milk to a microwave safe bowl. Heat in 30 second intervals, stirring each time. When there are a few lumps left in the mixture, don't put it back in. Just keep stirring and it will smooth out. You don't want to burn it!
Pour the caramel over the baked layer of cookie dough, and spread evenly.
If you are using pre-made dough, use a knife to cut the remaining dough into slices, and place them over the caramel layer, pinching the space between the cookie dough together to form one cohesive piece of cookie dough.
If you made your own dough, take a small chunk of dough and flatten it as much as you can with your hands. Place on top of the caramel layer. Continue with the remaining dough until the caramel is completely covered. It's okay if some caramel is peeking through, but do your best to cover it up.
Bake at 350 for another 15-17 minutes, or until the top is golden brown and the center isn't wiggly.
Cool completely. If you bust into it right away you will have a big caramel-y mess. Which you might be okay with. I'm not one to judge.
Store on the counter or in the fridge.
by The Food Charlatan