These Carmelitas have soft gooey caramel smashed between two layers of chocolate chip cookie dough, then baked to perfection. They are so easy and totally irresistible!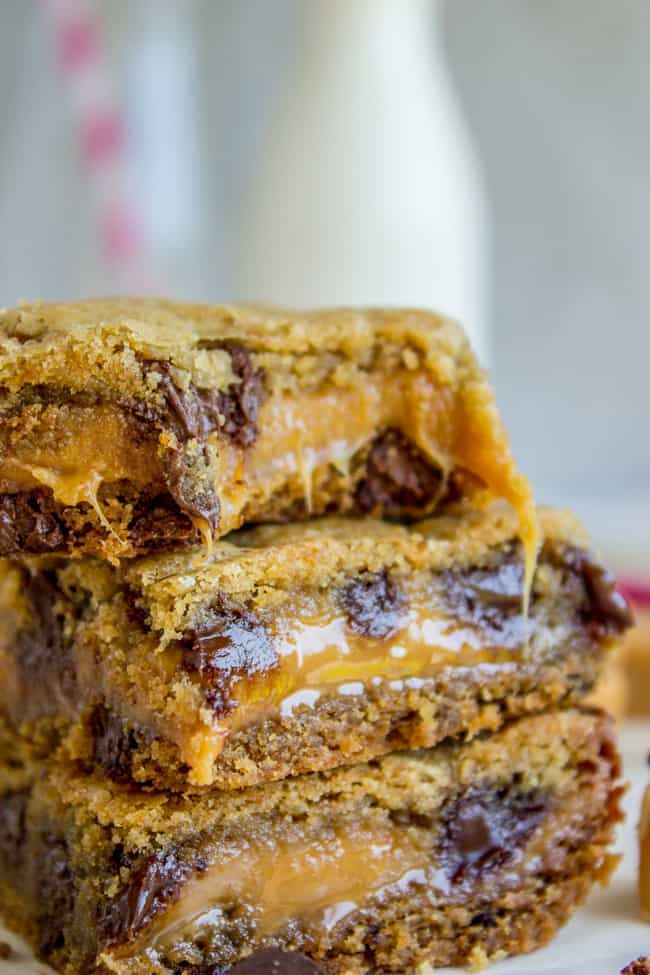 Raise your hand if you've done a kitchen renovation. Was it fun for you? Did you browse Pinterest for months? Did you love every minute of researching floors and countertops and light fixtures and cabinet hardware and oh my gosh what kind of faucet are you getting? I'M GOING INSANE OVER HERE GUYS.
Don't get me wrong, I love a pretty kitchen just as much as the next girl, but loving a pretty kitchen and CHOOSING a pretty kitchen are not the same thing. I just don't have that sense of style that some people are born with.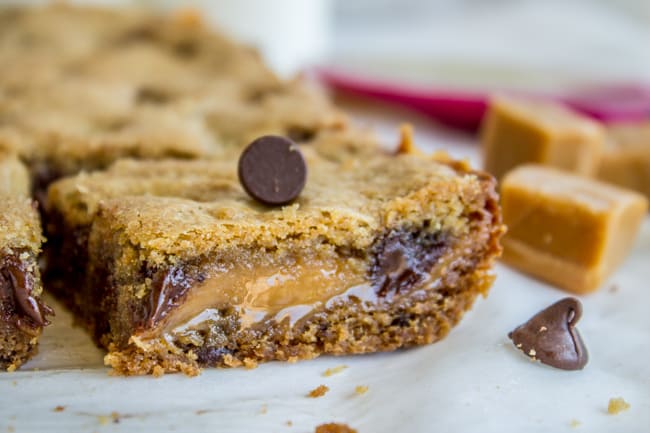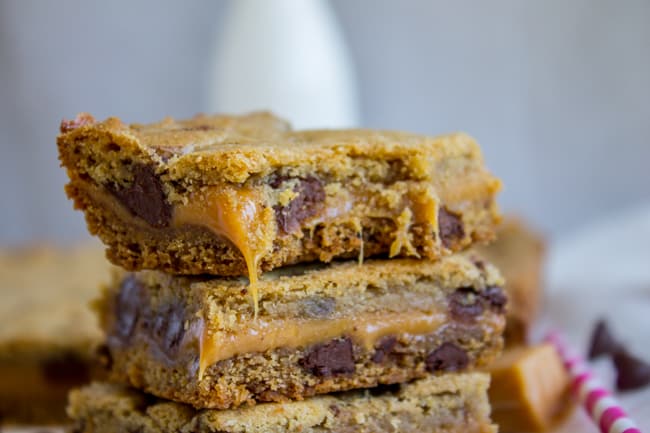 My cousin Lani does. She's my unofficial interior designer that I bum ideas off of. She's like, "Just find something you like Karen. Then buy it." But when I do that my house ends up looking like the home version of What Not to Wear. Pre-makeover.
If you are the kind of person who can visualize, (I'm not) picture this: dark wood floors, white shaker cabinets, dark OR light gray quartz (or maybe white with gray veining??) teardrop white backsplash, white under-mount corner sink (no space for apron front), and maybe this faucet: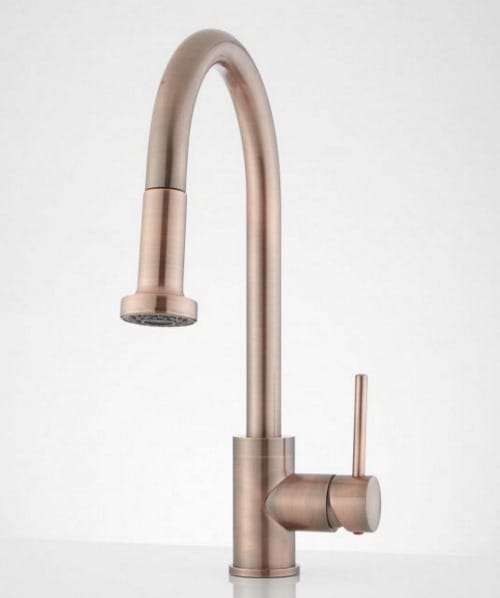 I'm thinking of doing some version of copper throughout the kitchen for the pulls on the cabinets. What do you guys think? Seriously, if you are the kind of person who has kitchen opinions, TELL ME. Will copper stuff clash with a dark/light gray counter? In a perfect world, I would also buy this copper KitchenAid, but that's probably not going to happen. (Our dishwasher and oven are white, btw. Fridge is too, but maybe someday soon we will get a stainless steel one. Maybe.) Here's a picture of our kitchen (pre-dark wood floors.)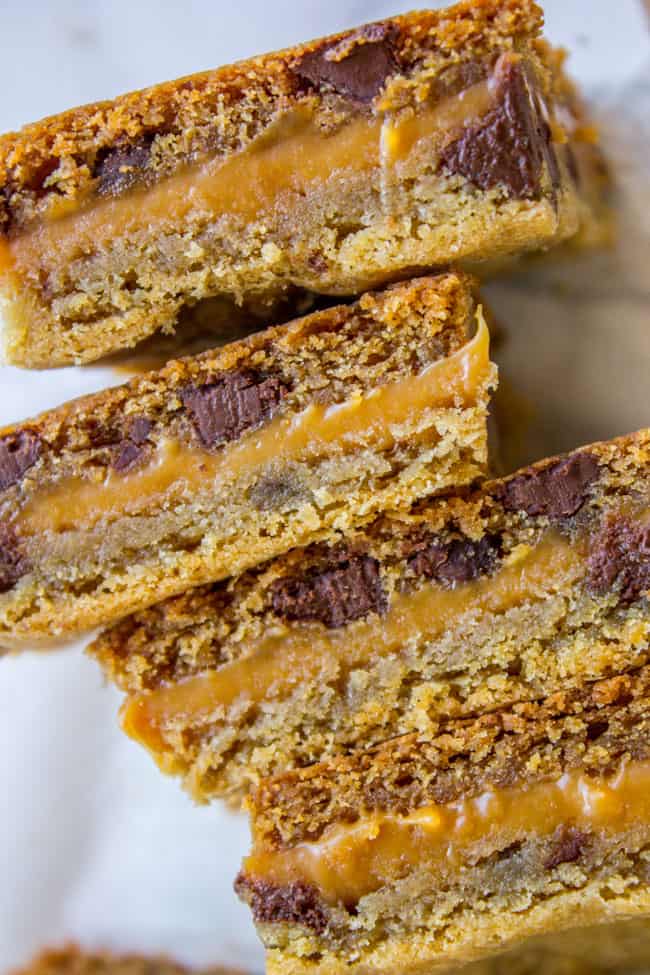 Whew. I'm not cut out for this. To keep myself from actually ripping my hair out, I've been eating one Carmelita for ever 10 kitchen sinks investigated. I feel pretty good about it.
How to make Carmelitas
This recipe is from my friend Hayley, who blogs over at The Domestic Rebel. (She even lives here in Sacramento, so I actually get to hang out with her in real life, unlike most of my blog friends who are spread across the country!)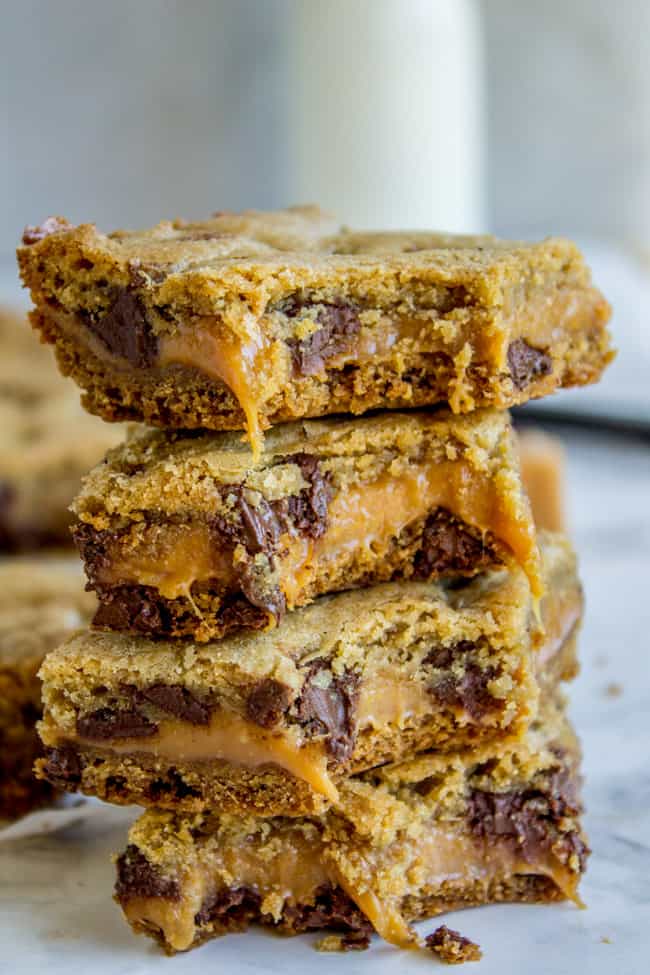 Hayley just released her first cookbook and I'm in LOVE. It's called Out of the Box Desserts, and they are all recipes that start with a box or pre-made something. I'm a sucker for recipes like that, because they save so much time and still taste amazing!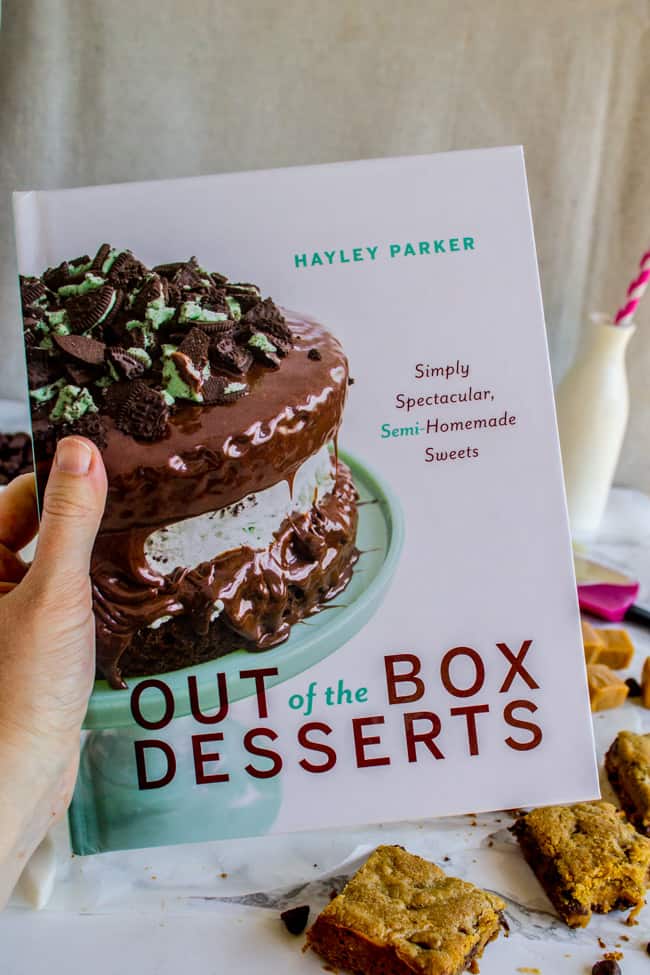 Ironically, I didn't have a package of cookie dough on hand for this recipe, and I rarely do. (I always have cake mixes on hand!) So in the recipe below I provided a basic chocolate chip cookie dough recipe that will make the right amount that you need to make these Carmelitas. Either one will work great!
Hayley's got tons of other awesome recipes in her book. I can't wait to try out that cake on the cover. Doesn't it look fabulous? Head over to Amazon if you want to buy your own copy!
More great Caramel Recipes to try:
Caramely Almond Butter Bars << these are SO rich.
Cinnamon Caramel Swirl Bars << these are a personal fav!
Caramel Cake with Caramel Frosting << A southern classic!
Browned Butter Blondies with Sea Salt Butterscotch Caramels: <<a classic.
Club Cracker Caramel Bars from The Gunny Sack
Reeses Peanut Butter Caramel Bars from Lemons for Lulu
Caramel Brownie PB Cookie Bars from Crazy for Crust
Facebook | Pinterest | Instagram | Twitter

The Easiest Carmelitas Recipes Ever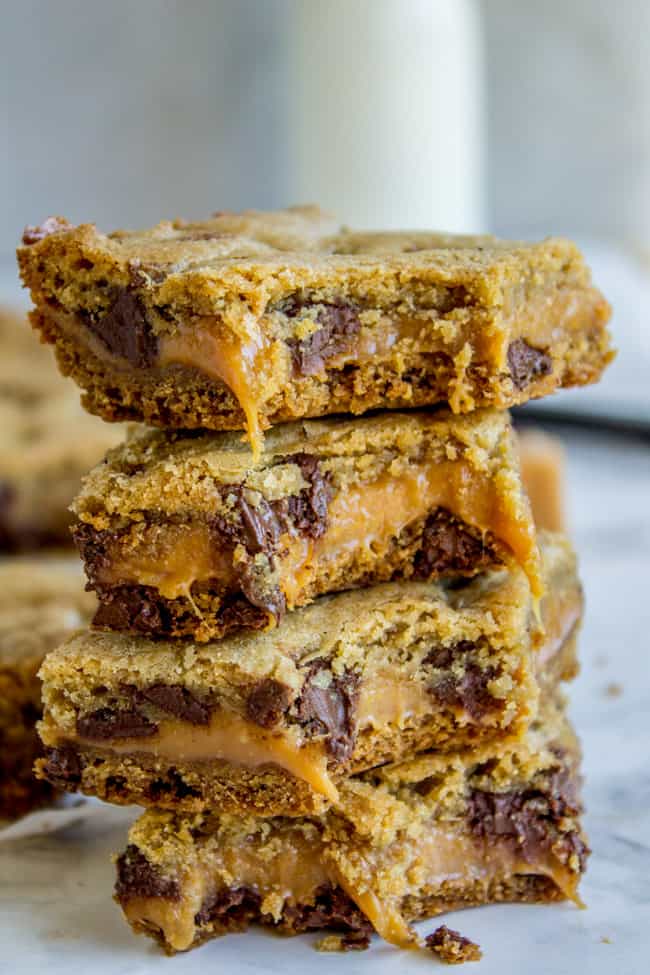 Gooey caramel smashed between two layers of chocolate chip cookie dough, then baked to perfection. These Carmelitas are so easy and totally irresistible!
Ingredients
30-ounce package refrigerated cookie dough (at room temp) OR use the recipe below
For the cookie dough:
12

tablespoons

butter

,

softened (1 & 1/2 sticks)

1/3

cup

+ 3 tablespoons white sugar

3/4

cup

brown sugar

1

egg + 1 egg yolk

1 & 1/2

teaspoons

vanilla

2 & 1/4

cups

flour

,

spooned and leveled

3/4

teaspoon

baking soda

3/4

teaspoon

salt

1

cup

semi sweet chocolate chips
For the caramel center:
1 (11-oz)

package

caramels (or caramel bits)

1/3

cup

sweetened condensed milk
Instructions
Attention! To make this recipe, you need EITHER a package of refrigerated cookie dough, OR the ingredients to make your own dough. You don't need both!

To make your own dough: Beat butter in a bowl or stand mixer until fluffy. Add white and brown sugar, beat until fluffy. Add egg and 1 yolk, and vanilla. Beat well. Add flour, baking soda, and salt. Stir until almost combined, then add chocolate chips. Mix until just combined.

Preheat your oven to 350 degrees F. Line a 9×13 inch pan with foil or parchment paper. Spray with nonstick spray.

Divide your cookie dough in half. Use your hands to spread (flatten, really) the dough over the bottom of the prepared pan. It will be a pretty thin layer.

Bake at 350 for about 10 minutes, or until golden on top. Remove from the oven but leave the oven on.

Meanwhile, add the caramels and sweetened condensed milk to a microwave safe bowl. Heat in 30 second intervals, stirring each time. When there are a few lumps left in the mixture, don't put it back in. Just keep stirring and it will smooth out. You don't want to burn it!

Pour the caramel over the baked layer of cookie dough, and spread evenly.

If you are using pre-made dough, use a knife to cut the remaining dough into slices, and place them over the caramel layer, pinching the space between the cookie dough together to form one cohesive piece of cookie dough.

If you made your own dough, take a small chunk of dough and flatten it as much as you can with your hands. Place on top of the caramel layer. Continue with the remaining dough until the caramel is completely covered. It's okay if some caramel is peeking through, but do your best to cover it up.

Bake at 350 for another 15-17 minutes, or until the top is golden brown and the center isn't wiggly.

Cool completely. If you bust into it right away you will have a big caramel-y mess. Which you might be okay with. I'm not one to judge.

Store on the counter or in the fridge.
Nutrition
Serving:
1
cookie
|
Calories:
368
kcal
|
Carbohydrates:
54
g
|
Protein:
4
g
|
Fat:
15
g
|
Saturated Fat:
9
g
|
Polyunsaturated Fat:
1
g
|
Monounsaturated Fat:
4
g
|
Trans Fat:
1
g
|
Cholesterol:
37
mg
|
Sodium:
299
mg
|
Potassium:
169
mg
|
Fiber:
1
g
|
Sugar:
37
g
|
Vitamin A:
308
IU
|
Vitamin C:
1
mg
|
Calcium:
67
mg
|
Iron:
2
mg