Best Roasted Brussel Sprouts and Roasted Sweet Potatoes Recipe
Roasted vegetables (like these roasted Brussels sprouts and sweet potatoes) are superior in almost every way; it's a fact. But they take up valuable oven space on holidays. Make them ahead of time and reheat!  Save on time and stress. Originally posted November 23, 2015.
Roasted Sweet Potatoes and Roasted Brussel Sprouts Recipe
Do you like Brussels sprouts? I have to admit, they are a recently found love of mine. Probably because my family NEVER ate them growing up. I saw this on my cousin's Facebook page:
"We've never cooked Brussels Sprouts before. Do we need a special pan?"
And then there were tons of comments from my extended family with things like, "worst vegetable on earth," and "let the kids use it as a sword and then throw it in the trash!" It's no wonder I never had them growing up. The real question is, Mom, why didn't you buy me a Brussels sprout sword?? Wth.
My brother Nate was the one who convinced me to try them a few years ago, and he said the only way you should be eating them is roasted. (And that is still the only way I have tried them.) Why mess with a good thing? They are delicious.
My cousin Lani made some when they had us over for dinner several weeks ago, and she sprinkled cumin all over them before roasting. Best idea ever! I love the earthy, nutty dimension it gives the sprouts. I threw some sweet potatoes on the pan as well, and loved the combination.
How to select Sweet Potatoes
At the produce section of your local store, look for sweet potatoes with orange skin and orange flesh, which are likely the Jewel variety, or darker red skin and orange flesh, called Red Garnet. Both are popular and tasty. Look for small to medium-sized sweet potatoes that are firm and smooth. Sweet potatoes are generally longer, thinner and overall bigger than a "normal" russet potato but you don't want a gigantic sweet potato that's impossible to cut, so pick medium ones. Make sure the potatoes have few nicks or cracks.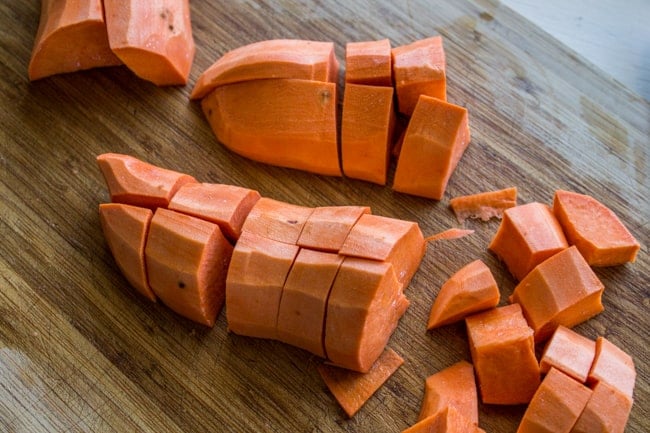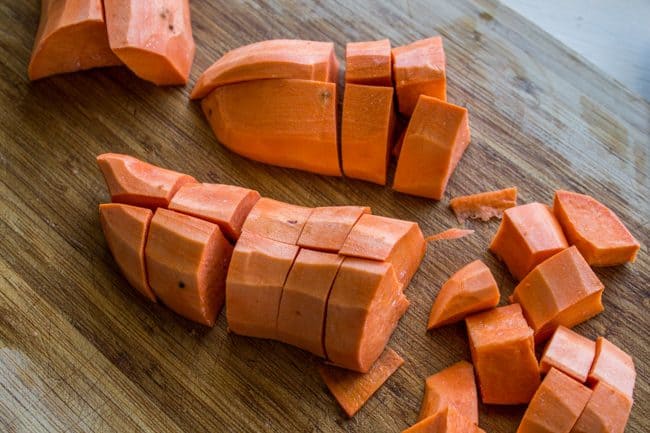 Check to make sure you're not buying a yam! A yam is a long, pale tuber with skin that resembles tree bark, and are often covered in stringy roots. The confusion stems from the fact that some growers use the word "yam" to describe their sweet potatoes despite them not being actual yams. As long as you stick with the red or orange-skinned types, you're good.
How to select Brussels Sprouts
For Brussels sprouts, look for bright green sprouts that look like mini heads of cabbage. Choose firm, compact sprouts that are about similar in size to each other, usually about the size of a ping-pong ball.
Avoid yellow or wilted leaves, or any odor that's strong or cabbage-like, which are all signs of age or mishandling.
Store fresh Brussels sprouts in the fridge. You can totally buy those pre-washed bags of sprouts they sell in the produce section. Although the sword version is pretty fun.
Should I wash brussel sprouts before roasting?
Yes! Most veggies need to be "washed," which really means they need to be rinsed very thoroughly. Roasted brussels sprouts and sweet potatoes are no exception. Scrub under running cold water to remove lingering dirt and pesticide residue.
Do you cut off the bottom of brussels sprouts?
Maybe this is why my family hated Brussels sprouts. Maybe the previous generation was gnawing on tough fibers with no flavor. Save the Brussels sprout reputation, people. Those yellowed ends have got to go!
(Also, um, don't eat the Brussels sprout sword. You know, the stalk? Don't eat that!)
Should sweet potatoes be peeled?
Listen, as one cook to another, if you're serving ANYONE who's picky about vegetables (and there usually are a few) then peel those suckers. You're still getting nearly all the nutrients from the orange flesh, because sweet potatoes are awesome like that. But, if the group loves the crisp, somewhat caramelized peel of a sweet potato, go ahead and indulge!
Do you boil sweet potatoes or brussels sprouts before roasting?
Not for this recipe. The piping hot oven does all the work. To me, a boiled veggie is on par with a TV dinner. A roasted veggie is fine dining. You could even consider raising your pinkie finger while you eat your roasted veggies by the forkful. Live it up!
Ingredients for Oven Roasted Sweet Potatoes and Brussels Sprouts
Okay, on to what you'll need to grab at the store. (Quantities given in recipe below.)
1 pound Brussels sprouts. (see above for How to Select Brussels sprouts)
1 large sweet potato. (see above for How to Select sweet potatoes)
2 cloves garlic. Minced garlic may be substituted.
Olive oil, or other neutral oil.
Cumin. I used cumin powder.
Garlic salt
Salt
Pepper
Red wine vinegar. Any flavored vinegar will work–apple cider vinegar, sherry vinegar, or even balsamic for a flavorful punch.
Thyme. Fresh or dried works just fine.
How to Make Recipe for Roasted Brussel Sprouts and Roasted Sweet Potatoes
Guys, this recipe is so easy that I have very little special instructions. Here's a simple overview, so you can get a sense of what you'll be doing. (All ingredients and instructions are also listed in the recipe below.)
Preheat your oven to 400 degrees F.
Trim your Brussels sprouts by cutting off the little brown end. If there are any yellow leaves, pull them off. Cut all but the smallest in half. Add to a large bowl.
Add sweet potato, peeled and chopped into 1-2 inch pieces.
Add garlic, smashed.
Pour 1/3 cup olive oil over the vegetables.
Add cumin, garlic salt, salt, and pepper. Stir to coat.
Line a large sheet pan with foil if you want super easy cleanup.
Drizzle olive oil onto the sheet pan and rub it all over the pan (or foil) with your hand. Or spray it really well with nonstick spray.
Pour the veggies onto the pan.
Roast at 400 for about 40-45 minutes.* The veggies are done when they are brown and a fork slides into them easily.
Place the veggies in a serving bowl and toss with red wine vinegar and fresh thyme.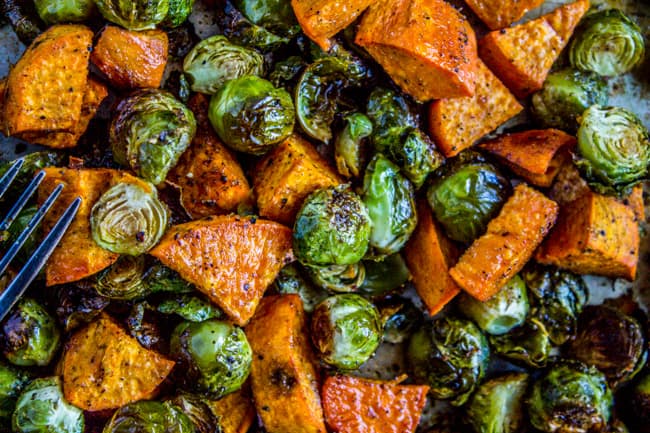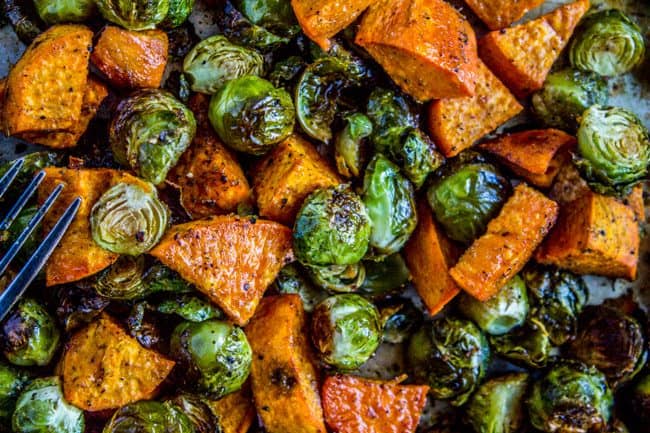 Making Roasted Brussels Sprouts and Sweet Potatoes Ahead
It's the most annoying thing about roasted veggies–timing it right, especially when your main dish (like a turkey at Thanksgiving) is in the oven.
So I roasted mine, stored them in a tupperware in the fridge (for 2 days!), and then reheated them on a pan at 400º F for about 5- 10 minutes, just until sizzling and hot. It worked like a charm! This is a great way to get roasted veggies without having to worry about using your oven for 45 minutes.
Why are my roasted brussel sprouts bitter?
Did you cut the Brussels sprouts in half? Because I'm not making you chop and fuss over the spouts for no reason, I swear. Most of the bitterness is concentrated in the center of the Brussels sprout. If you slice the the veggie in half, it helps release some of those compounds during the cooking process. Also, smaller spouts in general are better when it comes to tenderness and flavor. Also, you're getting oil and seasoning over a greater surface area, which improves their flavor.
And I believe that's all, folks. All I had left to do was wash up. So . . .
After I made these, I hand-washed the large sheet pan I used to roast them on, but I just couldn't get the oil to come off. I kept adding more soap and scrubbing my brush all over the pan, but it was still greasy. I added more, and more, and more, and finally grabbed a paper towel to soak up some of the grease on the pan. I was about to pour more soap when I realized…
I was washing my pan with olive oil.
More roasted vegetable recipes that will rock your socks!
Facebook | Pinterest | Instagram
More Recipes you will Love!
We are a participant in the Amazon Services LLC Associates Program, an affiliate advertising program designed to provide a means for us to earn fees by linking to Amazon.com and affiliated sites.