The contest between brownies and cookies is officially over, because now you can have them AT THE SAME TIME. Rich, soft, fudgy brownies, all stuffed inside golden tender chocolate chip cookies… Basically heaven. Pass the milk! (Seriously though.)
My mom is awesome. I feel like I need to add this disclaimer before I tell you that if you meet her, she will talk to you about dead people. She USED to be normal, but ever since she retired she's started volunteering at the local cemetery. She can tell you some crazy stories, like the time someone buried their dog illegally on the premises, or a few weeks ago when a crazy lady came in practically with shovel in hand to exhume grandpa (FOR REAL).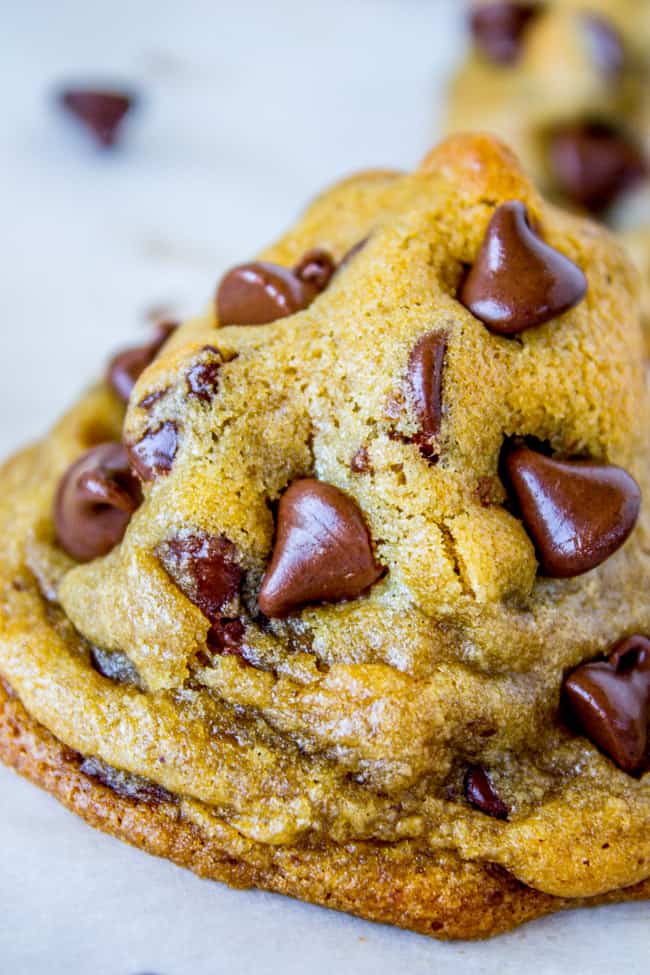 The other day my mom was in the shower when she got a phone call from her fellow cemetery volunteers with an EMERGENCY. (I didn't know there was such a thing as a cemetery emergency, but apparently it's a real thing.) She rushed out of the house with her hair undone and sped over to the cemetery. When she got there, her friends Rick and Janet led her over to a spot in the cemetery where the land has been shifting visibly over the last few years, and showed her this: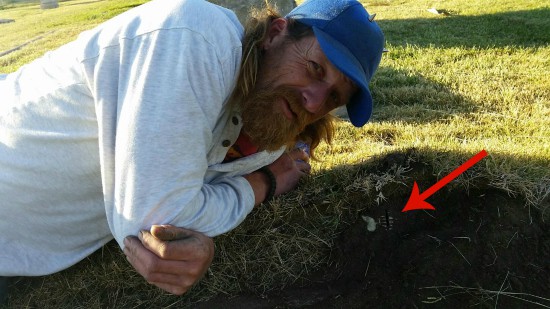 Can you see it??? BONES, PEOPLE. Creepy, right??!!!
And then everyone started snickering and my mom realized that it's a little too close to Halloween for this to not be a practical joke.
Aaaaaaand this is why I will never work for a cemetery. I would have legit nightmares, fake bones or not!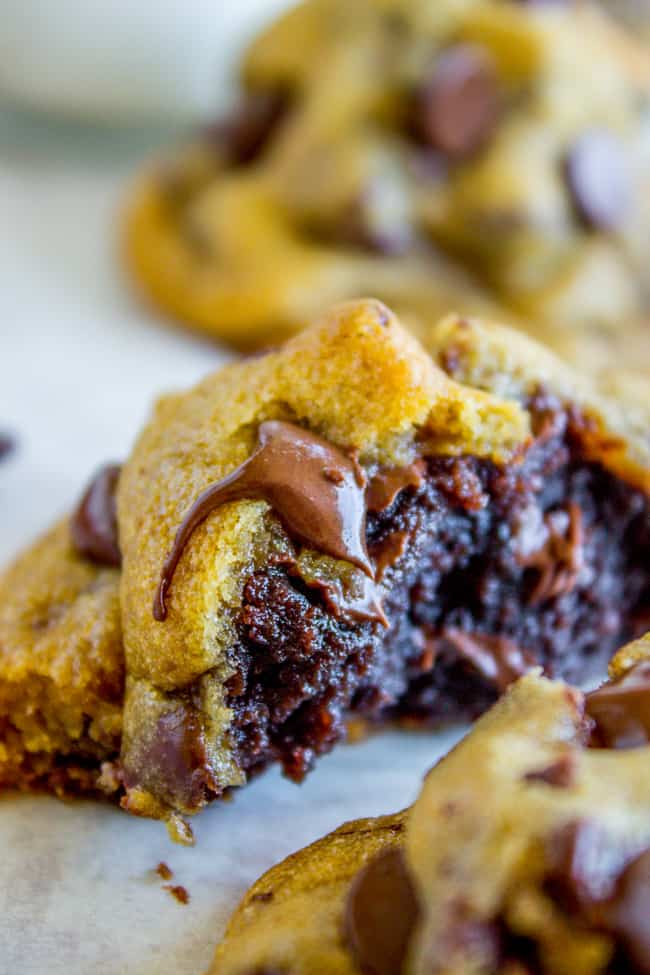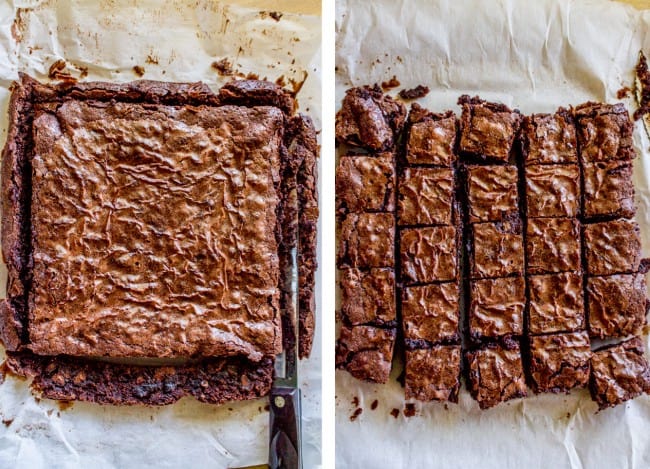 Guess what, I have another cookbook review for you today! It's crazy how many of my friends have written books this year. It is so fun to see all their talent bound up in a neat little package! Today's review is for my friend Aimee, who blogs over at Like Mother Like Daughter. She and her mom both contribute to the blog, and between the two of them there is always something delicious going on.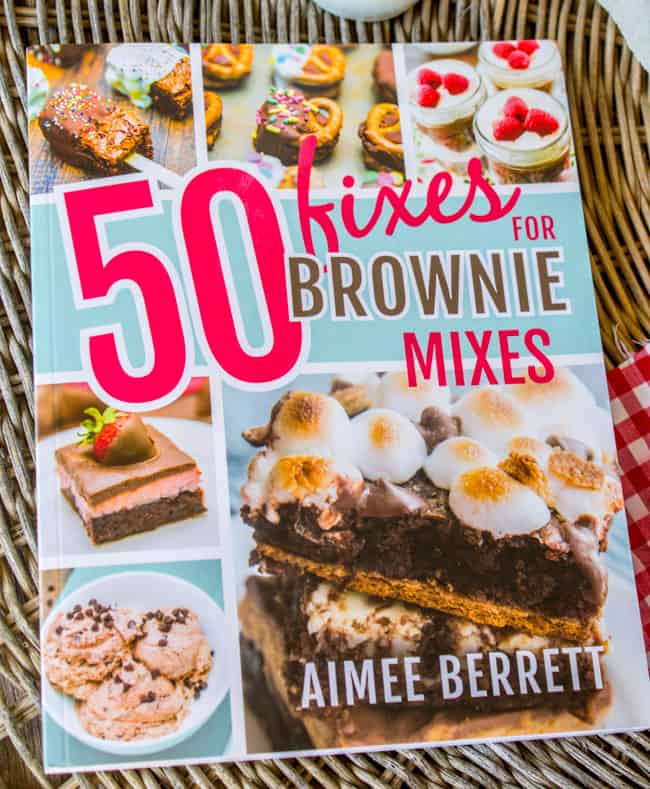 The new book is called 50 Fixes for Brownie Mixes, and it's exactly what it sounds like. Tons of recipes for different ways to jazz up a box of brownie mix. It's not just different ways to make brownies though, she includes recipes for stuff like Brownie Banana Bread, Brownie Fudge, Brownie Batter Pancakes…it all sounds amazing, because hello, brownies are amazing!
I decided to make the Brownie Stuffed Chocolate Chip Cookies. Best. choice. ever.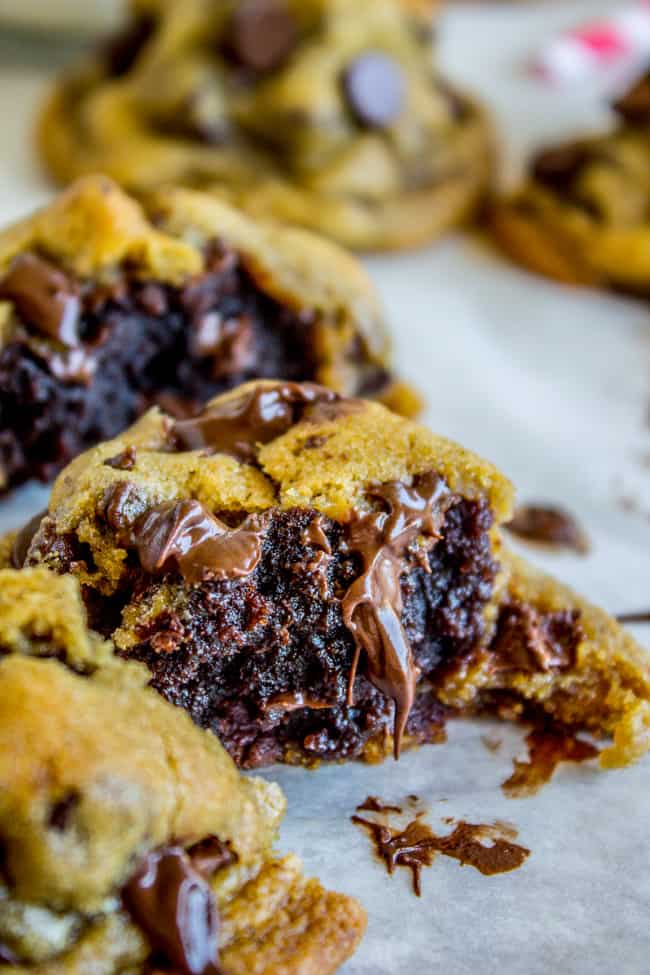 Eric calls these "Mount Vesuvius Cookies" because they are so huge. They do look like mini mountains, don't they?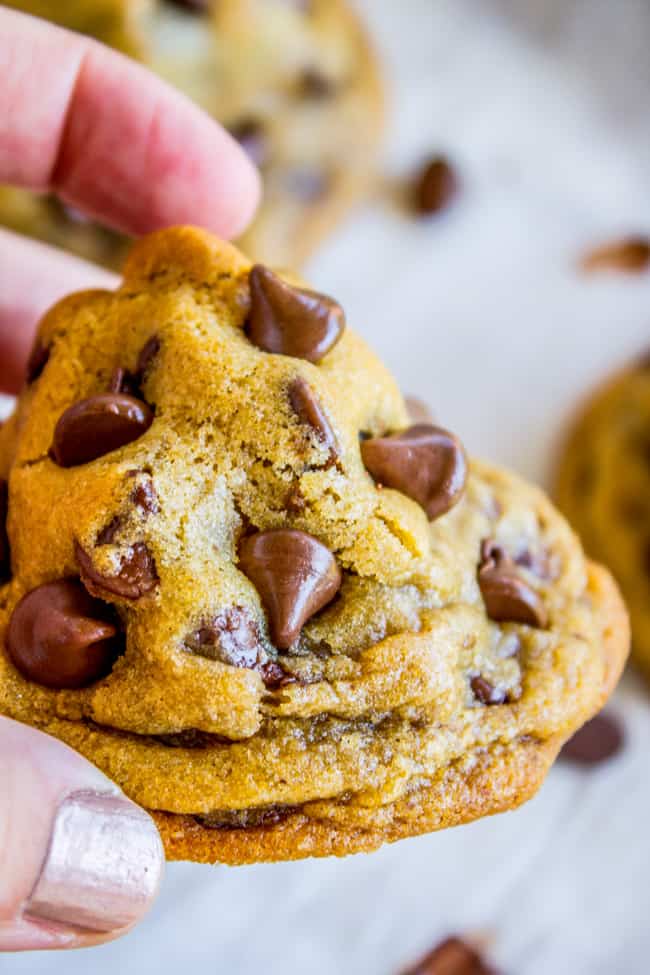 And there is indeed a veritable volcano of brownie-ness inside: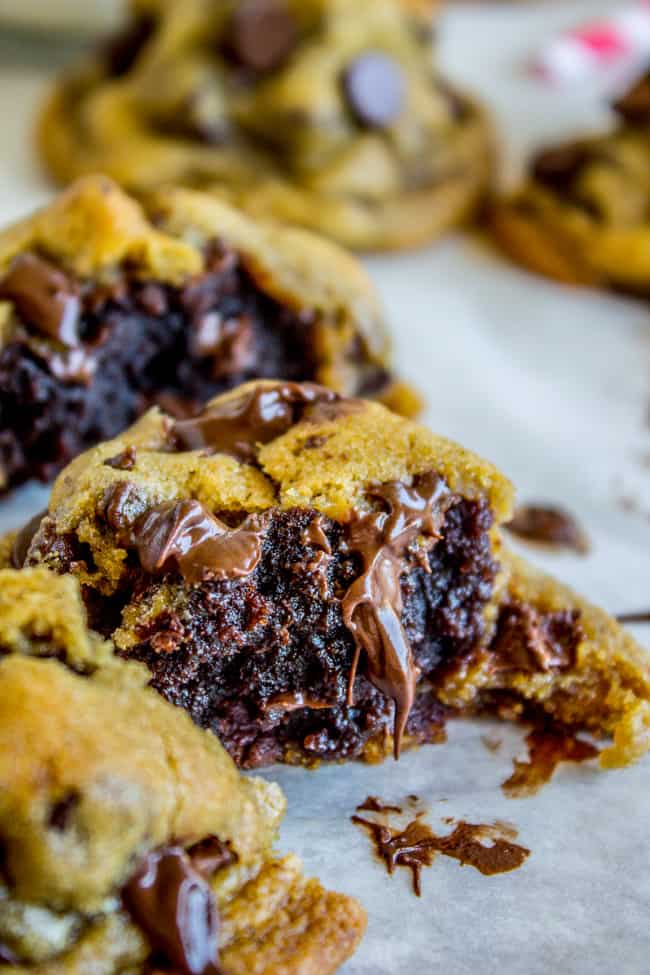 I feel like I don't even need to describe how ridiculously delicious these are. Imagine eating a warm soft chocolate chip cookie. Imagine eating a rich fudgy brownie. Now put them together and you have dessert's most milk-worthy brain child to have ever been created. The original recipe doesn't call for chocolate chips in the brownies but…I feel like I made the right call here.
Aimee's book would be an awesome Christmas present! You can buy it here on Amazon. I know it seems early but Christmas is in just a few months, and I am trying to be better about buying stuff early so that I don't have to stress about getting it all in December. I seriously almost feel guilty ordering stuff in the few days before Christmas because I know it means some poor UPS guy is going to have to stay out til 10pm delivering stuff again. Time to give him a break and order in October!
Facebook | Pinterest | Instagram | Twitter

Brownie-Stuffed Chocolate Chip Cookies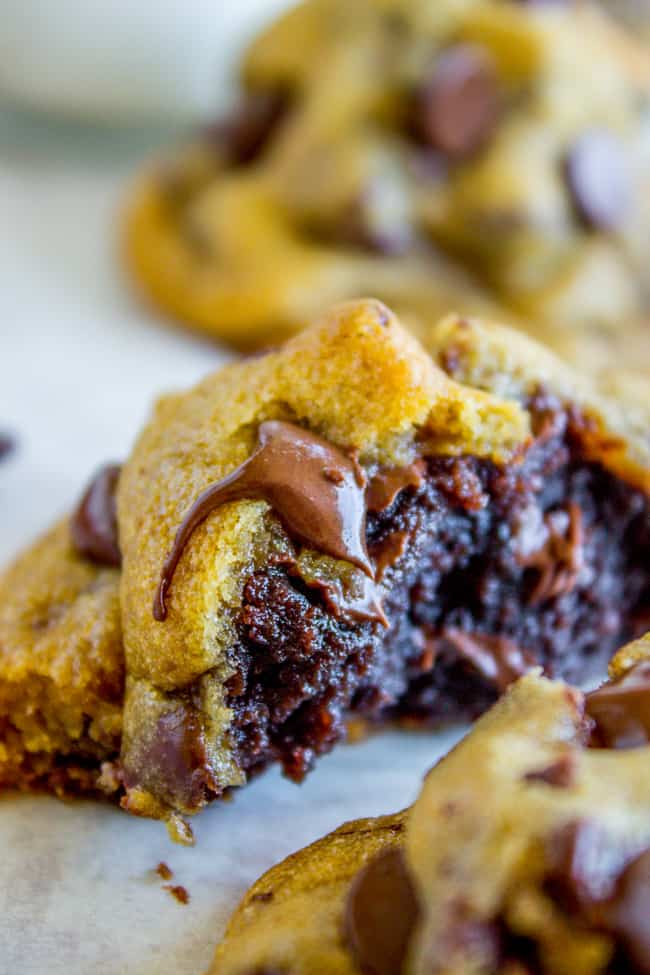 The contest between brownies and cookies is officially over, because now you can have them AT THE SAME TIME. Rich, soft, fudgy brownies, all stuffed inside golden tender chocolate chip cookies... Basically heaven. Pass the milk! (Seriously though.)
Ingredients
For the brownies:
1

18-oz. box

brownie mix

additional ingredients as listed

,

probably a couple eggs, water, and oil

1

cup

semisweet chocolate chips
For the cookies:
1

cup

butter

,

2 sticks, softened

1/2

cup

sugar

1

cup

brown sugar

2

teaspoons

vanilla extract

2

large

eggs

1 & 1/4

teaspoons

baking soda

1

teaspoon

salt

3

cups

flour

,

spooned and leveled

2

cups

chocolate chips
Instructions
For the brownies:Preheat the oven to 350 degrees F. Line a square pan (8x8 or 9x9) with parchment paper or foil. If you use foil, grease it.
Prepare brownie batter according to package instructions. Fold in 1 cup chocolate chips.

Pour the batter into the prepared pan.

Bake according to package instructions. Check the brownies at the lowest bake time. Try to under bake them a little bit. I mean you don't want raw batter in the middle but you do want fudgy brownies.

Allow the brownies to cool completely. Lift the brownies from the pan and use a sharp knife to slice off the hard edges of the brownies (like a half inch or so).

Cut the brownies into 1 and 1/2 inch squares, or 5 columns and 5 rows to get 25 pieces. Set aside.
For the cookies: Preheat oven to 350 degrees.
In a large bowl or stand mixer, beat together 1 cup butter and the sugars. Beat for about 2 minutes until light and fluffy.

Add in vanilla and eggs and beat.

Add flour but don't stir. Use a small spoon to stir the baking soda and salt into the flour.

Stir the flour into the dough. When the flour is not quite incorporated, add the 2 cups of chocolate chips and stir.
To assemble:
Scoop out 2 separate balls of cookie dough, each about 1 and 1/2 tablespoons. Flatten each ball with your hands.

Place a brownie square on top of one piece of cookie dough*, and top with the other cookie dough. Pinch the cookie dough together around the brownies, sealing it in the middle. Repeat with all the dough.

Place the dough onto a baking sheet lined with parchment paper or. Don't do more than 6-8 cookies per pan.

If you have time and freezer space, freeze the shaped cookies for about 30 minutes. This will make the cookies not flatten so quickly, meaning the dough will mold to the shape of the brownie better.

Bake at 350 for about 13-15 minutes, or until golden brown on the edges.

Let cool on the pan for 5 minutes, the remove to a wire rack. I like these served warm!
Nutrition
Serving:
1
cookie
|
Calories:
330
kcal
|
Carbohydrates:
42
g
|
Protein:
3
g
|
Fat:
17
g
|
Saturated Fat:
10
g
|
Polyunsaturated Fat:
1
g
|
Monounsaturated Fat:
4
g
|
Trans Fat:
1
g
|
Cholesterol:
47
mg
|
Sodium:
282
mg
|
Potassium:
96
mg
|
Fiber:
1
g
|
Sugar:
26
g
|
Vitamin A:
315
IU
|
Calcium:
23
mg
|
Iron:
2
mg
Here are some other insanely good cookies you will love!
Mint Chocolate Chip Cookies << These are a great Christmas cookie!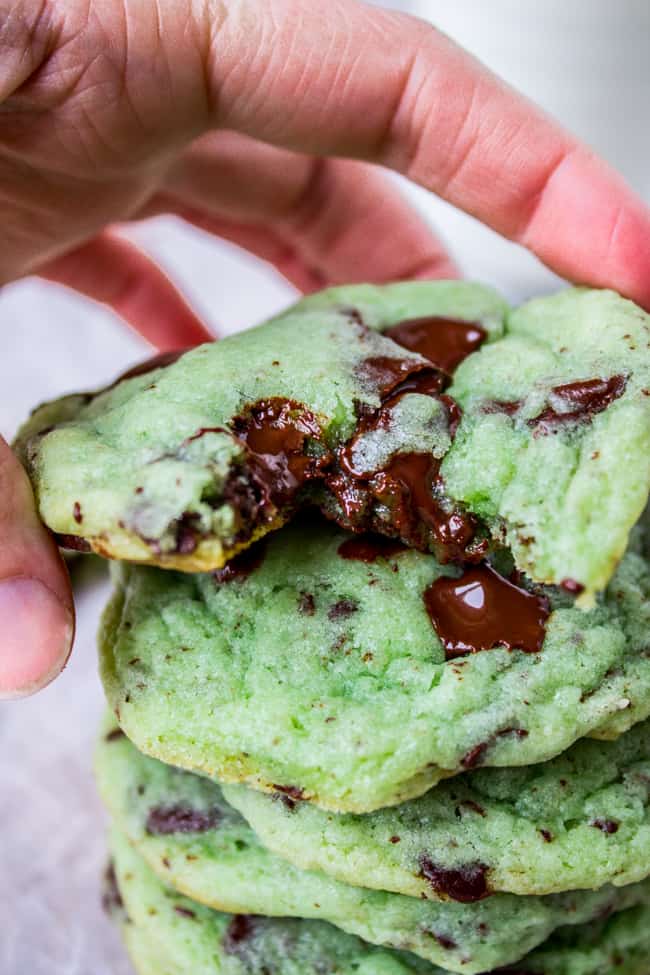 Texas Cowboy Cookies << I posted these in August and they already have 100,000 pins on Pinterest. I think it's all the Texans banding together and being like TEXAS IS THE BEST AND SO ARE THESE COOKIES. :)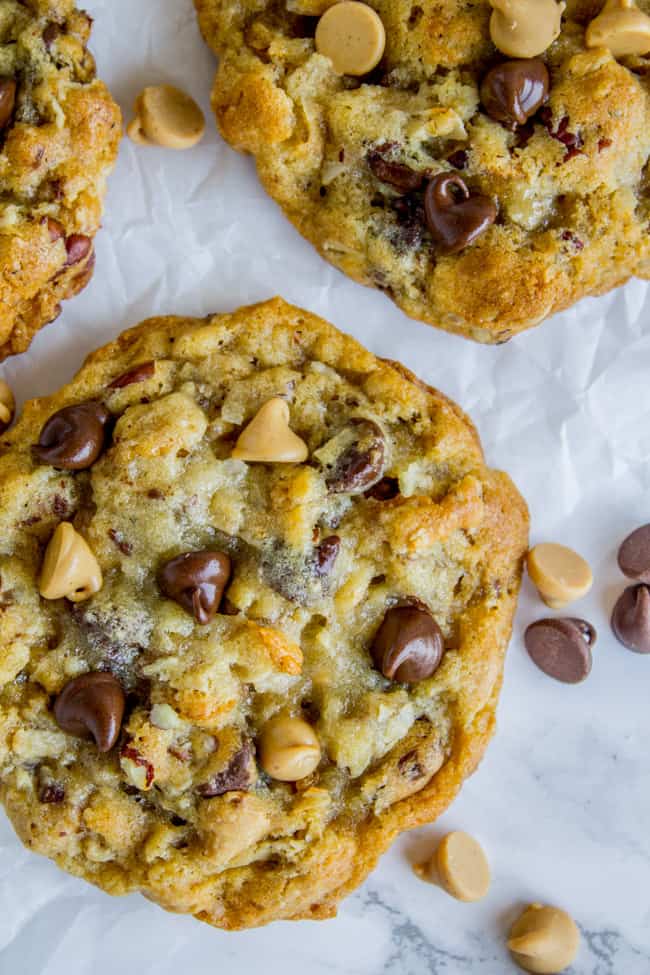 Nutella Stuffed Gingerbread Cookies: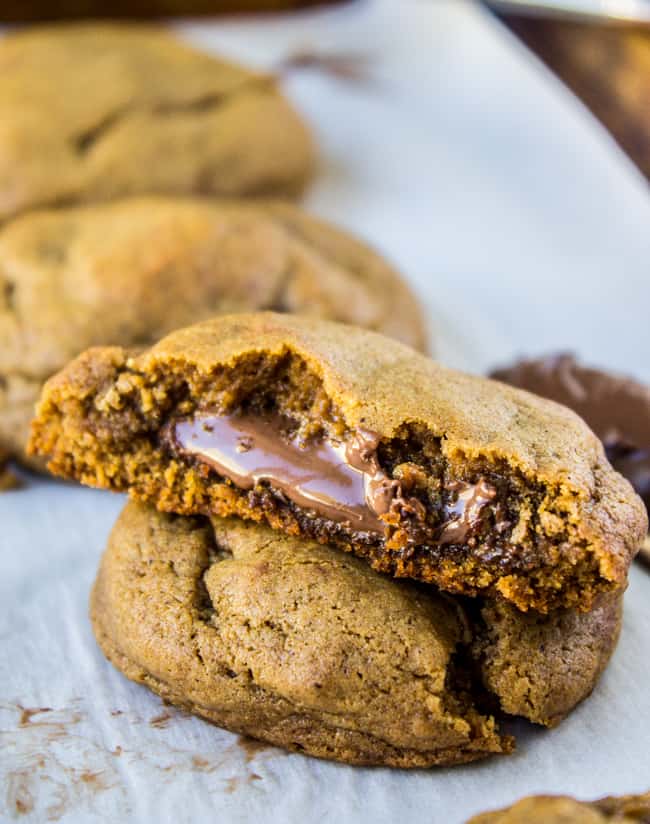 More stuffed cookies from other bloggers that you'll love!
Chocolate Peppermint Stuffed Cookies from The Gunny Sack
Cake Ball Stuffed Cookies from Beyond Frosting
Chocolate Chip Caramel Stuffed Cookies from Cake and Knife