These Reese's Stuffed Brownies are an easy recipe for ultra-decadent brownies (made with brown butter) with a surprise inside. Go full size or go home! I'm not messing around. Originally posted January 19, 2015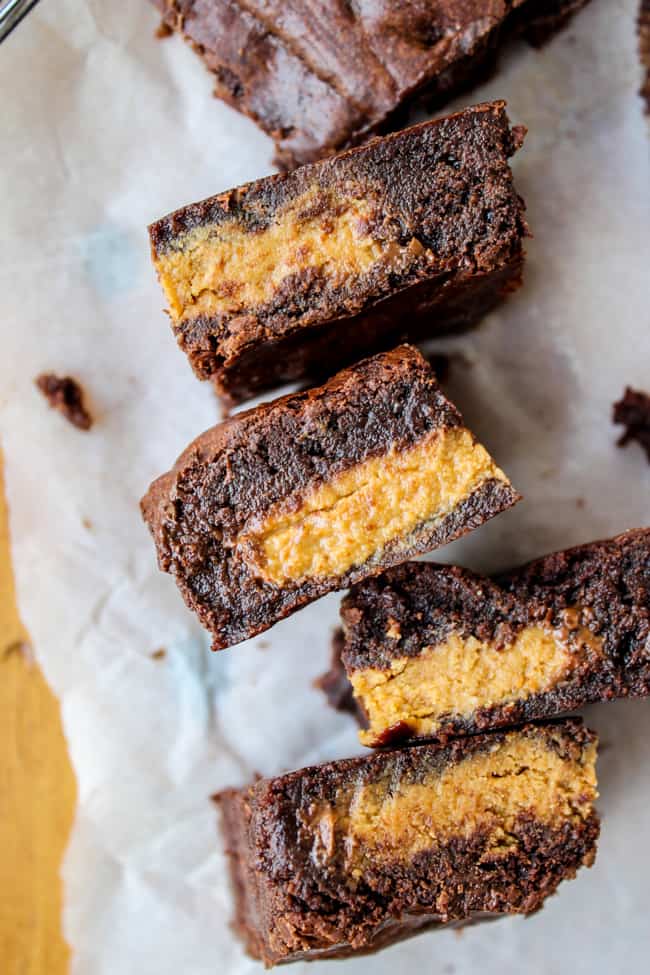 So today I was literally running around like a crazy person. Long to-do list, you ask? Errands to run? Um, no. More like the barefoot, dodging legos, literal kind of running. In my house.

I've been terrible lately about keeping any sort of exercise routine. There's always some excuse right? No time, I already showered, I just ate 3 Banana Churros and now I'm too full. << Yeah, I know. Balance is not my forte, okay?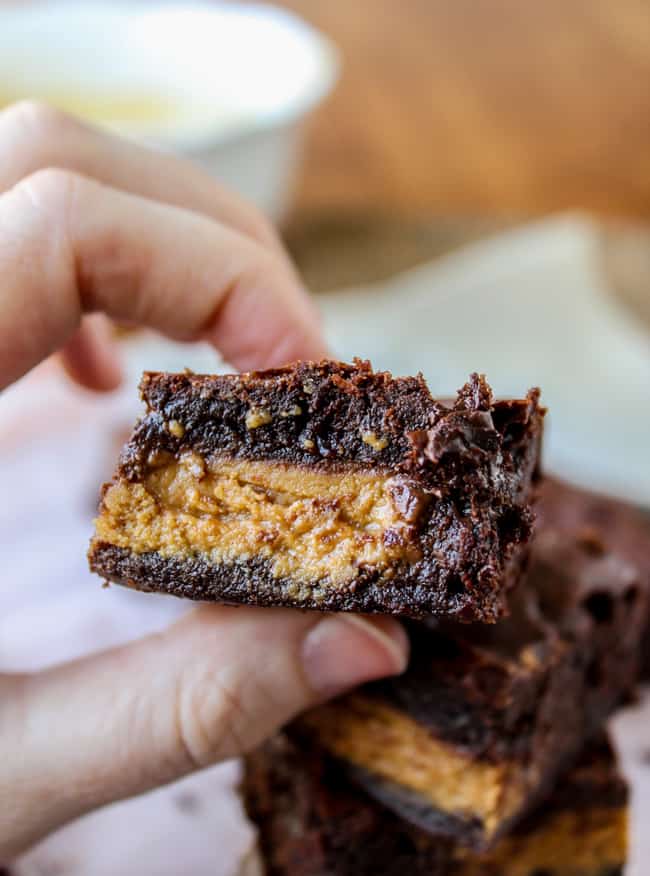 But last week I decided I had had enough. No excuses, I just needed to move, and I knew that if I conceptualized that thought for too long my resolve would fizzle. I needed to surprise attack my own body.
So I started jogging from room to room. Why not, right? At least that's what I thought for my first few laps. This isn't so bad. Who needs a treadmill anyway? Waste of space, if you ask me. On a treadmill you don't even get to hurdle tiny (but deadly) Elsa barbie shoes. (Clearing the halls for running would have qualified as a stalling tactic for I Can't Commit Karen, hence the toy land mines.)
Pretty soon the kids were both sitting on the bean bag, doing nothing but watching me as I huffed and puffed by every 10 seconds. I thought they were about to bust out the popcorn.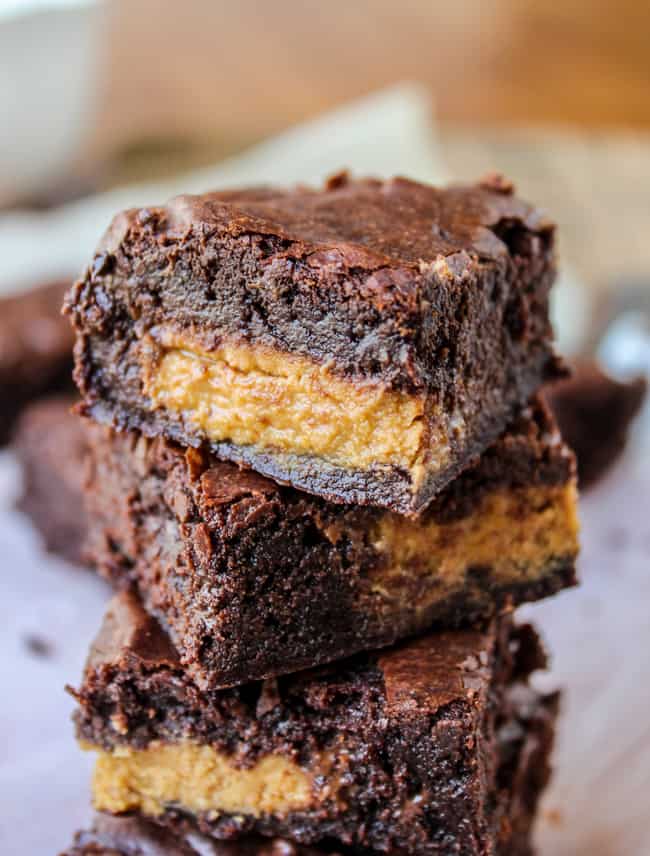 How to make Reese's Brownies
Welcome to this chocolate-peanut-butter coma. You might want to start running around your house this very instant in preparation for this mad decadence. The concept is simple: take the richest, fudgiest, chocolate-iest brownie you could ever imagine, and shove a Reese's Peanut Butter Cup inside. I don't really feel like I need to go on, but let me just tell you the secret–it's the brown butter. It doesn't taste like brown butter, just gives it a really deep flavor.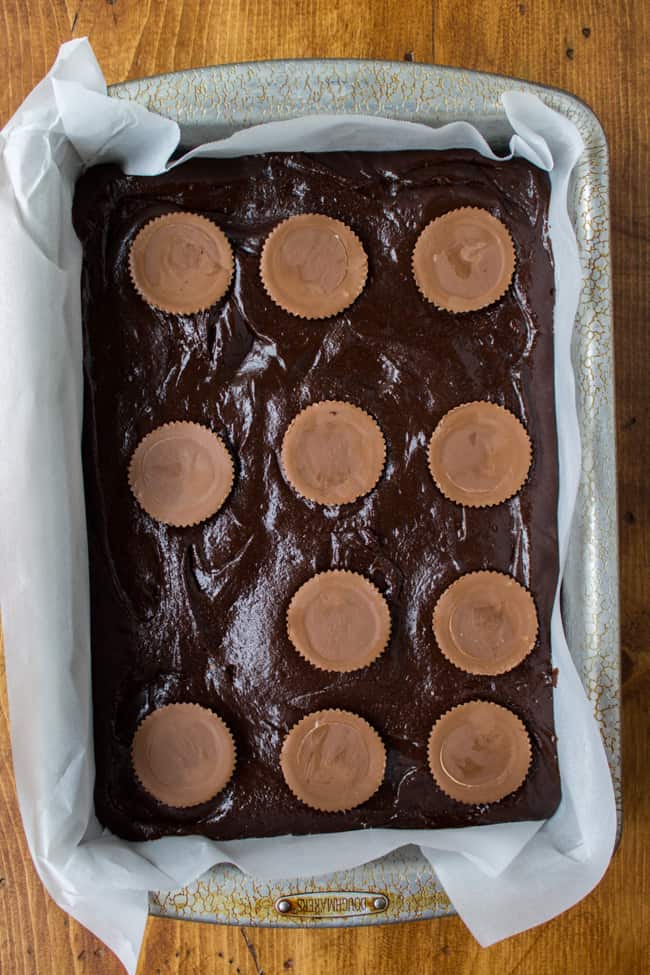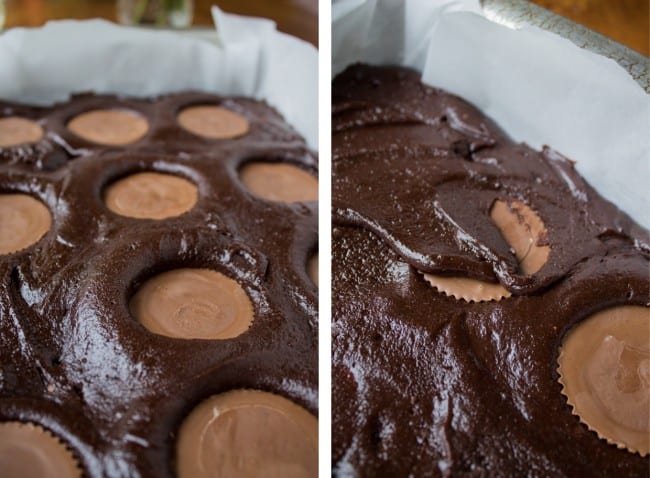 This is my go-to Brown Butter Brownies recipe that I make ALL the time…plus Reese's. You can see above, you just insert the Reese's Peanut Butter Cups and spread the batter until covering each cup.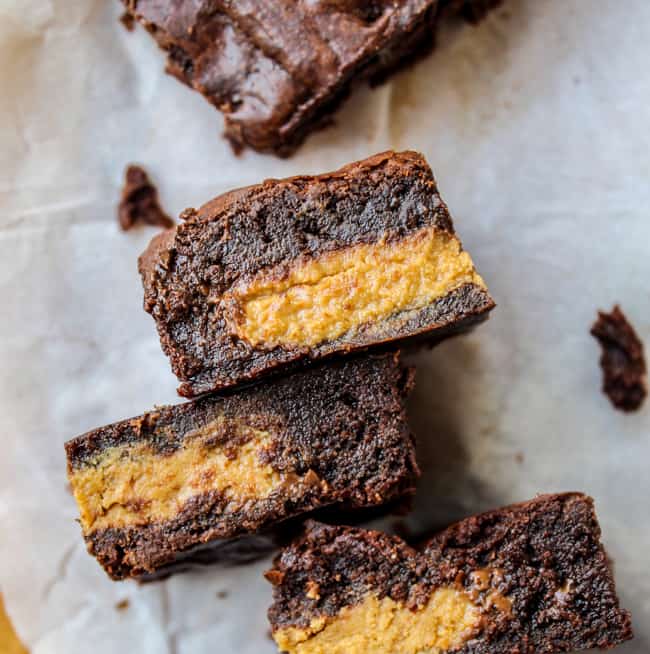 If you're not feeling the peanut butter, just mix in 1 cup of dark or semi-sweet chocolate.Any way you jazz up these brownies, you will get people hunting you down for this recipe. Also, if you are having a get-together I can't think of a better way to top off party appetizers than these babies.
More Peanut Butter and Chocolate:
Facebook | Pinterest | Instagram

Reese's Stuffed Brown Butter Brownies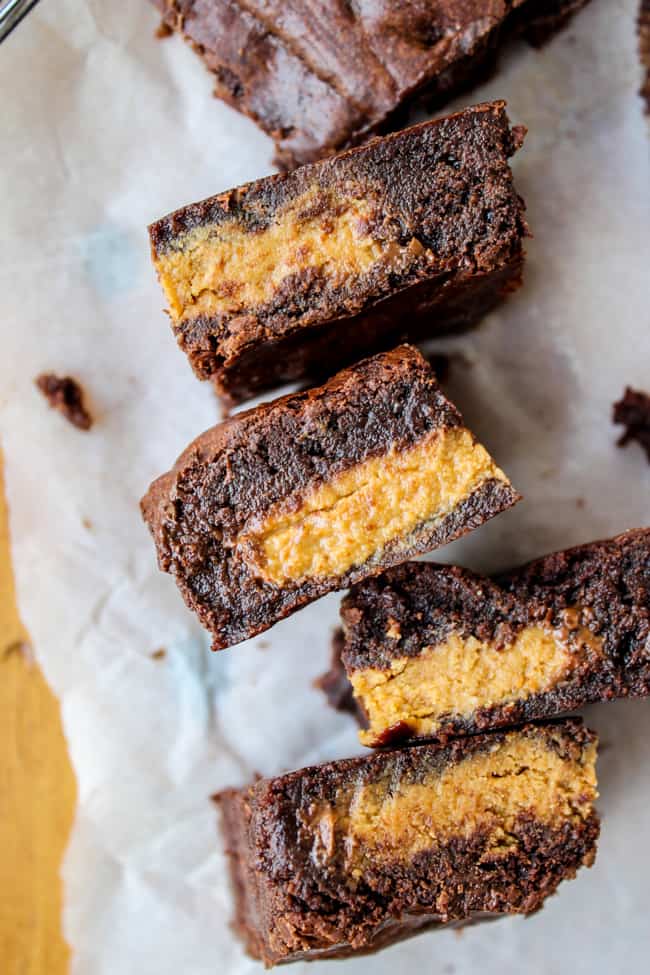 These Reese's Stuffed Brownies are an easy recipe for ultra-decadent brownies (made with brown butter) with a surprise inside. Go full size or go home! I'm not messing around. 
Ingredients
1 & 1/4

cups

salted butter

2 & 1/2

cups

granulated sugar

1

cup

unsweetened cocoa powder

1/2

teaspoon

salt

1

tablespoon

water

2

teaspoons

vanilla extract

4

large

eggs

1

cup

all-purpose flour

12

large

Reese's Peanut Butter Cups
Instructions
Preheat oven to 350 degrees F.

Prepare a 9×13 baking dish by lining with parchment paper or foil and then spraying with non-stick cooking spray. Or just spray the pan.

Melt butter in a large saucepan over medium heat. Stir occasionally. The butter will foam up, then back down and start forming brown-colored milk solids or "bits". When it is a nice light brown and it starts to smell like you could drink it straight, that's when you know it's done.

While your butter is browning, combine sugar, cocoa, and salt in a bowl or stand mixer.

Once the butter is nice and brown, immediately pour the butter into the bowl with the sugar and cocoa (so that it stops cooking. You don't want it to burn). Beat the mixture until it is smooth, almost creamy.

Add the water and vanilla. Add the eggs, one at a time, mixing in between each addition.

Add the flour and mix until just incorporated. Batter will be about the consistency of cement. Have a taste. It's awesome.

Use a sturdy rubber spatula to spread batter into the prepared pan.

Unwrap 12 (or 11…) large Reeses PB cups and press them into the brownie batter. Swirl the top with a spatula, so that the PB Cups are covered.

Bake at 350 for about 25-30 minutes, or until a toothpick comes out batter-free. The center of the pan should be mostly set.
Nutrition
Serving:
1
brownie
|
Calories:
507
kcal
|
Carbohydrates:
65
g
|
Protein:
7
g
|
Fat:
28
g
|
Saturated Fat:
15
g
|
Polyunsaturated Fat:
2
g
|
Monounsaturated Fat:
8
g
|
Trans Fat:
1
g
|
Cholesterol:
114
mg
|
Sodium:
353
mg
|
Potassium:
264
mg
|
Fiber:
4
g
|
Sugar:
50
g
|
Vitamin A:
690
IU
|
Vitamin C:
1
mg
|
Calcium:
44
mg
|
Iron:
2
mg