Nutella Fudge with Raspberries
This rich fudge is made with Nutella instead of chocolate. Fresh raspberries are pressed in before it cools to balance the sweetness. Get ready for a Nutella Coma, or as I like to call it, Nutelloma. It's totally a thing.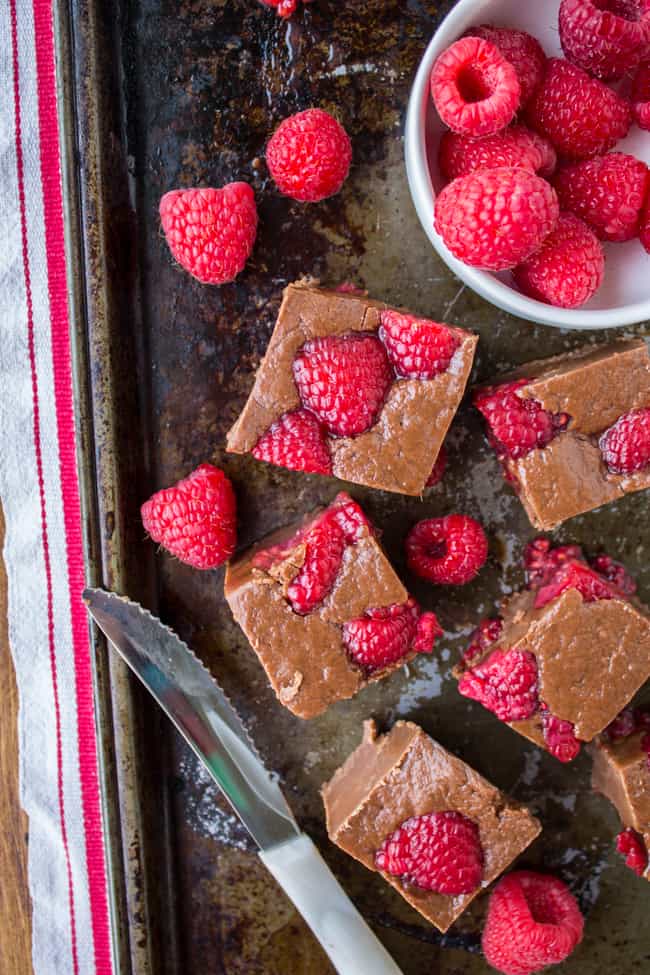 My brother was telling me the other day that when he's consistent about working out, it's so much easier for him to say no to dessert. I was just sitting there thinking that I'm always telling myself the EXACT opposite thing.
Oh, I just burned 200 calories running around my house? Then it's almost like this little bite of Nutella Fudge NEVER EVEN HAPPENED. It's the power of cancellation my friends. See, math is fun!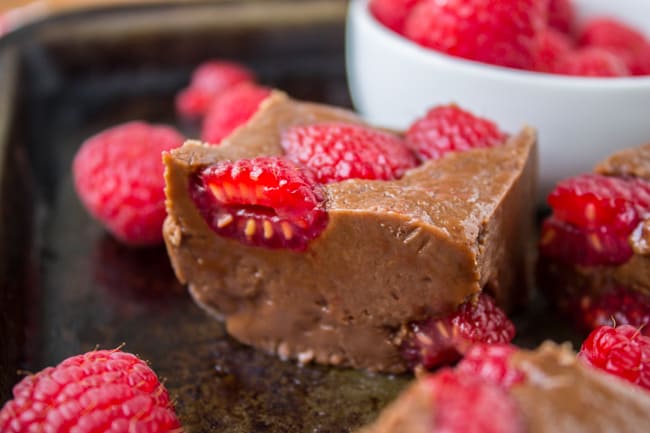 You know what else is fun? Galentine's Day. I'll spell it out for you: it's the day before Valentines' Day and before we get all smoochy kissy with our dudes, it's time to remember: Ovaries before brovaries. Uteruses before duderuses. If you haven't caught on yet I'm guessing you're a guy.
I'm getting together with a bunch of other blogger gals to celebrate our gal-ness. I'm bringing this Nutella Fudge with Raspberries to the party. Any kind of fudge always reminds me of Nikki, my older sister. She can eat an entire pan of fudge in 1 day. Okay, so maybe this hasn't been certified, but I wouldn't put it past her.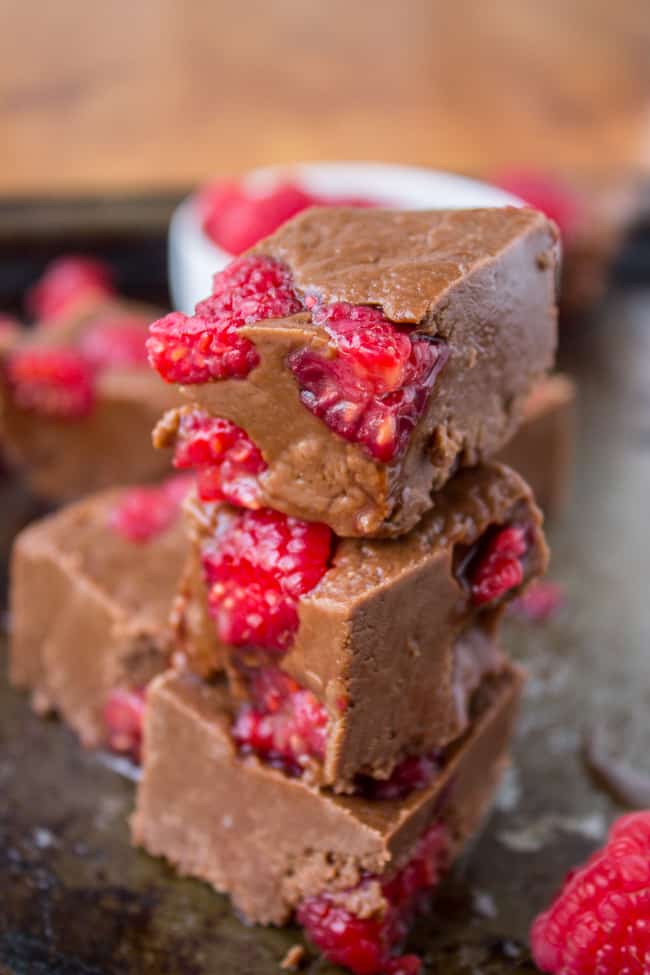 Nikki is not only my fudge-eating idol, she's one of my favorite moms that I look up to. Nikki had 5 kids in 8 years, so she knows what's up. She like a marathon mom. She has the most creative disciplinary tactics of anyone I've ever met. When her kids misbehave, they lose their dessert after dinner that night. If they misbehave again, the next step in the line of punishment is that Nikki will serve their portion of dessert, then sit in front of them and eat it while they watch. Pure torture.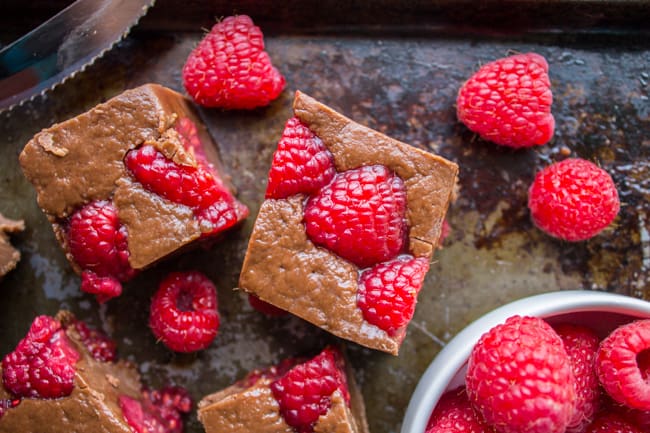 She's also one of the most patient people I know. (Her children are all not-strangled, so this is proof of that.) Like I said, she's patient enough to work her way through an entire pan of fudge even. I sent her this Nutella Fudge with Raspberries for her birthday a while back and she said, I really love it, and this coming from someone who thought regular fudge could not be improved upon.
But I don't have just Fudge for you today! Be sure to check out all these other amazing recipes my friends put together for Galentine's Day! Get ready to frill out:
Ganache Topped Truffle Brownies from That Skinny Chick Can Bake
Orange Yogurt Waffles from Savvy Eats
Chocolate Honey Bombs from The Live-In Kitchen
Brownie Batter Chocolate Tart from Melanie Makes
Coeur a la Creme with Dark Chocolate Ganache and Strawberries from Heather's Dish
Chocolate Covered Strawberry Cream Puffs from The Redhead Baker
Meyer Lemon Cranberry Scones from Girl in the Little Red Kitchen
Chocolate Cheesecake from NeighborFood
Strawberry Covered Dark Chocolate Truffles from Girl Versus Dough
Cheesecake Milkshakes from Chocolate Moosey
Campari and Passion Fruit Sorbet from Food Lust People Love
Boston Cream Trifles from gotta get baked
Grilled Cheese & Chocolate Sandwich with Ganache Dipping Sauce from Climbing Grier Mountain
Red Velvet Chocolate Chip Cookies from Namely Marly
Red Wine Ice Cream Floats from Mind Over Batter
Wicked Waikiki Sour from Pineapple and Coconut
Anise-Scented Ice Cream with Candied Fennel Seeds from girlichef
Mini Heart-Shaped Chocolate Cakes with Raspberry Whipped Cream from A Cookie Named Desire
Nutella Fudge with Raspberries from The Food Charlatan (me!)
Do you guys give up? Or are you thirsty for more?
Facebook | Pinterest | Instagram | Twitter


print
Did you make this recipe?
Leave a review »
Nutella Fudge with Raspberries
Makes 16-24 servings
adjust servings
Ingredients
1/2

cup salted butter

1/2

cup whole milk or half and half

1

and 1/2 cups brown sugar, light or dark

1

and 1/2 teaspoons vanilla

1

cup Nutella

2

and 1/2 cups powdered sugar

2

cups fresh raspberries, divided
Instructions
Line an 8x8 in pan with aluminum foil and coat with nonstick spray. Spread 1 cup raspberries over the bottom of the pan.
Measure out 1 cup of Nutella so that it's ready. In a mixing bowl or stand mixer, measure out 2 and 1/2 cups powdered sugar and set aside.
In a medium saucepan, add butter and melt over medium heat.
Add milk and brown sugar and stir to combine.
Bring to a hard rolling boil over medium heat. Once it has reached a full boil, set a timer for 2 minutes, stirring constantly.
When the timer goes off, add the vanilla and Nutella. Stir until combined.
Working quickly, pour the mixture over the powdered sugar that you put in the bowl. Mix until thoroughly combined. The fudge should be quite thick at this point. If it's not, add powdered sugar a little at a time, up to 1/2 cup. I didn't add any extra.
Pour or scoop the fudge into the prepared pan, on top of the raspberries. Spread quickly, then use your palms to press in the remaining raspberries.
At this point I used a paper towel to absorb some oil that had pooled on top.
Cover and refrigerate for 2-3 hours until set.
Lift foil from pan and use a sharp knife to cut into pieces.
by The Food Charlatan

If you make this recipe,
share it on Instagram
 using the hashtag
#TheFoodCharlatan
so I can see it!
Source: Fudge recipe from Not Your Mama's Cookie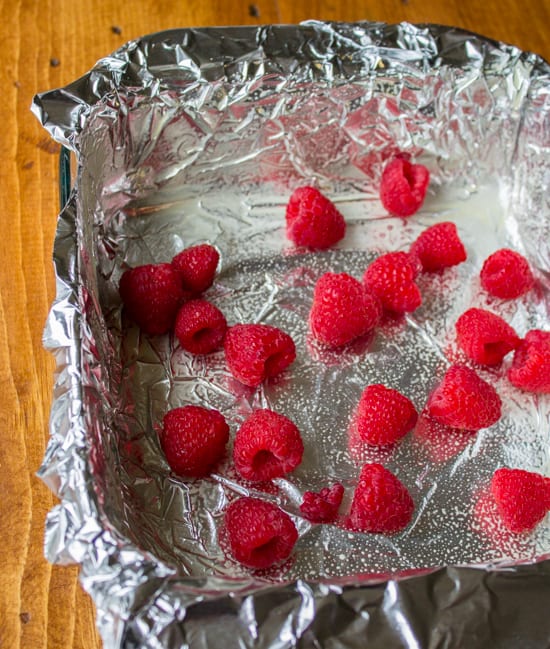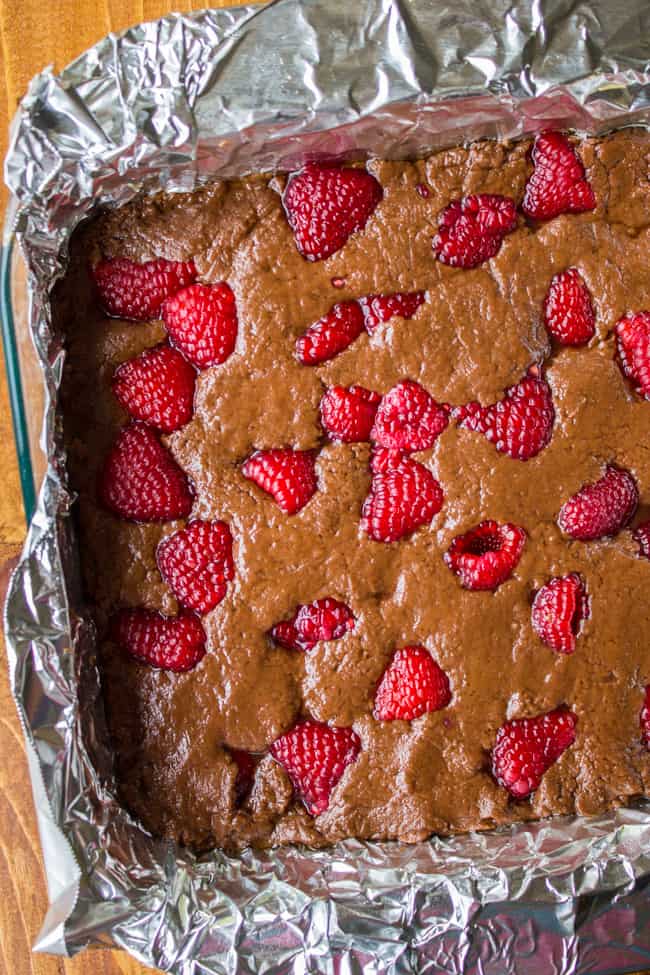 Here are some other Valentine's Day Dessert ideas!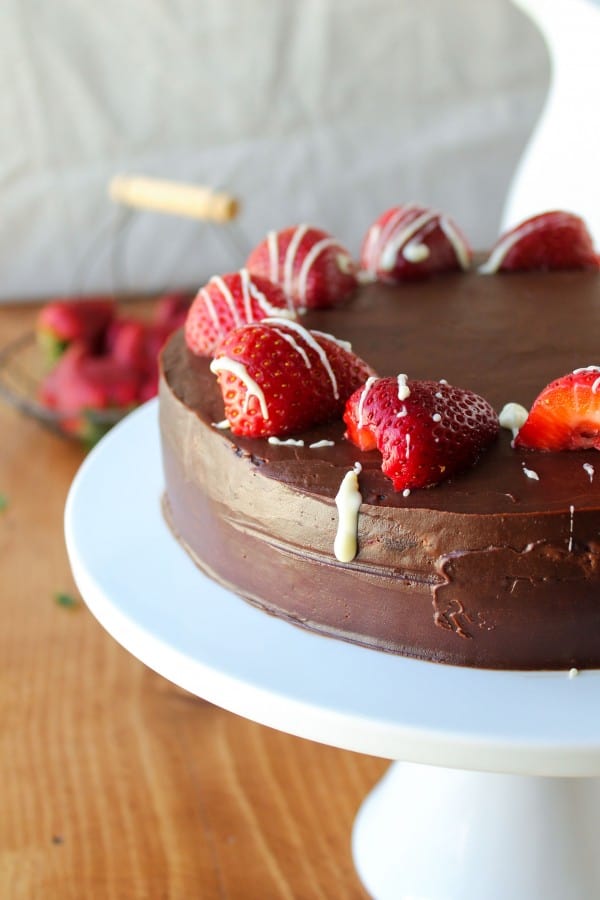 Secret-Ingredient Chocolate Pecan Bites: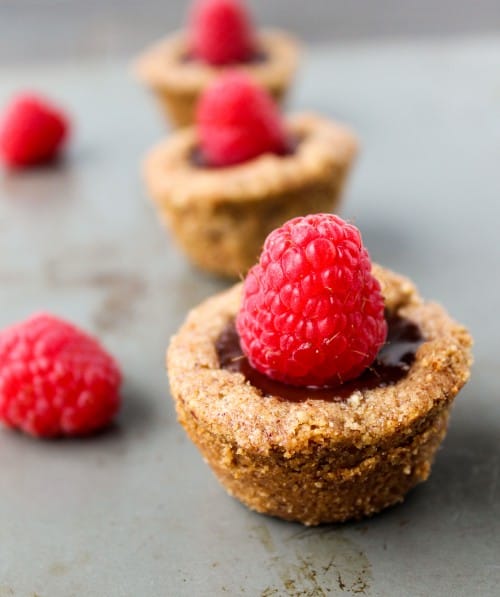 Raspberry-Nocciolata Grilled Sandwiches: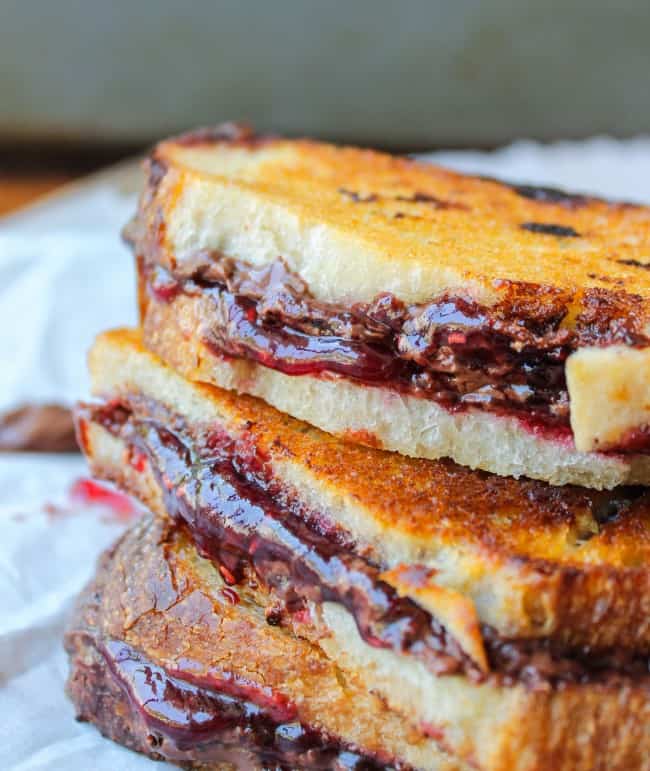 Banana Churros with Chocolate Peanut Butter Sauce: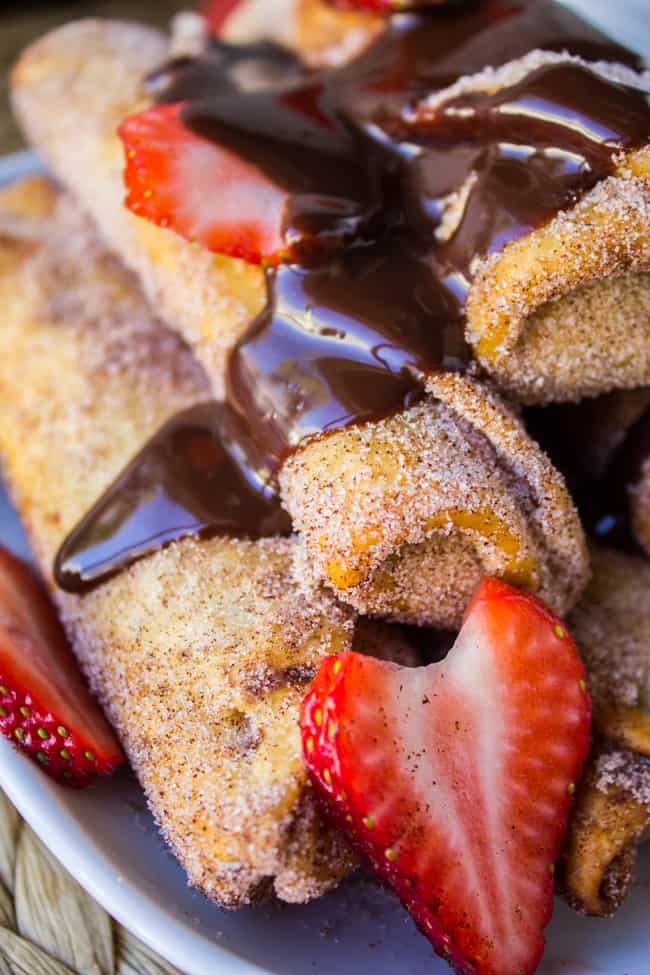 Raspberry Sweet Rolls with Coconut Cream Cheese Frosting: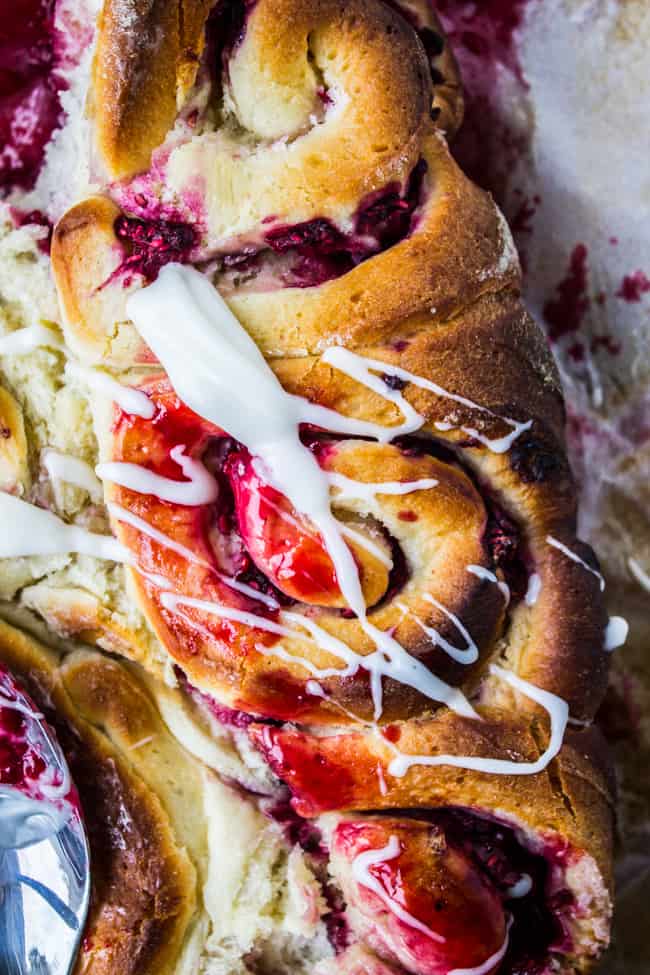 And in case you missed them on Tuesday, these 2-Ingredient Nutella Puffs are bomb: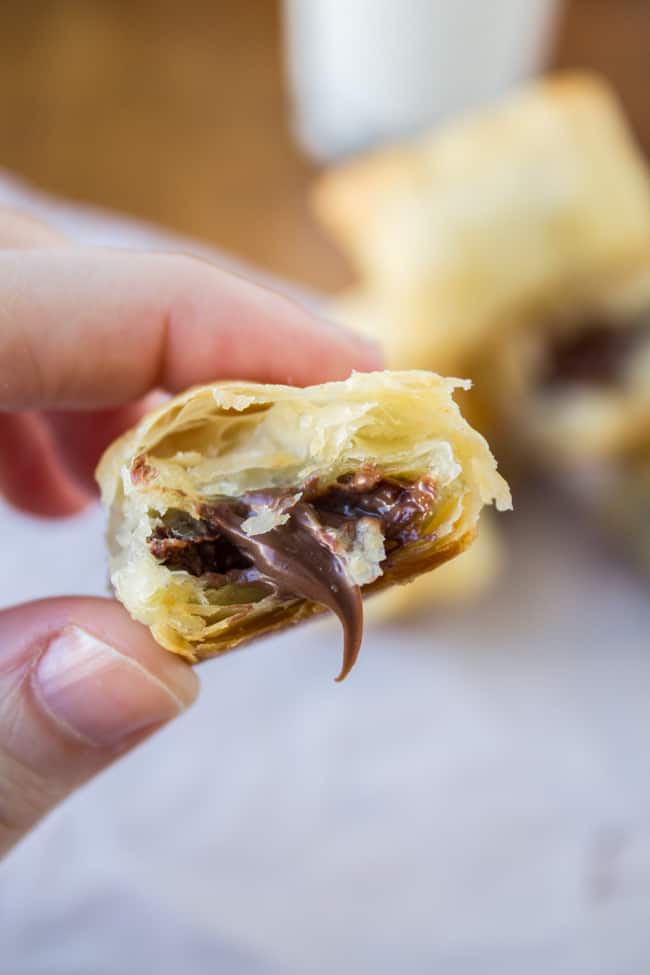 More Valentine's Treats!
Nutella-Stuffed Chocolate Raspberry Cupcakes from Handle the Heat
Chocolate-Raspberry Fudge Bites from Chocolate Covered Katie
White Chocolate Raspberry Fudge from Shugary Sweets
We are a participant in the Amazon Services LLC Associates Program, an affiliate advertising program designed to provide a means for us to earn fees by linking to Amazon.com and affiliated sites.