One Pan Sausage and Veggies with Lemon Aioli
I've got your new favorite no brainer dinner right here! This One Pan Sausage and Veggies with Lemon Aioli will blow your socks off and you will be so happy when you see how easy it is. Roasted sausage makes for an easy sheet pan meal. This is my go to dinner when I don't know what to make!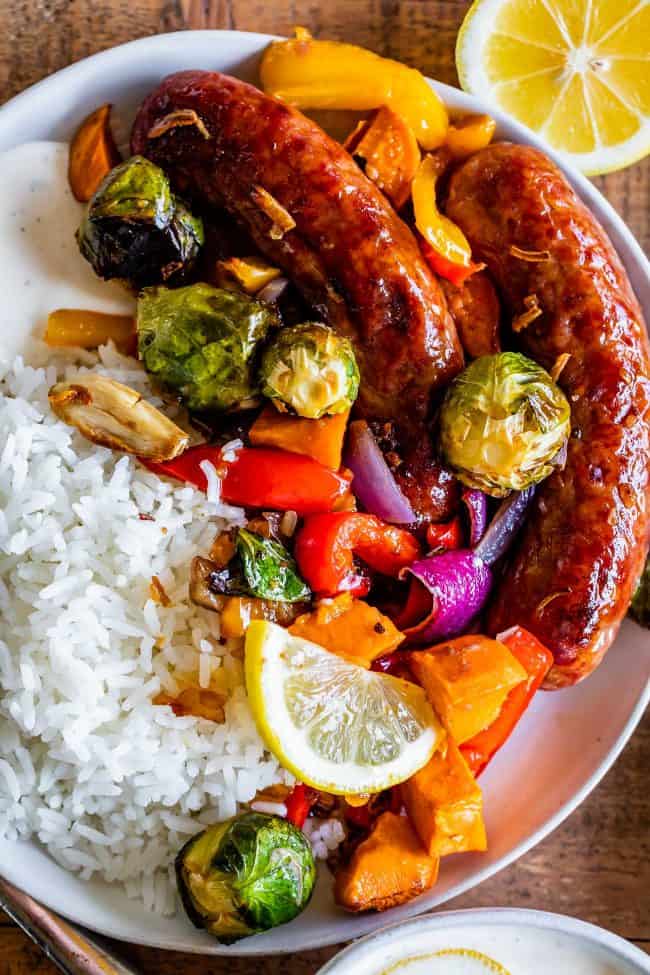 Our daughter Charlotte was baptized a member of the Church of Jesus Christ last weekend! It was so great. She's been so excited about it. Eric baptized her at the church, and we had everyone over at our house for lunch afterward.
The evening before, I was a little, ahem, stressed about getting all the food prepped so it would be completely ready to go when we walked in the door with all our guests. I realized at 10pm that I hadn't even thought of drinks yet, so I asked Eric (maybe a little frantically) what we should serve.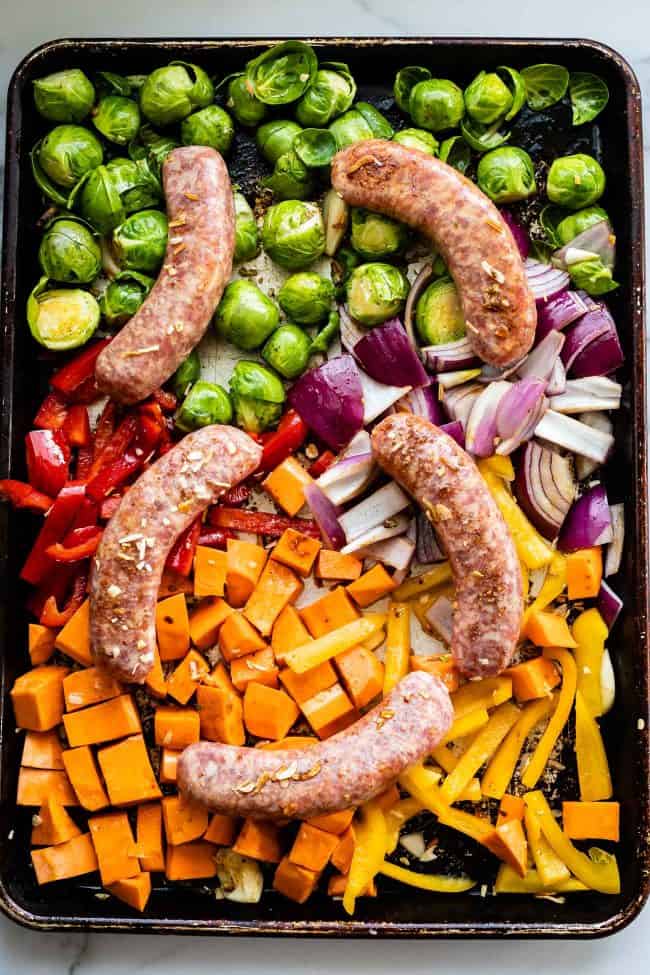 He said, "Karen, it's a baptism. The theme is water. We're having WATER."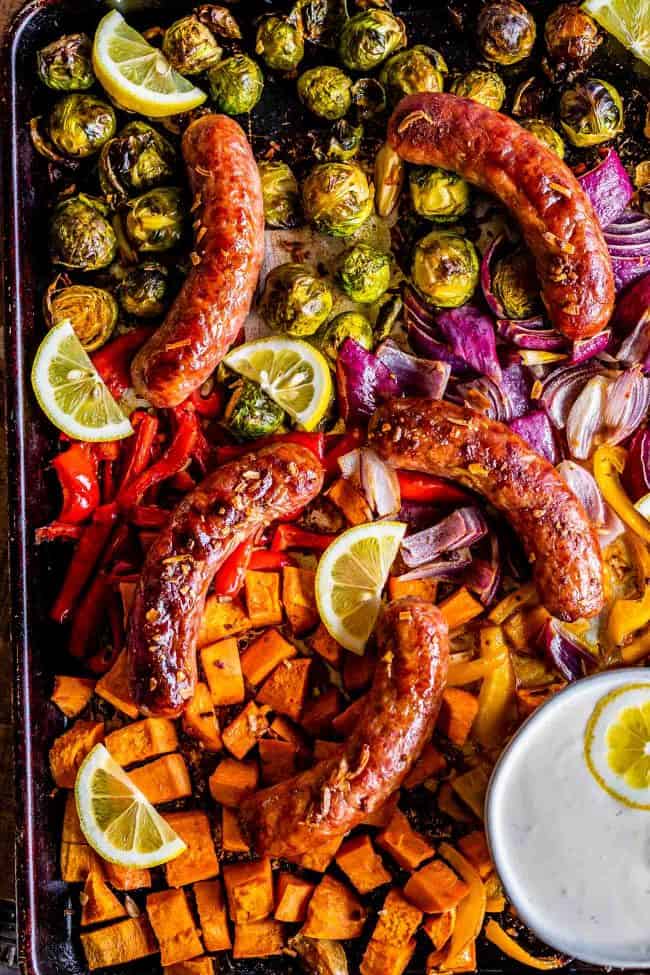 You guys, I laughed so hard. It reminds me of the time when Charlotte was little  and I was planning her birthday party and couldn't decide on a theme for the party. He said in the same tone of voice, "Karen, it's a birthday. The theme is BIRTHDAY." I think my husband just doesn't understand Pinterest you guys.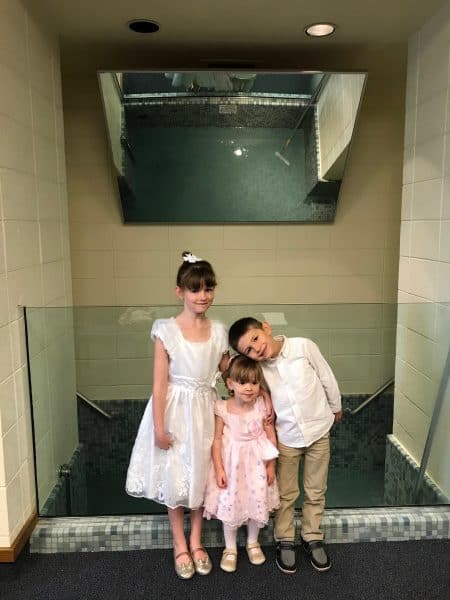 Here's Charlotte on her big day. Aren't they so cute? It was a big day for another reason too, this was her deadline to finish reading all 531 pages of the Book of Mormon. We told her when she turned 6 that if she read the whole thing by the time she got baptized then we would do something really special. She reached her goal, so we are taking her to Salt Lake to watch a session of General Conference in person. She earned it!
How to make Sheet Pan Sausage with Veggies
Lately I've been SUPER lazy about dinner, is it just me?? Maybe it's because we got back from vacation last week and I'm not in the swing of things yet, or maybe this is how I actually always am…yep, I think it's the latter.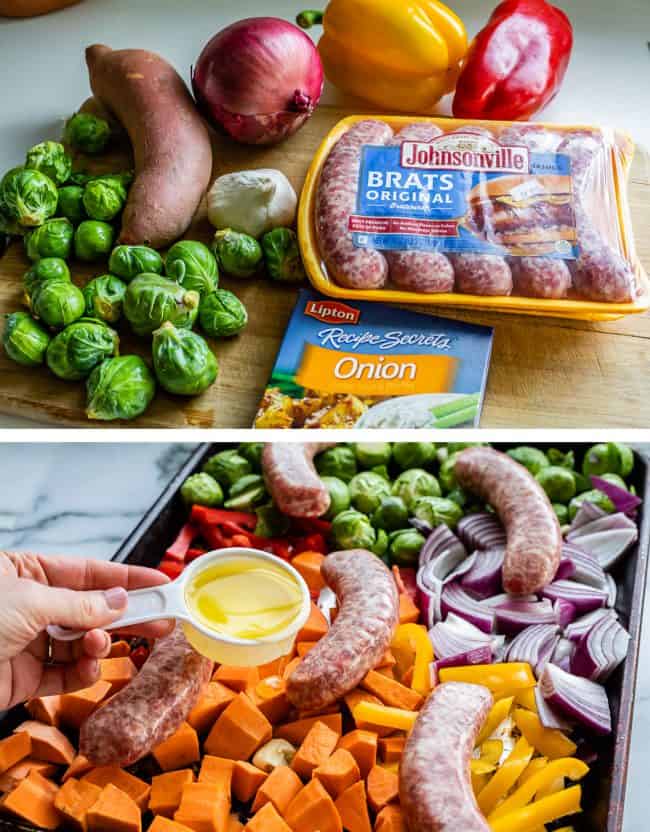 Enter this One Pan Sausage and Veggies. My latest obsession has been picking up a pack of sausages and an onion soup mix whenever I'm at the store, and roasting it with whatever veggies happen to be in the fridge. Since it's winterish time, that usually means sweet potatoes, Brussel sprouts, peppers, and of course an onion or two, just for good measure.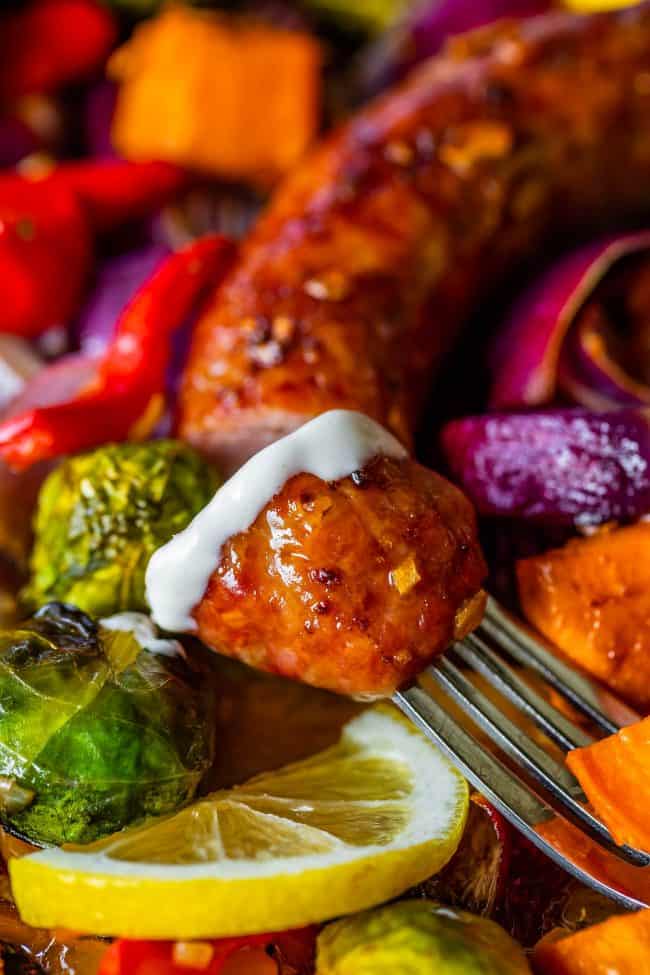 Onion soup mixes are magical. If you are subscribed to my emails, you will have just gotten an email with this recipe for 3 Ingredient Roasted Potatoes with Crunchy Onions, which is literally just potatoes and oil and an onion soup mix. My favorit-est ever Easy Fall-Apart Pot Roast with Carrots (Slow Cooker) is made with an onion soup mix. These amazing French Dip Sandwiches use an onion soup mix.
My mother-in-law Kris just gave me an old recipe of hers for foil packet dinners that I want to post soon (as soon as I can figure out how to make them look appetizing. Foil packet dinners are ugly as sin you guys!!) You put some cooked rice, strips of steak, and onion soup mix in foil, and top with evaporated milk. It's sooo delicious. (Update: I finally posted it, click here!)
And they make today's one pan sausage and veggies meal easier than ever. The only work is chopping the veggies. You open the brats, toss the veggies on a pan, drizzle with some oil, dump a packet of soup on top, toss and roast. It could not be easier. Of course, if you don't have an onion soup mix, you could always just use your own mix of herbs! Salt, pepper, onion powder, garlic powder, sage, thyme, rosemary, and parsley would all be good.
I love how colorful it is. Makes me feel good to see my kids eating the rainbow. I usually just serve one pan sausage and veggies plain, but this time I decided to jazz it up with a little homemade aioli sauce. I'm not skipping it again!! We all loved it, because hello, who doesn't love aioli? It's just mayo with lemon and garlic and salt. It's delicious and even if you don't finish it all it's nice to have on hand in the fridge for sandwiches or whatever.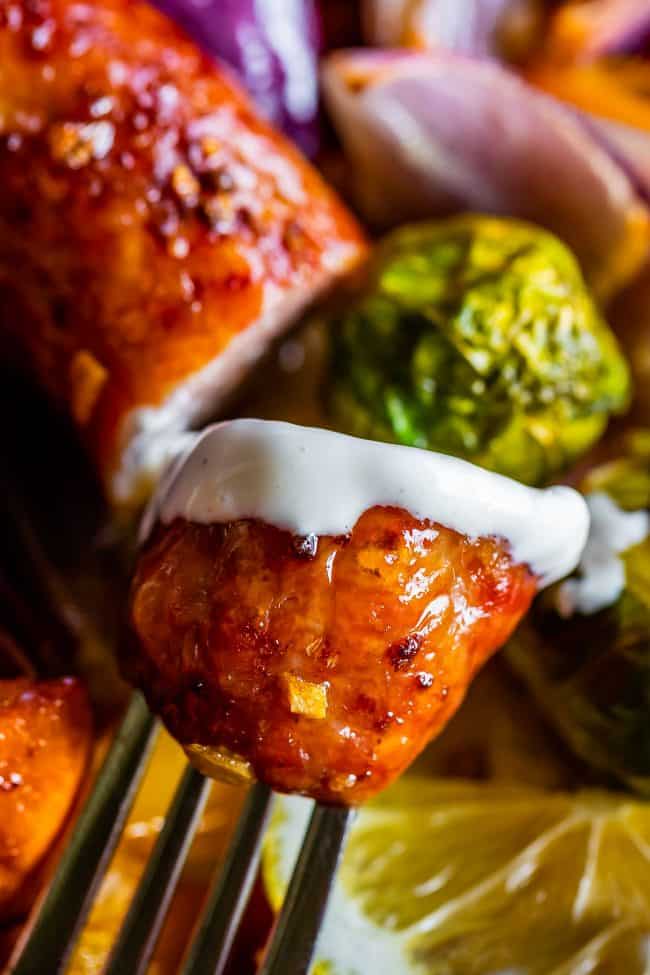 If you have any Whole 30  or low carb leanings (focusing your diet on proteins and vegetables) then the leftovers make a great breakfast for the next morning. Just fry a runny egg and put it on top of the reheated veggies! I love when dinner doubles as breakfast.
More easy dinners that you will love!
Sheet Pan Curry Chicken and Carrots with Basmati Rice (Chicken Biryani) << I'm in love with this sheet pan meal
Italian Sausage with Tomatoes and Penne << Seriously need to update these photos. But I love this old recipe!
Sheet Pan Chicken Fried Rice << Fried rice for dinner errydayyyy
Creamy Tuscan Salmon (30 Minute Recipe) << So creamy and delicious!
Greek Pasta with Chicken (and Zoodles) << Tomatoes, red bell peppers, artichokes and Kalamata olives
One Pan Sausage and Veggies with Lemon Aioli << Sausage and veggies is all you need
Kielbasa and Pierogies Sheet Pan Dinner from Foodie with Family << pierogies?? awesome!!
Sheet Pan Sliders with Copycat Big Mac Sauce from Noble Pig << omg. WANT.
Sheet Pan Peppers and Brats from The View from Great Island
Facebook | Pinterest | Instagram
One Pan Sausage and Veggies with Lemon Aioli
I've got your new favorite no brainer dinner right here! This One Pan Sausage and Veggies with Lemon Aioli will blow your socks off and you will be so happy when you see how easy it is. Roasted sausage makes for an easy sheet pan meal. This is my go to dinner when I don't know what to make!
Ingredients
1

pound

Brussels sprouts

,

trimmed and halved if large

1

large

sweet potato

,

chopped into 1-2 inch pieces

1/2

red bell pepper*

,

sliced

1/2

yellow bell pepper*

,

sliced

1/2

red onion

,

chopped into chunks

3-4

cloves

of garlic

,

smashed and left whole

1

pound

bratwurst sausages

,

left whole

1/4 to 1/3

cup

olive oil

1 (1-oz)

package

onion soup mix

parsley

,

to garnish (optional)
For the aioli
1

cup

mayonnaise

3

tablespoons

lemon juice

,

about 1 small lemon

3/4

teaspoon

salt

1 or 2

cloves

garlic

,

smashed and minced

cracked pepper to taste

hot rice or buttered noodles to serve with

,

optional
Instructions
Prepare the Brussel sprouts. Trim, remove any yellow leaves, and chop any that are very large in half.

Chop your sweet potato. Slice your bell peppers.* Chop a red onion into a few chunks.

Smash a few cloves of garlic but don't mince.

Add the sausage to the baking sheet.

Drizzle with 1/4 cup olive oil.

Sprinkle the onion soup mix over the top.

Use your hands to gently toss the oil and onion soup all over the veggies and sausage. Add a little more olive oil if it does not look moistened.

Arrange the veggies in one layer, so that they are flat on the pan, with as much space in between the veggies as you can manage. Place the sausage on TOP of the veggies.

Bake at 400 degrees F for 30 minutes. You can flip your sausages halfway through the cook time if you want, to get both sides a little more crispy.

While the veggies are roasting, prepare the aioli.

In a small bowl, combine 1 cup mayo, about 3 tablespoons lemon juice, 3/4 teaspoon kosher salt, and start with 1 clove of garlic, smashed and minced (you can always add more.) Add a few grinds of cracked pepper, stir it up and you're done!

Serve this with hot rice or buttered noodles! (Or with an egg on top!)
Notes
If you are doubling this be sure to use 2 sheet pans. You might want to rotate them halfway through the roast time.
*I assume you are not taking photos of your food to post on the internet. If that is the case, then just buy one bell pepper in whatever color you choose...unless you just love having 2 bell pepper halves hanging out in your fridge?? weirdo. ;)
Nutrition
Serving:
1
g
,
Calories:
696
kcal
,
Carbohydrates:
27
g
,
Protein:
15
g
,
Fat:
59
g
,
Saturated Fat:
13
g
,
Polyunsaturated Fat:
20
g
,
Monounsaturated Fat:
24
g
,
Trans Fat:
1
g
,
Cholesterol:
72
mg
,
Sodium:
1599
mg
,
Potassium:
865
mg
,
Fiber:
5
g
,
Sugar:
6
g
,
Vitamin A:
8970
IU
,
Vitamin C:
101
mg
,
Calcium:
90
mg
,
Iron:
2
mg
We are a participant in the Amazon Services LLC Associates Program, an affiliate advertising program designed to provide a means for us to earn fees by linking to Amazon.com and affiliated sites.