Chicken Fried Rice, made on a sheet pan in the oven! It is so easy and comes together quick. Adding chicken turns this into a main dish, making all my Chinese food dreams come true. I can't be the only one who eats fried rice by the shovelful right?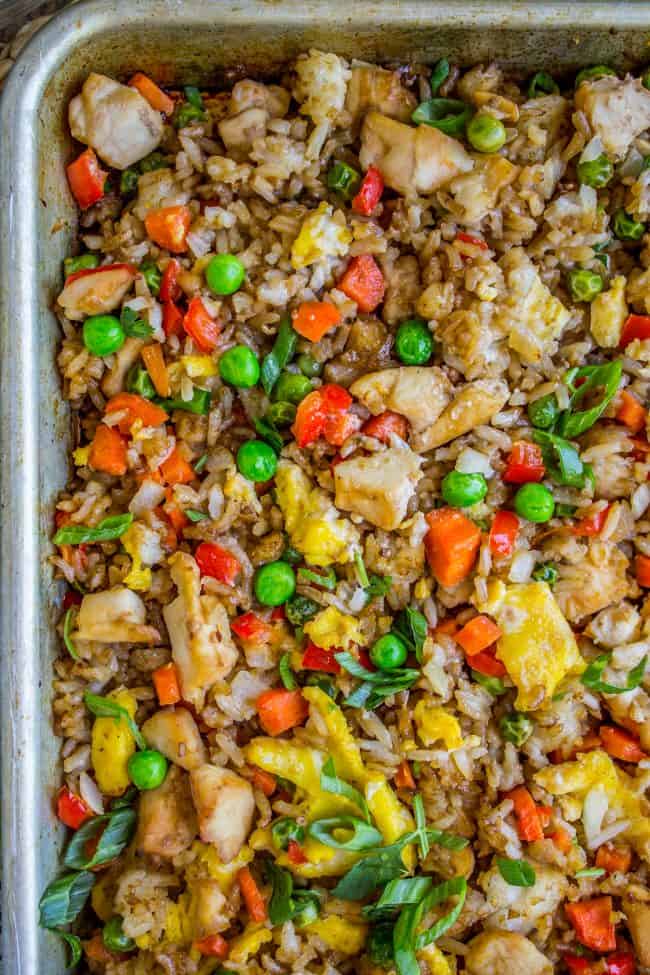 We got new credit cards yesterday, and Eric handed me the new card with a pen to sign it. I was this close to accidentally signing the magnetic stripe at the top that you actually need in order to swipe the card. I was congratulating myself on not being an idiot when I hear Eric, "this pen isn't working. Wait…" He was trying to sign the magnetic stripe. Karen: 1 Eric: 0. Or really maybe it should just be Karen: 0 Eric: -1.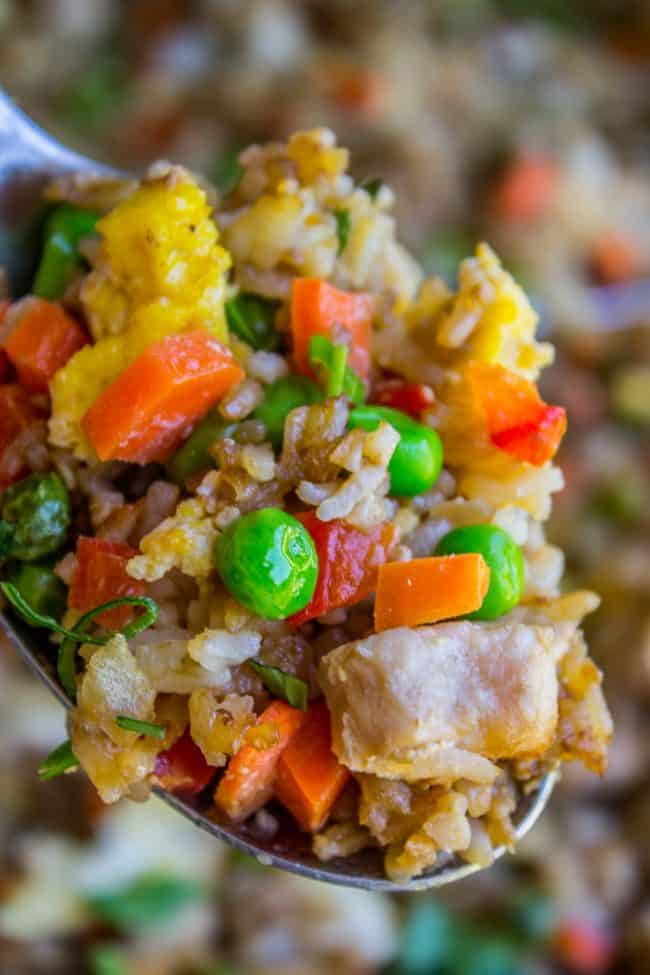 Are you guys Chinese food people? We all just want to eat fried rice as our main dish, right? Is this just me? I remember when we would get Chinese takeout as a kid, I was not that into it. Basically all I ate were the wontons, the tiny corn on the cobs that I thought were the coolest thing ever, and mountains of fried rice.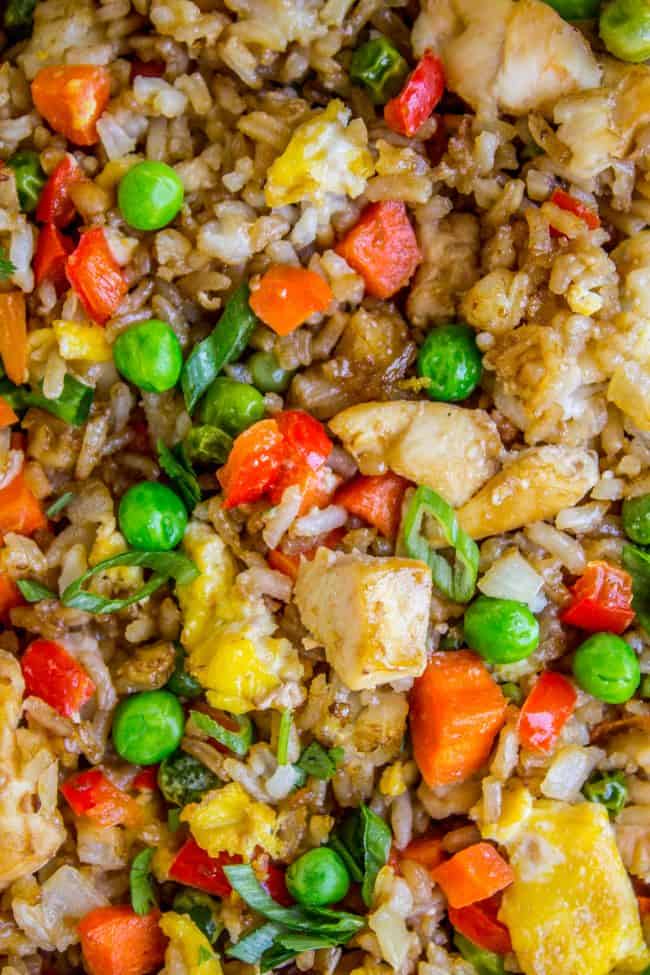 As an adult I've come around on Chinese food. I wonder if I would like the food in China as opposed to the American version of Chinese food. Nothing has made me want to eat authentic Chinese food as much as reading Crazy Rich Asians, have you read that book yet?? It's hilarious. I hear there is a movie coming out this summer! I'm super excited.
How to make chicken fried rice

You want to chop your carrots pretty small. The smaller they are, the faster they will cook in the oven.

Here's how to make scrambled eggs in the oven! Only takes 3 minutes, and no frying pan to wash.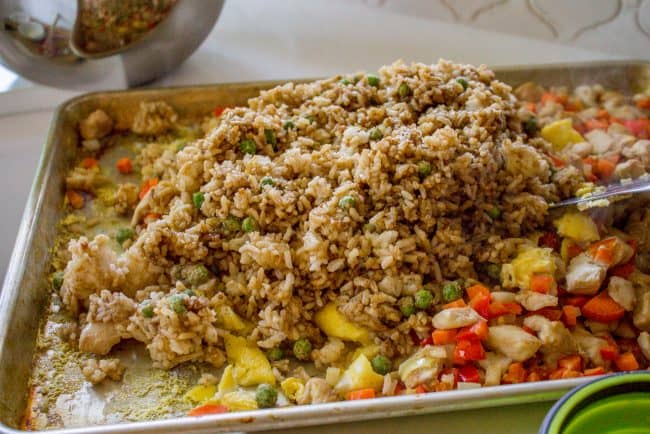 I added the peas and rice at the same time, but the recipe calls for adding the peas at the end. They don't need to be cooked that long, they basically just need to thaw out and be warmed. So throw them in at the end.
Well now that I've figured out how to turn fried rice into a main dish (add chicken), I'm never going back. Chinese food forever. Or at least Chicken Fried Rice forever.
I made this on a sheet pan because I'm lazy and it's summertime. Standing over the stove sounded hot, so I decided to crank up the AC, turn on the oven, and get out of the kitchen. It worked great.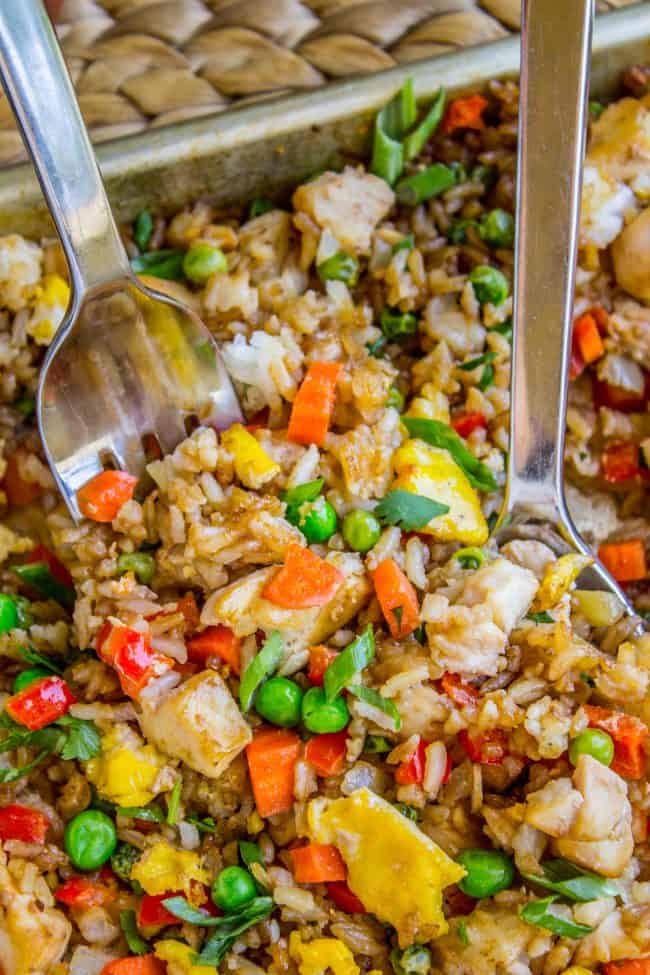 This recipe is great because you can literally throw in any vegetable you want. Have some green beans lying around? Toss them in! Frozen corn in your freezer? Yes please. But peas and carrots are my personal favorite. They are such a great combo, just like in this Classic Shepherd's Pie.
Fried rice is my go-to meal when I have leftover rice. And I ALWAYS have leftover rice. Every time I make it I'm like, okay, four people, four cups of rice, right? WRONG. I never learn. I always have a ton leftover, and you can't really freeze it. Chicken Fried Rice is a great way to use up leftover rice when you are a bad estimator like me.
Serve this fried rice with Asian Marinated Cucumber Salad! That would be so good!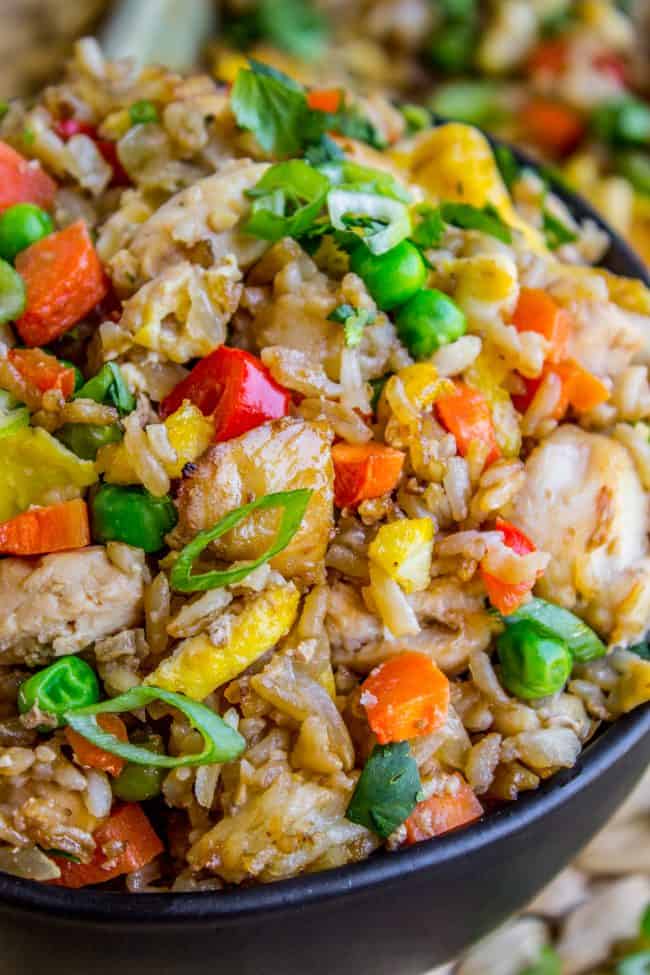 More easy dinner recipes to love!
Sheet Pan Curry Chicken and Carrots with Basmati Rice (Biryani) << looove this stuff.
One Skillet Beef Meatballs with Rice and Peas << 30 minutes! Boom.
Sheet Pan Easter Dinner for a Small Crowd
Asian Pork Tenderloin with Ginger Glaze << this one is very popular! And made in the slow cooker. Someone told me the other day that they added shredded leftovers of this to fried rice. GENIUS!
Sheet Pan Chicken & Veggies << Rosemary and lime on this chicken makes it amazing!
Spicy Pork Fried Rice from Family Food on the Table
Cauliflower Fried Rice from Cupcakes and Kale Chips
5 Ingredient Vegetable Fried Brown Rice from Aggie's Kitchen
Facebook | Pinterest | Instagram | Twitter

Sheet Pan Chicken Fried Rice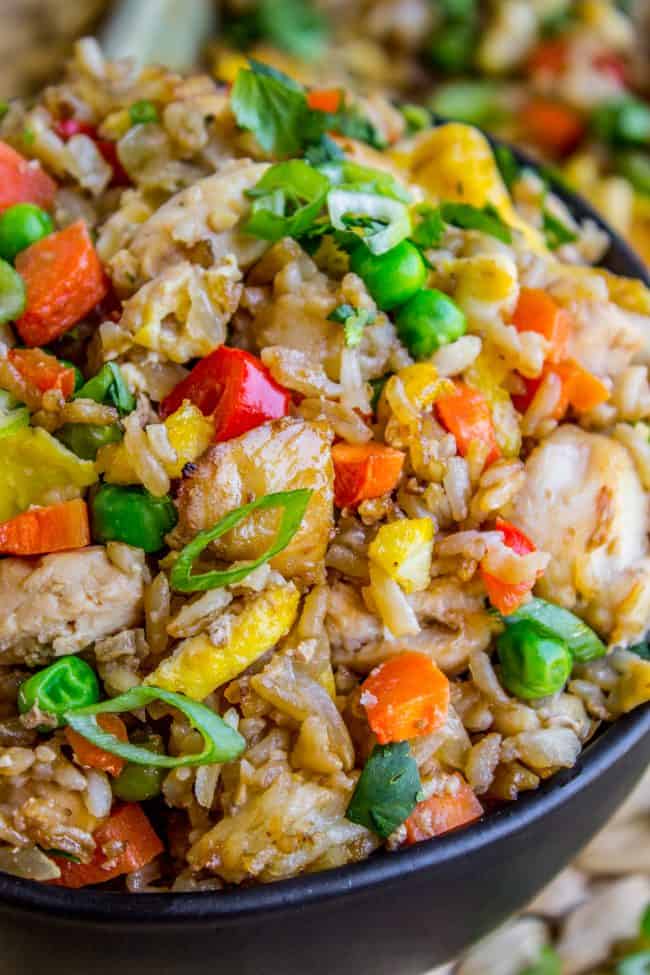 This Chicken Fried Rice is made on a sheet pan in the oven! It is so easy and comes together quick. Adding chicken turns this into a main dish, making all my Chinese food dreams come true. I can't be the only one who eats fried rice by the shovelful right? 
Ingredients
1 & 1/2

pounds

chicken breast

,

diced

1 & 1/2

cups

carrots

,

diced (4 medium)

1

cup

red bell pepper

,

diced (1 medium)

1

small onion

,

diced

6

tablespoons

butter

,

melted

1

tablespoon

minced garlic

1

teaspoon

salt

1-2

teaspoons

fresh ginger

,

minced

1/4

cup

soy sauce

1

tablespoon

oyster sauce

1

tablespoon

sesame oil

4

eggs

,

beaten

salt and pepper

,

to season eggs

5

cups

day old cooked rice

1

cup

frozen peas

1/2

cup

green onions

,

sliced thin

1/4

cup

cilantro

,

chopped
Instructions
Dice the raw chicken, carrots, bell pepper, and onion. You want the chicken to be in 1/2 or 1 inch pieces. The carrots should be diced pretty small, they cook the slowest. The smaller they are diced the faster they will cook. See photos.

Add the chicken, carrots, bell pepper, and onion to the prepared sheet pan.

In a small bowl, melt the butter. Stir in the garlic, salt, ginger, soy sauce, oyster sauce, and sesame oil. Add 1/4 cup of this mixture to the chicken and veggies on the pan (the rest will be mixed into the rice). Toss the chicken and veggies with your hands or a wooden spoon to get it all coated. Spread it out evenly.

Roast in the oven for 6 minutes.

Pour the remaining butter/soy sauce mixture over your day-old rice. (don't bother washing the small bowl) Stir it together and break up the rice if there are chunks. Set aside.

In the same small bowl that you mixed the butter in, whisk together 4 eggs and season with a bit of salt and pepper.

After 6 minutes, take the pan out of the oven and use a spatula to move the chicken and veggies over so that 1/4 of the pan is empty (see photos). Pour the eggs directly on the pan.

Return the pan to the oven and bake for 3-4 minutes. Keep an eye on it!

When the eggs are just barely set, take the pan out and use a spatula to "scramble" the eggs. Break them up and mix it in with the chicken and veggies.

Add the rice on top of the chicken and spread evenly.

Bake at 425 for 15 minutes.

Toss everything together with a spatula and bake for another 15 minutes, until the rice is looking a bit browned on top and there isn't too much moisture on the bottom of the pan. Test one of the carrots to see if it is tender.

Toss in the frozen peas and stir. The peas should thaw very quickly, but if you are worried about it, pop the pan back in the oven for another minute or two to make sure the peas are warmed.
Notes
If you don't have day-old rice and need to make this TODAY (i get it) just make some rice (about 2 cups dry) and spread it out onto a sheet pan to cool, uncovered. Stick it in the fridge for a half hour or so to get it to dry out a bit.
Nutrition
Calories:
524
kcal
|
Carbohydrates:
49
g
|
Protein:
35
g
|
Fat:
20
g
|
Saturated Fat:
9
g
|
Polyunsaturated Fat:
3
g
|
Monounsaturated Fat:
6
g
|
Trans Fat:
1
g
|
Cholesterol:
212
mg
|
Sodium:
1317
mg
|
Potassium:
805
mg
|
Fiber:
4
g
|
Sugar:
5
g
|
Vitamin A:
6979
IU
|
Vitamin C:
48
mg
|
Calcium:
73
mg
|
Iron:
2
mg