These Steak Foil Packets (sometimes called Hobo Dinners) are so easy you will not believe it! Fold rice, steak, and onion soup mix into some foil, bake, and voila! Deliciously tender steak and rice, ready to pair with whatever vegetables you want!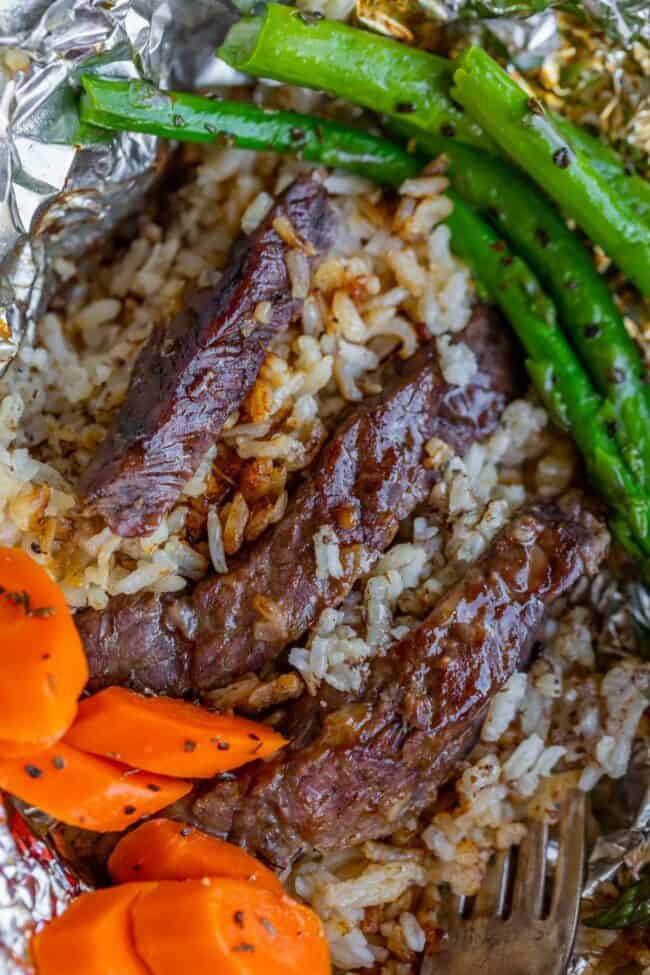 Eric and I were packing up last weekend to go camping, and he came in from the other room suddenly and said, "I was just looking for my jacket that I always bring camping, and then I remembered a squirrel ate it."
It's true. As sympathetic as I am that the jacket is gone, I couldn't help busting up laughing.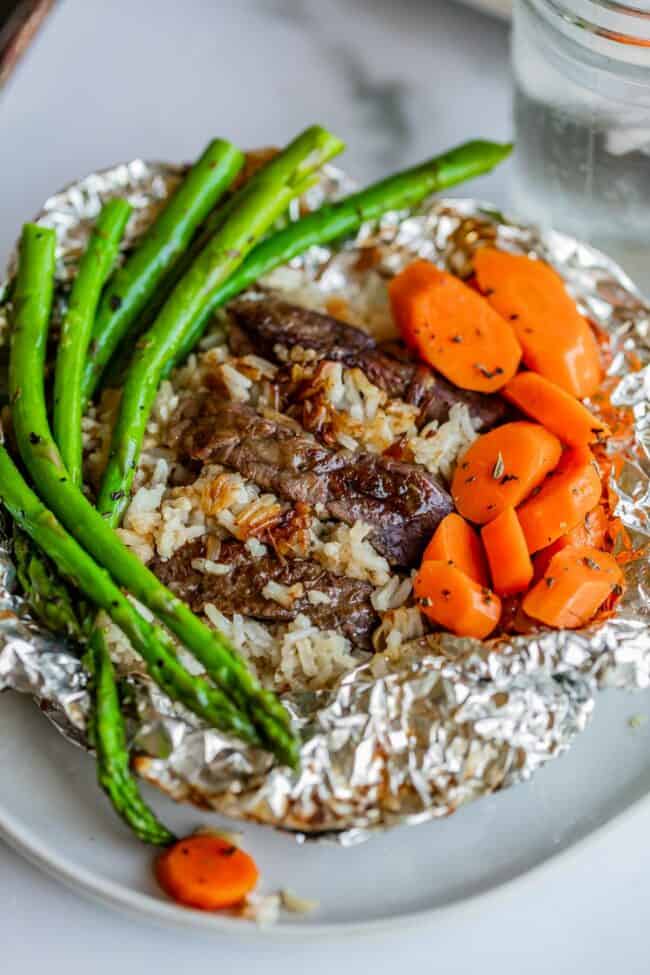 Last time we went camping a couple months ago, we went to Yosemite with my whole family. It was so fun, but I was in the throes of morning sickness, so wasn't quite as present or on top of things as I normally am.
One morning I opened up the back of the van to get out breakfast supplies, when I came face to face with a squirrel that had been in our van ALL NIGHT. His beady little eyes met mine for half a moment before I started screaming my head off. And I do mean screaming, I do not do well with small woodland creatures invading my space. I probably woke up the entire campsite.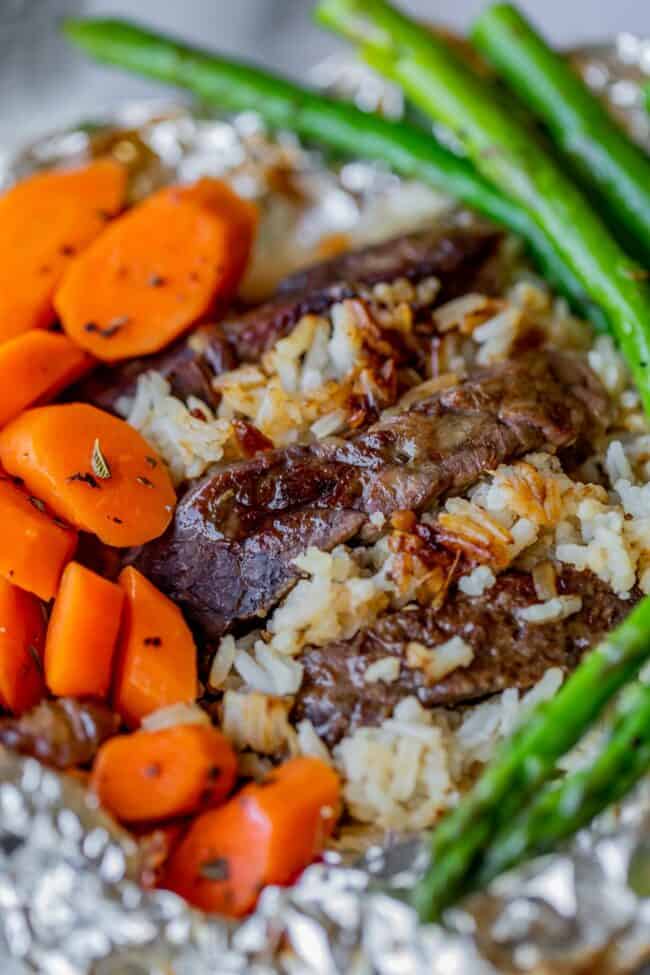 The squirrel made his escape of course, but not without leaving us with a few treasures and a completely destroyed jacket, which he had clearly nested in for the night.
Ah, the joys of camping. Why do we do this to ourselves??
What is a hobo dinner?
Maybe it's the food. Have you ever made tin foil dinners when camping? It's a lot of fun, and so easy. This is one of my favorite meals to make either camping or at home. It just comes together so quickly, and the oven (or camp coals, or the grill) do all the work.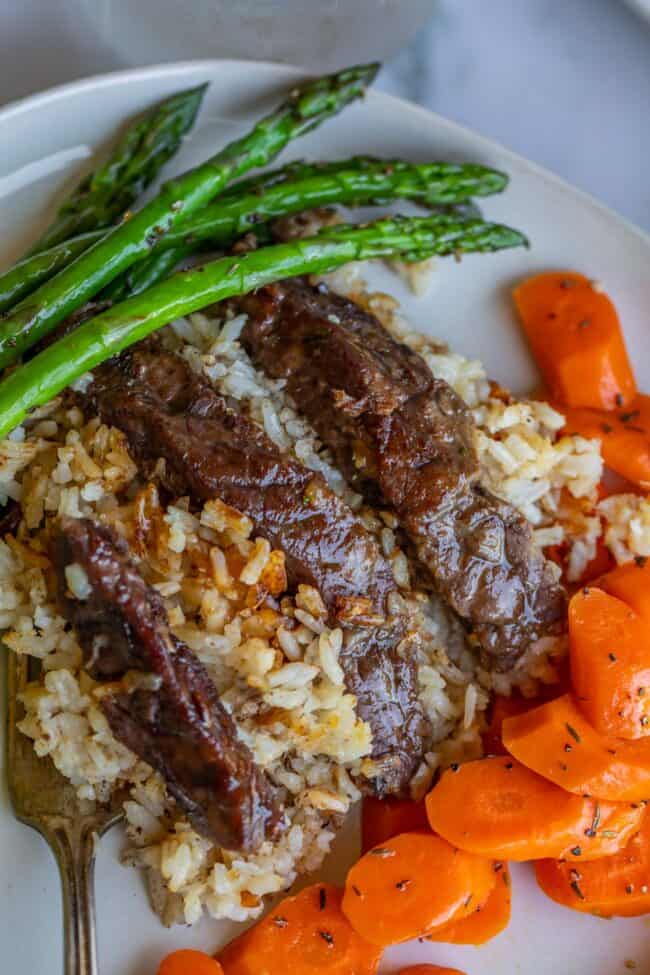 You can add basically anything you want: rice, potatoes, veggies. Pair it with chicken, steak, ground beef, whatever you're in the mood for.
For this recipe, we are seasoning steak and rice with onion soup mix and evaporated milk. It's super cheap and easy to put together. (If you are an onion soup mix hater, think again. I'm telling you, it does amazing things for beef. Check out all the reviews on this Easy Fall-Apart Pot Roast with Carrots!) Many tin foil dinner recipes call for a can of cream of something soup, but using the onion soup mix gives it a very savory and delicious flavor.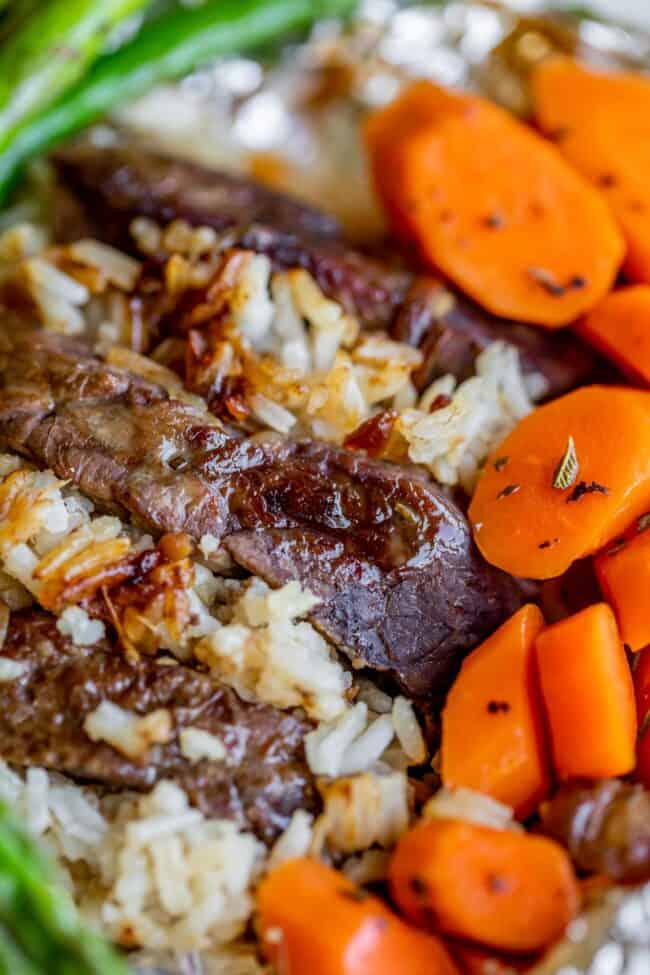 I made these steak foil packets the other night, and Eric kept going on about how delicious and nostalgic it was. He's like, what is that distinct flavor? I told him it's the onion soup mix. He said, it tastes exactly like the ones my mom used to make. I said, Eric, these ARE the ones your mom used to make, she gave me the recipe! I guess I should have kept my mouth shut and let him believe the magic.
How do you make a hobo dinner?
Foil packet dinners take just a few minutes to put together.

Here's the kind of steak I used. Use cube steak or round steak. Slice into thin strips.

It's a great way to use up leftover rice. If you don't have any, I have instructions in the notes for how to make some.

Take the short ends of the foil and bring them together.

Fold the top, then fold the edges into a triangle.

Fold the edges up until you have a cute little pouches. Place them all on a sheet pan, toss them in the oven and forget about it.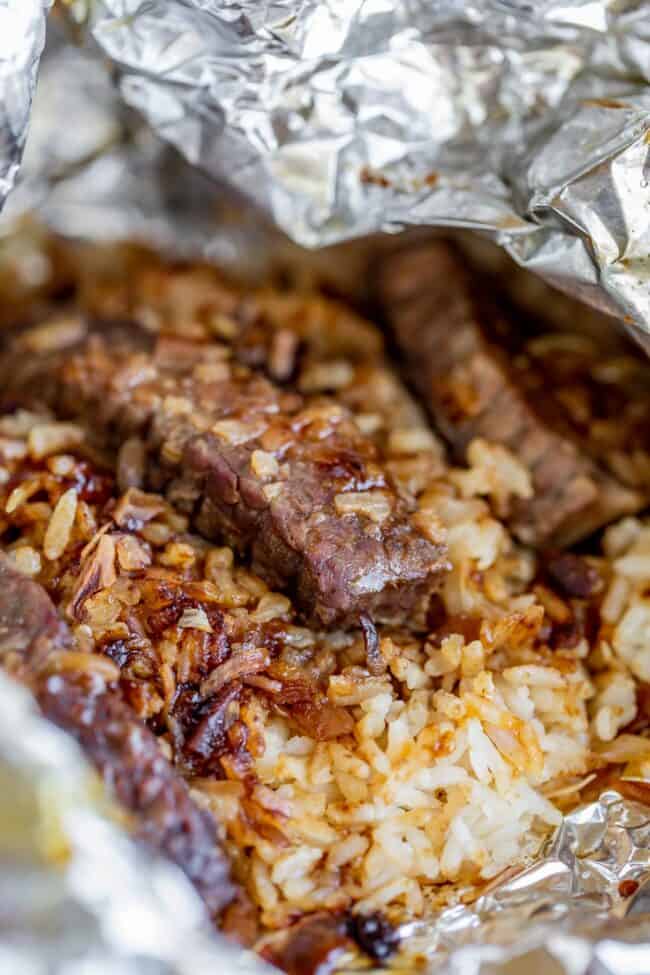 Here's what a hobo dinner looks like right out of the oven. The meat is so tender (see photo below, it just falls apart), and the rice is perfectly seasoned. Be careful opening it! Use oven mitts. You will feel like you're in one of those relay races trying to put on clothes while wearing gloves.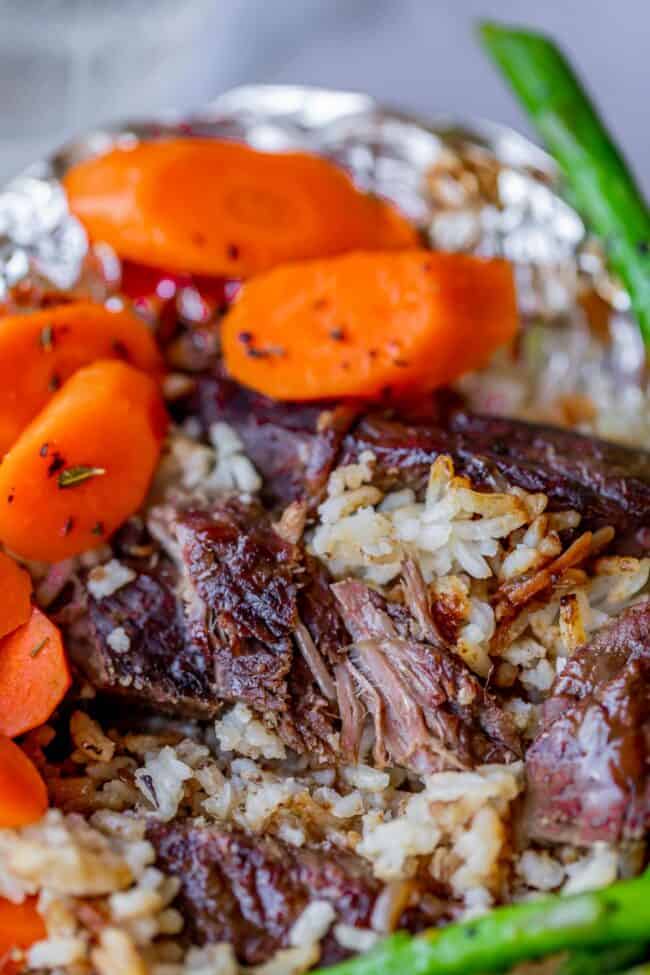 One other nice thing about hobo foil packets is that you can accidentally drop your entire hot pan of food on the ground and it still won't ruin dinner, because it's tightly packed in foil. Just pick it up and carry on with your photo shoot like no big deal. Not that this happened to me or anything.
Facebook | Pinterest | Instagram
More easy dinner ideas you are going to love!
Salisbury Steak with Mushroom Gravy << one of my favorite comfort meals
Easy Cheesy Cheeseburger Sliders << These are so good.
Easy Baked Pesto Chicken << if you thought baked chicken couldn't be tender, think again!
Pan Seared Chicken and Broccolini in Creamy Mustard Sauce << so delicious
Goat Cheese Steak with Balsamic Glaze << long live goat cheese!
One Pan Sausage and Veggies with Lemon Aioli << super easy and quick!
Sheet Pan Fajitas from Rachel Cooks
Balsamic Steak Sheet Pan Dinner from A Spicy Perspective
Oven Steak Kebabs from Southern Plate

Steak Foil Packets (Hobo Dinner)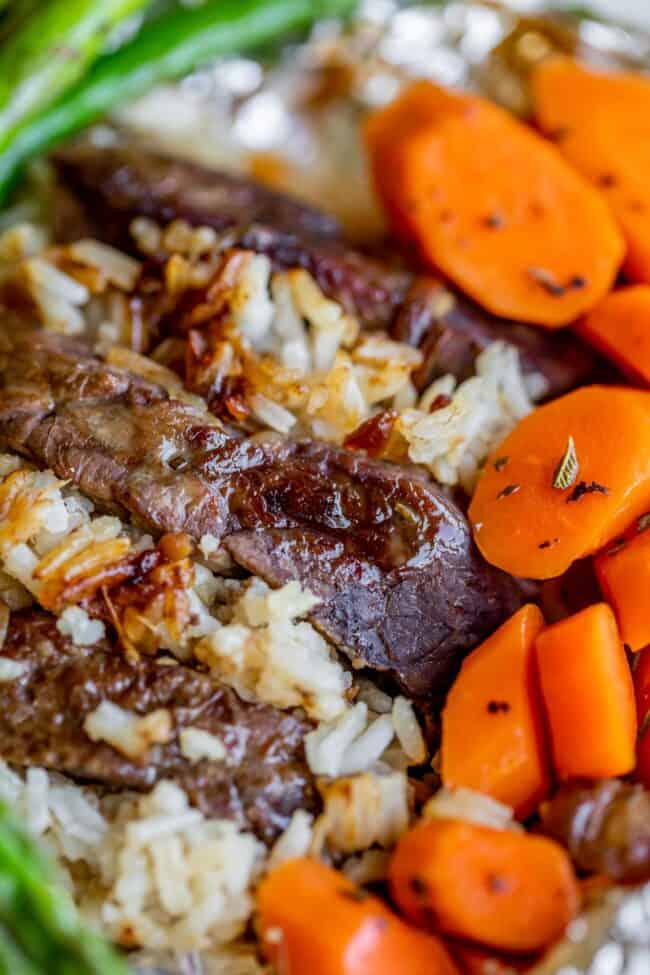 These Steak Foil Packets (sometimes called Hobo Dinners) are so easy you will not believe it! Fold rice, steak, and onion soup mix into some foil, bake, and voila. Deliciously tender steak and rice, ready to pair with whatever vegetables you want!
Ingredients
4

cups

cooked rice

1 (1-oz)

packet

onion soup mix

1

pound

steak

,

cube steak or top round steak

1/2

cup

evaporated milk

,

divided

carrots, zucchini, asparagus, bell peppers, green beans, etc.

,

(optional)*

heavy duty foil
Instructions
Preheat the oven to 350 degrees F. (Or see notes for camp fire or grill instructions.)

Tear off 4 large sheets of

heavy duty foil

, about 10-12 inches across. Regular foil will work too, just be careful not to tear it. You can double wrap if you're worried about it.

Add 1 cup of cooked rice to the center of each sheet of foil.

Top rice with about 1-2 teaspoons of onion soup mix.

Use a sharp knife to slice the steak into 12 thin strips, about 1 inch across. See photos.

Place 3 strips of steak on top of each mound of rice.

(At this point, you can add chopped vegetables around the edges of the rice. Season with salt and pepper. See notes.)

Pour 2 tablespoons of evaporated milk over the top of each mound of steak and rice.

Sprinkle the remaining onion soup mix evenly over the rest of the steak in each packet.

For each sheet of foil, bring the short ends of the foil together over the rice and steak. Press together and fold down securely over the food. For each end, fold the corners in, and then continue folding until you have a nice secure packet. See photos!

Bake at 350 for 1 hour.

Remove from the oven and carefully open each packet, being very careful not to burn yourself with the steam.

Serve hot!
Notes
If you don't have any leftover rice, here's how to make enough rice for this meal:
2 cups dry white rice
3 cups water
1 and 1/2 teaspoons salt
2 teaspoons garlic (I added the jarred kind)
Add 2 cups dry rice to a medium pot. (You're supposed to rinse it and I never do...oops.) Add 3 cups water. Add the salt and garlic. Bring to a boil over high heat with the lid on. Once it boils, lower the heat to low. Do not remove the lid. Let cook for about 10 minutes. Remove lid and stir. Turn off the heat and put the lid back on and let steam in the pot for another 5-10 minutes.
*I almost always add whatever chopped vegetables I have on hand to my foil dinners. (For the photos you see on this post, I cooked them separately because I wanted more vibrant colors for the photos.)
Here are some veggie ideas. Divide these amounts between the 4 packets (these are rough amounts):
1 cup each zucchini (chopped large) and carrots (chopped small)
1 bunch asparagus (left whole, ends snapped off) and 2 potatoes (chopped into medium pieces)
1-2 sliced bell peppers and 1 small onion
Be sure to season whatever vegetables you use with salt and pepper, or you could bust open another onion soup packet and use a few teaspoons of that to season the veggies.
Camp fire instructions: Prepare foil packets as instructed, sealing tightly. Refrigerate or keep in cooler. Cook in camp fire coals for 45-90 minutes, turning the packets every 10-15 minutes. The times on this vary a lot because it depends on how how your coals are. It's done when the steak and veggies are tender.
Grill instructions: Heat your grill over medium heat. Prepare foil packets as instructed, sealing tightly. Place on grill and put the lid down. Grill for about 15 minutes. Check for doneness and continue a few minutes more if necessary.
Source: This recipe is another one from my mother-in-law Kris! She says she used to make it in college all the time because it's so cheap.
Nutrition
Serving:
1
packet
|
Calories:
550
kcal
|
Carbohydrates:
62
g
|
Protein:
31
g
|
Fat:
19
g
|
Saturated Fat:
9
g
|
Polyunsaturated Fat:
1
g
|
Monounsaturated Fat:
9
g
|
Cholesterol:
78
mg
|
Sodium:
1713
mg
|
Potassium:
658
mg
|
Fiber:
2
g
|
Sugar:
5
g
|
Vitamin A:
3104
IU
|
Vitamin C:
2
mg
|
Calcium:
142
mg
|
Iron:
3
mg