Just in case you were wondering, you cannot grind whole coriander seeds in a mini Cuisinart. You also cannot grind it in a regular food processor. Blenders don't work either. And even when you take all the powder and half-shells of coriander that have resulted from several minutes of sharp blades and run it through a sifter, you still don't get the 1/4 teaspoon of ground coriander that I needed for this recipe.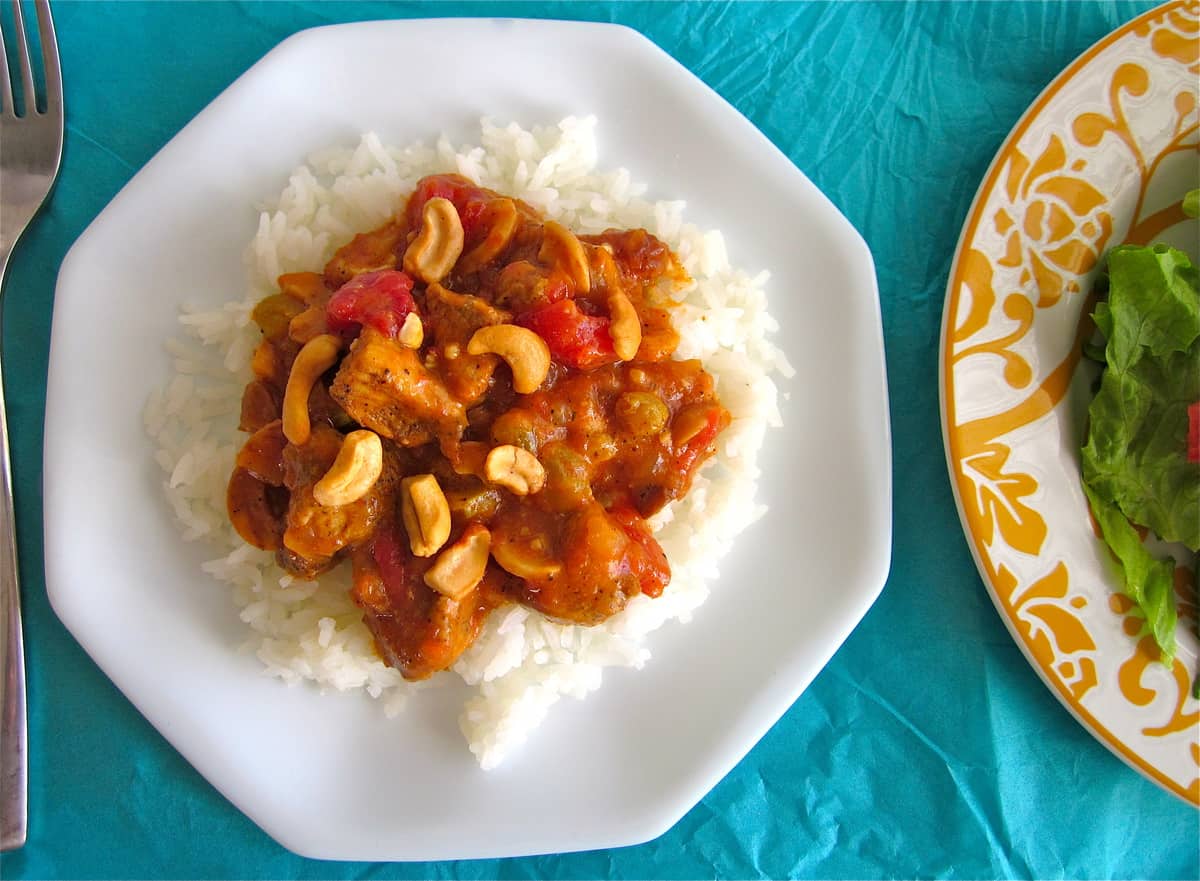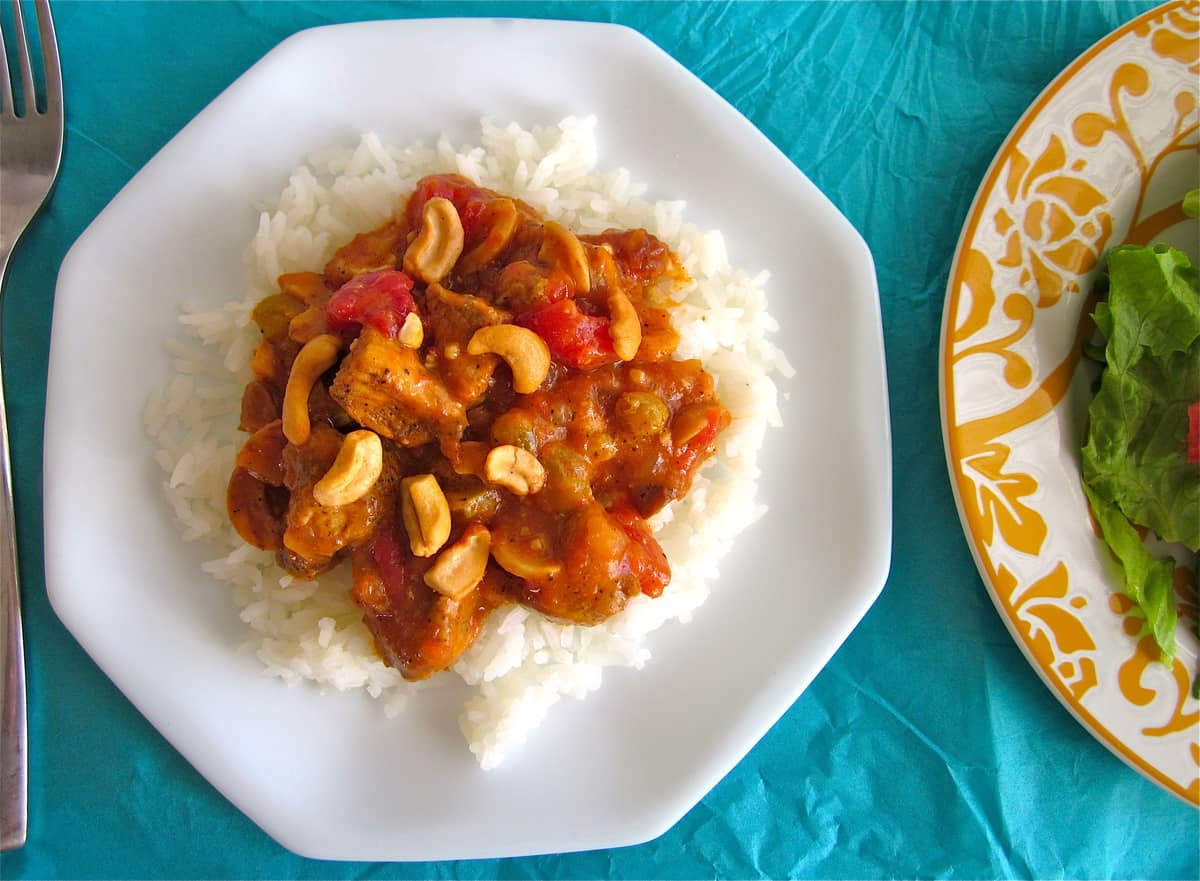 I feel like my entire kitchen is covered with a thin layer of coriander dust. Which is a shame because honestly it's not my favorite spice on its own. This aversion stems from a cooking experiment very early in our marriage wherein I decided to use an equivalent amount of whole coriander seeds in lieu of the ground variety in a recipe for meatballs. The result was absolutely revolting, as I'm sure you can imagine. Where on earth did I find a recipe for coriander meatballs anyway? Sick.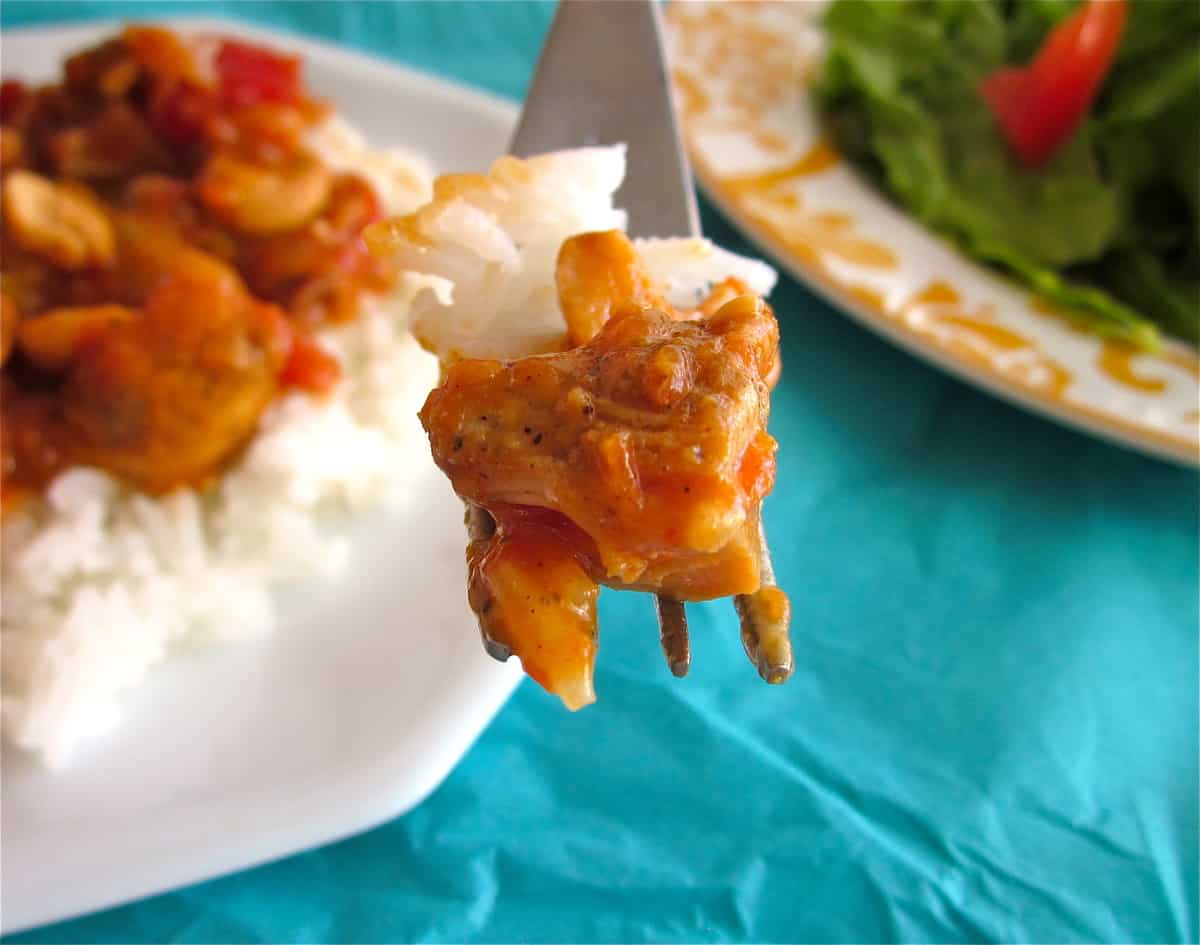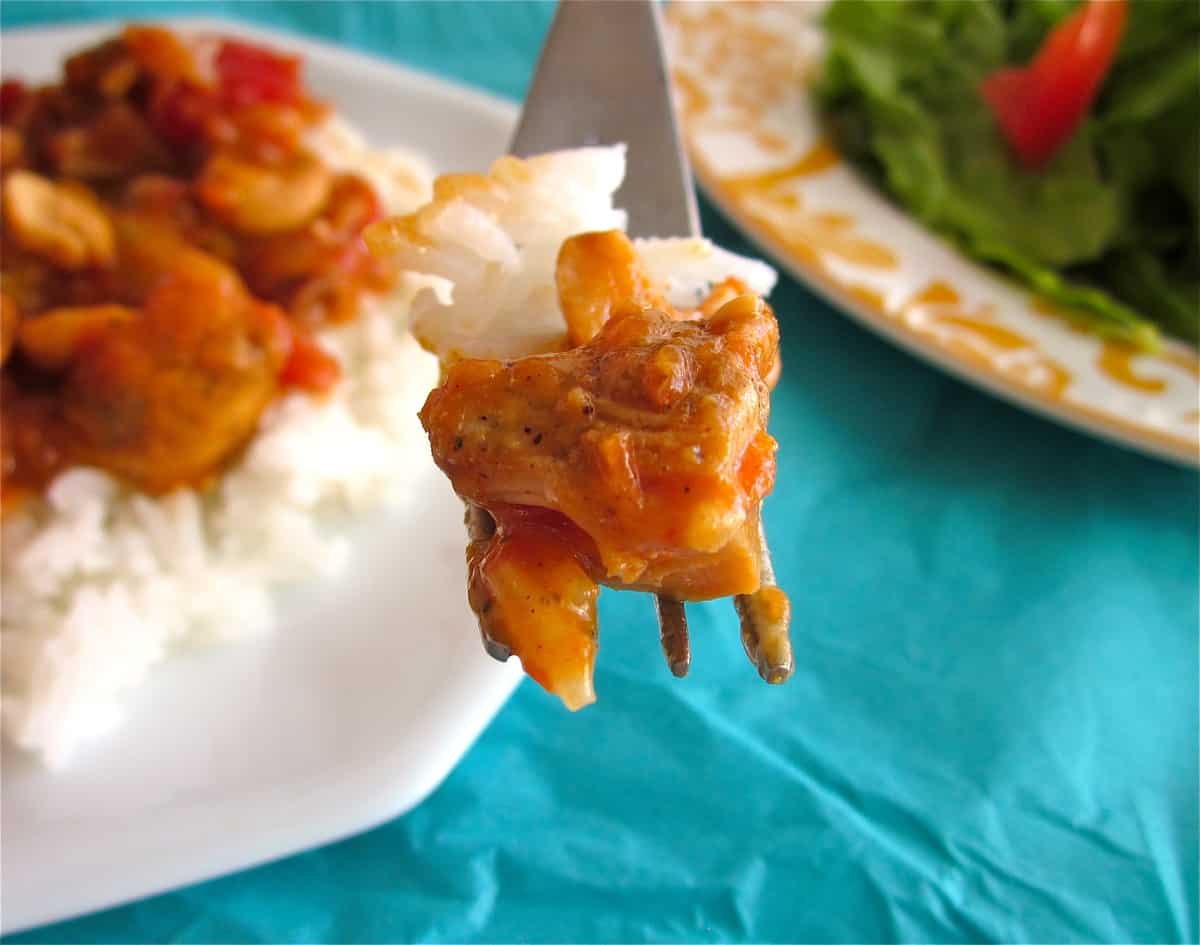 My brother Nathan claims to be a better cook than I am because he makes up his own recipes. I keep telling him that the competition is moot; I don't claim to be a fabulous cook, just a fabulous recipe-picker-outer. He sent me an email a while back with the subject line: Latest proof that I'm better at cooking. It included his "recipe that he created without a recipe" for Indian Ginger Chicken. It was just a list of ingredients with no measurements or instructions. A challenge.
So I rolled up my figurative sleeves and got to work. The result was absolutely amazing. Really. Feel free to butter me up with compliments after you make this and wolf it all in one sitting (we did). I guess you could compliment Nate too since technically it is his recipe. I guess.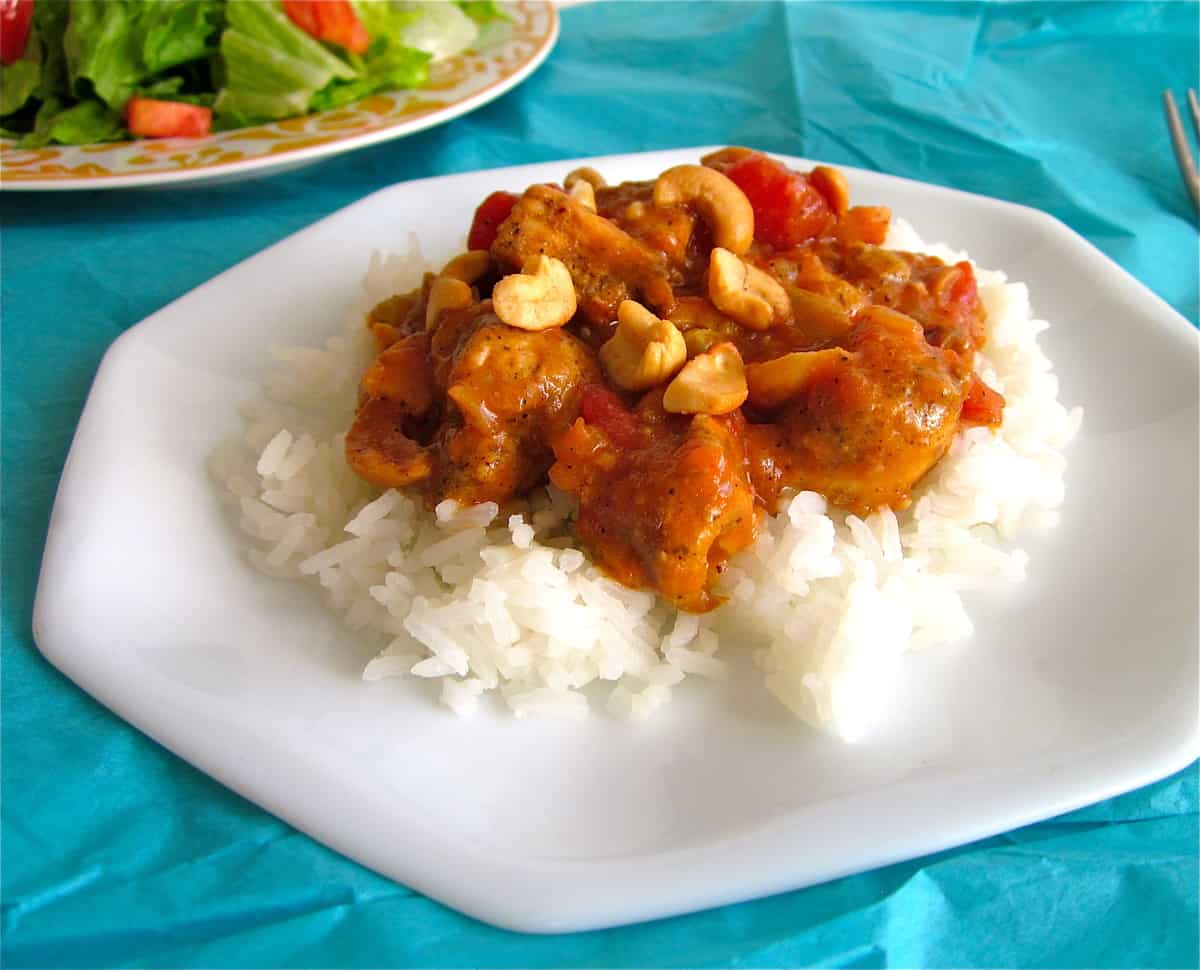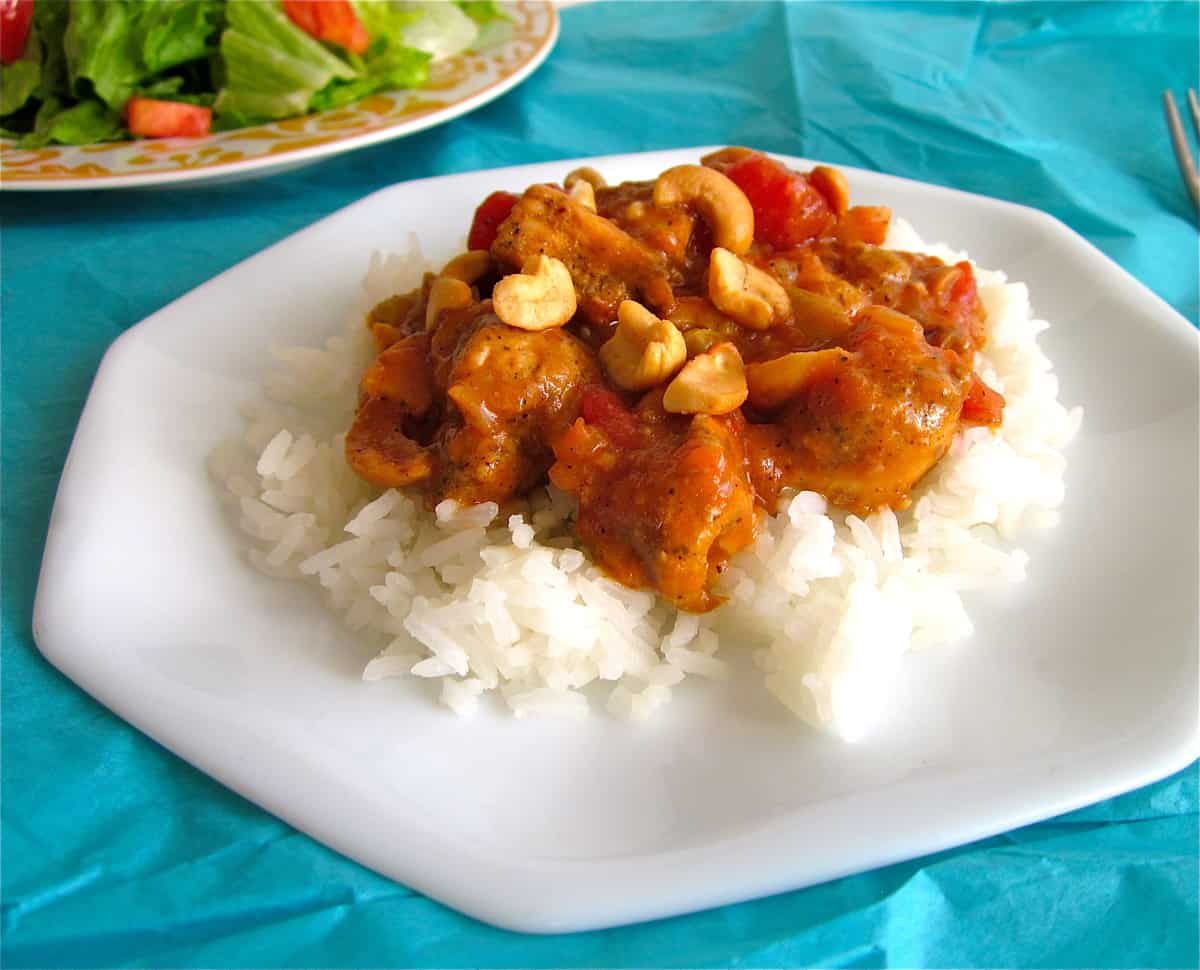 I'm posting both his list of ingredients and my adaptation below. I renamed mine Coconut Cashew Chicken with Golden Raisins because the ginger flavor wasn't very prominent in mine. Next time I make this though, I am going to add a couple teaspoons of minced fresh ginger in with the shallots, I think that would be delicious. Go wild people. Let me know what you come up with! Thanks for being such a better cook than me Nate.
Indian Ginger Chicken
Source: Nathan's genius brain
2 chicken breasts
1 can coconut milk
1 can tomato sauce
Golden raisins
Cashews
1 shallot
jalapeno
Spice (ginger, garlic, salt, black pepper, chilly, onion, cumin, coriander, cardamom)
brown sugar
flour
Coconut Cashew Chicken with Golden Raisins
Source: adapted from Nathan's genius brain
Warning: This recipe only serves a few people. I highly recommend doubling or even tripling it so that you have leftovers.
2 chicken breasts, chopped into bite sized pieces
1/2 teaspoon ginger
1 teaspoon salt
1 teaspoon chili powder
1/4 or 1/2 teaspoon pepper, depending on how spicy you like it
1/2 teaspoon onion
3/4 teaspoon cumin
1/4 teaspoon cardamom
1/4 teaspoon coriander
2 tablespoons butter
2 shallots, diced
1/2 jalapeno, seeded and diced (optional. Nate only remembered to mention this ingredient until after I was finished making it)
2 cloves garlic, minced (the jarred variety works)
1 14 oz can coconut milk (I used lite; up your cornstarch 1/4 teaspoon if you do too)
1 14 oz can diced tomatoes, undrained
1 teaspoon brown sugar
1 teaspoon cornstarch
"a fist full" of golden raisins (1/2 to 3/4 cup)
3/4 cup salted cashews
Combine all the spices (ginger-coriander) in a small bowl. Place the chopped chicken in a separate bowl and mix in the spices. Let it sit in the fridge for at least an hour so that the spices really have time to get friendly with the chicken.
In a large nonstick skillet, melt butter over medium heat. When it is hot add the shallots, and jalapeno if you are using it. (I think fresh ginger would taste good here too). Saute until the shallots are transparent, 3-4 minutes. Add the garlic and continue cooking for 30 seconds. Add the chicken and continue on medium heat until the chicken is done, should be less than 5 minutes. Don't stir too often.
Add the coconut milk. Open the can of diced tomatoes. Place about half of the can in a blender or food processor and puree. Add the pureed tomatoes and the remaining diced tomatoes to the chicken mixture. Add brown sugar. Bring to a boil, then reduce heat back to medium.
Remove some of the liquid from the pan (maybe a 1/4 cup or so) and put it in a small bowl. Add the cornstarch and whisk to combine. Once the cornstarch is incorporated, return the liquid to the pan.
Add the raisins and the cashews. Continue cooking over medium heat for about 10-20 minutes until the liquid has reduced to the consistency that you like.
Serve with jasmine rice. Naan or roti would be good too.