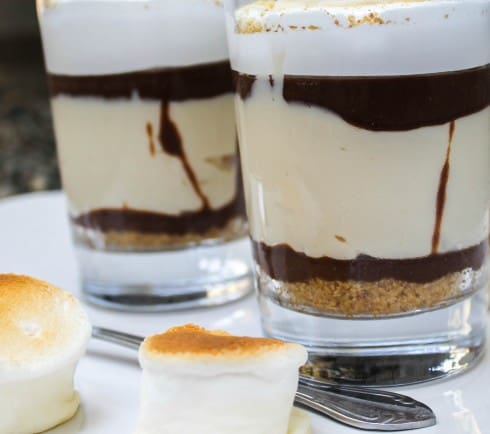 Today I painted the shelves that we took out of the built-in bookcases in our house. I painted them outside in our backyard so they would dry faster, which is a great idea, thankyouverymuch. What do I get for my industriousness and brilliant plan? A homemade tramp stamp. I now have a very distinct bright red line of sunburn in the space between my shirt and shorts, from bending over to paint the shelves, which were on the ground. Super classy.
I asked my sister-in-law Sandi if I could possibly be any more trashy. She said, "Oh yeah. It could be a tube top sunburn. Or worse, a sunburned crack." Let's all count our blessings. And let's stop thinking about that.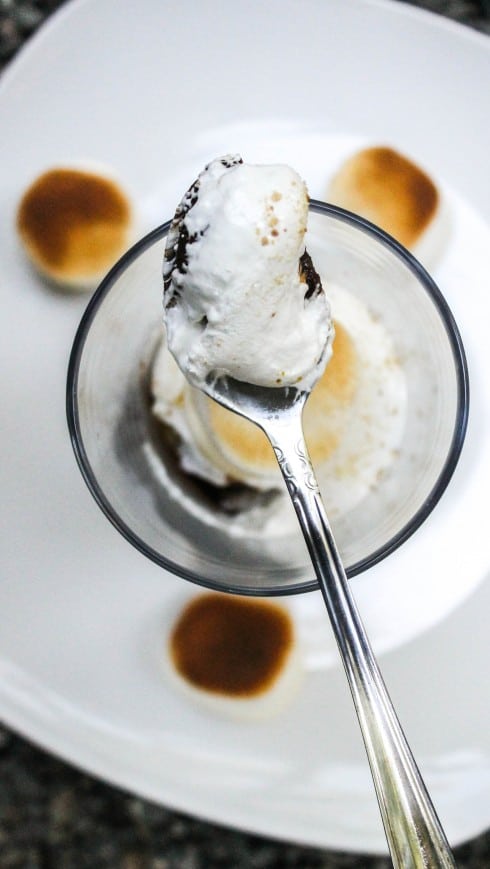 Think about this instead. Itty bitty S'mores Cheesecakes. Believe me, you won't want more than a little bit. This stuff is riiiiiich. I don't even need to tell you that it tastes delicious. I mean, marshmallow cheesecake? That speaks for itself.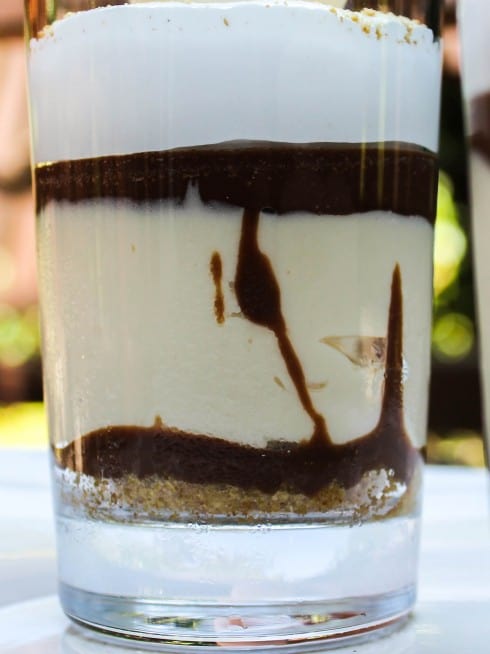 Oh and Happy Fall everyone!!! I suppose you could consider this S'mores recipe a farewell to summer…but who are we kidding, S'mores have moved way past the summer bonfire lately. They are like the Cool New Kid On The Block, nobody can get enough of them.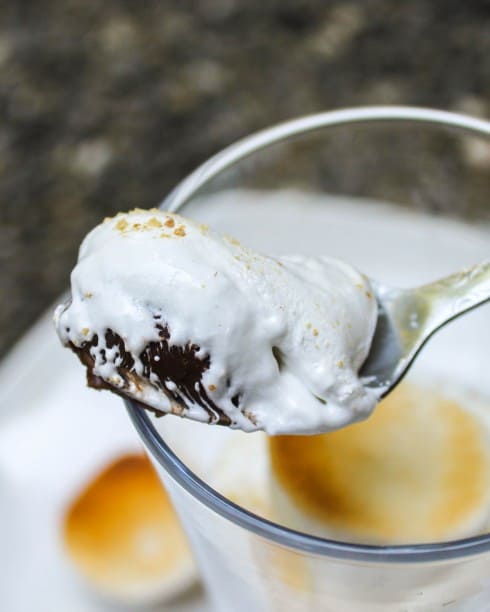 I can't wait to get my pumpkin recipes on. Isn't fall just the best? I'm ready for some scarves. Except now I live in California so they are kind of superfluous. That won't stop me though. What's your favorite part of fall?

No Bake S'mores Cheesecakes
S'mores have moved way past the summer bonfire lately. They are like the Cool New Kid On The Block, nobody can get enough of them.
Ingredients
Crust
4

tablespoons

butter

,

1/2 stick, melted

2/3

cup

graham cracker crumbs
Chocolate Ganache
4

ounces

semisweet chocolate chips

3

tablespoons

heavy cream
Cheesecake
1/2

cup

whipped cream cheese

,

at room temperature

1/2

cup

marshmallow fluff

,

about half of a 7 oz jar

1/3

cup

sweetened condensed milk

2

teaspoons

vanilla extract
Topping
1/2

cup

marshmallow fluff

,

use the other half of that 7 oz jar

3

marshmallows

,

cut in half and toasted
Instructions
In a small bowl, mix together butter and graham crumbs until moistened. Divide crumbs evenly and press into the container of your choice (like a small glass or ramekin. These are only 4 oz cheesecakes.) If you want some graham crackers for sprinkling on top, either reserve some or make a little more.

Add the heavy cream to a small saucepan and heat over medium heat until warm, just until bubbles appear on the edges. Remove from heat, add the chocolate chips and let it sit for about 30 seconds or a minute. Then stir it until the chocolate chips are all melted and the ganache is smooth. Add about a teaspoon of the ganache on top of each graham crust.

In the bowl of your electric mixer, beat the cream cheese on medium speed until creamy. Remove ALL of the foil from the top of your jar of marshmallow fluff, stick it in the microwave and zap it for about 8 seconds. Add half of the jar to the cream cheese beat until combined. With the mixer on low speed, pour in the sweetened condensed milk and vanilla extract. Beat on high speed until a smooth batter forms. Pour this on top of the chocolate ganache, leaving space on top for more chocolate and marshmallow.

Add another teaspoon of ganache on top of the cheesecake and a sprinkle on some graham crumbs if you want. Refrigerate 4 to 6 hours. When ready to serve, add a tablespoon or so of marshmallow fluff on top of the ganache, then top with a toasted marshmallow. (I recommend doing this over a burner on your stove. They will fluff up nicely. I tried to broil mine, but that only gets one side...and then they look like deflated top hats when you take them out.) Sprinkle extra graham crumbs on top and serve!
Nutrition
Serving:
1
slice
|
Calories:
471
kcal
|
Carbohydrates:
56
g
|
Protein:
5
g
|
Fat:
27
g
|
Saturated Fat:
15
g
|
Polyunsaturated Fat:
1
g
|
Monounsaturated Fat:
7
g
|
Trans Fat:
1
g
|
Cholesterol:
58
mg
|
Sodium:
226
mg
|
Potassium:
223
mg
|
Fiber:
2
g
|
Sugar:
40
g
|
Vitamin A:
652
IU
|
Vitamin C:
1
mg
|
Calcium:
94
mg
|
Iron:
2
mg