Asian Cheese Ball with Sriracha Almonds
This cheese ball is perfect for parties because it's easy to throw together ahead of time. All the comfort of a cheese ball but with an Asian twist: coconut, lime, ginger, and Sriracha almonds!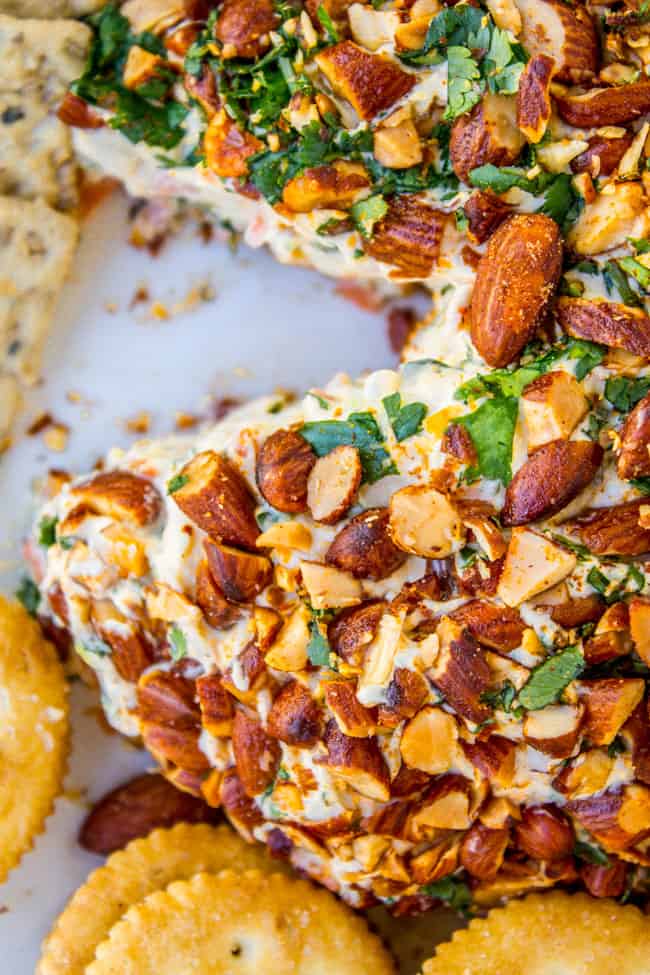 A few weeks ago my sister-in-law Sandi complimented me on my French braid. I was grateful but a little confused. "I started braiding my hair like 2 years ago, while living at your house even!"
"Yeah, but I mean, now it actually looks good." Oh, so you mean that my hair has basically looked like a 4-year-old braided it for the last 2 years??  THANKS Sandi. You tell me now.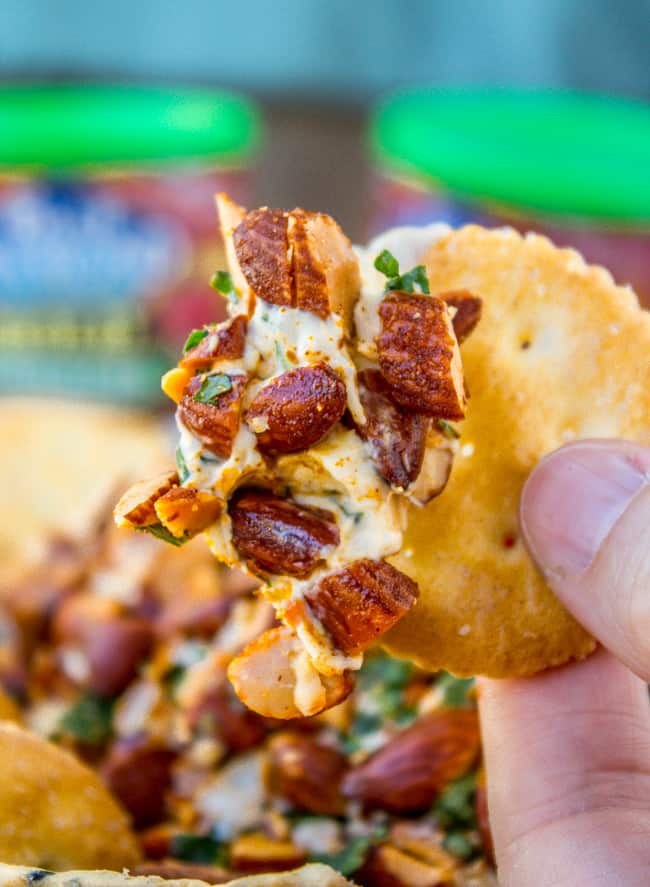 Does one genuine compliment today cancel out the two years worth of backhanded compliments you just dealt? PS, In totally unrelated news, I spent the entire morning YouTubing braiding tutorials.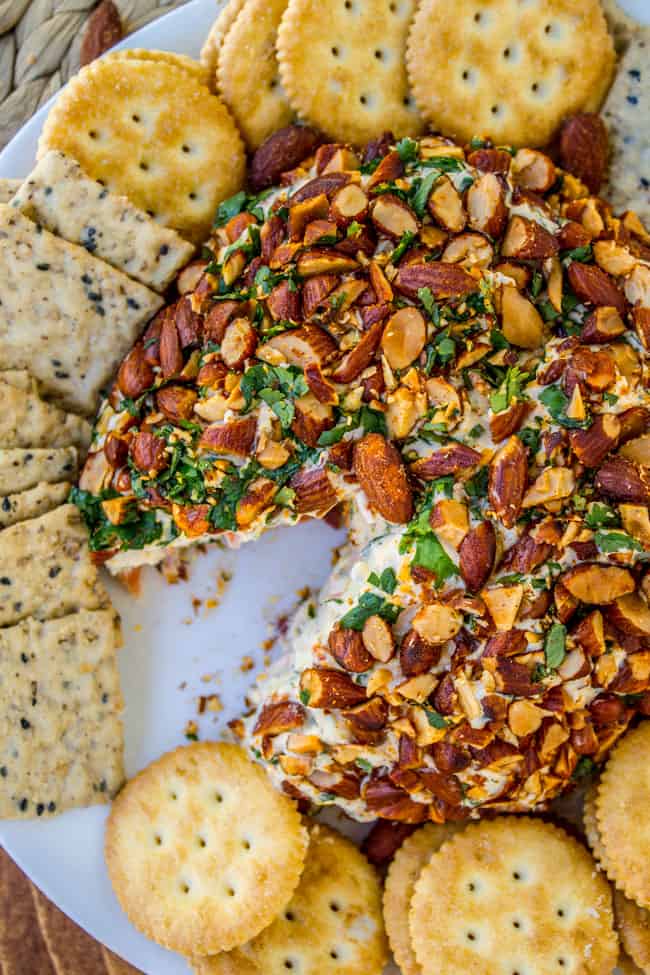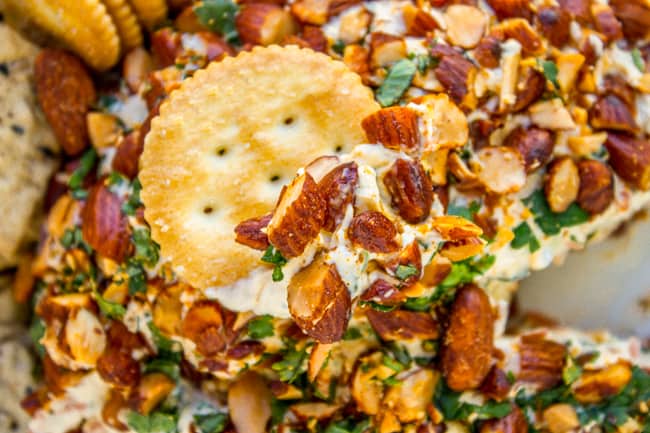 Tomorrow we are headed out to Utah for Eric's sister's wedding. Which means that our fridge is purposefully empty. Which means that when I opened it to figure out dinner (way too late) last night, all I could see was a shining, glorious Asian cheese ball, and part of me said to myself, you can't feed your children cheese for dinner, and then the other part said, it has almonds and carrots, that's healthy. Dinner, DONE. No regrets.
This cheese ball is the stuff of dreams, guys. I know, I know, cheese balls are hard to take seriously because, well, they're called cheese balls. Why couldn't they have gone with cheese spheres? Well whatever, this is the cheese ball to end all cheese balls. Have I made you uncomfortable yet? Cheeseballcheeseballcheeseball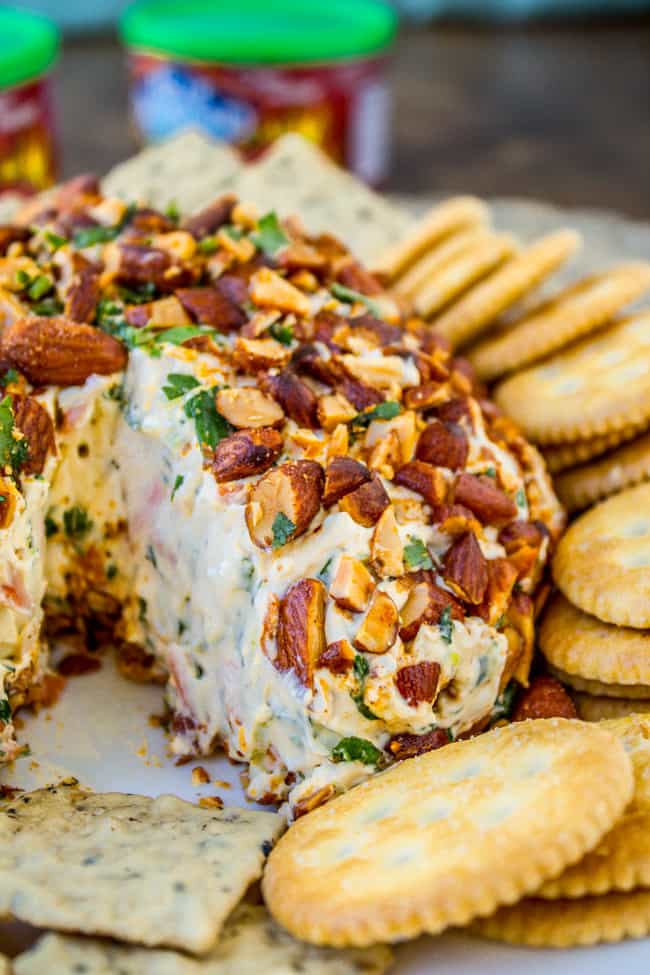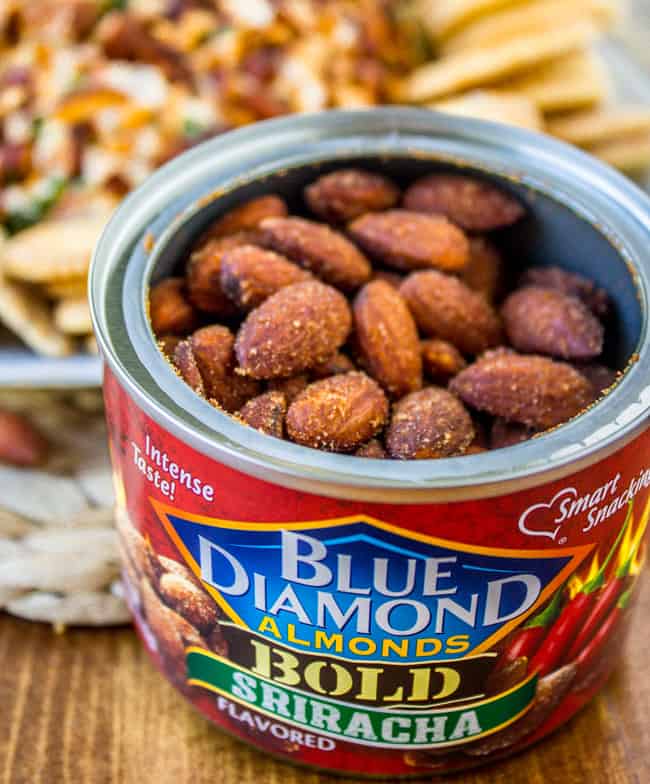 There is coconut cream mixed in, not to be confused with coconut milk. Coconut cream is thicker and solid at room temperature (see note). I love the undertone that the coconut adds. The chopped Sriracha Almonds are the cherry on top! Yes, that's right, I said Sriracha Almonds. Awesome right?? They are SO good.
Do you guys give up? Or are you thirsty for more?
Facebook | Pinterest | Instagram | Twitter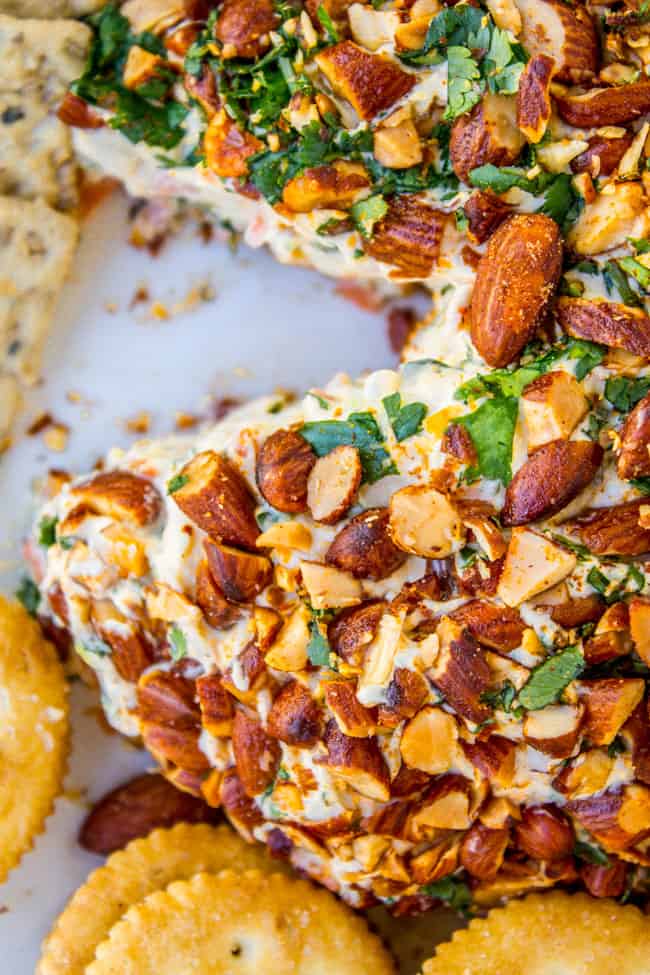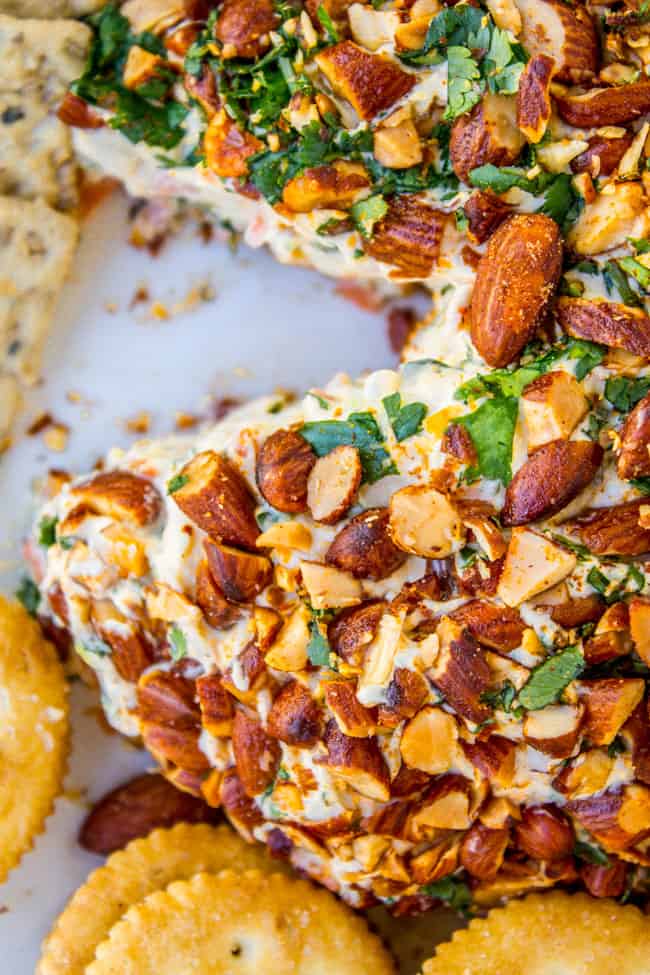 print
Did you make this recipe?
Leave a review »
Asian Cheese Ball
Ingredients
2

(8 ounce) packages cream cheese, softened

1/2

cup coconut cream*

1

green onion

2-3

teaspoons ginger

1

clove garlic, minced

1

medium carrot, shredded

1/2

teaspoon salt

2

teaspoons Sriracha (to taste)

zest of 1 lime

1/4

or 1/2 cup cilantro

black pepper to taste

1

can Sriracha Blue Diamond Almonds, chopped

1/4

cup cilantro, chopped

Crackers, for serving
Instructions
In a large bowl or stand mixer, combine cream cheese, coconut cream, onion, ginger, garlic, carrot, salt, Sriracha, lime zest, cilantro, and black pepper.
When it's all mixed together, spoon the mixture into the center of a large sheet of plastic wrap. Pull up the sides of the plastic and twist, or tie with a twist tie. Refrigerate for 2-3 hours.
Chop the Sriracha Almonds to the level of coarseness that you want them. Chop the cilantro. Spread the chopped nuts on a plate and add the cilantro, mixing it together a little.
Unwrap the cheese from the plastic. Place the cheese ball on the nuts and cilantro, and flip or roll it to coat the outside with nuts. At this point you can wrap it again to save for later, or serve immediately with crackers.
by The Food Charlatan

If you make this recipe,
share it on Instagram
 using the hashtag
#TheFoodCharlatan
so I can see it!
More dips FTW!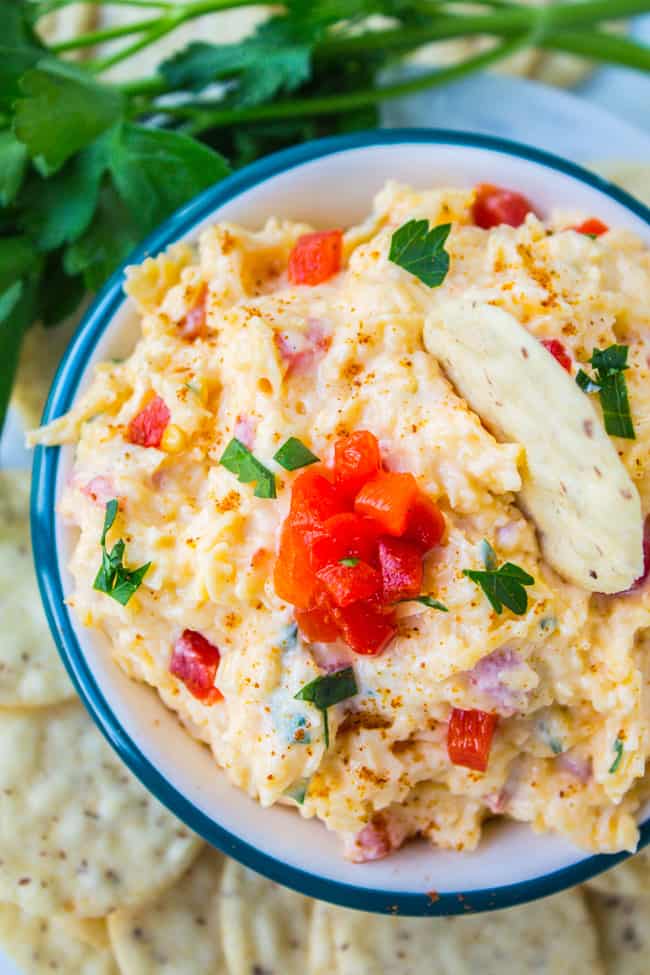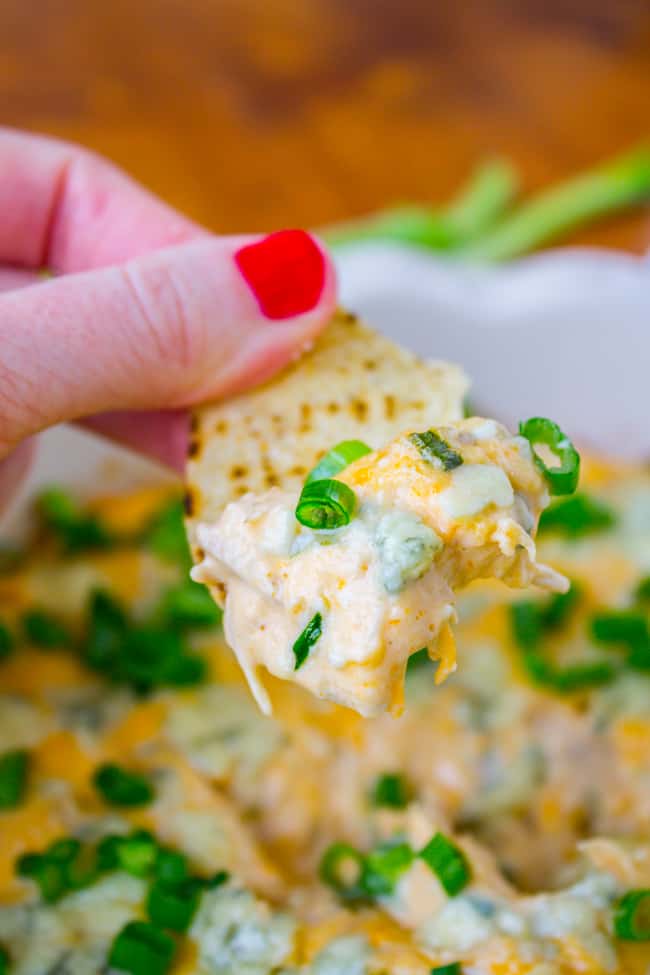 Goat Cheese, Pesto, and Sun-Dried Tomato Terrine: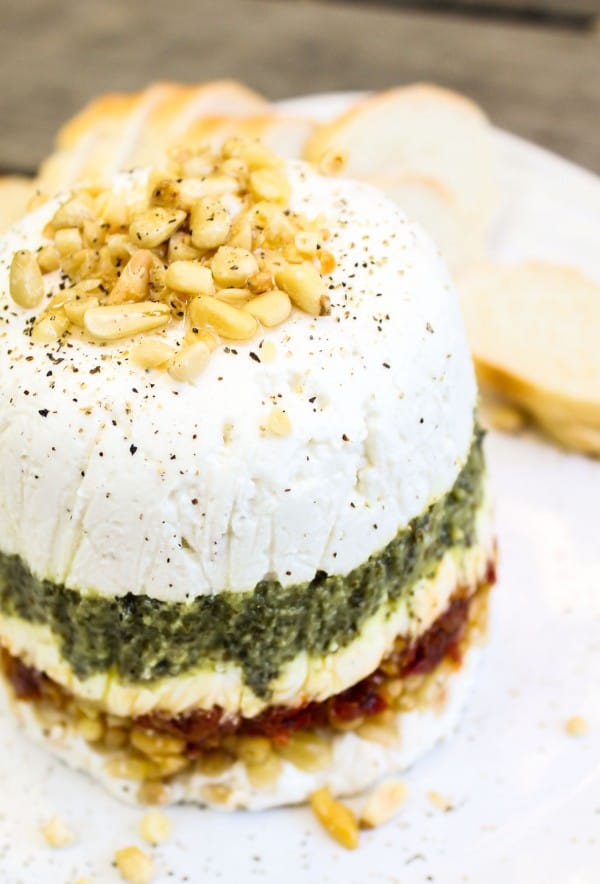 More tempting cheese balls!
Easy Cheese Ball from Yummy Healthy Easy
Hawaiian Cheese Ball from The Girl Who Ate Everything
Buffalo Ranch Cheese Ball from What's Cooking Love
This post is sponsored by Blue Diamond Almonds. All opinions are my own! Thanks for supporting the brands that keep The Food Charlatan going!
We are a participant in the Amazon Services LLC Associates Program, an affiliate advertising program designed to provide a means for us to earn fees by linking to Amazon.com and affiliated sites.