These Gluten Free Chocolate Pecan Bites are easy to make and so delicious! The filling is made with coconut cream and chocolate chips, and it's absolutely delicious. Don't forget the raspberry on top!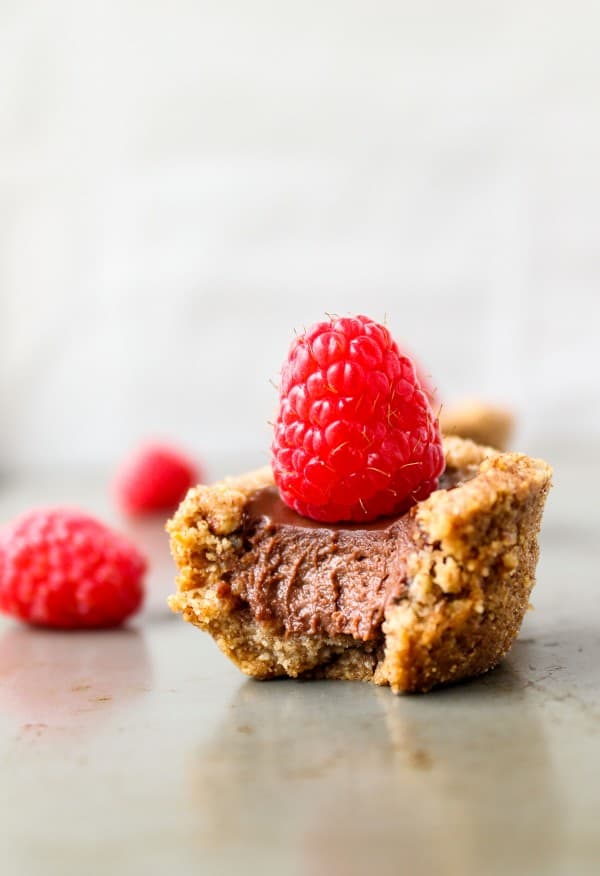 Here's me, trying to create a healthy dessert recipe:
Paleo-leaning sister gives me the idea for 2-ingredient vegan frosting back in the fall. (Solidified coconut milk + dairy-free chocolate.) Sit on the idea for months. Finally break down and throw a can of coconut milk in my fridge. Forget about it for 2 weeks. Finally remember, then melt it together with some chocolate. Forget that the chocolate is supposed to be vegan. Put it in the fridge to cool. EAT HALF THE BATCH WITH MY FINGER. Eat the other half with a spoon.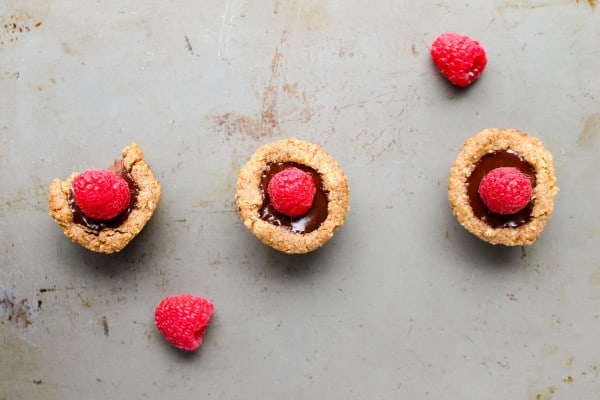 So much for healthy.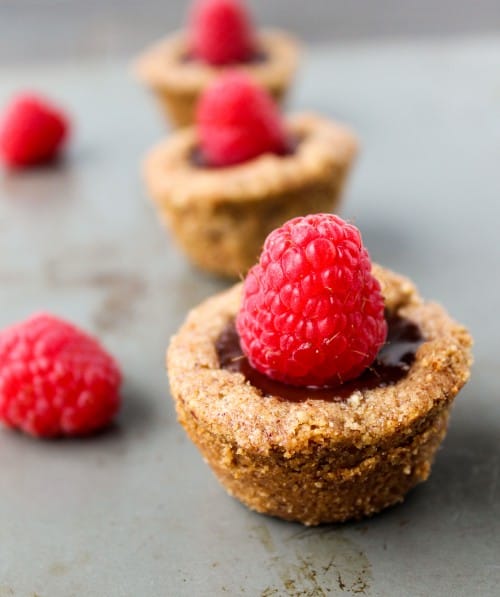 Batch #2: Having completely discarded the idea of turning this rich chocolate mousse into frosting, I made it again with the idea to put it into mini tart crusts. For some reason I was obsessed with the idea of making these low-calorie, but kept forgetting to, you know, actually make them low-calorie. 2 1/2 cups of pecans and a smattering of butter and sugar later, and well, here we are. At least they're gluten free. Hopefully I'm pleasing somebody.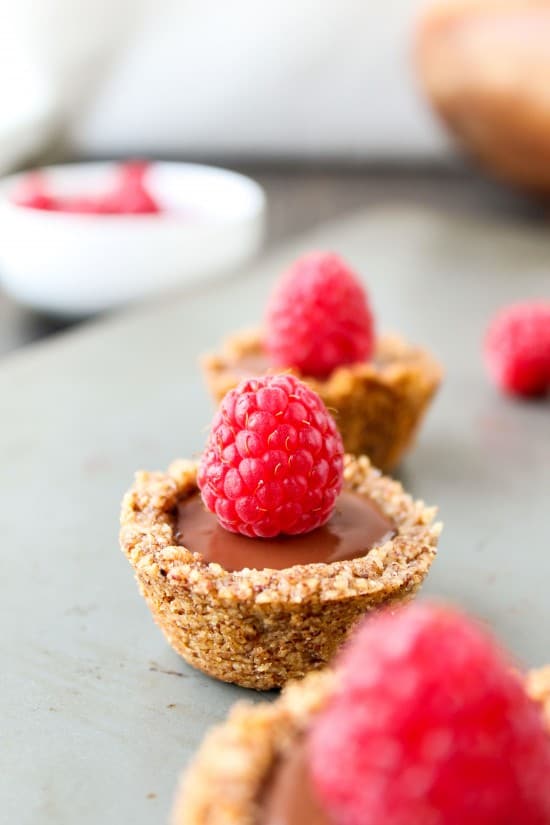 Okay, I'm just messing with you. These Chocolate Pecan Bites will please everybody. Everyone I tried these out on took one bite and said, "What IS this??" (I mean, in a good way, not in a what-is-this-I-want-to-die kind of way.) 

So here's the deal, as I have mostly described: you take full-fat coconut milk, let it firm up in the fridge, then melt it on the stove with a bag of dark chocolate (vegan or not). Put it in the fridge, and after a couple hours it turns into…magic. Magic I tell you!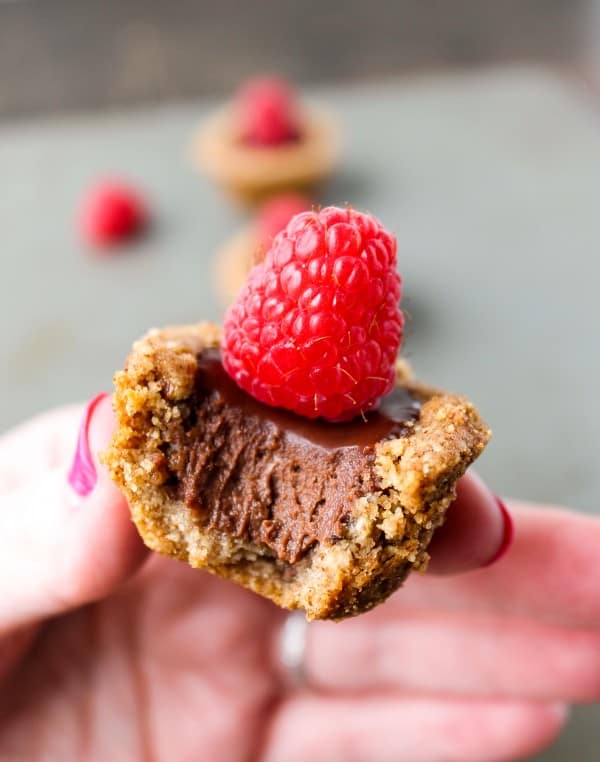 It is not quite as heavy as straight up chocolate mousse. There is a light coconut-y flavor that is not dominant, but still makes people raise their eyebrows and think (or exclaim) "what is this?" If you don't like coconut flavor, I would still try it out. It mostly tastes like chocolate. Delicious, creamy, smooth chocolate.
Like I said, the crust is gluten free, it's made of pecans. I really like the chocolate-nut combo, especially since they are ground. Don't skip the raspberry on top, the fruit really helps to balance the flavors. You could also try strawberries.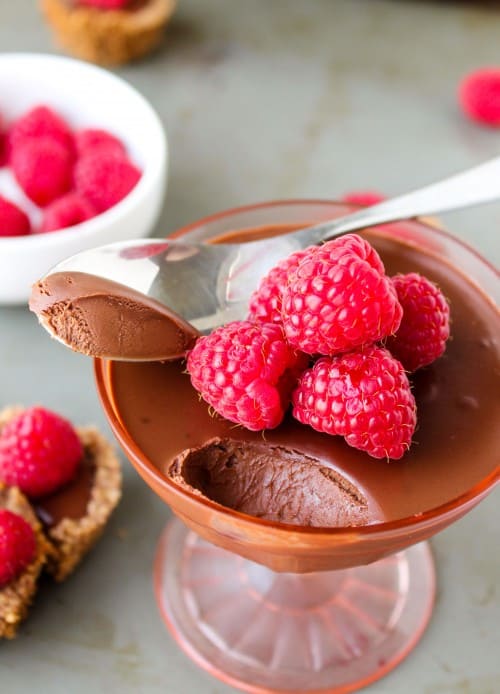 You will have some leftover chocolate mixture. Eat it with a spoon if you know what's good for you. Or better yet, your finger.
This is certainly festive enough for Valentine's Day tomorrow, or you could start celebrating with us today for Galentine's Day! It's a day to celebrate with all your gals of course. (although if this were a real-life event, I would totally lobby to invite Ron Swanson. He would never stoop so low, but it would be fun to try.) I got together with a bunch of my bloggy-gals for an epic virtual #Galentine'sDayParty. Below you can find links to all the awesome recipes that each one of them has contributed. Thanks to Courtney of Neighbor Food for putting this together!
Galentine's Day Drinks
Galentine's Day Brunch

Galentine's Day Desserts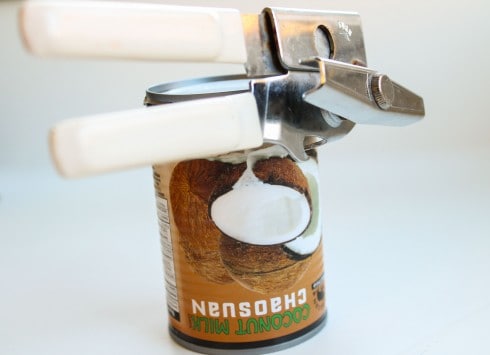 Open up a can of coconut milk that's been refrigerated. Make sure you flip it up side down first.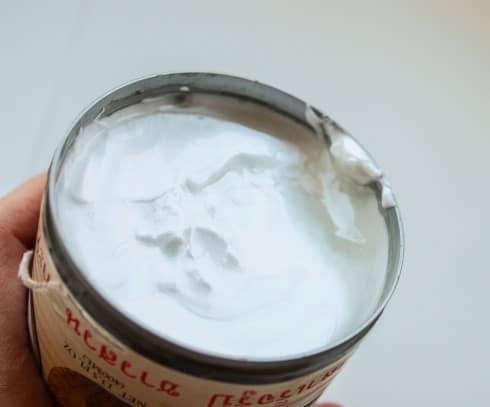 Pour off the water than has pooled at the top.
Coconut cream. Yum.
Then add some dark chocolate.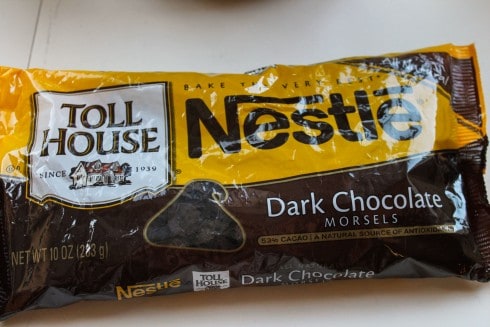 Here's the kind I used: 53% cacao.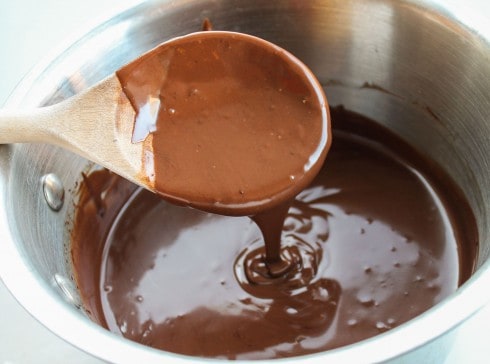 Melt it all together and you get the most amazing chocolate sauce ever. Stick it in the fridge for a few hours and you will have this: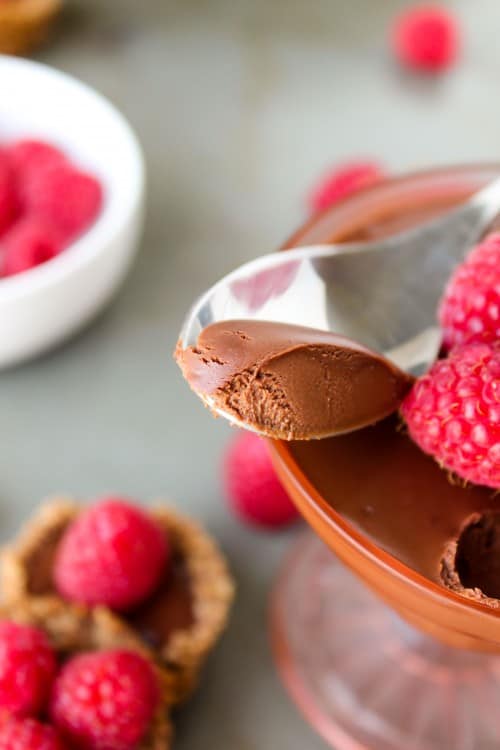 Mercy. Now make the crust.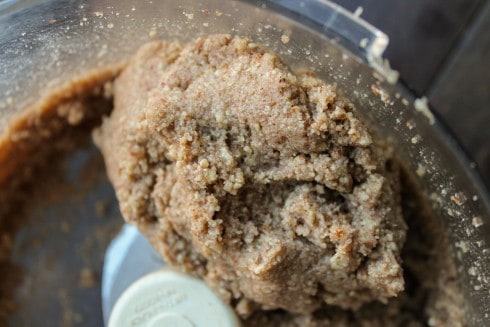 Blend your nuts and the other crust ingredients. It should come together in a ball like this.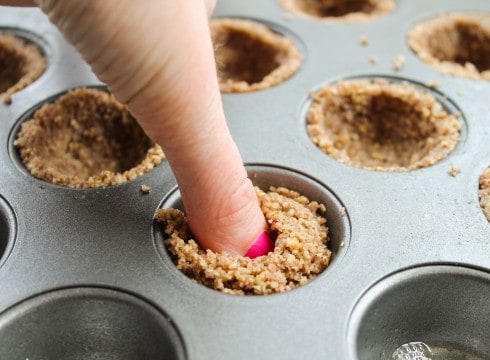 Press the mixture into a mini muffin tin.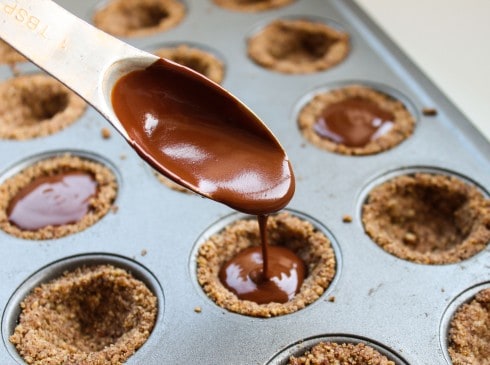 Then pour in 1 tablespoon of the chocolate.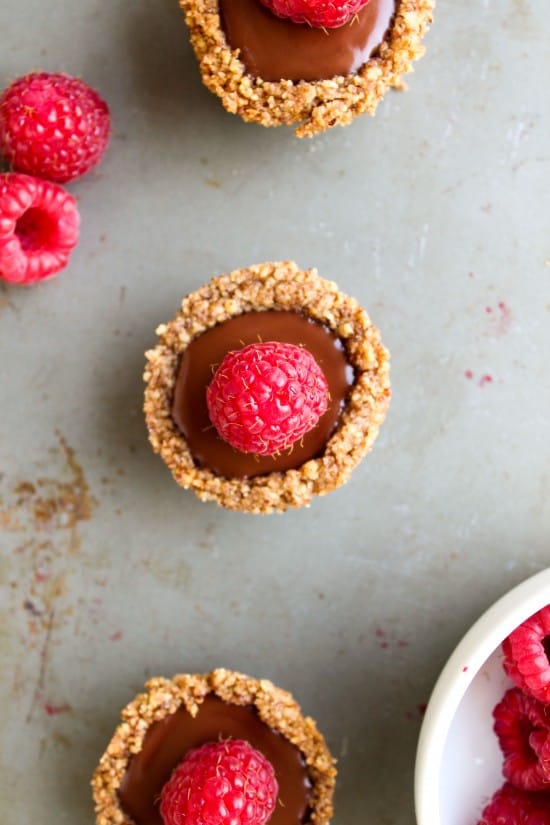 Add some fresh fruit and you're golden!

Gluten-free Chocolate Fudge Pecan Bites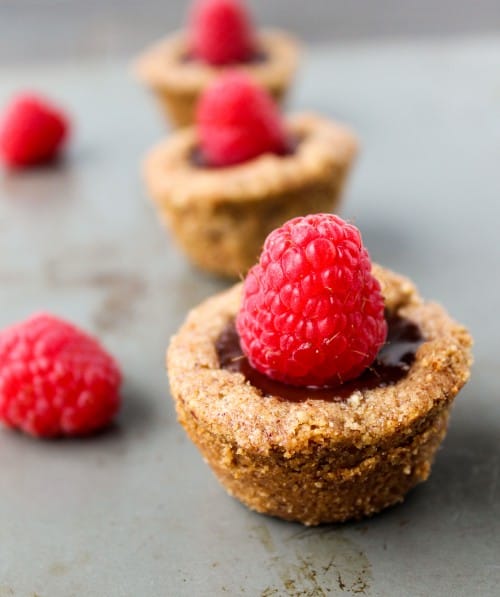 These Gluten Free Chocolate Pecan Bites are easy to make and so delicious! The filling is made with coconut cream and chocolate chips, and it's absolutely delicious. Don't forget the raspberry on top!
Ingredients
Instructions
Refrigerate a can of full-fat coconut milk, or a can of coconut cream, until solid, several hours or overnight.

In a food processor, add pecan halves. Blend until the nuts are thoroughly ground. Add the sugar, cinnamon, and melted butter, and blend again until combined. It will roll into a cute little ball.

Press the mixture into a mini-muffin pan. I used about 1 tablespoon per muffin cup. Press it in firmly with your fingers, all the way up the sides.

Loosely cover the crusts, then refrigerate or freeze for 30 minutes. Preheat your oven to 350 F.

When the crusts are chilled, bake them in the preheated oven for about 10-12 minutes. Watch them carefully so they don't burn. You want them brown on the top, but not dark.

Remove and let cool. If the crusts have puffed up while baking, use the back of a spoon to gently press them back into place while they are still warm. Set aside to cool.

Take out your refrigerated can of coconut milk/cream. Turn the can upside-down and open it. Pour off any water than has pooled (You can save it for another recipe. It's good in smoothies). Scoop the hardened coconut cream into a small saucepan.*

Add a 10-ounce bag of dark chocolate to the saucepan and turn the heat to low. Stir occasionally until the chocolate and cream have melted together. Use a whisk to make sure all the chocolate solids are melted.

Remove from heat, and spoon about 1 tablespoon of the chocolate mixture into each crust. You will have leftover chocolate mixture; pour it into a container and refrigerate so that it hardens up; then eat it with a spoon. You're welcome.

Refrigerate the little tarts until they are completely solidified, about 2 hours. You can also freeze them.

Remove the bites from the mini-muffin pan: just after you take them out of the fridge, when they are very cold, slide a plastic knife around the edge and pop them out. They will get soft if you leave them at room temperature, so keep them in the fridge until right before you serve.

Place 1 raspberry on top and serve. (Strawberries would be good too)
Notes
*The coconut milk people are messing with us. The first time I tried this, I used coconut milk and it hardened up overnight fabulously. The next time I tried it, my refrigerated can had not solidified at all. It was still liquid. I had to save it for another recipe; this process won't work unless it is hardened. To be safe, buy a can of coconut cream. It will definitely work. You can find it in Asian markets. They also sell it at Trader Joe's. I've also read that if the ingredient list (for coconut milk) doesn't have any emulsifiers, you are good to go.
Source: The Food Charlatan, inspired by Oh She Glows
Nutrition
Serving:
1
bite
|
Calories:
210
kcal
|
Carbohydrates:
10
g
|
Protein:
2
g
|
Fat:
19
g
|
Saturated Fat:
8
g
|
Polyunsaturated Fat:
3
g
|
Monounsaturated Fat:
7
g
|
Trans Fat:
1
g
|
Cholesterol:
4
mg
|
Sodium:
32
mg
|
Potassium:
180
mg
|
Fiber:
3
g
|
Sugar:
5
g
|
Vitamin A:
60
IU
|
Vitamin C:
1
mg
|
Calcium:
22
mg
|
Iron:
2
mg