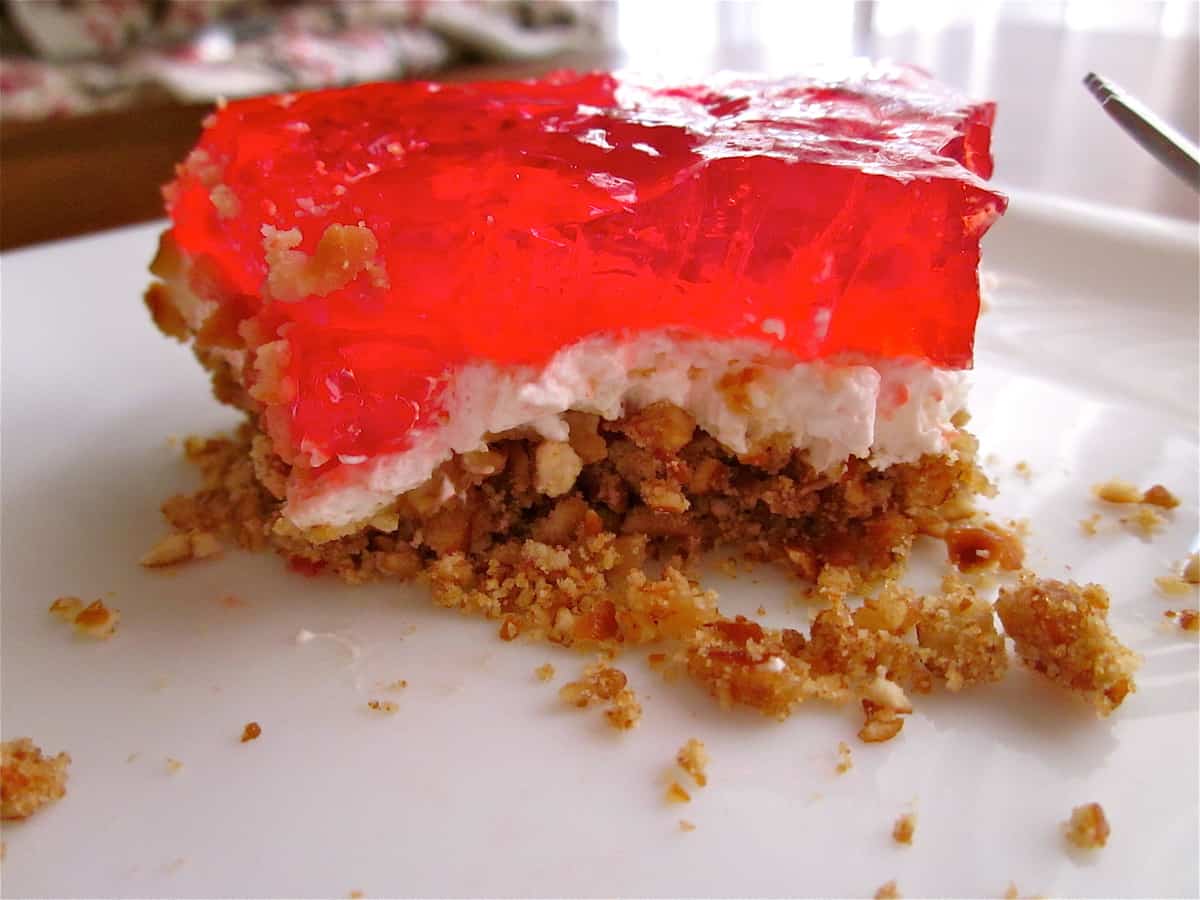 So Eric and I have been cramming for Charlotte's one-year check up with the doctor. There is this test that we are supposed to put her through to see if she is up to speed on baby skills. Stuff like one handed cartwheels, obstacle courses, and speed reading.
Just kidding. It's really a list of stuff that you should be doing with your kid to help them develop, like peek-a-boo and waving bye-bye. We are trying to get them all checked off before her appointment so that we can add "smartest baby in the world" to our previously accomplished "cutest baby in the world" achievement.
Charlotte has yet to take her first step. A few days ago I was in the other room when Eric called to me, Karen this is it! I've found a way to get Charlotte to walk! I came in expecting him to be luring her with his iPhone.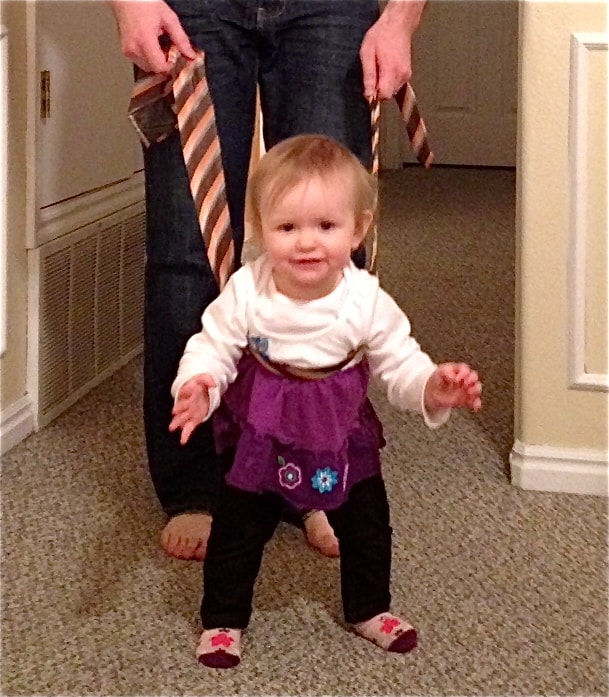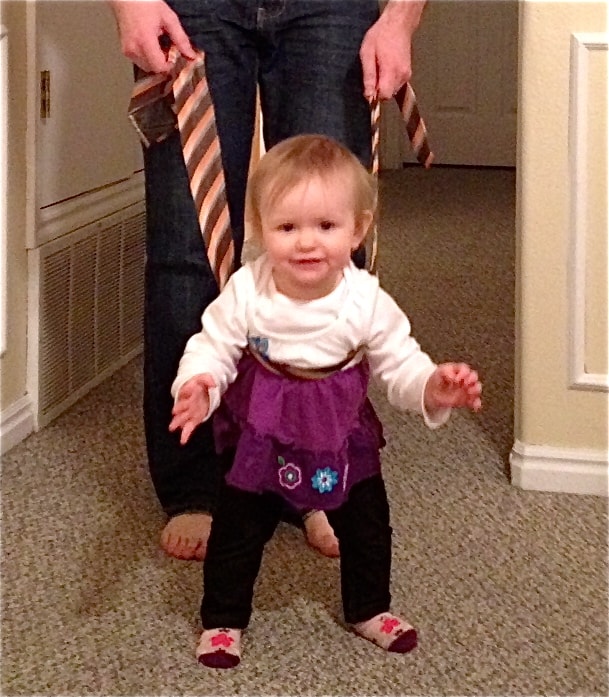 Instead I see this. That's right, he put necktie-reins on our baby. She will be running around in no time. Don't worry I will put the brakes on if he decides to bust out the baby blinders.
I've only been in Utah for four months and I'm already making weird jello combinations. What is happening to me? Seriously though, this stuff rocks. It is the perfect sweet and salty combo. Healthy people would call it a dessert, but that's not how I roll.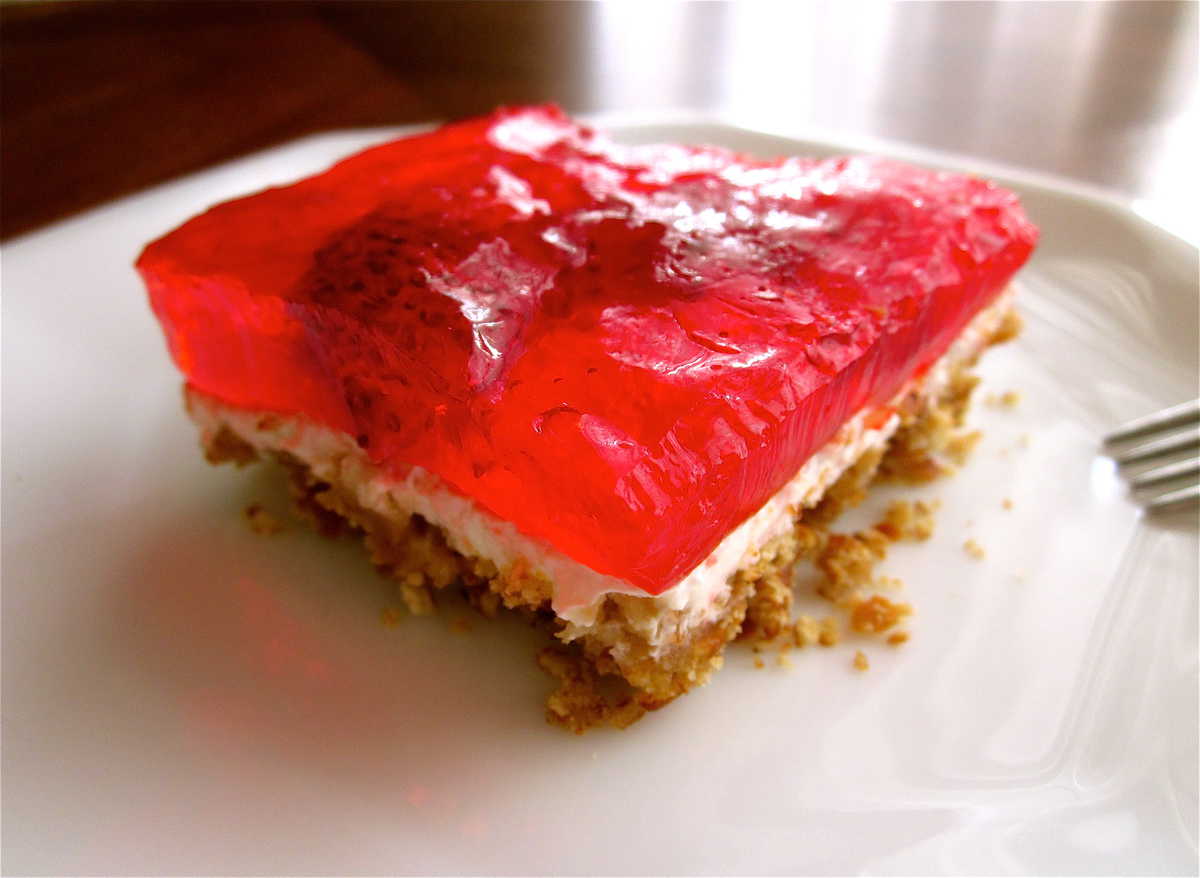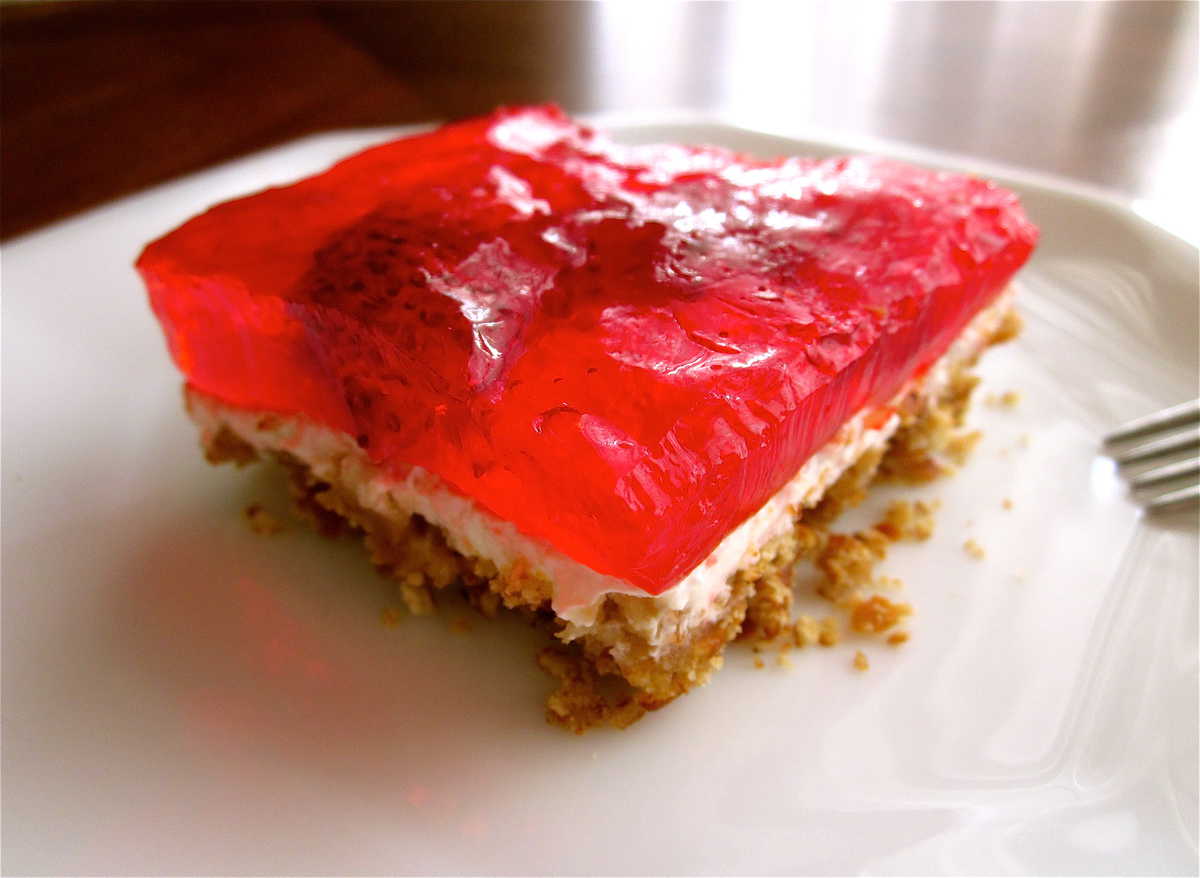 The other day my brother gave me this link which his friend Kristy had sent to him with the comment, Get Karen to make this!!! It is not at all a waste of time! It is a video of somebody making an origami crane out of jello. Yes you read that right. And all this while the.coolest.song.ever. plays in the background (Rill Rill by the band Sleigh Bells). My favorite parts about this video:
The fact that there are absolutely no measurements
Their huge container of gelatin. Where did they even get that?
The only other things they have in their fridge to go with their jello-cranes is a can of Crisco and a beer.
The part where they are making a paper crane and say Sorry you can't see this part . . . It's important.
What can I say? Today is just a jello day.

Jello Pretzel Salad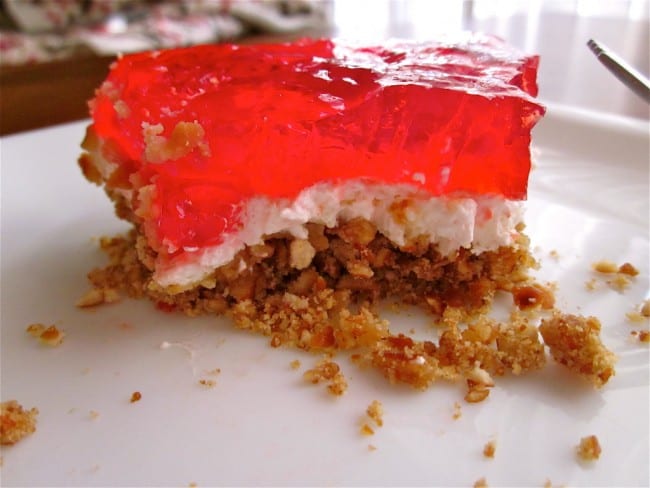 This Jello Pretzel Salad rocks!! It is the perfect sweet and salty combo.  Healthy people would call it a dessert, but that's not how I roll.
Ingredients
2 & 1/2

cups

pretzels

,

crushed fine (use a food processor or blender)*

3

tablespoons

brown sugar

3/4

cup

butter

1 (6-oz)

package

instant strawberry jello

1 (16-oz)

package

frozen strawberries

,

or small container (16 oz) sliced fresh strawberries

1 (8-oz)

package

cream cheese

1

cup

sugar

8

ounce

cool whip
Instructions
Combine pretzels, brown sugar, and melted butter and press into a greased 9 x 13 pan. You can use more butter if the crust isn't sticking together. Bake at 350 for 10 minutes.

Make jello according to directions and add the strawberries. Refrigerate until partially set. This took an hour or two. If it is not set enough it will leak through your cream cheese layer and make your pretzels soggy.

Beat cream cheese and sugar until smooth. Blend in cool whip. Spread over cooled crust. Make sure you spread completely to the edges to create a seal so your jello doesn't leak through. Pour jello over cream cheese layer. Refrigerate until set.
Notes
*You will need 2 and 1/2 cups of the CRUSHED pretzels. Sorry, I didn't measure how many whole pretzels you should start with!
Source: The Girl Who Ate Everything
Nutrition
Serving:
1
g
|
Calories:
600
kcal
|
Carbohydrates:
81
g
|
Protein:
7
g
|
Fat:
29
g
|
Saturated Fat:
17
g
|
Polyunsaturated Fat:
1
g
|
Monounsaturated Fat:
8
g
|
Trans Fat:
1
g
|
Cholesterol:
81
mg
|
Sodium:
681
mg
|
Potassium:
204
mg
|
Fiber:
2
g
|
Sugar:
57
g
|
Vitamin A:
969
IU
|
Vitamin C:
33
mg
|
Calcium:
82
mg
|
Iron:
2
mg