A retro recipe for Coca Cola Jello Salad! If you've never had the joy of eating a jello alongside your ham at a family holiday meal, you haven't lived. Cherries and Coke go together like two peas in a pod!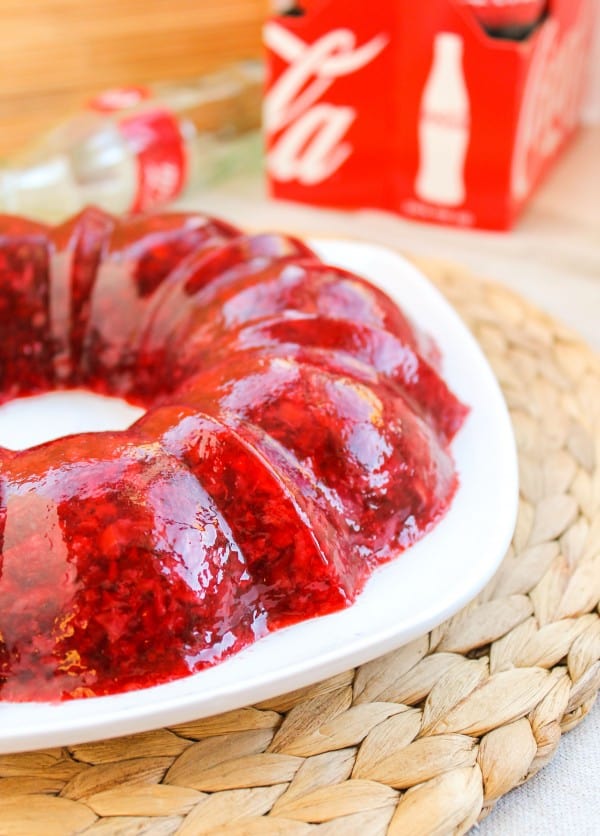 Eric handed me some scraps of paper that he had just gathered up from around the house. They were my daily to-do lists from the past week. The very first item at the top of every list said, "Clean" or "Clean something." Last Friday's said, "Clean something, ANYTHING!!!"
You know a task that travels from one to-do list to the next is something that you need to avoid at all costs.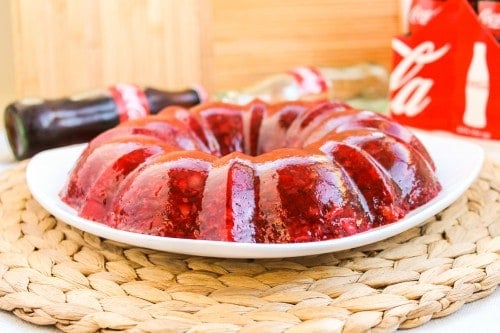 The scary part is how totally non-specific I was. If the list said something like "vacuum" or "fold laundry" then it wouldn't seem so bad: those are small, tackle-able tasks. But my house is in such a state that I can look in any direction and find something, anything, to clean.
My kitchen is a complete disaster. I kind of feel like a human tornado. We are officially entering my favorite part of the year, the part where everyone else in the world finally recognizes that we should be listening to Bing Crosby and baking cookies all day every day.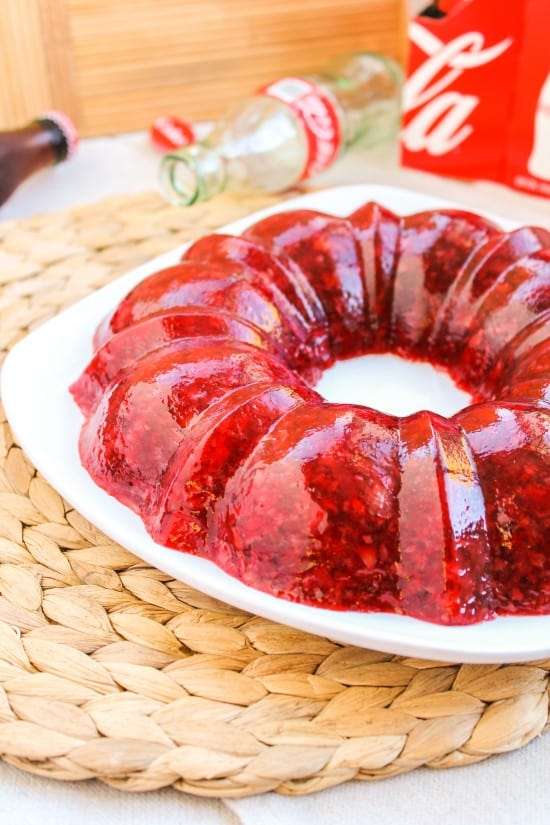 I have some really exciting things to share with you guys in the next few weeks, one of which is my baby. No, not my real baby, but rather a cookie recipe that I have been perfecting for weeks now. I'll post it after Thanksgiving so you guys can "add them to your neighbor plates,"  aka stuff your face with the entire batch. (UPDATE! Here they are: Brown Butter Sea Salt Butterscotch Cookies :)
But before I get ahead of myself on Christmas cookies, we need to get our act together for Thanksgiving! Last week I posted this Brown Butter Cranberry Tart (dessert first, always) and this Broccoli with Feta and Fried Almonds, or, The Best Broccoli I Have Ever Put In My Mouth.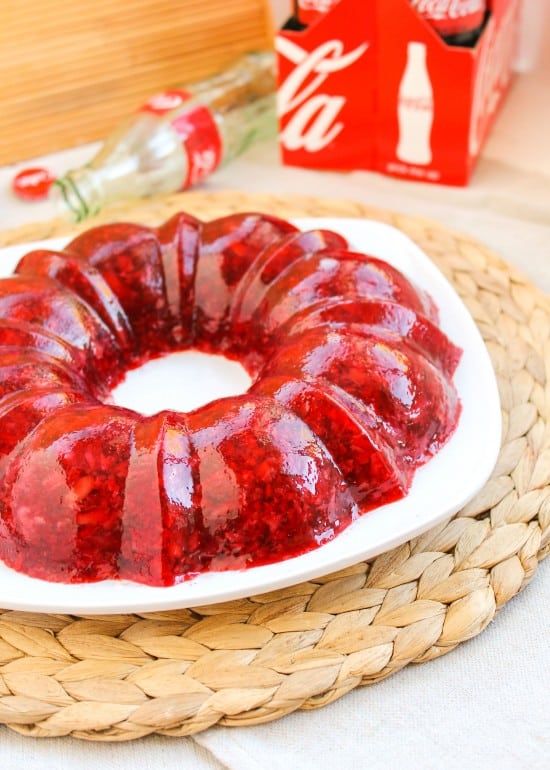 All of my posts from now until Thanksgiving will be something that you can put on the table on the big day. Stay tuned for some savory sweet potatoes, homemade coconut rolls that will make you think twice about buying bakery rolls, and even an elegant butternut squash appetizer. If it makes it easier for you, you can follow my Facebook page, I always post my recipes (plus other fun stuff!)
But today we are talking jello. Wait! Come baaaaack! This jello's got the goods, I'm telling you. I know jello isn't the sexiest side dish out there, (well, unless you are making jello origami cranes, but that's a whole different story) but I've always loved a good jello salad, and if you can get over your foodie self for 5 seconds you will agree that they are freaking good. Especially alongside a plate of turkey.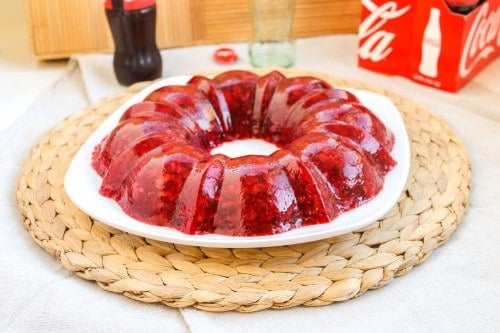 This jello is made with Coke, so it has a tiny little sparkle to it. And it's filled with chopped tart cherries and crushed pineapple, so no one will be digging out all the good fruit (you know those haters that are stealing all the strawberries. Ummm, that's totally me.)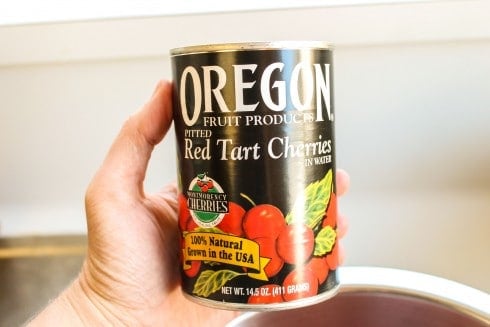 With this jello, you get plenty of fruit with every bite. There are no bites of just-jello.
I used a 12-cup bundt pan to form the jello in. You can use a jello mold of course, or just a regular bowl, or simplify your life even more and just toss it in a 2-quart casserole dish. Easy. This jello is a great make-ahead side for Thanksgiving. Change it up!
P.S. There are a couple tutorial shots after the recipe…just in case you don't know how to make jello. I'm not patronizing you at all.

Coca-Cola Jello Salad with Cherries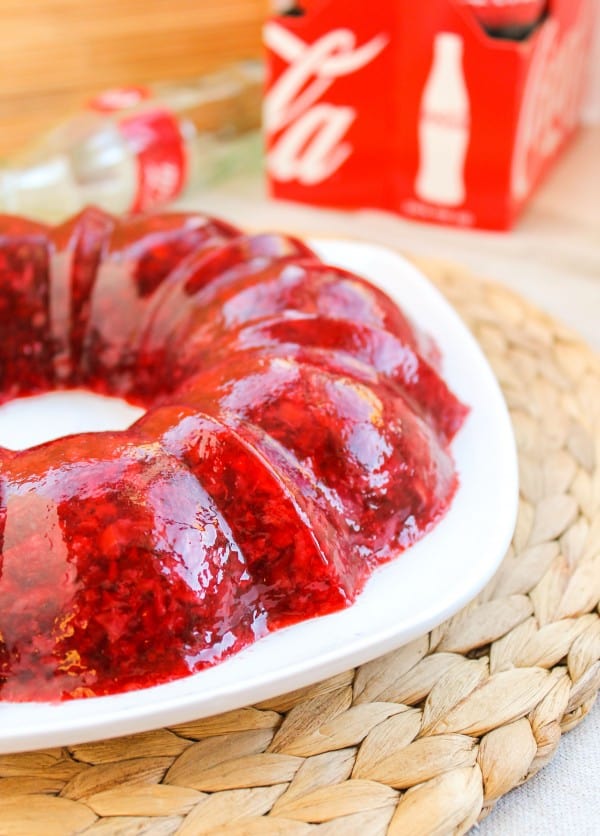 This Jell-O is made with Coke, so it has a tiny little sparkle to it. And it's filled with chopped tart cherries and crushed pineapple.
Ingredients
1

6-oz box

cherry-flavored Jello

,

not sugar-free

1

cup

boiling water

1

cup

regular Coca-Cola

1

14.5-oz can

red tart pitted cherries in water

1

8-oz can

crushed pineapple
Instructions
Put some water in a saucepan and turn up the heat to get it boiling. In a large bowl, add the package of Jello. Once the water is rolling, pour one cup of the boiling water over the jello and stir until dissolved. Stir in the Coca-Cola. Cover and refrigerate mixture until partially firm, about 45 minutes. Stir the jello every 10 minutes or so; you want it a thickened but not set.

Meanwhile, add the can of cherries to a food processor or blender. Pulse in one-second intervals, about 3-5 pulses, until the cherries are chopped into small pieces but not blended.

Once the Jello mixture has thickened, stir in the chopped cherries and it's juice, pineapple and it's juice. Pour into a jello mold, bowl, bundt pan, or 2-quart casserole dish. Cover tightly and refrigerate until set, at least 4 hours, overnight, or up to 2 days before serving. Remove salad from the mold by inverting onto a serving platter. Serve cold.
Notes
If you made your Jell-O in a mold, Bundt pan, or bowl that you have to invert, place the plate or cake stand on top of the mold and turn it upside-down. If the Jell-O does not budge, fill a large bowl with hot water. Dip the mold into the hot water for no more than 3-5 seconds at a time until the Jell-O comes out when inverted.
Source: adapted from Magnolia Days
Nutrition
Serving:
1
cup
|
Calories:
12
kcal
|
Carbohydrates:
3
g
|
Protein:
1
g
|
Fat:
1
g
|
Sodium:
3
mg
|
Potassium:
1
mg
|
Fiber:
1
g
|
Sugar:
3
g
|
Vitamin A:
1
IU
|
Vitamin C:
1
mg
|
Calcium:
2
mg
|
Iron:
1
mg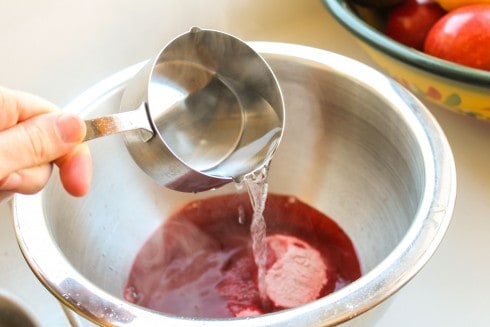 Stir all that jello in until it is dissolved.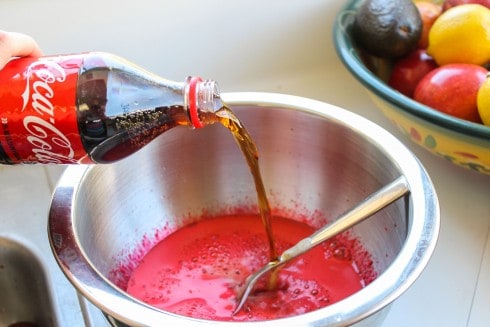 It kind of froths up when you pour in the Coke. See! Jello is fun!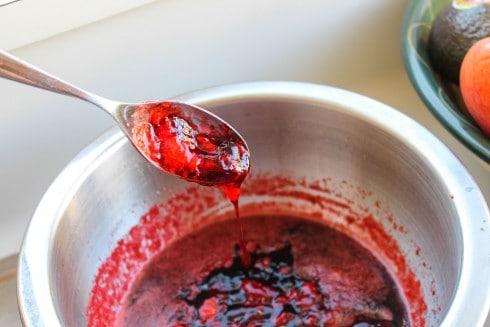 You want the jello to be semi-set when you add the fruit, so that the fruit doesn't all sink to the bottom.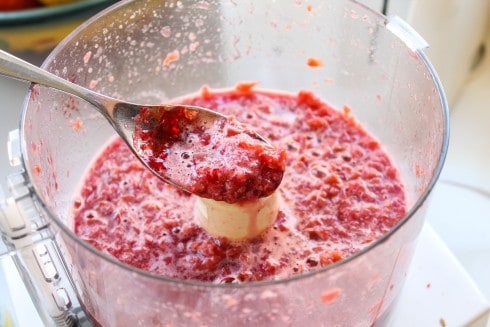 These are the cherries. You don't want to pulverize them, just chop them.
Happy jello making everybody!