This creamy, rich soup gives you that world-conquering feeling that you just slurped up practically the whole day's veggie requirement…and you LIKED it. (PS: It's vegan. And paleo. Basically it will make you superhuman.)
So my parents just got back from a cruise to ANTARCTICA. For real guys. Penguins, blue icebergs, sub zero temps, the whole bit. Wanna see?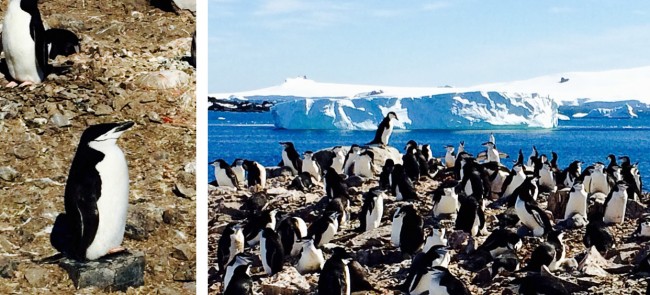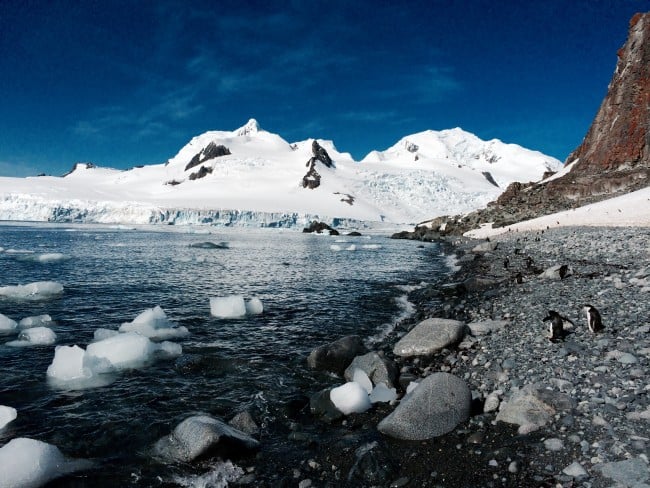 My dad is an amazing photographer. These were all taken by my mom on her phone (and I still think they are awesome), but if you want to see some of the photos from his nice camera when he gets them all organized, tell me and I will share!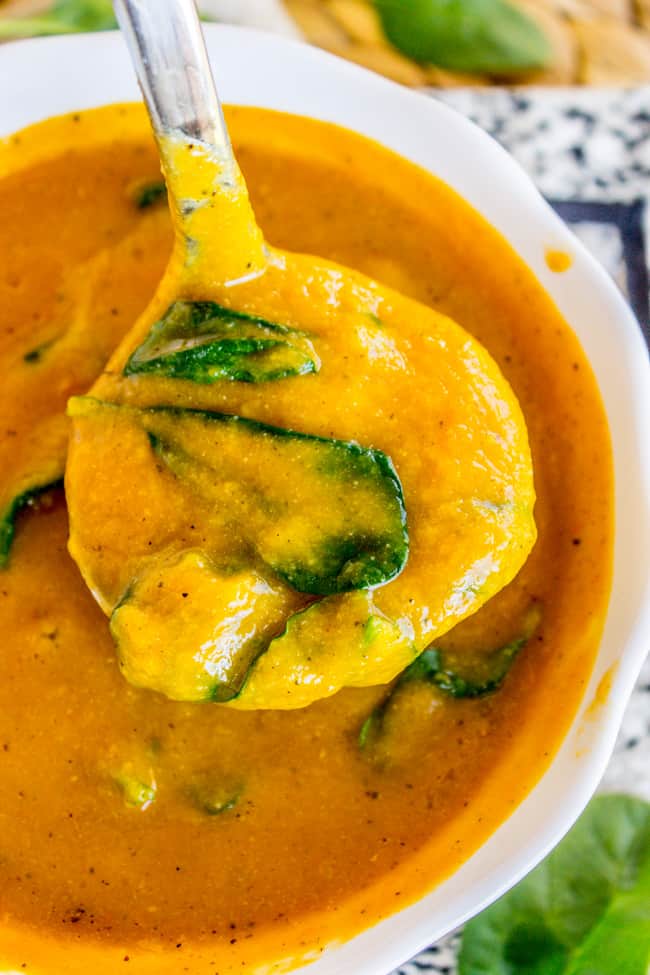 There were a lot of photographers on the cruise, and they had a photo contest with different categories that you could enter, like "Wildlife" or "Sunset". One of the categories was "Something fun and creative," so my dad entered a picture he shot of 2 penguins doin' it on the beach.
He DIDN'T WIN. "What's more creative and fun than sex??" he said.
(Umm…but really.)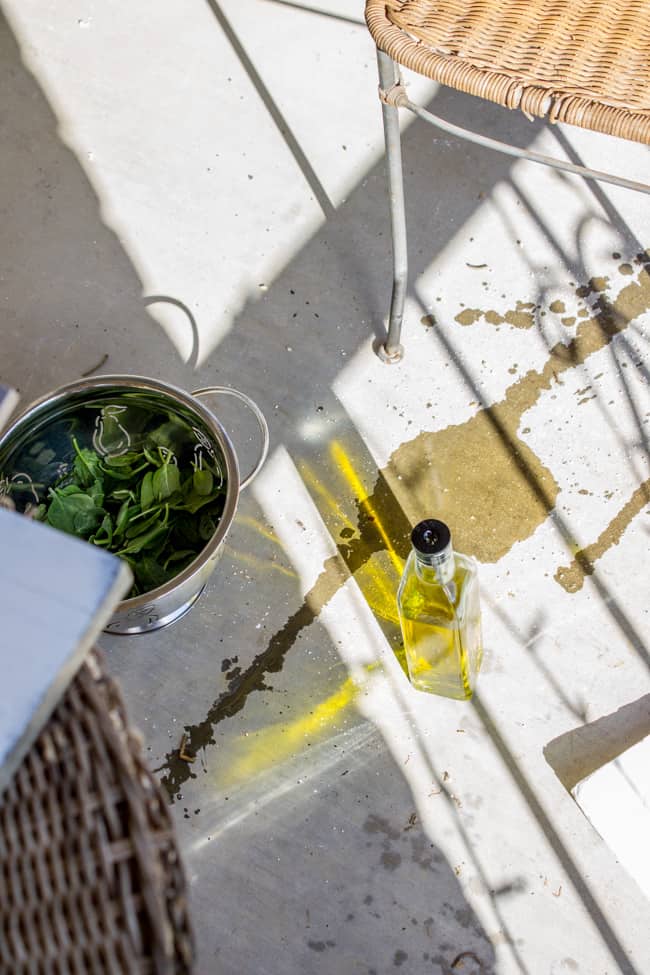 In other news, here's where I knocked an entire box of spinach AND a bottle of olive oil on the ground during this photo shoot. I thought to myself, "I will never tell anyone that I picked my spinach up off the ground and then ate it," until I remembered that spinach GROWS IN DIRT and then I felt a little better about telling you how I eat food off the ground.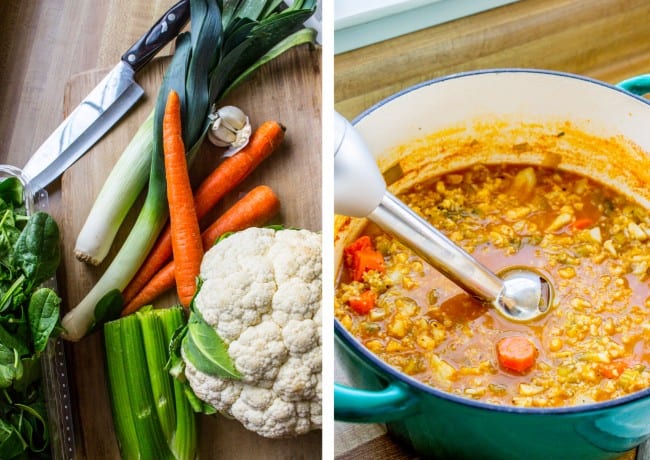 So I was really tempted to name this recipe "Dirt Soup," just because of the way it looks. There is a legendary story in Eric's family about the time his mom made "dirt soup." Everyone, including his mom, thought it tasted exactly like dirt, and they threw it in the garbage. Nice to know I'm not the only one with epic kitchen failures!!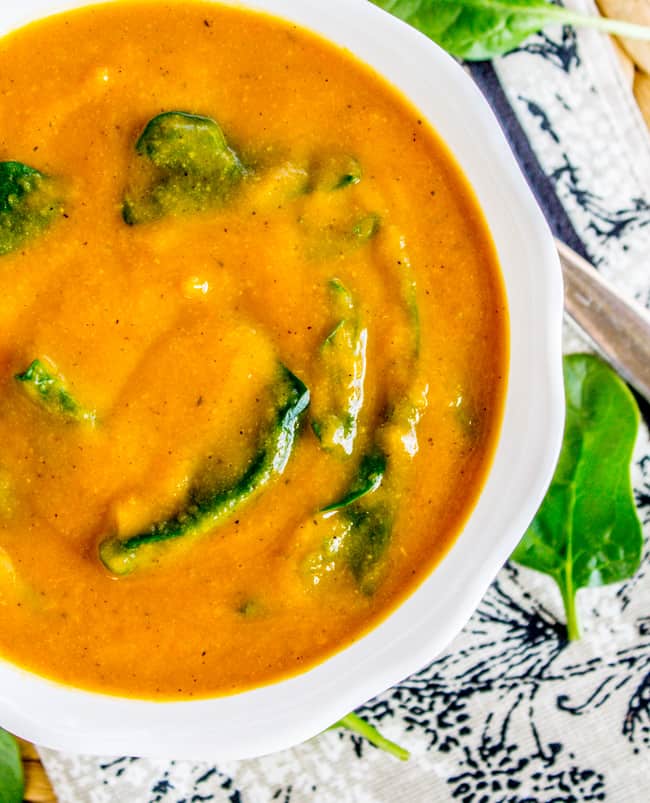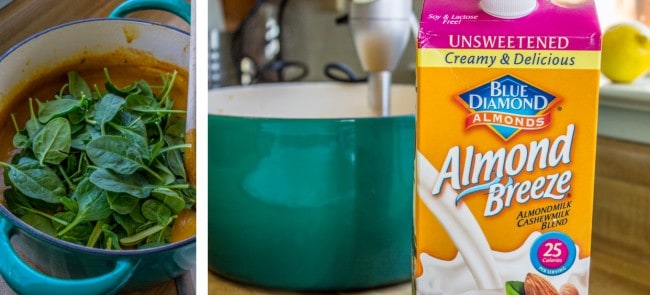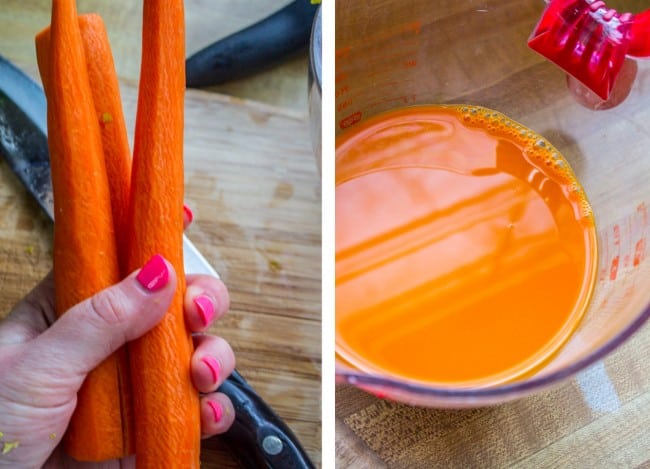 But this super creamy soup tastes nothing like dirt, pinky swear. For being mostly vegetables and water, it is shockingly flavorful. I tried it and liked it, and then I added some chicken bouillon and liked it more, and then I added some sharp cheddar and liked it even more. Adjust the recipe to your needs. If you are really hitting it hard this January, leave out the cheese. If you are vegan, leave out the chicken bouillon. If you are just congratulating yourself on not serving your family hot pockets for dinner, go ahead and add them both in.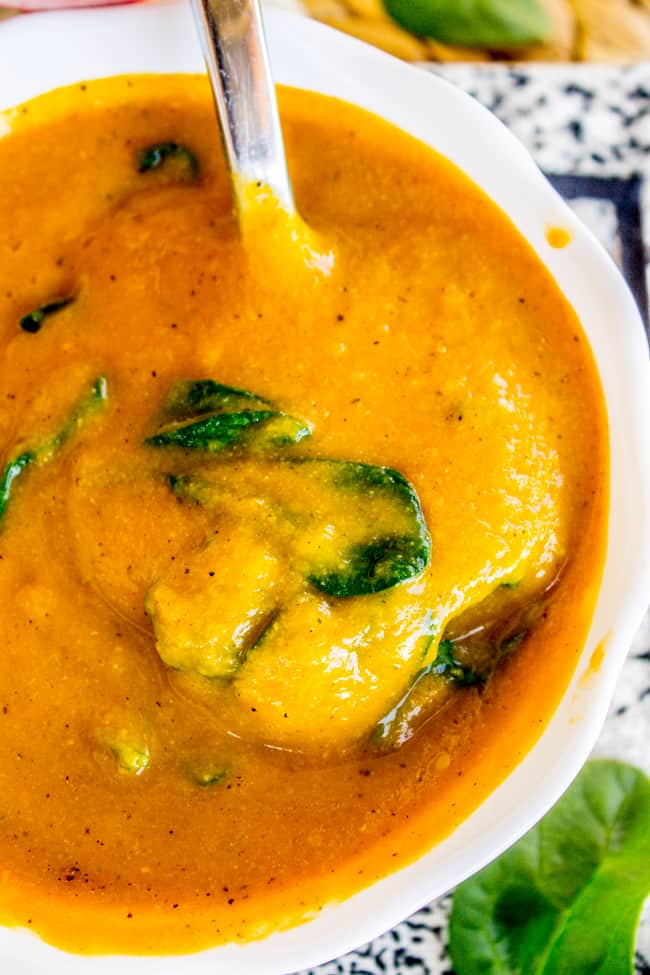 You'll love this Vegan Cauliflower Soup
Traditionally, Golden Cauliflower Soup is made creamy by blending cashews with the soup. But in this recipe, I used Almondmilk Cashewmilk Blend. Worked like a charm! It lends the same creaminess without adding the calories (and dairy!) found in traditional creamy soups. One more thing, I added the spinach last after I blended it, but after eating for a while I went back and pureed the spinach. Totally just personal preference, eat it however you like. My kids loved this one!
If you make this soup, snap a photo and share it on social using #TheFoodCharlatan! I'd love to see it :)
Facebook | Pinterest | Instagram | Twitter

Creamy Vegan Cauliflower Soup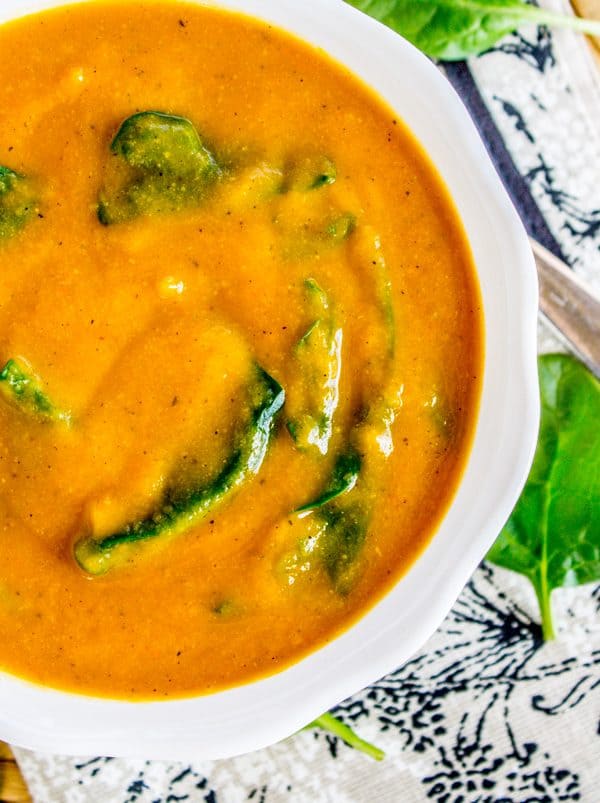 This creamy, rich soup gives you that awesome feeling that you just slurped up practically the whole day's veggie requirements (PS: It's vegan. And paleo.)
Ingredients
1

head

cauliflower

,

chopped

3

carrots

,

coarsely chopped

1

cup

celery

,

chopped

2

leeks

,

trimmed and chopped

2 to 4

cloves

of garlic

,

minced

2

cups

of carrot juice

4

cups

of water

,

*

1/2

teaspoon

nutmeg

2

teaspoons

salt

1/2-1

teaspoon

black pepper

1/2

teaspoon

basil

1/4

teaspoon

thyme

1/2

teaspoon

sage

dash cayenne pepper

1 to 2

cups

Unsweetened Original Almondmilk Cashewmilk Blend

4-5

handfuls

of spinach

,

chopped

optional: 1 tablespoon chicken bouillon

optional: shredded cheddar cheese

,

to garnish
Instructions
Chop all of the vegetables.* Mince the garlic.

Add carrot juice and water to a large soup pot. Add the vegetables and bring to a boil.

Add the nutmeg, salt, pepper, basil, thyme, sage, and cayenne. Add the chicken bouillon at this point, if you are using it. (All liquid in this soup can be replaced with chicken broth.)

Once the soup has come to a boil, reduce to a simmer and cook for 20-30 minutes, or until all the vegetables are tender.

Turn off the heat. (Add the spinach at this point if you are pretty sure you want it blended, and wait a couple minutes for it to wilt.)

Use an immersion blender to blend the soup. Or transfer the soup to a blender, leaving the center open to allow steam to escape. Blend in batches if necessary. Hold a towel over the top so you don't spray yourself with vegetable lava. Pour the soup back into the pot.

Turn the heat back on to medium and add the Almondmilk Cashewmilk Blend, and the spinach. Cook for a couple minutes until the spinach wilts.

Serve hot! (Sprinkle cheese on top of each bowl if you want.)
Notes
If you don't want to use carrot juice or can't find it, you can use chicken broth instead, or I'm sure vegetable broth would work too. I found the carrot juice in the refrigerated section in produce (like next to salad dressing).
*Wash your leeks!! See photos for how I chopped them. Right after you slit them in half, run them under a sink for a second. Leeks are diiiirty.
My friend Sarah tried this recipe with all chicken broth, and she pureed the spinach. It turned out bright green! Tasted great, she said. Just a heads up :)
Recipe adapted from It All Begins with Dirt, I think it's originally from Dr. Fuhrman.com.
Nutrition
Serving:
1
cup
|
Calories:
102
kcal
|
Carbohydrates:
21
g
|
Protein:
4
g
|
Fat:
1
g
|
Saturated Fat:
1
g
|
Polyunsaturated Fat:
1
g
|
Monounsaturated Fat:
1
g
|
Sodium:
974
mg
|
Potassium:
831
mg
|
Fiber:
5
g
|
Sugar:
8
g
|
Vitamin A:
22591
IU
|
Vitamin C:
65
mg
|
Calcium:
154
mg
|
Iron:
2
mg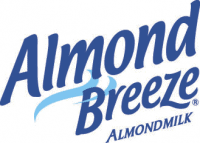 This post is sponsored by Blue Diamond Almond Breeze Almondmilk. Thanks so much for supporting the brands that keep The Food Charlatan up and running!
I love soup! Such an easy way to eat healthy: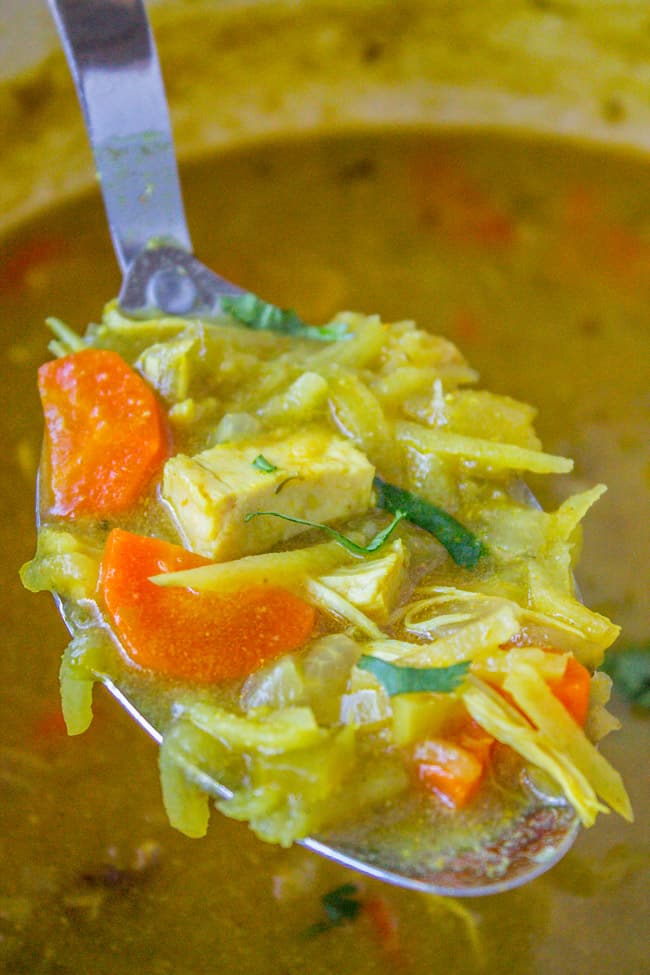 Beef Barley Soup << a top recipe on my site!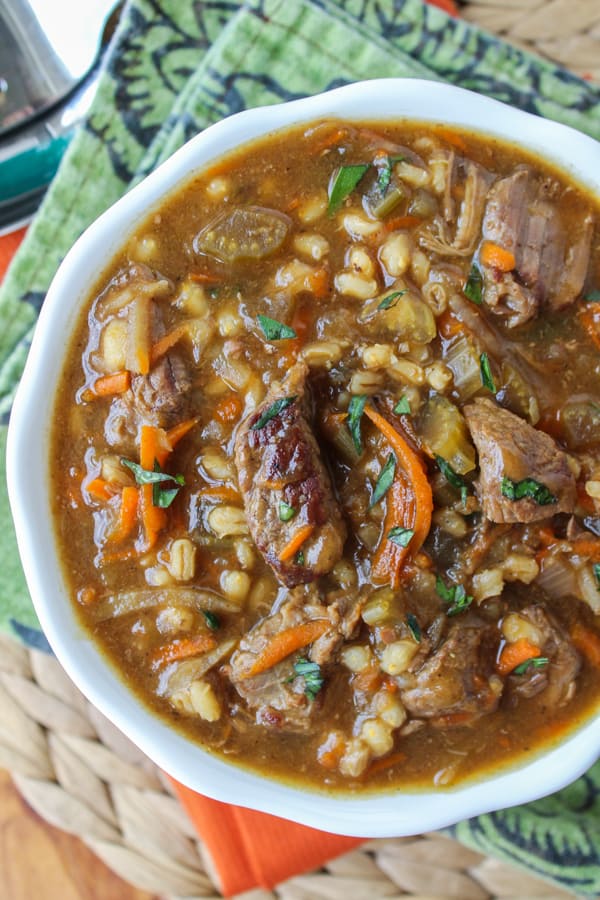 Kale, Chicken, and White Bean Soup with Parmesan Shavings: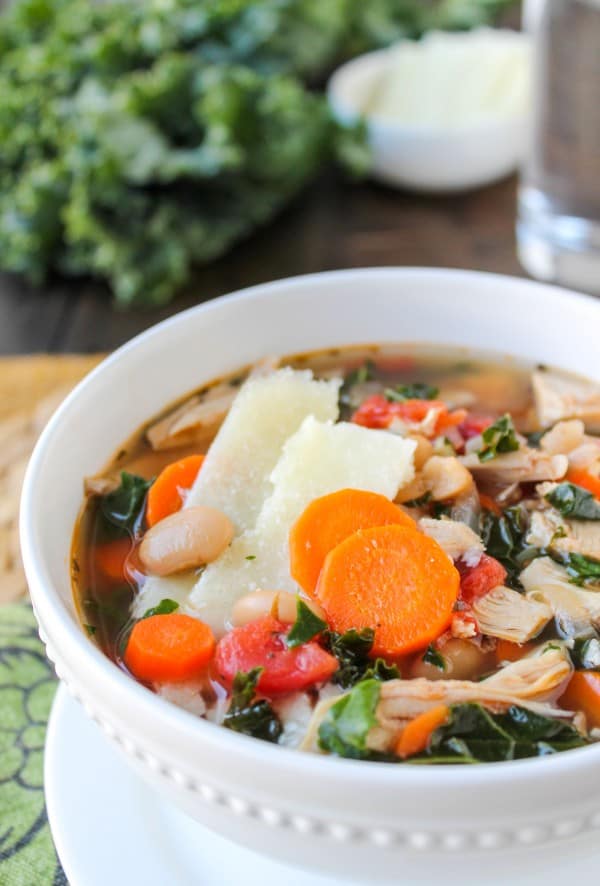 Easy Cheddar Cauliflower Soup << This is easily one of my own personal most-made recipes. Love this stuff.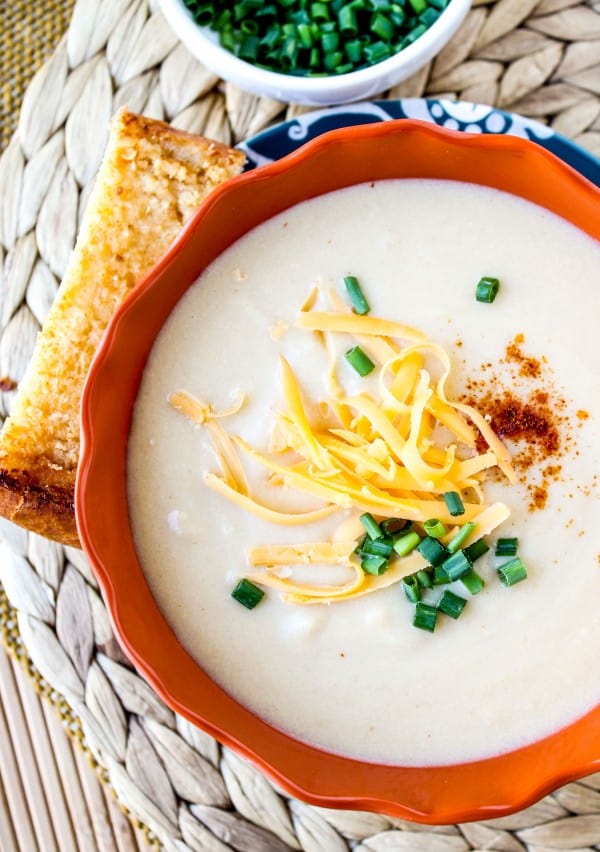 Roasted Butternut Squash Soup << another reader favorite!