Somebody's car alarm went off today. It doesn't usually bother me a ton because I can tune it out pretty well. But this one was going forever. And it was so loud. Just when I was gearing up to be seriously irritated with whoever was not paying attention, I look down at the floor to see Charlotte playing with my keys.
Yup. Definitely my car.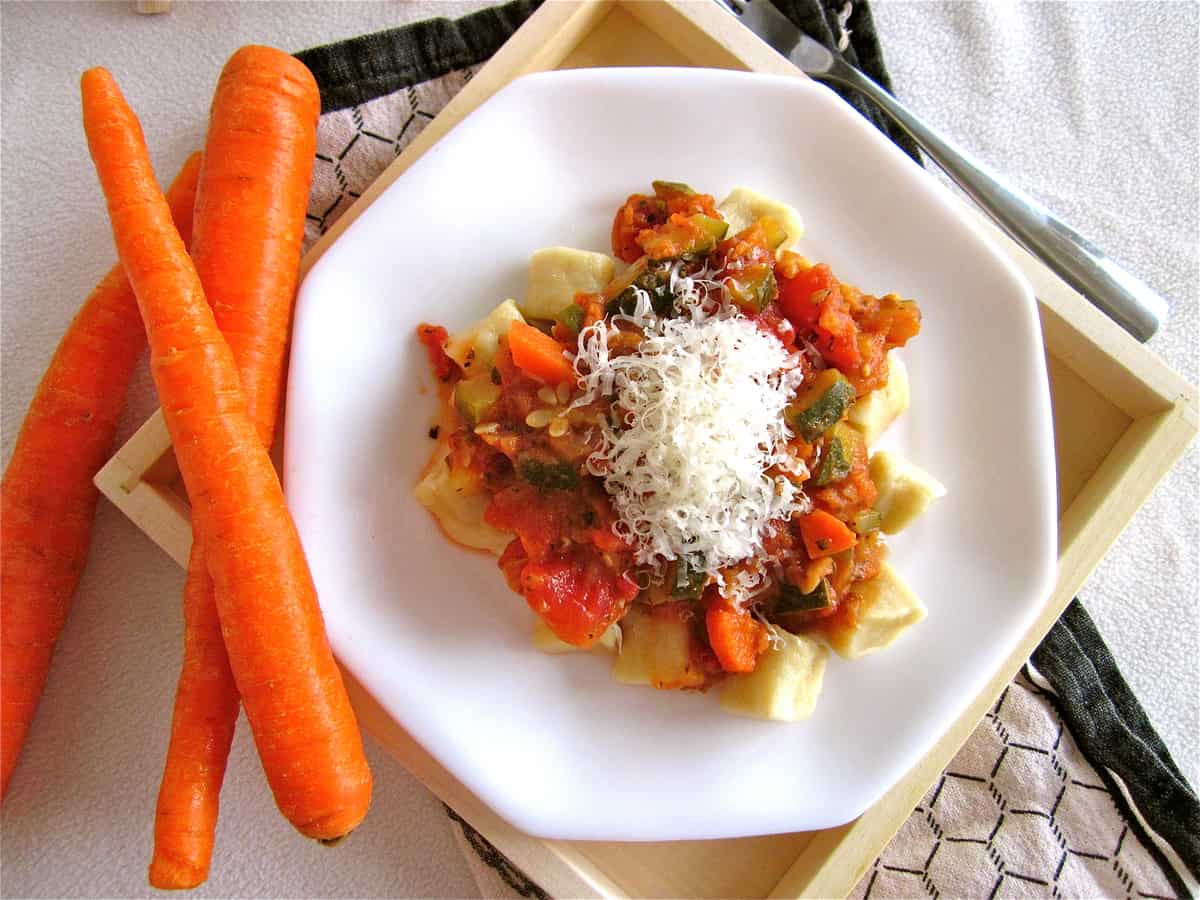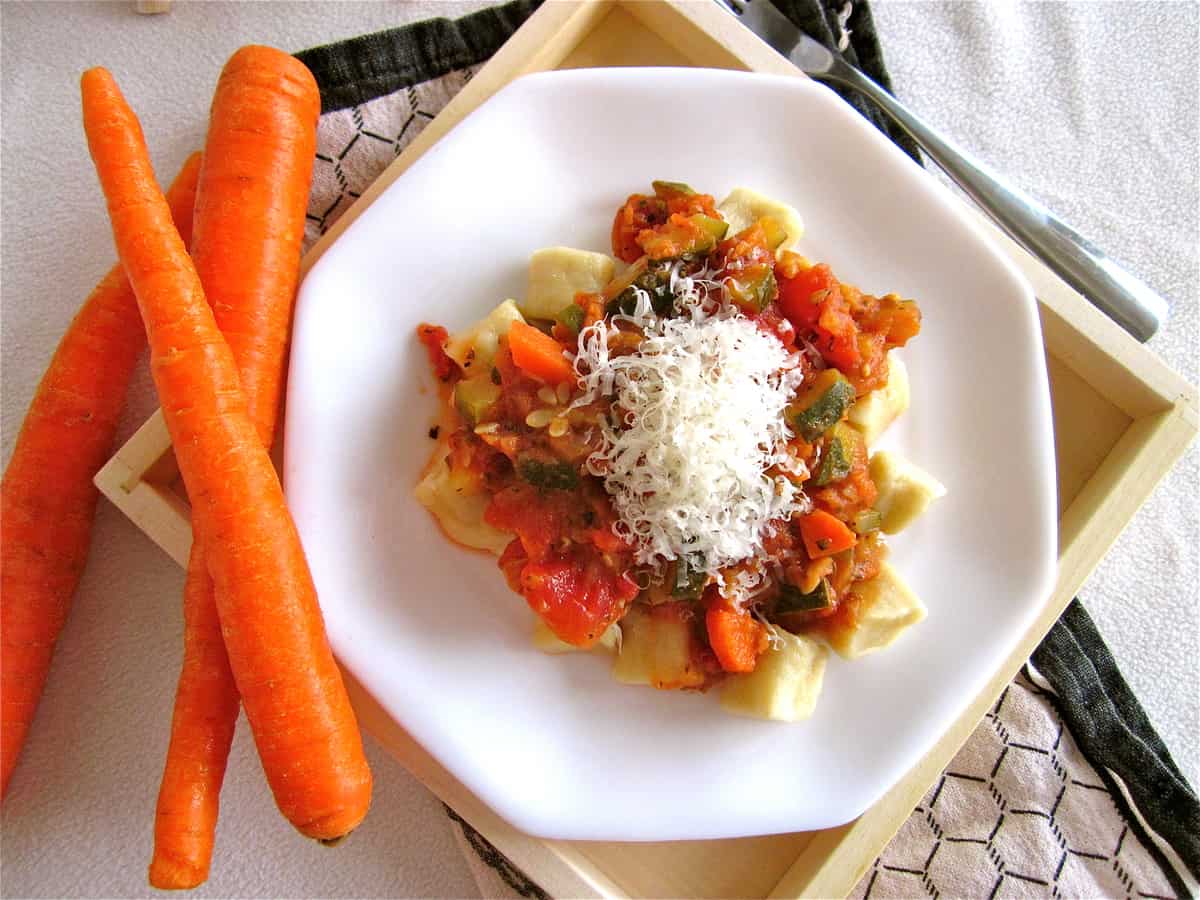 And then I lost a fight with the business end of a spiral-notebook-wire. (This sounds lame, because it is. All my injuries are from wussy things like peek-a-boo and folding underwear.) Charlotte and I were playing peek-a-boo in line at the post office with said notebook. She was ramming it into my face to "hide" me, and ended up dragging an extremely sharp piece of metal down my cheek.
I didn't know it was bleeding until I got to the mirror in my car. The lady at the post office was probably a little freaked that the girl with the cute baby had blood dripping down her face. Does telling someone they have blood on their face fall under the same category as telling someone they have something in their teeth?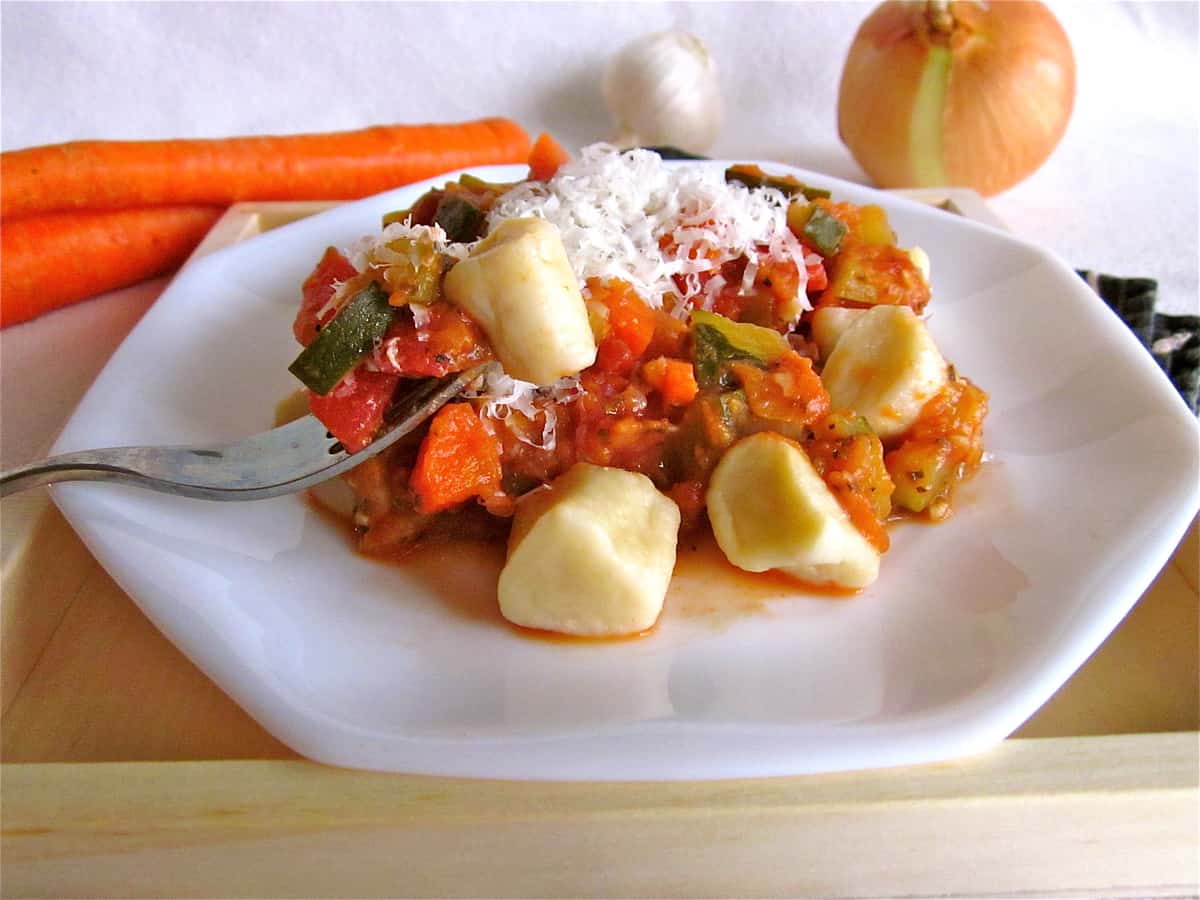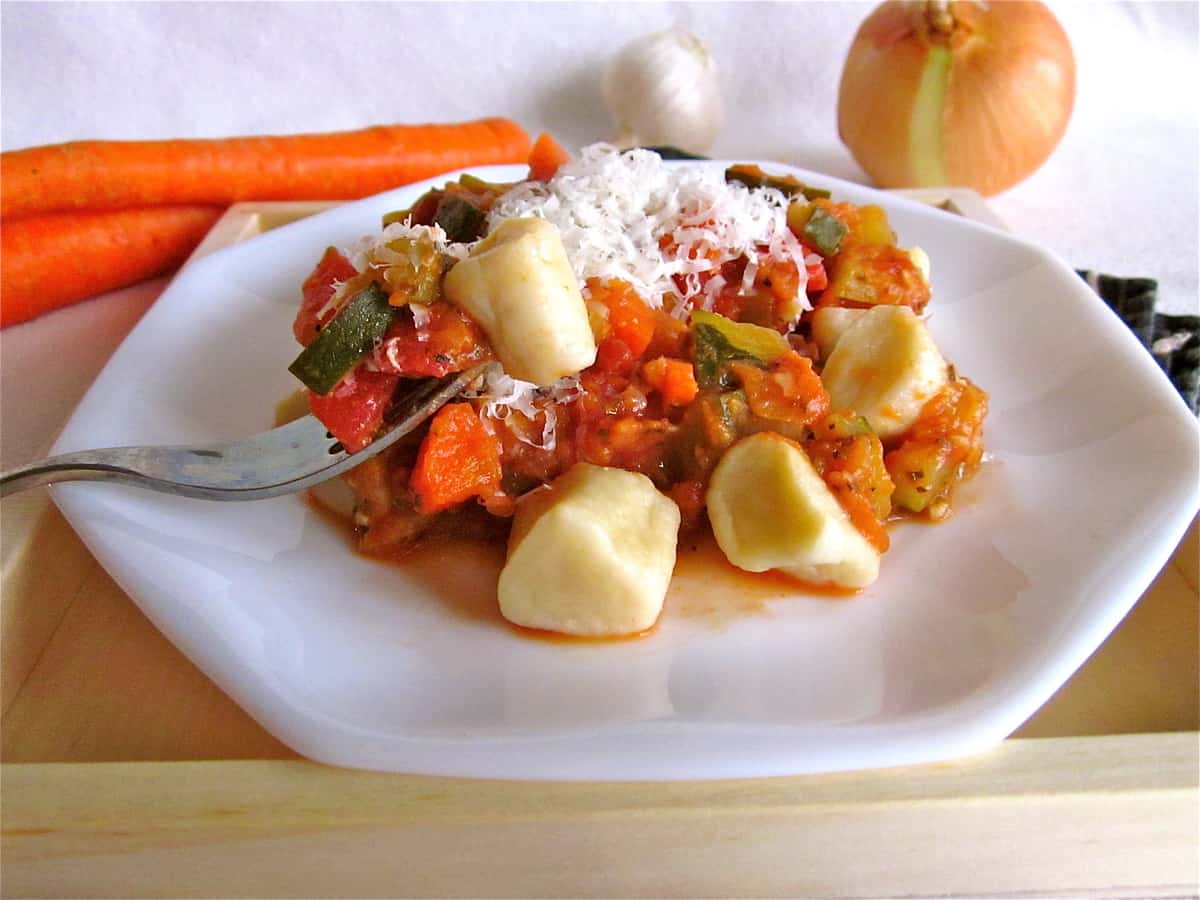 Well until it heals I'll just tell anyone who asks that I got in a catfight at the post office. That sounds way more hardcore than a peek-a-boo injury.
This is another recipe from my brother Nathan. He gets major points for this one. I had never made gnocchi before, but it was super easy. And the sauce is incredible. I want to eat it on everything. It would be really good on regular ol' pasta. Or even cut back on the tomato sauce and serve it as a side. It is seriously so good.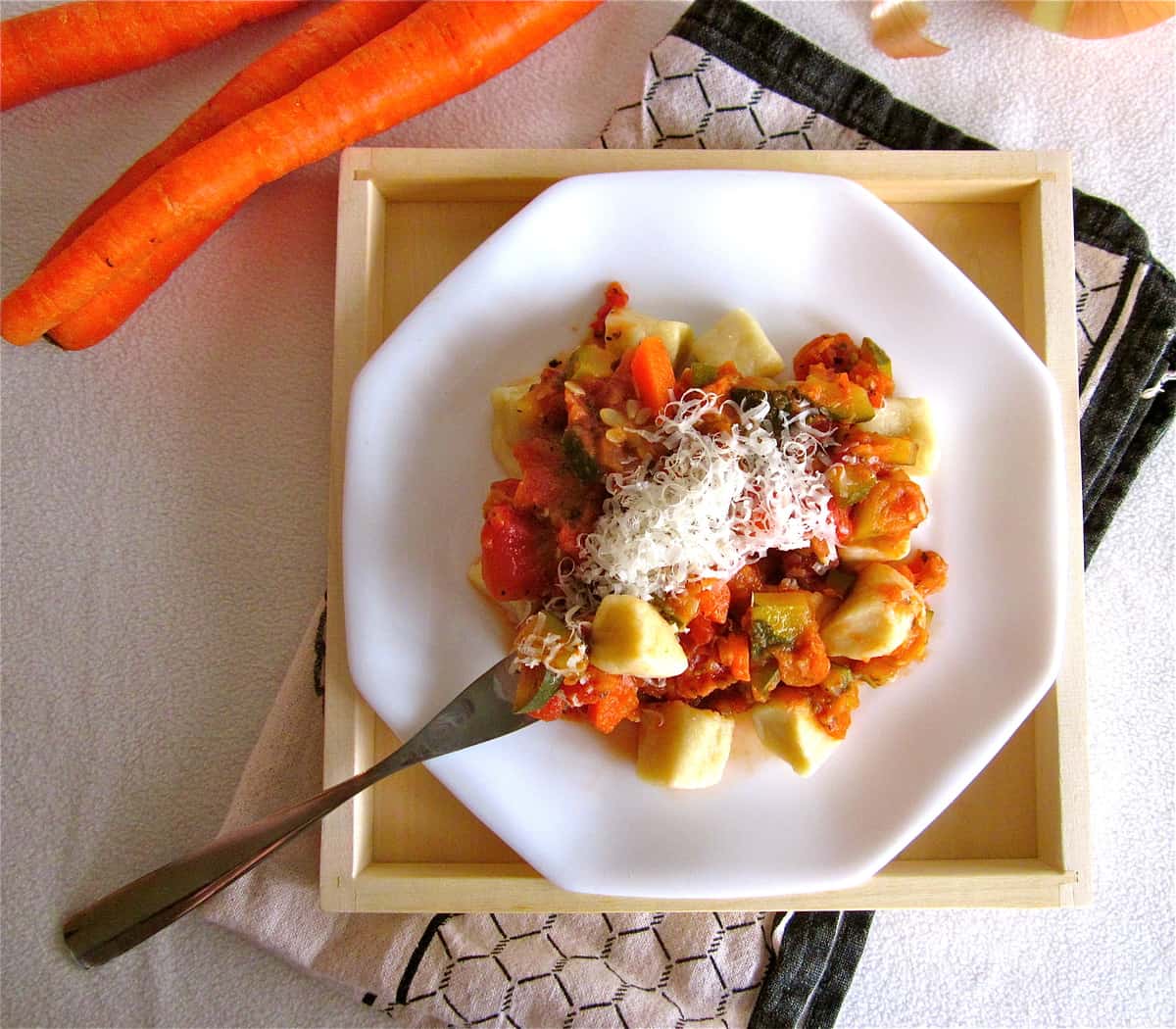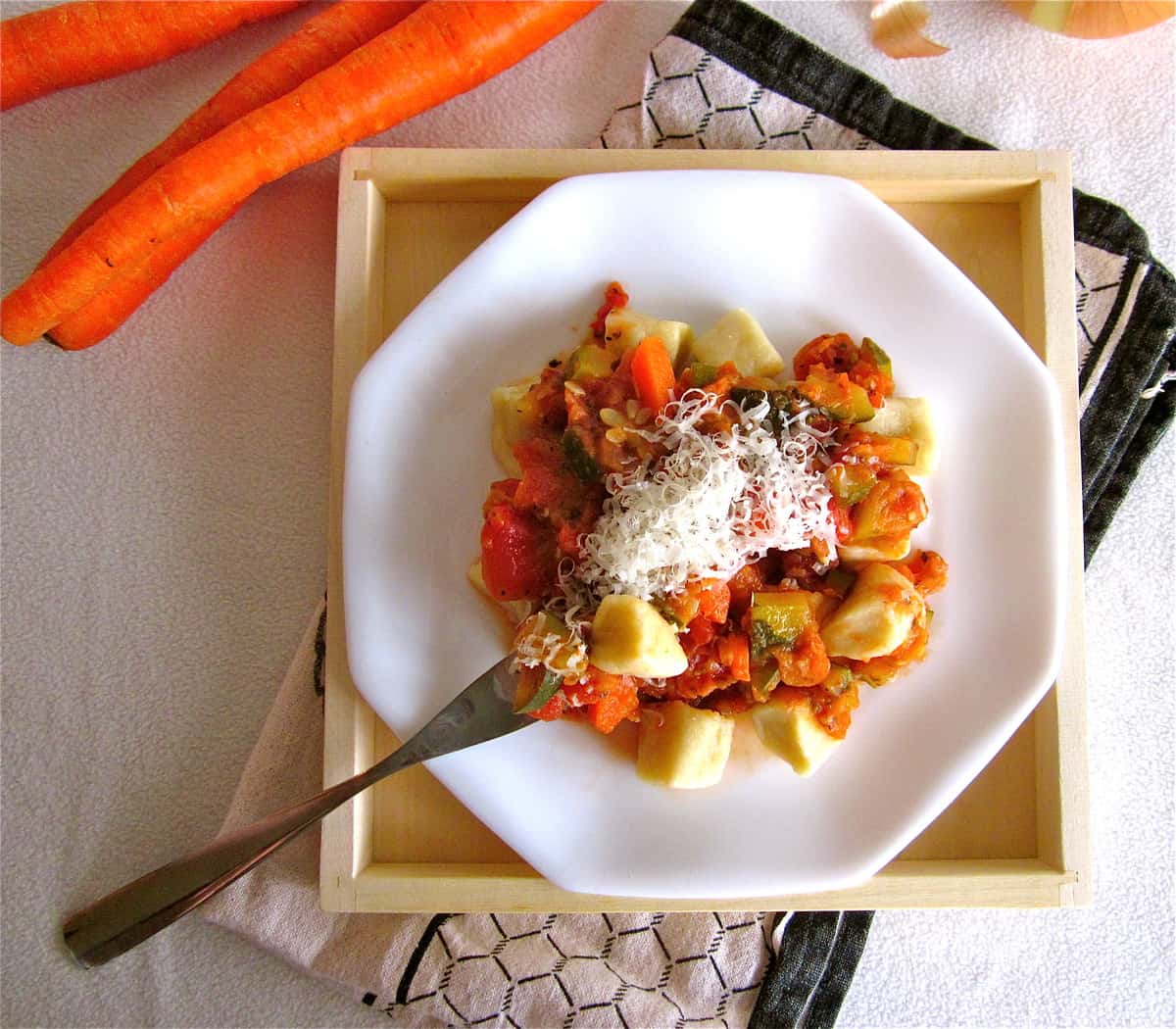 Gnocchi with Carrot and Zucchini Red Sauce
Source: Nathan's genius brain
1-2 potatoes (enough to make 1 cup mashed)
1 1/2 to 2 cups flour
1 egg
water for boiling
4 teaspoons salt
2 carrots, peeled and chopped
2 zucchini, chopped
4 tablespoons butter (1/2 stick)
1 medium onion, chopped
2 cloves garlic, minced
1 teaspoon salt
1 teaspoon oregano
1 1/2 teaspoons basil
12 ounces tomato sauce (most of a 15-oz can or 1 1/2 8-oz cans.)
1 15 oz can diced tomatoes, drained
fresh parmesan cheese, to garnish
For the gnocchi:
Peel and chop potatoes. Place in a saucepan, cover with water, and boil until tender (10-15 minutes). Drain and mash. Measure out one cup and place in a mixing bowl. Allow to cool for a few minutes. Add 1 1/2 cups of flour and egg. Mix until it starts to come together, then knead with your hands until a stiff dough has formed. Add more flour as necessary, up to 2 cups total. You will need more or less flour depending on how much water your potatoes absorbed. (I realize now that this step would be a lot easier in a food processor. Let me know if you try it.)
Roll into "snakes" with a diameter of 1/2 – 3/4 of an inch. Cut into pieces 1/2 inch wide. (Here's what I did: Divide the dough into 3 or 4 pieces and roll them out so they are long and skinny. Then cut into long strips and roll the strips in your hands to make a snake. Then cut into 1/2 inch pieces.)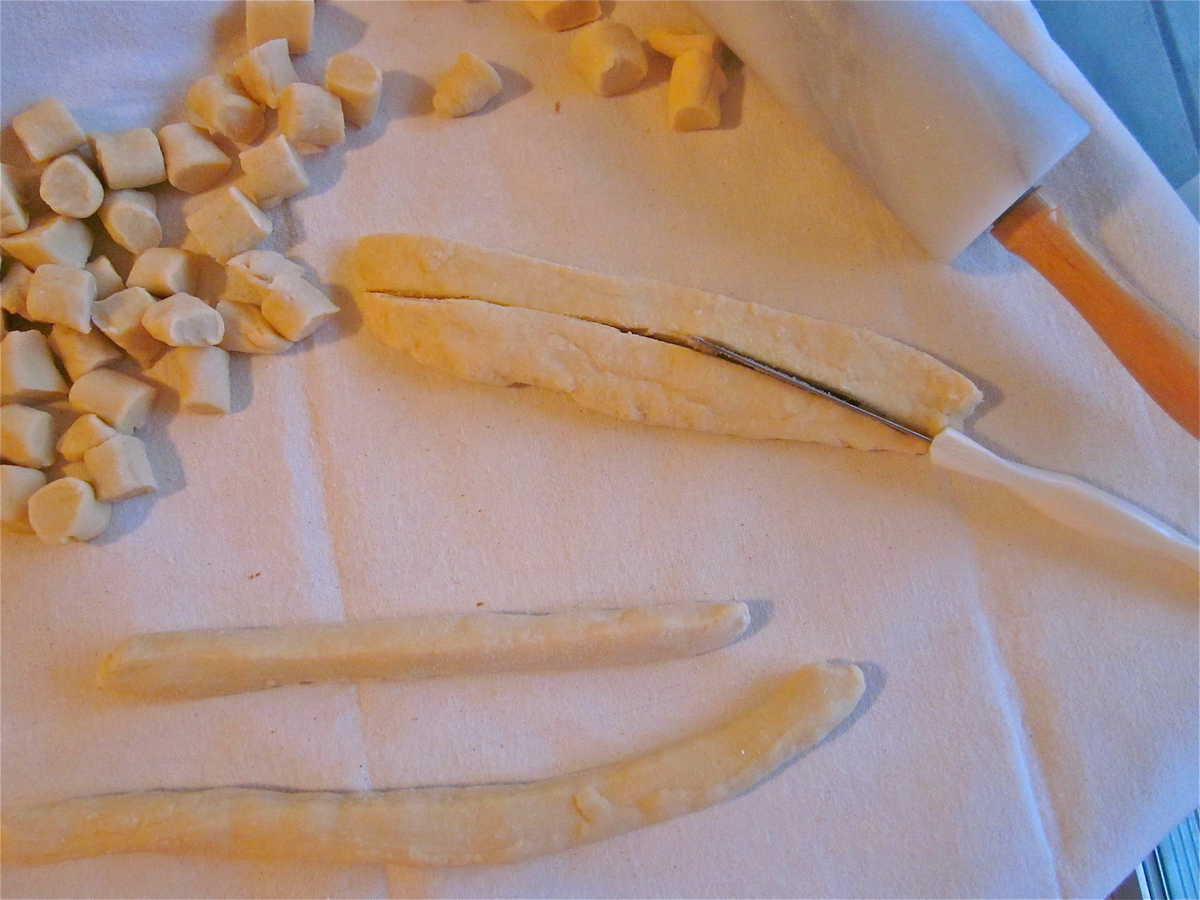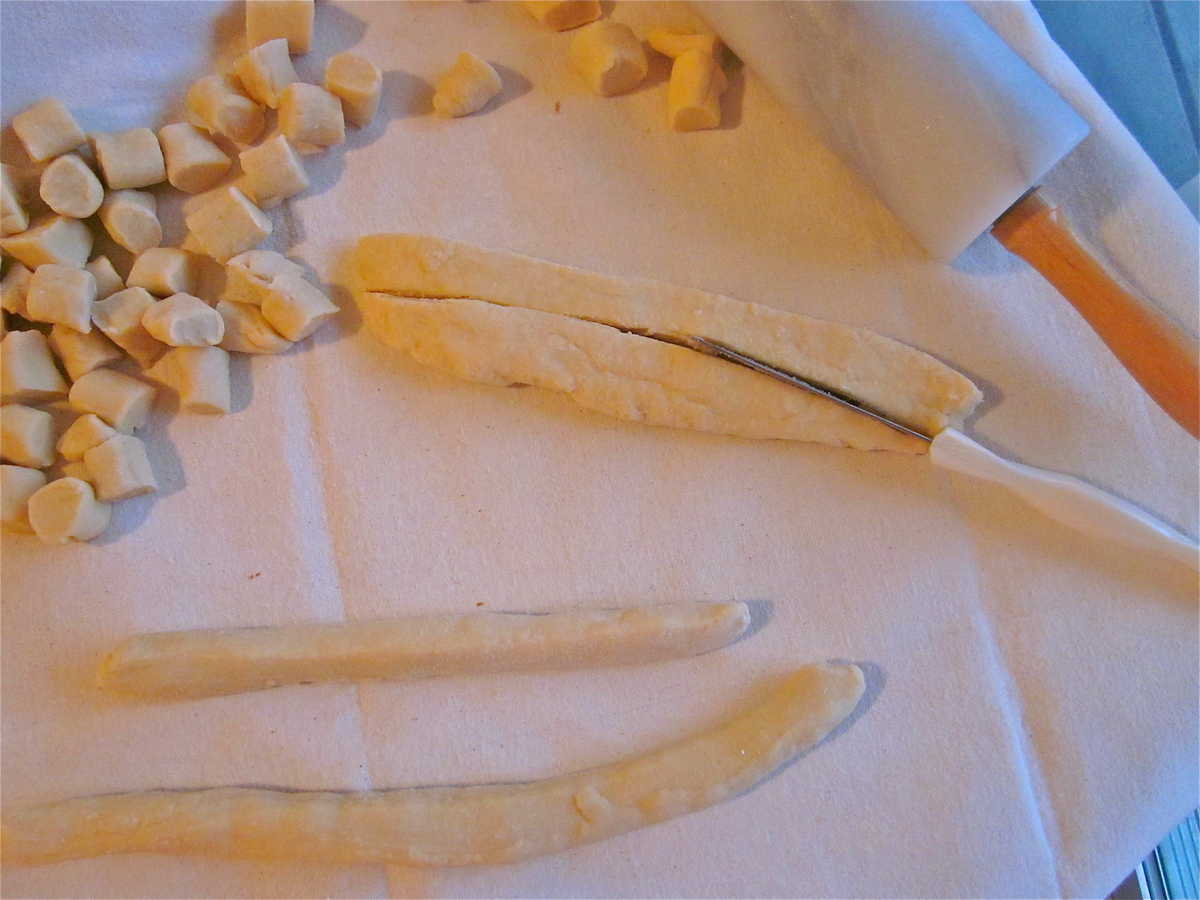 In a large pot, bring about 10 cups of water to a boil. Add 4 teaspoons of salt. Add the dough carefully so that you don't splash yourself with boiling water. (Not that I'm speaking from experience or anything.) I ended up adding them just a couple at a time. The gnocchi will rise to the surface when they have cooked; let them boil for another minute or two before removing with a slotted spoon.
For the sauce:
Steam the chopped zucchini and carrots. Put about 2 inches of water in a pot and bring to a rapid boil. Place vegetables in a steam basket over the boiling water, with the lid on. Steam until they are tender but not mushy, about 10-11 minutes, depending on how big you chopped them. I chopped my carrots a little smaller than the zucchini because I knew they would cook slower. (If you don't have a steamer, a colander over a pot of boiling water would work. Just be sure to cover it somehow.)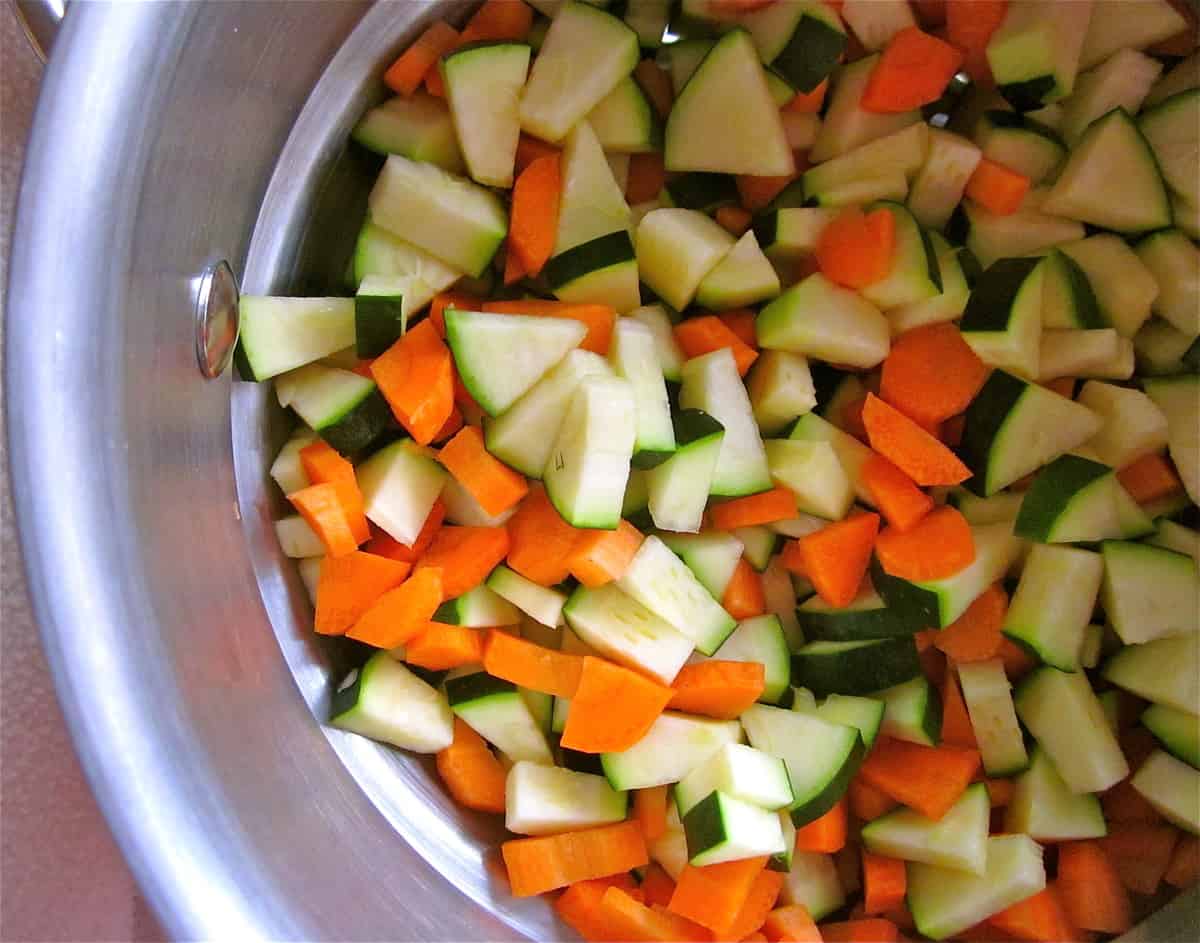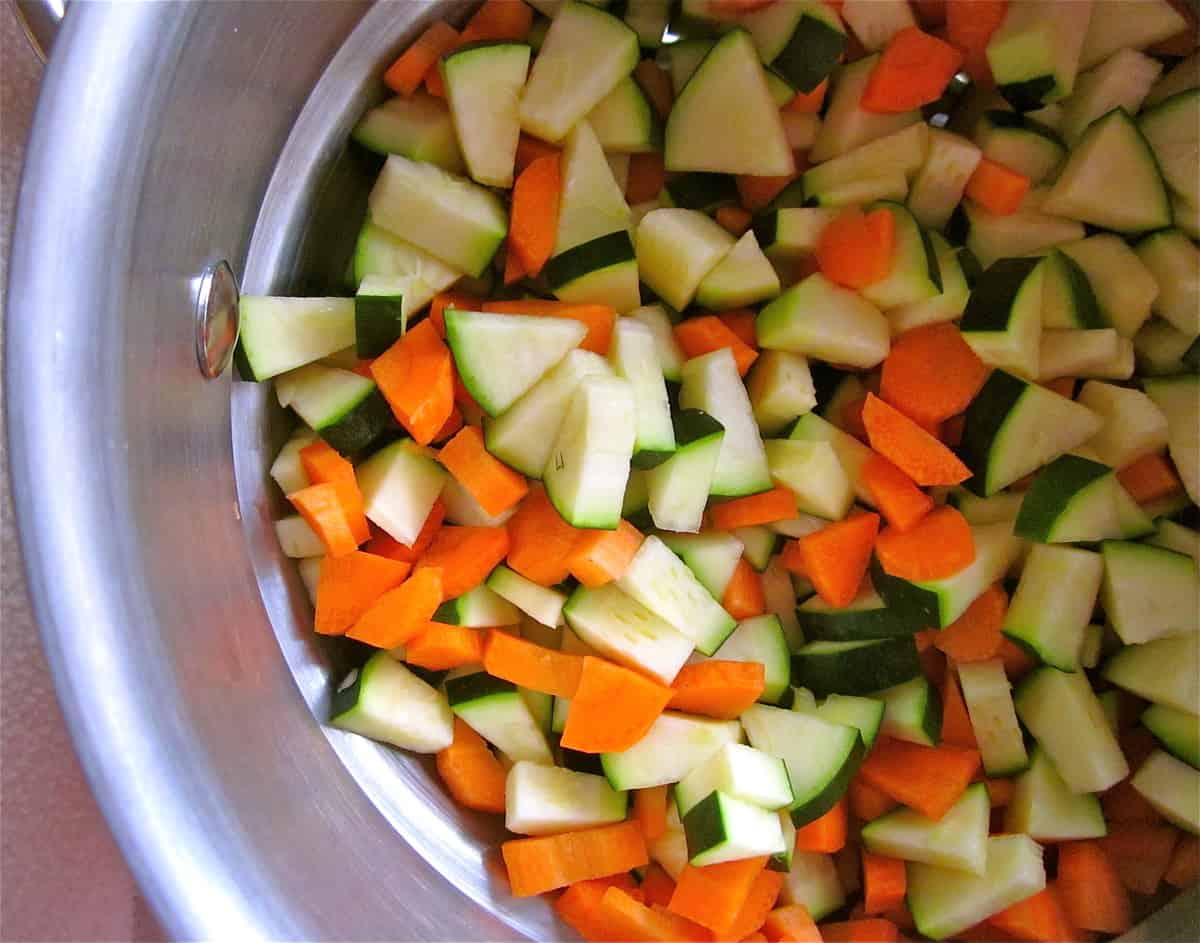 Meanwhile, melt the butter in a saucepan. Add the chopped onion and saute until translucent, about 3-5 minutes. Add garlic and continue another 30 seconds. Add the zucchini and carrots. Season with 1 teaspoon salt, oregano, and basil. Add the tomato sauce and the drained diced tomatoes. Simmer for a few minutes until it reaches the consistency you like.
Serve with gnocchi and garnish with fresh parmesan cheese.
Makes 4-5 servings.