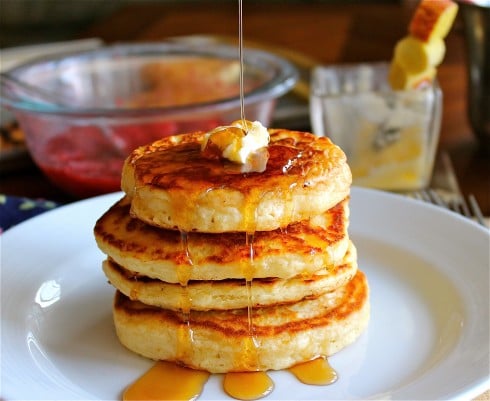 Eric just told me that when he was a kid, he went through a phase where he decided that the best way to dry off after a shower was by shaking himself like a dog. I would pay quite a bit to see scrawny-naked-10-year-old-Eric shaking his booty til he got dry. His parents should have installed a disco ball and strobe lights in the bathroom.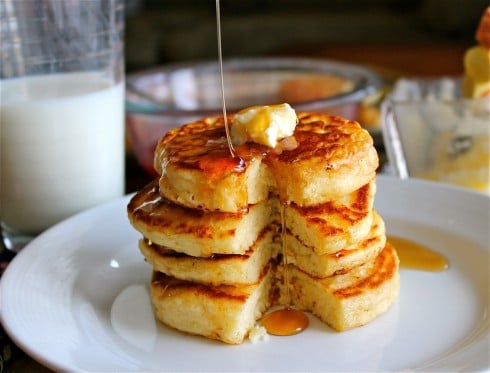 Hope you all had a great Valentine's Day! There are lots of ways to show love to people, but 9 times out of 10 I choose to show that love through food. That way I get some lovin' too. Call me selfish. So I got up early and cooked myself some pancakes for Eric and Charlotte. With strawberries and nutella and syrup. I love how we call this an acceptable breakfast.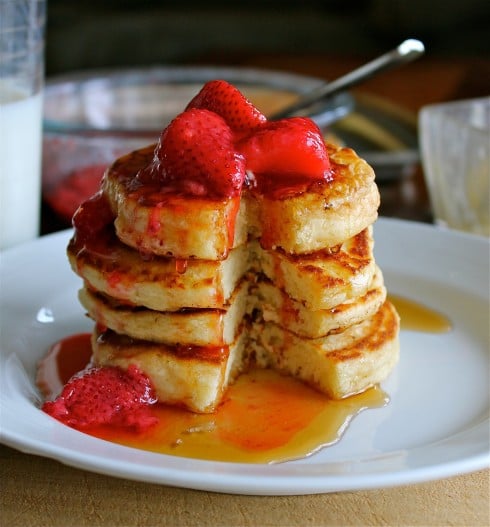 These are some good, fluffy, buttery, old fashioned pancakes. I like them because not only do they taste amazing, but they are also sturdy. I am the world's worst pancake-flipper. I always manage to destroy them. And forget about making them into a perfect circle. They always end up looking like boomerangs, and then when I flip them I get batter all over the cooked side. But not THESE pancakes. They are perfectly flippable, even for inept people like myself. They are moist and flavorful, and they puff up a ton, which I love.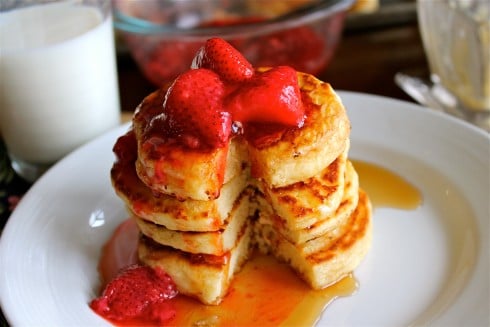 Good Old Fashioned Pancakes

Source: Allrecipes.com
Serves 4
1 1/2 cups all-purpose flour
3 1/2 teaspoons baking powder
1 teaspoon salt
1 tablespoon white sugar
1 1/4 cups milk
1 egg
3 tablespoons butter, melted
more butter for frying
In a large bowl, sift together the flour, baking powder, salt and sugar. In a separate bowl beat the milk and the eggs until smooth. Make a well in the center and pour in the milk mixture and melted butter; mix until combined, but don't overdo it.
Heat a lightly buttered griddle or frying pan over medium heat. Pour or scoop the batter onto the griddle, using approximately 1/4 cup for each pancake. Flip when the bubbles on the top start to pop. Brown on both sides and serve hot.