These Oven Roasted Potatoes with Bacon and Parmesan are smothered with bacon and cheese and baked to a deliciously soft yet crunchy texture! They are a delicious, easy side dish, or hey, maybe even a main course!
My 9-year-old niece Lina had her birthday last weekend. After listening to days and days of extravagant party plans (a bouncing castle, free puppies for all guests, an in-house Taylor Swift concert, etc.), my sister Nikki (Lina's mom) decided to assign her a budget. She let her plan out and buy everything–food, decorations, favors–for her own party.
At first, Lina wanted to have pizza. But not "cheap, gross" pizza, she said (do I see a budding foodie here?). She wanted good pizza. Nikki told her that she could get a decent take and bake for $8, but that she would need to get several to feed all her guests. In what could possibly be identified as the fastest turnaround in history, Lina responded to this information with, "What's the cheapest food there is?" "Eggs." "Okay. We're having eggs."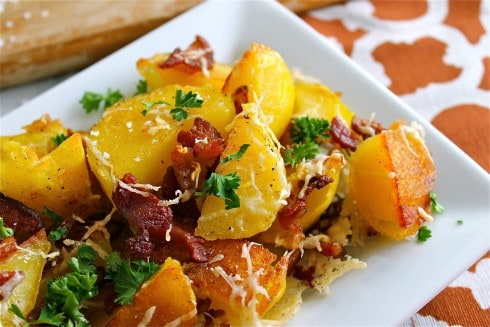 And that is exactly what she did. She spent her entire budget on chocolate, shamrock tattoos, and green and pink hair extensions (except for the $1.50 eggs and the $1 loaf of bread), and all the kids ate fried eggs and toast at her birthday party. And guess what? They loved it. Awesome.
Isn't it refreshing to embrace simplicity sometimes? I often feel overwhelmed when I get on Pinterest and hear about people sewing their own delivery gowns so they don't have to wear the ugly ones provided at the hospital ("Don't forget to paint your toenails to match!" Seriously? Who can bend down that far when they're 9 months pregnant??) I know I sound like a hypocrite because sometimes I exert a ridiculous amount of effort in the name of food, but I actually enjoy it, so I don't think it's weird. (I suppose there are some freaks out there who like to sew cute hospital gowns though…touche.) I hope I can remember to let my kids do what they want to do and not what Pinterest says I should do. Hopefully this won't be too much of a struggle. I mean, who doesn't like fried eggs?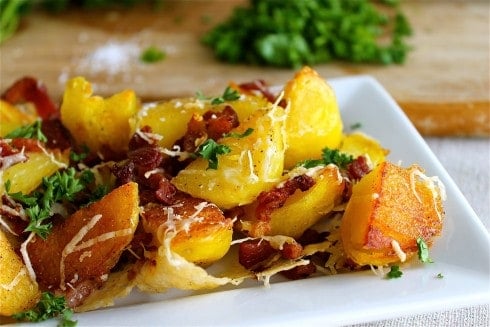 Anyway. Let's talk about these potatoes. Or drool over them, if you're feeling primitive. It shouldn't be that hard…potatoes smothered in bacon and cheese? It's not like this is a new idea. But it certainly hasn't gotten old yet. These were soooo good, I hardly ate anything else until they were gone. This would make a great side for Easter next week! (I know, WHAT??)

Oven Roasted Potatoes with Bacon and Parmesan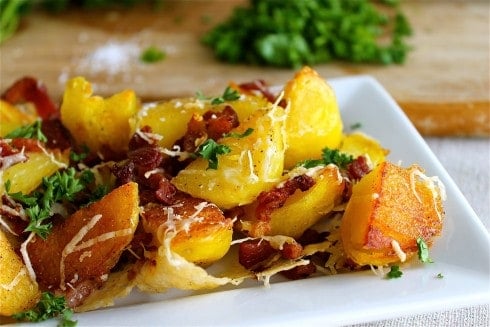 These Oven Roasted Potatoes with Bacon and Parmesan are smothered with bacon and cheese and baked to a deliciously soft yet crunchy texture! They are a delicious, easy side dish, or hey, maybe even a main course!
Ingredients
3 & 1/2

pounds

Yukon Gold Potatoes

1/2

pound

hickory smoked bacon

,

thick sliced

2

cloves

garlic

,

minced

1/4

cup

Parmesan

,

freshly grated

1

tablespoon

olive oil

coarse salt

fresh ground pepper

1/2

cup

fresh parsley

,

chopped
Instructions
Scrub potatoes. If you intend to peel them, do that now (you can just leave the skins on if you want though.) Place whole potatoes in a large pot. Fill pot with water until potatoes are covered by a couple inches of water. Bring water to a boil and cook for 12-15 minutes or until potatoes are fork tender.

Now it's time to make a bacon choice. You can slice or cut it with scissors before you cook it, or crumble it afterward if that's how you roll. If you slice it beforehand, do yourself a favor and stick it in the freezer for 10 minutes or so...makes it a lot easier.

Cook bacon in a skillet until golden, but still flexible. You don't want it to get crunchy. Remove cooked bacon onto a plate lined with paper towels. Crumble now if you haven't yet. Reserve the bacon drippings.

When potatoes are fork tender, drain and allow to cool enough to handle.

Preheat the oven to 425°. Mince the garlic and parsley, and grate the Parmesan. Set aside.

Prepare the baking sheet by brushing 1 tablespoon of olive oil and half the bacon drippings on the bottom of the pan. I used an 11x17 inch jelly roll pan and it was perfect.

Once the potatoes are cool, cut them in half, or quarter if potatoes are large.

Place cut side down on prepared pan and sprinkle with course salt and fresh ground pepper. Place in 425° oven for 35-40 minutes. Rotate the pan halfway through the baking time to ensure an even color.

Reduce temperature to 375°, turn potatoes over and sprinkle with the bacon, garlic, Parmesan, and more salt and pepper if you want.

Return to oven for an additional 15-20 minutes or until potatoes are evenly browned and cheese is melted. Remove from oven and sprinkle with fresh parsley. Then stuff!
Nutrition
Calories:
602
kcal
|
Carbohydrates:
71
g
|
Protein:
18
g
|
Fat:
28
g
|
Saturated Fat:
9
g
|
Polyunsaturated Fat:
4
g
|
Monounsaturated Fat:
13
g
|
Trans Fat:
1
g
|
Cholesterol:
42
mg
|
Sodium:
504
mg
|
Potassium:
1837
mg
|
Fiber:
9
g
|
Sugar:
3
g
|
Vitamin A:
710
IU
|
Vitamin C:
89
mg
|
Calcium:
138
mg
|
Iron:
4
mg