This cherry-studded flag cake is the perfect patriotic dessert to bring for a Memorial day or Fourth of July barbecue! Blueberries and cherries on top are super easy and so festive!
You guuuuyyyyysss! So many exciting things are happening this week! First things first: this will be the last post I publish with this blog design. Next time you visit, things will be looking a little different! I feel like I need one of those signs you see when products get new branding. "New look, same great taste!" All the goods will still be here, just easier to find and prettier. (Don't get me wrong, I like my blog design, I'm just ready for something new!)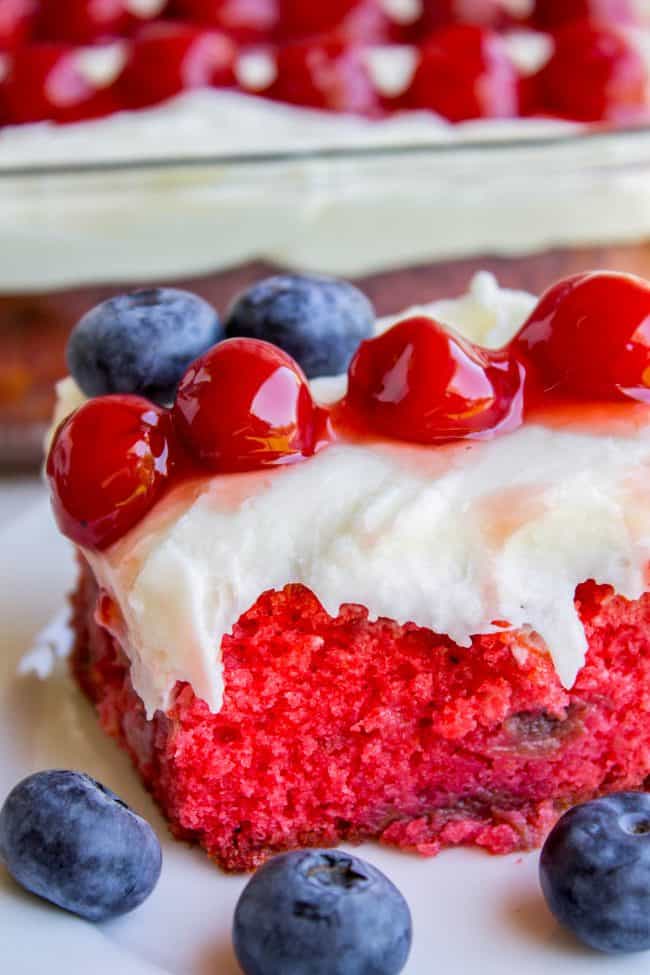 Secondly, I started a Food Charlatan Facebook group! (I know, you're confused, don't I already have that? No silly, that's a Facebook PAGE. We are getting into social media capstone courses here.) The Facebook group is a place where YOU guys can swap recipes, get dinner ideas, and chat about food to your hearts content. And I will be there to answer recipe questions. It will be lots of fun! Join here so that I can approve you!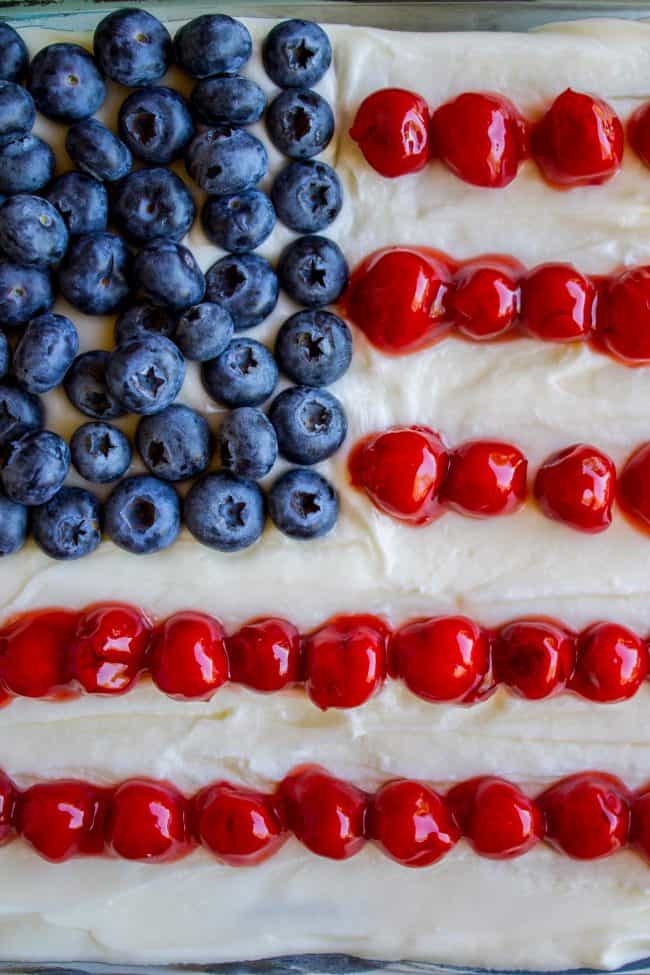 My next door neighbor Nina is from the Ukraine. She told me last week that Sunday marks the 25th anniversary of the day she and her husband came to America. They are throwing an American party to celebrate, and everyone has to bring an American dish. (She has 5 grown children and many grandchildren.) I love that they are having a party to celebrate coming to the US! I showed her these pictures and told her you can't get much more American than this; a box of cake mix with a flag on top? 'Merica.
This perfectly pink cherry flag cake is a new take on this Peach Cake with Brown Sugar Frosting, which was a new take on this Blackberry Cake with Cream Cheese Frosting. It is so easy, and so cherry. There are tart cherries in the cake, cherry jello (dry!) in the batter, in addition to the cherry pie filling on top of the cake. My other neighbor Becca took one bite and said, "This cake tastes like summer." She's totally right!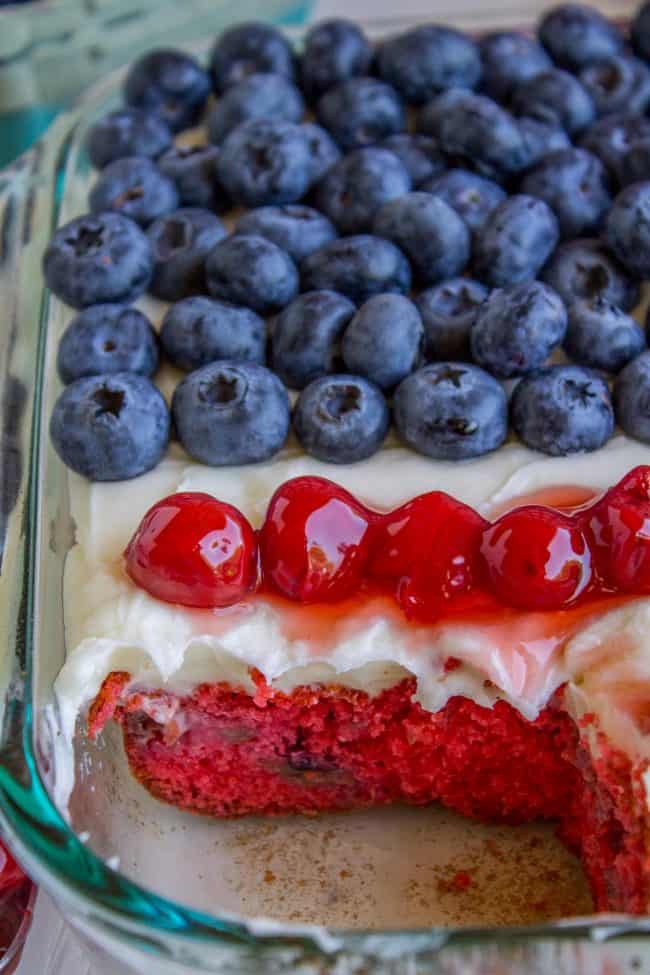 With Memorial Day coming up, I wanted to make a patriotic cake you can bring to any barbecues or get togethers you might be heading to soon. I feel like patriotic desserts are appropriate for the entire summer. Memorial Day is in May, Flag day is in June, and then of course the Fourth of July. And what do you have to offer us, August? Nothing! So let's just extend the patriotic love on until fall, shall we? It's gonna be a party!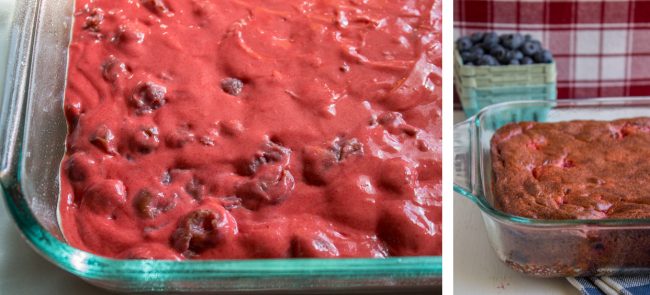 This cake is ridiculously pink, and bakes up ridiculously brown. I promise it tastes delicious and not burned, dry, or tough, I promise. This cake is SO moist and soft.
Ironically, Eric and I will not be in America to celebrate Memorial Day. We will be in Australia! (Should I have made this into an Australian flag?? :) We are leaving the kids at home with my dear saint of a mother. (Bless you, mom. I will bake an entire flag cake just for you.) Have any of you been to Australia? Tell me your favorite spots in Brisbane, Airlie Beach, and Sydney! We are so excited.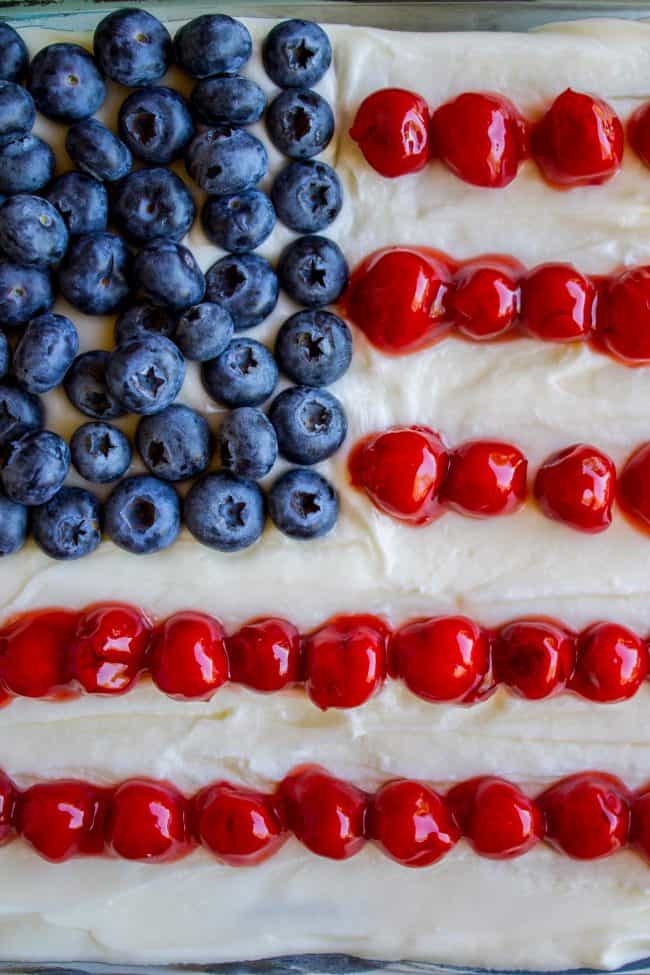 The new design is going live on Friday! I can't wait to show you guys. I think you're going to love it. I know I do!!
Facebook | Pinterest | Instagram | Twitter
One year ago: Marshmallow Creme Stuffed Chocolate Chip Cookies
Three years ago: Dark Chocolate Waffles with Ganache and Strawberries
Six years ago: Maple Bars

Patriotic Flag Cake with Blueberries and Cherries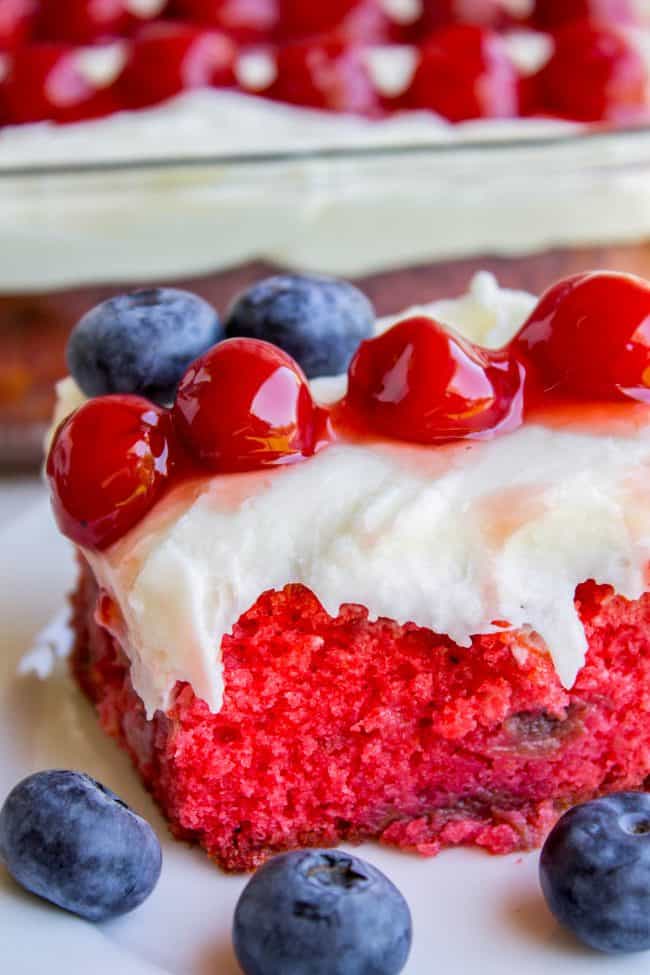 This cherry-studded flag cake is the perfect patriotic dessert to bring for a Memorial day or Fourth of July barbecue! Blueberries and cherries on top are super easy and so festive!
Ingredients
For the cake
1 (15.25-oz)

box

yellow cake mix

4

eggs

1

cup

oil

1 (6-oz)

box

cherry Jell-O

,

(dry, not made into jello)

2 (14-oz)

cans

red tart cherries

,

drained
For the frosting
1/2

cup

salted butter

,

softened (1 stick)

1 (8-oz)

package

cream cheese

,

softened

1

pound

powdered sugar

,

about 4 cups

1-2

tablespoons

milk

1/4

teaspoon

salt

1/4

teaspoon

coconut extract

,

optional
Flag topping
blueberries

1

can

cherry pie filling
Instructions
Preheat the oven to 350 degrees F. Grease a 9x13 inch cake pan. Set aside.

In large bowl or stand mixer, beat together cake mix, eggs, oil and dry Jello mix on high speed for about 2 minutes, scraping the sides and bottom.

Open the two cans of cherries and drain well in a colander. I did not add all the cherries to the cake, although I'm sure you could. I used about 1 and 1/2 cans of cherries, and I ate the rest. (Good in smoothies or on top of Greek yogurt!)

Fold in the cherries with a spatula. Pour into the prepared 9x13-inch pan. Use a very sturdy spatula to scrape it all in. You might think you are working with an enormous wad of chewed bubblegum at this point, but don't worry, it turns into a delicious cake, I promise.

Bake at 350 until fork inserted in center comes out clean, about 40 minutes. The cake will be rather brown on top. Browner than a normal cake. Cover it with foil if you're worried about it. Test the cake with a toothpick to see if it is baked completely. Dry toothpick=finished cake.

Allow cake to cool completely. I stuck mine in the freezer.

In a large bowl, make frosting by beating cream cheese and butter together until smooth. Gradually add powdered sugar. Add milk and salt. Add in the coconut extract if you are using it.

Frost cake evenly.

Start decorating with the blueberries first. Use the spatula to draw a line in the frosting where you think the blue corner of your cake should be. Line the edges with blueberries, then dump the rest in. (You could line them all up, but I'm pretty lazy I guess.)

Pour the cherry pie filling into a bowl. Carefully use a spoon to add one cherry at a time for the stripes. I actually used the colander to drain out some of the pie filling liquid.

I recommend serving this cake on the day you make it, but it could easily be made a few hours ahead of time and refrigerated.
Nutrition
Serving:
1
g
|
Calories:
573
kcal
|
Carbohydrates:
82
g
|
Protein:
5
g
|
Fat:
27
g
|
Saturated Fat:
8
g
|
Polyunsaturated Fat:
5
g
|
Monounsaturated Fat:
12
g
|
Trans Fat:
1
g
|
Cholesterol:
72
mg
|
Sodium:
402
mg
|
Potassium:
204
mg
|
Fiber:
2
g
|
Sugar:
58
g
|
Vitamin A:
539
IU
|
Vitamin C:
5
mg
|
Calcium:
91
mg
|
Iron:
1
mg
More desserts perfect for summer!
Peach Cake with Brown Sugar Frosting << this is basically the same cake as today's recipe, just with peaches! Check out the original Blackberry Cake with Coconut Cream Cheese Frosting!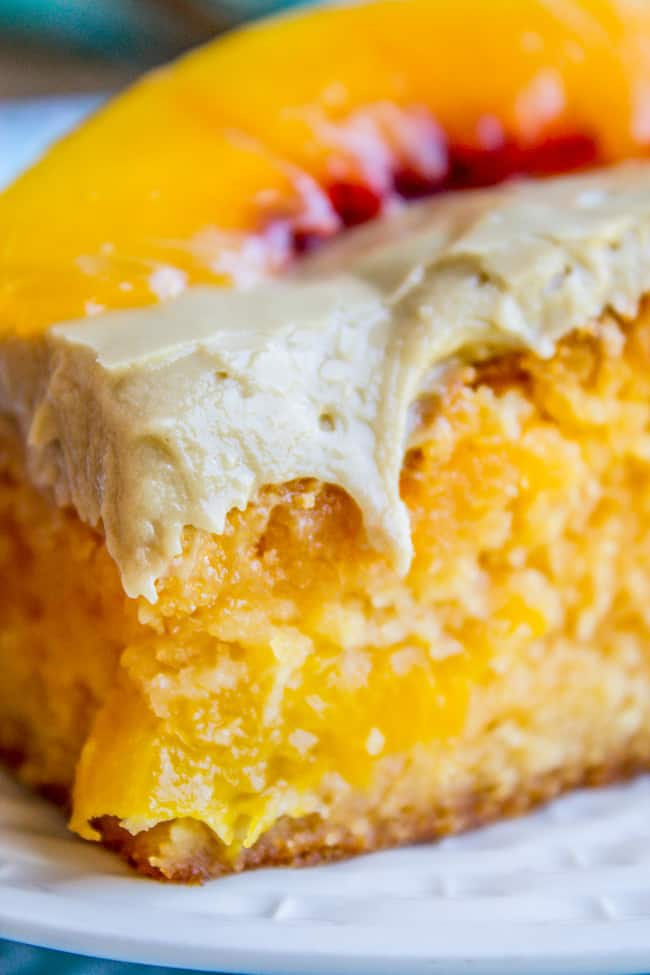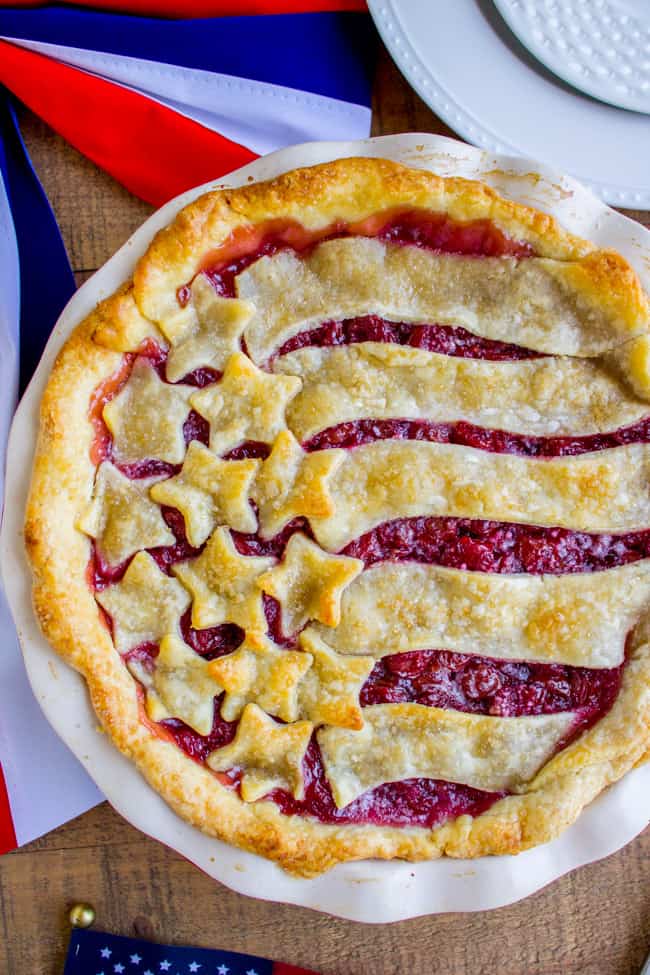 No Bake Cherry Cream Cheese Pie << have you tried this one before??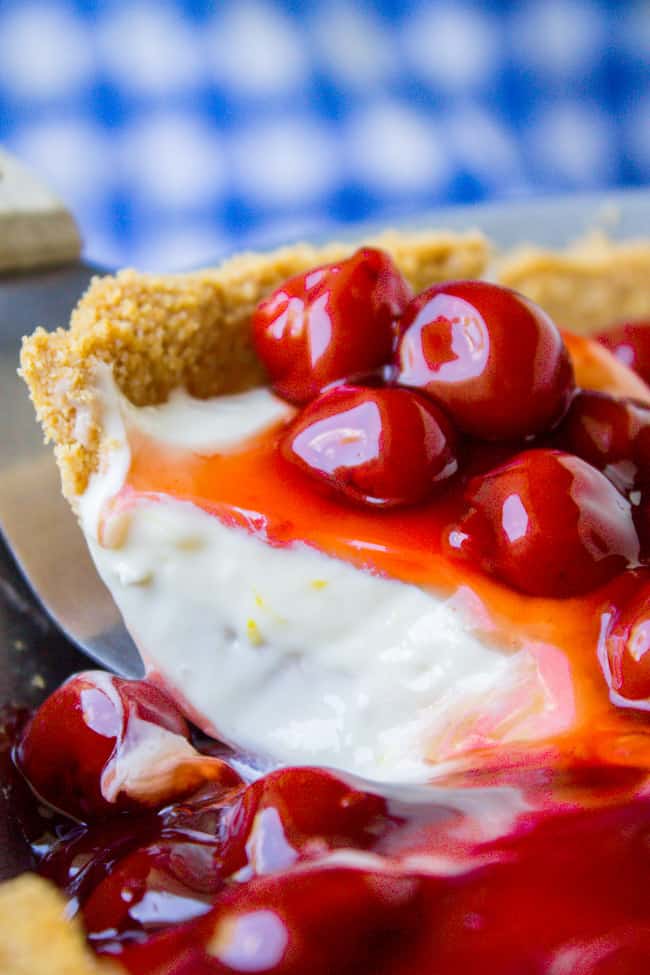 Chocolate Cherry Sheet Cake with Fudge Frosting << this is so easy!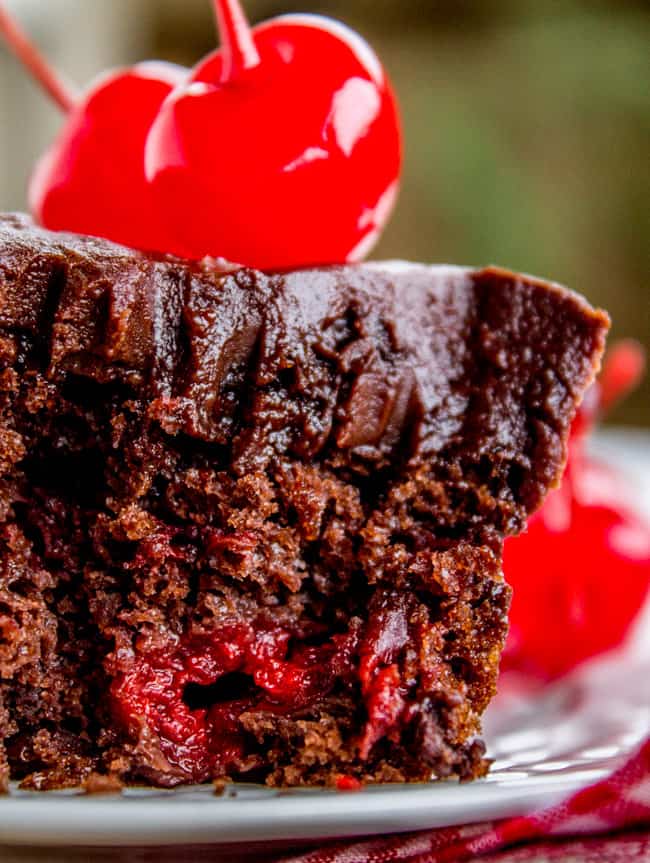 More patriotic desserts to make all summer!