Homemade Pretzel Dogs are just as delicious as the ones you get from the mall! And easier than you think. Make a simple bread dough, wrap the dogs, boil, then bake. Don't forget to sprinkle tons of salt on top!
Can we just go ahead and make hot dogs their own special food group? I mean, nobody really knows what's in them anyway, right? I personally think the mystique adds to their appeal. Maybe they're secretly made out of celery and you actually burn more calories than you consume. We could just add them in right next to the "eat 29 servings of veggies a day," or whatever number they've decided on lately. (I should look this up. But I really just don't want to know my own vegetable deficiencies.)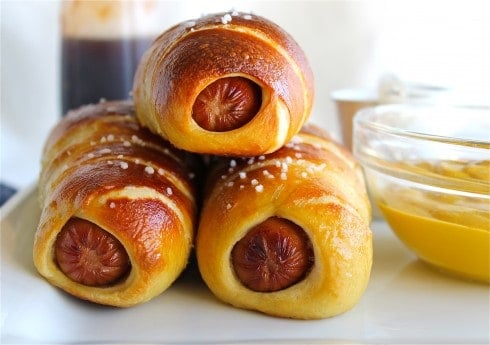 I could probably eat hot dogs every day for the rest of my life and die before I'm 30 and be happy. Bring on the mustard. Now, wrap a soft pretzel around said hot dog and we're really gettin' goin'. I told Eric I was going to make Pretzel Dogs and he said, "What's that?" After giving him the most incredulous face I could muster I asked him if he had ever even been to the mall. Only to find out that Eric didn't know that soft pretzels and malls go together like carnivals and cotton candy. Who ARE you and how are you my husband? Well I set him straight. It's really just not that hard to sell somebody on a delicious hot dog wrapped in bread. By the way, this recipe solves the hot dog vs. bun problem. I haven't noticed the industry torturing us with this anymore (selling only 8 packs of hot dogs and only 12 packs of buns), and I think it's entirely thanks to George Banks. Thank you Steve Martin. Come on over and I will make you a Thank-You-Pretzel-Dog.
Facebook | Pinterest | Instagram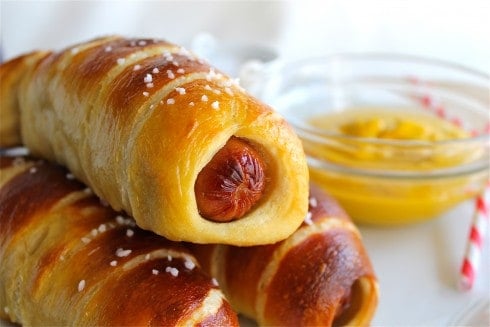 Homemade Pretzel Dogs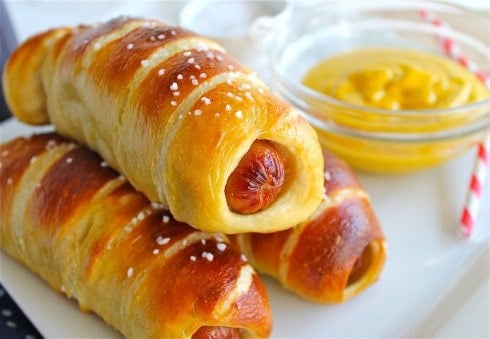 Homemade Pretzel Dogs are just as delicious as the ones you get from the mall! And easier than you think. Make a simple bread dough, wrap the dogs, boil, then bake. Don't forget to sprinkle tons of salt on top!
Ingredients
1 & ½

cups

water

,

110 to 115 degrees F

1

tablespoon

sugar

2

teaspoons

salt

1

tablespoon

active dry yeast

4 & ½

cups

all-purpose flour

¼

cup

butter

,

melted

Vegetable oil, for pan

10

cups

water

2/3

cup

baking soda

2

tablespoons

butter

,

regular or unsalted, melted

coarse sea salt

,

or kosher salt for sprinkling

8

hot dogs

,

good quality
Instructions
Combine the water, sugar and yeast in the bowl of a stand mixer. Let sit for 5 minutes or until the mixture begins to foam.

Add the flour, salt, and butter. Combine with a spoon or the paddle until it start to come together, then switch to the dough hook. Mix with the dough hook on low speed until well combined.

Change to medium speed and knead until the dough is smooth and pulls away from the side of the bowl, approximately 4 to 5 minutes. You may need to add a bit more flour, but be aware that this is a pretty soft dough. You should be able to touch it without it being impossible to get off your fingers, though.

Transfer the dough to a lightly oiled bowl. Cover and let rise in a warm place for about 1 hour, or until the dough has doubled in size. I like to put mine in an oven that has been turned to 170? (warm) for about a minute, then turned off.

Preheat the oven to 450. Line 2 baking sheets with parchment paper and lightly brush with the vegetable oil. Set aside.

In a large pot, bring the 10 cups of water and the baking soda to a rolling boil. Meanwhile, knead down the dough, turn it out onto a slightly floured work surface, and divide into 8 equal pieces.

Roll out each piece of dough into a rope that's about 20 to 24-inches long, depending on how big your hot dogs are. Starting at one end, wrap the dough around the hot dog, pinching each end together so that it's sealed. Place onto the pan and repeat with the remaining dough and hot dogs.

Place the pretzel dogs into the boiling water two at a time and boil for 30 seconds. Remove them from the water using a large flat slotted spatula. Return the boiled pretzel dogs to the pan, brush the tops with melted butter and sprinkle with the sea salt. (I forgot to do this butter and salt step until after I had baked them. It worked fine.)

Bake until dark golden brown in color, approximately 12 to 14 minutes. Transfer to a cooling rack for at least 5 minutes before serving.

If you have extra dough, you can shape them into dinner rolls, cut a slit in the top, let rise for another 20-30 minutes, boil, and bake at 450 until golden.
Nutrition
Serving:
1
Pretzel Dog
|
Calories:
450
kcal
|
Carbohydrates:
64
g
|
Protein:
12
g
|
Fat:
16
g
|
Saturated Fat:
8
g
|
Polyunsaturated Fat:
1
g
|
Monounsaturated Fat:
5
g
|
Trans Fat:
1
g
|
Cholesterol:
43
mg
|
Sodium:
3670
mg
|
Potassium:
148
mg
|
Fiber:
2
g
|
Sugar:
2
g
|
Vitamin A:
265
IU
|
Vitamin C:
1
mg
|
Calcium:
35
mg
|
Iron:
4
mg