This juicy lemon aioli burger is topped with goat cheese, bacon, crispy onion strings, and a killer bun. It's a gourmet burger recipe that's perfect for any summer grilling get-togethers! Originally posted June 11, 2015.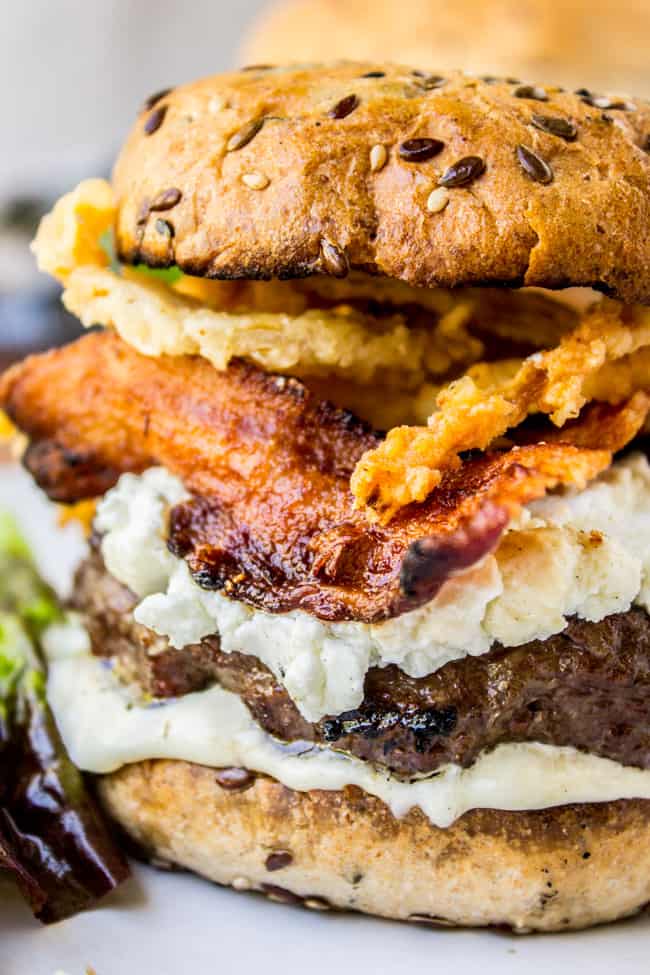 Every week at church I carefully avoid the pews on the edge that have access to the 25 foot curtains that go all the way to the top of the chapel. My toddler is fairly well-behaved, but come on. 25-foot curtains? Even I want to play with them.
So I thought I was safe last week when we chose the pew at the very back next to the door. No curtains. We're sitting there listening, when the entire chapel goes dark and all 130 heads turn to stare at whoever flipped the lights off. NICE, Karen. Children: 1, Parents: 0.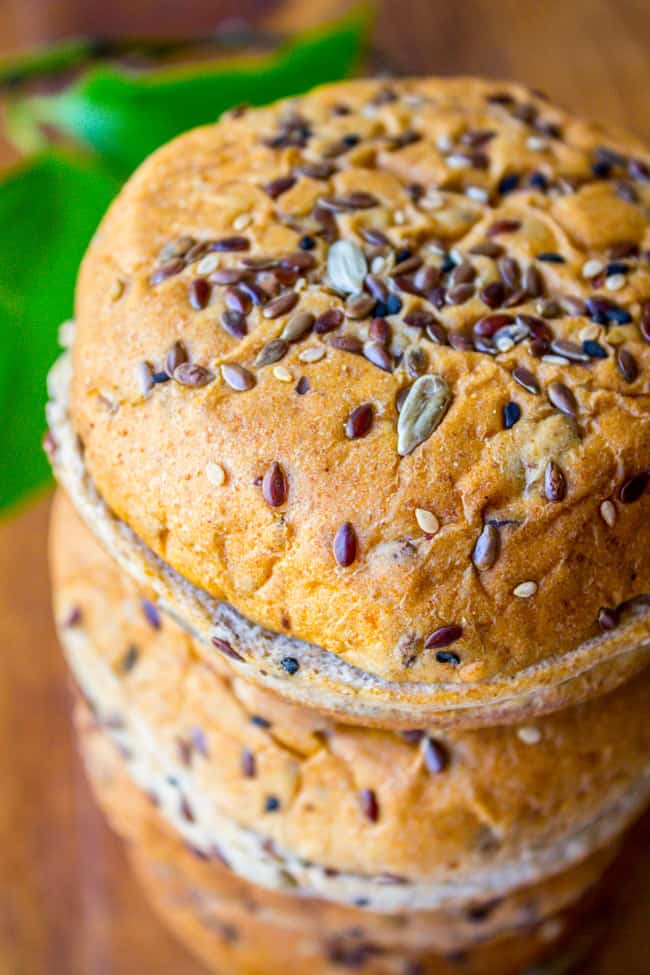 Building a perfect burger (you need a good bun!)
Have you guys tried Dave's Killer Bread? Yes, it is as awesome as it sounds. KILLER, in fact. (har har) My friend Lara was over when I was making these burgers, and she told me that she buys Killer Bread exclusively. It's the nation's top-selling organic brand, started at the Portland Farmer's Market, and hardcore fans are called Breadheads. Awesome right? I think I am an official groupie for the first time in my life.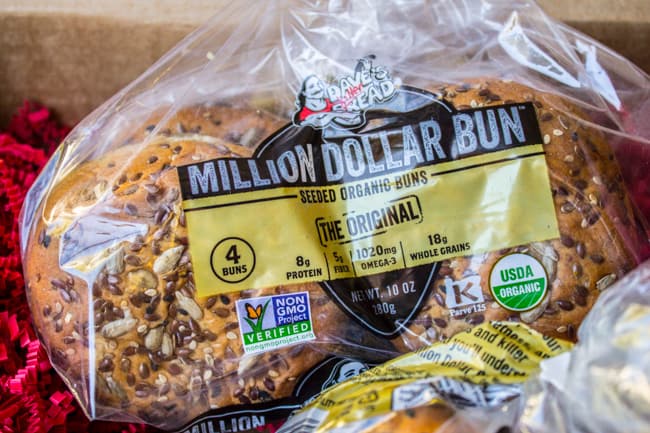 They asked me if I wanted to create a recipe with their Million Dollar Buns and I thought, this is perfect, because that's what people are always saying when they walk behind me anyway. Who am I to deny fate. (Oh my gosh, I'm KIDDING.)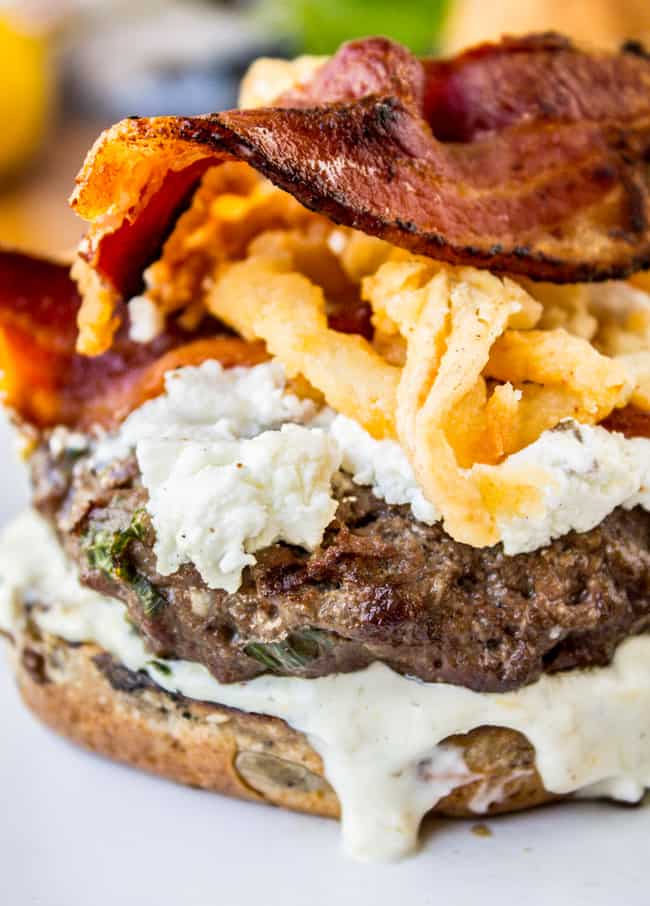 I love companies with cool names. Reminds me of a popular burger joint in the next town over. Technically it's called Redrum Burger, and that is indeed what their sign says, but everyone calls it Murder Burger (Redrum backwards). How cool is that? It's like a secret club.
The other day I was at In-n-Out with a friend who had only been once or twice. We asked the cashier what her favorites were and she mentioned the secret menu. My jaw actually dropped. WHAT SECRET MENU?? The first rule of the secret menu is: You do not talk about the secret menu. The second rule of the secret menu is: You do not talk about the secret menu.
I suppose we asked for it though, when we dug for details on a menu that consists of "Hamburger" and "Cheeseburger."
Bacon and Goat Cheese Aioli Burger
Eric and I went to a different local burger place a couple weeks ago and asked the cashier what he usually gets. "Goat cheese and bacon." Um, excuse me, I want THAT. Being the goat cheese freak that I am, I knew I would love it and I did. I decided to jazz it up here with some tangy lemon aioli and crispy onions strings. We all know aioli is a fancy word for flavored mayonnaise and I say, what's wrong with that! The lemon and goat cheese are a delicious mix on this bacon and aioli burger.
(If you want to make homemade aioli (from eggs and oil) check out my Garlic Aioli Recipe! There is a lot more info and more helpful tips on that post as well.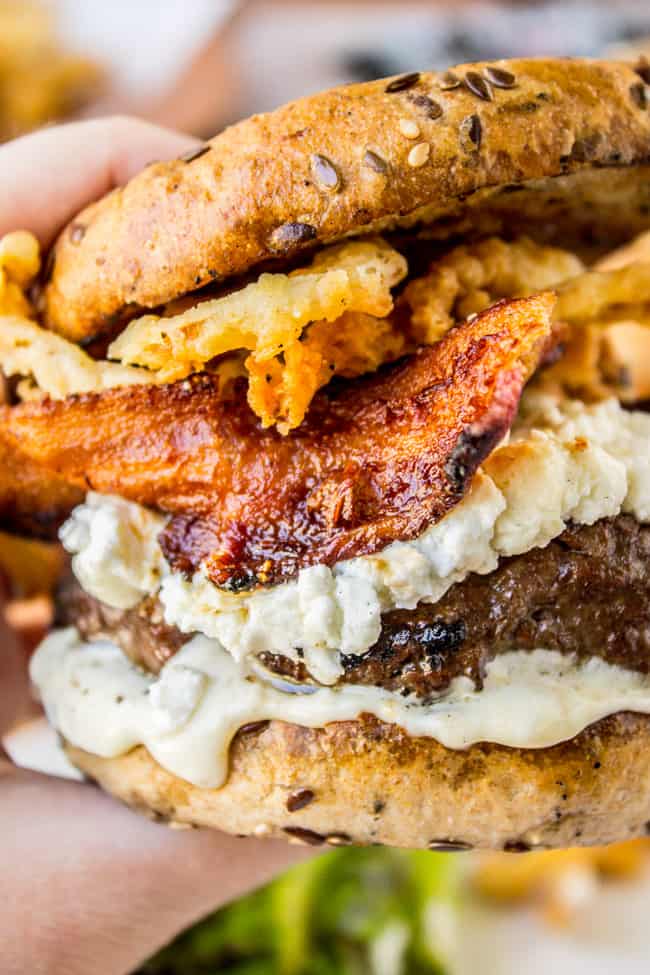 THESE ONION STRINGS, GUYS. Holy crap. They are like little strands of gold. Except tastier. And crispier. I'm telling you, don't skip them. Don't buy some at the store. Slice them yourself. It's WORTH IT.
More great summer grill recipes:
Smash Burgers Recipe (Cast Iron Skillet Burgers) This will revolutionize how you make burgers
Caprese Burgers (I feel like now is a good time to mention that I posted this burger a year ago and just found out how to properly pronounce "caprese" a couple weeks ago. Turns out it's not "capri's." YUP. Thanks Gilmore Girls!)
The Best Hot Dog You Will Ever Eat
Black Bean Burgers with Sriracha Mayo
Asian Salmon Burgers with Wasabi Mayo
This post is sponsored by Dave's Killer Bread. All opinions are my own, duh! Breadhead 4 life.
Facebook | Pinterest | Instagram | Twitter

Bacon and Goat Cheese Aioli Burger with Crispy Onions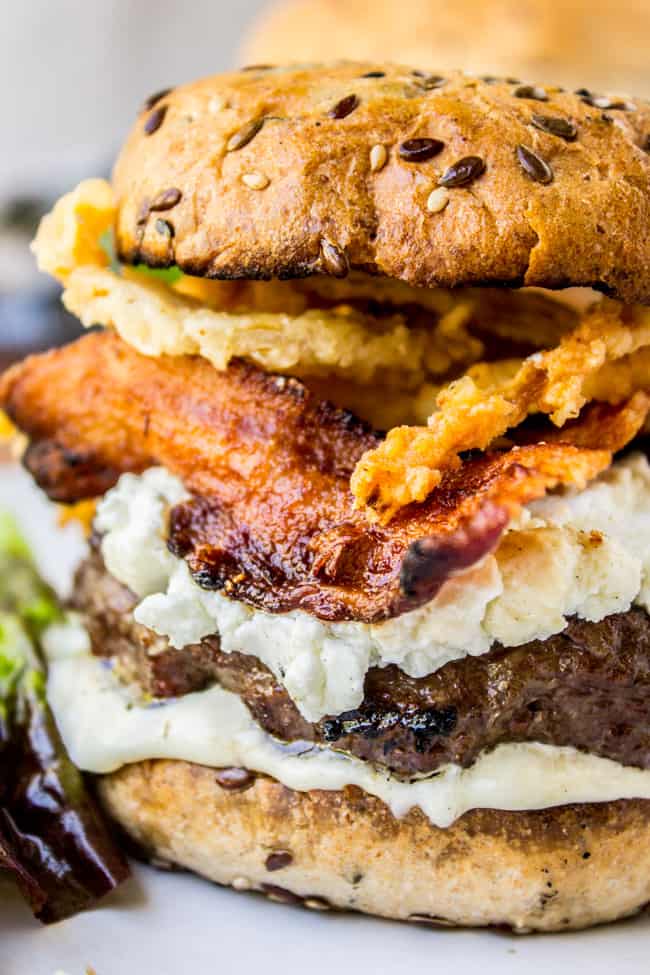 This juicy lemon aioli burger is topped with goat cheese, bacon, crispy onion strings, and a killer bun. It's a gourmet burger recipe that's perfect for any summer grilling get-togethers!
Ingredients
For the aioli
1/2

cup

mayonnaise

1

teaspoon

lemon zest

2-3

teaspoons

lemon juice

,

fresh

1

teaspoon

Dijon mustard

1

clove

garlic

,

minced

salt and pepper

,

to taste
For the burger:
1 & 1/2

pounds

ground beef

,

I used 80/20

2

tablespoons

red wine

1 & 1/2

teaspoons

salt

1

teaspoon

black pepper

1 & 1/2

tablespoons

garlic

,

minced

1/4

cup

green onions

,

chopped
For the crispy onion strings:
1

whole

large onion

2

cups

buttermilk

2

cups

all-purpose flour

1

tablespoon

salt

1/4

teaspoon

cayenne pepper

black pepper

,

to taste

1 to 2

quarts

canola oil
To assemble:
4

ounces

goat cheese

,

softened

4

strips

thick-cut bacon

4

Million Dollar Buns

,

they are killer! (sorry I can't stop myself)

butter

,

softened
Instructions
Prep the onions. Slice the onion into very thin rings. Use a mandoline if you have one. Place the sliced onions into a baking dish and cover with buttermilk. Set aside for an hour.

Make the aioli. In a small bowl, combine mayonnaise, zest, lemon juice, Dijon, 1 clove garlic, and salt and pepper. Don't add too much lemon juice or it will be too runny to stay on the burger. Throw it in the fridge. (For more tips and info, check my Garlic Aioli Recipe.)

Form the burgers next. In a medium bowl use your hands to combine ground beef, red wine, 1 and 1/2 teaspoons salt, pepper, garlic, and green onions. Form into 4 patties at least 4-5 inches across. Press the centers of the patties down so that the hamburgers don't get too thick in the middle when you grill them. See the how-to photos on my Caprese Burgers post if you're feeling lost. Set the hamburgers aside on a plate.

Cut the bacon in half and cook until crisp. I like to Bake Bacon in the Oven, so much easier. Drain on paper towels.

Heat 1-2 quarts oil (depending on the size of your pan) over medium-high heat (375 F) in a high-sided skillet. You need at least a couple inches.

Combine the 2 cups flour, salt, cayenne, and black pepper in a medium bowl. Drain the buttermilk-soaked onions and add them to the flour, making sure they all get coated. When the oil is hot, add the coated onions, doing several batches. Stir them around so they don't stick together. When they are golden brown, remove to a paper-towel lined plate. Repeat with remaining onions. You will probably have extra onions. I'M NOT SORRY.

Heat your grill to medium heat. Cook the burgers for 3-5 minutes, then flip. Spread 1 ounce of softened goat cheese on each burger, then cook for another 3 minutes or so, or until they are as done as you want them.

Butter the cut sides of the Million Dollar Buns. Place on the grill and cook for 1-2 minutes until the buttered sides are crispy.

Assemble the burgers: Bun, aioli, burger, goat cheese, bacon, onions. Add more aioli for good measure.
Nutrition
Serving:
1
burger
|
Calories:
1093
kcal
|
Carbohydrates:
78
g
|
Protein:
54
g
|
Fat:
61
g
|
Saturated Fat:
25
g
|
Polyunsaturated Fat:
5
g
|
Monounsaturated Fat:
24
g
|
Trans Fat:
2
g
|
Cholesterol:
171
mg
|
Sodium:
3417
mg
|
Potassium:
870
mg
|
Fiber:
3
g
|
Sugar:
9
g
|
Vitamin A:
622
IU
|
Vitamin C:
3
mg
|
Calcium:
308
mg
|
Iron:
9
mg