This grilled Asian pork tenderloin recipe is an easy dinner to throw together on busy summer nights!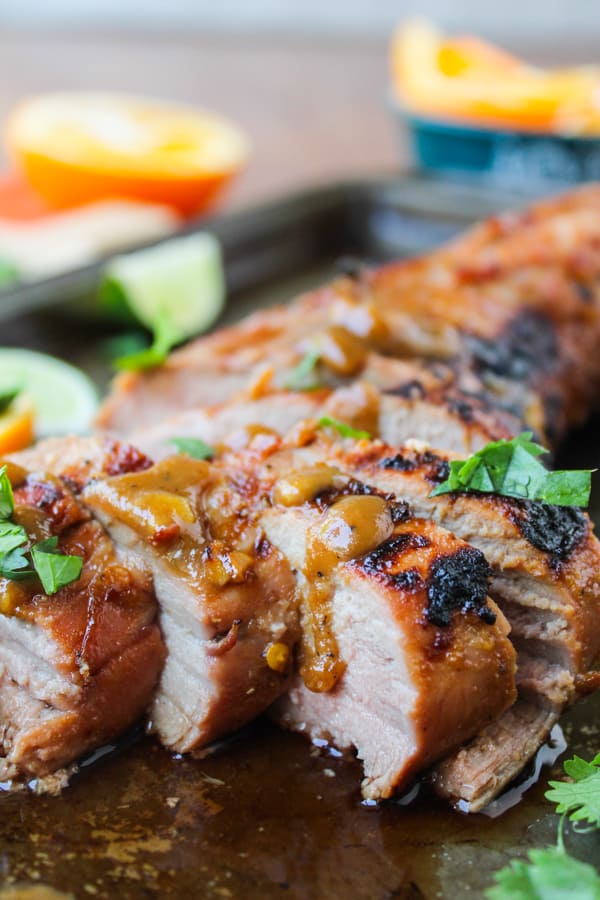 The other day I was driving in the car when "Jeremy" by Pearl Jam came on. I turned it up and sang all the words, not because I'm really that into 90s grunge music, but because it's nostalgic for me. I was 5 or 6 when Pearl Jam was big. But my older siblings (I'm the youngest of 5) loved it, just like they loved huge flood pants and pegging their jeans. (Kiiinda glad I missed that trend.)
But anyway, I've been listening to PJ since I was in the cradle practically, so of course I had to turn it up. I was belting out the chorus when the station suddenly went silent. Then the automated DJ came on–"Okay, we heard you. We got SO MANY dislikes on that song that we've decided to play something else. Tell us if you like this song better."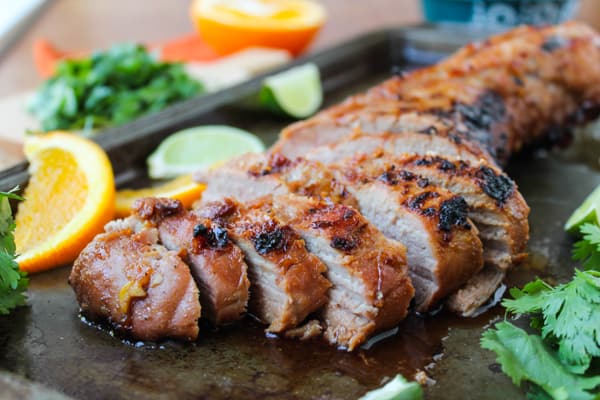 Can you believe that?? First of all, that's an awesome way to run your radio station. You can text "like" or "dislike" during any song. "Jeremy" got so many dislikes that they wouldn't even finish playing it. It's like the thumbs-down thing on Pandora. But somehow it feels like more of a community. Such a fun idea.
But what about poor Pearl Jam?? Okay so maybe I'm alone here. Any other PJ lovers out there?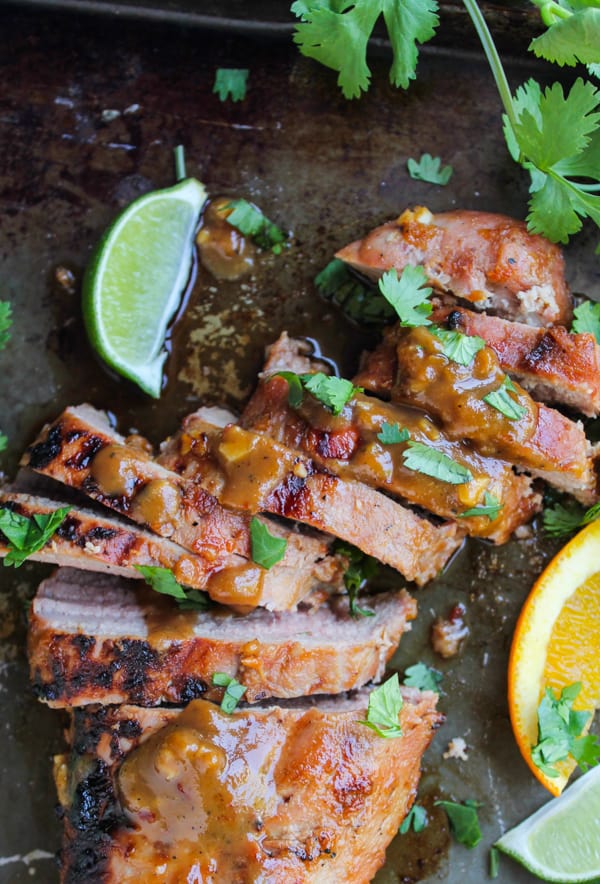 Okay well even if we can't bond over 90s grunge, we can probably bond over this pork tenderloin. I love pork tenderloin, especially for company. I feel like it's just a little bit fancy but still super easy to put together.
This recipe is no exception. Throw the marinade ingredients in a bag with the pork, wait a while, toss it on the grill and you're done. (Have you guys grilled pork tenderloin? It's hard to beat.) The sauce is so flavorful and has a little kick to it. I love the cilantro (I pile it on) but you can leave it out if you're not a fan. Happy weekend everybody!
Do you guys give up? Or are you thirsty for more?
Facebook | Pinterest | Instagram | Twitter

Grilled Pork Tenderloin with Peanut-Lime Sauce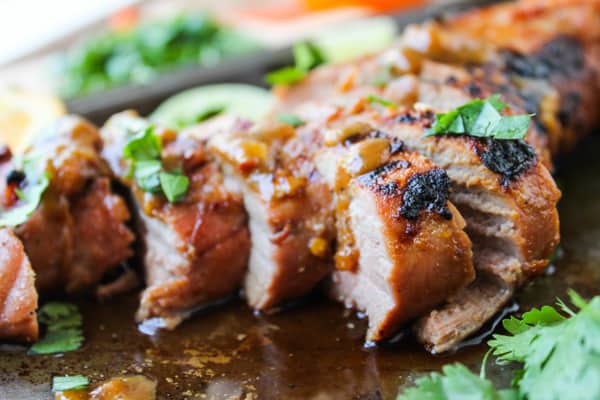 This grilled Asian pork tenderloin recipe is an easy dinner to throw together on busy summer nights! 
Ingredients
1

pork tenderloin

,

about 1 pound

1/4

cup

apricot preserves

2

cloves

garlic

,

minced

1/2

teaspoon

ground coriander

1/4

cup

soy sauce

1

tablespoon

rice vinegar

2

tablespoons

creamy peanut butter

1

lime

,

juiced

1/4

cup

orange juice

,

fresh

1/2

teaspoon

crushed red pepper flakes

1/2

teaspoon

ground black pepper

1/4

cup

fresh cilantro

,

chopped
Instructions
In a medium bowl, combine apricot preserves, garlic, coriander, soy sauce, rice vinegar, peanut butter, lime juice, orange juice, red pepper flakes, and black pepper. Whisk until smooth. Make sure you break up the peanut butter.

Add the pork tenderloin and the marinade to a large ziplock bag. Seal and refrigerate for at least 30 minutes, or up to 48 hours.

Heat your grill to high heat. When it is hot, add the pork tenderloin (reserve the marinade) and close the lid. Set the timer for 5 minutes.

Flip the tenderloin, (don't change the temperature), close the lid, and set the timer for 6 minutes.

Turn the grill off but don't open the lid. Set another timer for 5 minutes.

After 5 minutes, check to make sure the pork has reached 145 degrees F in the center.

Remove from the grill and let sit for about 5 minutes before slicing and serving.

Meanwhile, add the remaining marinade to a small saucepan. Bring to a boil and cook until it looks like all the bacteria is dead. Just kidding, about 1 minute will do you. Add water or more orange juice if you like a thinner sauce.

Slice the pork, drizzle with sauce, and sprinkle with cilantro. Serve with remaining sauce. I like to eat this with

cauliflower rice

(or regular rice) and grilled vegetables.
Notes
This recipe is really easy to double. If you are only feeding a few you could double it, then store the other pork loin in the freezer (with half the marinade) for a later meal.
If you don't have a grill, you can follow the recipe instructions on Tide and Thyme. You brown it first on the stove and then bake it in the oven. I haven't tried it, but I will this winter when it's too cold to grill.
Source: Recipe slightly adapted from Tide and Thyme. Grilling tips from Fine Cooking.
Nutrition
Serving:
0.25
pound slice
|
Calories:
653
kcal
|
Carbohydrates:
16
g
|
Protein:
98
g
|
Fat:
20
g
|
Saturated Fat:
6
g
|
Polyunsaturated Fat:
4
g
|
Monounsaturated Fat:
8
g
|
Trans Fat:
1
g
|
Cholesterol:
295
mg
|
Sodium:
1094
mg
|
Potassium:
1947
mg
|
Fiber:
1
g
|
Sugar:
9
g
|
Vitamin A:
222
IU
|
Vitamin C:
15
mg
|
Calcium:
51
mg
|
Iron:
5
mg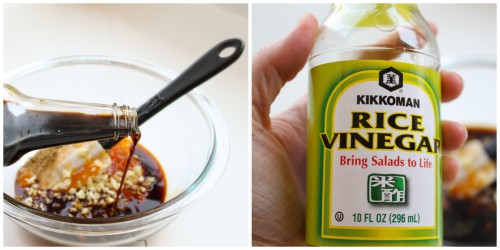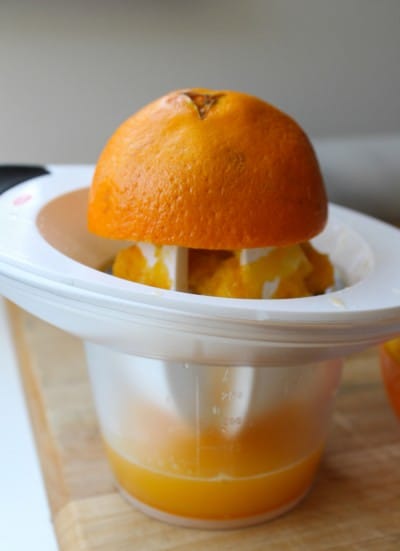 I like to use a fresh orange since I'm juicing a lime anyway.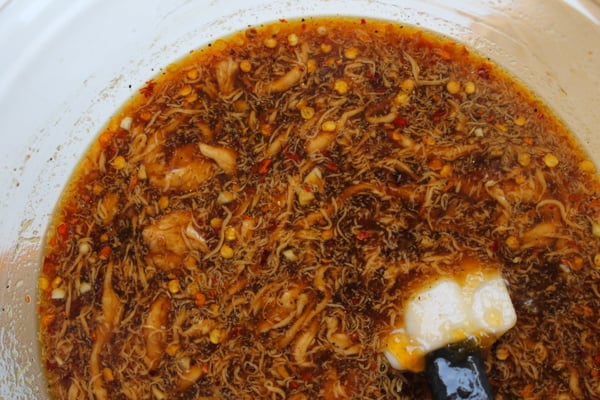 Make sure you whisk in all that peanut butter!
You might like these too:
Brown Sugar Balsamic Pork Tenderloin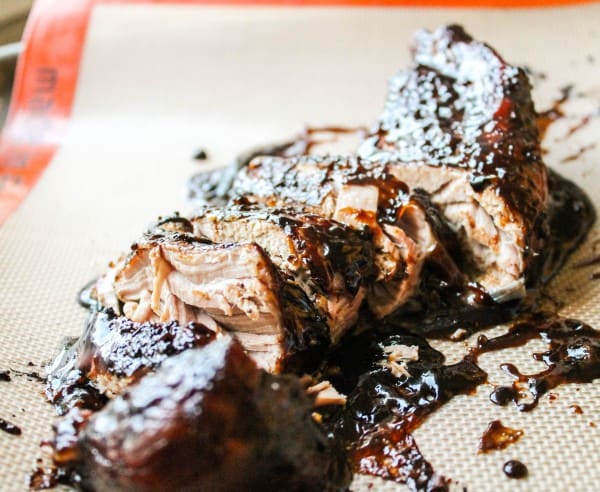 Barbecue Pork Tenderloin Wraps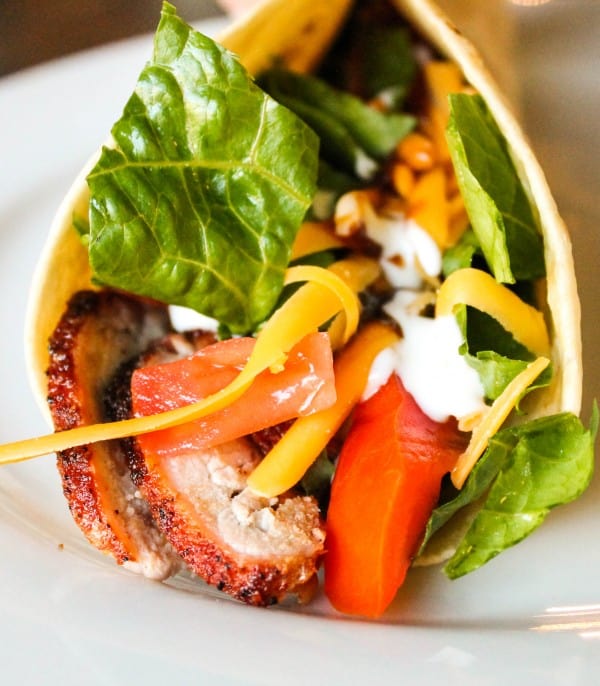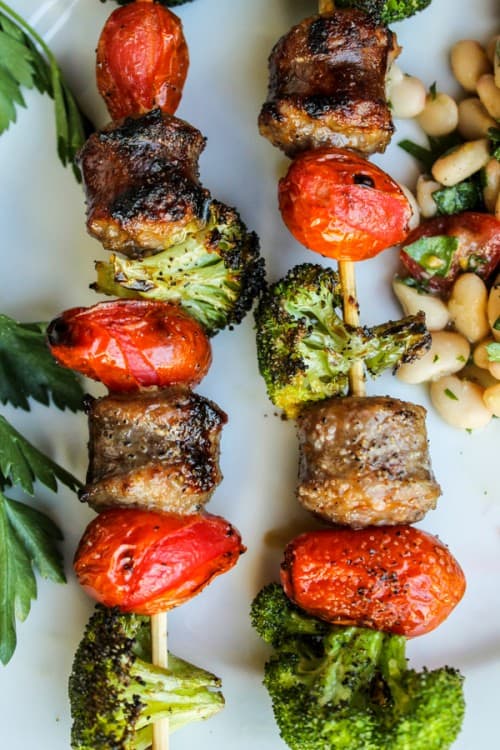 Other pork tenderloin recipes you might like:
 Grilled Cumin Spice Pork Tenderloin from Skinnytaste
Grilled Chili Lime Pork Tenderloin from A Farmgirl's Dabbles
Roasted Maple-Glazed Pork Tenderloin from Mel's Kitchen Cafe