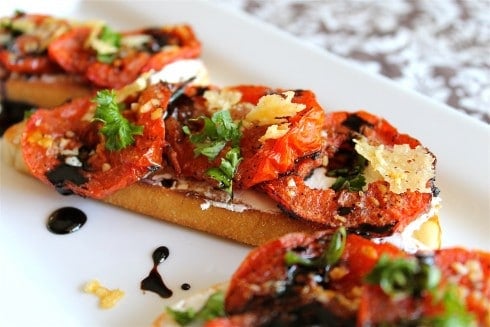 So now that we've officially decided to move there are about a billion things to take care of. Finding a new place to live, choosing a moving company, not to mention packing. My good friend Sarah texted me earlier today asking me if I was stressed about the move. I said no, of course not, I'm totally in denial. Then she
told me that before I responded she had said to
her husband, "Karen's probably not stressed, she's just going to pretend it's not happening until the last possible minute." I'm a procrastinator, what can I say.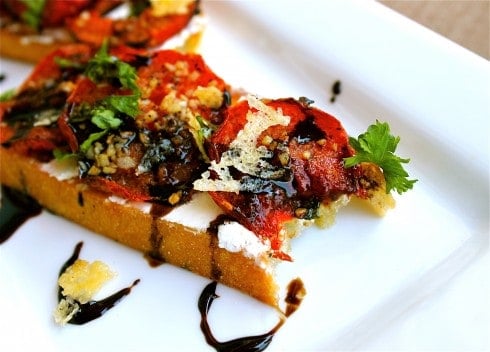 Yet somehow I can always find motivation to make delicious sandwiches. Let's break these babies down: delicious artisan bread toasted with butter, then smeared with goat cheese, topped with garlicky roasted tomatoes, sprinkled with herbs, drizzled with a balsamic reduction and then topped with Parmesan crisps. That's right, Parmesan crisps. Why don't they sell these? I was eating them like potato chips. I really don't think I need to say anything else to sell this sandwich to you. Go eat one. Then come help me pack boxes.

Roasted Tomato and Goat Cheese Sandwiches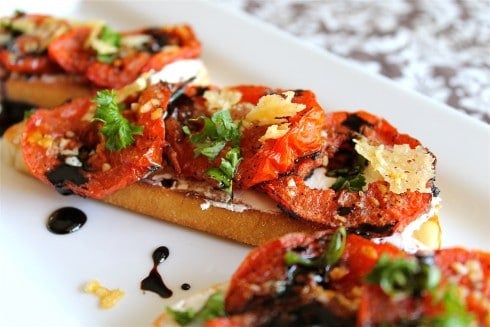 Delicious artisan bread toasted with butter, goat cheese, garlicky roasted tomatoes, herbs, balsamic reduction and topped with Parmesan crisps.
Ingredients
3

tomatoes

2

tablespoons

olive oil

2

teaspoons

minced garlic

1

teaspoon

salt

½

teaspoons

black pepper

2

pinches

sugar

6

tablespoons

Balsamic vinegar

6

small slices crusty bread

,

I used ciabatta

3

tablespoons

melted butter

¼

cups

Parmesan cheese

2

ounces

goat cheese

2

tablespoons

chopped fresh herbs

,

I used parsley
Instructions
Preheat the oven to 450 F. Line a baking sheet with aluminum foil and spray with nonstick spray. Slice the tomatoes about 1/4 inch thick and spread them out evenly on the baking sheet. In a small bowl, whisk together olive oil, garlic, salt, pepper and sugar. Brush mixture evenly over tomatoes. Bake for 20-25 minutes or until tomatoes are slightly shrunk and softened.

In a small saucepan pour 6 tablespoons of balsamic vinegar set over medium heat. Bring to a boil, stirring frequently. When the vinegar begins to boil, stir constantly until the vinegar reduces by half. It should have a syrupy consistency. Set aside.

Meanwhile, heat a skillet over medium high heat. Use a pastry brush to brush melted butter on both sides of the bread slices. (Although now that I think about it, why bother melting it? Just spread softened butter on...) Place slices in the skillet and grill until evenly browned. Flip bread and continue to grill until both sides are browned. Transfer bread to a plate.

Reduce heat to medium low. Sprinkle 1/4 cup Parmesan cheese in a very thin layer on the hot skillet. Grill until cheese is crispy and just barely browned. Remove to a plate and break into pieces.

To assemble, smear one side of the bread with goat cheese. Top with 2-3 slices of roasted tomatoes. Sprinkle with chopped herbs. Drizzle with balsamic vinegar reduction. Top with Parmesan crisps.
Nutrition
Serving:
1
sandwich
|
Calories:
549
kcal
|
Carbohydrates:
31
g
|
Protein:
14
g
|
Fat:
41
g
|
Saturated Fat:
19
g
|
Polyunsaturated Fat:
2
g
|
Monounsaturated Fat:
17
g
|
Trans Fat:
1
g
|
Cholesterol:
67
mg
|
Sodium:
1778
mg
|
Potassium:
556
mg
|
Fiber:
3
g
|
Sugar:
13
g
|
Vitamin A:
2792
IU
|
Vitamin C:
32
mg
|
Calcium:
238
mg
|
Iron:
2
mg