Sometimes known as a "naked cake," this easy unfrosted Coconut Layer Cake is the perfect solution for people who suck at spreading frosting (like me). Instead of "sloppy" we get to call it "rustic."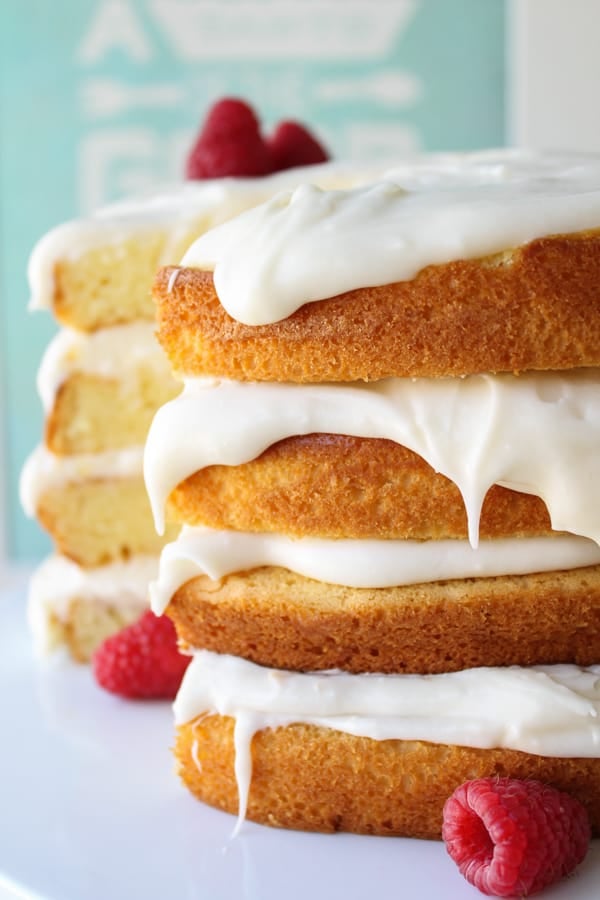 Do you ever change into workout clothes in the late morning so that you can explain to droppers-by that you were totally working out, and that's why you're not dressed at 11am on a Tuesday?
Yeah. Me neither.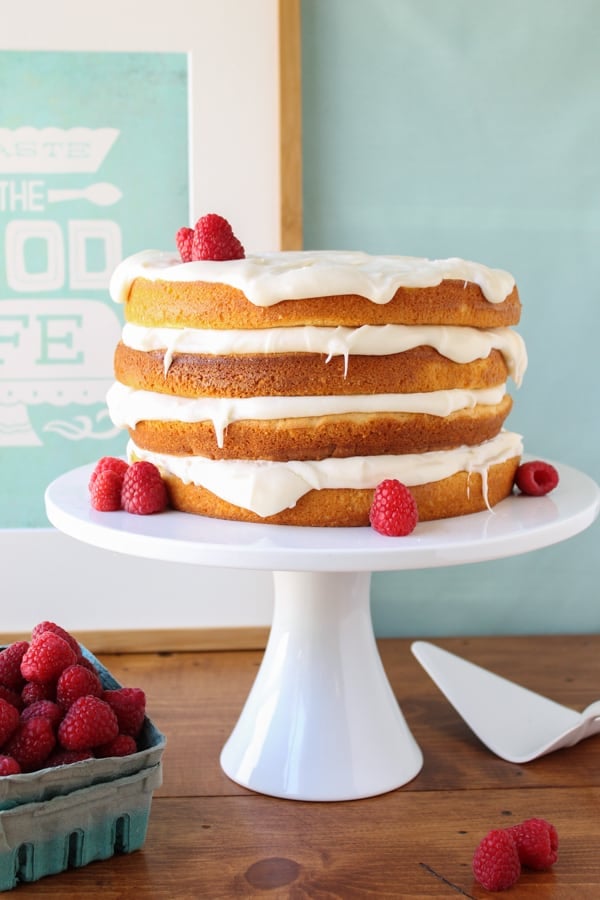 No really, I've never done that (I swear! Don't look at me like that), but I seriously considered it the other day. Never mind that the only "dropper-by" is the mailman, who is the most dedicated mailman I've ever seen by the way. He has to come right up to the house to put the mail in the slot, right next to our huge window. He has never looked in. Not once.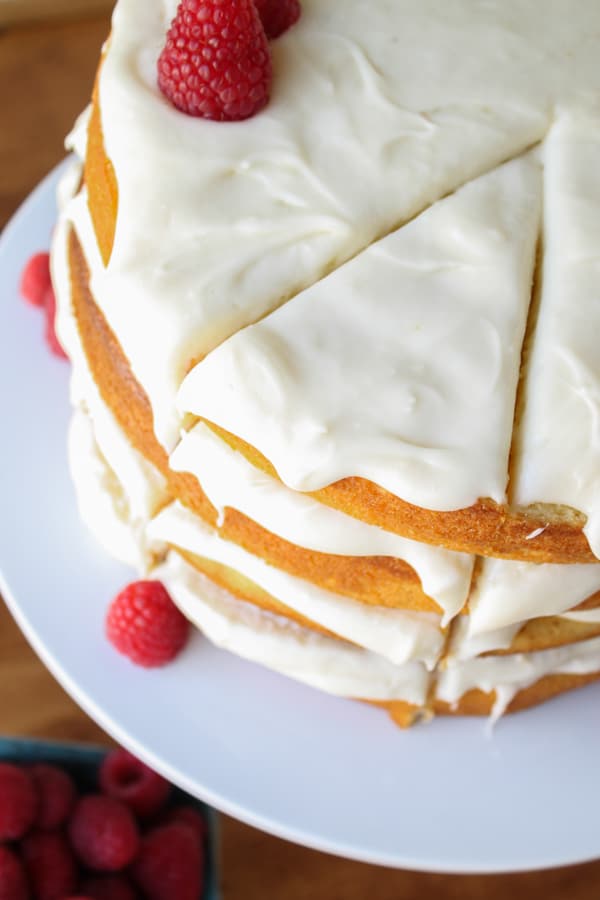 Like, aren't you even curious, dude? I would be all over that if I were a mailman. Probably that's why I'm not a mailman. They would spot me as a creeper way early in the interview process.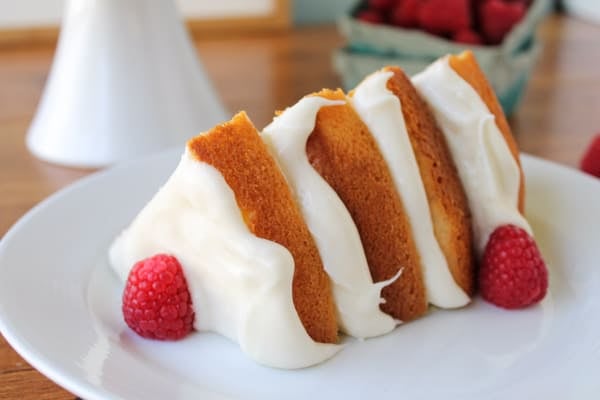 I made a cake guys! An easy one. I mean, it's not even frosted on the outside. Of course I agonized over every swirl and dollop, because that's just what food bloggers do. My mom was helping me make this today, and we joked that if we had spent 5 minutes putting it together instead of 30, it would look exactly the same. I really think it would.
One time I spent at least 10 minutes arranging a bowl of salad just so for a photograph, then dumped some more salad into another bowl that was meant to go in the background. Yep, the final shots were of the dumped salad. Just for the record, I never overanalyze things either.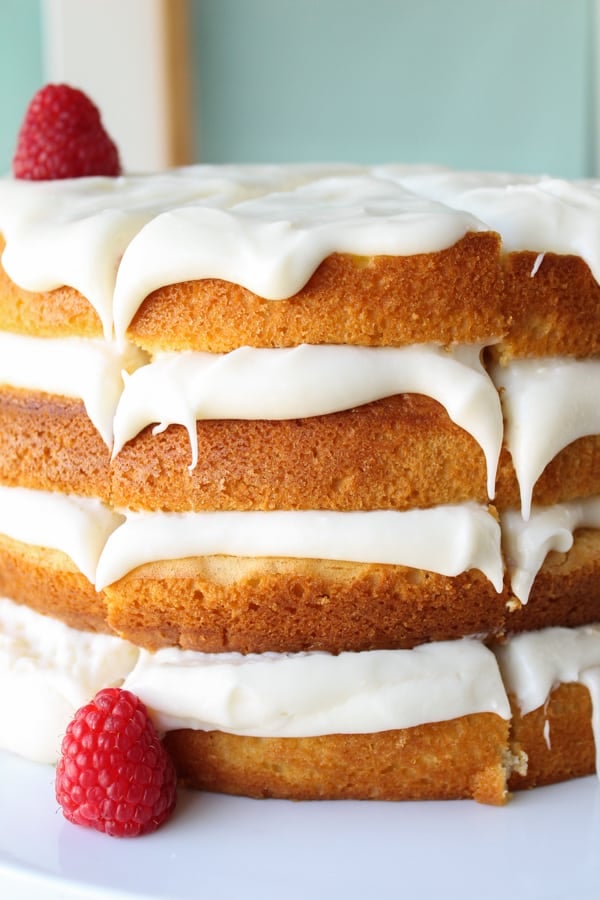 I am all over this "naked cake" trend. So easy. I love this version because it is full of coconut flavor…and no coconut. I hate the texture. If you are into that though, this cake would be really good sprinkled with some toasted coconut flakes! The cake is a doctored white mix and it could not be easier, or more delicious. It is so moist. Don't skip the fresh fruit, it really helps balance out the flavors.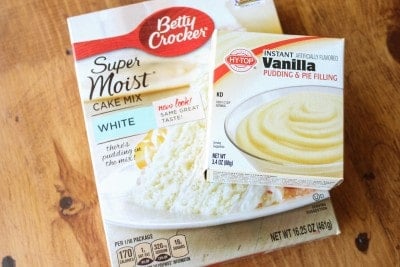 I used a name brand cake mix, with a generic brand of pudding. You will need TWO boxes of cake mix, and TWO boxes of pudding.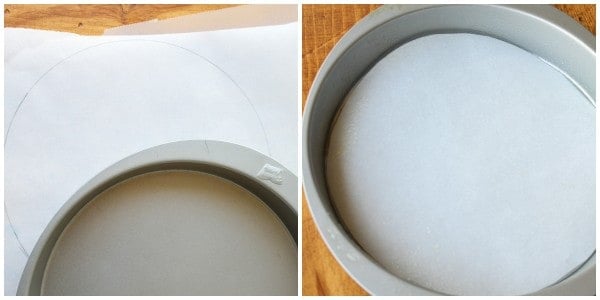 Use parchment paper to line the bottoms of your pan. So much easier to get out.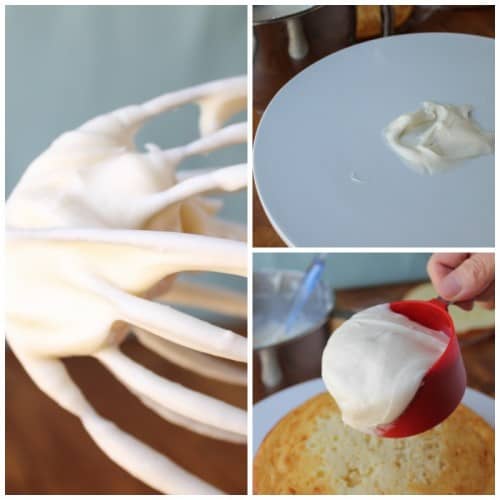 Add a little bit of frosting to the cake stand so it will stick.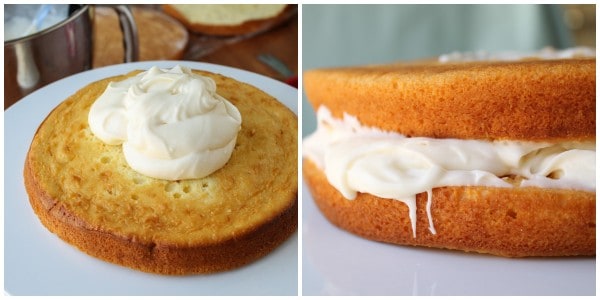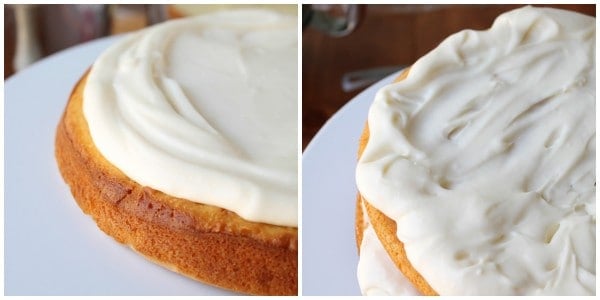 If you want a clean looking cake (like Glory's over at Glorious Treats), spread your frosting like the one on the left. If you want something a little more "rustic", spread your frosting unevenly on the edges.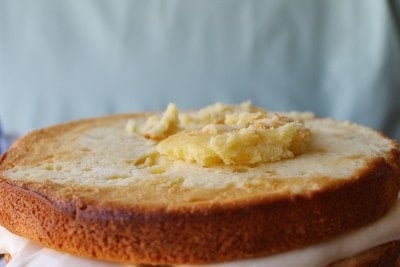 If you notice that the cake is tilting, use cake scraps to fill  in some space in the middle. Then cover it with more frosting.
A few notes in general about unfrosted layer cakes, or "naked cakes:"
Yes, it will dry out faster than a normal cake. So plan accordingly! Make the cake ahead and assemble last minute.
Freeze your cake layers once they have cooled completely. You will cry if you don't. I'm not even kidding.
If you are worried about the frosting getting soft and smooshing out the sides, refrigerate the completed cake for an hour so that it stays firm. Longer than that will dry the cake out.
Level your cakes by slicing off the dome on top. Save the cake scraps and use them to even out your cake as you assemble. If it's dipping on the left, add some cake scraps until it looks level, then cover it up with frosting.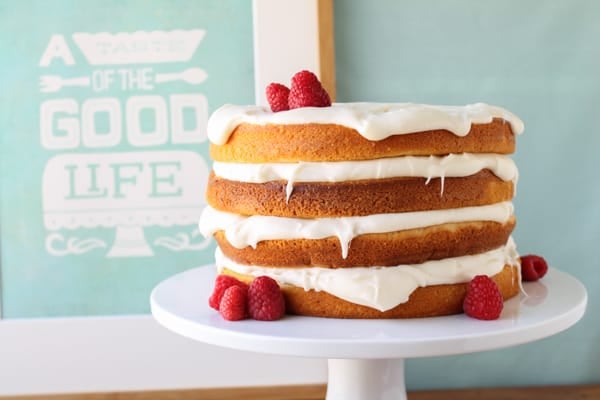 Facebook | Pinterest | Instagram

Coconut Layer Cake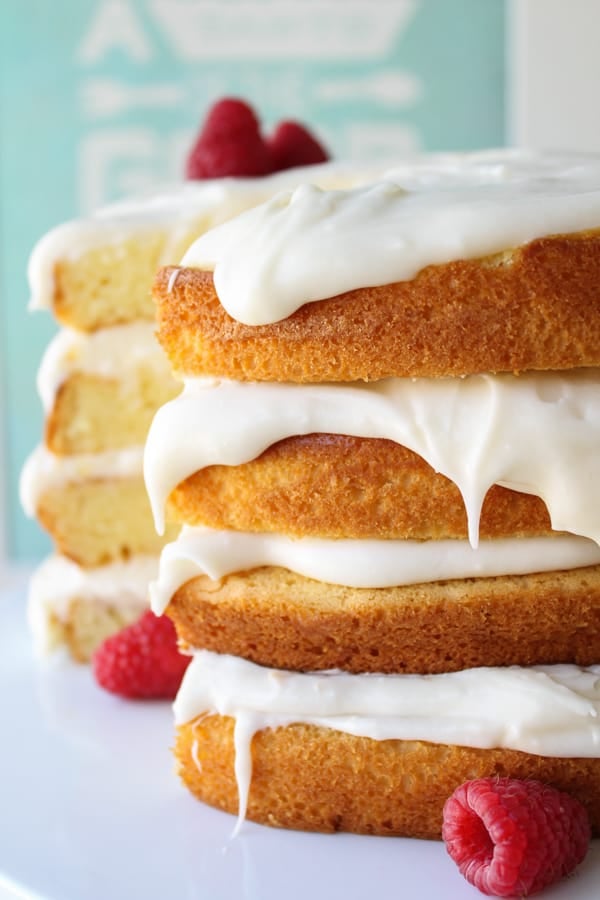 Sometimes known as a "naked cake," this easy unfrosted Coconut Layer Cake is the perfect solution for people who suck at spreading frosting (like me). Instead of "sloppy" we get to call it "rustic."  
Ingredients
For the cake:
2

16.5-oz boxes

white cake mix

2

3.4-oz packages

vanilla pudding mix

,

dry. Don't make pudding!

1

cup

water

,

divided

1

cup

oil

,

divided

2

cups

sour cream

,

divided

6

large

eggs

,

room temperature, divided

2

tablespoons

coconut extract

,

divided
For the frosting:
10

tablespoons

unsalted butter

2 & 1/2

8-oz packages

cream cheese

,

cold

2 & 1/2

teaspoons

coconut extract

1/2

teaspoon

salt

,

heaping

5

cups

powdered sugar

fresh fruit

,

to garnish

powdered sugar

,

to garnish, optional
Instructions
Unless you have a huge stand mixer, you will need to make the cake in 2 batches. I only have 2 cake pans anyway, so it worked for me.

Preheat your oven to 300 degrees F.

In a large bowl or stand mixer, beat together 1 cake mix, 1 package of pudding mix, 1/2 cup water, 1/2 cup oil, 1 cup sour cream, 3 eggs, and 1 tablespoon coconut extract.

Scrape down the sides and bottom. Beat for at least 3 minutes.

Pull out enough parchment paper so that both your cake pans fit on it. Fold the paper in half. Use a pencil to trace the bottom of one cake pan onto the paper. Then cut out the folded paper so you get 2 circles. Place the 2 circles in the cake pans. Spray the sides of the cake pans with nonstick spray.

Divide the batter between the pans. Drop each pan onto your counter from a few inches up, so that some of the air bubbles pop.

Bake the cakes at 300 degrees for about 30 minutes. (The lower temperature is so that the edges stay tender and don't darken as much–important because there will be no frosting to cover it). I baked one cake on a high rack and one on a low rack. After 20 minutes, I switched the cakes and rotated each one 180 degrees. After 10 minutes, the top one was done and the bottom one needed 1 more minute. You will know the cakes are done when they do not shake in the center; when a toothpick comes out clean; or when the center springs back immediately when you press on it.

Let the cakes cool in the pan for 10 minutes, then remove to a wire rack to cool completely. Leave the parchment paper on.

When the cakes are cool, use a sharp serrated knife to slice off the dome of each cake. Wrap each cake tightly in plastic wrap (use plenty) and transfer to the freezer.

Repeat all of the above steps with the other cake mix.
For the frosting:
In a large bowl or stand mixer, beat the butter until it is fluffy, about 2 minutes. Add the cream cheese. Beat until it is fluffy, at least 2 minutes, scraping the sides and bottom. Add the coconut extract and salt and beat together. Add the powdered sugar, 1 cup at a time, mixing in between each addition. If the frosting seems to thin, add a little more powdered sugar.

To assemble:

Add a small daube of frosting on your cake plate. Place the first frozen layer on top. (Leave the other layers in the freezer until you need them.)

Heap about 1 cup of frosting in the center of the cake. Use an offset spatula to spread the frosting to the edge of the cake. It doesn't have to be perfect. Add the next layer. Continue to layer the cakes and frosting.

Garnish the cake with raspberries or other fresh fruit. Sprinkle with a dusting of powdered sugar, if desired.

To serve, use a very sharp serrated knife to slice the cake all the way to the bottom. Wipe off the knife with a wet towel in between each slice.
Notes
If you forget to set your eggs out, put them in a bowl of hot water for 10 minutes.
This cake doesn't have to be four layers! Half it and just do one cake mix for 2 layers. Don't forget to half the frosting.
Source: The Food Charlatan
Nutrition
Serving:
1
slice
|
Calories:
678
kcal
|
Carbohydrates:
62
g
|
Protein:
5
g
|
Fat:
46
g
|
Saturated Fat:
15
g
|
Polyunsaturated Fat:
8
g
|
Monounsaturated Fat:
21
g
|
Trans Fat:
1
g
|
Cholesterol:
166
mg
|
Sodium:
203
mg
|
Potassium:
117
mg
|
Fiber:
1
g
|
Sugar:
61
g
|
Vitamin A:
802
IU
|
Vitamin C:
1
mg
|
Calcium:
73
mg
|
Iron:
1
mg
Some other cakes I've made that you might like:
Other beautiful "naked cakes" from around the block: