Rhubarb Cream Cheese Muffins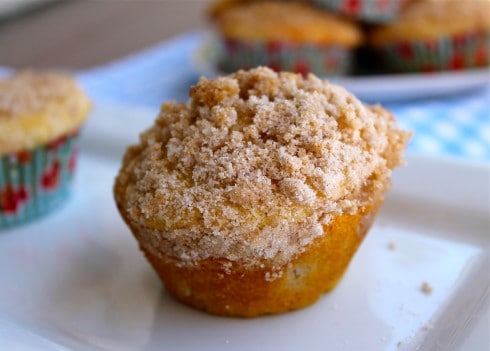 I think rhubarb is probably one of the ugliest foods out there. My sister Nikki had never had rhubarb before (!!!) so I wanted to make something for her so that she could experience the amazingness that is rhubarb. My normal store didn't have any when I went grocery shopping last week, so I called around until I found some. I walked straight in, found the giant, ugly, red, dirty stalks, and shoved them in a bag that they didn't even come close to fitting it. Apparently a girl walking around with nothing but dirty rhubarb is cause for conversation. I was stopped by 3 different people.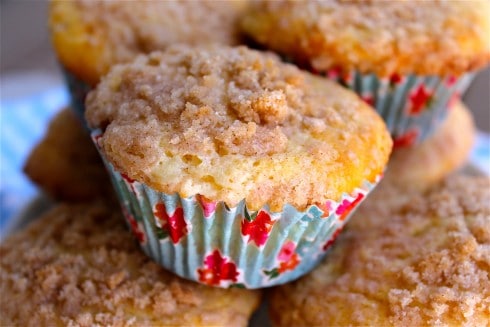 The first lady came up to me as I was gathering up my rhubarb. "Um, excuse me, what are you going to DO with that?" So I told her about these Rhubarb Meringue Layers  and these Strawberry Rhubarb Italian Cream Sodas I just made. Then the cutest little old man in the history of ever got in line behind me and said, "What are you going to do with all that rhubarb? Make a pie? Make sure you add LOTS of sugar!" I told him yes, something like that, and he just kept saying, "Add LOTS of sugar!!" Then our checkout lady saw all my rhubarb and said she needed to make her husband a pie. What can I say, rhubarb just makes people happy.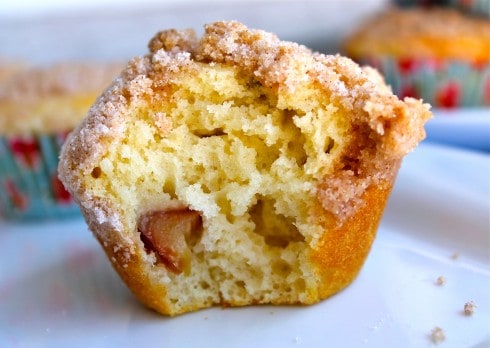 My aunt and uncle were over when we ate those Rhubarb Meringue Layers, and my aunt Cheryl told me that every year she plants rhubarb, and every year my uncle tears it out because it's so darn ugly. I think this is tragic…also hilarious.
I made these muffins with my leftover rhubarb. The cream cheese filling makes them super moist and delicious. Plus they are really easy. Win win!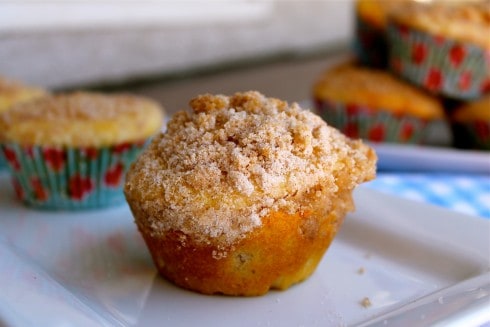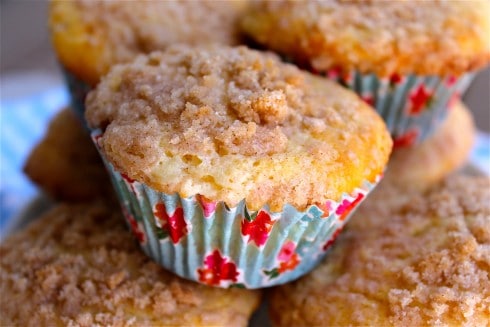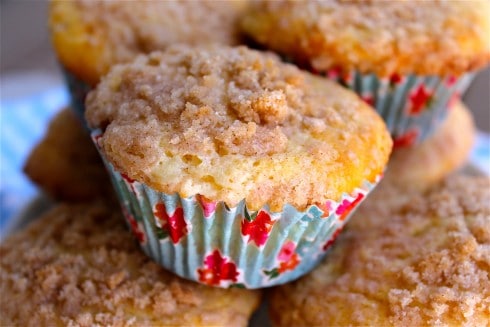 print
Did you make this recipe?
Leave a review »
Rhubarb Cream Cheese Muffins
Ingredients
Muffins
2

cups all-purpose flour

1/2

cup sugar

2

teaspoons baking powder

1/2

teaspoon salt

3/4

cup milk

1/4

vegetable oil

1

egg

1 1/2

cups fresh or frozen rhubarb, diced
Streusel Topping
1/4

cup all-purpose flour

1/4

cup granulated sugar

1/4

teaspoon ground cinnamon

2

tablespoons cold butter
Filling
4

ounces cream cheese, softened

1/3

cup sugar

1/2

egg (about 2 tablsepoons beaten)

1/4

teaspoon vanilla
Instructions
Preheat oven to 400 degrees. Line muffin pan with baking cups or grease thoroughly.
Whisk together flour, sugar, baking powder, and salt in a medium bowl. In a separate bowl, use the same whisk to combine milk, oil, and egg. Pour the liquid ingredients into the dry ingredients, and combine with a wooden spoon only until moistened. The mixture should be lumpy.
In a small mixing bowl combine flour, sugar, and cinnamon. Cut in butter using 2 forks or pastry cutter. Keep going until the mixture looks like coarse crumbs. Set streusel topping aside.
To prepare filling, use an electric or stand mixer to beat together cream cheese, sugar, half an egg, and vanilla. Beat until smooth. Set filling aside.
Spoon one tablespoon of muffin mixture into each cup. Top with half of the rhubarb, and then a tablespoon of the cream cheese mixture. Spoon remaining muffin mixture into each cup, top with remaining rhubarb. Use a teaspoon to distribute the streusel topping on each muffin. Bake for 17-20 minutes. Let cool in pan for 5 minutes and serve warm.
by The Food Charlatan

If you make this recipe,
share it on Instagram
 using the hashtag
#TheFoodCharlatan
so I can see it!
Source: adapted from
Squirrel Bakes
We are a participant in the Amazon Services LLC Associates Program, an affiliate advertising program designed to provide a means for us to earn fees by linking to Amazon.com and affiliated sites.