This Pumpkin Pie Bars recipe is hands down my favorite pumpkin dessert!! They are super easy to put together and have the perfect ratio of pumpkin pie filling to shortbread crust (hint: heavy on the shortbread!!) We are topping it off with a walnut-studded sugary streusel. It's 100x times easier than pumpkin pie and feeds a crowd too! These are tidy enough to eat with your hands, but I wouldn't say no to topping it with ice cream and Caramel Sauce!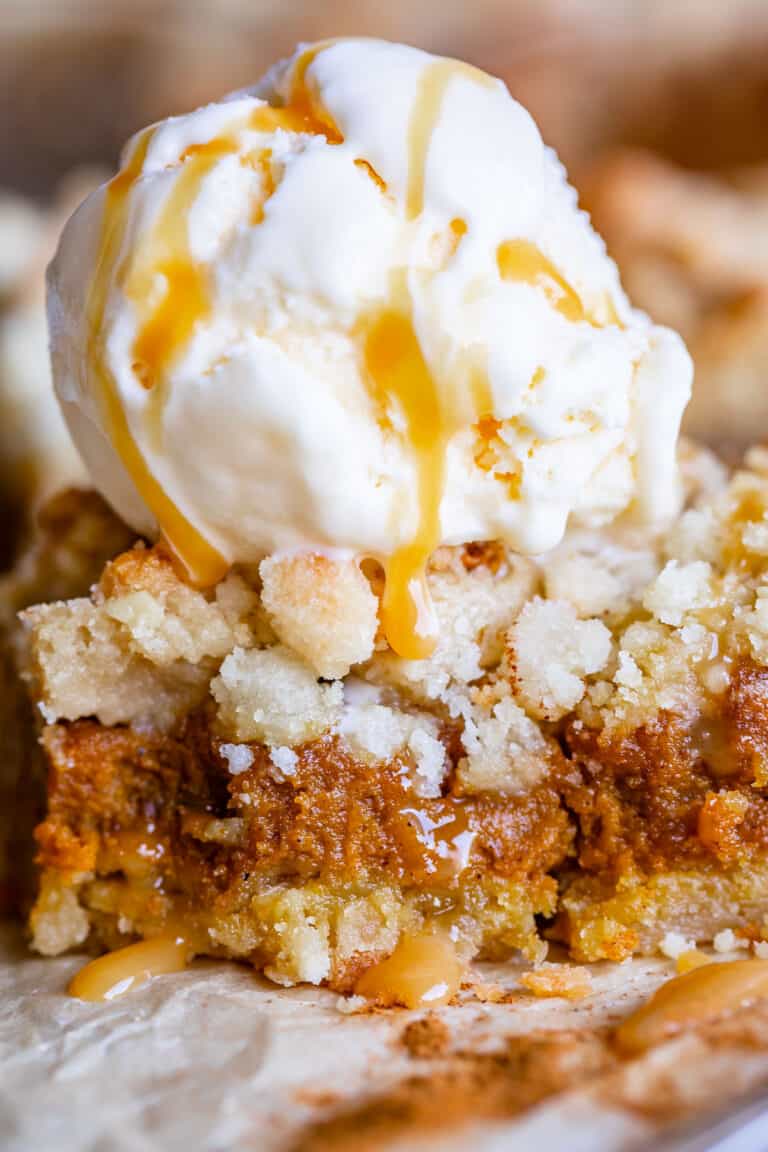 My daughter Charlotte and I got back from Science Camp a few weeks ago! Is this a thing where you live? In northern California it's traditional to take a week long field trip to Santa Cruz with your 5th or 6th grade class. It was magical when I went as a kid, and it was even more magical going as an adult to chaperone.
And by magical I mean hilarious. Who knew that getting hundreds of 10-year-olds together would be like watching slapstick and a soap opera combined??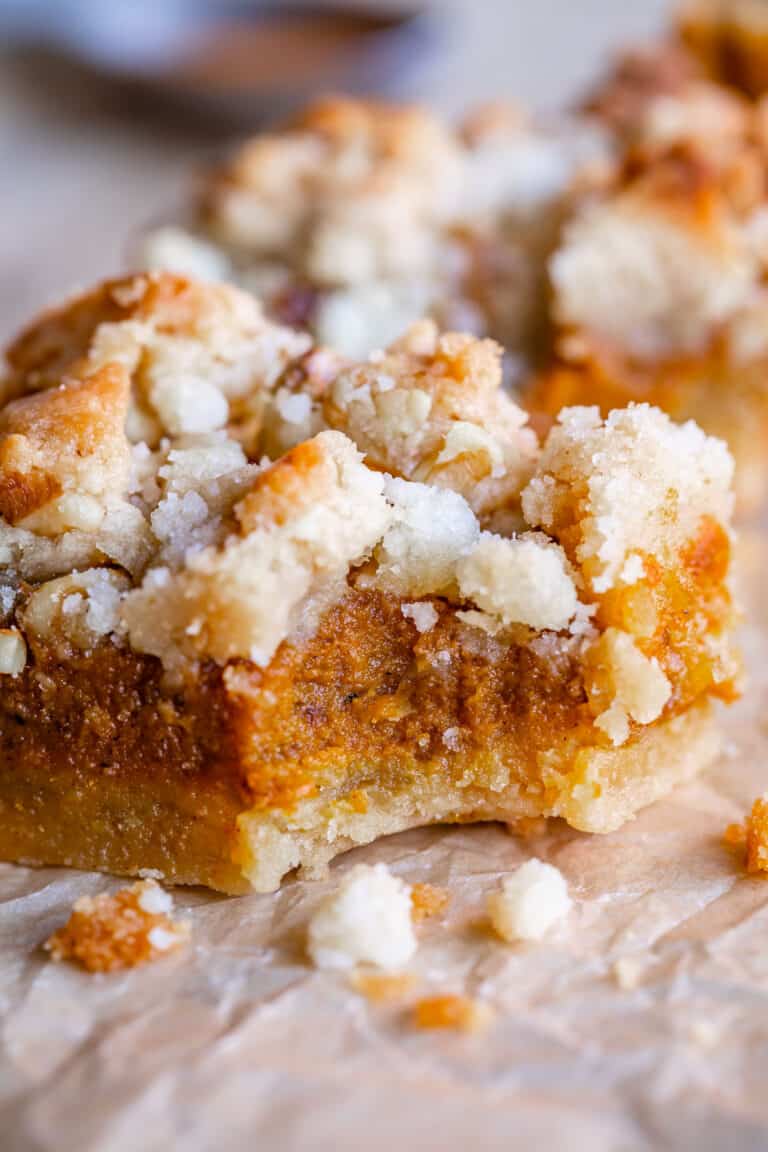 On the first night we had meatballs for dinner. One of the boys thought he might get hungry later, so he shoved 8 or 9 meatballs in his pockets and then pulled them out at midnight for a snack. In the same cabin, another boy had not been in the room 5 minutes before he fell off the top bunk while wrestling, splitting his head open.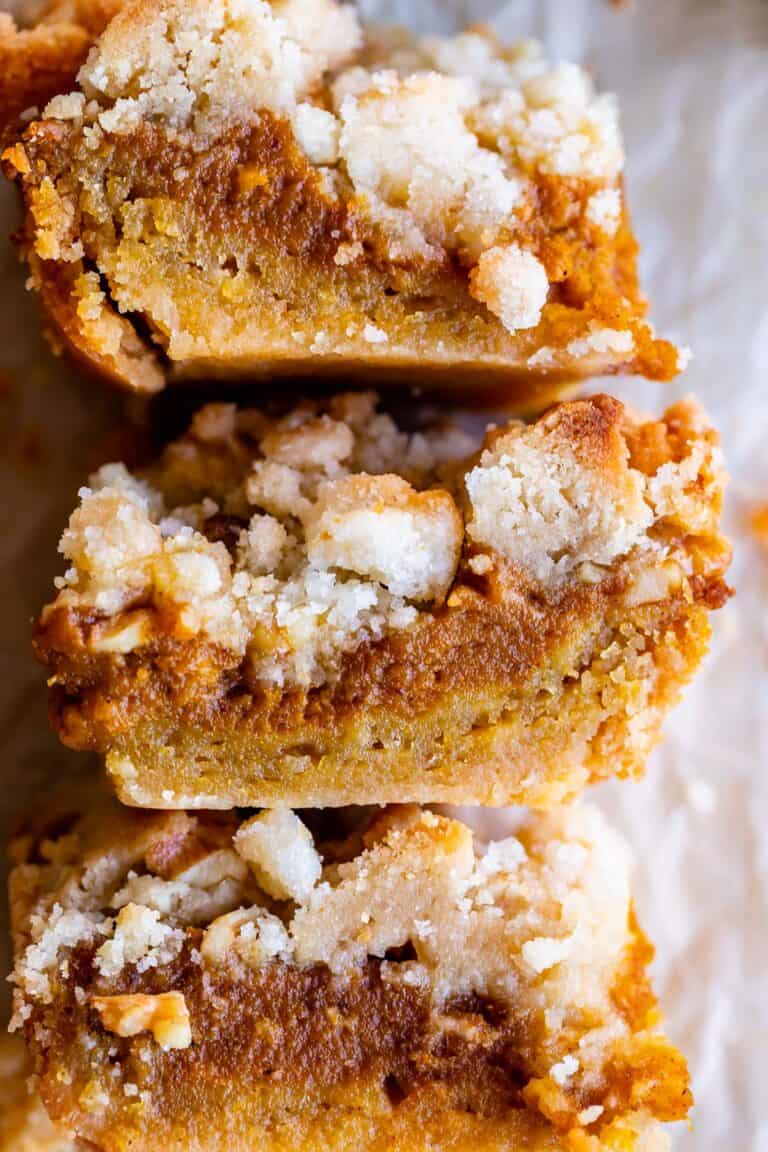 And then the other half: every morning I could hear choruses of girls complaining, "I slept 1 hour last night, the boys were being SO LOUD." The boys, in the background, "Let's go BATTLE EACH OTHER!!!" The girls: "What should I wear? Does this beanie look good with my hair?"
One of the girls resolved on the last day that she was "swearing off boys from now on." 10 years old, my friend. I didn't have the heart to tell her what's in store. You think boys are ridiculous in 5th grade? JUST YOU WAIT GIRLFRIEND.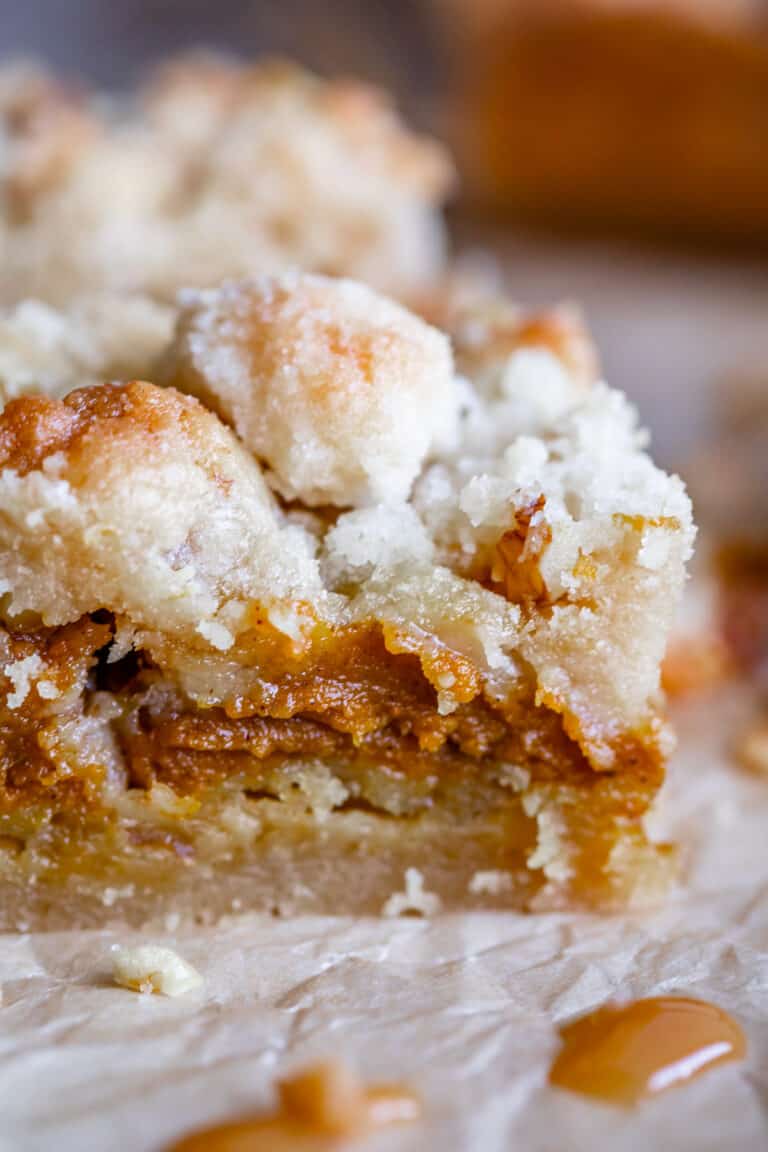 Pumpkin Pie Bars: so much better than Pumpkin Pie!
Okay guys, it's the day before Thanksgiving and I have one last pumpkin dessert for you! I made these last year in my never-ending quest to make a Shortbread-Bar version of every pie known to man.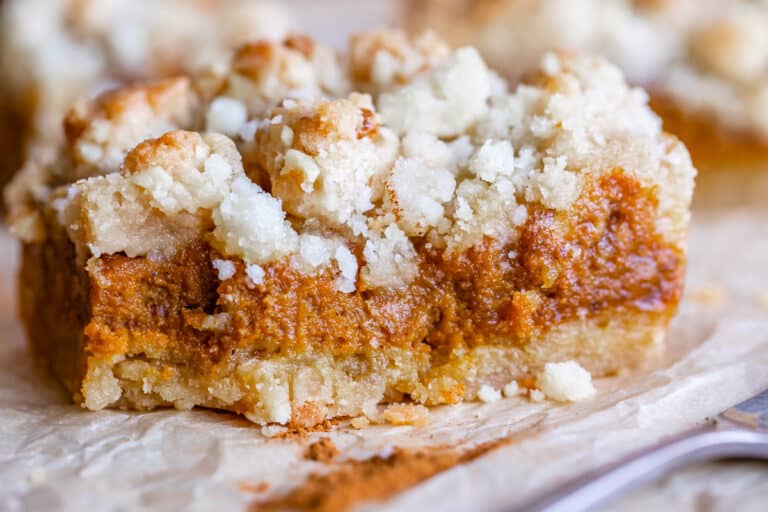 It started with these Apple Pie Bars, then I moved on to making Easy Homemade Cherry Pie Bars, Cranberry Shortbread Bars, Rhubarb Shortbread Bars, Rainier Cherry Pie Bars, and Gooey Pecan Pie Bars with Toffee. I just CAN'T GET ENOUGH of the simple combination of a killer buttery shortbread, some kind of pie filling, and then a crumble on top.
Pumpkin pie was obviously my next victim, and here we are. I made them last year and shared the recipe on Instagram (recipe sneak peaks: one of the reasons you should follow!) Several people made them and shared photos with me, which I love! We all agree: These Pumpkin Pie Bars (or Pumpkin Shortbread Bars if you like, let's emphasize what's important here!) are even better than pumpkin pie.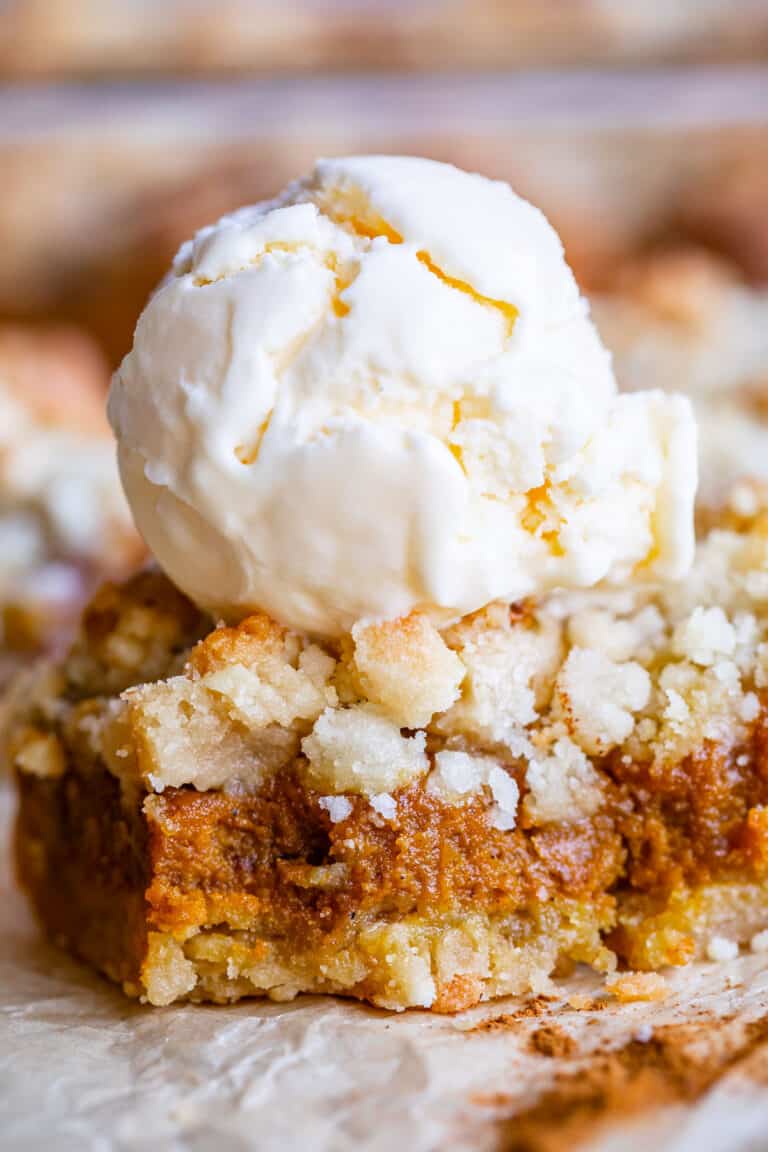 I love a good pumpkin pie, especially when it's my Crème Brulée Pumpkin Pie. But as much as I love the pumpkin filling, I'm almost always wishing there was more crust.
These Pumpkin Pie Bars solve that problem! A thick shortbread layer on the bottom, and the same dough added in pieces on top. All topped with a light sugary streusel that is the perfect compliment!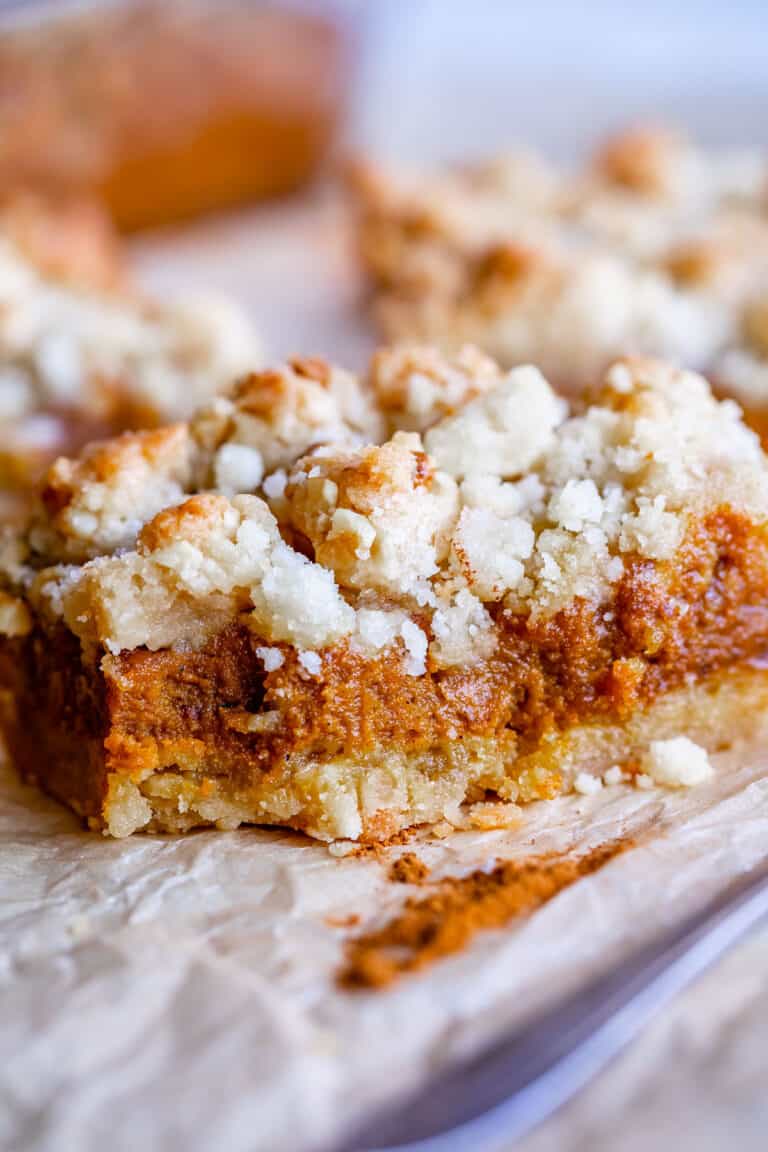 Let's make them!
Ingredients you're going to need:
butter
granulated sugar
brown sugar
vanilla extract
kosher salt
all-purpose flour
chopped walnuts, optional
pumpkin puree, not pumpkin pie mix*
eggs
cinnamon
ginger
nutmeg
cloves
cardamom, optional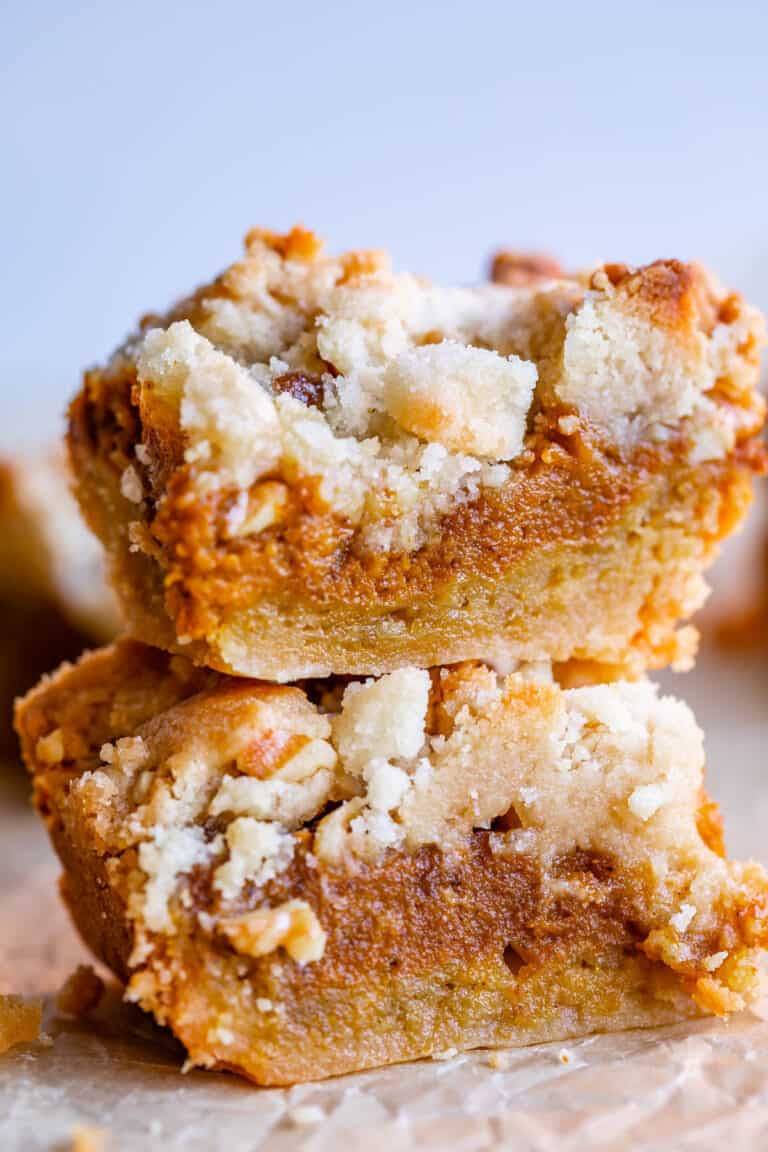 Tips for making Pumpkin Pie Bars:
My biggest tip is to make sure you don't over mix your shortbread dough! It will make it tough. (Can we all just take a moment to be irritated with the English language and the spelling/pronunciation of "dough" and "tough." Sheesh.)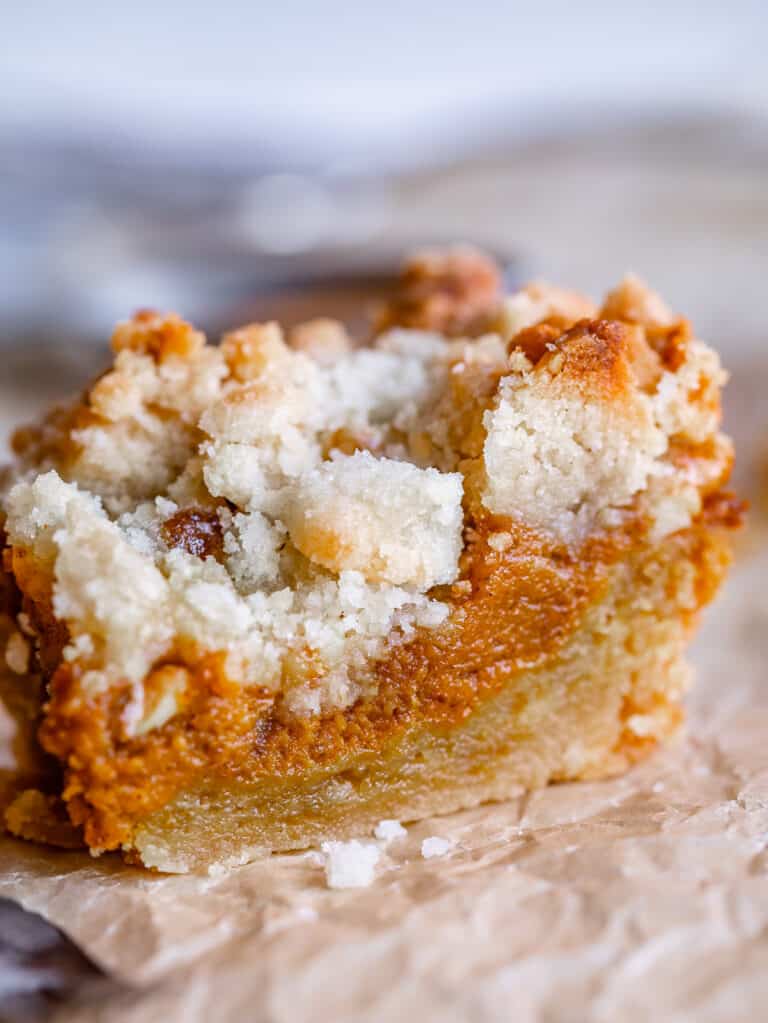 Anyway, next tip chill your crust before baking it. It makes your shortbread crust SUPER tender and flaky. Cold butter hitting a hothothot oven does wonders for texture. Don't skip it! Let's dig into the details!
How to make Pumpkin Pie Bars
First start out with a whole pounda butta. Yup, the whole box. If you're using a stand mixer you can just start beating the heck out of it, if you have a hand mixer, you need to let it soften a little bit.

Add in the sugars, vanilla, salt and flour. 4 cups is going to seem like too much. It's not! Use a spatula and scrape that bottom!
Add a little more than half of the dough into the baking pan and save the rest for the crumble.

Press it in, chill for 20 minutes (remember, don't skip that!) and then bake for another 20 minutes, until nice and golden on top.

Meanwhile, add some walnuts to the remaining dough and mix it together. Stick it in the fridge to chill. This is our glorious crumble!

Now mix up the pumpkin filling. It's so easy, just pumpkin, sugar, and some eggs and spices. You can play around with the spices however you like! Or replace with a tablespoon of pumpkin pie spice!

Pour it onto the cooled crust. Then top with chunks of the walnut dough. I like to use my fingers to just pick up pieces about the size of a quarter and sprinkle them on.

And then we're adding even more streusel because we are just extra like that. It's so simple, just a little melted butter and flour and sugar. If you love spice, throw in some cinnamon. I wanted to keep it simple!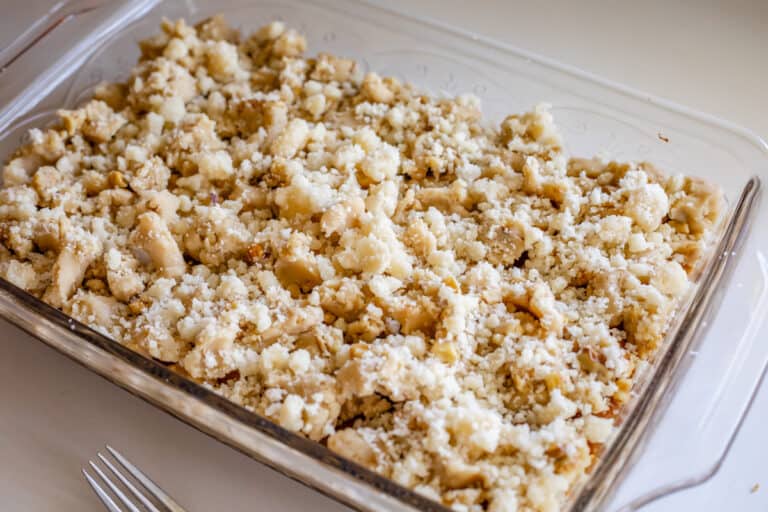 And voila! Here she is all ready for the oven! Bake for about 35-40 minutes until the streusel it lightly browning and the bars don't jiggle when you shake the pan.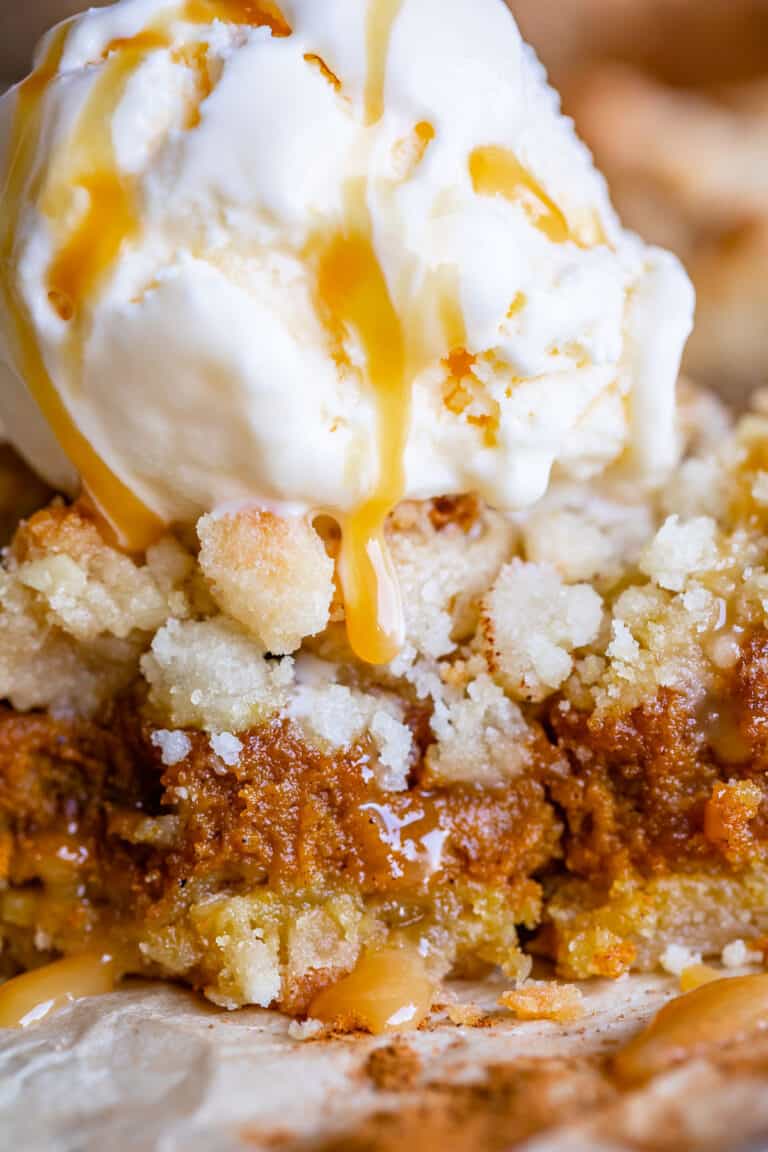 I like to serve these bars room temperature just like pumpkin pie. But warm or even chilled is amazing too! And who could say no to a giant scoop of vanilla ice cream and a drizzle of Caramel Sauce??
How to store Pumpkin Pie Bars
These bars will keep for several days on the counter! Seal tightly to lock in moisture. After 2-3 days, put them in the fridge.
Can you freeze Pumpkin Pie Bars?
Yes you can! Let cool completely, then wrap individual pieces in plastic wrap and then put in a ziplock. Freeze for 2-3 months! Let thaw on the counter and reheat in the microwave if you want.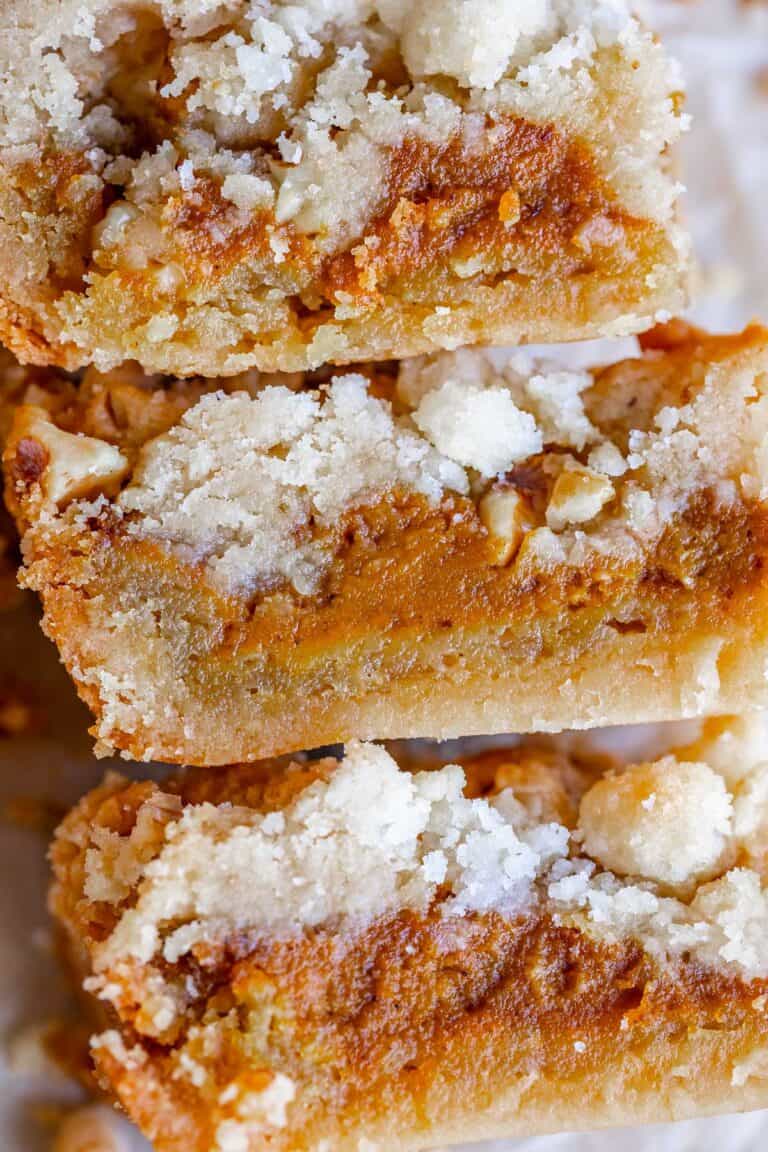 These are so easy!! I hope you get a chance to make them soon! Happy Thanksgiving everyone!
More recipes you will love!
Facebook | Pinterest | Instagram

Pumpkin Pie Bars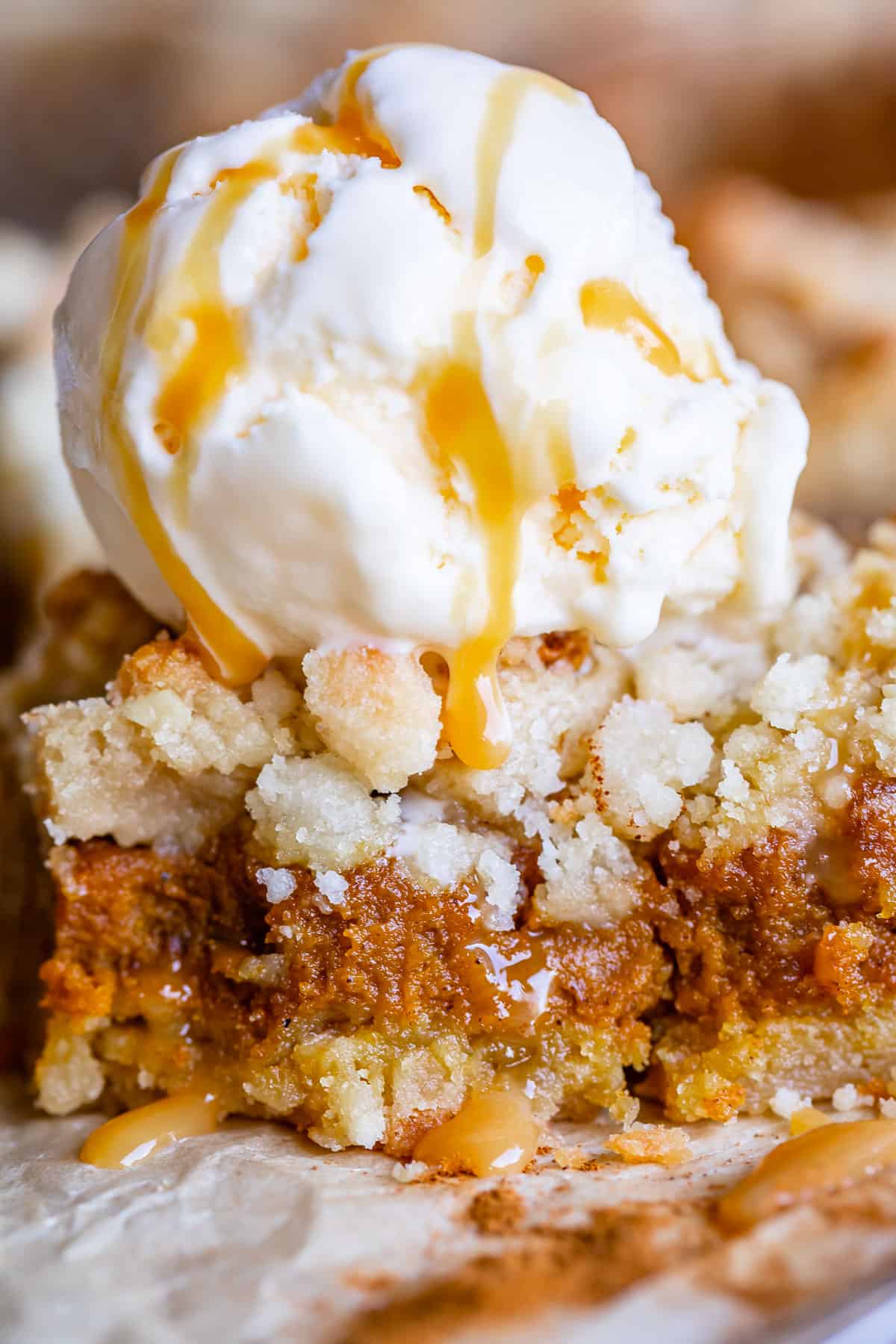 This Pumpkin Pie Bars recipe is hands down my favorite pumpkin dessert!! They are super easy to put together and have the perfect ratio of pumpkin pie filling to shortbread crust (hint: heavy on the shortbread!!)
Ingredients
For the shortbread
2

cups

butter

,

slightly softened

3/4

cup

granulated sugar

1/2

cup

brown sugar

,

packed

1

tablespoon

vanilla extract

1 & 1/2

teaspoons

kosher salt

4

cups

all-purpose flour

,

spooned and leveled

3/4

cup

chopped walnuts

,

to be added to the top layer
For the pumpkin filling
2

cups

pumpkin puree

,

not pumpkin pie mix*

2

large

eggs

1/2

cup

granulated sugar

1/2

cup

brown sugar

,

packed

1/2

teaspoon

kosher salt

1

teaspoon

cinnamon

1

teaspoon

ground ginger

1/2

teaspoon

nutmeg

1/4

teaspoon

cloves

1/8

teaspoon

cardamom

,

optional
For the streusel
3

tablepoons

butter

,

melted

1/3

cup

granulated sugar

1/3

cup

all purpose flour
Instructions
Make the shortbread crust. In a large bowl or stand mixer, beat 2 cups of butter until smooth and creamy, about 2 minutes.

Add 3/4 cup granulated sugar and 1/2 cup packed brown sugar. Beat another minute until soft and fluffy. There should be no butter chunks.

Add 1 tablespoon vanilla extract and 1 and 1/2 teaspoons kosher salt.

Add the 4 cups of flour 1 cup at a time, mixing and scraping down the sides each time. You might think this is too much flour but I promise, it's not! Just use a rubber spatula to scrape down the bottom and sides and work in all the floury crumbles at the bottom.

Grease a 9×13 inch baking pan with butter or nonstick spray. Divide the dough into two, one portion a bit larger than the other. Press the slightly larger portion of dough into the bottom and about an inch up the sides of the pan.

Chill the dough pressed in the pan for 20 minutes while you preheat the oven to 350 degrees F.

Once the dough pressed into the pan has chilled, bake it at 350 for about 18-20 minutes, until lightly browned. Set aside to cool for a few minutes (it's okay if it's a little warm when you pour on the pumpkin.)

Meanwhile, add 3/4 cup chopped walnuts to the slightly smaller portion of dough. Mix it together, then cover and chill in the fridge. (I transfer this walnut-dough to a new bowl and store it in the fridge, so that I can use the mixer bowl for the pumpkin filling)

Make the pumpkin filling. You can do it in the same bowl that you did the shortbread in if you scrape it out well. No need to wash. Add 2 cups pumpkin puree*, 2 eggs, 1/2 cup sugar, 1/2 cup brown sugar, 1/2 teaspoon kosher salt, 1 teaspoon cinnamon, 1 teaspoon ginger, 1/2 teaspoon nutmeg, 1/4 teaspoon cloves, and 1/8 teaspoon cardamom (optional). Whisk it all together until smooth.

Pour the pumpkin filling into the baked crust. I spread it to within about a half inch of the edges.

Get the walnutty dough out of the fridge. Use your hands to break up the dough into chunks about the size of a quarter, some bigger some smaller. Cover the top of the pumpkin, it's ok if some pumpkin peeks through.

Make the streusel. In a small bowl melt 3 tablespoon butter. Add 1/3 cup sugar and 1/3 cup flour and mix together with a fork to create small crumbles.

Sprinkle the streusel over the crumble evenly.

Bake the pumpkin pie bars at 350 degrees for about 35-40 minutes, until the streusel it lightly browning and the bars don't jiggle when you shake the pan.

Let cool completely before serving at room temperature or chilled. You can stick it in the fridge to speed this up!
Notes
*Pumpkin pie mix is already sweetened and has spices. You want to buy 100% pumpkin puree. ALSO: 2 cups is just a little bit more than a 15-ounce can of pumpkin. I always buy the larger cans, so I measure out 2 cups, but I think you will be fine using one 15-ounce can.
Nutrition
Calories:
516
kcal
|
Carbohydrates:
63
g
|
Protein:
6
g
|
Fat:
28
g
|
Saturated Fat:
15
g
|
Polyunsaturated Fat:
4
g
|
Monounsaturated Fat:
7
g
|
Trans Fat:
1
g
|
Cholesterol:
85
mg
|
Sodium:
510
mg
|
Potassium:
162
mg
|
Fiber:
2
g
|
Sugar:
35
g
|
Vitamin A:
5515
IU
|
Vitamin C:
1
mg
|
Calcium:
42
mg
|
Iron:
2
mg