What to do with your bounty of Rainier cherries? (Besides shovel them directly into your mouth.) Make Rainier Cherry Bars! A thick and buttery shortbread crust with a sweet layer of Rainier cherries, topped with crumble.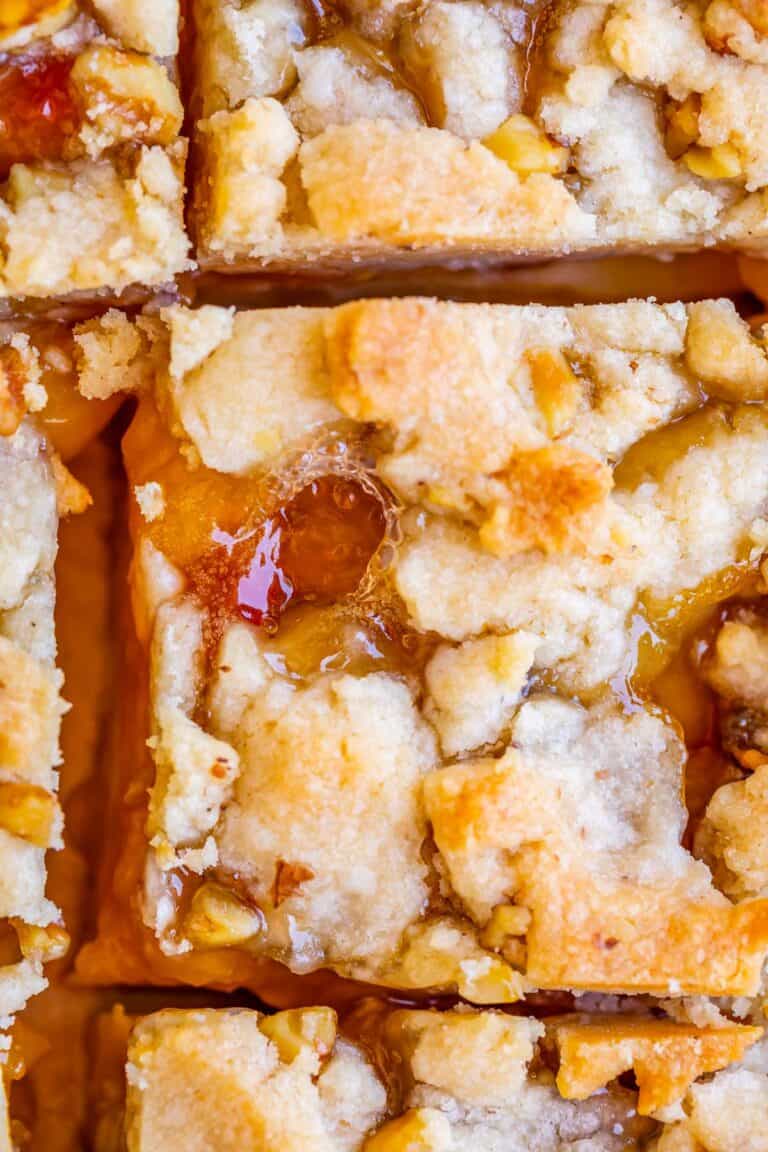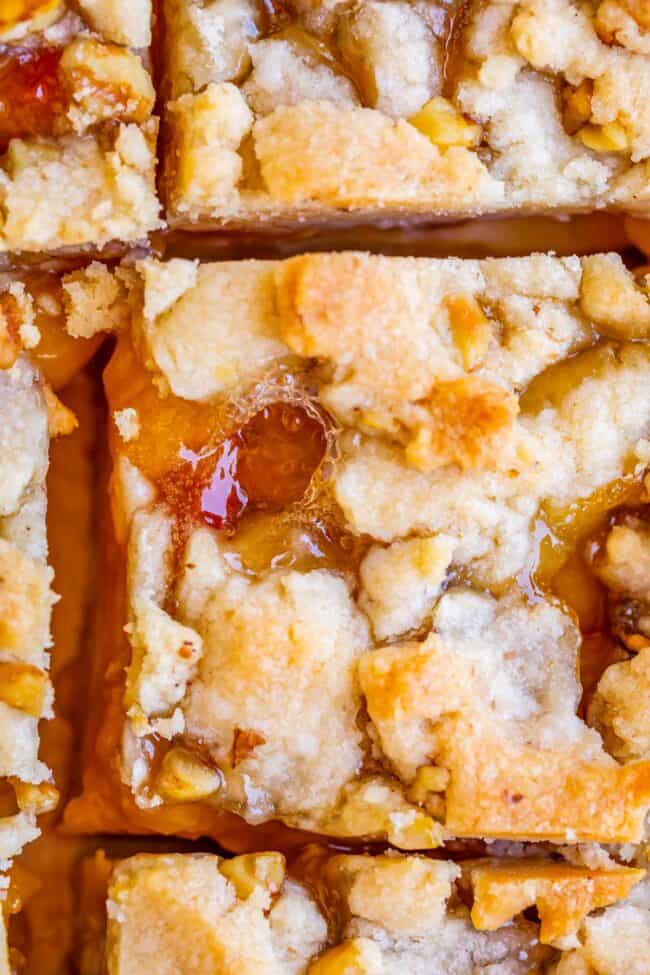 Last week we took a little road trip, and after we got started on the highway, Eric lamented that he had forgotten to bring nail clippers. Oh, no problem, I said, I brought a nail file.
You would have thought I had offered him a chainsaw. "A nail file? I'm not going to FILE MY NAILS. It would take hours. No, never."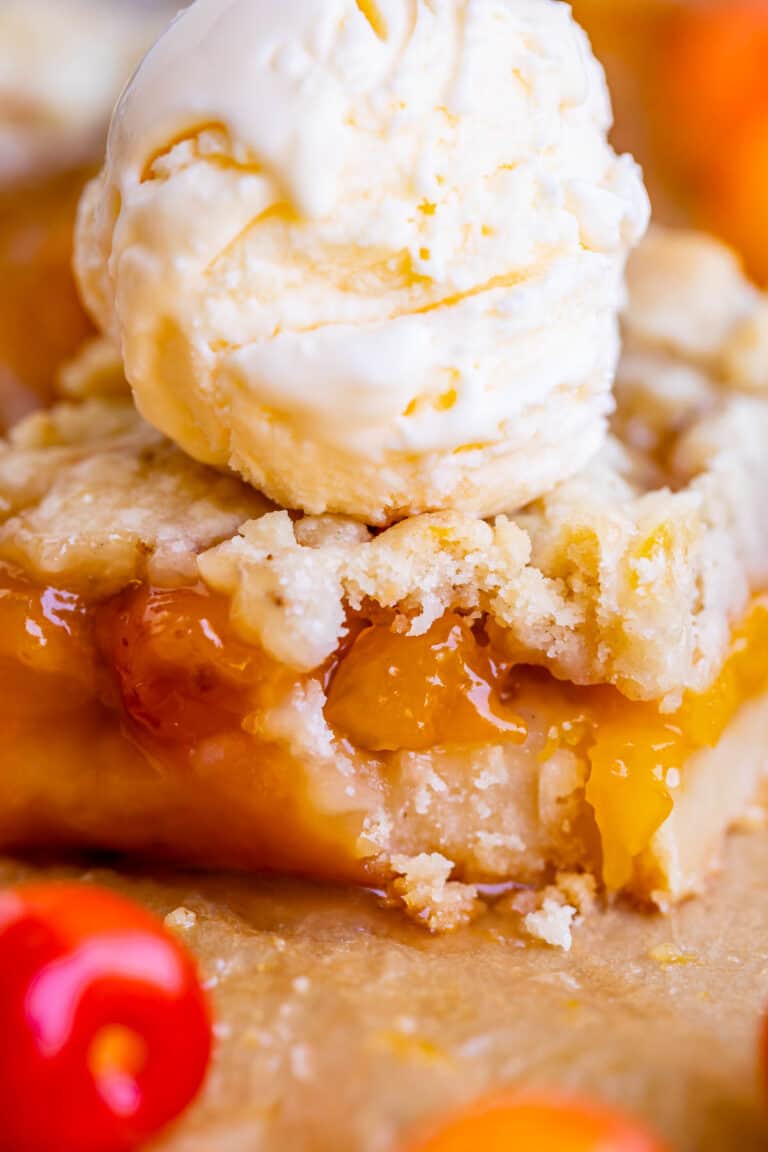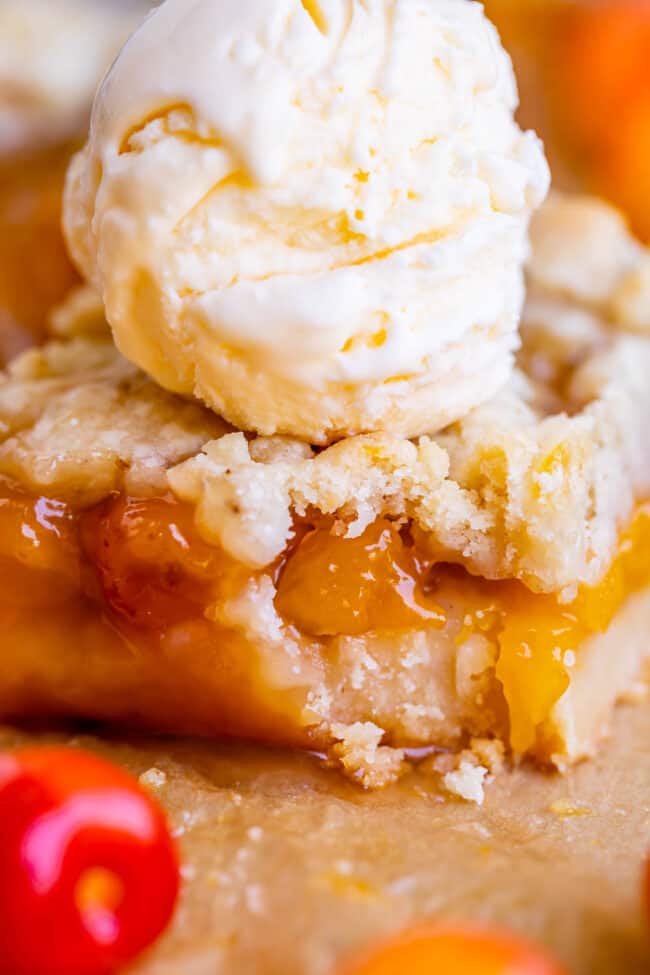 "Hours?? You've seriously never filed your nails? It takes like 10 minutes max."
"No. I'm not doing that. What guy files his nails???"
What guy indeed!! Sorry for offending your manly ways Eric. I kept giggling about it and he kept saying, "This isn't that funny." Why does everything become funnier when someone tries to convince you it's not funny?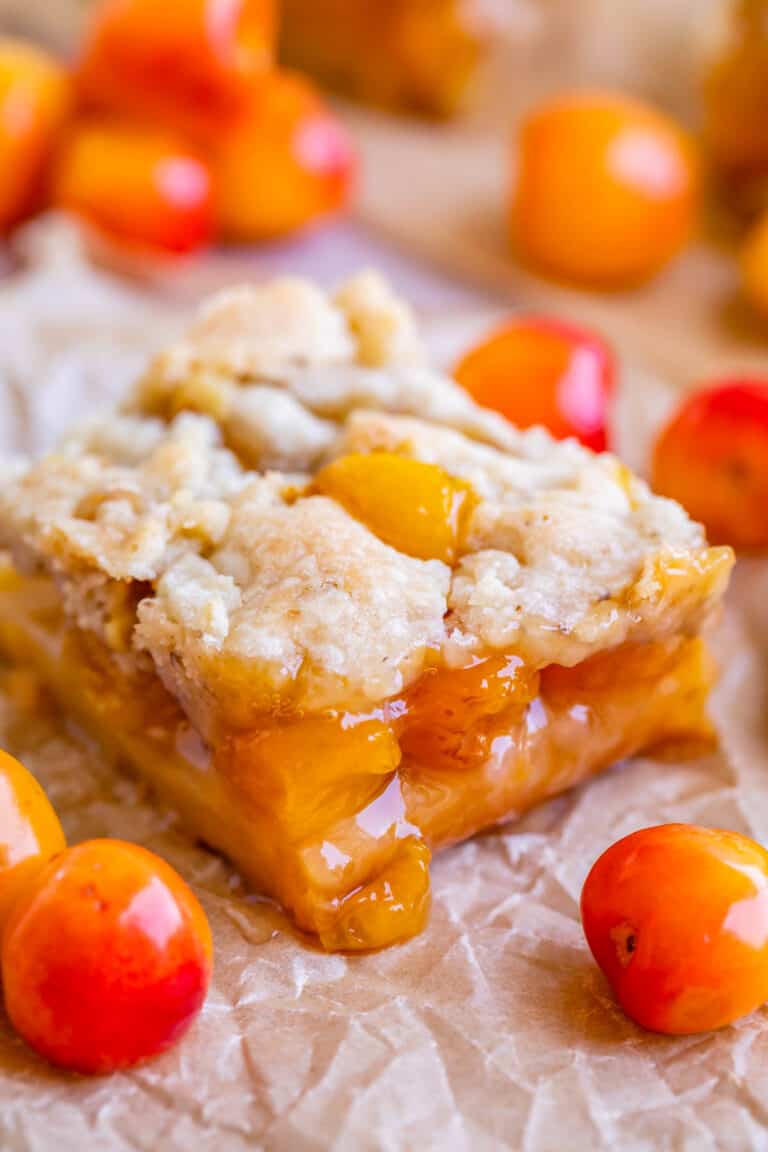 He made it through the whole trip with extra long fingernails, but probably didn't even notice because we were in DISNEYLAND!! Guys, it was so fun. I'm ruined for Disneyland trips forevermore. It will never top this trip. They are still at limited capacity, so all the lines were ridiculously short. And just a few days before we got to the park, they lifted the mask mandate.
And our kids are just the PERFECT ages for Disneyland, no one is too old or too young. But wait, Karen, don't you have an 18-month-old baby who doesn't have one single word in his vocabulary yet, who wails constantly about everything? Why yes I do, but get this: we left him at home with a friend. Oh yes we did.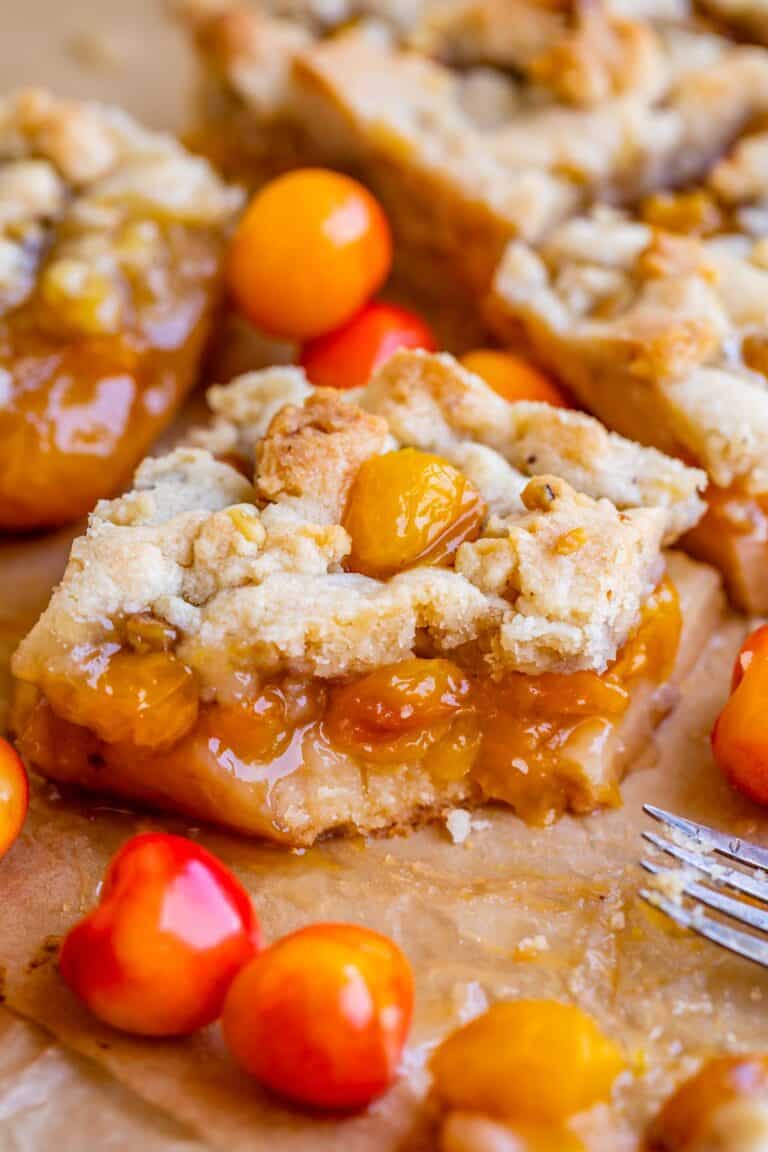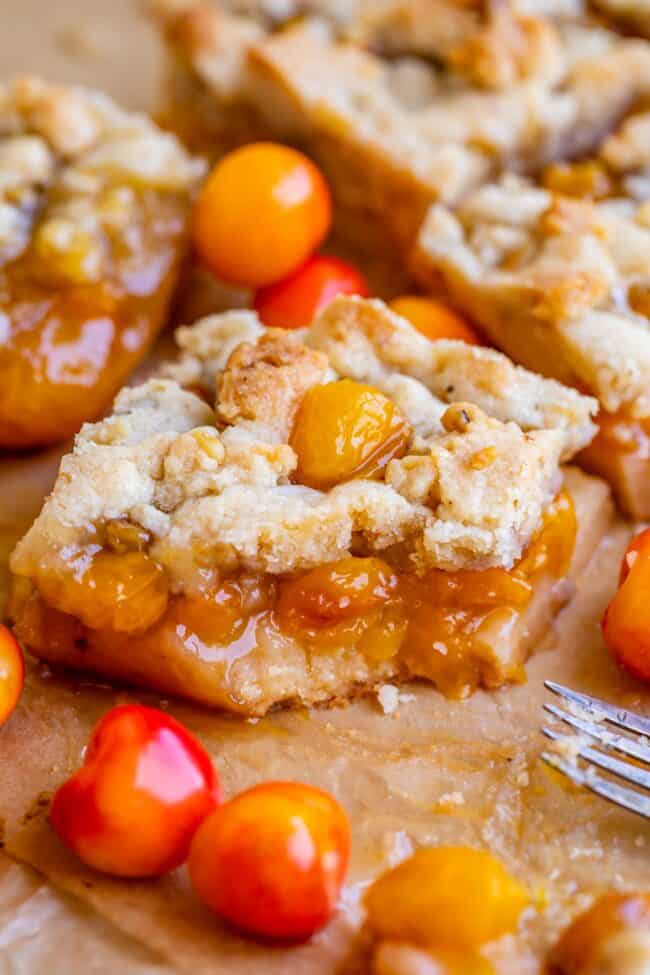 You may call me heartless, but bringing a baby to an amusement park sounds like torture to be honest. He was happier at home anyway. It was the best trip ever! If you can get yourself to Disneyland in the next few months before they get back to 100% capacity, definitely do it!
Rainier cherries
More good news: Rainier cherry season is here! If you have never had Rainier cherries, you are in for a treat.
My uncle Larry is a master gardener. He has fruit trees all over his property, and recently he brought me a giant basket of Rainier cherries from his trees in the yard. What a guy, right?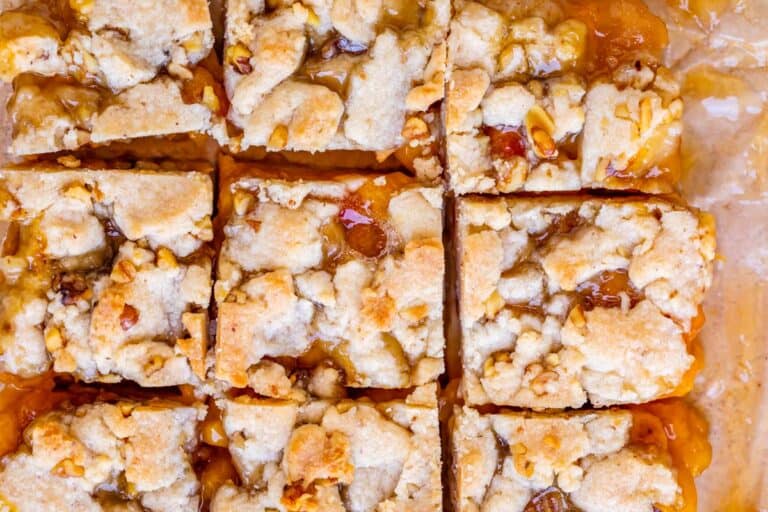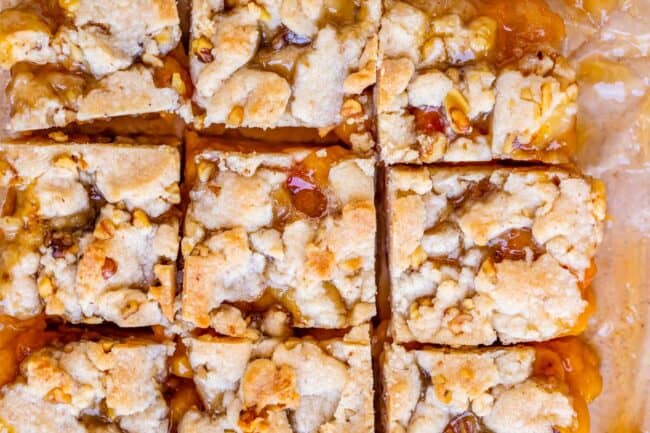 If you've been following my blog for a while, you'll know that I am slightly obsessed with shortbread bars. It all started with these Apple Pie Bars, but these days I basically slap any fruit I can get my hands on in between layers of buttery shortbread (like cranberry, rhubarb, and regular cherries.) It's just my favorite!
So when I got my hands on a giant bucket of Rainiers, I knew exactly what I was making! You can see what's coming…Rainier cherry bars for the win!
These cherry pie bars are on a whole 'nother level you guys. Rainier cherries are fleshy and sweet, and pair perfectly with a rich, buttery, not-overly-sweet crust.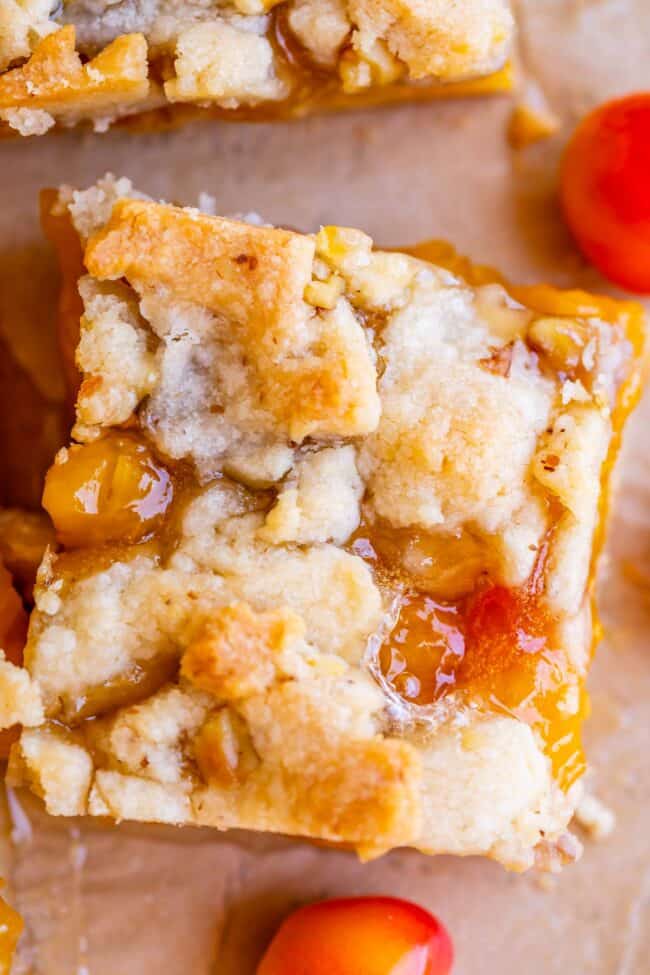 I know these bars look like they are made with apricots or peaches. That yellow cherry color kind of confuses your brain! But rest assured, the flavor is all Rainier cherry. They are not like the Bing's that you are used to; they have a cherry flavor of their very own. Sandwiched between two layers of buttery shortbread, you really just can't say no to these!
What are Rainier cherries?
I've lived in California my whole life, and this was still the first time I'd ever tried Rainiers. They are pretty rare! Rainier cherries are a variety of sweet cherry that are yellow in color, with a rosy red blush on the shoulders. They are very sweet and large in comparison to other cherry varieties. Some say they are like the champagne of cherries, a luxurious and rare treat.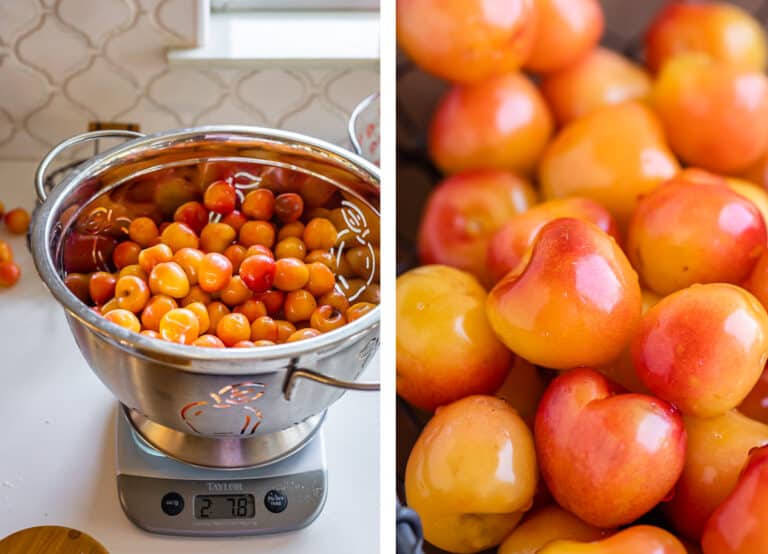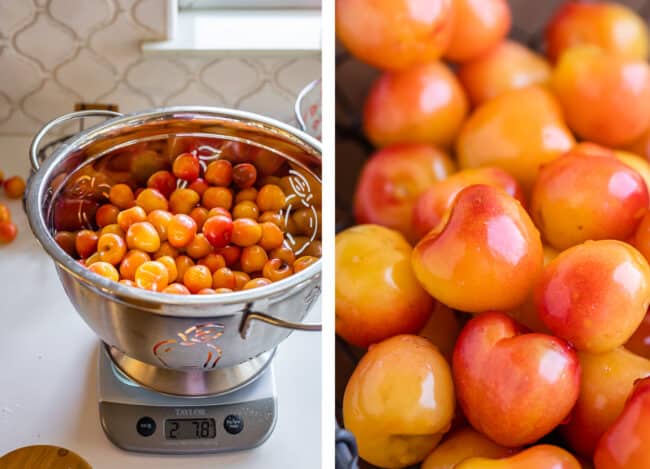 Well compare it to whatever you want, they are freaking delicious. Creamy and sweet and tart. I was popping them like candy. If you get your hands on some, I dare you to make this recipe before you eat them all. It's going to be tough.
Rainier cherries are a cross between two red cherries (funny right?), the Bing and Van varieties. They were developed in 1952 at Washington State University, and named after nearby Mt. Rainier. They are most common on the West coast.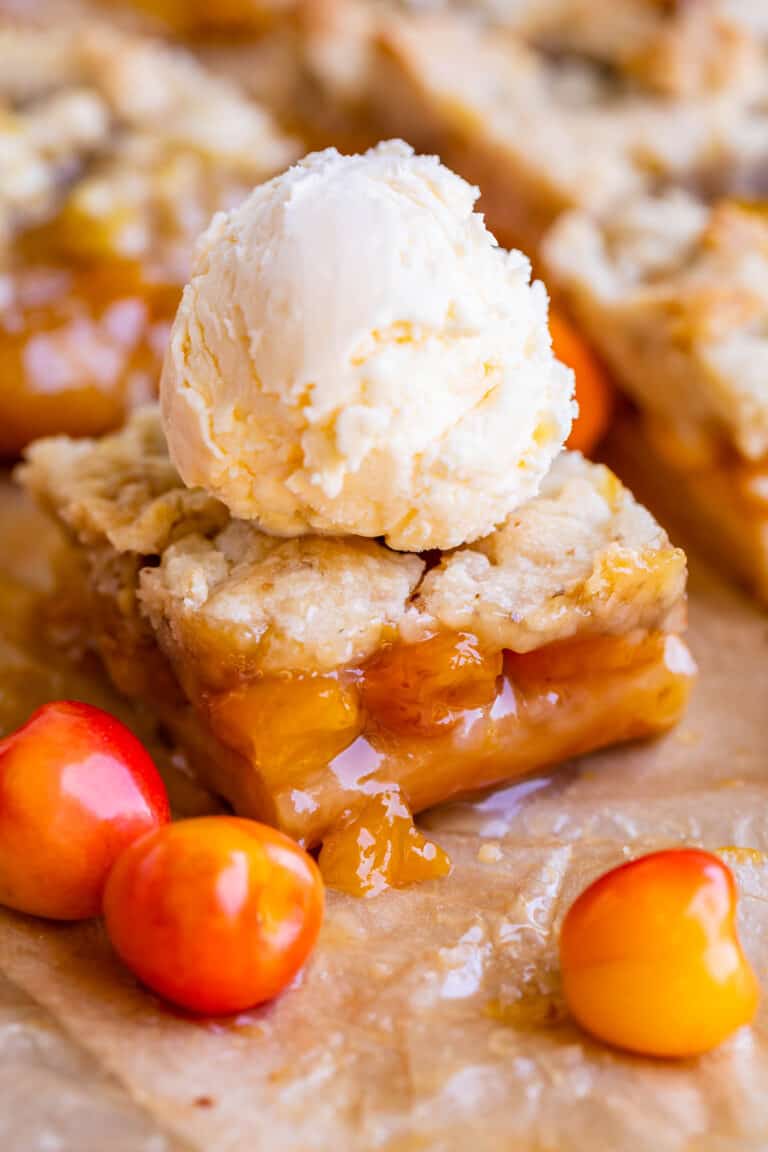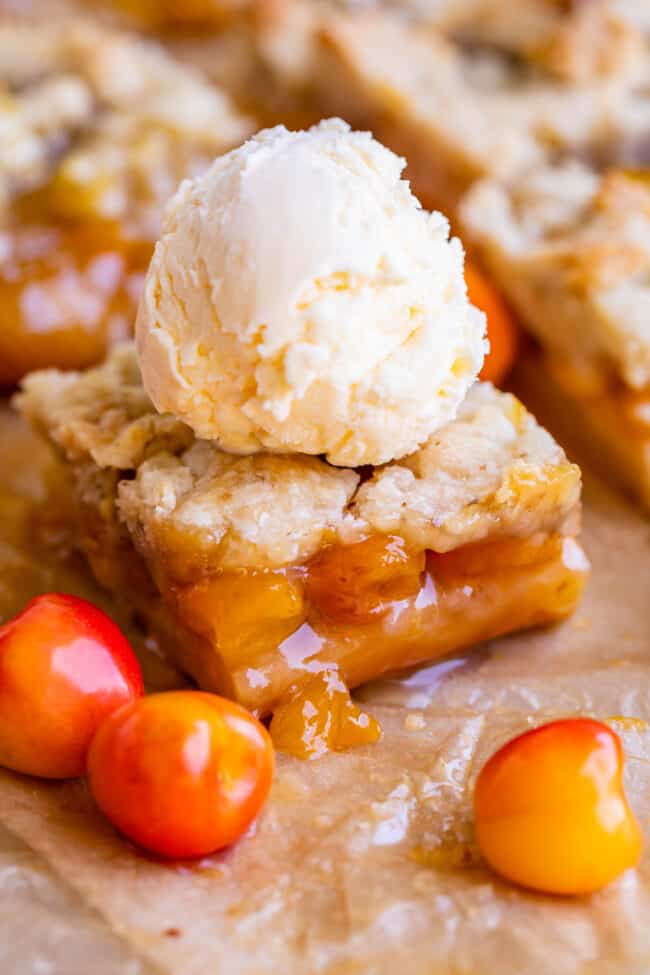 When are Rainier cherries in season?
In California, Rainier cherries are harvested in May (sometimes April) and throughout June. In Washington and Oregon, the harvest begins in June and runs through early August, peaking around the 4th of July.
Where to buy Rainier cherries
The farmer's market is going to be your best bet. Call your local farms to see if they have any U-pick orchards. If you can't find any locally, there are a few places that sell them online. Try The Fruit Company or Pak it Rite. If you live on the West coast you should be able to find them in grocery stores starting in May and into August, depending on the season and where you live.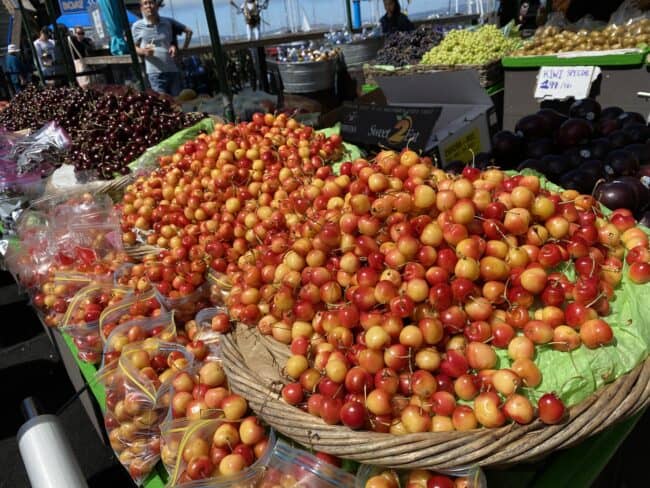 I just went to Pier 39 in San Francisco last weekend and saw these gorgeous Rainier cherries for sale.
Why are Rainier cherries so expensive?
They just don't grow in a lot of places! So it's a scarce commodity. Rainier cherries are only commercially grown in California, Washington, and Oregon (as far as I know; someone please correct me if I'm wrong!) The other reason they are so expensive is because they are yellow and have a very delicate skin: they bruise quite easily, making shipping kind of a nightmare.
How to make Rainier cherry bars
First put together your shortbread crust. It's just butter, sugar, vanilla, almond extract, flour and salt. Back to the basics, yo. This stuff is so simple and so good. I have to work really hard to not just eat it all as dough. Bake it up and set aside to cool.


Fold in some toasted walnuts to 1/3 of the dough for the topping and set aside.
Now it's time to prep your cherries. I have a hack for you.
How to pit cherries with a straw
Do you have a cherry pitter? Maybe I'll get one someday but until then, straws work like a charm! Metal straws are best, paper straws work okay, plastic straws are garbage (too flimsy to be forced through the cherry. Trust me, I tried to make it work, it doesn't.)


Paper straws will eventually wimp out on your too, I probably went through 10 or so, using each end, to pit all the cherries I needed for this recipe. But I just had a genius idea, you could snip off the soggy end of the straw multiple times so you have a nice sturdy end until the straw is too small to use. Man, I wish I had thought of that yesterday when I was doing it!
Cherry Pie Filling
Once you've got all your cherries pitted, it's time to cook up your cherry filling.


Cook the cherries in some sugar and lemon juice until it is thick and the cherries have softened.


Pour it into your baked crust and top with the remaining dough with the walnuts. You can skip the walnuts if you like, but I really feel like they add a lot in this recipe! Bring on the crunch!
Can I use a different variety of cherry in this Rainier Cherry Bar recipe?
Yes! Any sweet cherry will do just fine. You know, the kind that people tell you not to bake with. I say phooey on that. This shortbread doesn't have a ton of sugar in it, giving the Rainier cherries a chance to show off all their sweetness. You can replace the Rainier cherries with Bing cherries or any other snacking cherry if you like. If you want to use sour cherries, be sure to add more sugar to the filling!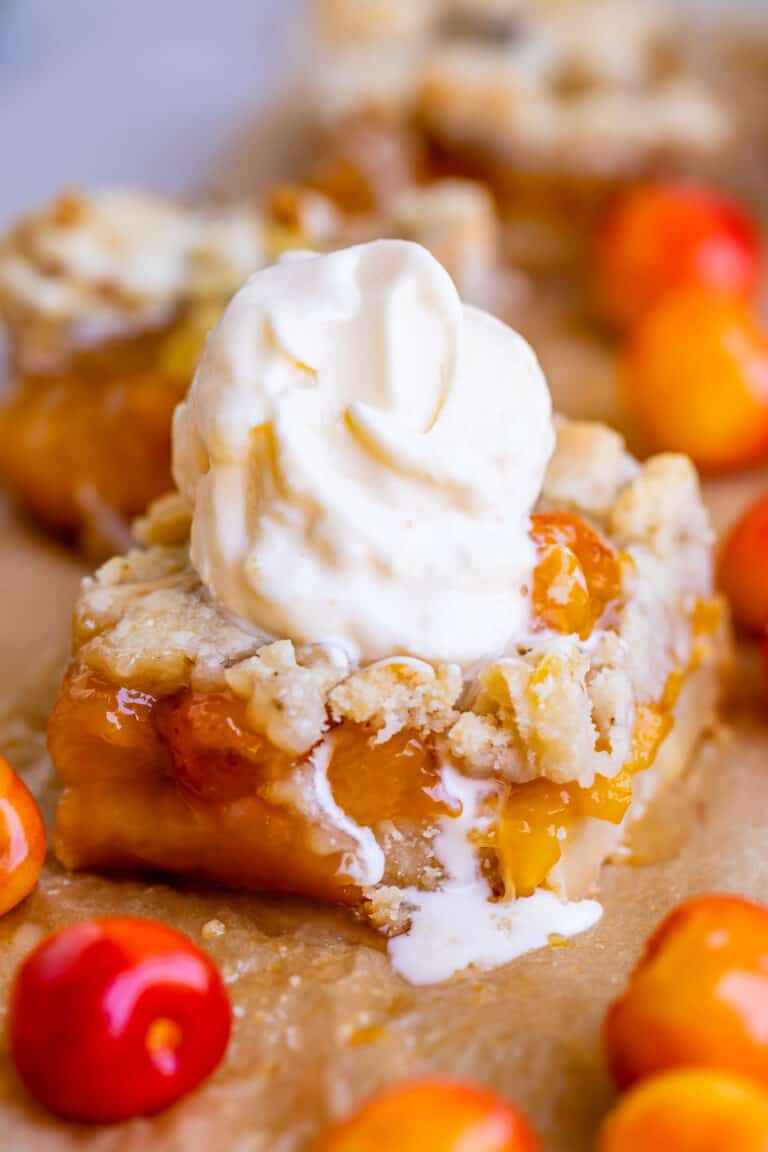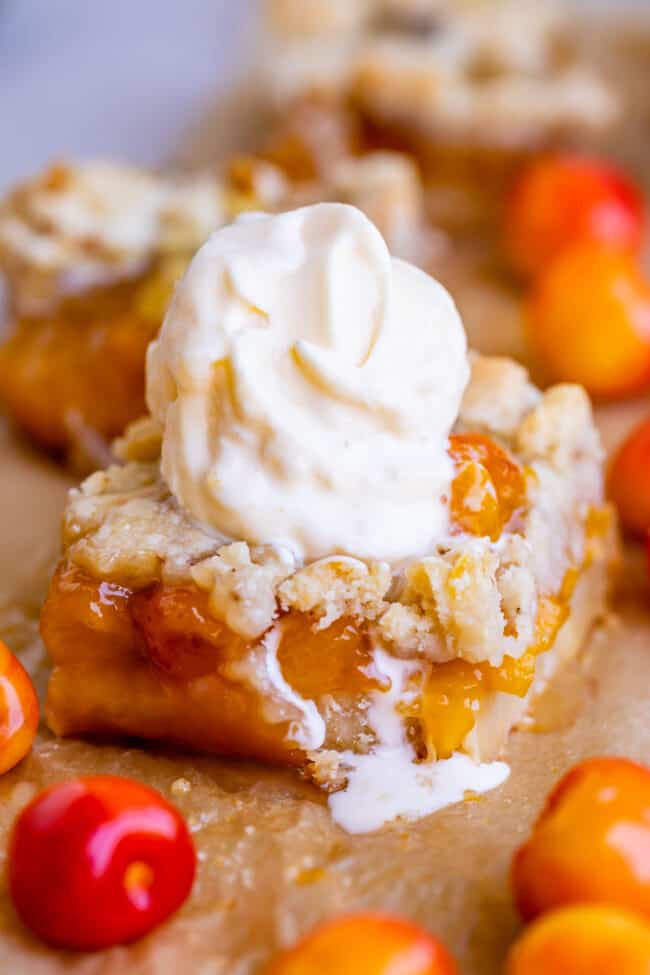 Other ideas for Rainer cherry recipes
If you have a bumper crop of Rainier cherries, check out these recipes:
More Shortbread Bars you should try!
I know that Rainier cherries are difficult or impossible to come by for many of you. You could definitely use a different variety of cherry. Or you could choose a fruit you have on hand and make one of these other pie-turned-into-bars desserts!
More cherry recipes to try!
Facebook | Pinterest | Instagram

Rainier Cherry Pie Bars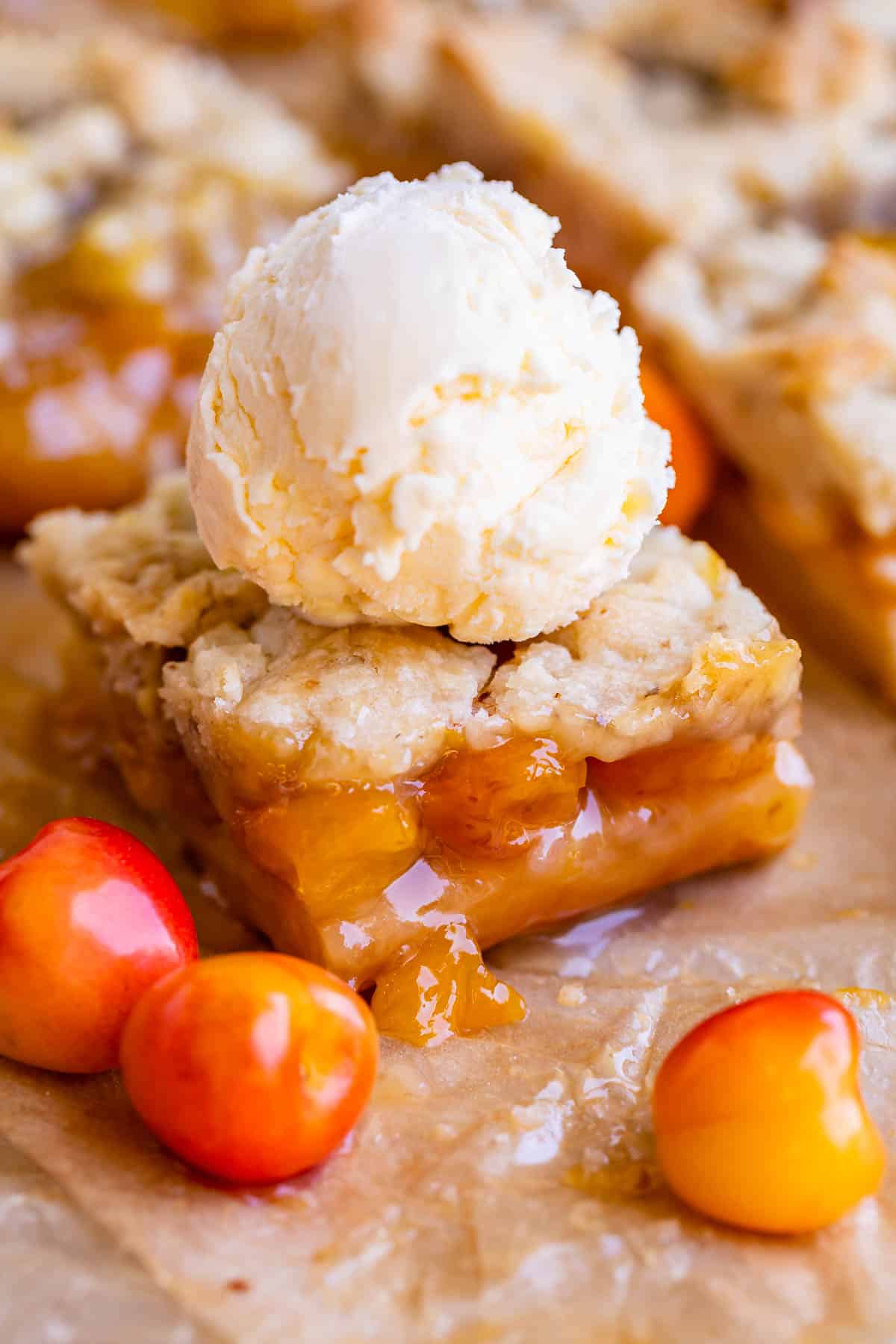 What to do with your bounty of Rainier cherries? (Besides shovel them directly into your mouth). Make Rainier Cherry Bars! They say these cherries are too sweet to bake with but I beg to differ. These rainier cherry bars are the perfect balance of sweet and tart!
Ingredients
For the crust/topping
2

cups

butter

,

softened (4 sticks)

1

cup

granulated sugar

1

teaspoon

vanilla extract

1

teaspoon

almond extract

1 & 1/2

teaspoons

kosher salt

4

cups

flour

,

spooned and leveled

1/2

cup

toasted walnuts

,

chopped
For the cherry filling
2 & 1/2

pounds

Rainier cherries

,

pitted (about 8 cups cherries)

1 & 1/4

cups

granulated sugar

1/4

cup

fresh lemon juice

,

from 1 large lemon

1 & 1/2

tablespoons

cornstarch

1/4

teaspoon

kosher salt
Instructions
Begin by deciding if you want walnuts in your cherry pie bars. (You do.) Preheat your oven to 375 degrees F. Spread 1/2 cup chopped walnuts over a dry baking sheet. Bake for about 5 minutes, stir, then continue baking in 2 minute increments, stirring every time, until the nuts are browned and quite fragrant. Remove from the oven and let cool.

Meanwhile, line a 9x13 inch pan with parchment paper, or grease with nonstick spray or butter. Set aside.

Make the shortbread crust. In a large bowl or stand mixer, add 2 cups of butter. Beat thoroughly for a couple minutes until the butter is smooth and there are no lumps. Be sure to scrape the sides and bottom of the bowl.

Add 1 cup sugar. Continue beating for another 2 minutes, until the butter is light and fluffy.

Add 1 teaspoon vanilla extract, 1 teaspoon almond extract, and 1 and 1/2 teaspoons kosher salt. Beat to combine.

Add 1 cup of flour, making sure you are spooning the flour into the measuring cup and leveling it off. Beat until combined. Add the remaining flour 1 cup at a time (total of 4 cups), beating each time. Make sure to scrape the sides and bottom of the bowl. If you are using a hand mixer, you might need to mix the last cup or two manually with a wooden spoon.

Add about 2/3 of the dough to the prepared pan. (I like to separate the dough into chunks and spread them across the pan to make it easier to press in.) Use your hands to press the dough flat into the bottom of the pan. If your hands stick to the dough, lightly wet your hands. Place the pan in the fridge for about 20 minutes. Cold shortbread dough going into a hot oven is what gives you that perfect flaky texture.

Add the completely cooled walnuts to the remaining 1/3 of the dough that's still in the mixing bowl. Mix the walnuts in, cover, and chill in the fridge while your crust bakes.

Bake the crust. After a 20 minute chill in the fridge, bake the crust in the oven at 375 degrees F for about 18-20 minutes. (If you are using a glass pan, let the cold pan rest on the counter for about 2-3 minutes before putting it in the hot oven; you don't want to shatter your pan.) You will know the crust is done baking when the edges look golden brown and it is not shiny in the center. Set aside to cool.

Lower the oven temperature to 350 degrees F.

Make the cherry filling. Meanwhile, prep your cherries. Use a cherry pitter or a straw (a metal straw would work best) to pit 2 and 1/2 pounds cherries, or about 8 cups of cherries. Leave them whole, no need to halve them. Add the cherries to a 3 quart pot.

Add 1 and 1/4 cups sugar, 1/4 cup lemon juice, 1 and 1/2 tablespoons cornstarch, and 1/4 teaspoon kosher salt. Stir together.

Turn the burner on to high heat and bring the mixture to a boil. Once boiling, lower the heat to maintain a strong bubbling simmer (Medium or medium high) and let boil for about 5-6 minutes, stirring occasionally. The cherries will soften a bit and the liquid will get thick. The mixture will foam and rise up a bit, this is normal.

Pour the hot cherries onto the baked shortbread crust.

Working quickly, add the remaining shortbread crust on top the cherries. You want your shortbread to stay as cool as possible, so don't take forever. I like to pinch the dough off with my fingers into pieces about the size of a quarter and scatter them over the top. It's okay if you can still see cherries through the topping. See photos. At this point, you could sprinkle a tablespoon or two of demerara sugar over the topping if you want an extra crunch.

Make sure your oven has been lowered to 350. Bake the cherry pie bars for about 25-30 minutes, until the top is lightly browned.

Remove from the oven and let cool completely on a wire rack. If you are in a hurry (I always am!) you can let the bars chill in the fridge or freezer for a while to speed up the cooling process. Or you could cut into them after setting up for 10 minutes and eat them hot and warm with vanilla ice cream, although they will be a mess. Isn't a mess worth it sometimes though?
Nutrition
Calories:
500
kcal
|
Carbohydrates:
63
g
|
Protein:
5
g
|
Fat:
26
g
|
Saturated Fat:
15
g
|
Polyunsaturated Fat:
3
g
|
Monounsaturated Fat:
6
g
|
Trans Fat:
1
g
|
Cholesterol:
61
mg
|
Sodium:
458
mg
|
Potassium:
62
mg
|
Fiber:
3
g
|
Sugar:
36
g
|
Vitamin A:
710
IU
|
Vitamin C:
9
mg
|
Calcium:
17
mg
|
Iron:
2
mg