Pistachio Pesto Chicken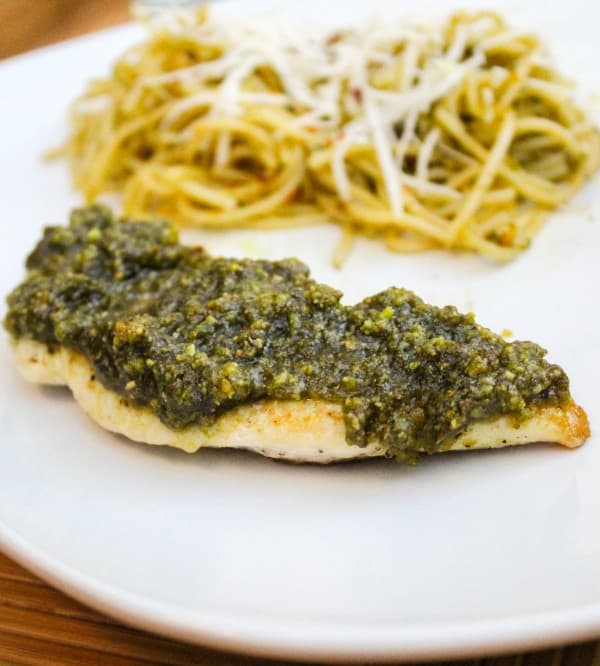 Whenever I think of pistachios I think of jazz shoes. I know this is odd, but some things just stick with you. I had terrible hearing when I was a kid because I had chronic ear infections (It's much better now, although Eric would argue with that). One time I was walking home from school and I saw my friend and her mom in their car at the end of the block. She rolled down the window and we started a yellersation (yelling conversation–this is a word, right?) that only 8-years-olds would attempt:
WHERE ARE YOU GOING?
WE'RE GOING TO BUY PISTACHIOS!!
YOU'RE GOING TO BUY PISTACHIOS???
NO, PISTACHIOS!!!
WHAT???
She was saying jazz shoes, of course.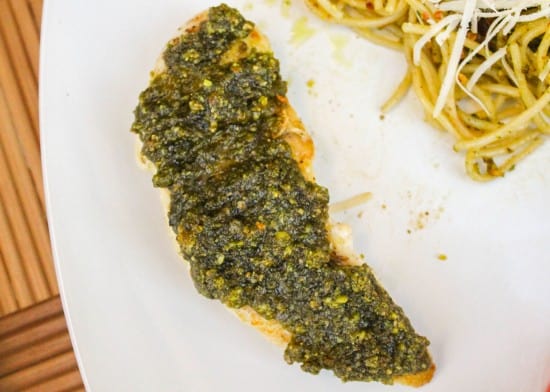 Eric is always laughing at me because I still do this. Instead of just saying, "What did you say?" I repeat back what I thought he said, and I'm always way off. I imagine this will just get worse as the years go by. I'm like Bendemolina. That was my favorite book growing up, with good reason.
But back to the pistachios. I mean, who doesn't like pistachios? At Costco they sell huge bags of pre-shelled pistachios, have you seen those? I was just making fun of a Reese's commercial today, apparently now they are selling unwrapped mini Reese's…because it's so hard to unwrap your candy. We wouldn't want to have any sort of delay in between hand and mouth. For some reason pre-shelled pistachios don't seem nearly as lame to me.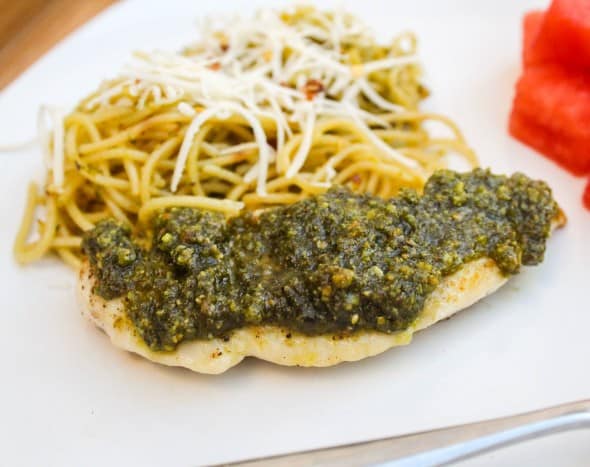 This chicken is goooood. You can't say no to chicken and pasta. Pretty simple too, the hardest part is making the pesto. It is delicious, especially if you are already a pistachio lover.
Pistachio Pesto Chicken
This pesto pistachio chicken is goooood. You can't say no to chicken and pasta. Pretty simple too, the hardest part is making the pesto.
Ingredients
4

chicken breasts

,

boneless, skinless

1

teaspoon

salt

1

teaspoon

pepper

4

tablespoons

olive oil

1

pound

angel hair spaghetti

,

whole wheat

1/4

teaspoon

red pepper flakes

,

crushed

1/4

cup

pecorino Romano cheese

,

finely grated

1

cup

pistachios

,

shelled

10

basil leaves

,

large, torn

1/4

cup

parsley

,

flat leaf, torn

1

clove

garlic

1/3-1/2

cup

olive oil

1/4

teaspoon

salt
Instructions
Preheat oven to 375 degrees F.

Pat chicken dry so that it will brown properly. Season chicken on both sides with salt and pepper. Heat a large oven-safe skillet (I used cast iron) on medium heat and add 2 tablespoons of olive oil. When the oil starts to shimmer, add chicken and cook until golden brown on both sides. It will take about 4-5 minutes each.

While the chicken is cooking, shell your pistachios. Try not to eat them all. Add pistachios, basil, parsley, garlic and cheese to a food processor. Blend until the nuts are coarsely chopped, then with the processor on, stream in 1/3 cup of olive oil. I used a bit more than this; the more you add, the more spreadable it will be. It's up to you. Add in 1/4 teaspoon of salt and blend once more. Spread a thin layer of pesto on top of each chicken breast in the skillet, then place in the oven and bake for 15 minutes, or until a meat thermometer reads 165.

Boil the pasta according to package directions. Once finished, drain pasta and toss with remaining 2 tablespoons of olive oil, about 1/4 cup of pesto, the red pepper flakes and grated pecorino. Add more pesto to taste. Once chicken is done, remove and spread a little more pesto on top. Serve with the pasta.
Nutrition
Serving:
0.25
cups
,
Calories:
880
kcal
,
Carbohydrates:
95
g
,
Protein:
25
g
,
Fat:
49
g
,
Saturated Fat:
8
g
,
Polyunsaturated Fat:
8
g
,
Monounsaturated Fat:
31
g
,
Cholesterol:
7
mg
,
Sodium:
817
mg
,
Potassium:
604
mg
,
Fiber:
3
g
,
Sugar:
2
g
,
Vitamin A:
562
IU
,
Vitamin C:
7
mg
,
Calcium:
156
mg
,
Iron:
6
mg
We are a participant in the Amazon Services LLC Associates Program, an affiliate advertising program designed to provide a means for us to earn fees by linking to Amazon.com and affiliated sites.