Almond-encrusted tilapia on a bed of polenta and a killer Honey-Dijon sauce. What's not to love about this quick and easy dinner?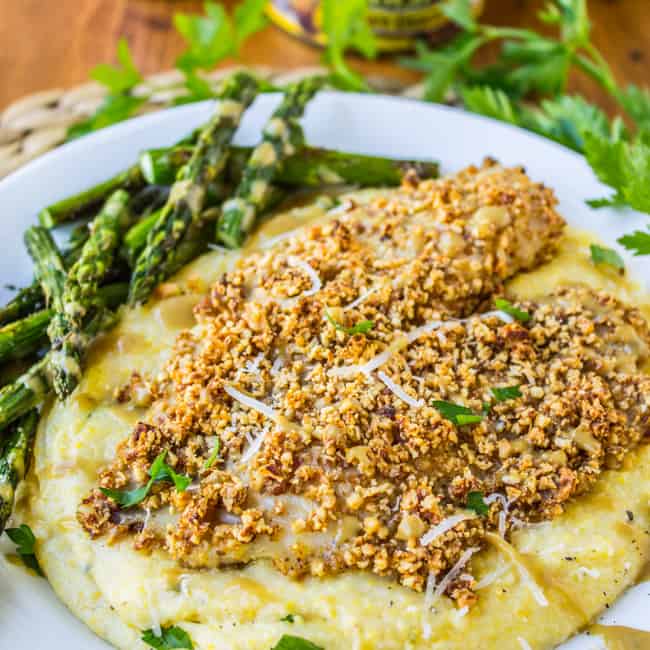 How do you pronounce the word "almond"? Just like "salmon," right? English makes so much sense. 'Merica.
I grew up pronouncing almond like salmon. My Grandpa Allen was an almond farmer, and that's the way he (and many other almond farmers in the Central Valley) said it. Why? We may never know, but my mother, who grew up surrounded by almond orchards, still hasn't kicked the habit. She's always shocked when she hears any of her children pronouncing it the "wrong way."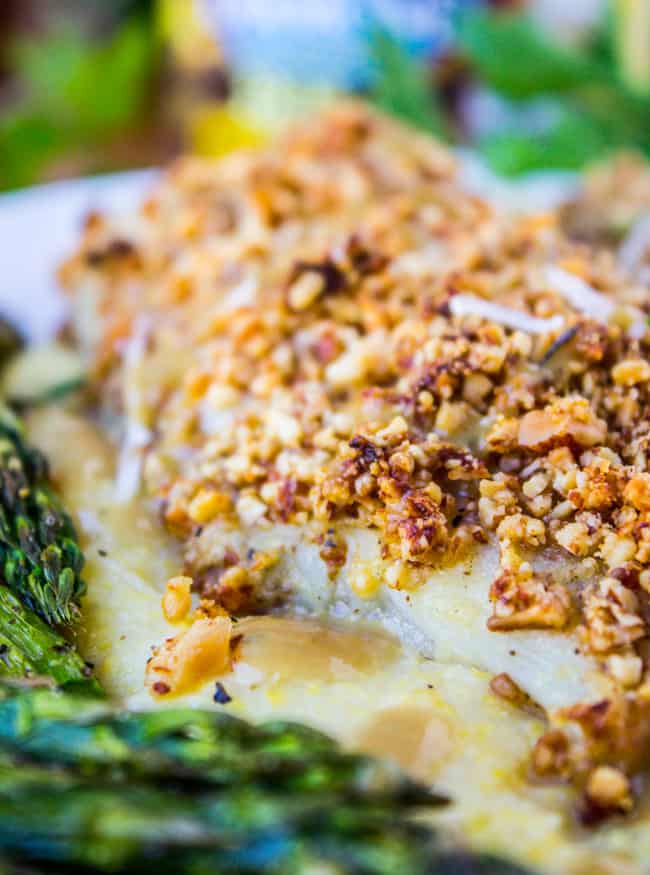 My Grandpa Allen always sold his almonds to Blue Diamond, so when they approached me about doing a post together I was pretty stoked. Here, have some almonds (that could very well be from your own grandfather's orchards!) and use them in a recipe. Okay, twist my arm. SO COOL.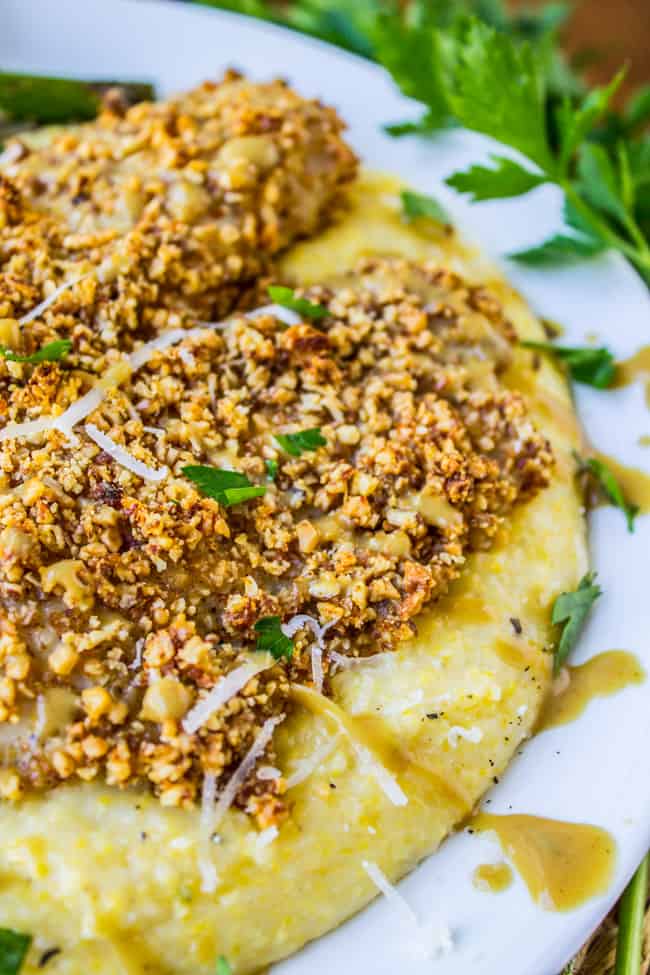 Grandpa Allen is passed away, but I just called my Grandma who still lives in their house out in the orchards. She said that the farmer she leases the land to still sells to Blue Diamond. Pretty awesome.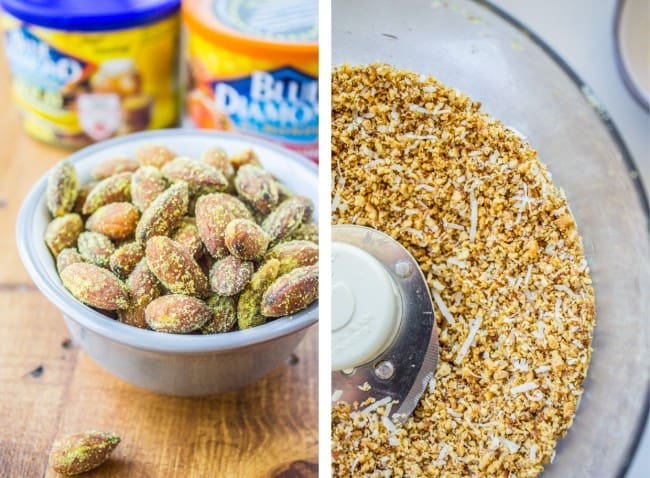 They sent me a can of Honey Dijon Almonds, and the minute I tasted them I knew I wanted to pair them with tilapia, because tilapia + nut crust = amazing. And when you add in the honey dijon part, well, game over. Don't skip the sauce, it only has a few ingredients but it packs a punch.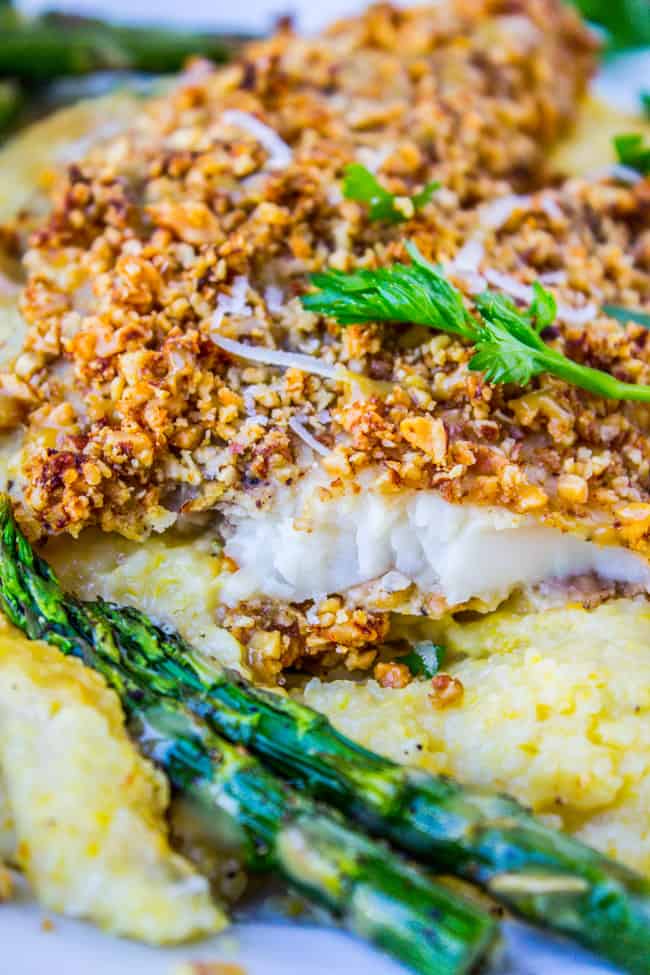 My friend Kate tried this the day I made it, and she loved it. I forgot to be nervous about offering her fish. Normally I would be, because she is from the coast of Maine and only likes fish that is freshly caught. If it's tasty to a self-proclaimed fresh-fish snob, then I say we've found a winner!
By the way, the creamy polenta is not mandatory, but highly recommended! I love polenta and always order it in restaurants, then wonder why I don't make it at home. It's super easy.
P.S. I haven't forgotten about the Cubanos I promised–they are coming Thursday! Thanks for all the support on my Cuban Mojo Marinated Pork, by the way. It already has over 11,000 pins on Pinterest! Crazy right? :)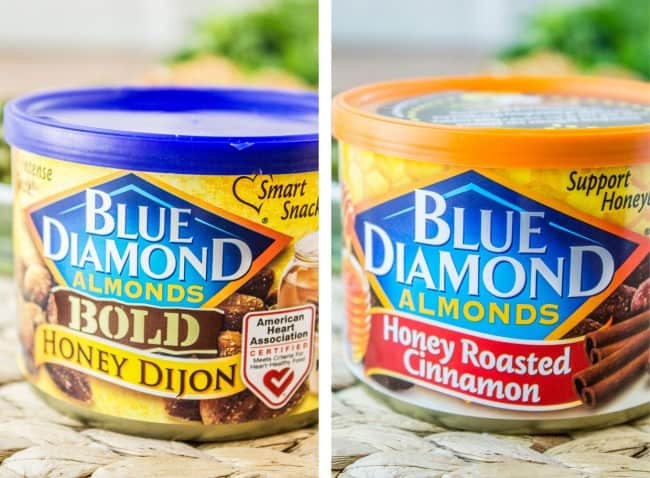 Blue Diamond sent me a tin of Honey Roasted Cinnamon Almonds too. I ate the whole can in the time it has taken you to read this sentence.
Some other recipes you might like:
Grilled Tilapia with Corn Salsa:
Honey Salmon with Brown Butter Lime Sauce:
Honey Lime Tilapia from Mel's Kitchen Cafe
Sweet and Spicy Tilapia from Farmgirl Gourmet
This post is sponsored by Blue Diamond Almonds. All opinions are my own. Thanks for supporting the brands that keep The Food Charlatan going!
Facebook | Pinterest | Instagram | Twitter

Almond-Crusted Honey Dijon Tilapia with Creamy Polenta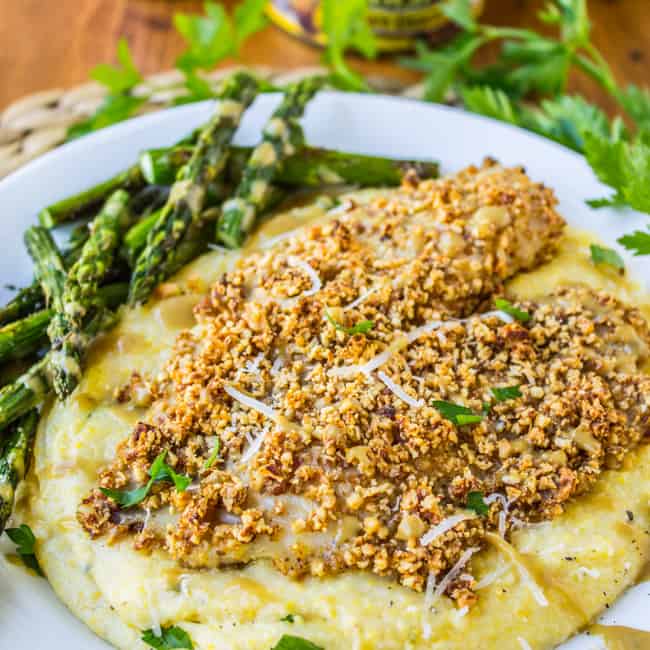 Almond-encrusted tilapia on a bed of polenta and a killer Honey-Dijon sauce. What's not to love about this quick and easy dinner?
Ingredients
For the tilapia:
4

6-oz

tilapia filets

,

patted dry

salt and pepper

2

tablespoons

flour

1

egg

2

teaspoons

dijon mustard

1

tablespoon

honey

1

tablespoon

water

1

cup

Blue Diamond Honey Dijon Almonds

1/2

cup

parmesan cheese

,

shredded
For the polenta:
2 & 2/3

cups

chicken broth

,

*

1/2

teaspoon

dry mustard

2/3

cup

dry polenta

1/4

cup

parmesan

,

shredded

1/4

teaspoon

oregano

1/4

teaspoon

salt

1

tablespoon

cream
For the Honey Mustard sauce:
1/3

cup

Dijon mustard

1

tablespoon

Worcestershire sauce

1/4

teaspoon

dried thyme

1

tablespoon

vinegar

2

tablespoons

honey
Instructions
Preheat your oven to 400 degrees F.

Lay out the tilapia on a dry work surface, and sprinkle with salt and pepper. Sprinkle with 1 tablespoon flour, then flip them over and repeat with more salt and pepper and the last tablespoon of flour.

In a shallow plate or pie plate, combine 1 egg, 2 teaspoons dijon, 1 tablespoon honey, and 1 tablespoon water. Whisk well.

In a food processor, add 1 cup Honey Dijon Almonds. Pulse until ground, see photos. Add the 1/ cup grated parmesan cheese and pulse to combine with the nuts. Add the nut mixture to another pie plate or shallow dish.

Dip each filet into the egg mixture. Then dip it in the nut mixture, pressing gently. Make sure all of the fish gets coated.

Coat a baking sheet with nonstick spray and place the fish on it in a single layer. Bake at 400 for 12-14 minutes or until browning on top and the fish flakes with a fork.

Meanwhile, in a medium saucepan bring 2 and 2/3 cup chicken broth and 1/2 teaspoon dry mustard to a boil. Slowly whisk in the polenta. Turn the heat down to low.

Whisk every couple minutes for about 20 minutes, or until the polenta has started to thicken. Add the parmesan, oregano, 1/4 teaspoon salt, and cream. Don't let your polenta sit too long before serving, because it will start to harden as it cools. If the tilapia isn't ready, leave the burner on low and stir every couple minutes.

While the polenta cooks, add 1/3 cup dijon, Worcestershire, thyme, and vinegar to a small sauce pan. Stir together and cook until hot.

Serve the tilapia over the polenta, and drizzle the sauce over the top.
Notes
* I used water and Better Than Bouillon.
You can always just use a knife to chop the almonds finely if you don't have a food processor.
Nutrition
Serving:
1
filet
|
Calories:
529
kcal
|
Carbohydrates:
56
g
|
Protein:
19
g
|
Fat:
26
g
|
Saturated Fat:
6
g
|
Polyunsaturated Fat:
5
g
|
Monounsaturated Fat:
13
g
|
Trans Fat:
1
g
|
Cholesterol:
59
mg
|
Sodium:
1206
mg
|
Potassium:
502
mg
|
Fiber:
5
g
|
Sugar:
20
g
|
Vitamin A:
329
IU
|
Vitamin C:
12
mg
|
Calcium:
345
mg
|
Iron:
3
mg