Banana Churros with Chocolate Peanut Butter Sauce
Bananas wrapped in flour tortillas, then fried and rolled in cinnamon sugar. I know, NOT a churro. But it tastes like a banana-filled churro, spot on. And then there's the Chocolate Peanut Butter dipping sauce, so really I'm not even sure why you're complaining.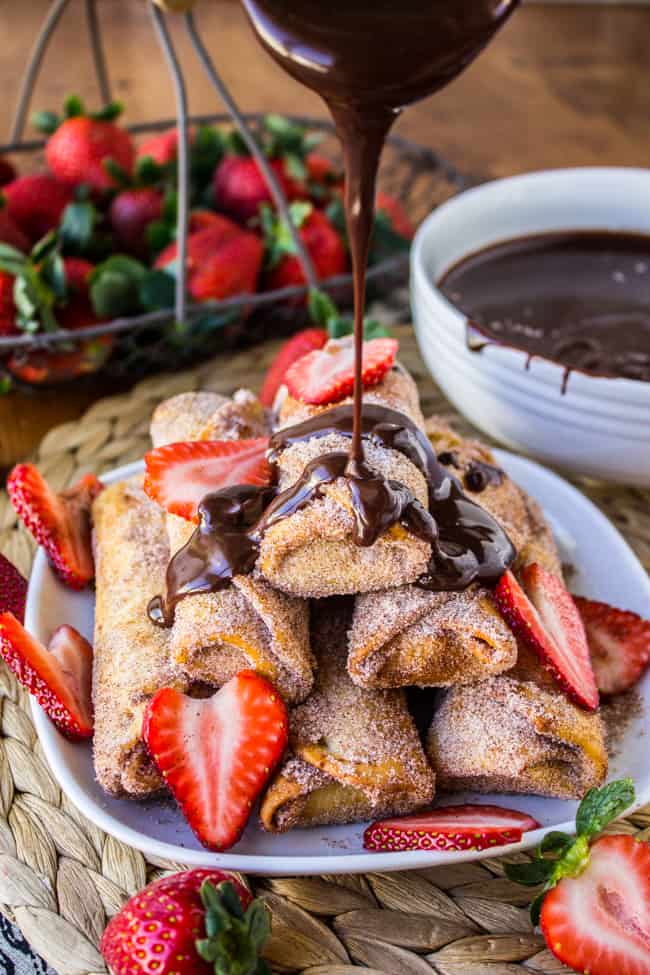 One time a few years ago my friend Sarah and I were chatting about our workout routines. I was like, "Sometimes I run!" (vague, much?) and she was like, "I love to go to my spinning class twice a week!"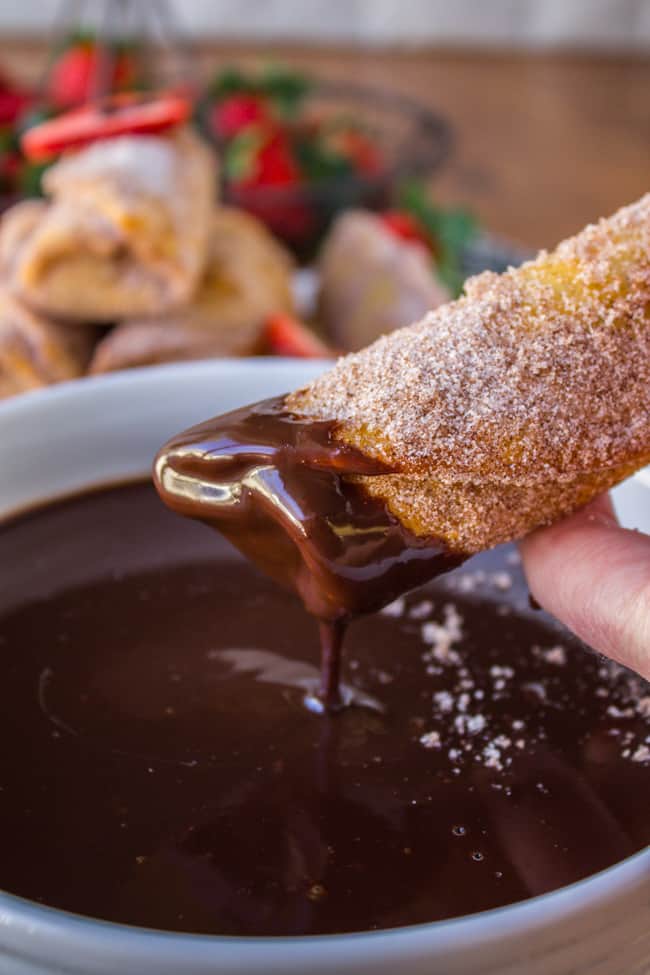 I had never heard of a spinning class, and I'm being serious when I tell you that I was picturing a group of grown women spinning around until they got dizzy. Arms spread out wide, maybe? Tucked tight?
And then what? Collapse into laughter like kids, while the class instructor  yells at them to keep spinning? Learn the spotting thing that ballerina's do so they don't get dizzy pirouetting? Do they take turns, watching each other and competing to see who can spin the fastest? Does this really burn that many calories?? Questions I had to ponder for much too long, because I was too embarrassed to ask her for details.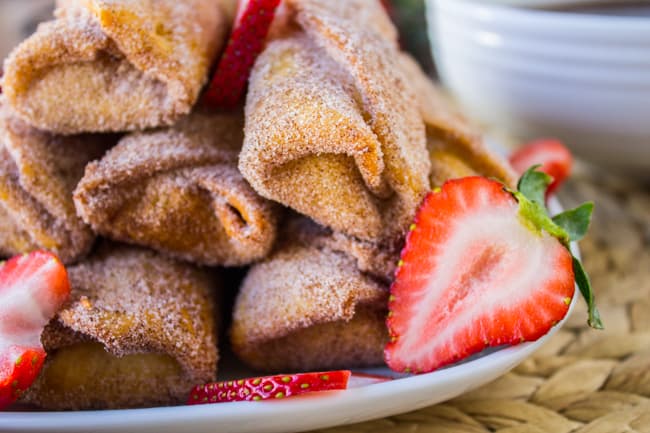 Now I know what spinning is, I swear. And for those wondering, it's a biking class. I think. Sounds like something that would kick my butt. I think I'll stick with traditional spinning. Charlotte prefers that anyway: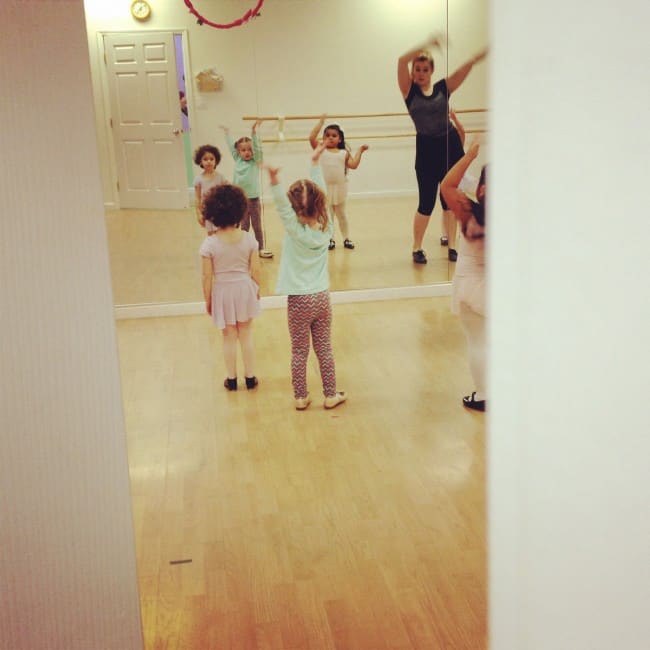 She had her first dance class ever today!! I could not stop grinning watching her. Yes, I was the annoying parent sneaking my phone around the corner to get a picture. Worth it.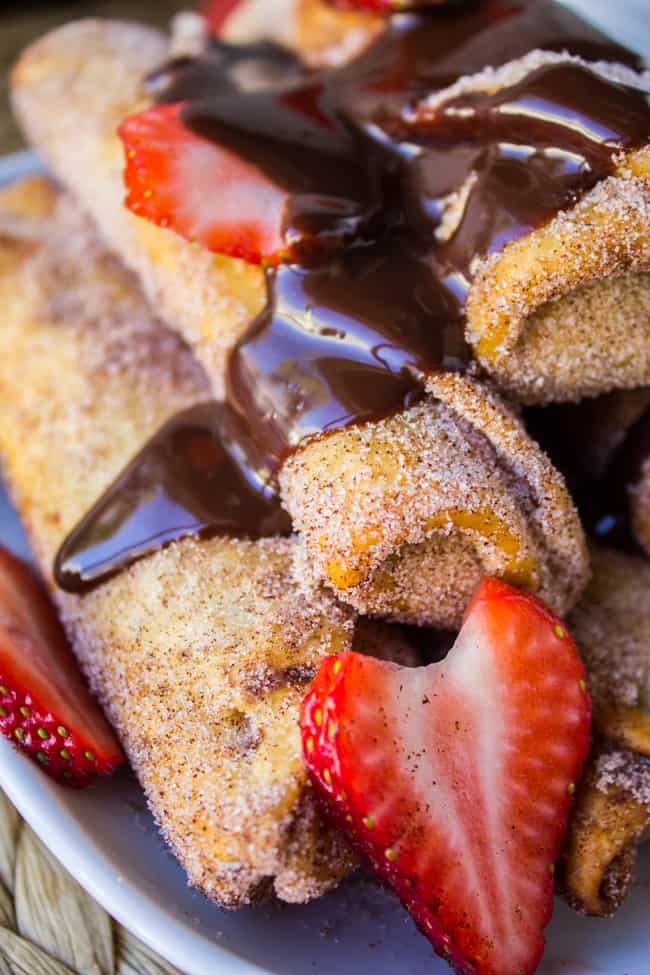 Okay, so these "churros." I know, not churros, don't hate! But I swear they taste like a churro with a banana on the inside. I originally had the idea for a dessert egg roll, so first I tried frying these with egg roll wrappers. Gross! I don't know if I just wasn't frying them long enough or what, but they were not good. Tortillas are so much easier to wrap around a banana, not to mention crunchier.
I tried out a RIDICULOUS number of versions of these and finally landed on something simple: a banana wrapped in a tortilla and fried, then rolled in cinnamon-sugar. Easy peasy. And SO GOOD. Don't be scared of the frying part. It really doesn't take too long.
These would be perfect to have while watching the Super Bowl! Or even dessert for Valentine's Day, see the strawberries even look like hearts. I like these warm, but they are also killer served room temperature.
Do you guys give up? Or are you thirsty for more?
Facebook | Pinterest | Instagram | Twitter


print
Did you make this recipe?
Leave a review »
Banana Churros with Chocolate Peanut Butter Sauce
Makes 8 churros
adjust servings
Ingredients
For the banana churros
peanut oil, for frying

2

bananas

8

small flour tortillas*

toothpicks

1/2

cup sugar

1

teaspoon cinnamon
For the sauce
1

cup cream

8

ounces (1 and 1/4 cup) semi-sweet chocolate chips

1/4

cup creamy peanut butter

big pinch salt

strawberries, to garnish
Instructions
In a high-sided skillet, add the peanut oil. Turn the burner on to medium and heat for at least 5 minutes.
Slice the bananas in half, then slice lengthwise. You should have 8 banana quarters.
Tightly roll each banana in a tortilla and secure with toothpicks (see photos).
In a small bowl, combine sugar and cinnamon. Dump it onto a large plate. Line another large plate with paper towels.
Test the oil by adding a small scrap of tortilla. If it immediately starts to bubble, the oil is ready.
Add the wrapped bananas 4 at a time. Fry for 1 minute, then flip and fry for one more minute, or until light brown.
Remove the churros to the paper-towel lined plate, but only for a few seconds. Transfer them soon after to the cinnamon-sugar mixture and coat the churros well. Remove the toothpicks.
Repeat with the remaining bananas.
To make the chocolate sauce: Add 1 cup cream to a medium size microwave safe bowl. Microwave on high for 1 minute, stir, then microwave for 1 more minute, or until the cream starts to bubble on the edges.
Immediately add the chocolate chips and peanut butter to the cream. Let sit for about 1 minute, then use a whisk to stir until it is smooth. Add a big pinch of salt and combine. (If you don't like peanut butter, add 2 tablespoons butter instead.)
Dip the churros in the sauce and garnish with strawberries.
by The Food Charlatan

If you make this recipe,
share it on Instagram
 using the hashtag
#TheFoodCharlatan
so I can see it!


Other great stuff!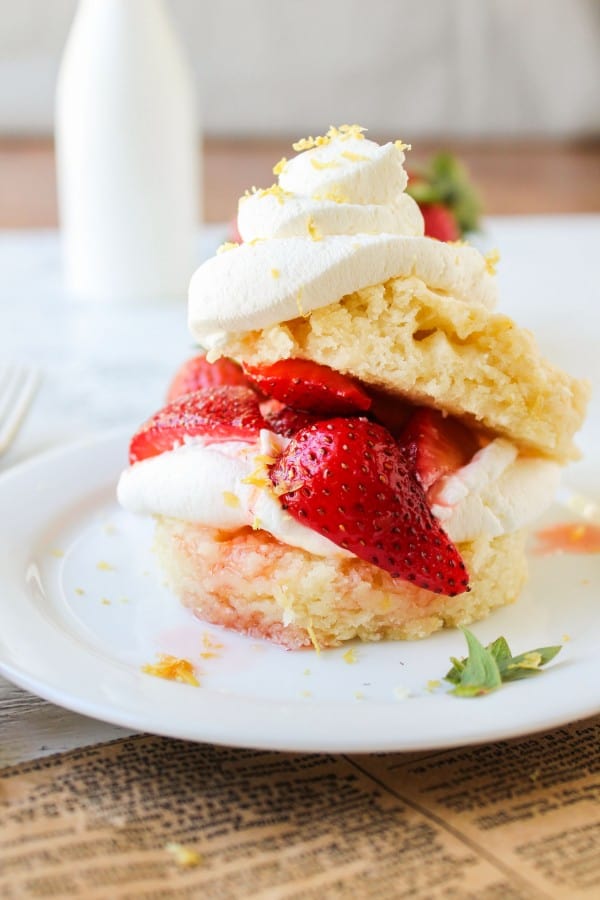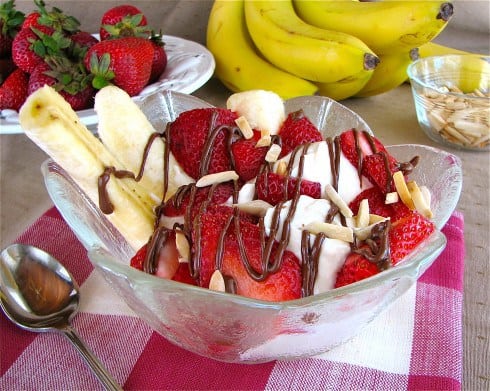 5-Minute Healthy Banana Ice Cream with Biscoff Swirls:
Butterscotch Pudding with Roasted Banana Whipped Cream: << I just made this again the other night. It may not look like much but I'm TELLING YOU: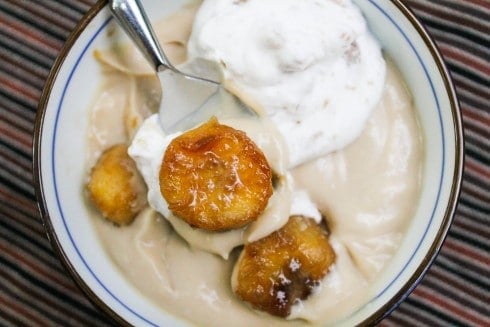 Other great recipes from other bloggers:
Baked Apple Pie Egg Rolls from Recipe Runner
Strawberry Shortcake Egg Rolls from Domestic Rebel
Cherry Cheesecake Egg Rolls from Spend with Pennies
We are a participant in the Amazon Services LLC Associates Program, an affiliate advertising program designed to provide a means for us to earn fees by linking to Amazon.com and affiliated sites.