The easiest no bake cream cheese pie in all the land. A crunchy graham cracker crust, a creamy lemony center, topped off with cherry pie filling. It's SO GOOD! Cream cheese + sweetened condensed milk is magical.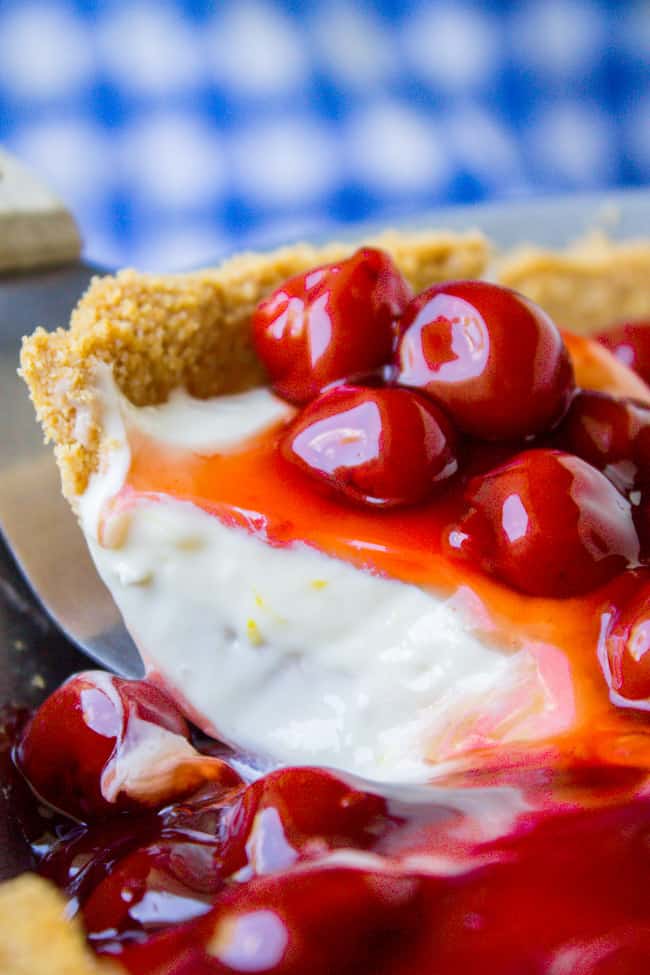 Originally published July 11, 2017
My daughter Valentine, who is 8 months old now, likes to blow raspberries. All the time. Even when I am feeding her mashed carrots. She will take the bite I offer her (so innocently!), only to spew it everywhere with her tongue, while I try to hide my laughter and pseudo irritation. I'm sure she sees right through it, which must be exactly why my white t-shirt today is spattered with orange.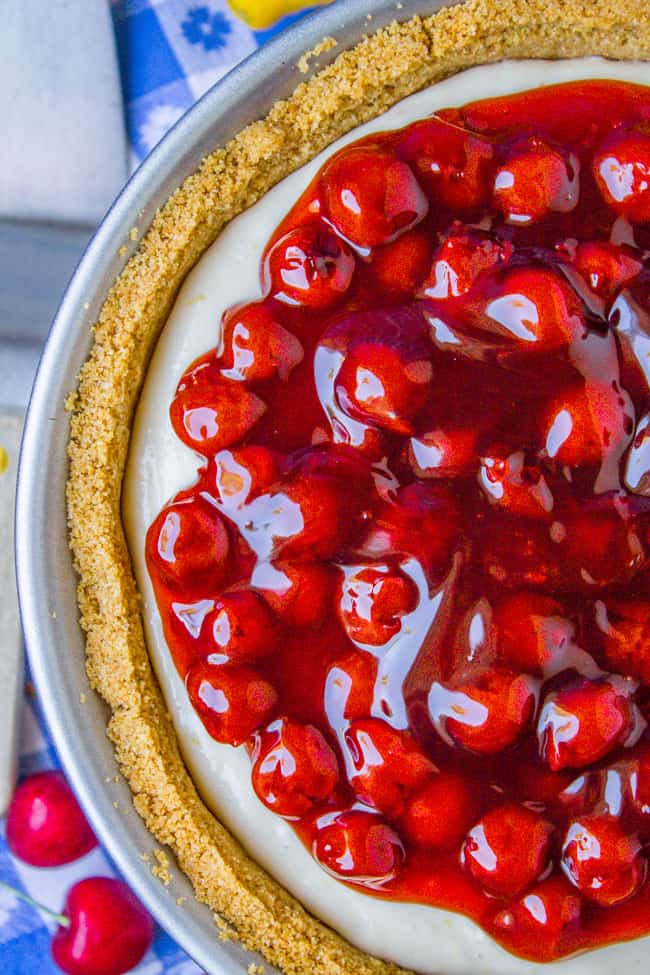 Yesterday I had her all wrapped up in a blanket and was trying to soothe her with a song before nap time, when she turned her head and zerberted my arm over and over again. So much for quiet time.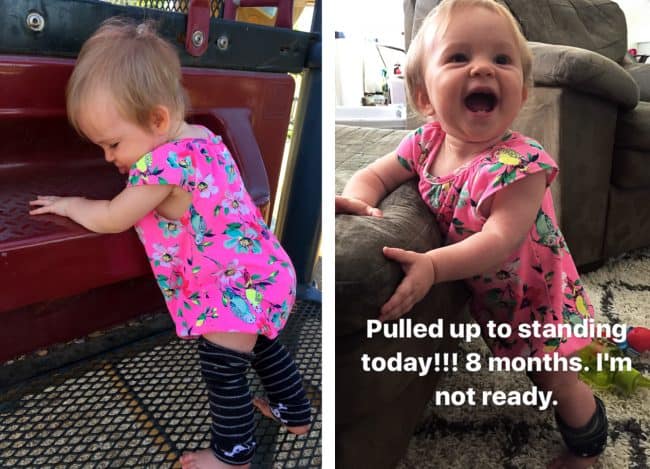 Can you see her tongue sticking out in the left picture? She's pretending to spray me with sweet potato purée.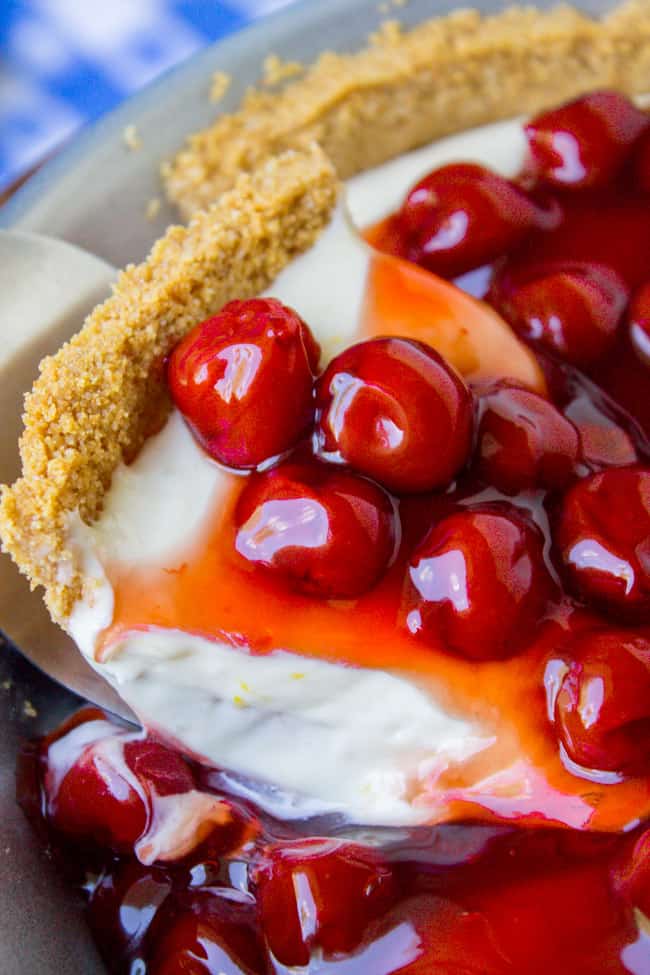 No Bake Cherry Cream Cheese Pie
Have you ever had this cream cheese pie? It is delicious by itself and could be paired with any number of sweet or fruit toppings. I wonder where it came from. I can't remember the first time I had it, but it seems to be kind of ubiquitous. Most of the recipes I looked up were exactly the same (graham crust, mix cream cheese and condensed milk with lemon and vanilla, top with cherry filling) yet almost all the citations claimed "My mom," " Grandma Pat," or "Aunt Sue" as the recipe source.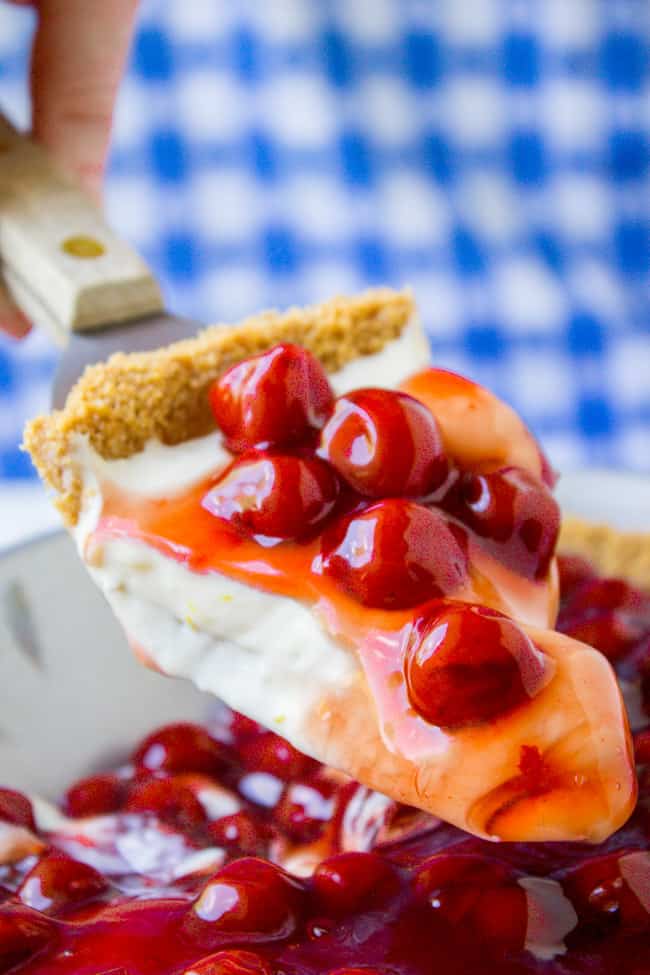 Not that citing the person who gave you a recipe is the wrong way to do it; I actually love it. That's the way recipes travel. One of my most popular posts on The Food Charlatan is this recipe for My Mom's Fudge, aptly named because my mom LOVES this fudge and has made it every Christmas to give to our neighbors for as long as I can remember. In my mind, this recipe is my MOM'S fudge, even though it's the recipe they used to print on the back of the marshmallow creme jar. (People on Facebook get very upset about this. "That's not your mom's fudge, it's the one on the jar!")
Recipe citation is important, yes, especially when you're publishing. But recipes are personal. I hope YOU become known among your family and friends as an awesome cook when making the recipes you find here on The Food Charlatan.  People will say, "Wow, you're a great cook!" Not, "Wow, you must have found a reliable blog!" And that's just as it should be I think. Take the credit! You made it, you deserve it!
How to make this no bake cherry cheesecake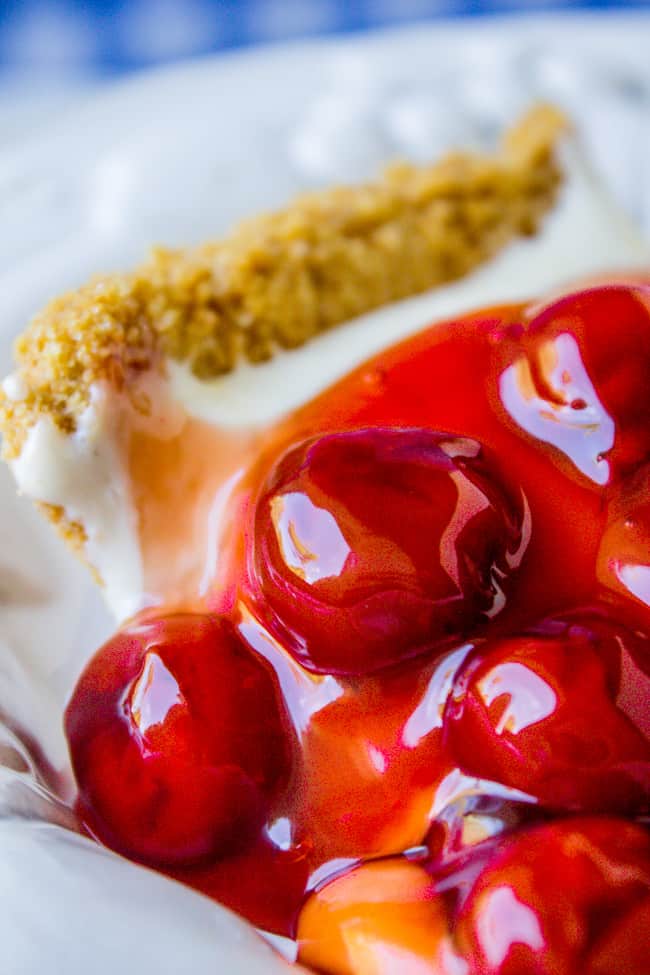 Anyway, back to the pie. I know I just posted Cherry Pie for 4th of July, but I hope you guys aren't all cherry'd out. Although they both have cherries and are both pies, I feel like they are in different categories. I mean, this is a no bake. It's brainless. The other pie requires a little more finesse, what with the stars and stripes and all.
And it is so darn good. Some might consider this as a cherry cheesecake recipe. It has almost all the same ingredients as my No Bake Cheesecake Parfait Bar, which is a super fun dessert to serve at parties, especially if you are feeling lazy. It's basically a deconstructed version of this pie. Whether you call it a cream cheese pie or a no bake cheesecake, you can't go wrong with that!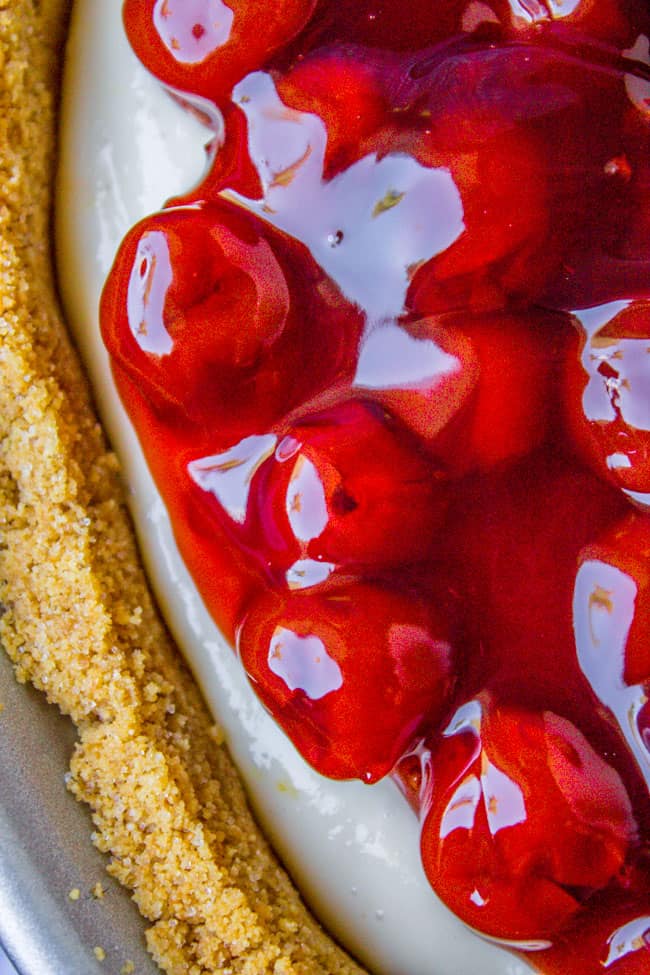 Facebook | Pinterest | Instagram | Twitter

One year ago: Raspberry Buttermilk Cake (And It's A…)
Three years ago: Nutella-Swirled Ice Cream with Reese's Style Chunks
Five years ago: Pimiento Cheese, Tomato, and Biscuit Sandwiches

No Bake Cherry Cream Cheese Pie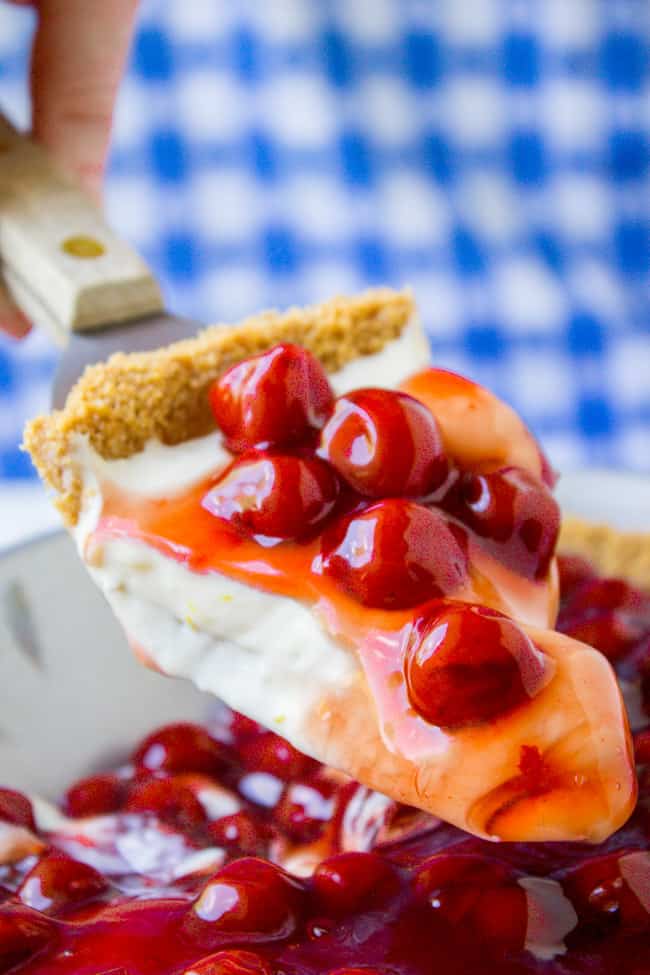 A crunchy graham cracker crust, a creamy lemony center, topped off with cherry pie filling!
Ingredients
For the Crust::
9

whole graham cracker sheets

,

or 1 & 1/2 cups graham cracker crumbs

1/4

cup

sugar

1/4

teaspoon

salt

7

tablespoons

butter
For the Filling::
1 (8-oz)

package

cream cheese

,

softened

1 (14-oz)

can

sweetened condensed milk

zest from 1 lemon

,

optional

1/3

cup

lemon juice

,

fresh is best

1

teaspoon

vanilla

1 (21-oz)

can

cherry pie filling

,

chilled
Instructions
For the crust:
Prepare the crust. If baking your crust, preheat your oven to 350 degrees F.

In a food processor, blend together the graham crackers, salt and sugar until fine and completely ground. (If you don't have

a food processor

, throw the crackers in a ziplock and crush with a rolling pin.) You can also use 1 and 1/2 cups

store bought graham cracker crumbs

.

Melt the butter in a small bowl. Pour the butter into the food processor and blend well. (Mix together crumbs and butter in a bowl if you don't have a food processor.)

Dump the mixture into a pie pan. No need to grease the pan.

Use the bottom of a glass or the bottom of a measuring cup to press the crumbs into the bottom and up the sides of the pan.

At this point you can either refrigerate the crust for 1 hour (do this if you don't have air conditioning!) or you can bake the crust for 10 minutes at 350. Refrigerating results in a more crumbly crust, baking will get a sturdier crust that is a little more crunchy. But both methods work great.

Cool the crust completely if you baked it. I put it in the freezer for a bit.
For the filling:
In a large bowl or

stand mixer

, beat the cream cheese until it is smooth, scraping the sides and bottom of the bowl.

Add the sweetened condensed milk, lemon zest (optional*), lemon juice, and vanilla. Beat well, scraping the sides, until everything is incorporated, and then stop.

Pour the filling into the cooled crust, and spread smooth on top.

Place the pie in the refrigerator for 2-3 hours, until completely chilled. Put the unopened can of cherry pie filling into the fridge at the same time so that it gets cold.

When you are ready to serve, open the can of cherry pie filling. Spread it over the top evenly. Slice and serve!
Notes
*The lemon zest is an untraditional ingredient. It really makes the lemon flavor shine. Without it, the pie will have a more neutral flavor, making the cherries stand out more. I like it both ways! (Don't skip the lemon juice)
Source: I feel like this recipe is all over the place (I saw many sources citing "my grandma so-and-so") but I got the details from Allrecipes.com.
Nutrition
Serving:
1
g
|
Calories:
524
kcal
|
Carbohydrates:
68
g
|
Protein:
7
g
|
Fat:
26
g
|
Saturated Fat:
15
g
|
Polyunsaturated Fat:
1
g
|
Monounsaturated Fat:
7
g
|
Trans Fat:
1
g
|
Cholesterol:
74
mg
|
Sodium:
432
mg
|
Potassium:
344
mg
|
Fiber:
1
g
|
Sugar:
38
g
|
Vitamin A:
973
IU
|
Vitamin C:
8
mg
|
Calcium:
193
mg
|
Iron:
1
mg
More fun summer desserts like this one!
No Bake Cheesecake with Caramelized Peaches << use up all those summer peaches!!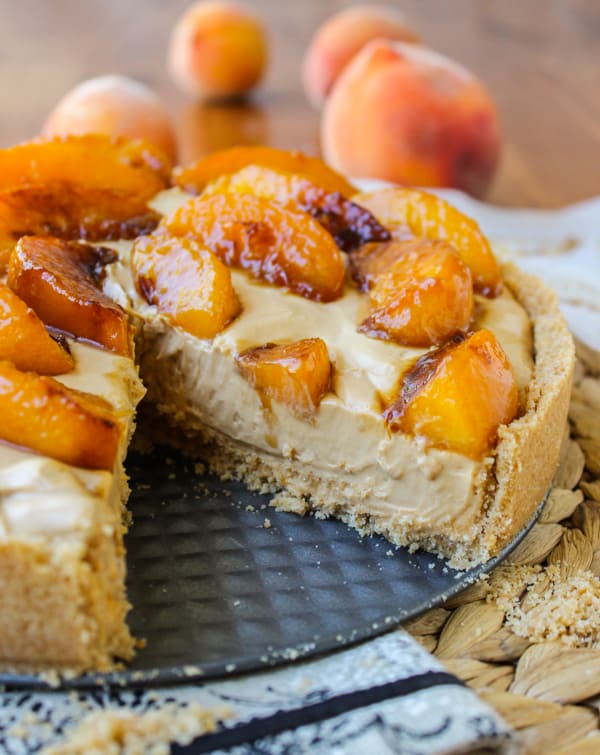 No Bake Cheesecake Parfait Bar << the ingredient for this recipe are almost the same as today's, but just deconstructed.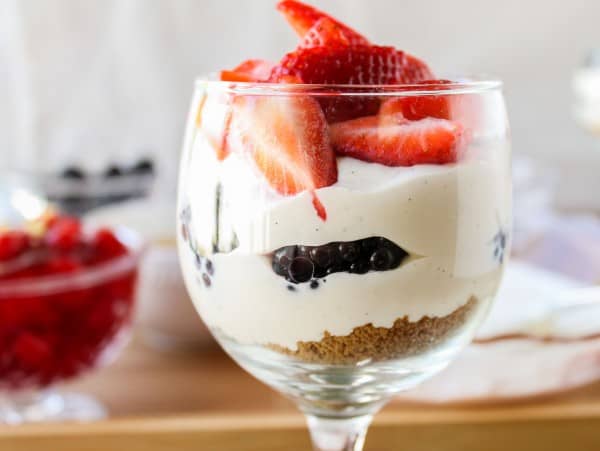 Cherry Pie for 4th of July! <<< Or for anytime really. No one's going to say no to Cherry Pie :)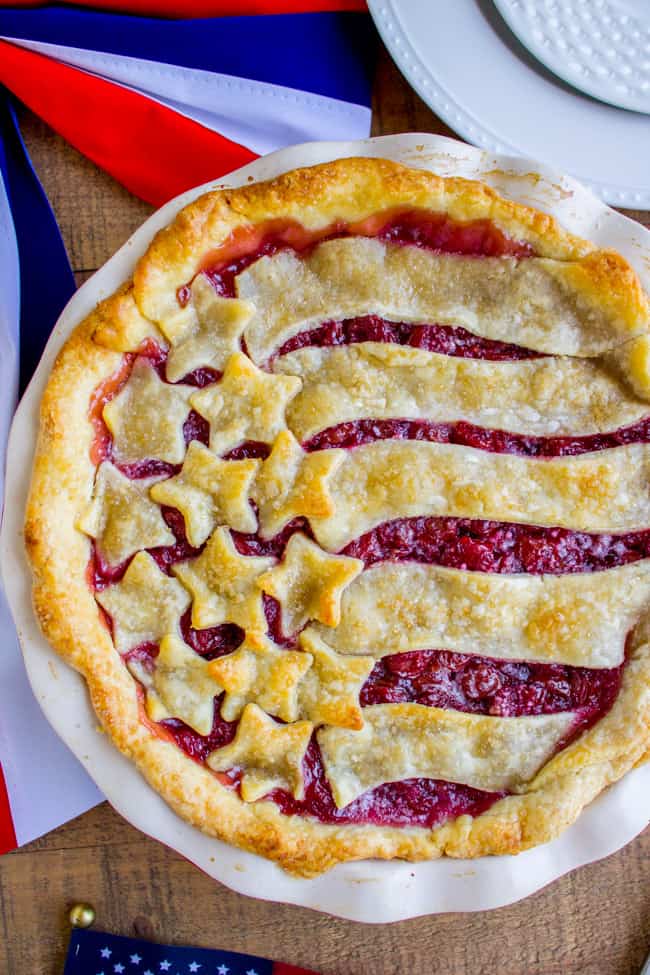 Dulce de Leche Cheesecake Parfaits << or you could eat it as a dip, like this photo:
More cherry goodness from friends:
Black Bottom No Bake Cherry Cheesecake from Melanie Makes
No Bake Cherry Cheesecake in a Jar from Country Cleaver
Sweet Black Cherry Pie Filling from Foodie with Family