This cake is legit guys!! And that's saying something because it is vegan (dairy free) and also gluten free. But it is MOIST, and full of delicious raspberry buttermilk flavor, and has a great texture. It's a perfect weeknight or (shh) breakfast cake!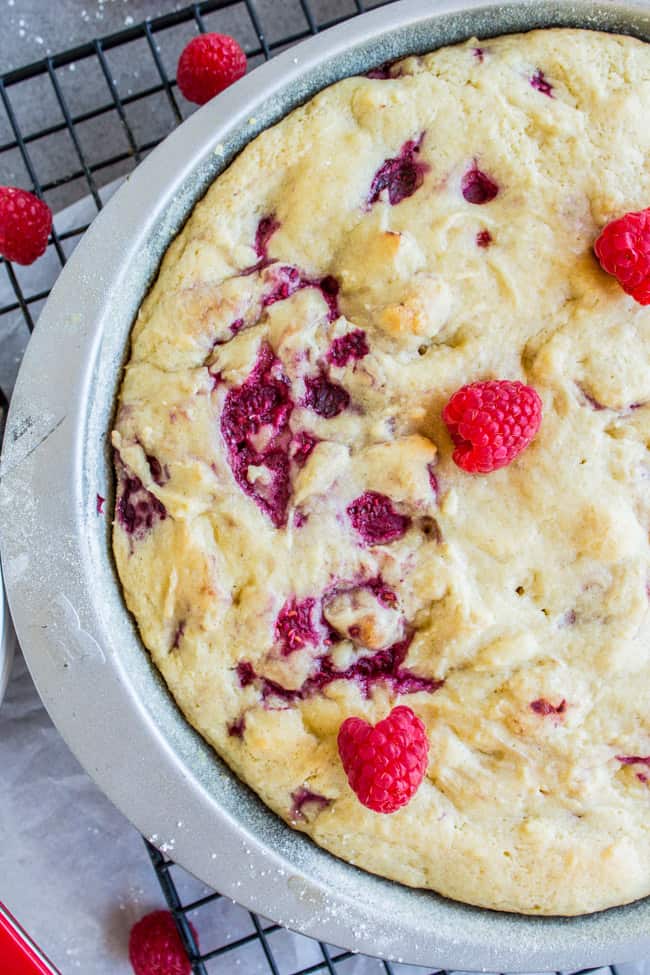 We found out that our baby is a girl! Hooray! We are so excited! Eric and I would have been happy either way, but I don't think Charlotte would have been. She is dead SET on having a sister. I'm pretty sure she willed it to be.
Remember how I told you in the beginning that Charlotte wanted a girl and Truman wanted a boy? Well guess what, she totally BRAINWASHED HIM. She trained him every day until he would respond that he wanted a girl when you asked him. Charlotte's going to be a great salesman someday. ("She could sell a ketchup popsicle to a woman in white gloves!" Name that movie? Anyone??)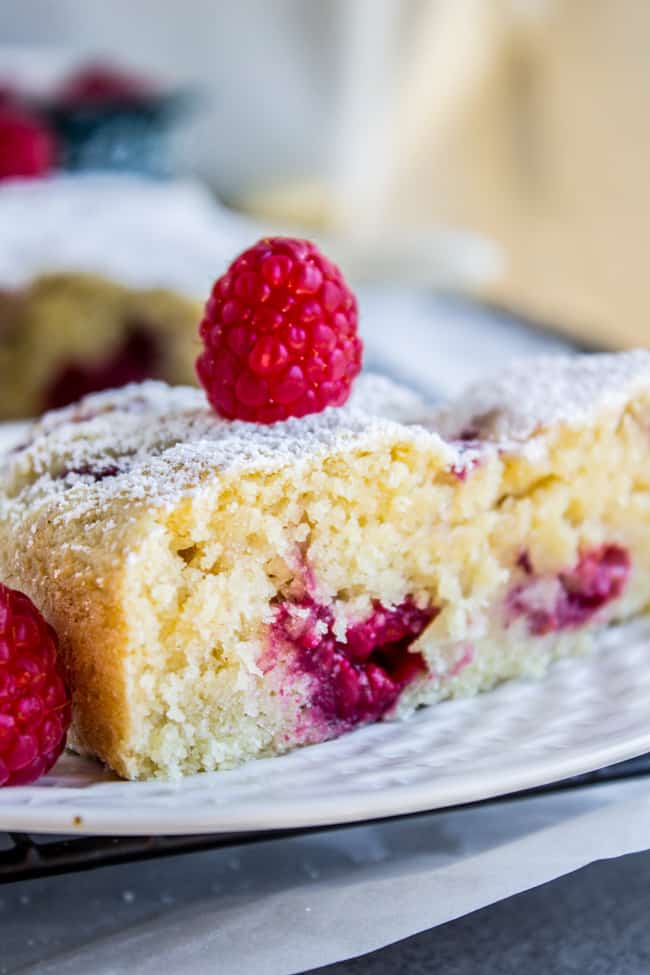 Now that I'm all done being sick and we know the gender, it's time for me to get my rear in gear and start prepping for a new little human in our home. Mostly this entails figuring out the bedding situation, because Truman (who is 3) is still sleeping on a crib mattress on the floor. We unceremoniously threw it in the corner of his and Charlotte's room when we moved into this house last year, and haven't moved it since. But now we kind of need it for the actual crib for the actual baby, which will leave poor Truman on the floor if we don't figure something out.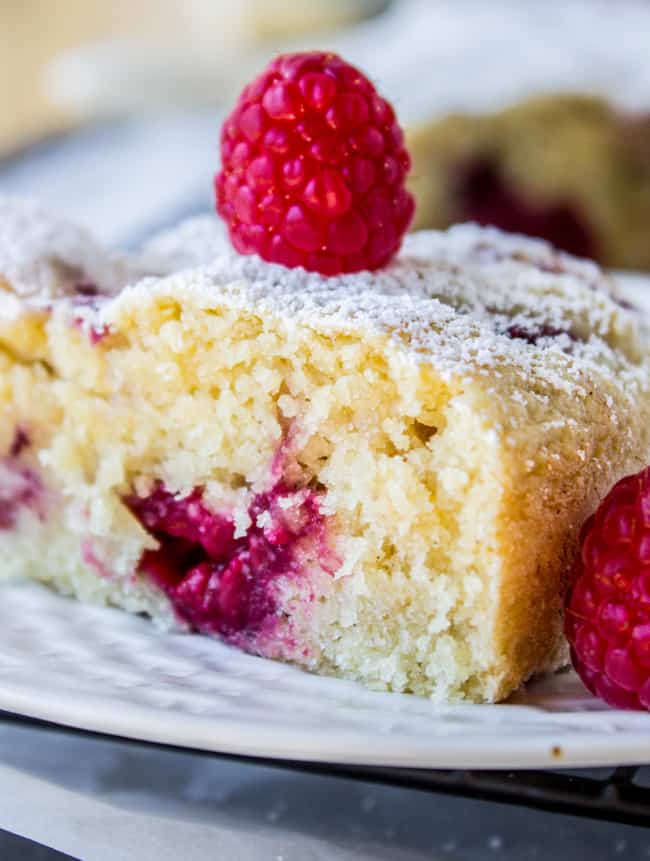 I called my sister-in-law Reesy, who is an incredibly talented graphic designer (she designed my blog). I said some very noncommittal things, like, "Truman needs a bed" and "I'm thinking animals" and "Charlotte likes blue." And a day later she busted out this amazing style board. Probably she did it in her sleep: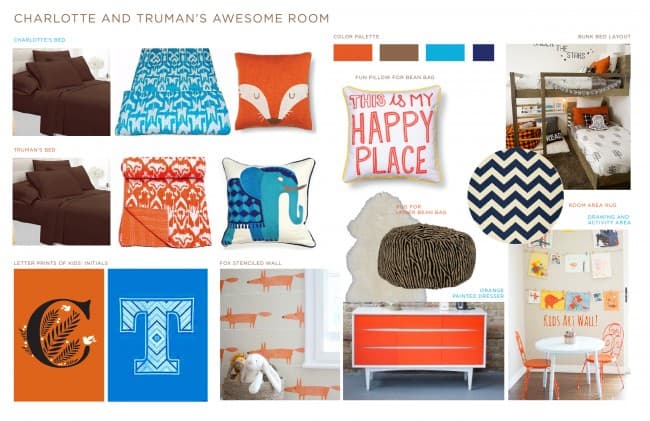 (Here's my House Board on Pinterest where you can see most of where she found this stuff.)
So cute right? I still can't believe she just put this together on the fly. She's amazing! We'll see how much of it I actually get done…we are committed to building the bunk beds though, so that will be fun!!
Are you tired of me gushing about talented people I know? TOO BAD!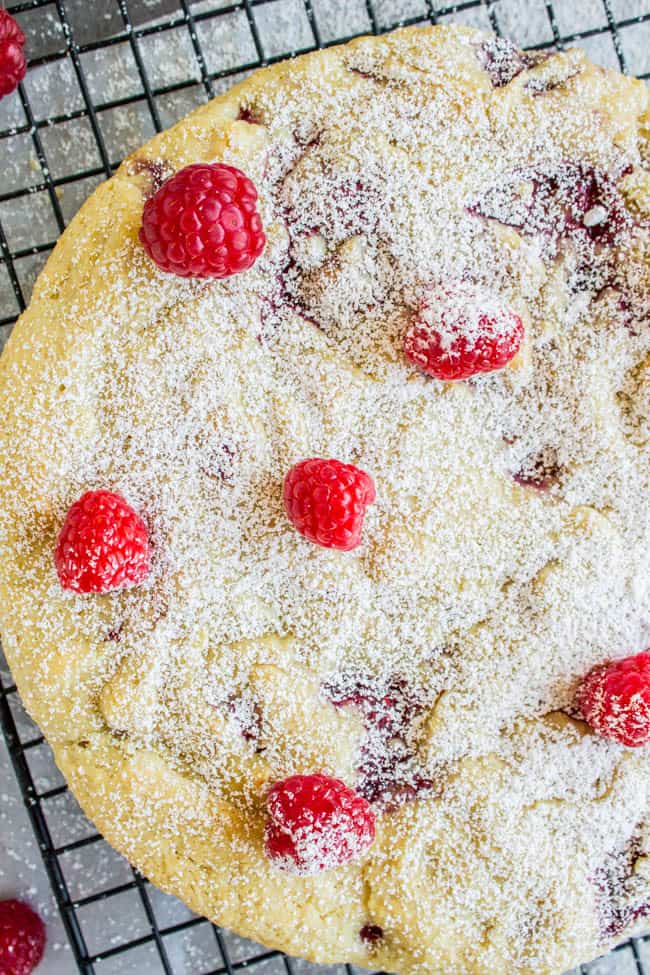 Vegan Raspberry Buttermilk Cake
It's time to talk about this delicious snow-capped cake! (does it look like snow to anyone else? It 's what I'm dreaming about over here in the 100 degree weather..) My friend Heather is an AMAZING chef and blogger over at Heather Christo. She just released her first cookbook Pure Delicious and guys, it is insane. So much amazing stuff! Wanna see?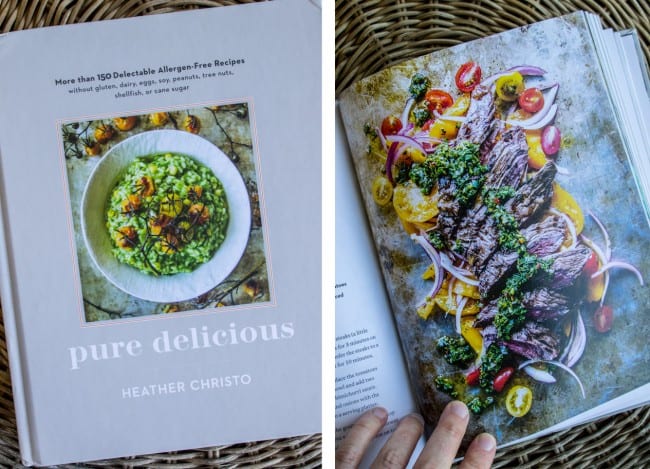 The book is allergen-free to accommodate her own allergies and those of her kids. We don't have any allergies in our family, but I still highly recommend this book. It is SO nice having a reference book for when you DO have allergen-free guests coming over. (I don't know about you, but when I have a dairy-free friend coming for dinner, ALL I can think of is cheesy casseroles. Not helpful.)
The day it came in the mail my friend Jen came over and told me that her husband was just diagnosed with a milk allergy AND a possible gluten intolerance. Gah! So I lent her this book before I had even made anything out of it. She went home, made Heather's recipe for Creamy Mushroom Pasta, and then bought her own. That's how good it is!

I followed the recipe in the book, down to the xanthan gum and faux-buttermilk (coconut milk stirred with vinegar). It was magically delicious. But if you don't have allergies and want to make the cake with normal flour and buttermilk, Heather has the recipe posted on her blog. It's an old family recipe from her grandma, and she adapted it to be allergen free for her book.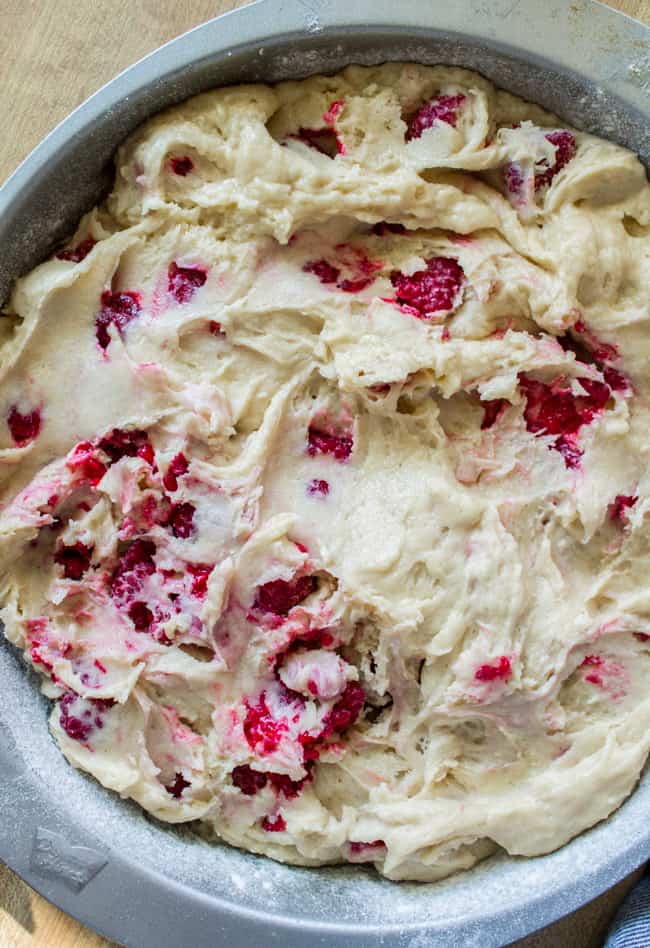 If you want to buy Heather's book here's the Amazon link. Here is a link to a video if you want to learn more about Heather's story (hint: she hasn't always cooked allergen-free!)
Let me know if you try out this cake! I love to see what you're making!
More summer cakes you will love!
Coconut Almond Sheet Cake << this one is vegan too! It's so good! Adapted from this Almond Sheet Cake, which is a personal favorite of mine.
Coconut Layer Cake << this cake is SO easy!
Raspberry-Lemon Glazed Muffins << these are super popular on the blog!
Coconut Raspberry Scones from Kitchen Confidante
White Chocolate Raspberry Bundt Cake from Baked in Arizona
Raspberry Roll Cake from A Beautiful Plate
Facebook | Pinterest | Instagram | Twitter

Raspberry Buttermilk Cake (Vegan)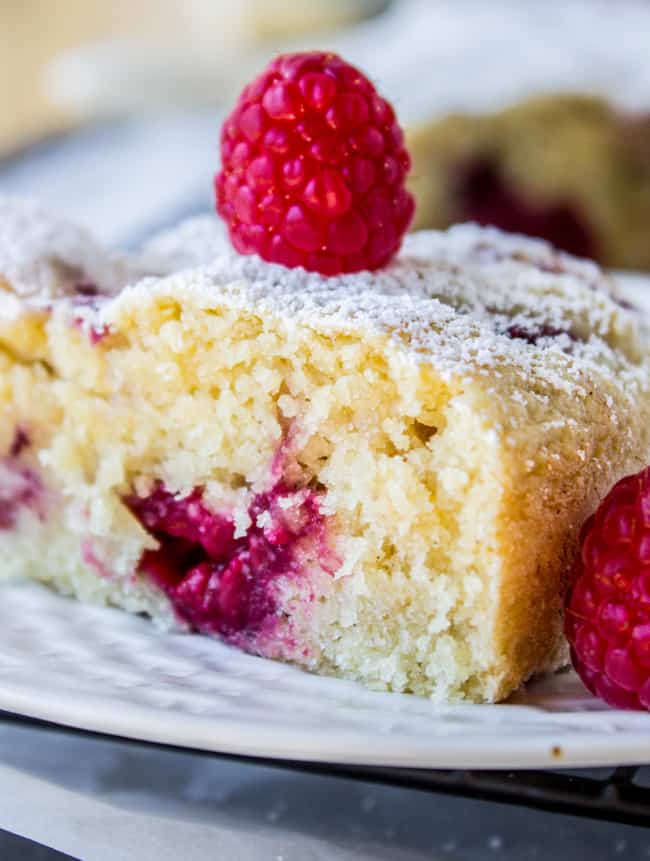 This Raspberry Buttermilk cake is legit guys!! And that's saying something because it is vegan (dairy free) and also gluten free. But it is MOIST, and full of delicious raspberry buttermilk flavor, and has a great texture. It's a perfect weeknight or (shh) breakfast cake!
Ingredients
1

cup

unsweetened coconut milk

1

tablespoon

apple cider vinegar

2

cups

gluten free flour

,

I like Bob's Red Mill

3/4

cup

granulated beet sugar

,

I used regular white sugar

1

tablespoon

baking powder

1

teaspoon

xanthan gum

1/2

teaspoon

kosher salt

1/4

cup

coconut oil

,

melted

2

teaspoons

vanilla extract

1

cup

raspberries

,

fresh or frozen

powdered sugar

,

for dusting
Instructions
Preheat the oven to 350 degrees F. Line a 9 inch cake pan with parchment paper (see photos above). Spray the pan with nonstick spray and then dust with gluten free flour.

In a glass measuring cup, stir together the coconut milk and apple cider vinegar. Set aside.

In a large bowl or stand mixer, combine the flour, sugar, baking powder, xanthan gum, and salt.

Make a well in the center of the dry ingredients and add the melted coconut oil, vanilla, and coconut milk mixture.

Stir until smooth. Gently fold in the raspberries.

Scrape the batter into the prepared pan and smooth the top.

Bake at 350 for 28-32 minutes. The cake should be lightly golden on top and a toothpick should come out of the center clean.

Let the cake cool in the pan for 20 minutes, then invert onto a serving plate.

Sprinkle with powdered sugar and serve!
Nutrition
Serving:
1
g
|
Calories:
313
kcal
|
Carbohydrates:
45
g
|
Protein:
4
g
|
Fat:
15
g
|
Saturated Fat:
12
g
|
Polyunsaturated Fat:
1
g
|
Monounsaturated Fat:
1
g
|
Sodium:
320
mg
|
Potassium:
106
mg
|
Fiber:
5
g
|
Sugar:
22
g
|
Vitamin A:
5
IU
|
Vitamin C:
5
mg
|
Calcium:
117
mg
|
Iron:
2
mg