Are you guys getting excited for Thanksgiving next week? I am so ready. I have been craving turkey and gravy for like 2 months now. And tomorrow I am cooking my own turkey for the first time!! I'm pretty excited and nervous, which is stupid because my sole purpose in cooking this turkey is to eat it (not feeding 20 people, like most people are when they cook a turkey.) I will be posting that adventure on Friday, some amazing cranberry sauce on Monday, and a great recipe for turkey broth on Wednesday, so stay tuned!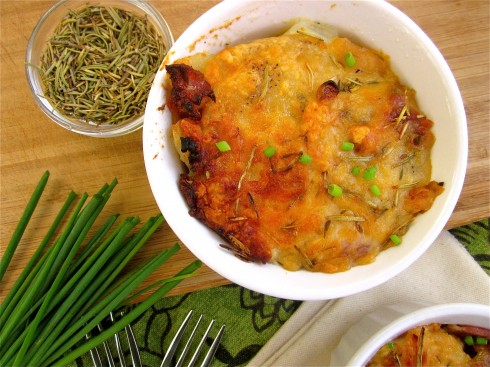 Speaking of Thanksgiving food, let me just tell you that I love mashed potatoes like I love my own children. Even now that my tastes have grown up a bit, I still claim it as my favorite food most of the time. (Although not on a day when I have eaten Carnitas. That's my favorite food on those days.)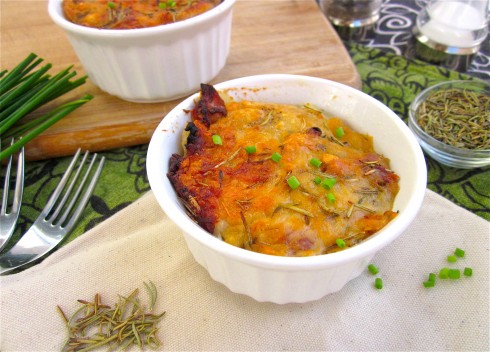 My point is, the idea of having anything besides mashed potatoes to snuggle next to my turkey on Thanksgiving is ridiculous. Until I saw this recipe. Potatoes, bacon and an entire pound of Parmesan cheese. Yes you read that right. Any recipe that calls for a pound of Parmesan is okay in my book. It was one of those recipes that I already expected to be amazing, but when I actually tasted it I was still blown away. Blown away by bits of bacon, clots of cream, and melty-Parmesany goodness. (If I am going to have my arteries clogged, this is how I want it done.)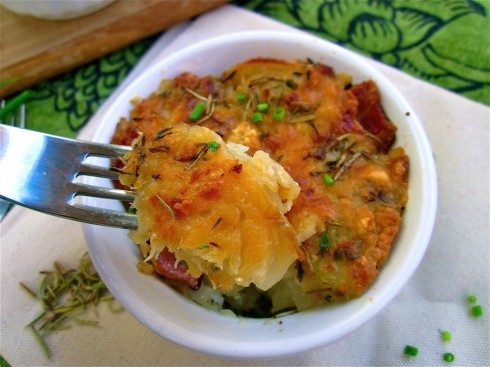 So will I be making mashed potatoes this year? Of course. You don't blow off a date with George Clooney just because Brad Pitt is in town. No, I will just have to eat double the potatoes this year; wish me luck. (Good thing I'm eating for two anyway!)
Parmesan Potato Gratin

Source: Better Homes and Gardens
1 tablespoon olive oil
1 pound Parmesan cheese
4 slices bacon, crisp-cooked and crumbled
2 green onions, thinly sliced
2 tablespoons snipped fresh chives
1 tablespoon snipped fresh thyme (I used dried)
1 tablespoon snipped fresh rosemary (I used dried)
1/4 cup unsalted butter, cut up
4 pounds potatoes, peeled and finely sliced (about 12 cups)
Salt
Freshly ground black pepper
3/4 cup whole milk
3/4 cup whipping cream
3 tablespoons all-purpose flour
Snipped fresh rosemary and thyme, for garnish
Preheat oven to 325 degrees. Brush the bottom of a 3-quart rectangular or oval baking dish with the olive oil; set aside. Using a wide vegetable peeler, (I used my regular potato peeler) shave Parmesan into thin strips (about 4 cups); set aside.
In a small bowl combine bacon, green onion and chives. In prepared baking dish, place half the potatoes. Sprinkle with 1/2 teaspoon each salt and freshly ground black pepper, half of the bacon mixture, and half the herbs (I did not buy fresh thyme or rosemary. I'm too cheap to spend 7 bucks on herbs just for one recipe. Pick your favorite one, buy that herb fresh, and do the other 2 dried).
Top with half the Parmesan. Dot with half the butter. Repeat layers, including the salt and pepper. In a small bowl whisk together whole milk, whipping cream, and flour; pour evenly over potatoes.
Bake, covered, for 1 1/2 hours. Increase temperature to 400 degrees F. Bake, uncovered, for 15 to 20 minutes more or until potatoes are tender and top is golden brown. Makes 24 1/2 -cup servings. (I halved this recipe and baked it in a 2-quart dish).