Hot Cross Buns! Hot Cross Buns! These beautiful rolls are an Easter classic. They are sweet (but not too sweet), studded with dried currants, swirled with warm spices, and crowned with a glossy white cross.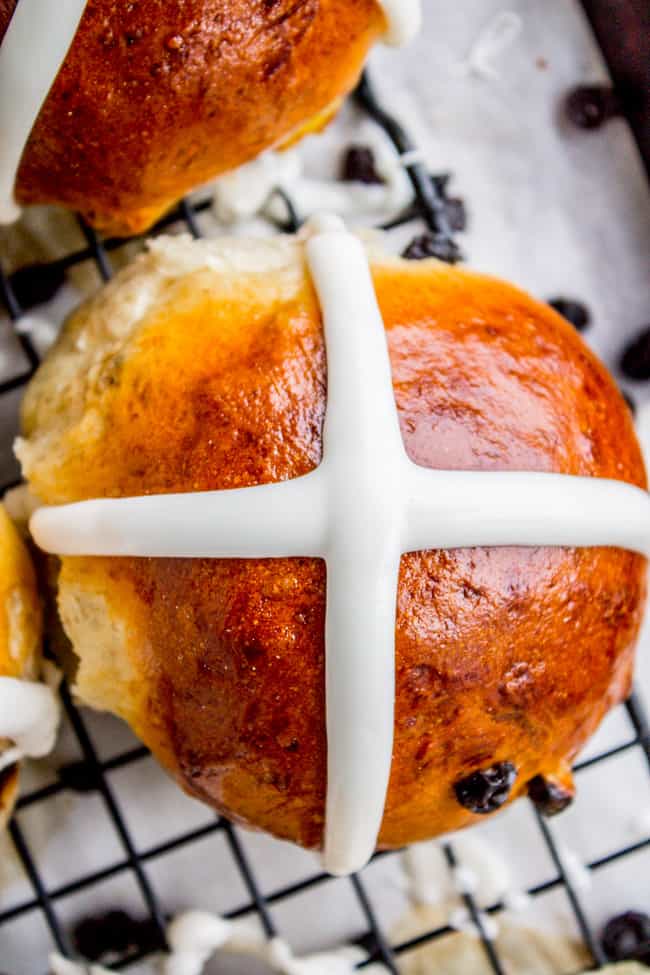 Eric and I keep eating these Hot Cross Buns and singing, "Hot cross buns, hot cross buns, see how they run, see how they run…" until we remember that Hot Cross Buns is not quite the same tune as Three Blind Mice.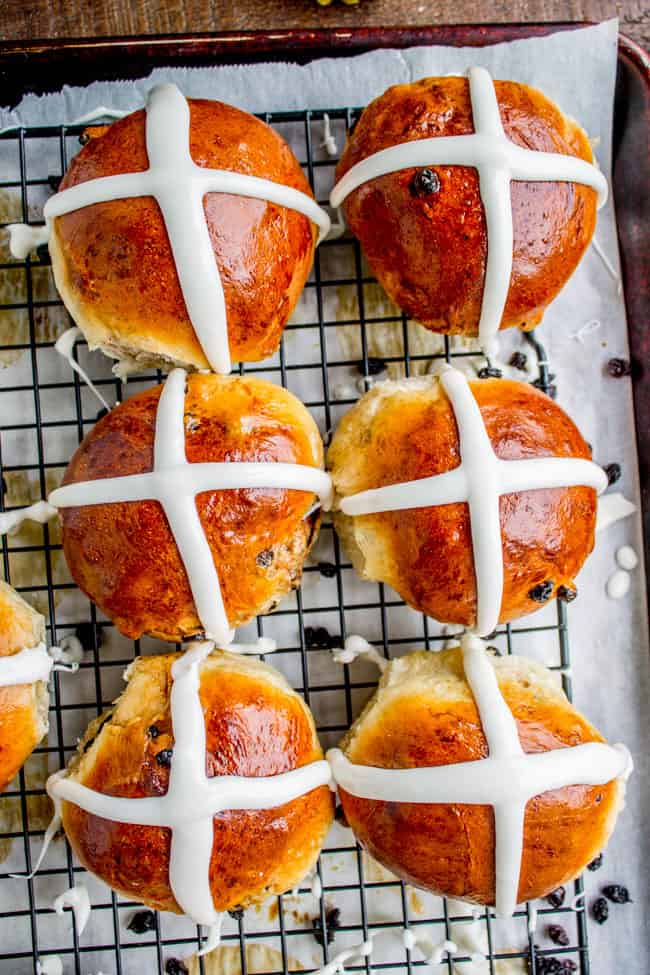 Today we had 2 trees chopped down, it was very exciting! (I feel like if you told me as a 15 year old that this is the kind of thing that would excite me as a 29 year old, I would think I was a total dweeb.) If you follow me on Instagram you can see some cool videos of the process on my Stories. Go now, they disappear after 24 hours! You have to be on mobile.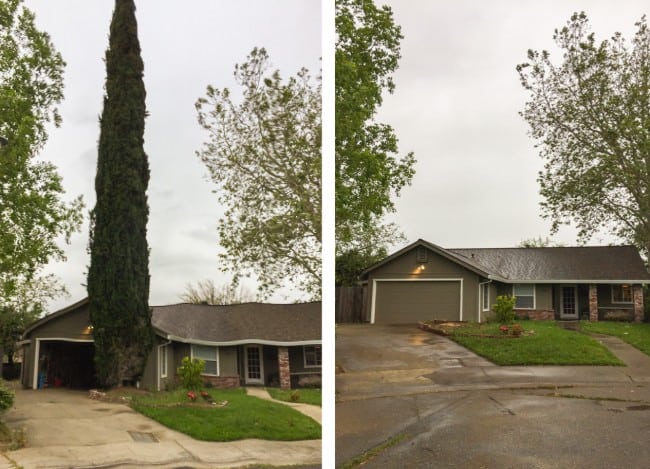 This massive Italian Cypress was here before the house was. In fact, the previous owner's grandpa planted the tree and it was sentimental (why else would you block access to your own driveway!) The house is ours but I still have all kinds of guilt about taking this tree out, even though it's clearly the right landscaping choice. (Also, my sidewalk is not wavy in real life. I think there were raindrops on my phone when I snapped this.) We're hoping to plant a Crepe Myrtle or a Japanese Maple where the cypress used to be. Do you have either of these trees? Do you like them?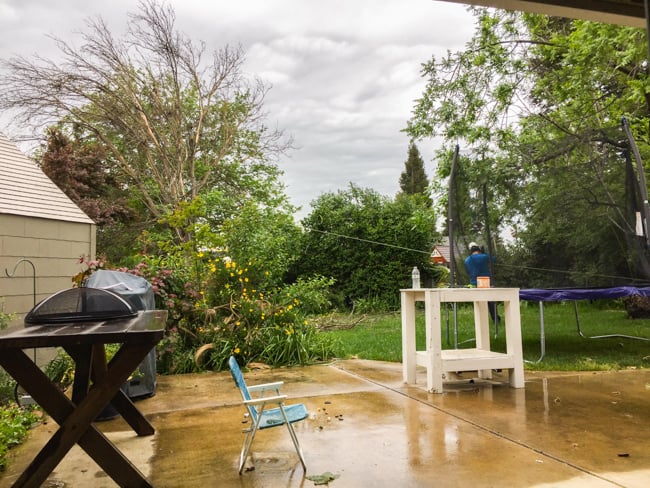 Here's the one in back that we took out. See how it's leaning the WRONG WAY?? They had to bring in reinforcements (5 guys total to pull it down.) I was freaking out that my tree was going to fall on my neighbor's house.
When the cypress came down, it made a huge crash, and the guys working started hooting and hollering like they had just scored a touchdown or something. It was so funny! Boys! Although I suppose if I were in the business of felling trees I would cheer every time one didn't fall on someone's house.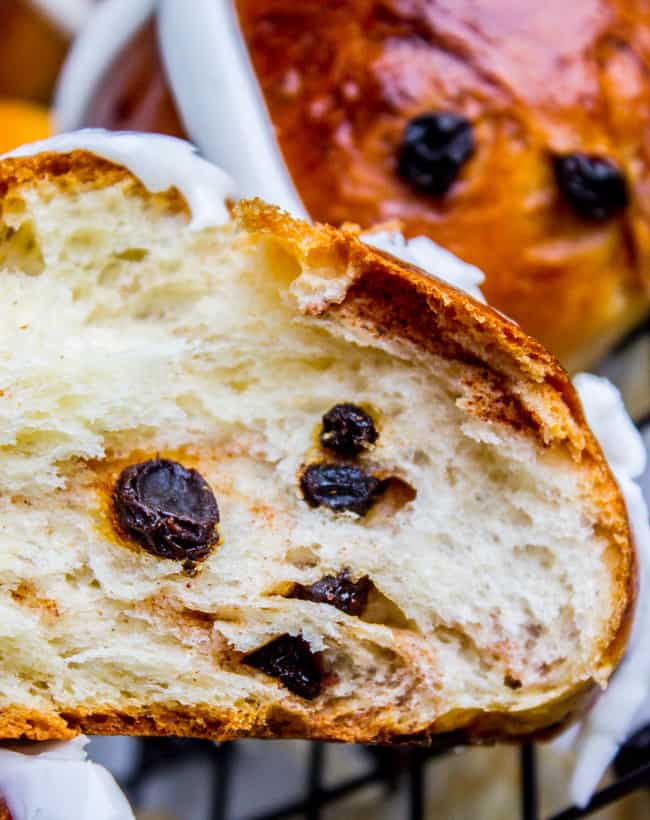 One of the guys asked why I was taking pictures of food  in the rain on my front porch, so I shoved rolls at them and said, "I'm not weird, I'm just a food blogger" which probably only confirmed the weirdness. If somebody doesn't clarify when you say you're a food blogger, guaranteed they have no idea what you're talking about and are just smiling and nodding.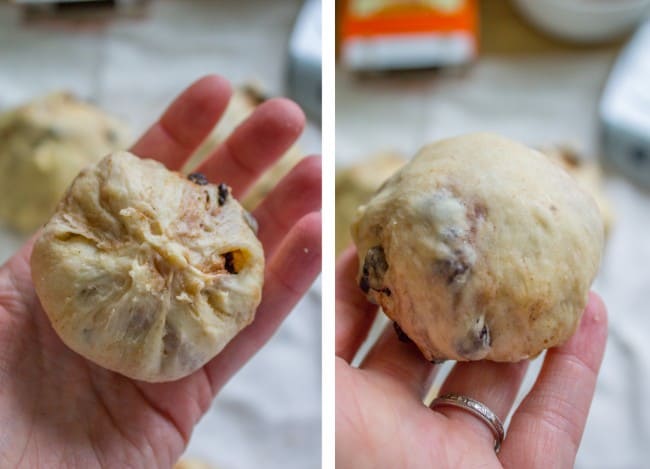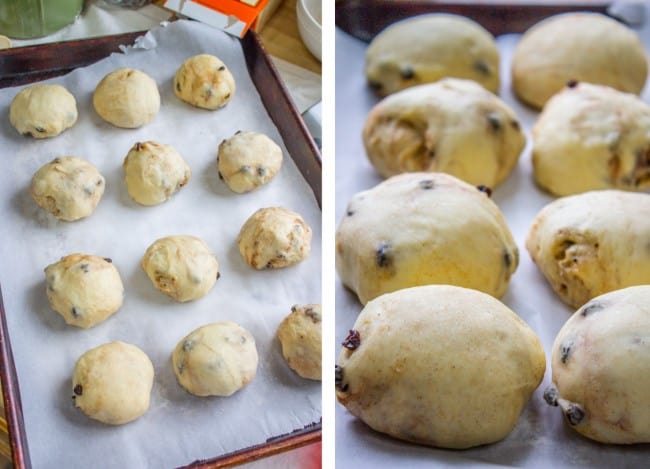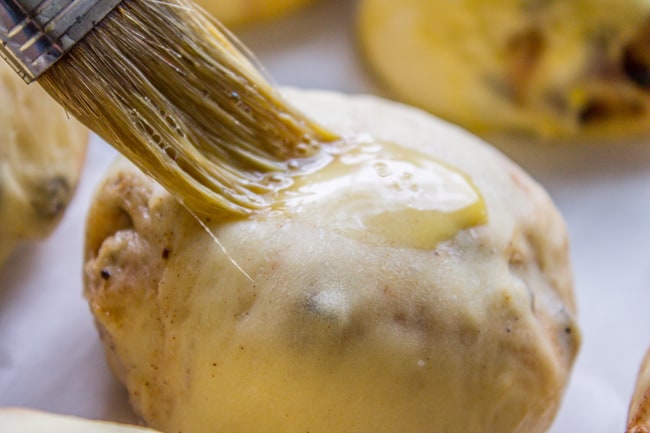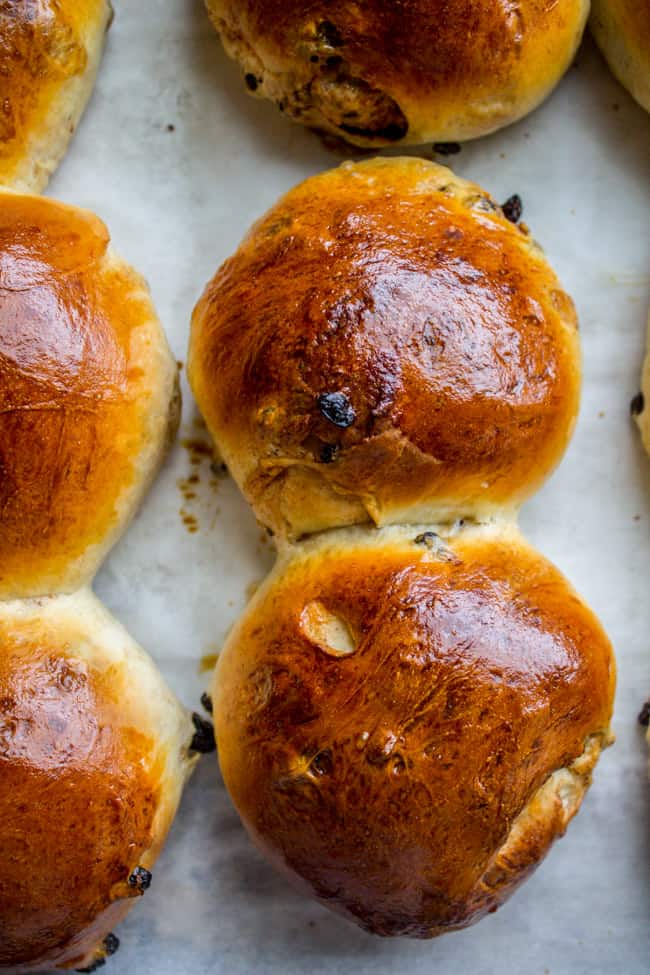 I love the ultra-golden exterior of these buns. They are so pretty!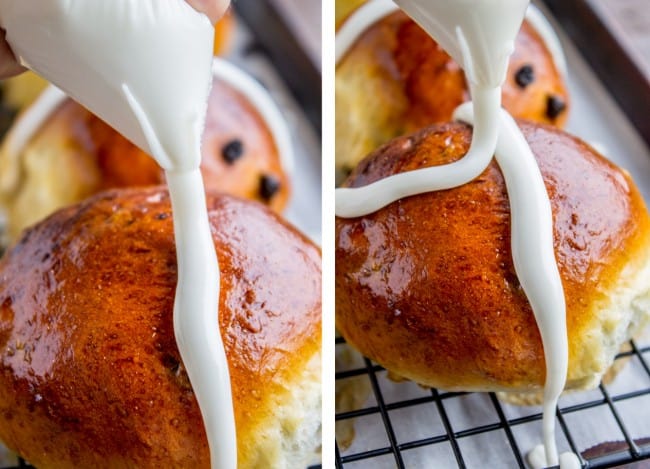 So do you know what currants are? I didn't. Had to look it up. They are basically just tiny raisins. (At least they are here in the US. Real actual currants are tiny berries. I've never seen them, here's what they look like.) I found them in the grocery store next to the raisins, they will be in an orange box labeled Zante currants. But really, using raisins works just fine.
These buns are tender and have tons of flavor thanks to the eggs, cinnamon, and a few other spices thrown in. They are perfect for breakfast with a glass of milk (or coffee, if you're into that.)
The frosting recipe uses an egg white. That's what makes it hold it's shape. If you're scared of getting salmonella, you could just add a little milk to powdered sugar and it would work fine. I love the texture and glossiness of the egg white though.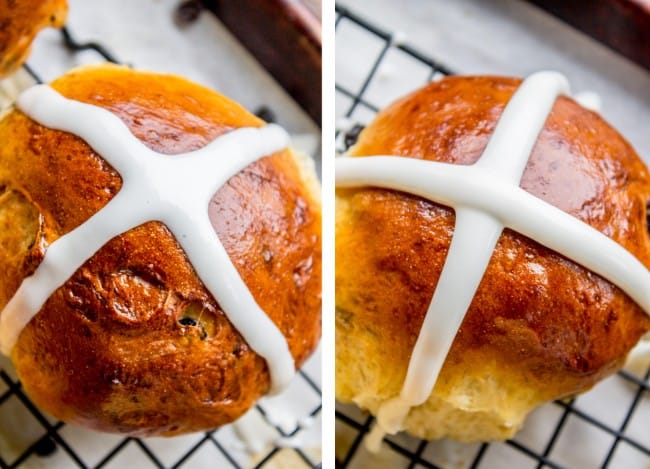 The photo on the left is with an egg white, but doesn't have enough powdered sugar. I put it back in the mixer and added more to get the firmness you can see on the right. I used 2 and 3/4 cup powdered sugar, but it will depend on the size of your egg white, so you will have to play around with it.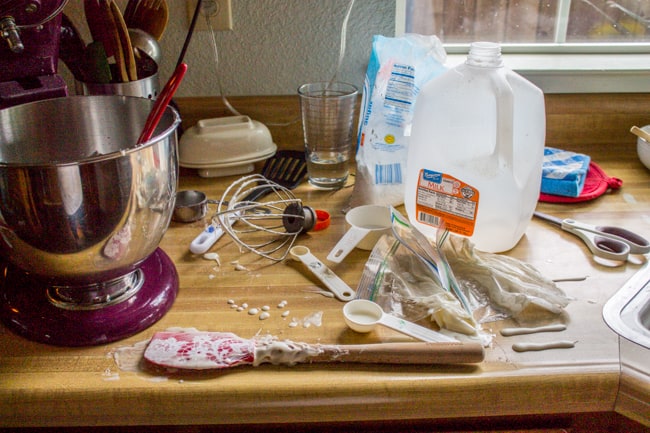 I did. And this is what my kitchen looked like. Oops.
If you would like some more Easter ideas, check out all my Easter-ish recipes here on the blog. I also have an Easter Pinterest board you could take a look at!
Facebook | Pinterest | Instagram | Twitter

Hot Cross Buns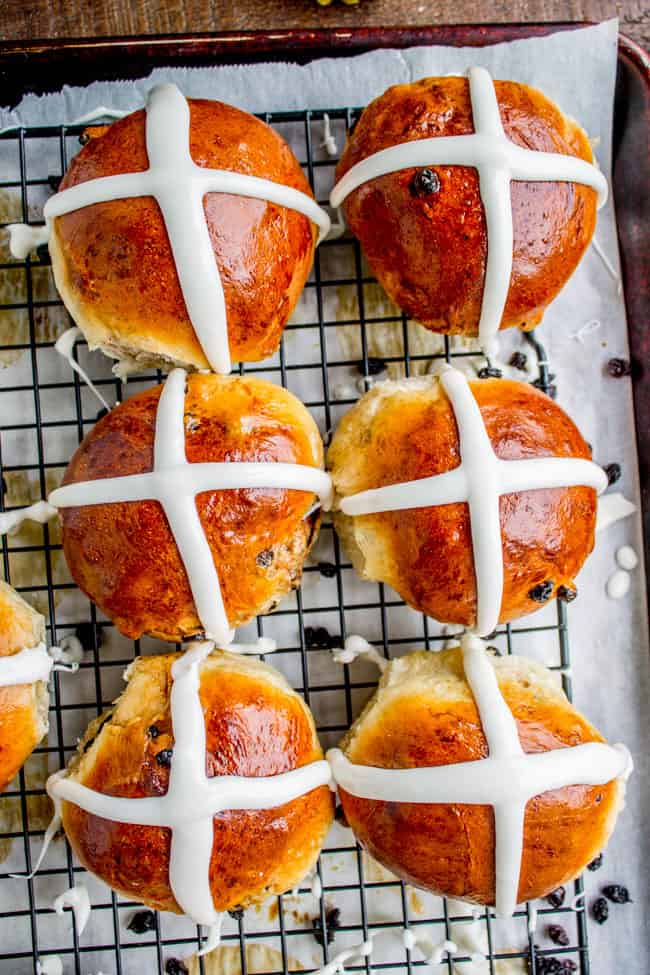 Hot Cross Buns! Hot Cross Buns! These beautiful rolls are an Easter classic. They are sweet (but not too sweet), studded with dried currants, swirled with warm spices, and crowned with a glossy white cross.
Ingredients
3/4

cup

warm water

1

tablespoon

active dry yeast

1/4

cup

sugar

2

tablespoons

dry instant milk

1

teaspoon

salt

1/4

cup

butter

,

mostly melted (half stick)

2

large

eggs

3 & 1/2

cups

flour

,

or more

3

tablespoons

sugar

1

teaspoon

cinnamon

1/4

teaspoon

allspice

,

optional

1/4

teaspoon

nutmeg

,

optional

1/4

teaspoon

cardamom

,

optional

3/4

cup

dried currents

1

egg

,

divided (reserve both yolk and white)

1

tablespoon

water

2 & 1/2 to 3/4

cups

powdered sugar

1/2

teaspoon

vanilla

1

tablespoon

milk

,

or more
Instructions
Add warm water to a large bowl or stand mixer. (You want it to be warm but not hot, just like nice bathwater.)

Sprinkle with 1 tablespoon yeast and 1/4 cup sugar. Stir together and wait 5 minutes to make sure it's looking bubbly. (I know, waiting is hard, but talk to me in two hours when you realize that you killed your yeast in step one.)

Add dry milk powder and salt.

In a small bowl, melt the butter most of the way, so there are still a few lumps left. Add the butter.

Add the 2 eggs.

Add the flour 1 cup at a time. Switch to the dough hook if you are using a mixer.

Continue kneading and adding flour until the dough is workable but still a little sticky. Knead with the dough hook or by hand for 7-8 minutes, until smooth and elastic.

Spray a large bowl with nonstick spray. Knead the bread into a ball and put it in the bowl, turning so that it is coated with oil. Cover with a tea towel and let rise in a warm place until doubled, 1-2 hours. I like to turn the oven on for a minute or so, then turn it off and let the bread rise in the oven. (Make sure you wait to put it in until it's warm, not hot.)

In a small bowl, combine 3 tablespoons sugar, cinnamon, allspice, nutmeg, and cardamom.

Punch down the dough. On a floured work surface, pat out the dough with your hands. Sprinkle with about 1 tablespoon of the cinnamon mixture, then sprinkle 1/3 of the currants/raisins on top.

Fold the dough in on itself (see photos), and pat out the dough again.

Repeat this process 2 more times.

Divide the dough into 12 equal pieces. Use your fingers to pinch the dough into a ball, then place on the prepared baking sheet, pinched side down.

Let the shaped dough rise again for about 30-45 minutes, until doubled.

Preheat the oven to 400 degrees F in the last 15 minutes of rise time.

In a small bowl, add the egg yolk. (Put the egg white in the (washed) stand mixer or a large bowl, and set aside.)

Add 1 tablespoon water to the egg yolk and whisk together.

Use a pastry brush to coat all the rolls. Then if you still have egg yolk left, brush them all again. This will make them nice and brown and shiny.

Bake at 400 for about 19-20 minutes, until the tops are very golden brown and the bottoms have also browned.

Remove to a cooling rack and let cool completely. (I know, I know, HOT cross buns. But if you add the frosting now it will just melt.)

Use a mixer to beat the egg white. Add the powdered sugar in 1/2 cup increments, beating well each time. Add the vanilla. Add milk as needed. Once you have added all the powdered sugar, beat on high for a while to make it nice and glossy. Test the frosting on a plate to see if it holds its shape. If it spreads, add a little more powdered sugar. (see photos)

Add the frosting to a ziplock (I used a ladle. This frosting is thick!) and snip the corner.

Cross each bun, then devour!
Notes
You may substitute 3/4 cup milk for the water and dry milk combo. They will turn out fine. I just love the tenderness and golden exterior you get from dry milk.
Source: I sort of combined/adapted an Allrecipes.com recipe with The Pioneer Woman's recipe.
Nutrition
Serving:
1
g
|
Calories:
345
kcal
|
Carbohydrates:
68
g
|
Protein:
6
g
|
Fat:
6
g
|
Saturated Fat:
3
g
|
Polyunsaturated Fat:
1
g
|
Monounsaturated Fat:
2
g
|
Trans Fat:
1
g
|
Cholesterol:
56
mg
|
Sodium:
255
mg
|
Potassium:
156
mg
|
Fiber:
2
g
|
Sugar:
32
g
|
Vitamin A:
197
IU
|
Vitamin C:
1
mg
|
Calcium:
32
mg
|
Iron:
2
mg
Carbs carbs carbs forever: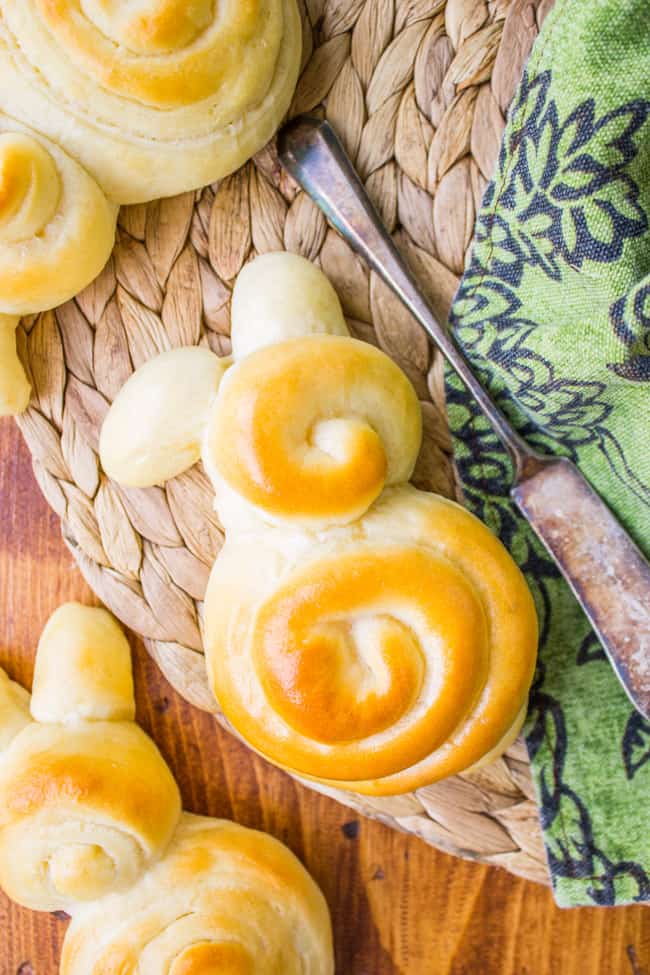 One Hour Honey Almond Crunch Rolls: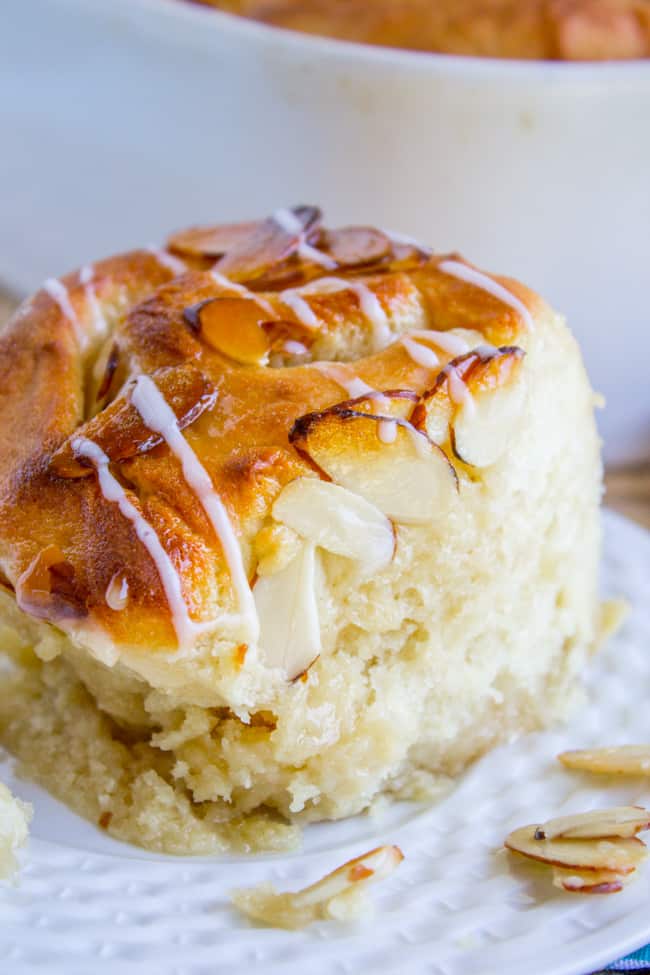 The Fastest (No Yeast) Cinnamon Rolls Ever!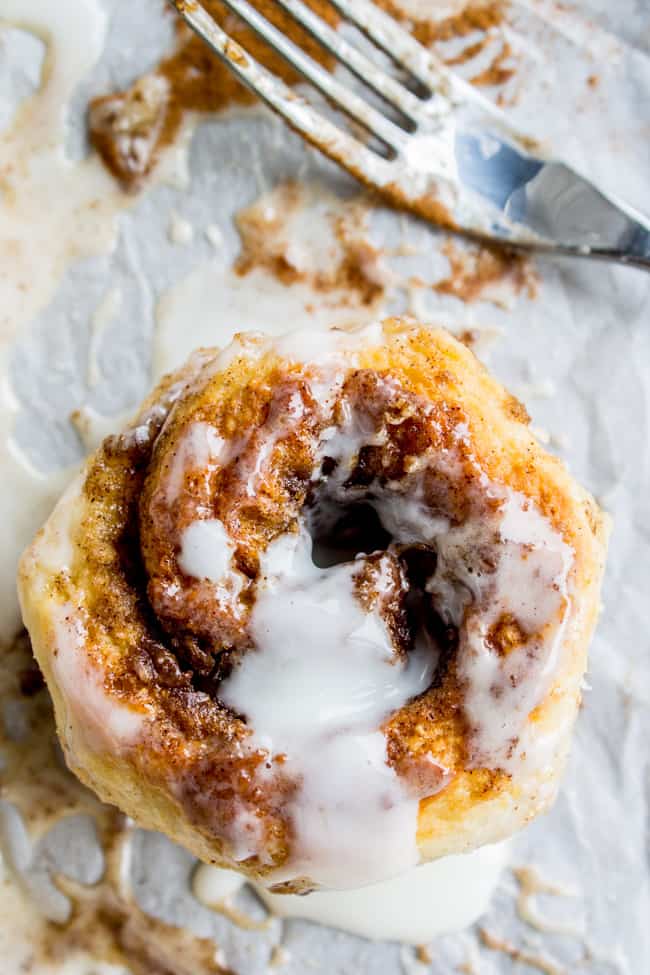 Hot Cross Buns already have frosting, I know, but if you wanted to split them and top each half with this Cinnamon Honey Butter, I'm just saying, I'm not gonna judge.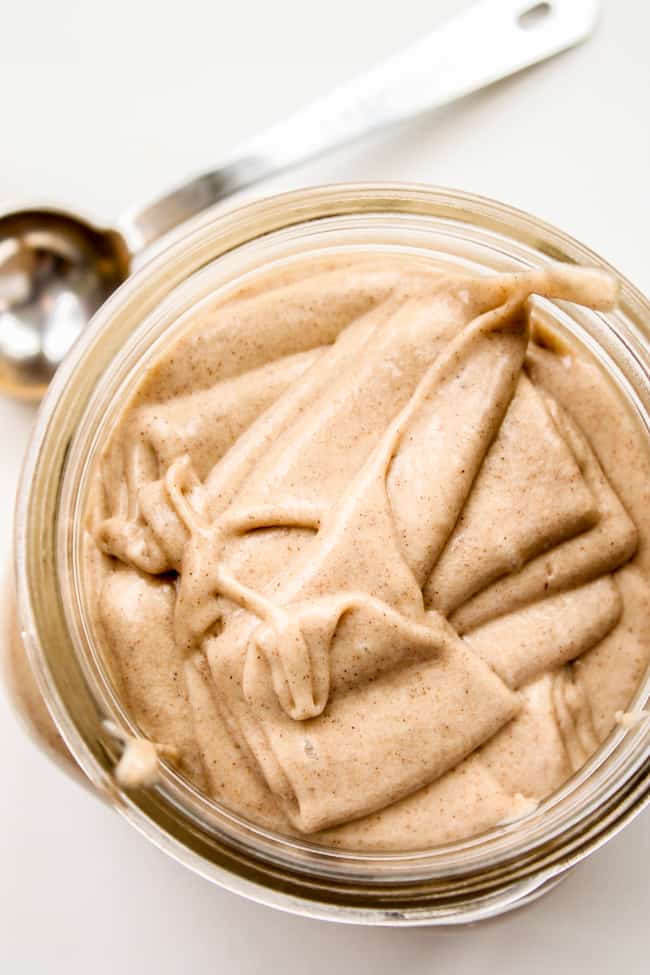 Whole Wheat Hot Cross Buns from Bless This Mess
Hot Cross Cinnamon Buns from All Roads Lead to The Kitchen << the author links to this cool article about the history of Hot Cross Buns!
Homemade Hot Cross Buns from Comfortably Domestic
This post has affiliate links. Thanks for your support!