These no-yeast cinnamon rolls are super fast! Done in about an hour. They are flakier than a regular yeast roll and ultra-satisfying. The Cream Cheese Buttermilk Icing is bomb-diggity.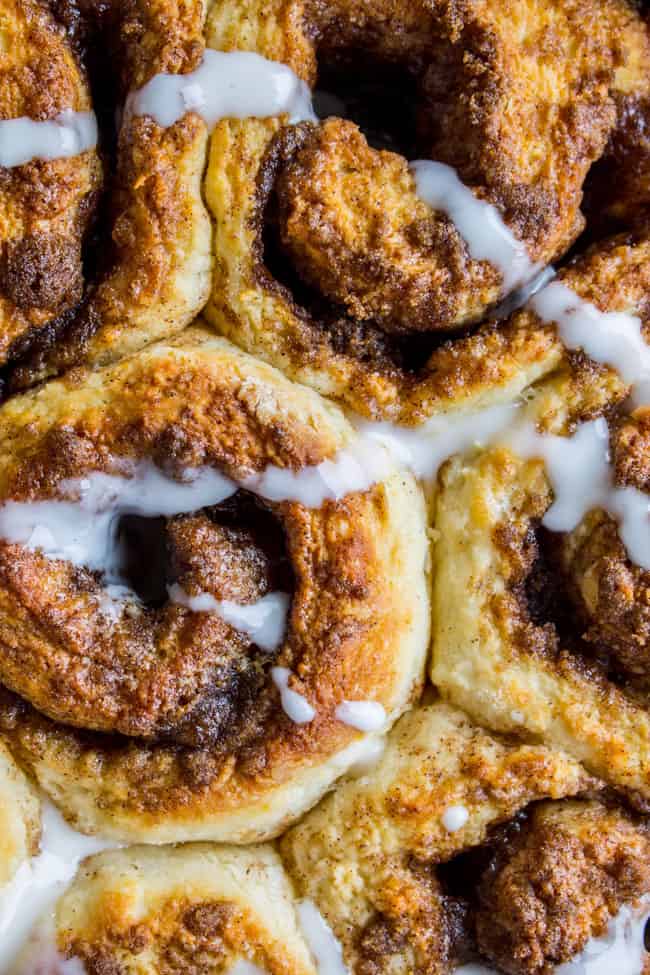 Did you watch the same movies over and over and over again as a kid? I don't even mean cartoons, although I'm sure I did that too. Growing up, we had roughly 3 movies in our house: Princess Bride, Batman Forever, and Robin Hood: Prince of Thieves. I can recite literally every single line of these movies because we watched them allll the time.
Our kids are so darn spoiled with this whole Netflix thing. "Back in my day, we had to walk backwards in the snow 20 miles, and we only had 3 MOVIES TO WATCH!" (gasp, faint)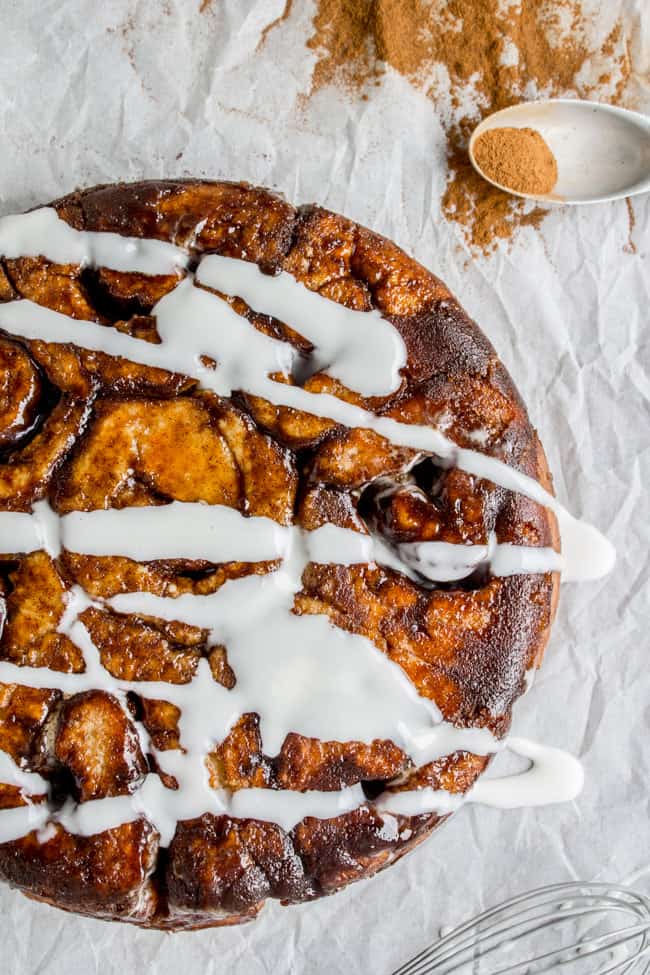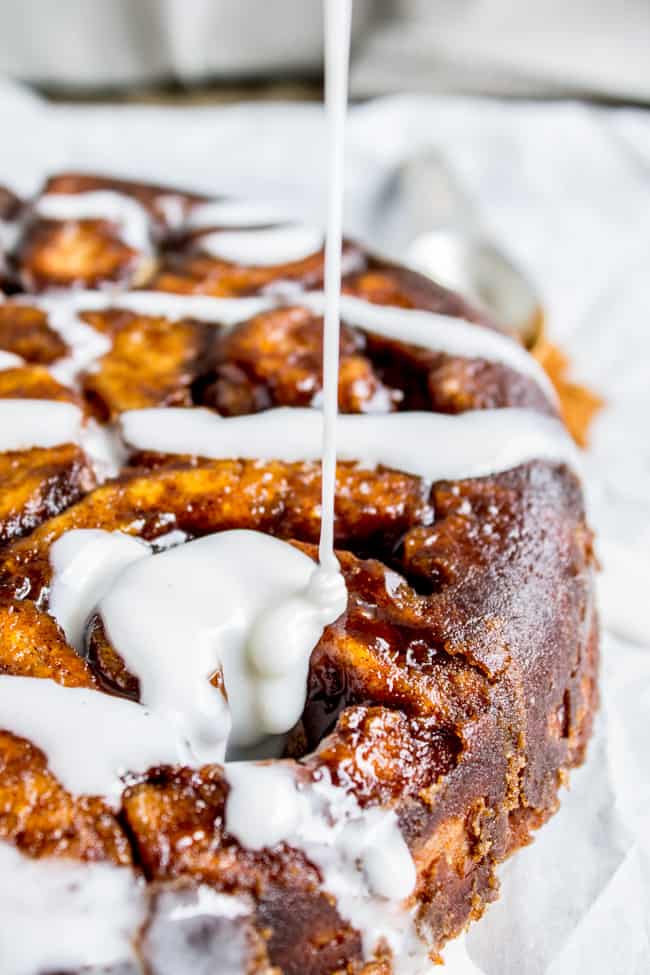 Robin Hood just started streaming on Netflix, and Eric told me that he'd never even seen it, so of course we had to watch it. It's so funny watching a movie that you haven't seen in years with "new" eyes. (Don't believe me? Try watching Bambi as an adult. Sooooo booooorrrinnnggg) If I weren't so nostalgic about Kevin Costner and his big ol 90s hair, I'm sure I would think it was ridiculous. But I relished every cheesy line, with Eric rolling his eyes in the background.
(Just in case you're wondering, I'm totally blasting the theme song now, "(Everything I Do) I Do it For You." Eric's like, "This is the type of song that your middle school choir would sing." He's got a point.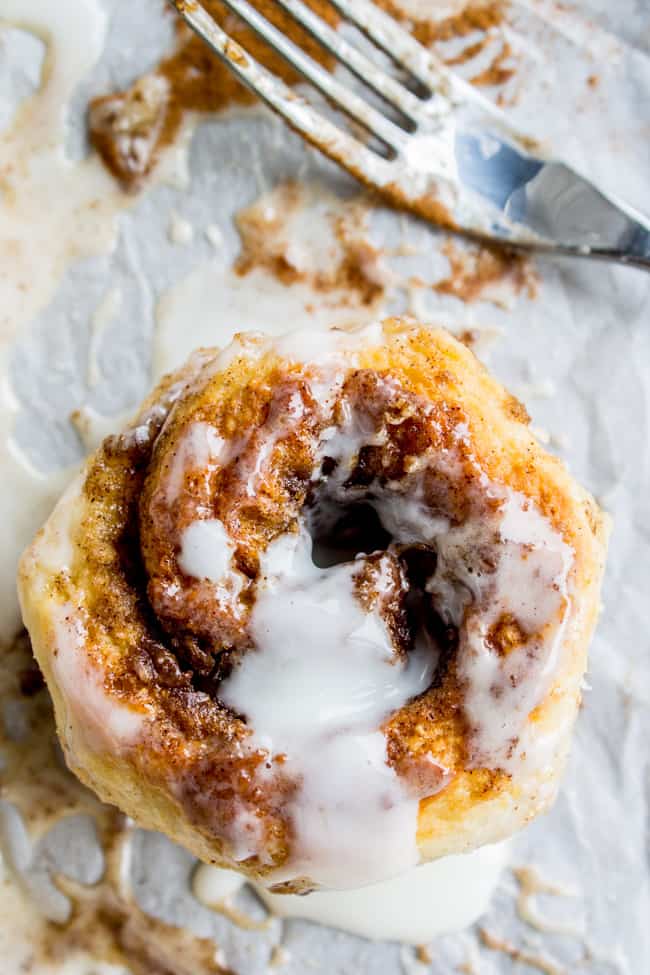 The other day I was flipping through my (giant, 80 lb.) Cook's Illustrated book when I stumbled across a Quick Cinnamon Rolls recipe, and I noticed that it has no yeast! I have a One Hour Cinnamon Rolls recipe that is KILLER; it calls for 3 tablespoons of yeast and uses a hot oven to speed up the rising process. This recipe only calls for baking soda and baking powder, and is basically buttermilk biscuit dough that is patted out and rolled into cinnamon-y deliciousness. I'm in love!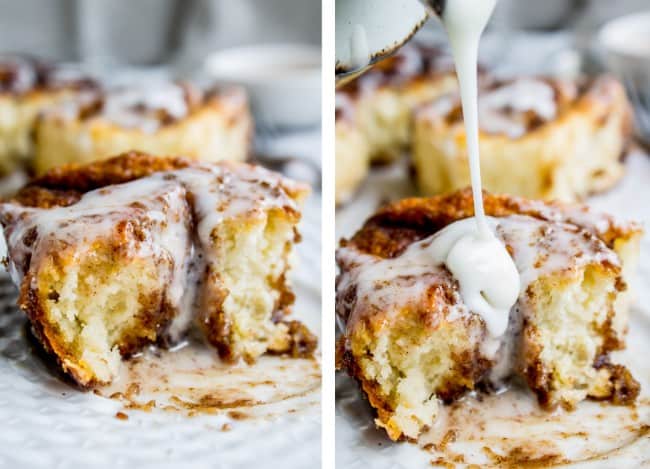 They are not quite the same as regular cinnamon rolls. Yeast and only yeast can produce that soft, pillowy interior. That said, who's going to say no to a flaky biscuit-like roll smothered in butter, brown sugar, and cream cheese buttermilk frosting? No one, that's who.
Think of it like the difference between cake doughnuts and yeast doughnuts. No the same, but both DEFINITELY worth your time. The edges of the rolls get delightfully crispy. Until you smother them in Cream Cheese Buttermilk frosting, that is.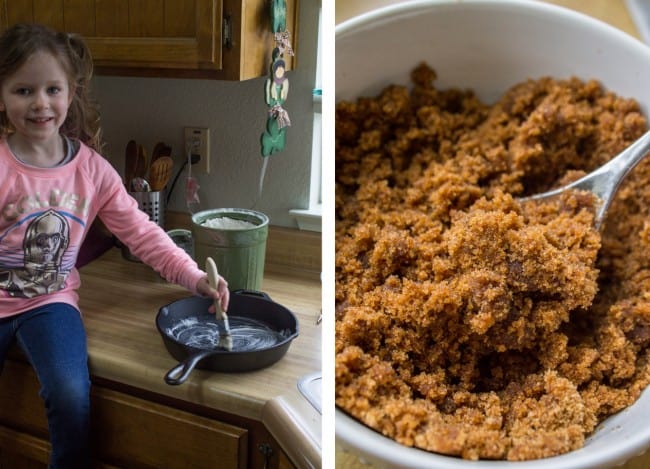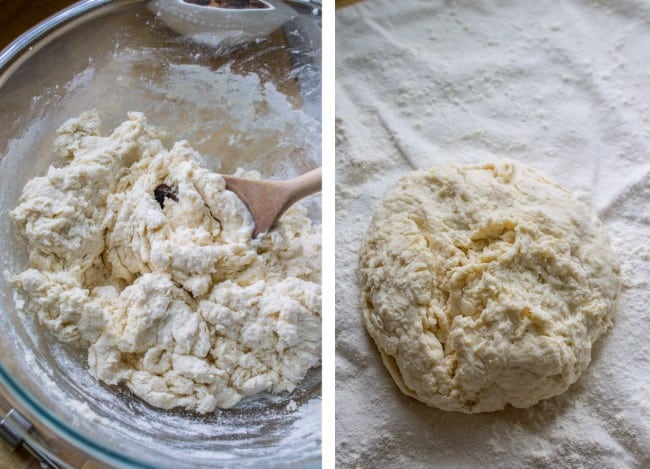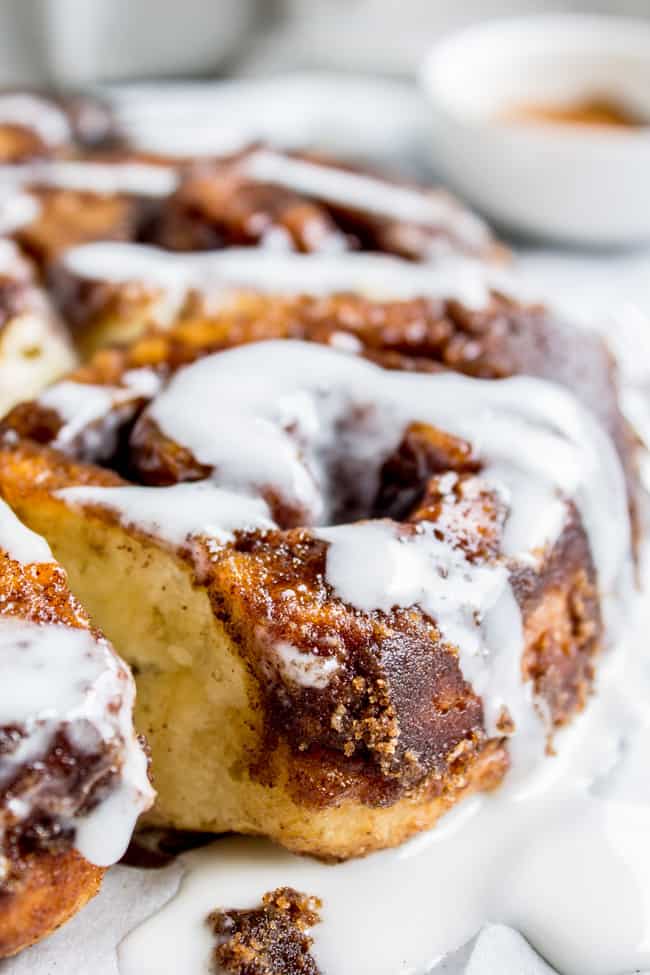 Eric and I just ate the last 2 from the batch and we both licked our plates. No shame. I'm telling you, Cream Cheese Buttermilk frosting is where it's at. I never would have thought to add buttermilk to a drizzle, but it adds this amazing tang, while still being perfectly sweet. You should totally make these this weekend!
If you do, take a quick picture and post it on Instagram using the hashtag #TheFoodCharlatan. That way I can see it! :)

The Fastest (No Yeast) Cinnamon Rolls Ever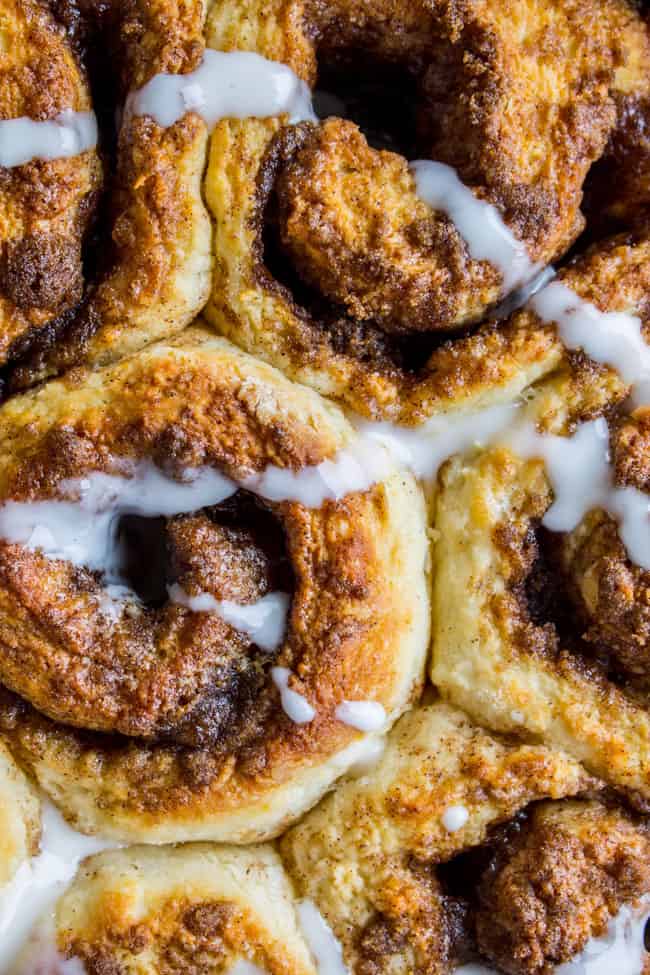 These no-yeast cinnamon rolls are super fast! Done in about an hour. The Cream Cheese Buttermilk Icing is the perfect compliment!
Ingredients
For the dough:
1

tablespoon

butter

,

melted (to brush pan)*

2 & 1/2

cups

flour

,

spooned and leveled

2

tablespoons

white sugar

1 & 1/4

teaspoons

baking powder

1/2

teaspoon

baking soda

1/2

teaspoon

salt

2

tablespoons

butter

,

melted (to add to wet ingredients for the dough)

1 & 1/4

cups

buttermilk
For the cinnamon filling:
1

cup

brown sugar

,

packed

2

teaspoons

cinnamon

1/4

teaspoon

cardamom

,

optional

1

dash

salt

3

tablespoons

butter

,

melted (for the cinnamon filling)

2

tablespoons

butter

,

to drizzle over shaped rolls
For the icing:
2

ounces

cream cheese

,

softened

1/4

cup

buttermilk

1

dash

salt

2

cup

powdered sugar
Instructions
Preheat your oven to 425 degrees F.

In a small bowl, add 1 tablespoon butter and melt it in the microwave. Use a pastry brush to spread it in the center and up the sides of a 9-inch round cake pan (or a 10-inch cast iron skillet). Set aside.

In a large bowl, whisk together flour, sugar, baking powder, baking soda, and salt.

In a small bowl, melt 2 tablespoons butter. Add 1 and 1/4 cup buttermilk and stir.

Add the wet ingredients to the dry ingredients and stir with a wooden spoon until liquid is mostly absorbed. Transfer the dough to a very well floured work surface.

Flour your hands and knead the dough 2-5 times until it has come together.

Pat the dough into a roughly 12x9 inch rectangle.

Prepare the filling. In a small bowl, combine brown sugar, cinnamon, cardamom (optional), and salt. Add 3 tablespoons melted butter and stir.

Sprinkle the brown sugar mixture all over the dough, leaving a 1/2 inch border on the edges. Press the sugar into the dough so that it sticks.

Use a spatula or your hands to help loosen the dough and roll into a tight cylinder, starting from the long end. Pinch seams to seal.

Use a very sharp serrated knife to slice into 8 equal segments. Place 1 roll in the center of the pan, then surround it with the rest of the rolls.

Melt 2 tablespoons butter in a small bowl. Drizzle over the shaped rolls evenly.

Bake at 425 for 24-26 minutes, until brown on top and the rolls look set when you shake the pan.

Let cool for a couple minutes, then loosen the edges of the pan with a knife.

While the rolls cool, beat cream cheese in a bowl until smooth. Add buttermilk and beat well until the lumps are mostly gone. Add powdered sugar and beat well, scraping sides of bowl. Add more buttermilk to the mixture to get to a consistency you like.

Prepare a rimmed plate, or a parchment paper lined rimmed baking sheet (with or without a cooling rack set over the top.) Invert the pan so that the rolls come out upside down.

Drizzle with cream cheese icing.

Serve warm! Milk is really great with these rolls.
Nutrition
Serving:
1
roll
|
Calories:
353
kcal
|
Carbohydrates:
62
g
|
Protein:
4
g
|
Fat:
10
g
|
Saturated Fat:
6
g
|
Polyunsaturated Fat:
1
g
|
Monounsaturated Fat:
3
g
|
Trans Fat:
1
g
|
Cholesterol:
29
mg
|
Sodium:
313
mg
|
Potassium:
104
mg
|
Fiber:
1
g
|
Sugar:
41
g
|
Vitamin A:
347
IU
|
Vitamin C:
1
mg
|
Calcium:
89
mg
|
Iron:
1
mg
More cinnamon roll ideas! Never enough!
One Hour Cinnamon Rolls << this is my other quick cinnamon rolls recipe from my mother-in-law. It  is amazing! We make them all the time.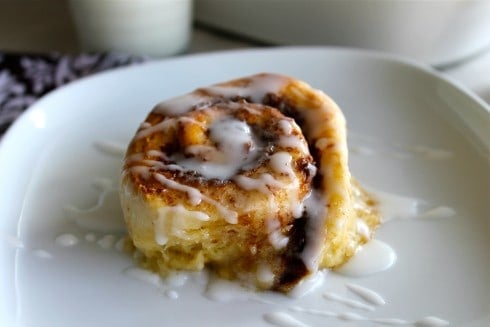 Swedish Cinnamon Buns with Cardamom << these are so fun to make. Plus, PEARL SUGAR!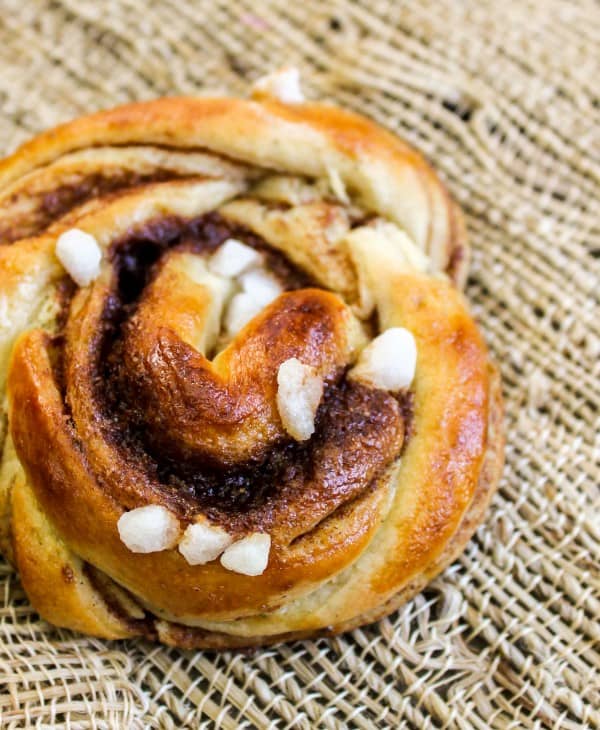 Raspberry Sweet Rolls with Coconut Cream Cheese Frosting << THESE. oh man.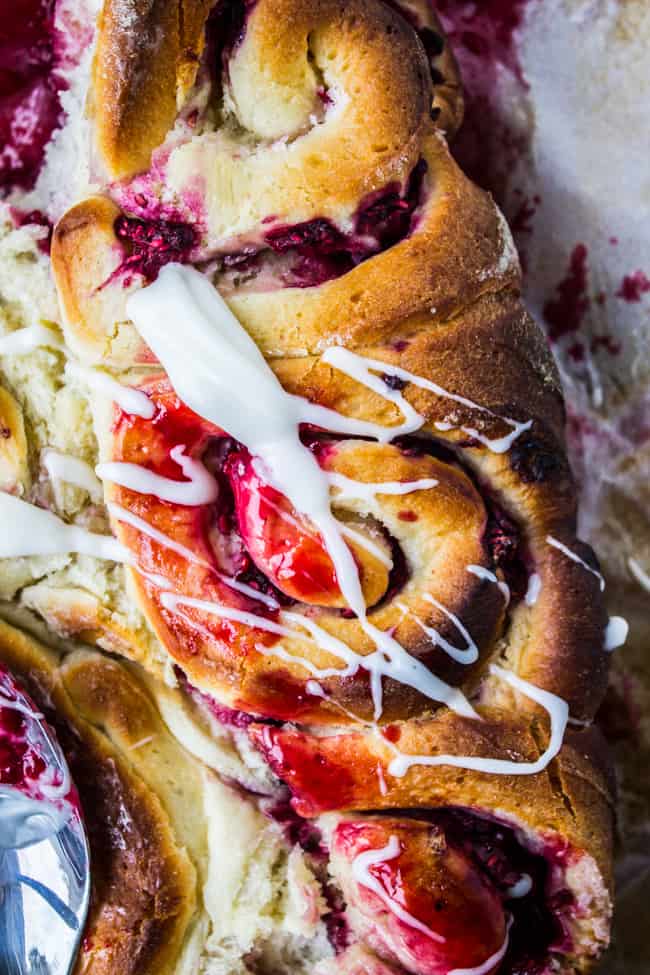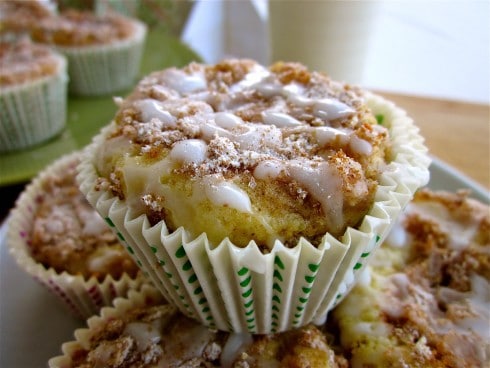 More cinnamon roll recipes from bloggers!
Quick and Easy Cinnamon Rolls from Simply Gloria
Cinnamon Roll Bites from The Recipe Rebel
3 Ingredient Cinnamon Rolls from Julie's Eats and Treats