Pepperoni Cream Cheese Crescent Rolls
This is such an easy 3-ingredient snack, back to school lunch, or game-day appetizer! It's a slab of cream cheese and some pepperoni rolled up in a crescent and baked. I made this for my kids for lunch but they only got one each because I ate the rest.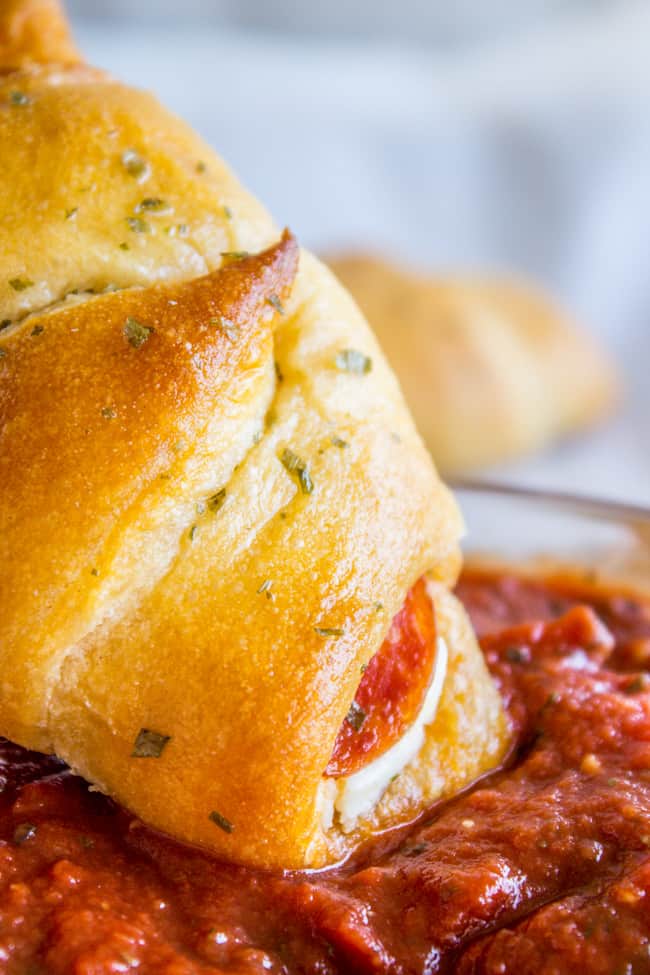 "Camping is the best! I sure love being outside and having no soap and sleeping on the ground in bear country!"
-said no 7-months-pregnant woman ever.
We just got back from a 3 day camping trip in Sequoia National Park. It really was super fun, despite my grumblings about carrying around the chuck roast all day. (I read in my pregnancy book last month that my baby is about the size and weight of a 2-pound chuck roast, which is a firm departure from the adorable comparisons to fruit. ("You're baby is the size of a plum this week!") Now chuck roast is all I can think of when I feel huge and heavy, except mine's got to be 3 pounds by now at least.)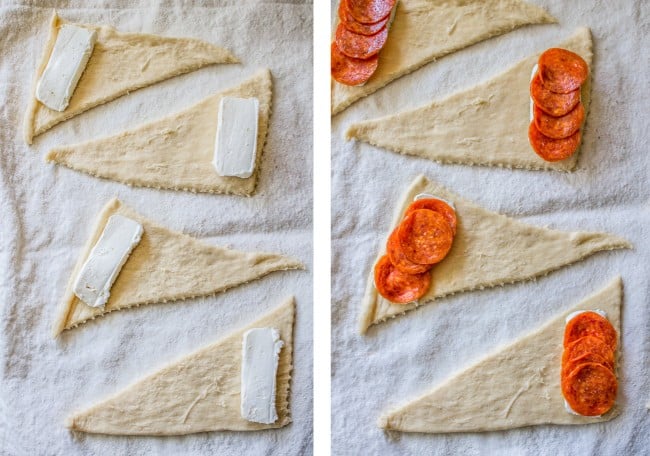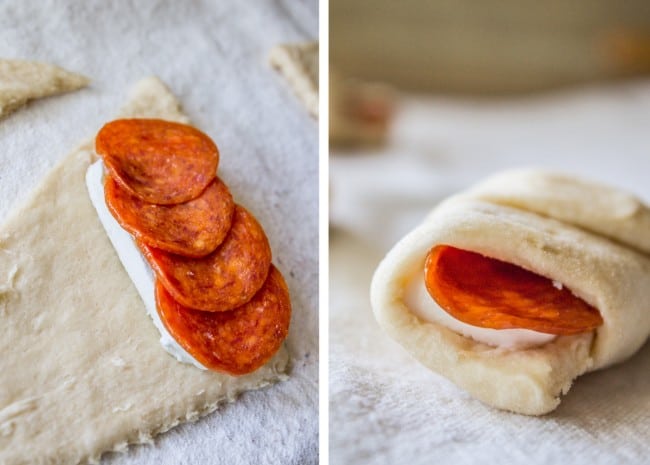 Toward the end of our weekend I noticed this sign posted at the campground:
"Number of bear incidents in camp in the last 7 days: 5." Nothing inspires confidence quite like knowing you're safe 2 nights a week. So comforting.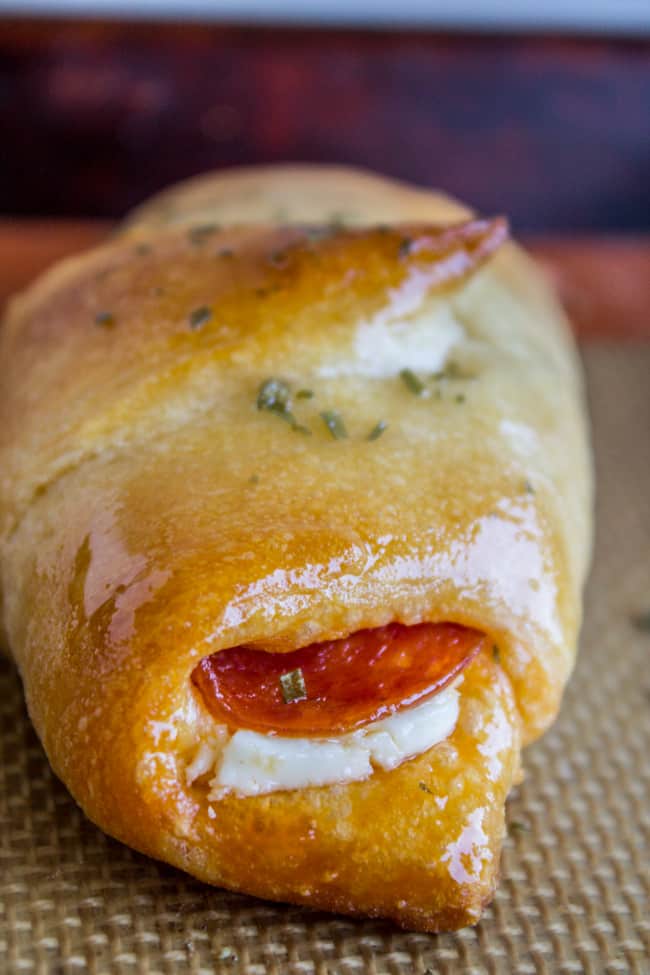 The best part about camping is camping with friends. Less work, more fun. We went with our good friends Sarah and Brian. I used to be roommates with Sarah, and Eric used to be roommates with Brian. (Awww)
We decided to split meals among us, and last week I got this text from Sarah:
"Here's what I'm thinking: German apple pancake and bacon; lunch, pepperoni rolls + marinara sauce, fresh fruit; dinner 1, enchiladas and fresh guac; dinner 2, spinach artichoke lasagna and herbed skillet bread. Let me know if you approve and if that interferes with any of your cooking plans!"
Uuuh yeah we're making HOT DOGS for our dinner. In a campfire. Because I'm a Food Charlatan and don't do cooking in the wilderness, period. So I don't think there will be any interference going on.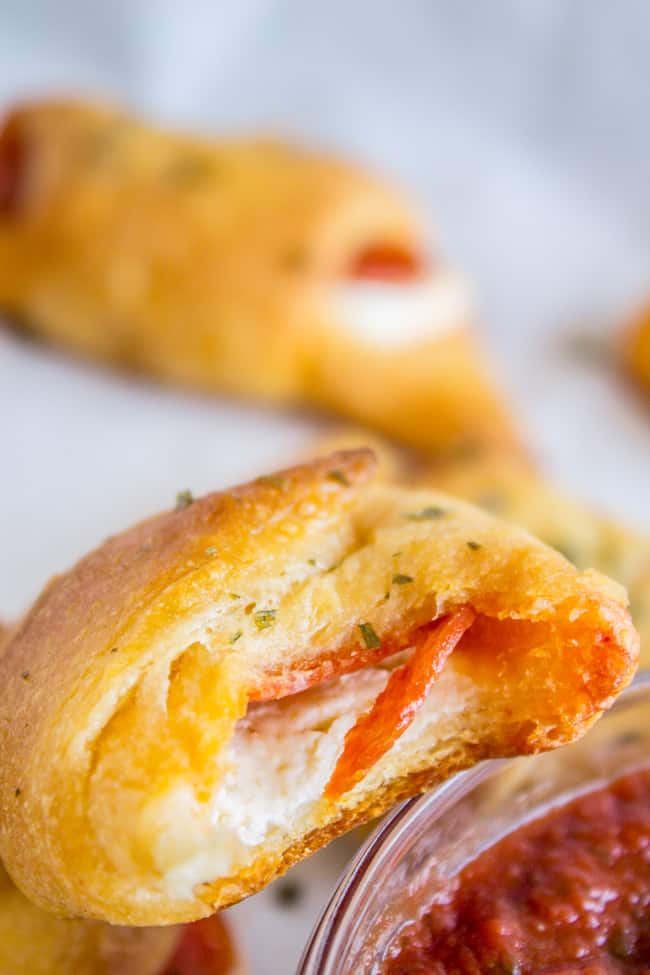 I lied earlier, you know; the best part about camping is camping with friends who are obsessed with Dutch oven cooking. Talk about fancy. Do you guys like Dutch oven cooking?
When Eric heard what they were making he actually got excited and decided to try some Dutch oven meals himself.
A few weeks ago my sister Laura told me that she was busy in her kitchen prepping school lunches for her kids. Intrigued, I asked her what she made for them in advance and she sent me a huge list. I'll be doing a long post this Thursday with everything she suggested, but after trying these Pepperoni Cream Cheese Crescents I knew I needed to give it it's own post. They are just WAY too good.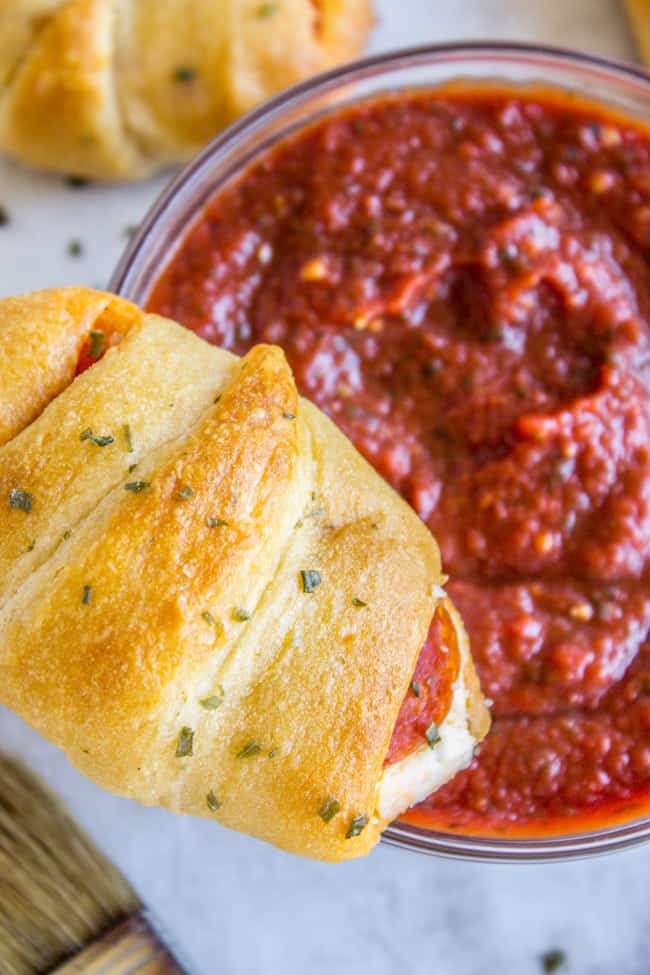 And suuuper easy. Just slap some cream cheese on a crescent triangle, top with pepperoni and you're done. You would think that the cream cheese would melt all over the place if you didn't seal the dough, but it doesn't, so you don't even have to worry about wrapping carefully. These are good on their own, but to up the pizza factor even more I made this Easy No Cook Pizza Sauce to dip it in. Heaven! You can make these ahead and freeze them for school lunches (they thaw by lunchtime) or throw them together for a game day appetizer. Everybody loves pizza flavors!


print
Did you make this recipe?
Leave a review »
Pepperoni Cream Cheese Crescent Rolls
Makes 8 rolls
adjust servings
Ingredients
1

(8 ounce) can crescent rolls

about 4 ounces cream cheese

about 32 slices pepperoni

melted butter, for brushing (optional)
Instructions
Preheat your oven to 375 degrees F. Line a baking sheet with parchment paper or a silpat.
Pop open the can of crescent rolls and separate them out on a lightly floured surface.
Use a knife to slice off a strip of cream cheese from the short end of the block. How thick your slices are is totally up to you. Mine were less than 1/4 inch.
Lay the cream cheese slice down on the fat end of the crescent roll.
Top with about 4 pepperoni slices, and gently press them into the cream cheese.
Roll up the crescents, starting at the fat end. It doesn't need to be perfect; if there is some cheese or pepperoni peeking out, that's okay.
Arrange on the baking sheet. Bake at 375 for about 11-12 minutes, or until light golden brown.
I like to dip these in some Easy No-Cook Pizza Sauce!
by The Food Charlatan

If you make this recipe,
share it on Instagram
 using the hashtag
#TheFoodCharlatan
so I can see it!
You will love these of easy crescent roll recipe ideas!
Bacon and Pepper Jack Stuffed Crescent Rolls: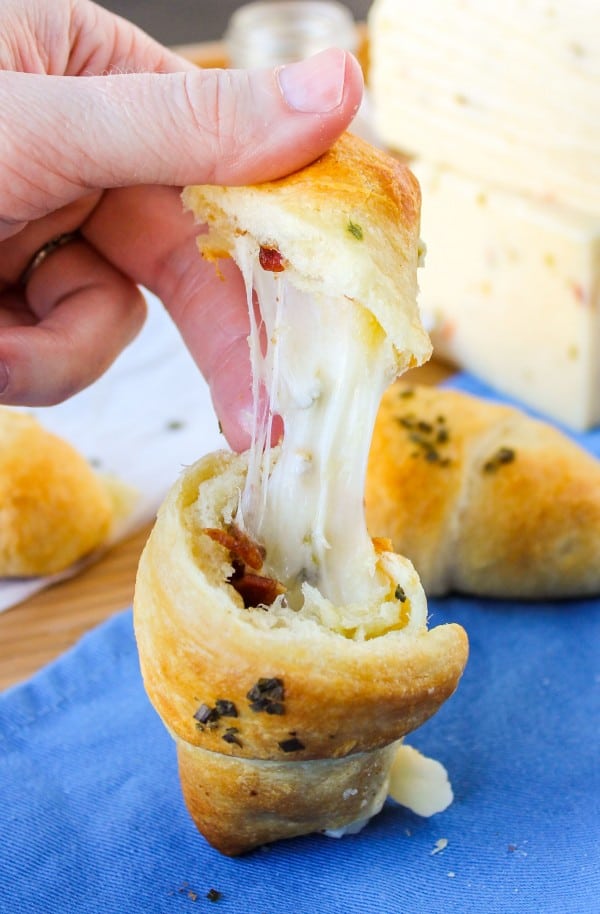 Nutella and Banana Stuffed Crescent Rolls: << this is a reader favorite!!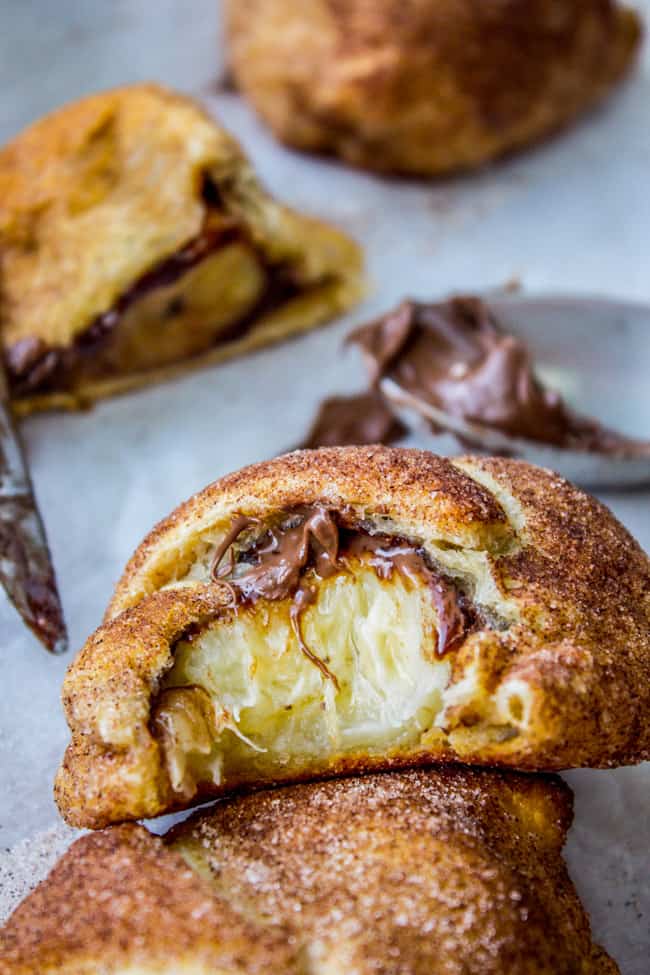 Reuben-Stuffed Crescent Rolls << all the joy of a reuben sandwich, but way easier.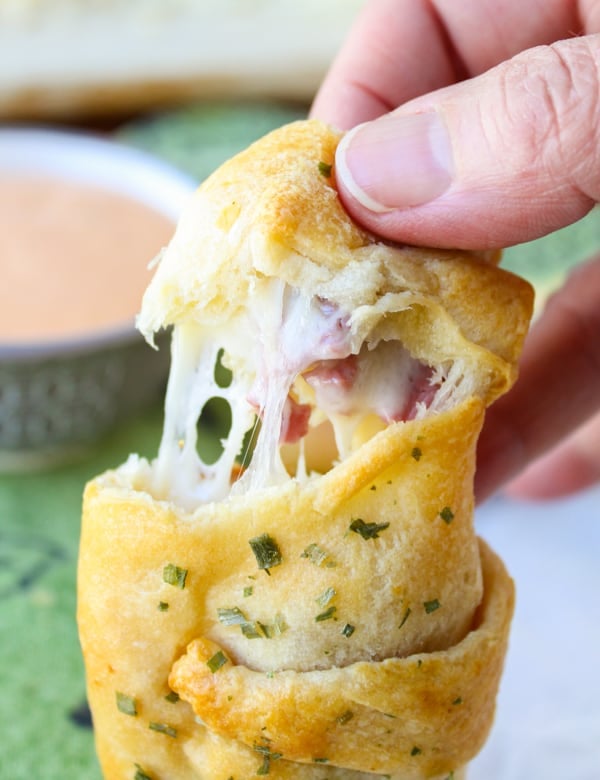 More crescent roll recipes from friends!
Chili Cheese Crescent Dogs from Diary of a Recipe Collector
Caprese Crescent Rolls from Lemon Tree Dwelling
Chicken Taco Crescent Ring from Five Heart Home
We are a participant in the Amazon Services LLC Associates Program, an affiliate advertising program designed to provide a means for us to earn fees by linking to Amazon.com and affiliated sites.