These soft Cinnamon Roll Cookies are a cinnamon-lover's dream come true! Take some cinnamon roll filling, swirl it into some Snickerdoodle dough, dunk it in more cinnamon-sugar, then die and go to heaven. This Cinnamon Cookie recipe is easy and so delicious! Originally published September 25, 2021.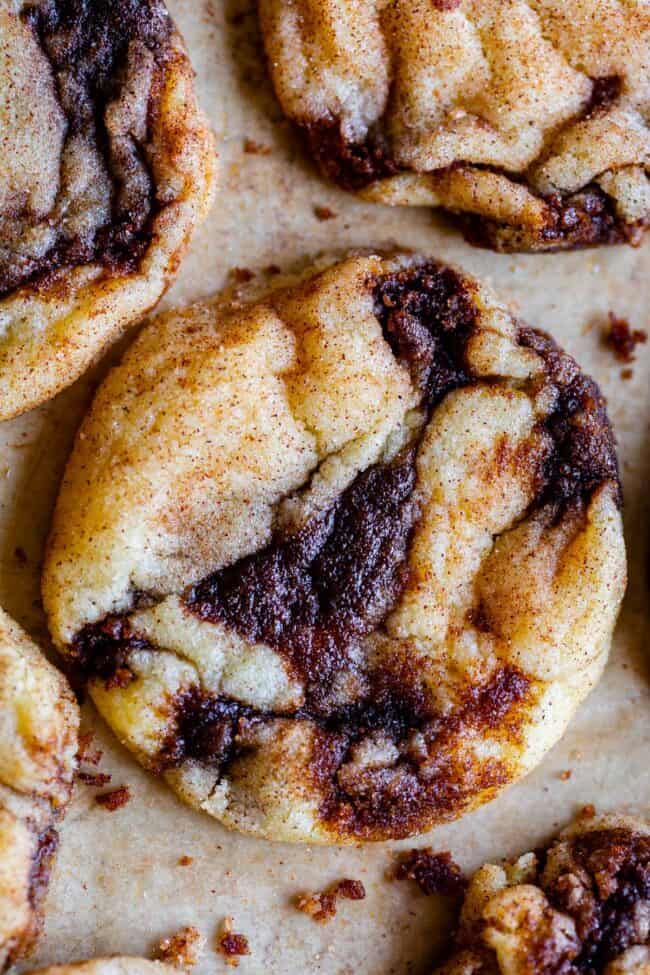 Table of Contents
You guys, have you been to the women's clothing section at Target lately?
I don't know WHAT is going on, but it's like walking into the past. The DISTANT past. The past that none of us were a part of. The past where people wore petticoats and chopped their own wood.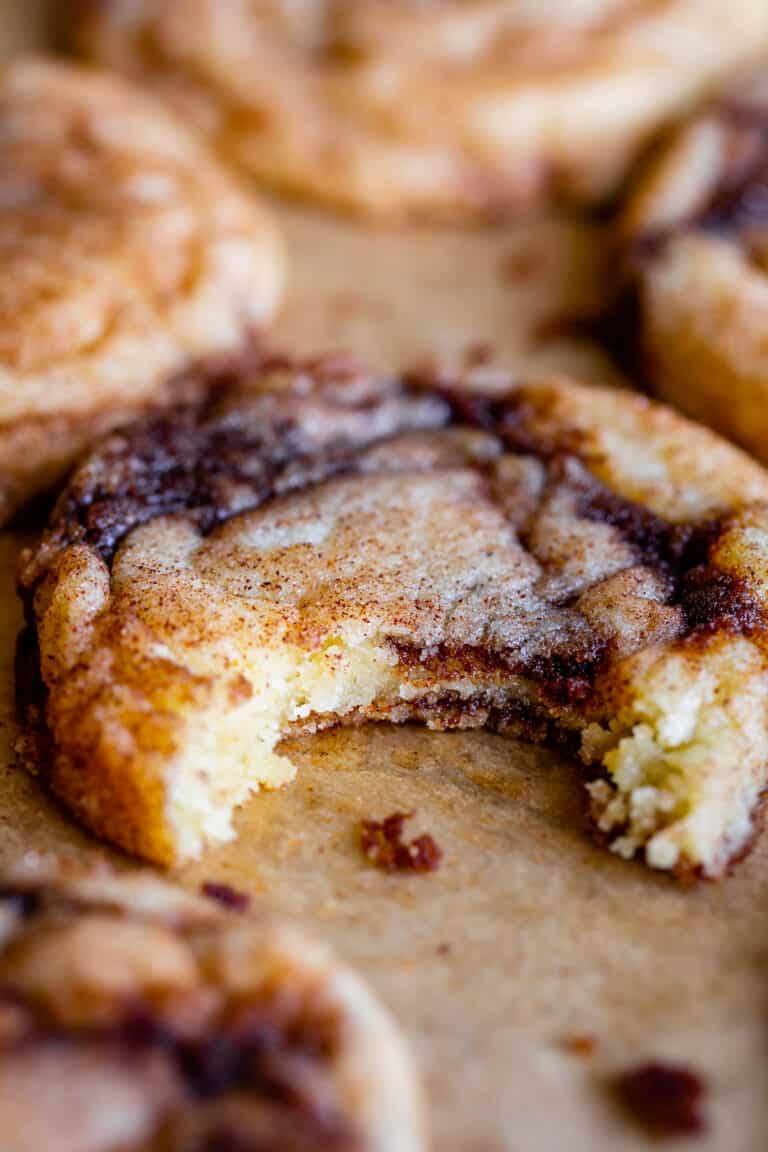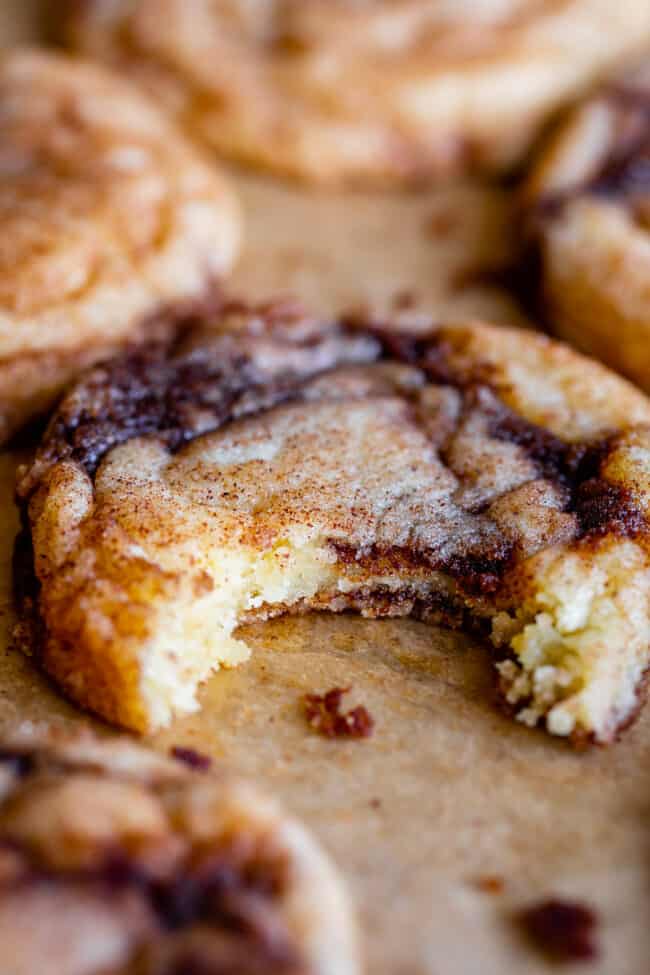 What is this, pioneer chic?? The name of one of the dresses I saw actually has "Balloon Sleeve" in the title. It looks like it's straight out of Little House on the Prairie! (Or do you remember Anne's puffed sleeves from Anne of Green Gables?)
My girlfriends and I have a group text and every time one of us goes shopping, we send each other more evidence. It's quite horrifying to think that if this trend keeps up, I will be wearing these ugly dresses in 3-5 years.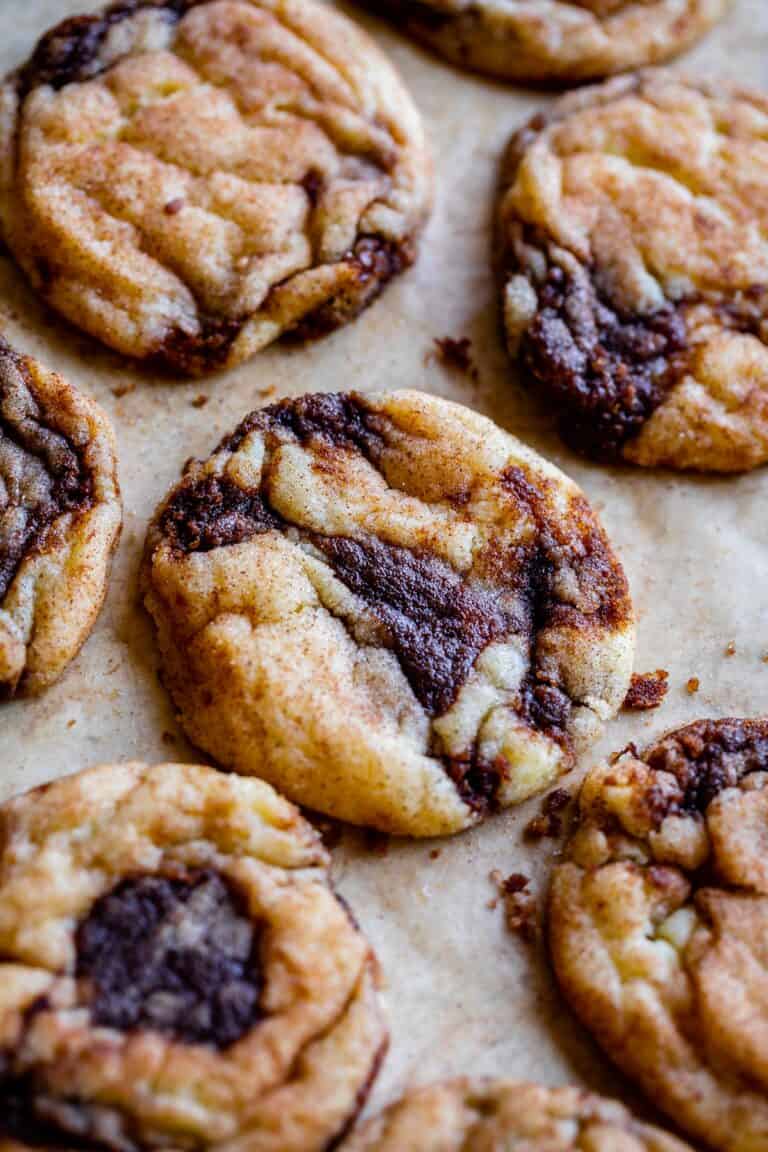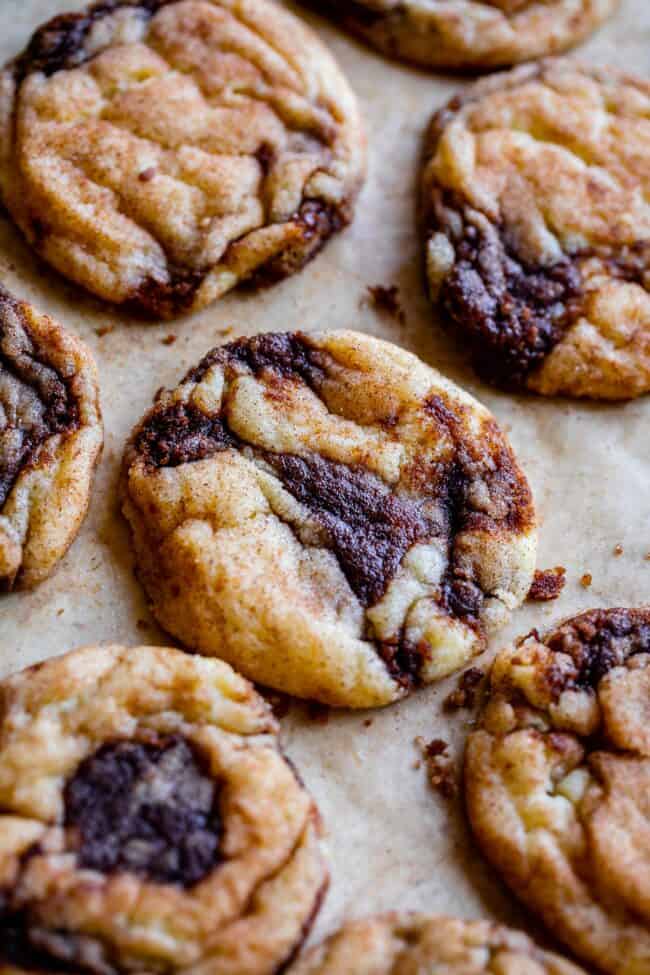 At least that's what happened with skinny jeans. Remember those? I resisted that trend for YEARS back in the early 2010s. I rocked those boot cut pants and slightly flared jeans much longer than I should have, because I was so resistant to the idea. These days? I LOVE my skinny jeans and am horrified that all these millennials are telling us they are out of style. (And now pioneer dresses are in? What is WITH YOU GUYS??)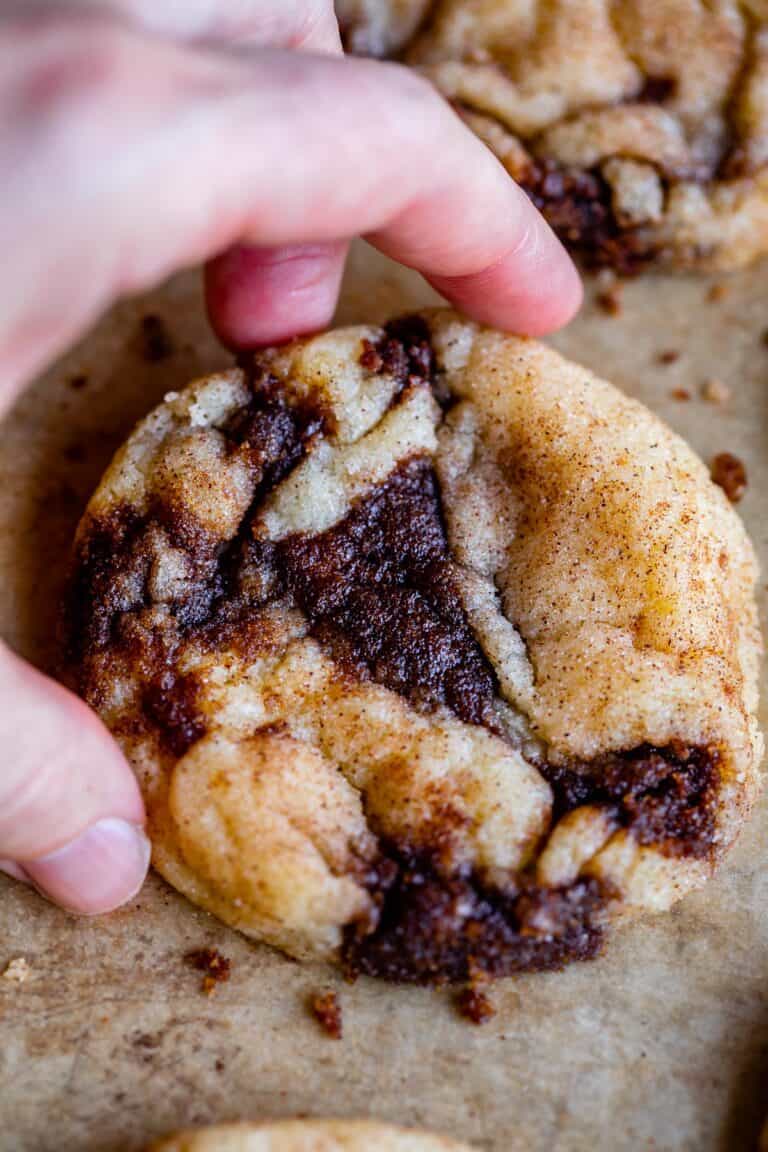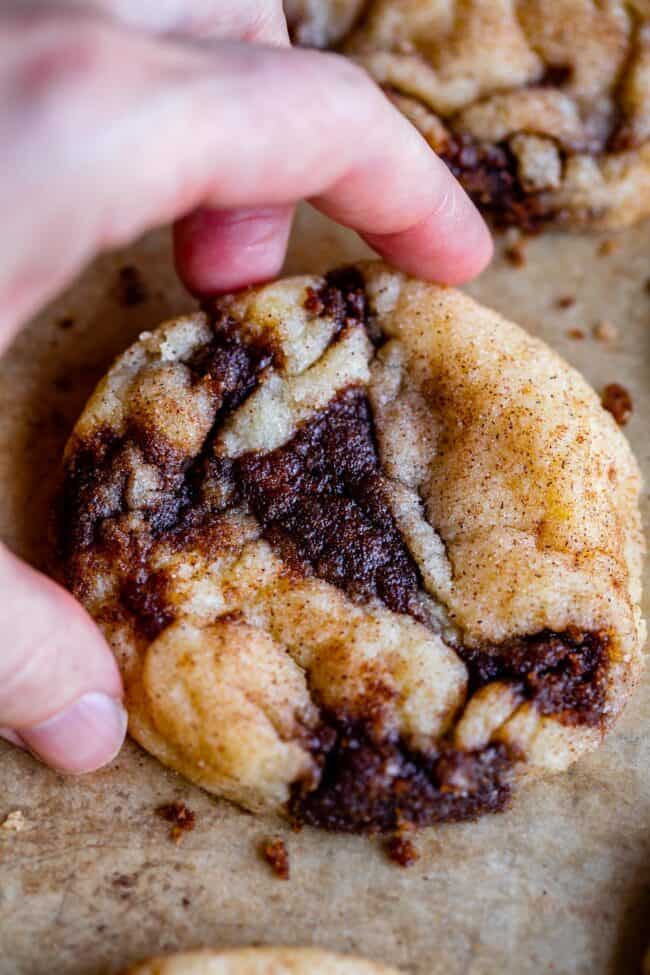 But if we don't resist as a society, this is my fate. Balloon sleeved pastel pioneer dresses with tiny floral print. I am beholden to the whims of Target fashion. We must resist!! WHO'S WITH ME??
Cinnamon Roll Cookies = HEAVEN!
In other news, my tongue is completely numb and has been for hours. It's because I've eaten literally nothing but Cinnamon Roll Cookies all day today.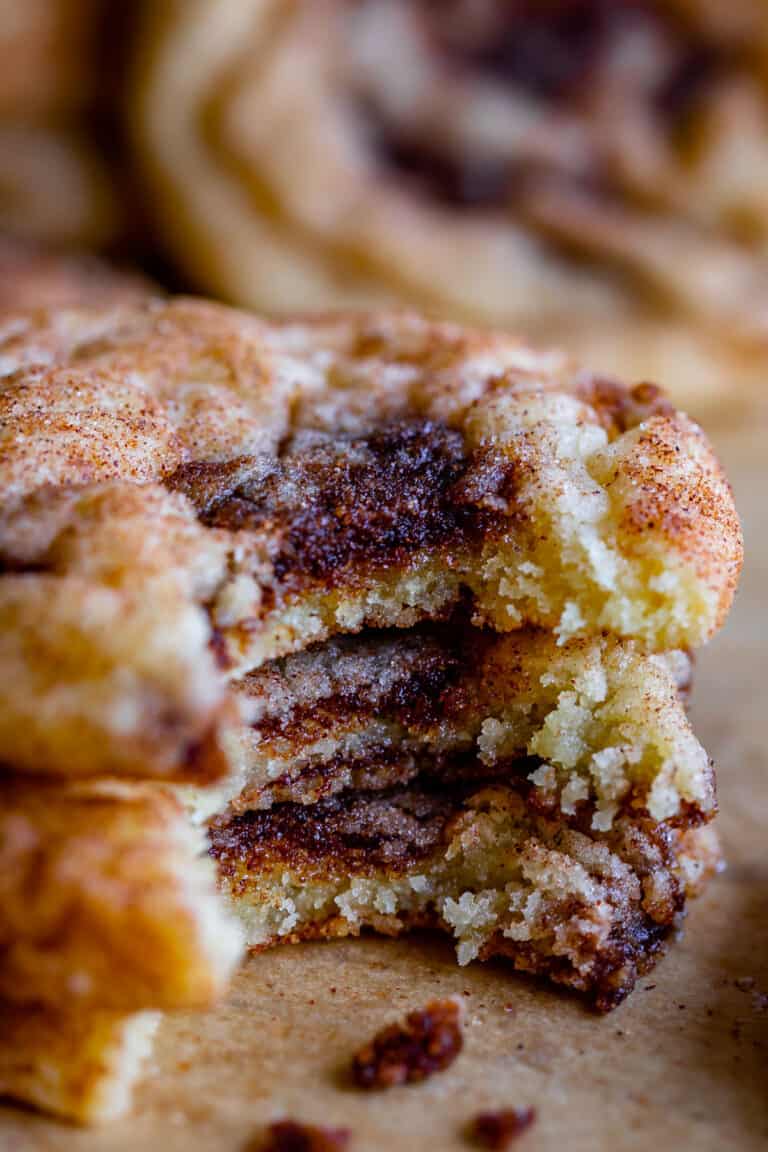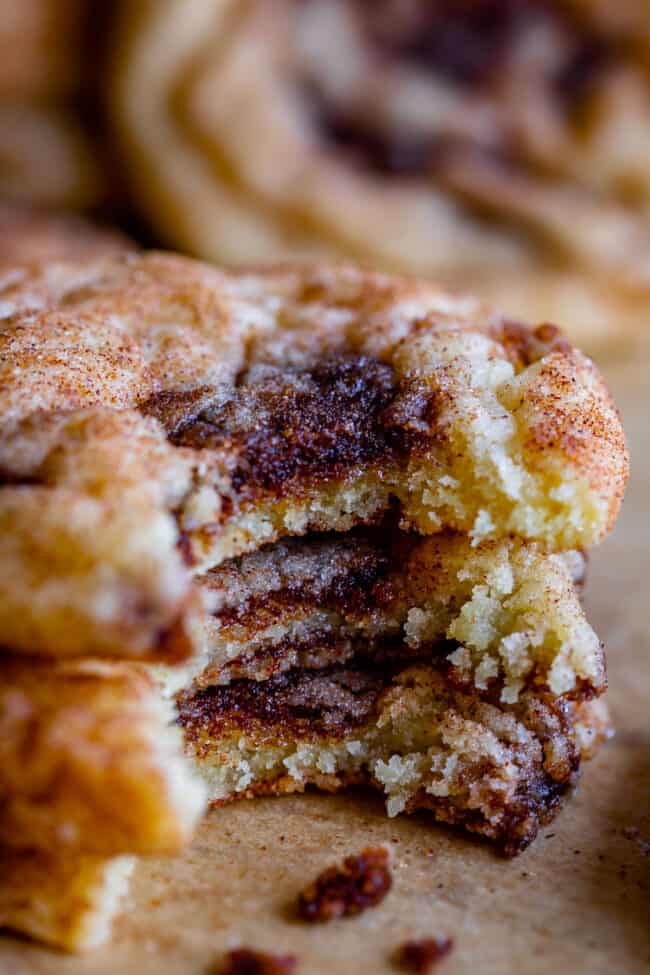 Does this happen to anyone else?? Or am I the only one with a mild cinnamon allergy. It's never enough to stop me. We are not talking anaphylactic shock over here, just a weird numb feeling. I will eat Cinnamon Rolls, Snickerdoodles, and cinnamon toast all day long…and eventually just lose feeling in my tongue.
It's all been worth it though. I bring you…the world's most cinnamon-sugar-glorious cookie! (Can you tell I had a hard time picking a title, ha.)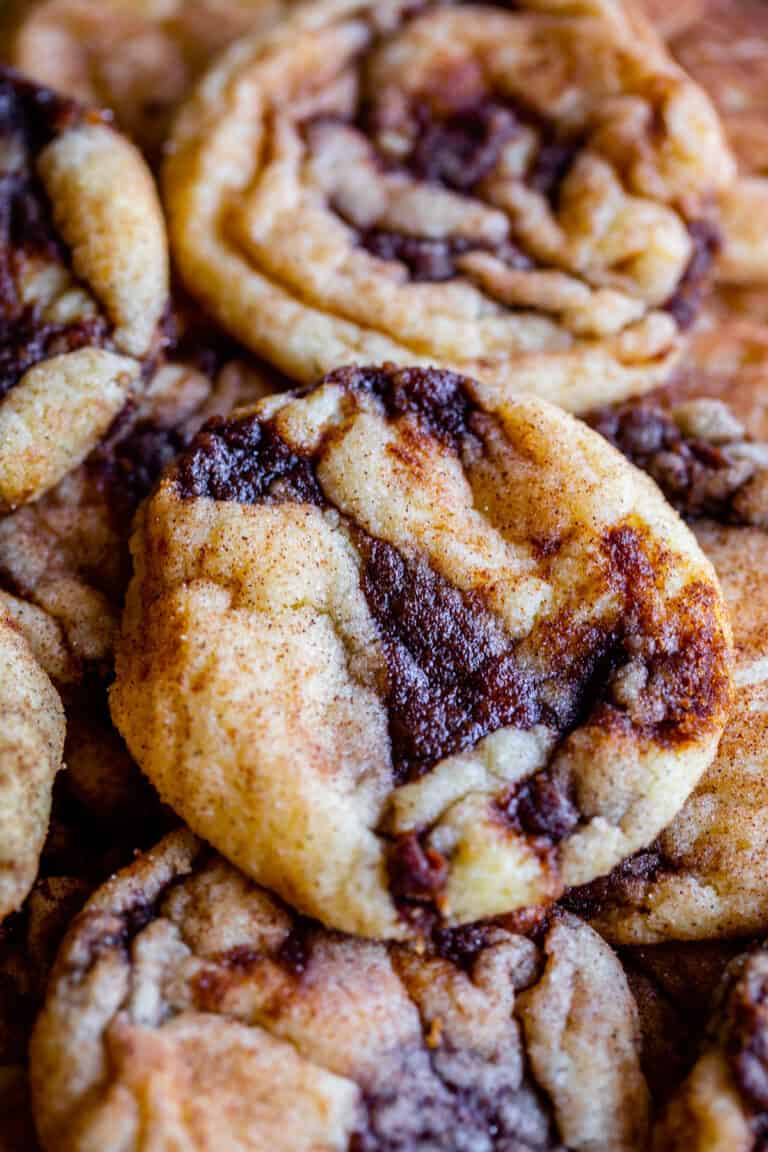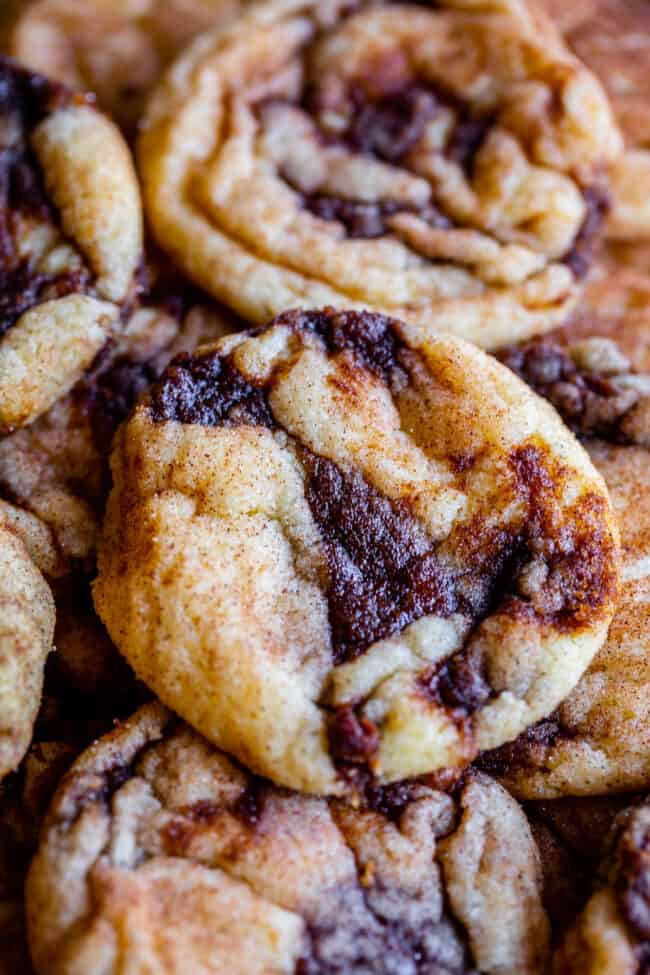 This recipe all started when I went to create the perfect Snickerdoodle. I tried all kind of things to incorporate even MORE cinnamon flavor into the cookies (I'm a glutton for punishment, what can I say. Look at all this tongue numbing I've endured for you!)
Cinnamon Rolls are everyone's favorite, so I whipped up some of the filling and swirled it into a Snickerdoodle to cookie-ify it. The result is FANTASTIC.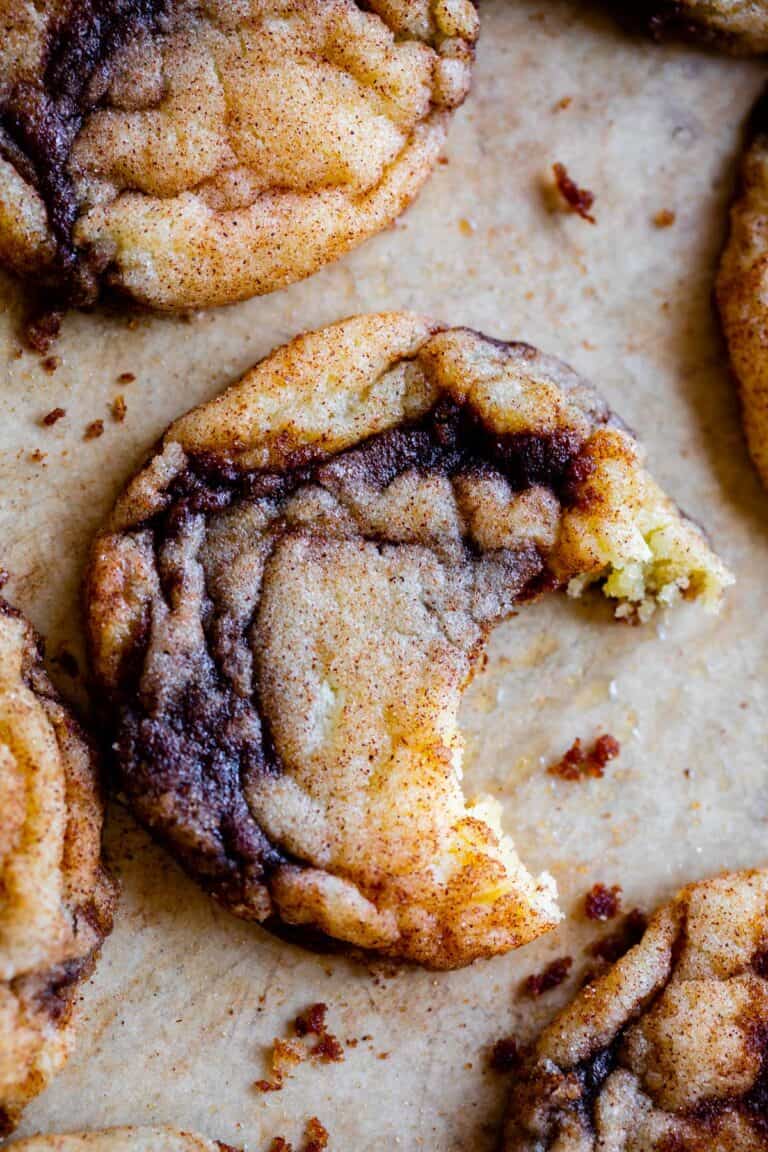 I love them so much that I made a whole different post for them, even though they are very similar to these Perfectly Soft and Chewy Snickerdoodle Cookies that I just posted.
Because the truth is that the cinnamon roll filling changes the whole flavor profile of the cookie. They don't taste like Snickerdoodles anymore, they taste like glorious cinnamon rolls.
They are super easy to make, you just need a few minutes to freeze the cinnamon roll filling. Let's jump in!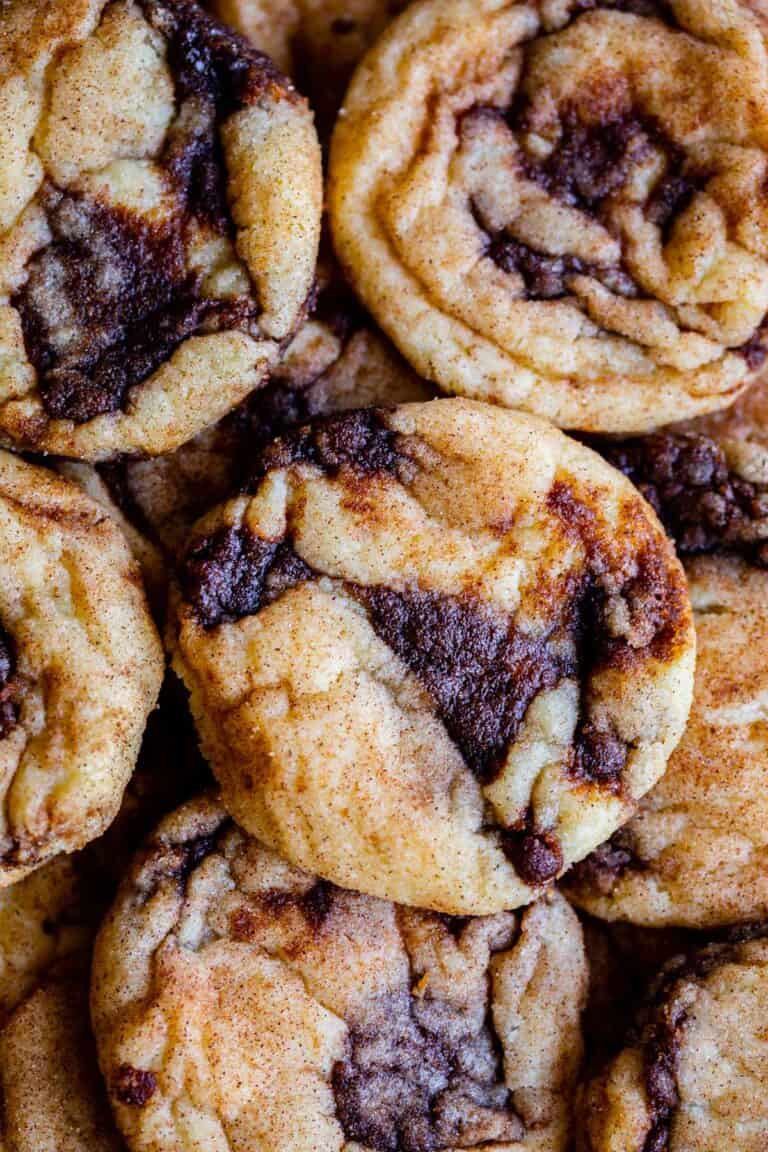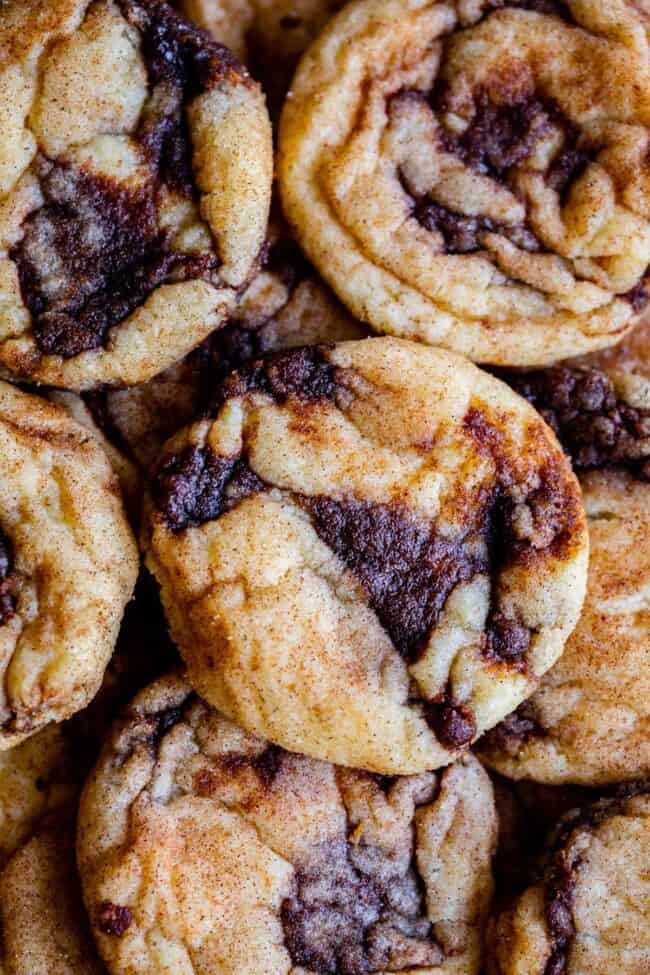 Cinnamon Roll Cookie Recipe Ingredients
Basic pantry ingredients! Full recipe instructions are in the card below, as always.
Salted butter, softened
Brown sugar, packed
Cinnamon
Granulated sugar
Large eggs
Vanilla extract
All-purpose flour
Baking soda
Kosher salt
Cream of tartar
How to make Cinnamon Cookies
First we're going to start by mixing up the cinnamon roll filling. Take some softened butter and beat it with cinnamon and brown sugar.


Then use a spoon to make little balls of filling, about the size of a marble. Line them up on a pan or a plate that will fit inside your freezer. It's kind of like we're making our own chocolate chips! Except they are cinnamon roll chips. YUM.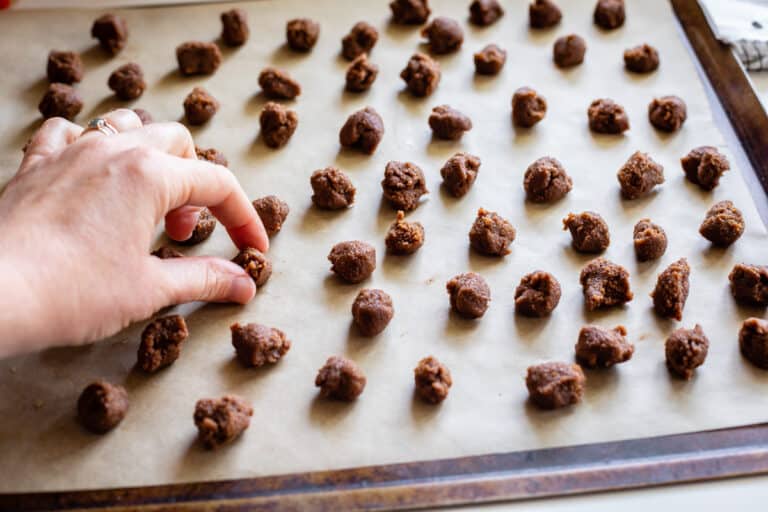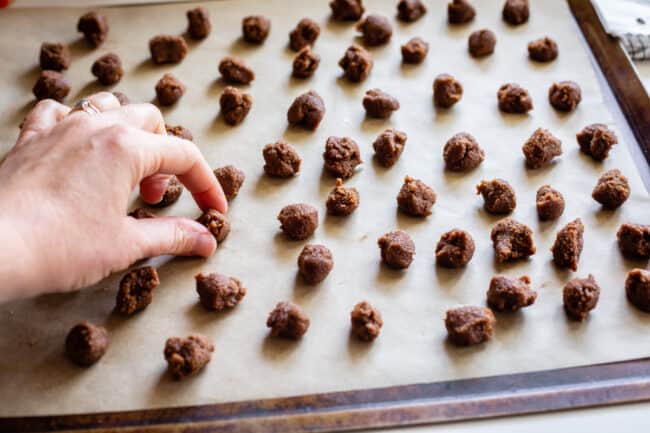 Once your dough is mixed together (see my Snickerdoodles recipe for more step-by-step photos on making the dough!), fold in the frozen cinnamon roll filling. Don't use the mixer, it will beat them up too much. Use a wooden spoon or spatula to gently fold them in, trying to keep the cinnamon roll filling intact in little balls. We want those big swirly spots of cinnamon in our cookies.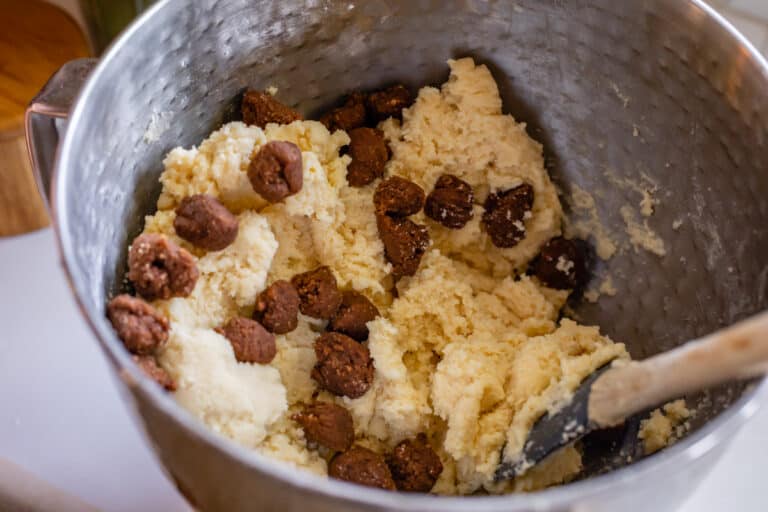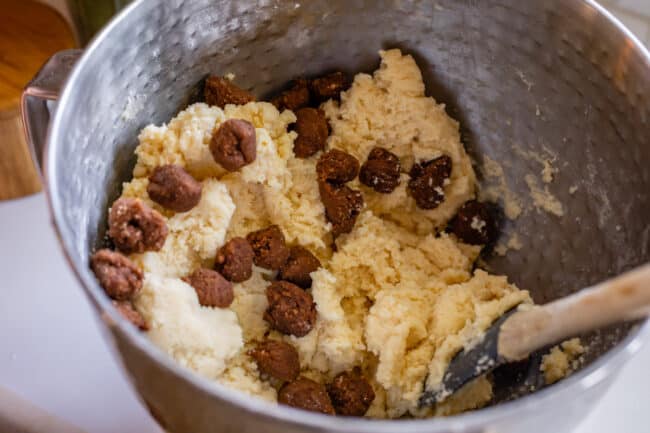 After that, shape them using a cookie scoop or ice cream scoop. I like to make them about 2 inches across. When you scoop the dough, your cinnamon will swirl into the dough a bit, that's okay.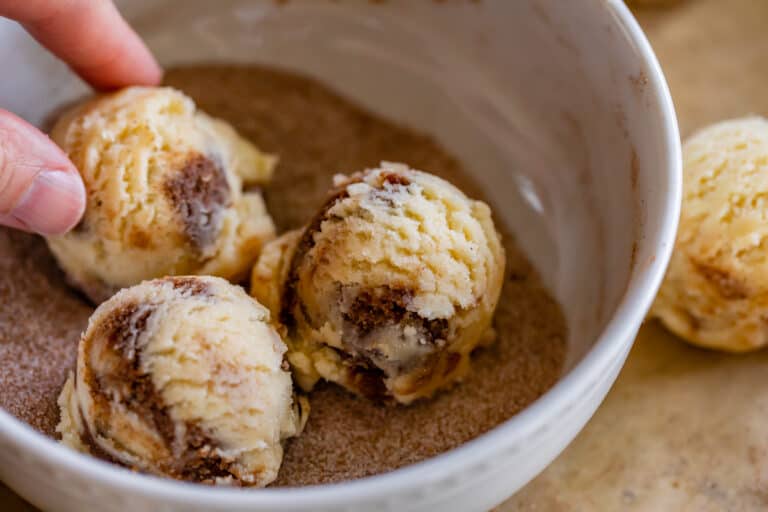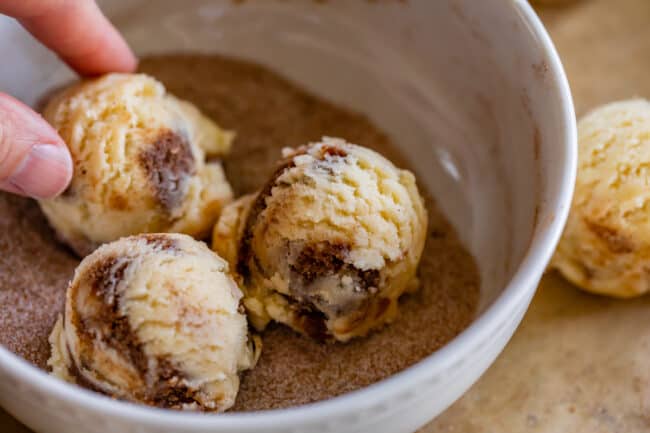 Roll the balls of dough in cinnamon sugar, just like a Snickerdoodle.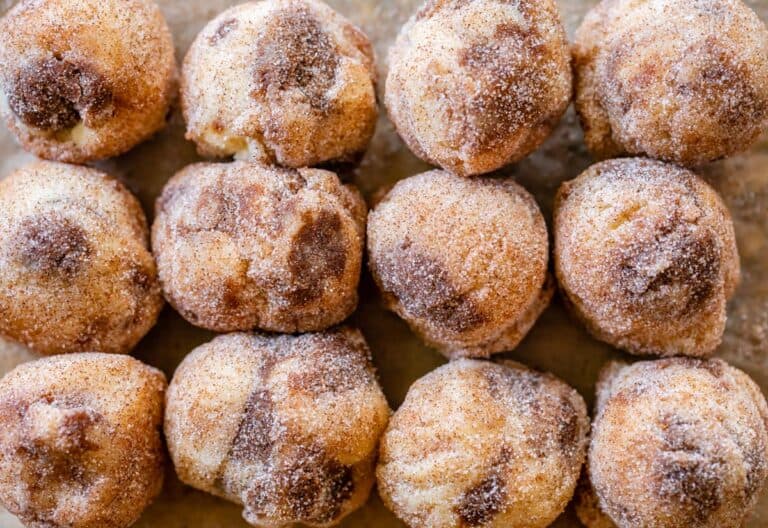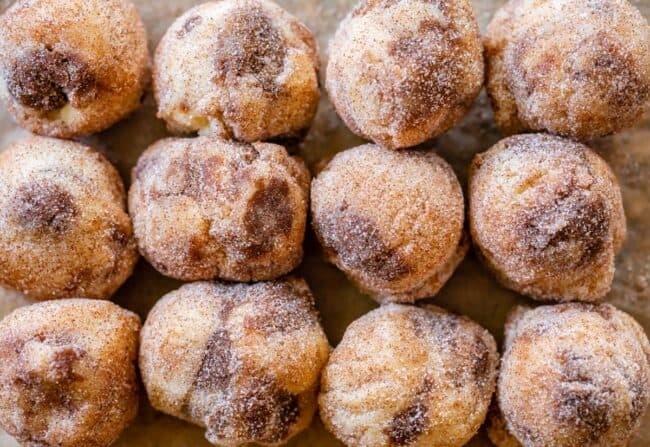 If you don't stop to eat some now, are you even human? Real talk. By the way, you can take these balls of dough and toss them right in the freezer to bake later. See recipe notes.
The spoon trick for Cinnamon Roll Cookies
Now it's time to bake. Here they are just out of the oven.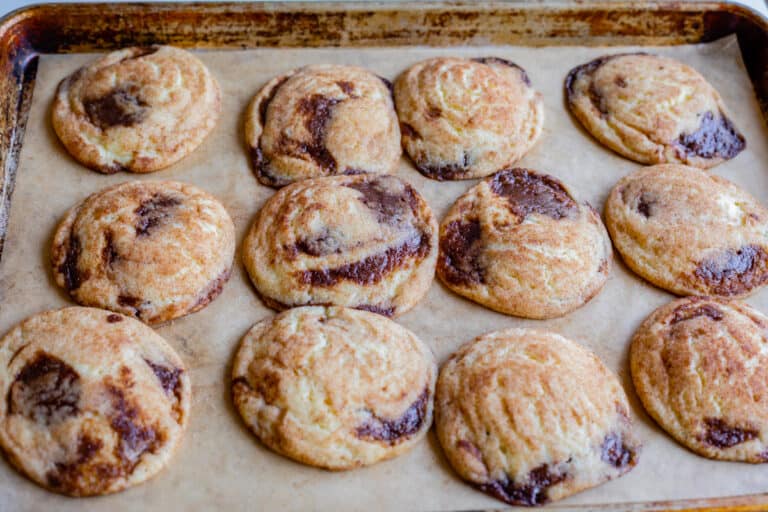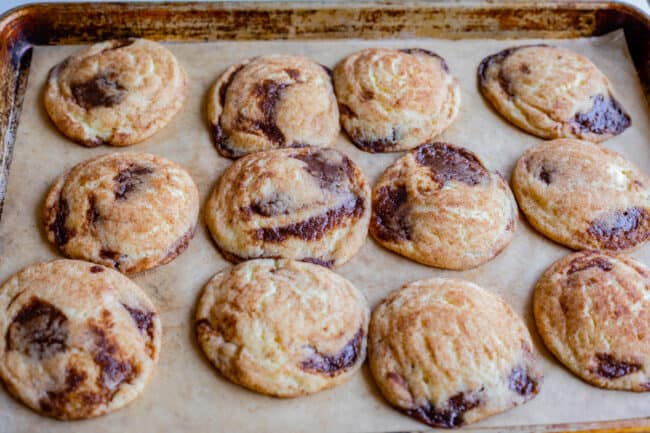 Oh no! Failure cookies! They have spread out too much and are running into each other and will collapse into pancake cookies with too-crispy-edges and no textured height in the middle! You should be shedding actual tears at this point.


But wait! A couple of spoons save the day. Just use your spoon when the cookie is still HOT, like within 30-60 seconds of removing it from the oven, and smoosh the cookies together a little bit. See my Snickerdoodles recipe for lots of details on this technique!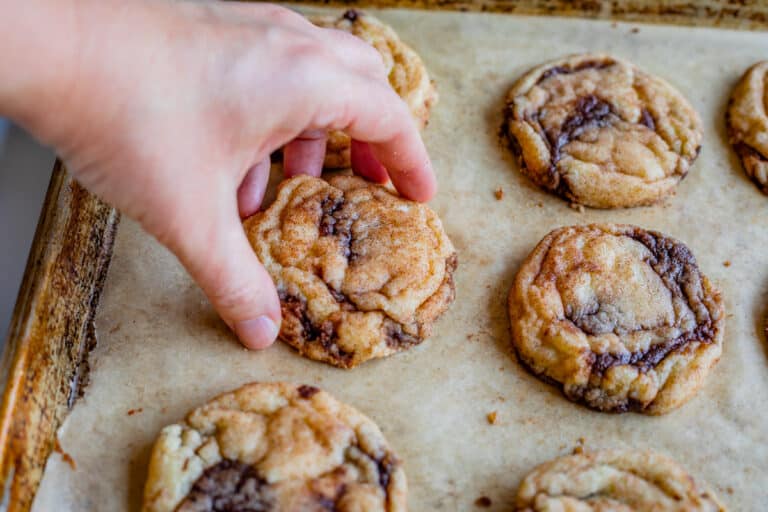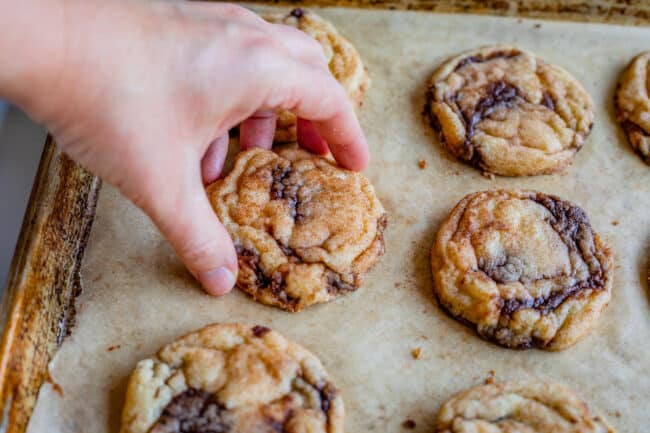 Basically, we are smooshing to get more height and chewiness in our cookies (read: SOFT cookies), and to solve the problem of the spreading cinnamon filling. It only takes a minute to do and the results are pretty amazing! Almost every cookie that comes out of my kitchen these days gets spooned.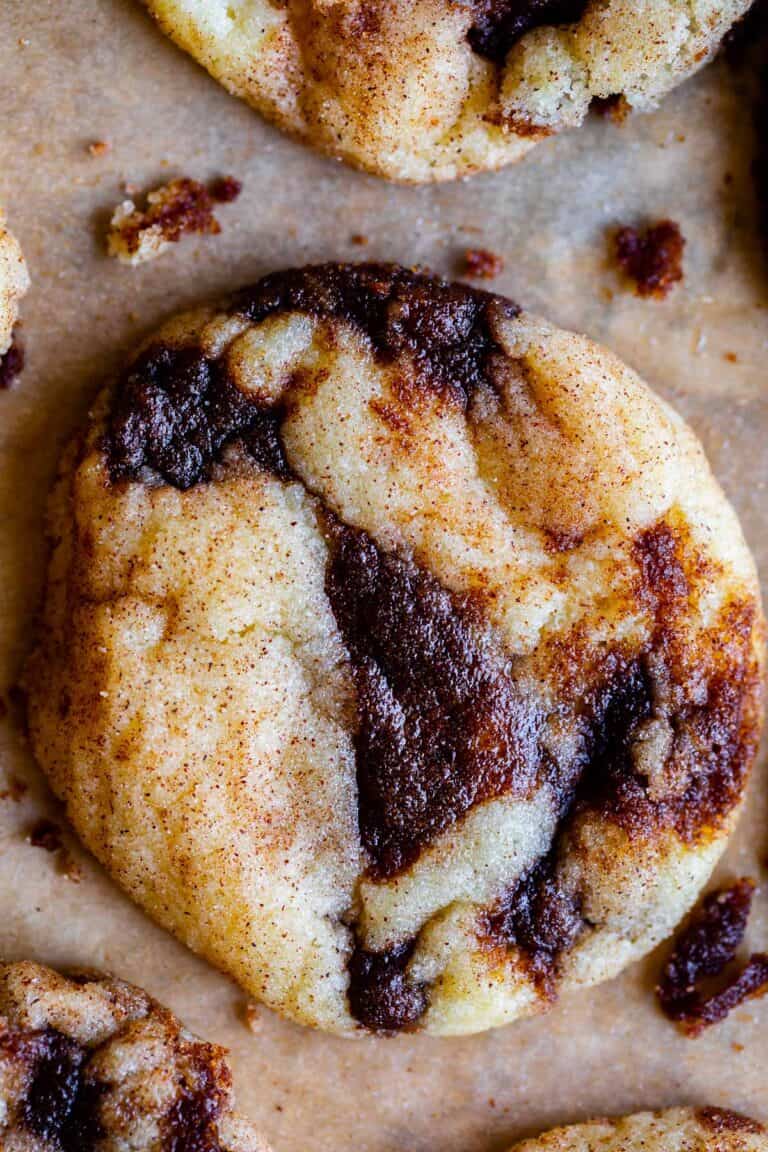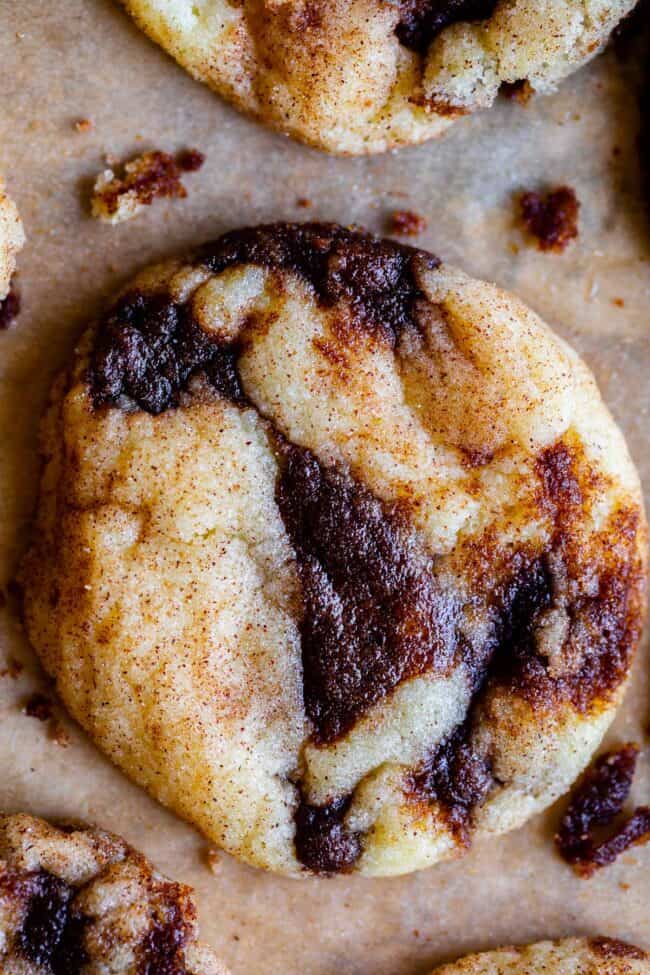 That's it! Only about 35 minutes from zero to hot, gorgeous Cinnamon Roll Cookies in your mouth! I know I say this every time, but I really do think these are my new favorite cookie. Am I crying wolf? Cinnamon is just the best, okay? (Even with the numb tongue. That's how you know it's true love guys.) One last thing, for all you cookie newbies: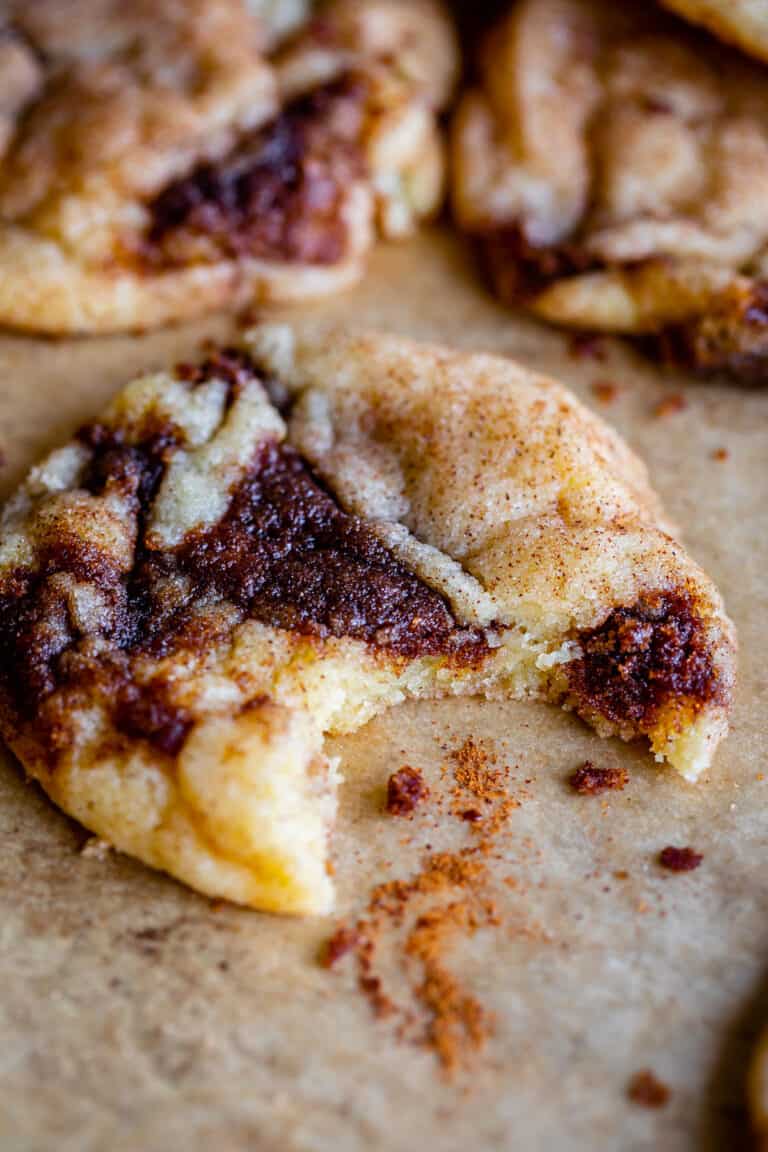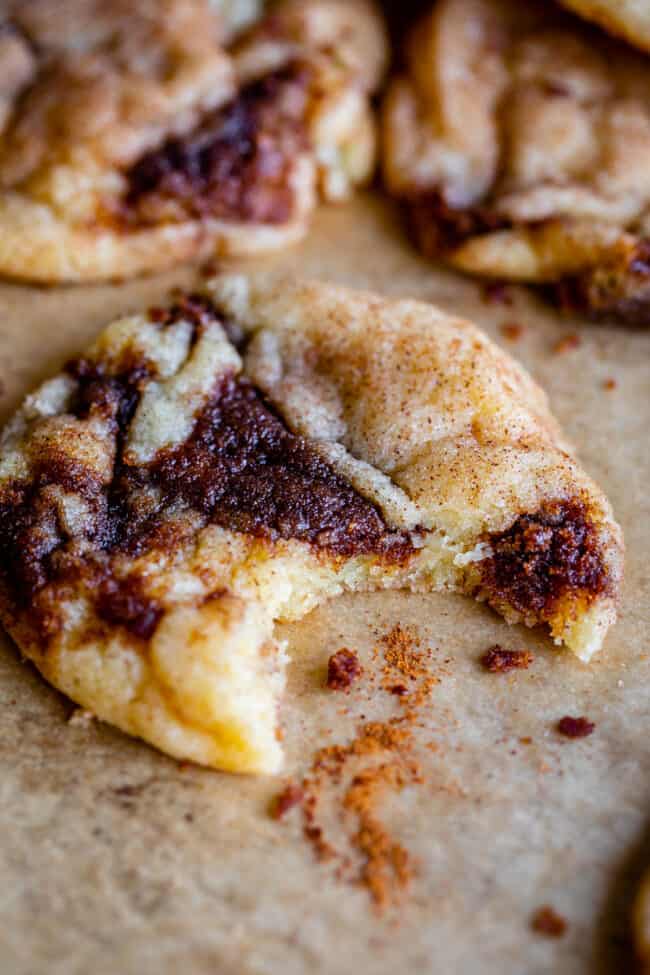 Do I glaze this Cinnamon Roll Cookies Recipe?
What's a cinnamon roll without a little glaze, right? Well when I shot this recipe, I was making it as a variation of these Snickerdoodles and originally was just going to throw this idea into that post, like here's what they look like with a little cinnamon filling. But they tasted SO good, and SO much like cinnamon rolls, that I decided to create an entire other post and call them Cinnamon Roll Cookies. I completely forgot about a glaze and to be honest, don't feel that they need it. I love letting that dark cinnamon swirl shine. BUT! If you want a glaze, use the one on this Cinnamon Roll Sugar Cookies recipe. For that recipe you roll out sugar cookie dough and roll it up with cinnamon filling, just like cinnamon rolls. Yes, I now have TWO Cinnamon Roll cookie recipes on my site. I told you, I love cinnamon 😉 No regrets!!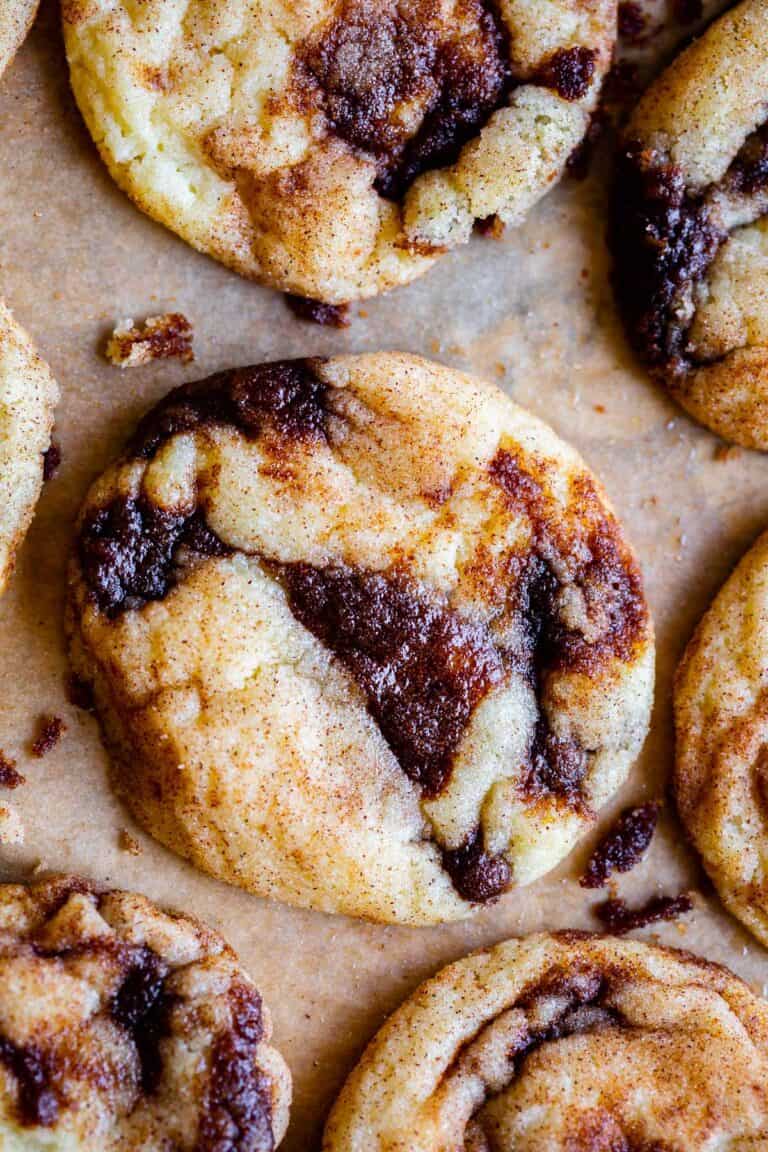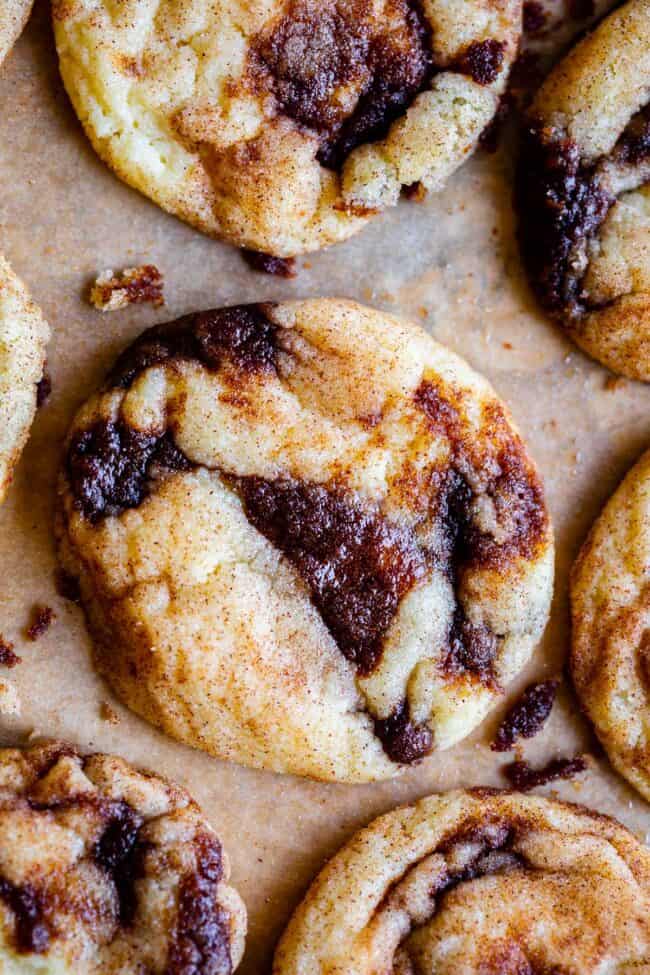 How to store Cinnamon Cookies
I keep my cookies on the counter in a container with a lid. They never last long this way, not because they are going stale but because we are eating them all. If you aren't a cookie monster like me and won't devour them in 2-3 days, freeze them! Just pop them in a ziplock. They'll last a month or so. Warning, they are still great straight from the freezer (though I like to microwave them for a few seconds to simulate oven-warm goodness).
Can you freeze this Cinnamon Roll Cookie recipe?
Yes definitely! Just toss them in a ziplock bag and seal completely. Let them thaw at room temperature. They will keep for 3-4 weeks!
You can also freeze this dough and bake later! I like to shape the dough into balls, roll them in cinnamon sugar, and store them in a ziplock bag. They will keep in the freezer for up to 3 months. I never thaw cookie dough before baking. Just bake straight from frozen and add a couple minutes to the bake time. Voila!
Cinnamon Cookie Recipe FAQs
What makes your cookie soft and chewy?
The secret to a soft and chewy cinnamon roll cookies is actually the cream of tartar. It acts as a leavening agent which makes the texture of the cookies so soft! Don't skip it!
Why do my cookies get hard after they cool?
The cookies are naturally going to set up more as they cool off. That is precisely why we take them out while they are still slightly underdone! If you bake them too long, you'll end up with crunchy cookies once they cool.

I also recommend pulling the cookies off of the baking sheet pretty quickly after they're done. Otherwise, they'll continue to cook on the hot pan. I let them sit for 5 minutes so they don't completely fall apart, then I transfer them to a wire cooling rack to cool completely.
More cookies to craze over!
Facebook | Pinterest | Instagram

The BEST Cinnamon Cookie Recipe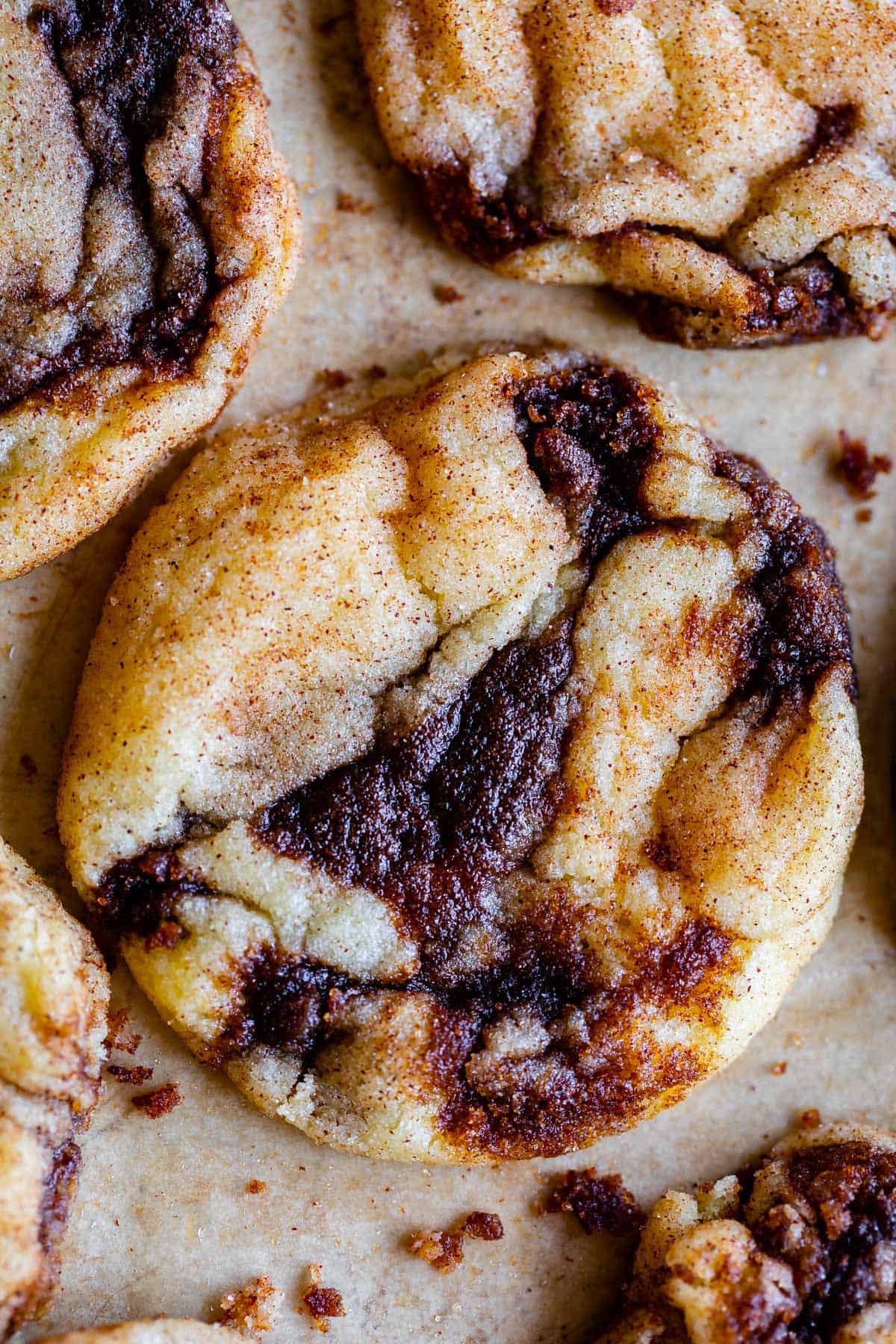 These soft Cinnamon Rolls Cookies are a cinnamon-lovers dream come true! Take some cinnamon roll filling, swirl it into some Snickerdoodle dough, dunk it in more cinnamon-sugar, then die and go to heaven. This recipe is easy and so delicious!
Ingredients
For the filling
6

tablespoons

salted butter

,

softened

3/4

cup

brown sugar

,

packed

1 & 1/2

tablespoons

cinnamon
For the dough
1

cup

salted butter

,

2 sticks

1 and 2/3

cup

granulated sugar

2

large

eggs

2

teaspoons

vanilla extract

3 and 1/2

cups

all-purpose flour

,

spooned and leveled

1

teaspoon

baking soda

3/4

teaspoon

kosher salt

1 and 1/2

teaspoons

cream of tartar
For rolling
1/3

cup

granulated sugar

1 and 1/2

tablespoons

cinnamon
Instructions
Make the filling first. In a large bowl or stand mixer, add 6 tablespoons softened butter. Beat well until it is creamy and smooth. Add 3/4 cup packed brown sugar and 1 and 1/2 tablespoons cinnamon. Beat well, scraping sides down, until completely smooth. Line a baking sheet or large platter with parchment paper or a silicone mat. Clear out space in your freezer, if possible.

Use a spoon to create small balls of filling, about the size of a marble. Line them up on the prepared pan, you should have quite a few (see photos). Place in the freezer if you can fit it in. Freeze for 20 minutes until hardened. If you only have room in the fridge, you will have to wait about an hour or two until they are firm.

Preheat the oven to 350 degrees and prepare a couple more baking sheets with parchment paper, or line with a silicone mat. (You can use the pan in the freezer to bake later, too)

Add 1 and 2/3 cup white sugar. Beat for 2 minutes, taking the time to scrape the bottom and sides of the bowl in between. Your butter and sugar should be light and fluffy with no chunks at all.

Add 2 eggs and 2 teaspoons vanilla. Beat well, scraping the sides and bottom of the bowl. Make sure you beat it long enough that it becomes smooth and homogenous.

Add 3 and 1/2 cups flour but don't mix it in yet (make sure you spoon and level your flour).

Use a small spoon (I use my teaspoon) to stir in 1 teaspoon baking soda, 3/4 teaspoon kosher salt, and 1 and 1/2 teaspoons cream of tartar into the flour. Gently beat the flour mixture into the butter mixture. Don't overdo it. There should still be flour streaks when you stop your mixer. Use a spatula to scrape down the edges of the bowl.

Continue beating just a few more seconds until all the flour streaks are gone. Do not over mix! You want to make sure all the ingredients are combined, but once that is done, stop mixing. Over mixing dough = tough cookies.

Mix in. Once your small balls of cinnamon filling are frozen and firm, you can add them to the dough. Do not use a stand mixer or hand mixer. Instead, fold them in with a wooden spoon or a spatula.

Use a large cookie scoop or a spoon to shape the dough. You want dough balls that are about 2 inches across. I used this cookie scoop. and overfilled it slightly for each scoop. See photos.

Roll the cookies. In a small or medium bowl, add 1/3 cup sugar and 1 and 1/2 tablespoons cinnamon. Stir together. Roll the shaped cookies in the cinnamon-sugar to coat.

Place cookie dough balls on the prepared baking sheet with about 2 inches in between them. I can fit 12 cookies on an 11×17 baking sheet. But as you can see from the photos, they kind of run into each other. You can fix this with the spooning technique, but if you want to play it safe add 8 cookies to a pan.

Bake the cookies at 350 for about 11-12 minutes. These cookies are not going to look done when you take them out of the oven because the cinnamon filling will stay shiny. The edges of the cookies that DON'T have cinnamon filling pooling out the side should be firm but not golden. The top (white) part of the cookies should be matte (not shiny), at least on the outer edges. The cinnamon filling will be shiny and may or may not be spreading quite a bit. You might think these cookies are going to flatten out and crisp up and fail, but never fear, we have a plan:

Shape the cookies. Immediately after taking the cookies out of the oven (like seriously, within 30-60 seconds before the edges crisp), use a couple spoons to push the edges of the cookies toward their centers. Shape them back into the circle that they were meant to be. See photos! Scrape up all that oozing cinnamon sugar goodness and pack it into the edge of the cookies, pushing the cookies in on themselves. This makes the cookies thicker, chewier, and solves the problem of the cinnamon filling spreading everywhere.

Let the cookies set up on the pan for at least 5 minutes. Remove the cookies to a wire rack. Then eat one as fast as you can with a glass of milk! Cinnamon roll blissss!! Don't forget to try out my regular Snickerdoodle recipe sometime, it's almost the same recipe but instead of the cinnamon filling, it gets double dipped in cinnamon-sugar before and after baking. They are perfectly soft and chewy!

Freezer instructions: You can freeze this dough and bake later! I like to shape the dough into balls, roll them in cinnamon sugar, and store them in a ziplock bag. They will keep in the freezer for up to 3 months. I never thaw cookie dough before baking. Just bake straight from frozen and add a couple minutes to the bake time. Voila!
Nutrition
Calories:
189
kcal
|
Carbohydrates:
28
g
|
Protein:
2
g
|
Fat:
8
g
|
Saturated Fat:
5
g
|
Polyunsaturated Fat:
1
g
|
Monounsaturated Fat:
2
g
|
Trans Fat:
1
g
|
Cholesterol:
32
mg
|
Sodium:
160
mg
|
Potassium:
54
mg
|
Fiber:
1
g
|
Sugar:
17
g
|
Vitamin A:
254
IU
|
Vitamin C:
1
mg
|
Calcium:
18
mg
|
Iron:
1
mg