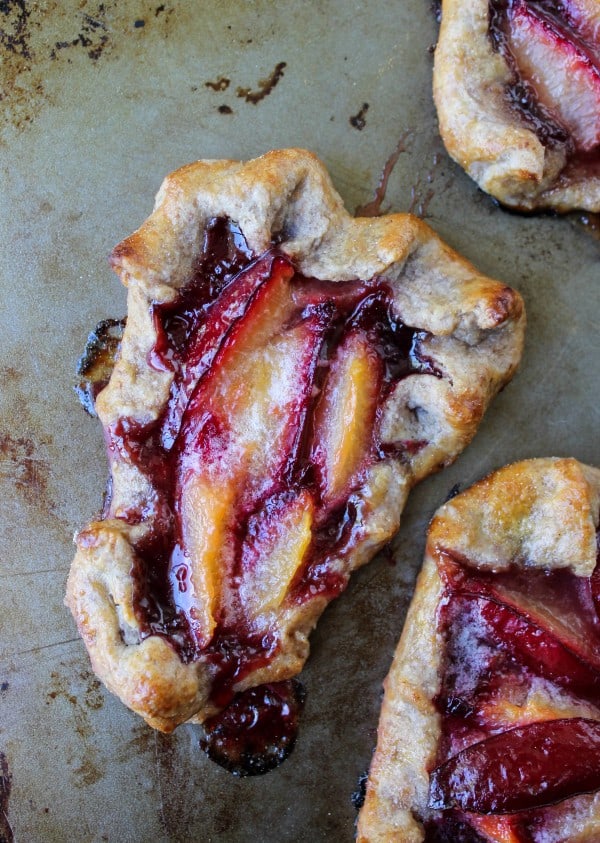 I'm changing things up over here. Posting on a Saturday. Putting rye flour in my tart crust. Drinking an entire container of orange juice.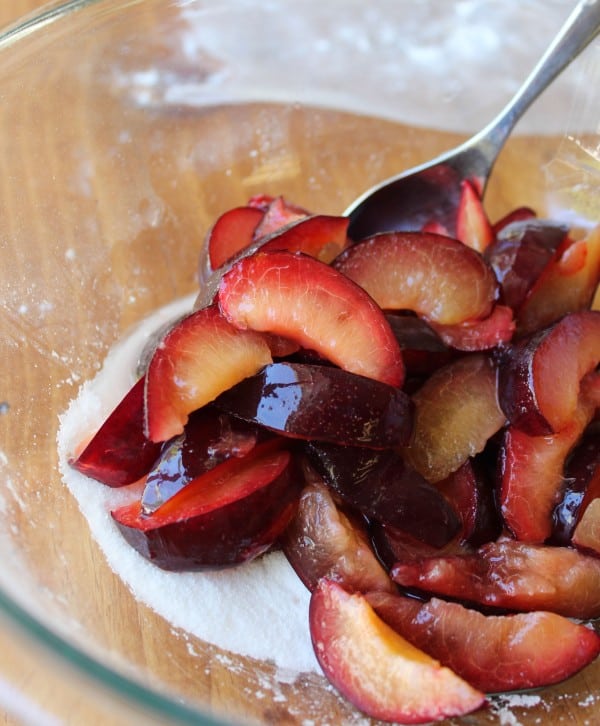 No, really, the whole thing.
Simply Orange
, high pulp. It's got vitamin D and stuff so it's completely healthy to drink 60 ounces at a time.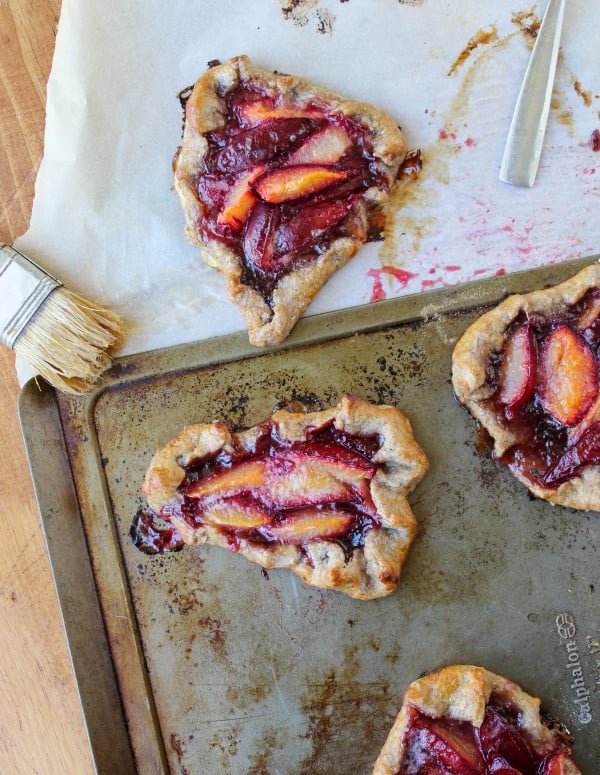 Today Charlotte stopped me while we were eating dinner. She looked at me with her big blue eyes and pigtails and said, "Mommy, I love you. Thank you for always making me lunch and dinner."
And then my heart melted onto the floor.
Especially since all she got for dinner was scrambled eggs because I've been on a dinner strike lately.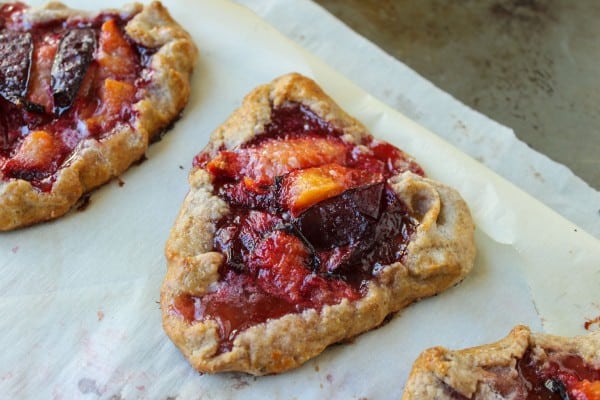 Hence these plum tartlets gettin all up in your face. Poor Eric, he's been living on nothing but different versions of these the past few days, when probably all he wants is for me to make a casserole or tacos or SOMETHING that doesn't involve plums. It's raining plums around here, thanks to my parentals' tree.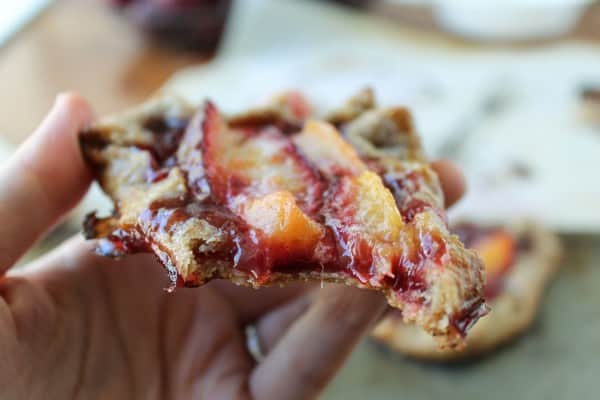 No complaints from me. I really do think I could live off these Plum Tartlets with Cinnamon-Rye Crust. They are ridiculously tart (get it???) and not as much work as a whole pie. I got this idea from the lovely Izy over at
Top with Cinnamon
, who's blog is definitely worth a visit or 12.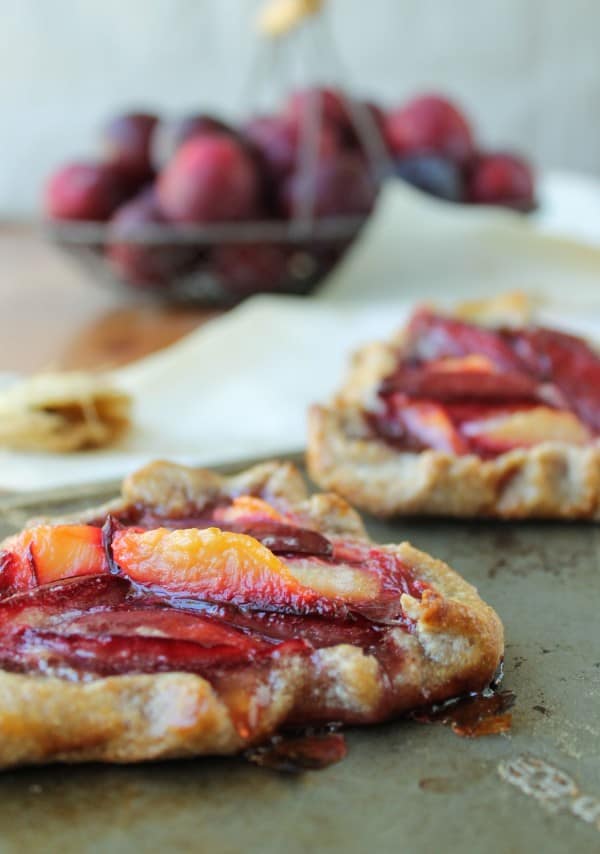 I love the savory twist that the rye flour adds. It has that hearty whole-grain feel, but doesn't lack in the texture department. Plus, I mean, whole grain. That makes these healthy. I'll be dishing up a balanced meal of tartlets and orange juice all weekend long thankyouverymuch.
PS Eric and I are planning a weekend getaway sans kiddos. We are thinking San Francisco/Muir Woods or maybe Yosemite. What would you pick? Also do you think everything will be too crazy busy 4th of July weekend?

Plum Tartlets with Cinnamon-Rye Crust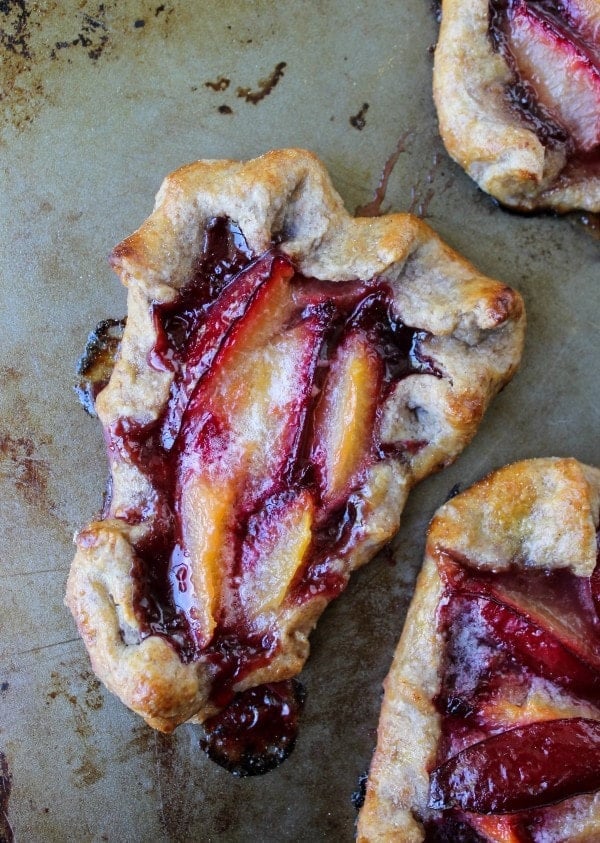 These Plum Tartlets with Cinnamon-Rye Crust are perfectly tart and sweet, with a little savory twist from the rye flour.
Ingredients
For the crust:
3

water

,

ice cold

1/2

cup

rye flour

,

spooned and leveled

1/2

cup

all-purpose flour

,

+ 2 tablespoons, spooned and leveled

1/4

teaspoon

ground cinnamon

2

tablespoons

granulated sugar

1/4

teaspoon

salt

5

tablespoons

butter

,

cold, cut into pieces

1

large

egg

,

divided
For the filling
1/3

cup

sugar

1

tablespoon

cornstarch

6

plums

,

about 2 cups, sliced thin.

3

tablespoons

jam

,

preserves, or jelly of your choice

1-2

tablespoons

butter

,

cut into small pieces

sugar

,

for sprinkling
Instructions
Add about a 1/4 cup of water to a glass measuring cup and put it in your freezer.

In a medium bowl, add dry ingredients: rye flour, all-purpose flour, cinnamon, sugar, and salt. Whisk together.

Use your fingers, a fork, or a pastry cutter to blend in the cold butter. Stop when you have coarse crumbs; some of the pieces of butter should be pea-size.

Crack an egg into a small bowl. Add half of it to the flour/butter mixture. (You can measure or eyeball it--half an egg should be roughly 2 tablespoons. Reserve the rest of the egg.)

Get your measuring cup out of the freezer and add 3 tablespoons of water to the flour mixture, 1 tablespoon at a time. Combine the mixture with a fork or spoon, working it only until it has barely come together. Use as little water as possible to make it stick.

Wrap the ball of dough in plastic wrap and freeze for 15 minutes.

Unwrap the dough. Grab a small hunk of dough (size of a golf ball) and smash it with your hand on a floured work surface. Take another piece and flatten it out on another floured surface. Scrape up one of the pieces and lay it on top of the other. Continue to flatten out pieces individually, then laying them on the stack until you have finished all the dough. Pat it into a disk, wrap in plastic wrap, and chill in the refrigerator for 30 minutes.

Meanwhile, in a medium bowl combine the sugar and cornstarch. Add the sliced plums and stir gently. Set aside.

Use a sharp knife to cut the chilled dough into 6 wedges. Flour a sheet of parchment paper or silpat. Use your hands and then a rolling pin to roll each wedge into a rough triangle shape about 1/8 inch thick. Use a pastry brush to brush off the excess flour.

Use a spoon to spread 1-3 teaspoons of jam into the center of each triangle.

Top with a few plums from the plum mixture. Leave the excess liquid. You may not use all the plums.

Pinch and pleat the edges of the dough so that the plum filling doesn't spill out.

Brush the edges of the dough with the remaining beaten egg.

Sprinkle 2 or 3 small pieces of butter on top of each tart.

Sprinkle each tart with 1/4 teaspoon sugar.

Bake at 350 F for about 20-25 minutes, until the filling is bubbly and the crust is golden. Eat with ice cream!!
Notes
I highly recommend checking out Izy's crust tutorial. Her pleats are out of this world :) Also if you don't have rye flour, all-purpose would be a great substitute.
Source: crust recipe adapted from Top with Cinnamon
Nutrition
Serving:
1
Tart
|
Calories:
302
kcal
|
Carbohydrates:
45
g
|
Protein:
4
g
|
Fat:
13
g
|
Saturated Fat:
7
g
|
Polyunsaturated Fat:
1
g
|
Monounsaturated Fat:
3
g
|
Trans Fat:
1
g
|
Cholesterol:
61
mg
|
Sodium:
213
mg
|
Potassium:
170
mg
|
Fiber:
2
g
|
Sugar:
27
g
|
Vitamin A:
623
IU
|
Vitamin C:
7
mg
|
Calcium:
19
mg
|
Iron:
1
mg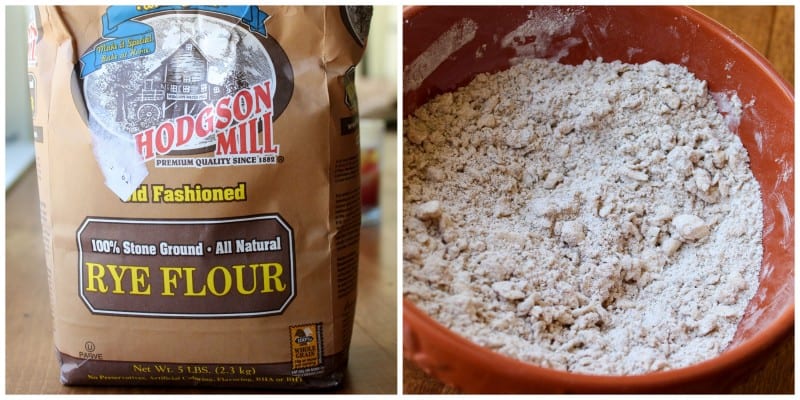 It's all about the ryyyyyeeeee.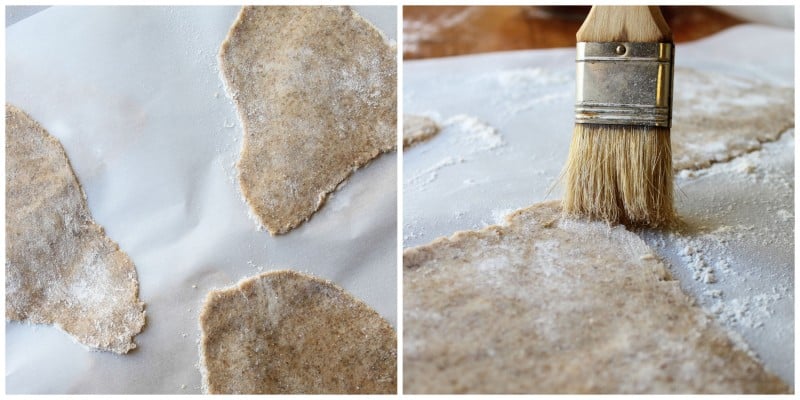 Don't worry too much about the shape they end up rolled in. It's rustic! Brush away the excess flour.

 Pretty much any kind of jam would be yummy I think. I tried both Cherry and Apricot Pineapple.

Here's how I slice my plums.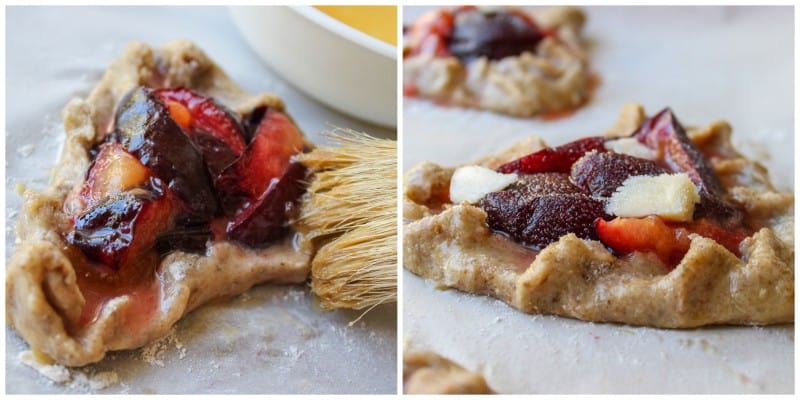 Don't forget that butta.